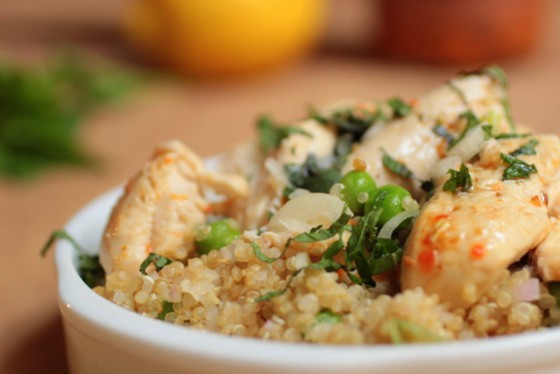 I read many times that if you're a food blogger you should not start a post saying how little you have been posting lately. I agree, it's annoying. For those who follow you they already know, and for those who don't it's irrelevant probably.
Does the same apply to having the recipe, quinoa and pea salad with harissa chicken in this case, the pictures, the interest in posting, but not knowing what the hell to say before the recipe? I wonder.
We can also talk about the weather, how most of you reading this are drenching your bodies in sunblock on a daily basis, or have your suitcases opened, lists of things to do,  preparing for your upcoming vacation, or maybe just enjoying longer days (the best part of summer), using the barbeque like crazy and trying to come up with new things to do with the kids, who may have a lot of space to play in and yet always seem to use the square feet surrounding their parents.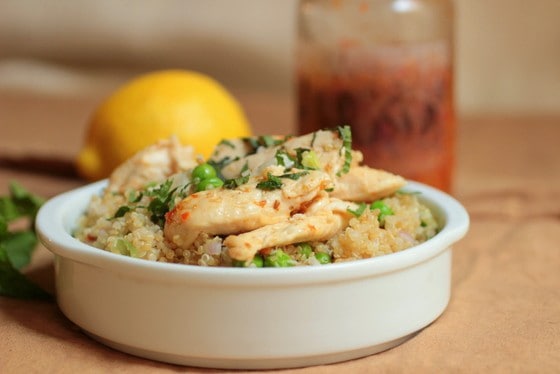 The weather here, for your information, is cold but nice. Cloudy some days, but humidity is partying somewhere else for the last two weeks, and that's always welcome. My hair is especially grateful.
And just like that I've got two paragraphs of irrelevant stuff. But then, the weather is always a topic of conversation, simply ask my mother.
And food is another common ground, and in this case a spicy and light one. Some quinoa, peas, lemon, harissa and chicken. Quinoa is a fairly new ingredient in my rotation, and I'm a fan, as are most food bloggers from what I read. The healthy qualities of it have a lot to do with it's popularity. And it's yummy. Have a bowl of cooked quinoa in your fridge, and you can improvise several meals.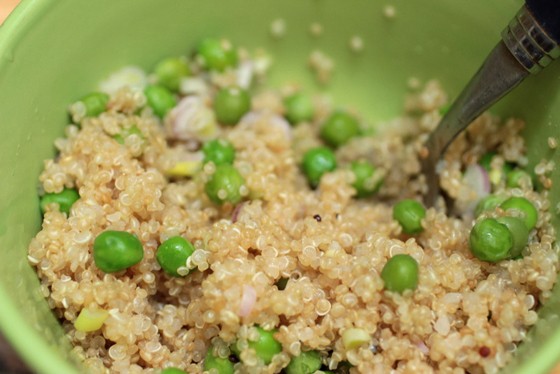 I discovered harissa not long ago too. The first time I heard about it was last year, while in Washington DC, when we made the eggplants with yogurt sauce and pomegranate and the portobellos with sun dried tomatoes and taleggio. Both from one of my favorite books.
We made a couscous and chickpea dish too that called for harissa to be added at the end. None of us knew what it was, except that it was a red paste, and for some reason didn't realize we could go online and make it ourselves. Besides I was in a borrowed kitchen, so I just went to the eastern market but couldn't find it. Or in any other market. So we didn't use it.
Now, of course, that I know what it is and have a jar at all times in my fridge, I understand it plays a big part in a dish, always. The recipe for homemade harissa is in the golden egg curry post; it's easy and lasts months. I believe it lasts years, but I'm not the one to tell you that since I don't know for sure. And if you make it, give the golden egg curry a try too, it's an amazing spicy brunch dish.
So, in the end, this turned into a long post. But I promise the quinoa and pea chicken salad is wonderful.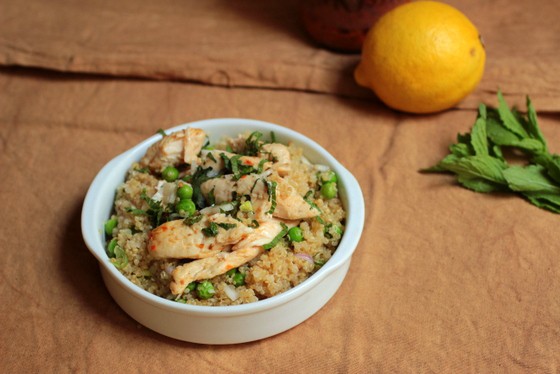 Print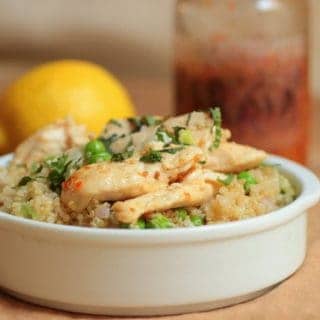 chicken harissa pea rice salad
Yield:

4

servings

1

x
---
Scale
Ingredients
For the marinade:
4

chicken breasts

1

lemon (juice and zest)

3

Tbs olive oil

1

Tbs harissa
For the salad:
4 cup

s cooked quinoa

1 cup

fresh or frozen peas

2

medium green onions
Juice of

1

lemon

1/3 cup

olive oil

1 teaspoon

harissa

2

Tbs fresh mint (chopped)
---
Instructions
For the marinade:
Cut chicken breasts in bite sized pieces and marinate them in the lemon juice and zest, olive oil and harissa for 15 minutes.
For the salad:
Cook fresh peas for 5 minutes or frozen ones for 1 minute. Rinse.
Heat the a skillet over medium heat and cooked the chicken for a few minutes, until no longer pink. Be careful not to overcook it as it will be dry.
In a bowl put quinoa and cooked peas. Add lemon juice, olive oil, harissa and cooked chicken.
Add salt, pepper and check for seasonings.
Divide among serving plates and sprinkle with the chopped mint.
---
adapted from 200 Recetas de Pollo, by Blume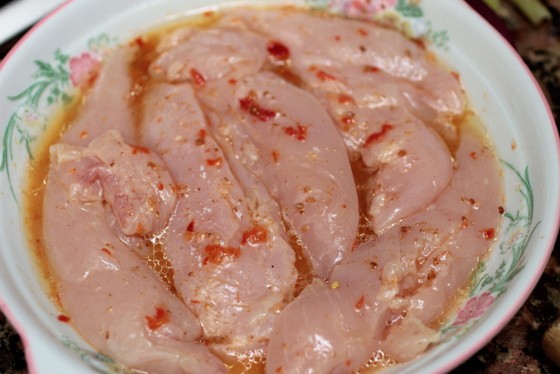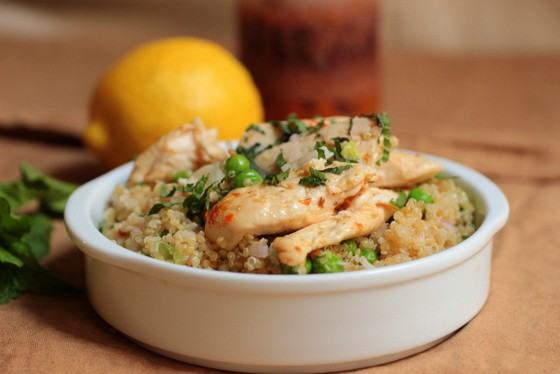 Today's 5 related recipes worth looking at:
Sweet Spicy Roasted Harissa Almonds from Let´s Feast
Baked Quinoa and Chicken Parmesan from Hezzi-D´s Books and Cooks
Quinoa Brownies from The Lovely Pantry
Peanut Butter and Quinoa Granola from Magnolia Days
Pasta with Yogurt Peas and Chile from Orangette
---