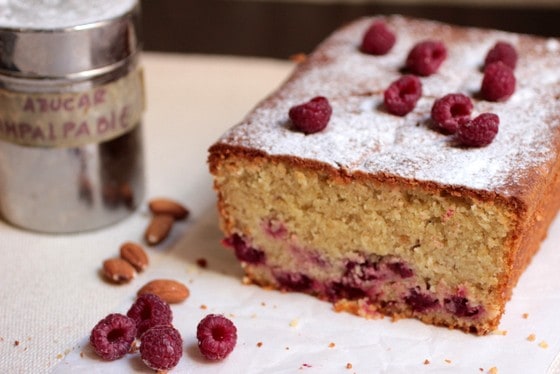 I have to be honest right away, just like with the cheating on winter pea soup.
This is almost Pierre Hermé's recipe because the rose syrup is probably not what it should be. And I say probably because,
having no idea what it tastes like, and, knowing there was none available here with that name that I know of, I gave up looking any further for it. I really never put much effort into it to begin with.
I infused a simple syrup with rose water.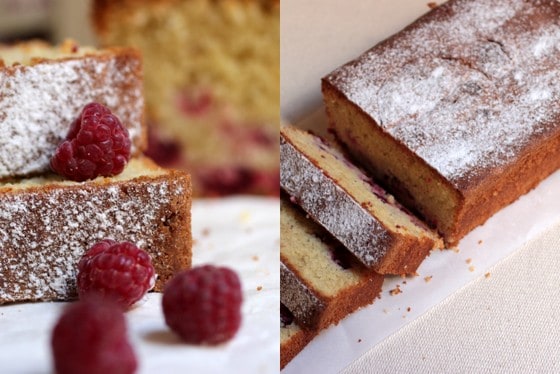 With that out of the way, I must say that today's recipe for French Fridays with Dorie group, Ispahan Loaf, is simply stunning. Something I obviously expected from a 
Pierre Hermé
recipe. He developed a line of desserts with the name Ispahan, which is a name of a fragrant rose and the old capital of Persia, as
Dorie 
explains in
the book
.
At first sight it's a simple loaf cake with almond flour and fresh raspberries. Well, it is and it's not. The method of mixing begins like a macaron, with almond flour and confectioners' sugar being sifted and egg whites beaten. But then it changes completely with butter, egg yolks and flour.
The beaten egg whites are added at the end. And then it's baked in a low oven for a cake. I had to crank it up a bit after half hour or more, because the cake was still too wet and it didn't seem to be going anywhere good.
So the last 20 minutes or so where at 325ºC. Next time I will bake it all at this tº from the start.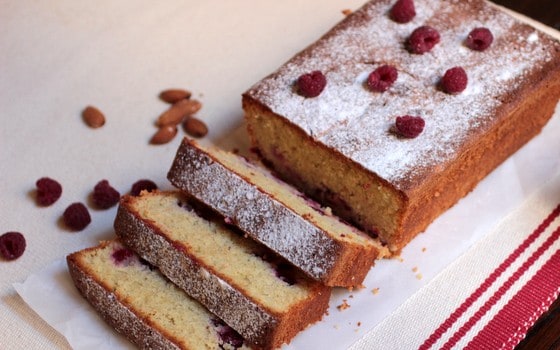 Though there's nothing that stands out much about the list of ingredients or the mixing method, it probably has to do with the amounts of the former, because the cake is soft and has an interesting texture. Though it looks compact and, in my case, barely rose in the oven, it's not dense at all. But it's not light either. It's just right.
Since I didn't follow instructions, because I didn't read the recipe carefully, and just scattered the raspberries in only one layer, they sank. Next time I will take the time to make two layers with three rows of raspberries each. It looks so pretty when the berries are scattered all over.
A fantastic almond raspberry loaf cake, to serve with a nice cup of tea or even hot chocolate. Or to snack during the day. Or night while working, if you're a night owl. Or take as a gift to a friend's house.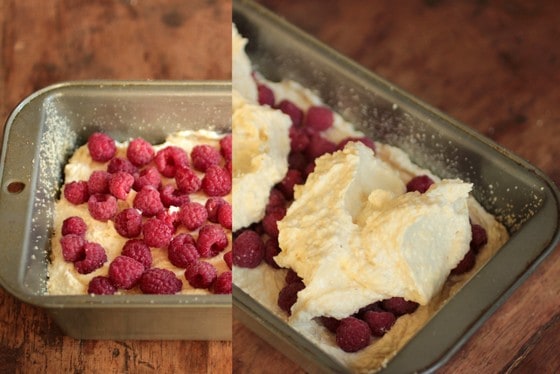 My cake had a very faint rose something in it. It wasn't even a definite after flavor. I kind of went easy on the rose water with the syrup, because it can feel a bit soapy sometimes, and I wasn't about to spoil this recipe with fresh raspberries that I love.
On another note, I second 
Cher
, who has ideas about varying the flavors, with blackberries for instance.
This is definitely a cake that is phenomenal as a base for many other combinations.
Almonds go with so many berries and fruits and flavorings that it's worth trying it again. And again. And again.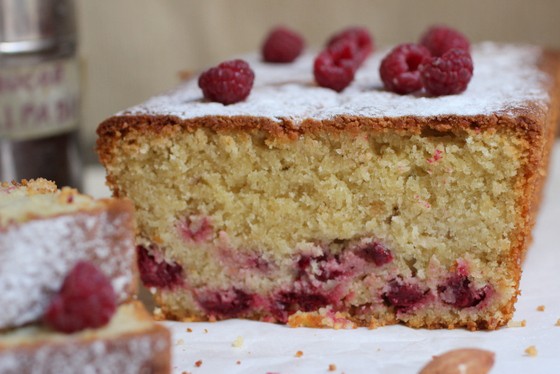 By the way, I always thought all the Ispahan creations included lychees also. I wonder why they were left out here. If we had to go online to buy rose syrup, buying canned lychees is a piece of cake. I'm very intrigued as to what it might have tasted.
Print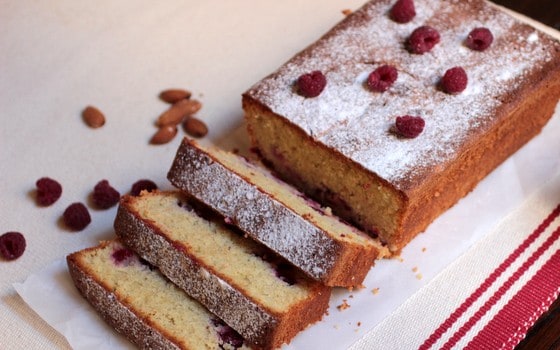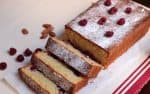 ---
Description
I made only one row of raspberries, and they obviously sank to the bottom. So it might be better to follow the instructions.
---
Scale
Ingredients
2 ½

Tbs rose syrup

2

Tbs whole milk

2 cups

almond flour

1 cup

confectioners' sugar

3

large eggs (separated)

1

whole egg

2 ½

Tbs sugar

12

Tbs 170g butter, at room tº

¼ teaspoon

rose extract (I didn't use it)

½ cup

+

1

Tbs all purpose flour

1 pint

raspberries
---
Instructions
Preheat oven to 350º.
Grease a 9x5 inch loaf pan and dust with ground almonds.
Mix rose syrup with milk in a small bowl.
In the bowl of a stand mixer or a large bowl with an electric mixer, add butter and sift the almond flour with the confectioners´ sugar on top of it. Beat this together for 3 minutes, until light, scraping the sides of the bowl as needed.
Add the egg yolks, one at a time, while beating at medium speed.
Add the whole egg and beat one more minute.
Add the rose syrup and milk (and the rose extract if using). Mix well.
In a large bowl beat the egg whites until beginning to hold soft peaks, add the sugar and beat until firm and glossy. (I did it during the three minutes the butter and almonds were beating.)
With a spatula, mix the whites in three additions, alternating with the flour in two additions, into the egg batter. Do it gently but as quickly as possible.
Pour 1/3 of the batter into the prepared pan. Arrange half the raspberries in three rows. Add half of the remaining batter and cover gently the raspberries. Arrange the remaining berries the same way as before, and finally cover them with the remaining batter.
Lower the oven to 325ºF and bake for 55 to 60 minutes, or until a tester inserted comes out clean. If browning too quickly, lower the oven to 300ºC.
Let cool on wire rack and serve sprinkled with confectioners' sugar.
---
---