A fabulous recipe for a simple bread dough made with milk that is topped with juicy roasted tomatoes. It's soft and fluffy and perfectly savory. It's so delicious and it never last long in this house. You can make it ahead and freeze.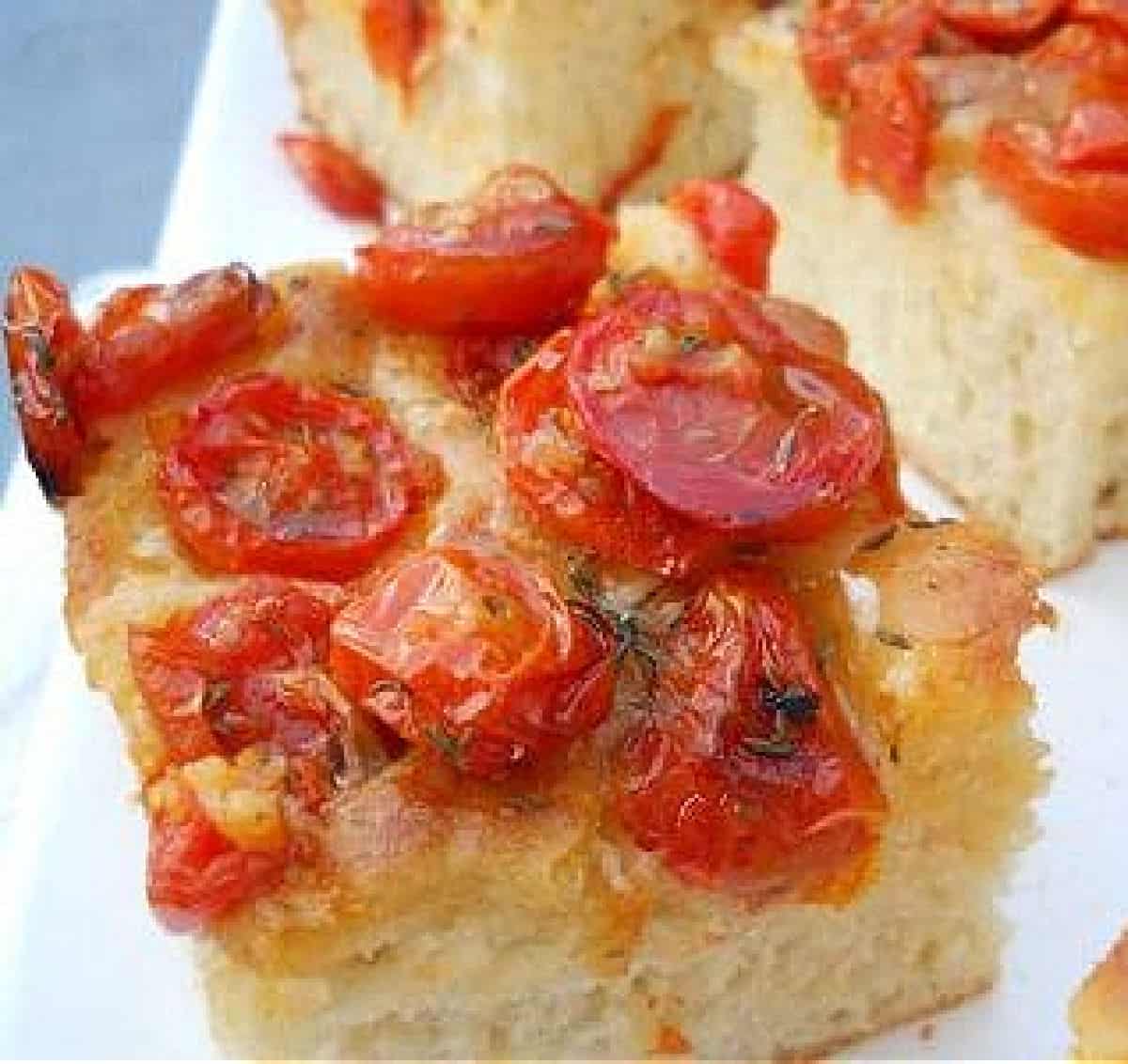 It's not spring yet, but today we had a sneak peek at it. Sunny and warm beyond any logical desire considering we still have, officially, one more winter month to surf. From hail to rain to 24ºC (75ºF), back to dark skies. In the time it took me to bake the bread and go to the terrace and take pictures with natural light, it's now getting absolutely cloudy. It'll probably rain, again. So boring. And uneventful.
Except for this glorious roasted tomato bread, or focaccia. The main attraction today, besides the fact that I misplaced some documents that I still can't find, is this tomato bread. Though it may very well be a milk dough focaccia. To me it's my afternoon tea and I'm afraid to admit it will probably end up being dinner. Yeah, things like that happen sometimes. You eat roasted tomato bread for tea and dinner.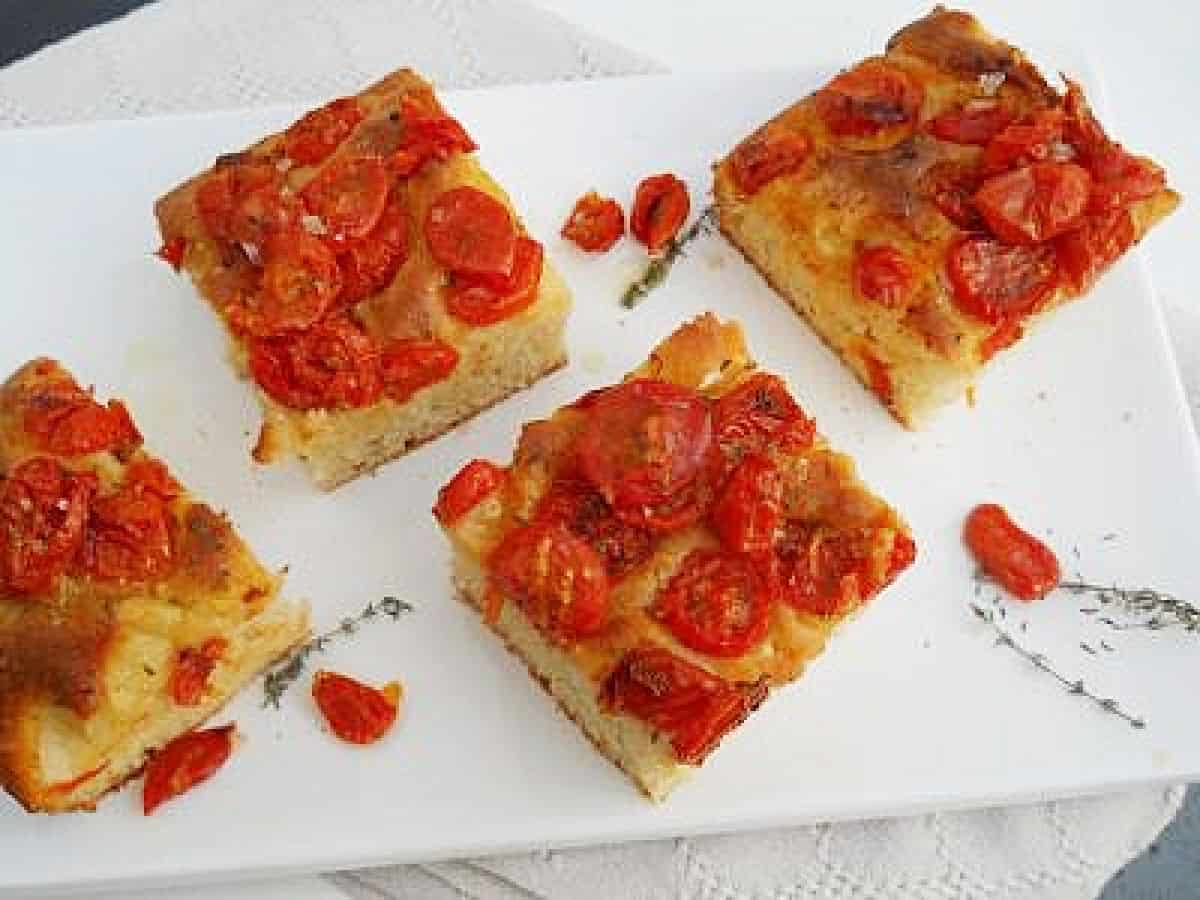 Milk focaccia
The whole process is that of a focaccia but milk is used instead of water.
It reminded me of the pizzas I used to eat growing up, that had a thick dough, not those thin excuses that some places sell today. This tomato bread is soft, pillowy and melt-in-your-mouth smooth.
Roasted tomatoes
The roasted tomatoes are the perfect topping, since they become a bit jammy and sweet. I know tomatoes are not in season right now, but I think I deserve to believe they are, since for the last months I´ve been looking at fabulous pictures and recipes of summer fruits and vegetables, splashed with abandon across the screen, vibrant, amazing colors that haunted me every time I walked up and down the produce section of the market in the hope I would find something barely interesting. The fault is yours, wonderful food bloggers. You make me long like a kid outside a closed toy store.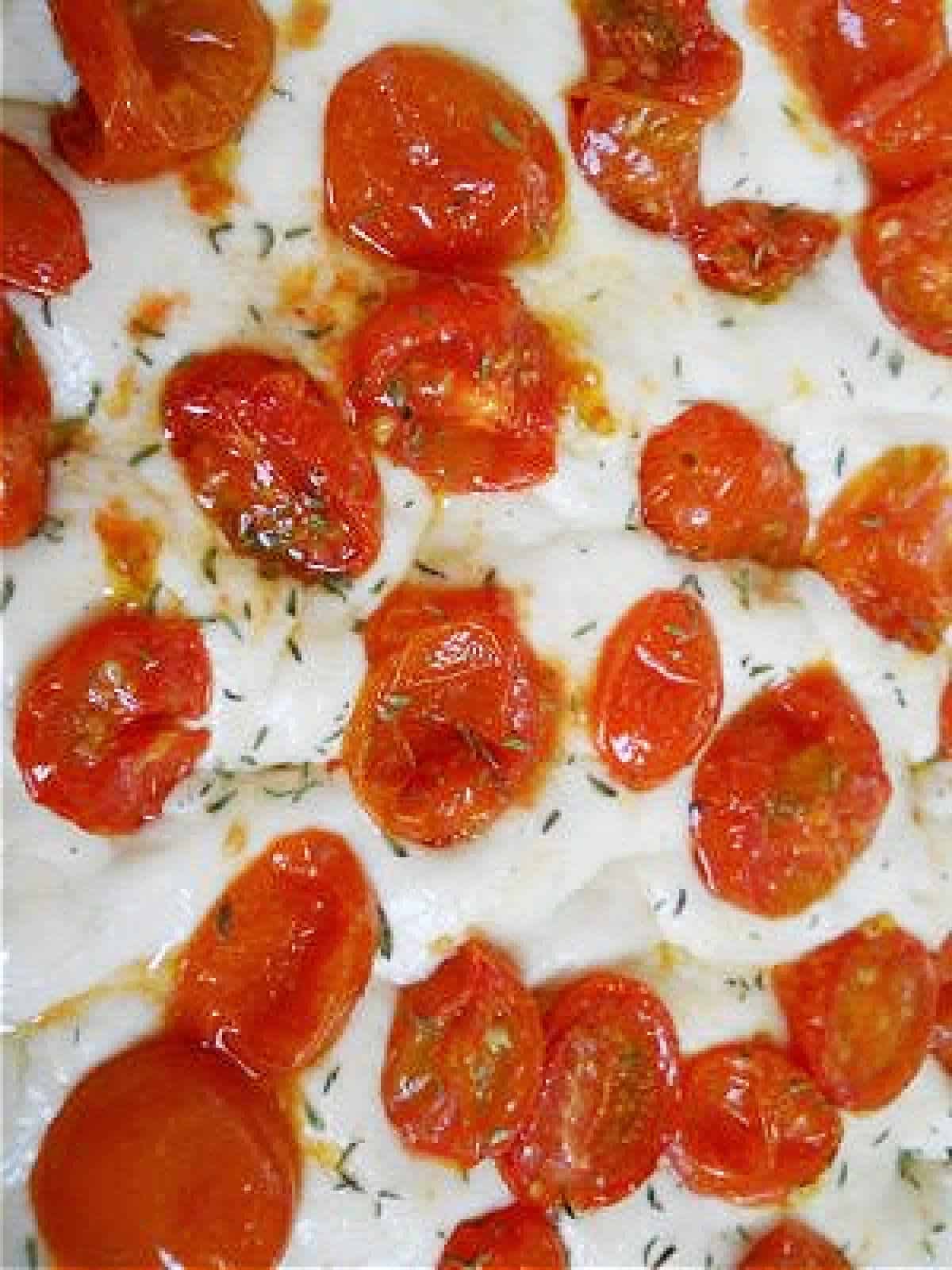 So, yes, I did pretend these were sun-kissed tomatoes. Though I have to admit they were quite sweet, especially after roasting them, which is one of my favorite ways of cooking. And now I can calmly go look for those documents again, the third time today. My taste buds are happy and I can trick my mind into keeping calm while I try to decide what to do if they don't appear. I still have more tomato bread to keep me company.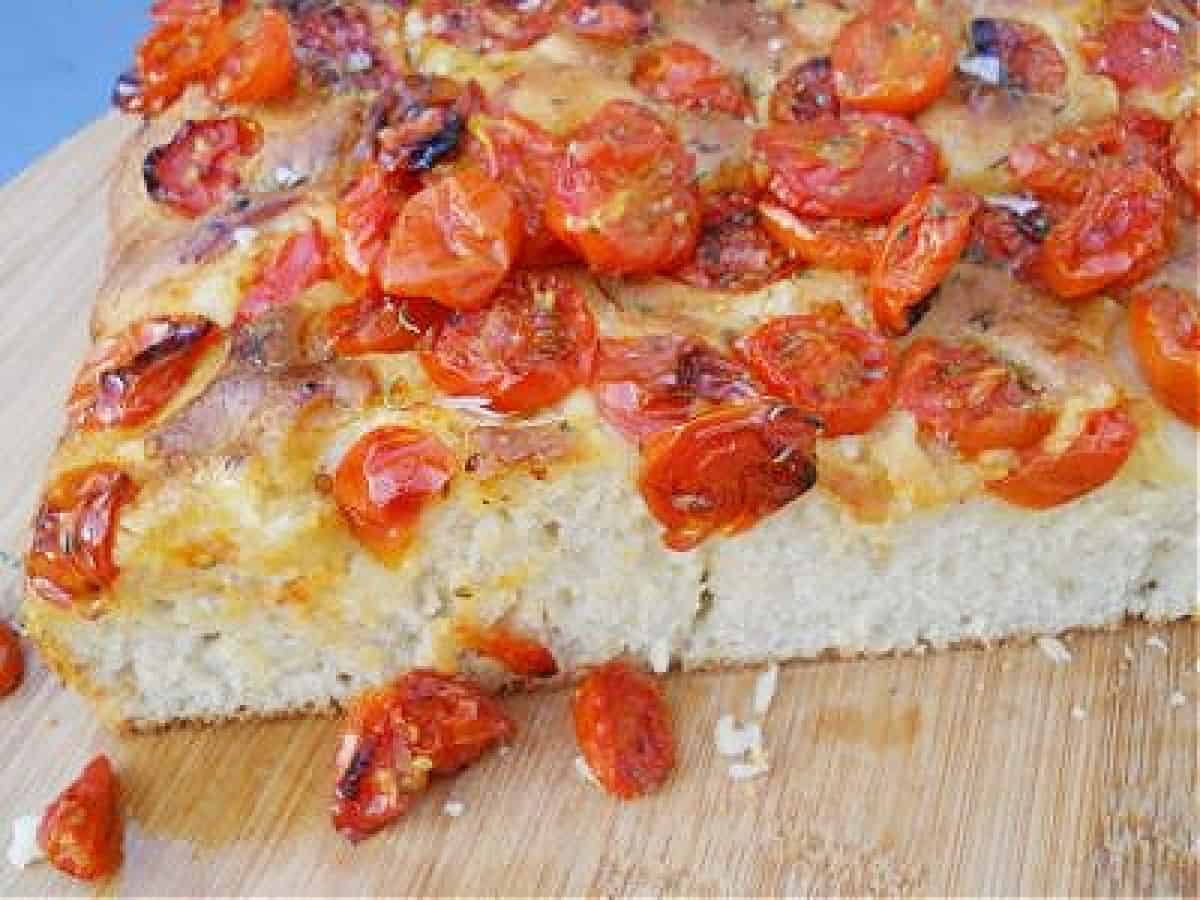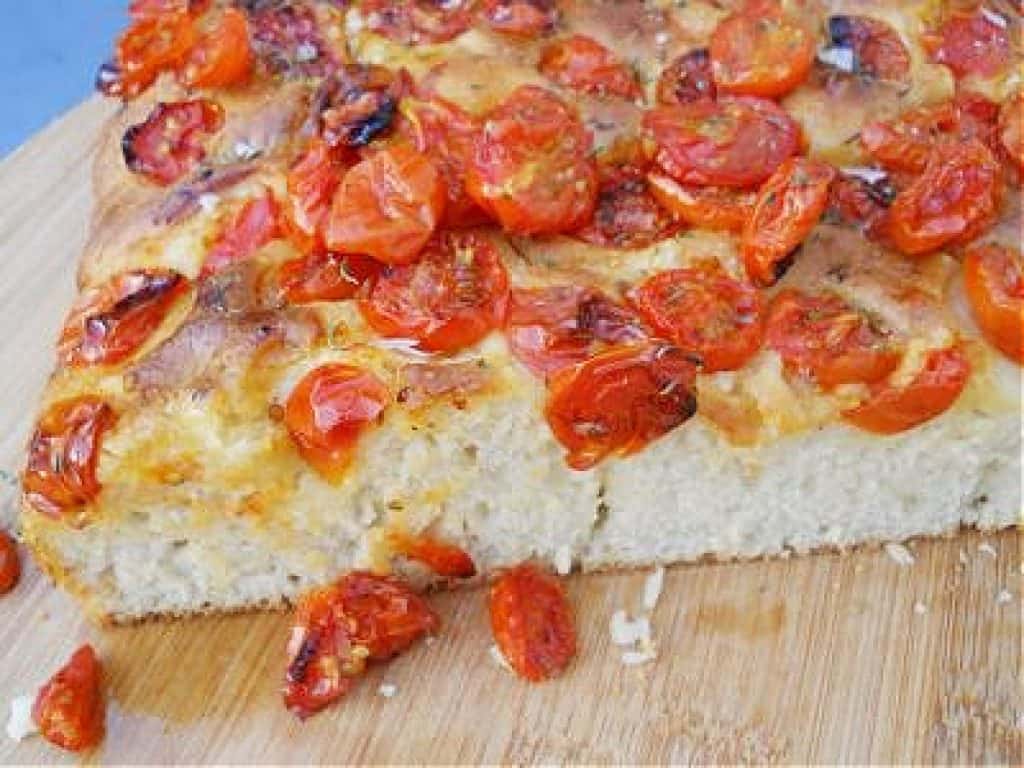 Let me know in the comments below if you made this recipe and loved it, and also if you had issues, so we can troubleshoot together. I love to hear what you think, always. Thanks for being here, it's much appreciated.
You might also consider subscribing to our FREE email series to Boost your Home Baking Skills! And our regular newsletter.
And let's connect via Facebook, Instagram, and Pinterest.
Print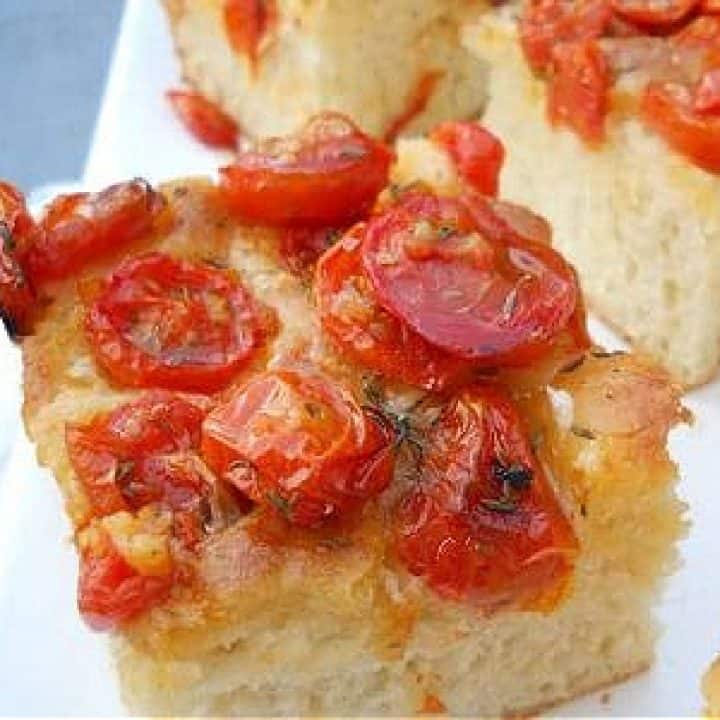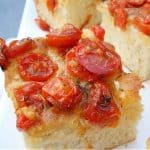 Roasted Tomato Bread
Author:

Paula Montenegro

Prep Time:

20 minutes

Proofing time:

45 minutes

Cook Time:

40 minutes

Total Time:

1 hour 45 minutes

Yield:

1

2

1

x

Category:

Bread

Method:

Baking

Cuisine:

Italian
---
Description
A fabulous recipe for a simple bread dough made with milk that is topped with juicy roasted tomatoes. It's soft and fluffy and perfectly savory. It's so delicious and it never last long in this house. You can make it ahead and freeze.
---
4

pints

cherry tomatoes (sliced)

¾

extra virgin olive oil (plus more for the pan and last drizzle)

4 teaspoons

coarse salt

3 ½

cups

milk

5 ¼

cups

all purpose flour

1 ¾

cups

semolina flour

½

oz

dry yeast (or 1 ½ oz fresh yeast)
Fresh or dried thyme
---
Instructions
Preheat oven to 300º.
Place tomatoes in large, rimmed baking tray (use two trays if needed). Drizzle ¼ cup olive oil over and sprinkle with 2 teaspoons of salt.
Bake until beginning to shrivel and juice on pan has been reduces, about 45 minutes. Remove from oven and reserve.
Brush a 17x12 inch rimmed baking sheet with olive oil. Reserve.
Turn oven tº to 425º.
Over low heat, bring milk to simmer in small saucepan.
In the bowl of an electric mixer fitted with the paddle attachment, combine remaining 2 teaspoons salt, flours, 6 tablespoons of the olive oil and the yeast.
Mix on low speed, gradually pouring hot milk until combined, scraping down sides of the bowl as needed. Once combined, mix on medium speed for 1 minute. The dough will be very sticky.
Transfer to the prepared baking sheet. With oiled hands, spread dough evenly, making sure it fills the pan.
Cover tightly with plastic wrap and let rise in a warm place until it almost reaches the rim of the pan, about 30 to 45 minutes.
Dimple dough with your hands, arrange ¾ of the roasted tomatoes on top, drizzle with ¼ cup olive oil, sprinkle with thyme and remaining 2 teaspoons coarse salt.
Bake for 30 to 40 minutes, until the top is golden, dry, and the bottom golden too.
Serve warm with an extra drizzle of oil and some sea salt if you want to.
---
Adapted from Baking Handbook, by Martha Stewart