Before I start to rant about the last few days, let me state that this sausage and sun dried tomato strata is one of my favorite comfort foods ever. So good.
This has been one of those weeks, you know, all work and not much fun. And a lot colder. I couldn't get away with not sleeping with the heat on or grabbing lunch in the terrace with the winter sun as company. Not today.
When nothing else works and I already cooked so much that I can't start another recipe without overflowing either my fridge or counter space I go for a walk. It can help me turn my whole vision around and find perspective. And boy, did I need that today. It was imperative that I clear my mind, try to focus on positive stuff, do some rearranging of priorities and begin to take some extremely tough business decisions. Those that make you breathe deep and trust. Trust in yourself and an uncertain future, which really, is a combination that takes a lot of faith.
.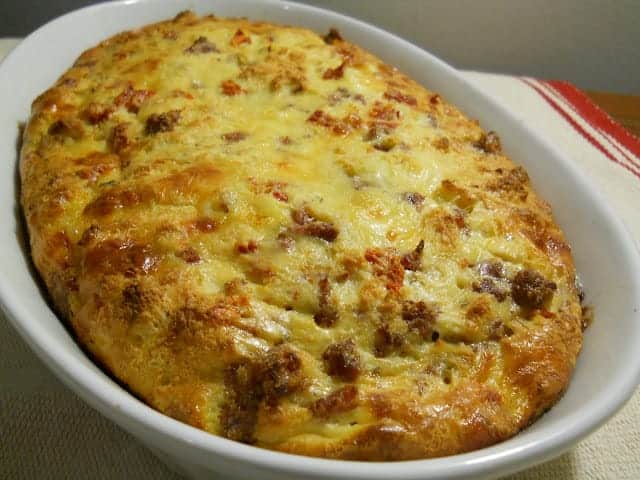 There is a little video that I found through a
blogger friend
. It shows how the success stories of many were achieved after going
through a certain amount of tough moments that include failures, rejection, stuff like that. A life like yours and mine. I know you're probably rolling your eyes, what's new huh?. But running into this video was inspiring. How much are you willing to believe in yourself? It's a difficult thing to do sometimes.
It reminded me of a TV add that run here (in spanish) ages ago, and was based on the same idea. I never forgot it and now it comes back at a critical moment. Yeah, I'm one of those who believe we make our own life and have the power to change ourselves even in the most challenging of moments. So I tend to look for clues when I'm between a rock and a hard place.
 .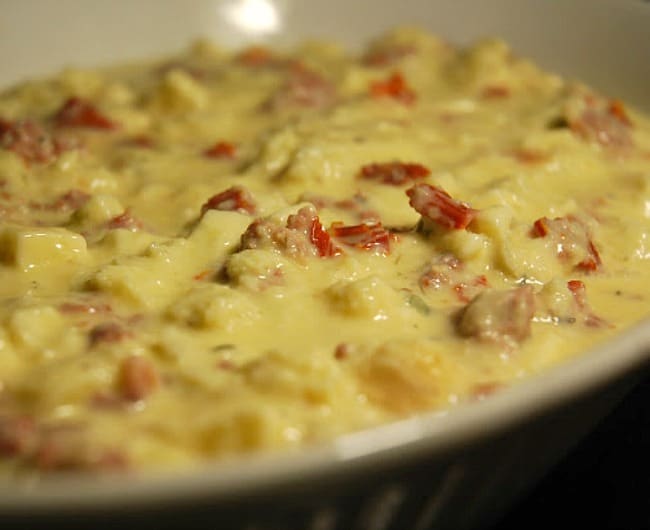 Anyway, I bundled up and spent hours walking, running errands, talking to friends and getting much needed perspective. When I got home I was pretty wet and famished. Did I tell you it started to rain at some point? Did I care? No.
This strata was waiting for me. Isn't that an interesting name for what is, in the end, a savory bread pudding? Some cubed dill and red onion bread, sausage, cheese, dried tomatoes, custard. The perfect comfort food that comes out of the oven puffed and gloriously golden, begging for a spoon to cut through that eggy crust and reach the creamy interior. It works year-round and with so many combinations of seasonal ingredients.
A great recipe for leftover bread and brunch.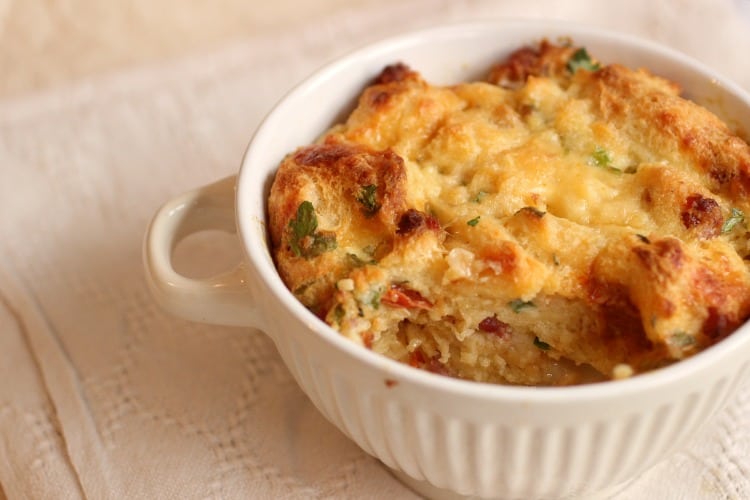 Print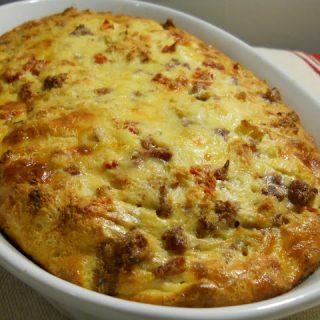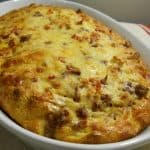 Sausage and Sun Dried Tomato Strata
---
Description
You can halve the recipe and/or make individual servings too.
---
Scale
Ingredients
½ cup

sun dried tomatoes (not oil packed, chopped)

12 oz

. 340g sausage, casings removed

3 ½ cup

s whole milk

8

large eggs

2 teaspoon

s minced fresh thyme

1 ½ teaspoon

salt

¼ teaspoon

black pepper

1

pound 450g dill and red onion bread, crusts trimmed, cut into pieces

½ cup

freshly grated Parmesan cheese

½ cup

grated mozzarella cheese

½ cup

grated Fontina cheese
Chopped fresh parsley and/or basil
---
Instructions
Place sun dried tomatoes in medium bowl. Pour enough boiling water over to cover. Let stand until softened, about 15 minutes. Drain.
Sauté sausages in heavy medium skillet over medium heat until cooked through, breaking up with the back of spoon, about 5 minutes. Using slotted spoon, transfer sausage to paper towels and drain well.
Butter 13x9x2 inch glass baking dish. Whisk milk, eggs, thyme, salt and pepper in large bowl to blend.
Add tomatoes, sausage, bread, parmesan, fontina, mozzarella and herbs. Stir to blend.
Transfer to prepared dish. Cover and refrigerate at least 4 hours or overnight.
Preheat oven to 375º F.
Bake strata uncovered until puffed and golden brown, about 45 minutes.
Transfer pan to rack and cool 5 minutes.
Sprinkle with additional parsley if desired and serve.
---
---