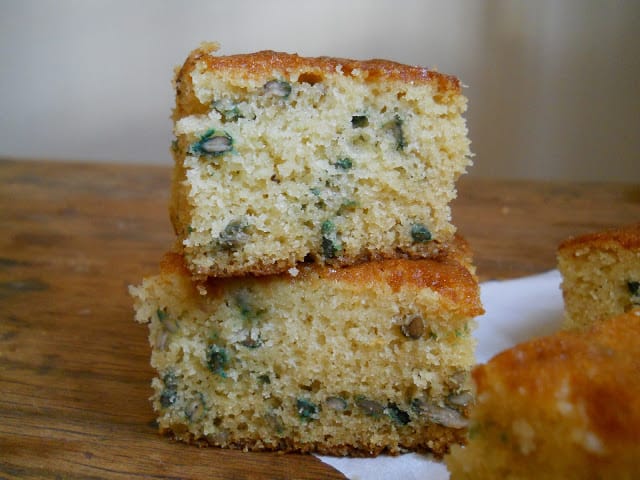 Looking for a plain cake with a twist on a cold
afternoon, I came upon a chapter in a book that was about textured cakes. A bit
of everything, from rice flour to bran to buckwheat to rye.
Plain cakes are my weakness, but with an added
something, like
pepper
or sweet wine or red wine, they are my ultimate weakness. I have rows of bags with different
flours, seeds, dried fruits, you name it. Sometimes I bake with the sole
purpose of using them and this afternoon was no exception. Most of the times I
discover a good recipe. This cake falls in all those categories. But the real
wonder came when I cut it. Do you see the green flecks of sunflower seeds? Did
you know they were so green inside? I didn´t.
I gave a piece of cake to a friend who eyed it suspiciously
and took the first bite just because I ordered her to. And it hit her like it
hit me. In the second or third bite. Just as you think it is a weird taste, it turns
into a good weird taste. Some, like me, found it great weird. The vanilla
blends with the seeds, which let their presence be known in no uncertain
flavor, and the result is hard to pin. You taste both. They don´t mix
completely but at the end they do.
A crunchy and different cake.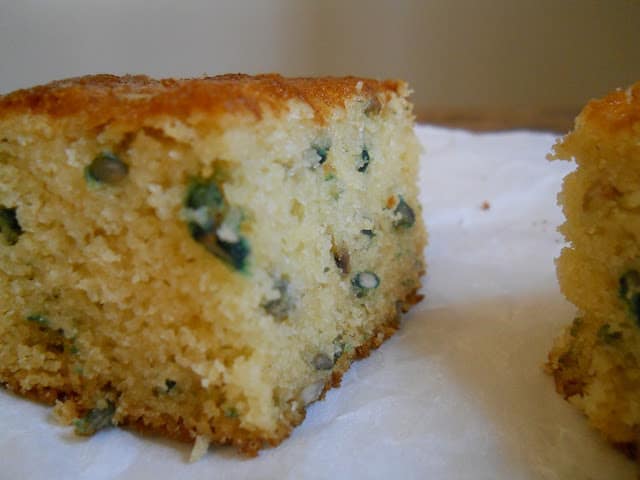 SUNFLOWER SEED
CAKE
½ cup (115g) unsalted butter, room tº
1 ¼ cups sugar
2 eggs
1 cup semolina flour
1 cup all-purpose flour
1 ½ teaspoons baking powder
½ teaspoon salt
1 cup milk
2 teaspoons vanilla extract
½ cup dry-roasted sunflower seeds (I used unsalted)
Preheat oven to 350ºF / 180ºC. Grease and flour an 8-
inch square pan.
Cream the butter and sugar well. Add the eggs, one at
a time, and continue beating until the mixture is light and fluffy.
Sift together the semolina, all purpose flour, baking
powder and salt over the egg mixture in the bowl. Add the milk and vanilla and
beat until the butter is well blended and smooth (it may look curdled). Stir in
the sunflower seeds.
Pour into the prepared pan and bake for about 35 to 45
minutes, until golden and a tester inserted comes out clean.
Remove from the oven and place on a rack to cool. Cut
into squares and serve from the pan.
---