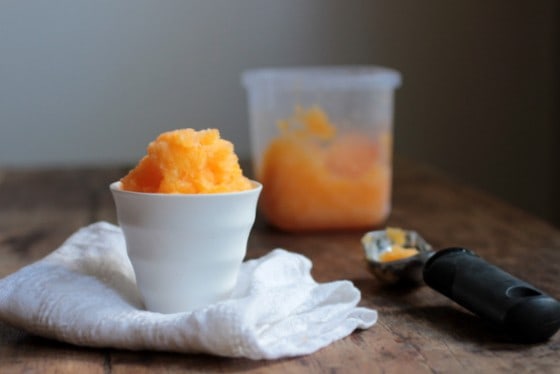 If there was ever a moment not to post about
sorbet
is this week here in
Buenos Aires
. Winter officially started yesterday, and it's finally quite cold since the beginning of the week. At least as cold as it normally gets here, which is almost zero degrees, celsius of course. But it doesn't snow, except for
that day in july
 five years ago.
It was pretty magical to suddenly see snow where it's not supposed to fall.
But for me ice cream and sorbet are good year round. Right now I have homemade banana, cinnamon (leftovers from this graham crackers cinnamon paletas), and this brightly colored tangerine
cointreau
sorbet.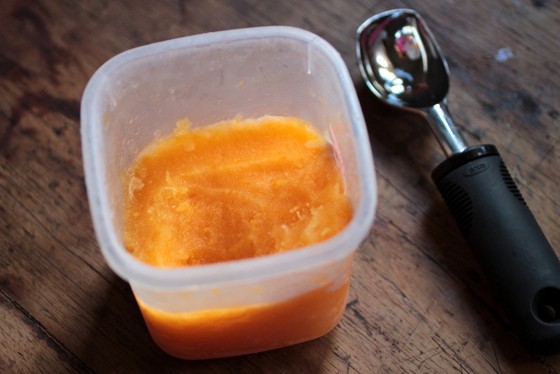 In this icy
food group, I suspect the waters are very divided between creamy ice cream and
refreshing sorbets. Most persons are usually partial to one or the other. Given
the choice I'm all for sorbet, tangerine, passion fruit and grapefruit
specifically. But I get the urge of some
dark chocolate ice cream
or sabayon
once in a while. Cravings that hit me hard and no water based stuff will do. 
So I guess I'm partial to my moods when it comes to ice cream. Well, the truth is my mood dictates most things during the day. Doesn't it always?
Back to this tangerine sorbet. The idea to make it at home was somewhat forced on me, since my favorite ice cream place stopped making it. The nerve, I know. And good, sweet tangerines have a small window in the market, right now is the time here. So homemade sorbet it was.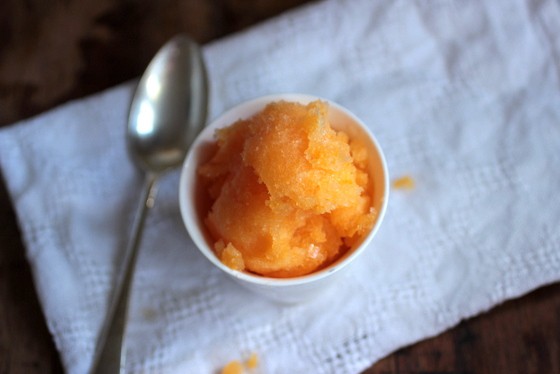 Through the years I've become quite fond of recipes from
David Lebovitz
. And he has a reigning place in the ice cream/sorbet group. I shared his caramel ice cream with you, and the chocolate chip cookie ice cream is adapted from one of his recipes.
And I don't even own
this book
 yet. I really don't know how that happened, since hoarding cookbooks is one of my favorite things to do.
This sorbet needs to be made with very sweet flavorful tangerine juice. Or I should specify that, unless you have fabulous tasting fruit, don't even bother. It will taste like barely flavored water and you don't want that.
The 
cointreau is a favorite of mine, but vodka works fine too. The thing about 
alcohol in ices is that it prevents them from freezing rock solid. One more 
reason for loving booze in my kitchen. That's why limoncello doesn't solidify 
though it's kept in the freezer, the vodka prevents it.
The orange liqueur flavor is barely there, just a hint. This is not a liqueur sorbet, this is a tangerine sorbet with a hint of cointreau.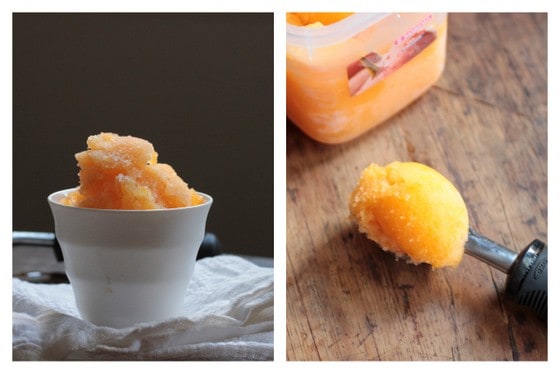 Print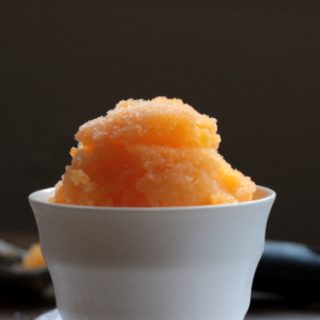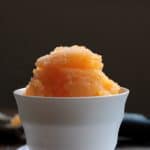 Tangerine Cointreau Sorbet
---
Scale
Ingredients
4 cup

s tangerine juice

1 cup

sugar

2

Tbs orange liqueur (I used Cointreau)
---
Instructions
Mix 1 cup of tangerine juice with the sugar in a small saucepan.
Place over medium heat until the sugar is completely dissolved.
In a large bowl place the remaining 3 cups of juice.
Add the sugar mixture, the liqueur and stir to mix well. Cover and chill until very cold, about 6 hours or overnight.
Transfer to an ice cream maker and process according to manufacturer's directions. It might not be completely thickened.
Immediately freeze until it's solid enough to serve.
---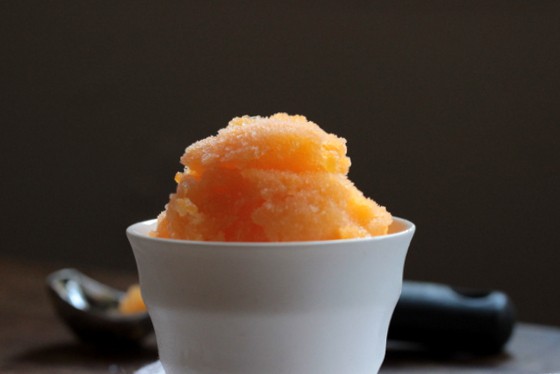 Today's 5 related recipes worth looking at:
---