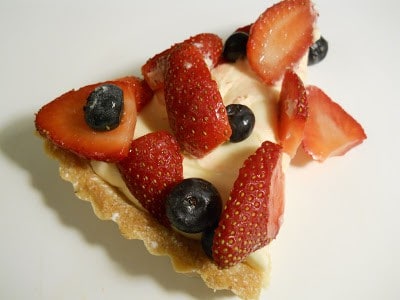 .
My second post for Sunday Supper has me excited because I'm making a tart full of fruits that feels like summer. A white chocolate berry tart. Some days I really don't know what season it is.
We are having a tropical winter. How's that possible you might ask? Well, when the weather reaches 22ºC (that's like 72ºF) in the
middle of winter, or when I can very well go get a pedicure and walk out of the salon wearing flip flops at this time of year, or it feels like it's time to make ice cream, yeah, the word tropical fits perfectly.
.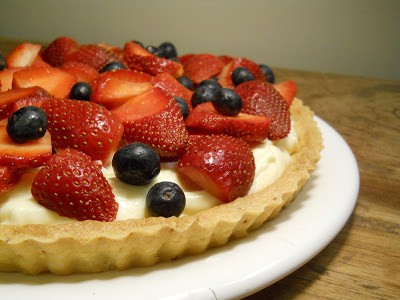 Today I went shopping for fruits. And came back with mangoes, strawberries, passion fruit and blueberries. That's a tropical winter fruit basket.  I've never paid much attention to seasonal produce as I'm doing now that I write this blog. I did eat seasonally, but it wasn't planned. It just happened. I went to the supermarket, saw this and that, bought some and ate it in the simplest way I could find.
Now, I do the same but try to find stores that sell good stuff. And the simple ways are getting much more sophisticated. Spices, herbs and flavor combinations I never imagined. And let's not get into the roasting, caramelizing and braising. So, all in all, I'm eating great food with the same amount of work but twice the fun. It's great to have a food blog.
Back to our fruit basket, I'm happy to be able to share recipes that will interest people from the other hemisphere. I've made this tart at least a dozen times. Usually with a plain sweet dough and strawberries.
The white chocolate and lemon juice (or lime) balance each other perfectly.
.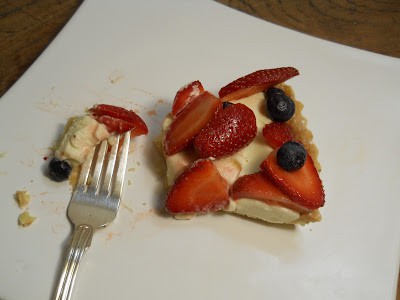 Don't be put off by the use of gelatin. It's just a bit and really holds
it together. The nutty, flaky dough filled with a sweet but faintly tart, pillowy mousse and then the berries that burst in every bite. Are you feeling the firecrackers yet?
So this Sunday, since we're celebrating an Independence, and then there are two more coming this month (Argentina July 9 and France July 14) I'll start with the first of the three, because this is our 4th of July post after all, but I will also add the last, which can be celebrated with the same dessert since they have identical colors.
My country will have to wait till I think of some interesting way of using light blue and white, our flag colors. Yeah, not really food friendly colors. Not at all. A bit of a challenge.
Print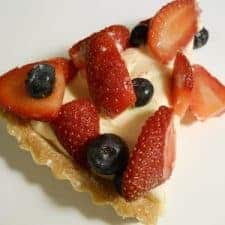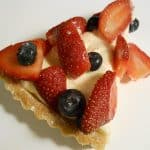 White Chocolate Berry Tart
Prep Time:

45 minutes

Cook Time:

20 minutes

Total Time:

65 minutes

Yield:

8

servings

1

x
---
Description
This works well with peaches and nectarines too.
---
Scale
Ingredients
For the sweet dough (pate sablée):
1 ¾ cup

s 250g all-purpose flour
Scant

1 cup

(200g butter, cut into small pieces and slightly softened)

1 cup

100g confectioners' sugar, sifted
Pinch of salt

2

egg yolks
For the filling:
¼ cup

fresh lemon juice

½ teaspoon

unflavored gelatin

1 cup

chilled whipping cream

5 oz

. 140g good-quality white chocolate, chopped

2

Tbs sugar

2

Tbs sour cream
For the topping:
2

pounds 950g fresh strawberries, hulled and sliced

7 oz

. 200g fresh blueberries, washed and dried
---
Instructions
For the sweet dough:
Put flour, salt, and sugar in food processor and pulse a few times to combine.
Add butter and process until it is combined, it will be clumpy.
Add yolks and process until it barely starts to come together. Transfer to counter and work it a few turns until it becomes a homogeneous dough. Wrap in plastic and refrigerate for 1 hour or up to 2 days.
When ready to use, transfer dough to counter and, using a rolling pin and light strokes, roll out the dough, giving it a quarter turn and flipping it over from time to time. This will prevent it from sticking and helps keep it aerated.
Continue until the dough fits a 9-inch (24cm) round tart pan.
Prick bottom of dough with a fork, and refrigerate for at least 30 minutes.
Ten minutes before baking, preheat oven to 375ºF / 190ºC.
Put a big piece of aluminum foil over chilled crust so it hangs over sides and fill with pie weights or dried beans. Bake for 15 minutes, remove foil and weights and continue baking until pie is a light golden color and feels dry.
Let cool completely on wire rack. Unmold onto serving plate.
For the filling:
Place lemon juice in small bowl; sprinkle gelatin over. Let stand 10 minutes to soften.
In a bowl over simmering water, place ¼ cup and white chocolate, and stir until combined and smooth.
Remove from water, stir in gelatin and combine well. Chill until cold and beginning to thicken but not set, stirring often, about 45 minutes.
Beat sugar, sour cream and remaining ¾ cup cream to medium peaks. Fold in the cooled white chocolate mixture.
Spoon mousse into crust. Refrigerate until completely set, about 4 hours.
For the topping:
Slice strawberries and arrange decoratively (in my kitchen that has yet to happen) over the white chocolate cream. Sprinkle with blueberries. You can add a thin layer of strained apricot jam to make it shiny.
Can be made 4 hours ahead. Chill
---
adapted from Bon Appetit, April 1996 and Pastry, by Michel Roux
---