A twist on the traditional focaccia, this recipe uses whole wheat bread for an earthier flavor, but is still fluffy and delicious! Topped with roasted grapes and goat cheese, it's a wonderful appetizer or light lunch together with a salad.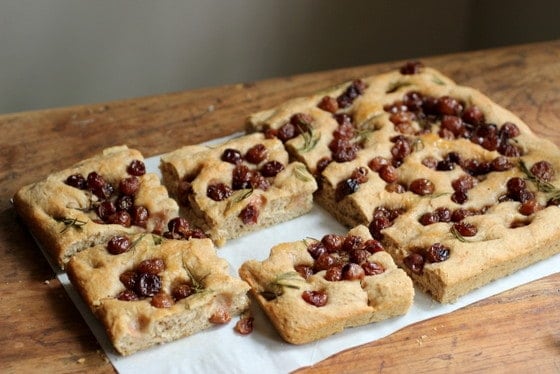 Before we sit down to chat and eat this amazing whole wheat focaccia I think you should go out, buy some seedless grapes, come home, roast them with the tiniest amount of olive oil, and try one. I really, really hope you'll be as amazed at their sweet flavor as I was. Almost a candy in the form of a soft grape.
Then the conversation about this whole wheat focaccia with roasted grapes and the mandatory amount of olive oil it needs will go smoothly and you'll be as excited about it as I am.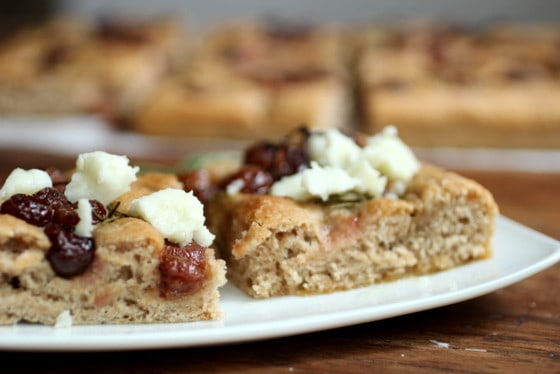 I don't remember the first time I baked or had focaccia really, but what I do remember with absolute clarity, is the first time I had focaccia that forever stayed in my mind.
Through the years I made it so many times, using so many recipes, and most of them were perfectly amazing, with a lot of olive oil that seeps into the dough and leaves a matte finish on top, and myself with an incredulous look, like where did the olive oil go?
But the flavor wouldn't be the same if all that fruity oil didn't permeate the surface of the dough, it would be more of regular bread dough with some sort of olive taste.
So I liberally drench it in olive oil, the good kind, the strong kind, because that's how I like it.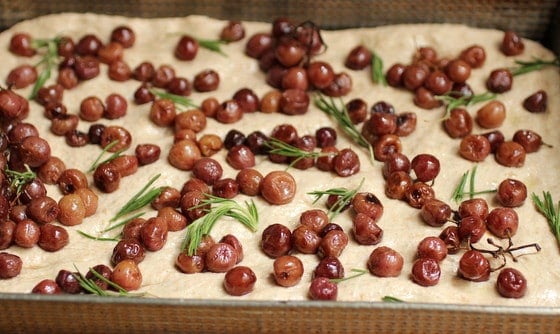 This is the first time making a whole wheat version, which includes about half bread flour.
It's difficult to achieve the sponginess of focaccia using only whole wheat flour, but I don't discard making a few tries, after all, I do make a 100% whole wheat bread with a crumb-like you wouldn't believe it, a recipe by Beth Hensperger, whose challah is the first bread I ever made.
Roasted grapes
On to the grapes, so sweet and juicy.
The first time I roasted strawberries I felt the same way. I had made a tapioca pudding with coconut milk and decided to roast a mango and strawberries after seeing it on another site. Can I roast everything from now on? It really makes things better. It puts me in a very good mood, and isn't that one of life's aims, to be happy? Let's roast then.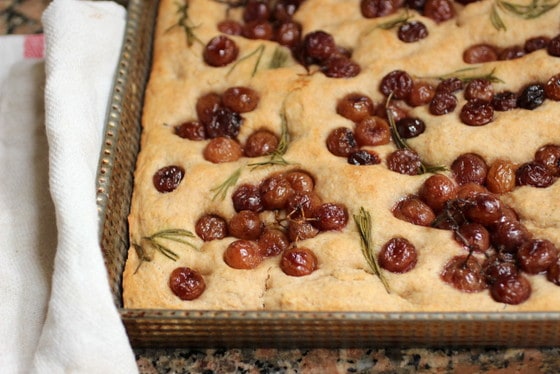 Let me know in the comments below if you make this recipe! I'd love to hear what you think about it. Thank you for being here, I appreciate it! Let's connect via Facebook, Instagram, and Pinterest.
If you like the recipes in this blog, consider subscribing and getting all new posts by email. As a thank you, we'll also send you a FREE recipe e-book and our Guide to Freezer Baking!
Print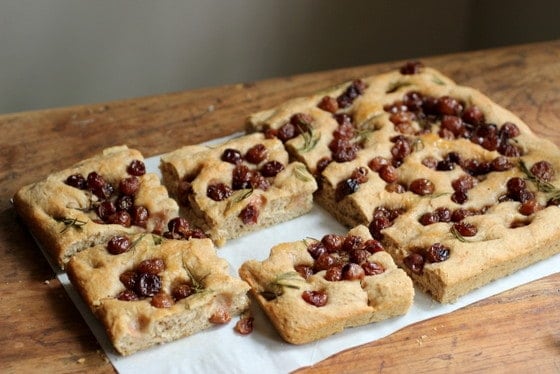 Whole Wheat Focaccia with Grapes
The recipe makes 2 focaccia
Total Time:

2 hours 40 minutes

Yield:

10 servings each
For the focaccia:
2 teaspoons

active dry yeast
Pinch of sugar

1 ½

cups

warm water

1 tablespoon

olive oil

2

cups

superfine whole wheat flour
About

2 ½

to

3

cups

bread or all-purpose flour

1 ½ teaspoons

salt
About

½

cup

olive oil (to sprinkle before the topping)
Roasted grapes (recipe below)

2

or

3 tablespoons

fresh rosemary
Sea salt

1

cup

feta cheese
Freshly ground black pepper
For Roasted Grapes:
4

cups

seedless grapes (the sweeter the better)

1 teaspoon

olive oil
Instructions
For the focaccia:
In the bowl of a stand mixer, stir the yeast and water with a pinch of sugar. Let stand 5 minutes or until foamy.
Add the olive oil and whole wheat flour. Beat with a wooden spoon until blended and attach to the mixer with the dough hook.
Gradually add salt and bread flour, ½ cup at a time while mixing at medium low speed.
Knead for about 5 minutes and check to see if it needs more flour. It should be elastic and just a bit sticky.
If it's pooling too much in the bottom of the pan or too wet add more bread flour, by tablespoons, until you have a velvety dough that doesn't stick but is not stiff. I prefer to err on the wet side, since focaccia doesn't have to be formed into any shape and a too stiff dough will mean a tougher bread.
Coat a clean bowl with olive oil, transfer dough, turn to coat in the oil, cover and let rise until doubled at room temperature, about 1 to 1 ¼ hours.
Oil two 9x13x2 inch baking pans. Preheat oven to 400º.
Transfer dough to a barely floured board and divide in two.
Gather each half, place it inside the pans and, with oiled hands, press toward the borders until you fill the whole pan. If the dough resists, wait a few minutes and then stretch again with your fingers.
Liberally sprinkle with about ¼ cup olive oil each dough, scatter roasted grapes and rosemary on top, add sea salt to taste and let rise, loosely covered with plastic wrap, until almost double, 35 to 45 minutes.
Dimple the dough with your fingers one last time, and bake for about 20 minutes, until golden and top looks dry and crusty.
Let cool on wire rack for 5 minutes, transfer to wooden surface, add crumbled feta cheese on top, more olive oil and black pepper to taste.
Cut into squares and serve.
For Roasted Grapes:
Preheat oven to 350º.
Put seedless grapes on a baking sheet or oven pan, and sprinkle with only 1 teaspoon olive oil, rolling them around to coat.
Roast for about 20 to 30 minutes, until they just begin to collapse and brown.
Don't over roast them at this point because they will continue cooking with the focaccia.
Notes
You can use all white flour and make traditional focaccia.
Freezing: wrap it tightly first in plastic and then in foil and freeze for a few months. I defrost it in a low oven.
Author:

Paula Montenegro

Prep Time:

120

Cook Time:

40

Category:

Bread

Method:

Baking

Cuisine:

Italian
Keywords: whole wheat focaccia