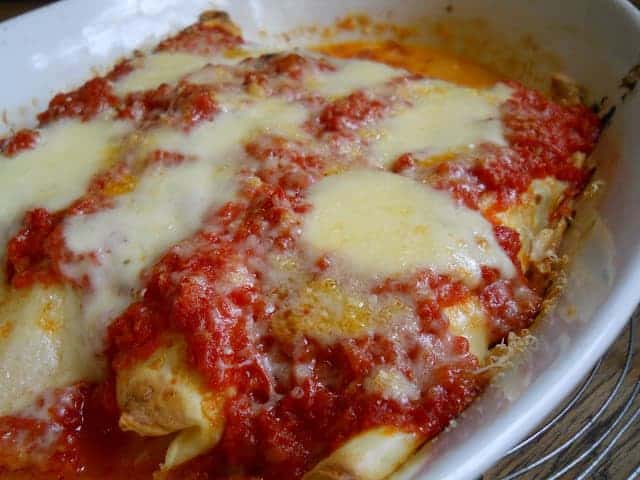 It's back to school time at our Sunday Supper table, hosted by the talented Nicole of Daily Dish Recipes. That
means today, you lucky mommas with kids will get an incredible array of savoury recipes – including these zucchini, corn and bacon crepes – to help you through days of waking up early, carpooling, buying last minute how-come-you-didn't-tell-me-you-needed-school-supplies, lunch boxes, you know, the usual pre and post school activities.
I don't have kids, but my house was full of teenagers at one point, since many years ago I had stepchildren. Not one, not two, but five. Though I didn't send them to school every morning I had to feed them, during weekends, month long vacations and many days in between. So some recipes entered the rotation and were real life saviors.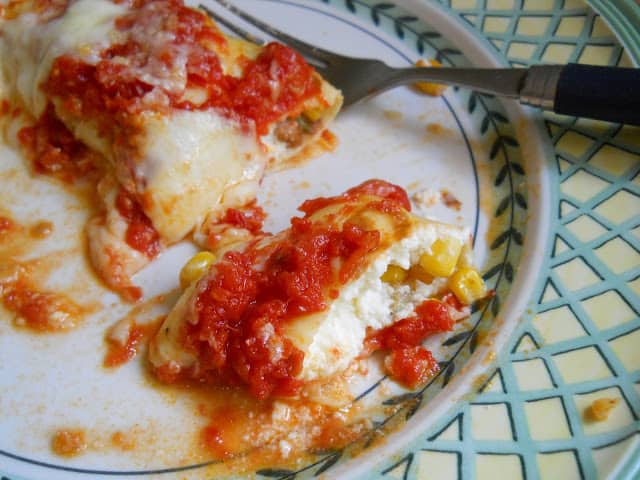 These filled crepes, or canelones like we call them here, are ideal for an army, like I used to have since it was my five angels + one or more friends per each one of them. Do the math and that's a lot.
When you have a big household somehow it just gets bigger at dinner time. Things like grabbing a piece of fruit and going to watch some TV before falling asleep were non-existent. They needed to be fed. Of course, many mouths come with many different taste buds, thus needing different recipes to accommodate all.
I used to make crepes and freeze them.
The fillings are endless, and especially good if you have different vegetables or bits and ends of meat and chicken lying around in the fridge. Just start chopping, cutting, sautéing, grating and mixing. Fill your crepes, line them up in a pan, open your bottle or can of sauce, into the oven and suddenly the table is full of laughing faces and happy bellies.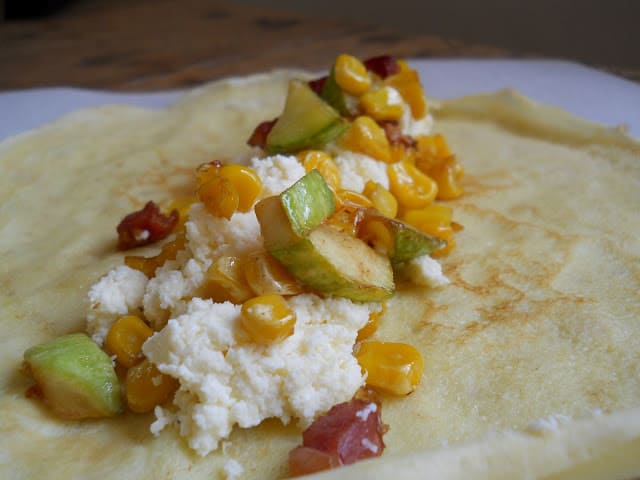 If needed, it's like a pizza topping, one half for the meat lovers and the other half for the vegetarians. Just throw some chopped
chicken or ground beef along with, or instead of,  the bacon in the skillet.
This particular filling is one of many that I made many times and is a crowd pleaser. You will be happy because you fed them some vegetables, the bacon will make everyone else happy.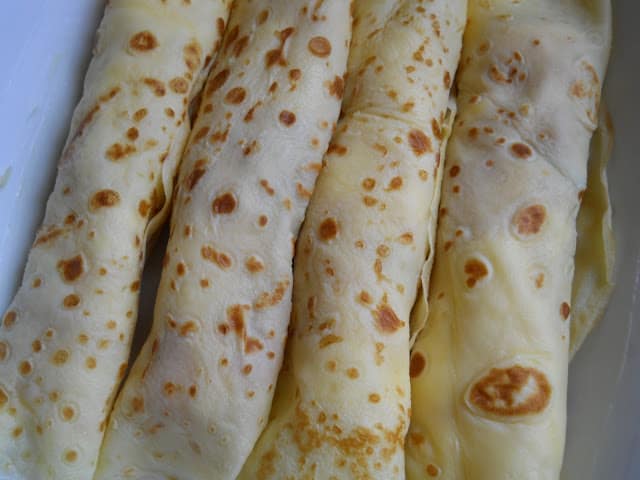 And then there's the amount of cheese that we need to discuss. A good amount of cheese inside the filling and more on top of the sauce and I can guarantee you'll see happy faces. There's something about a bubbly, cheesy dish coming out from the oven. I'm getting hungry just writing about it.
After I cover my crepes with the tomato sauce, I dot some fat pieces of queso fresco on top, before the parmesan. I know queso fresco comes up in many recipes; I use the kind that has an exceptional melting quality. Perfect for pizza also.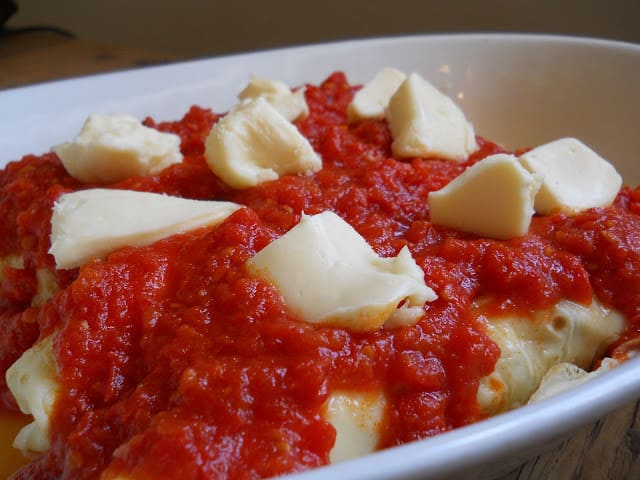 I give you the recipe for crepes and for the tomato sauce I use.
The former comes from a great little book written by
Michel Roux
 and it became my absolute favourite one, I think it's the cream… The tomato sauce comes from my former mother-in-law (grandmother of the teenagers) and couldn't be simpler, a bottle or can of crushed tomatoes gets mixed with a few other staple ingredients that simmers away while you put together your
canelones
.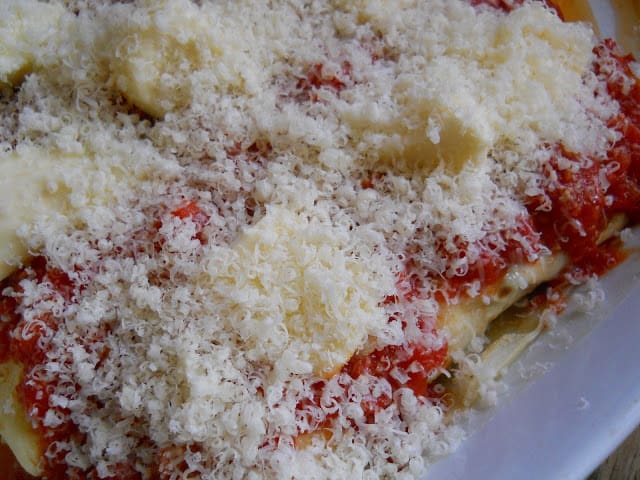 Both can be made in advance and frozen, which I highly suggest you do if you have the time. You can use store bought crepes and tomato sauce of course.
Print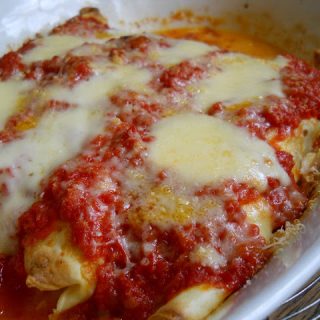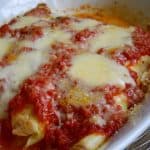 Zucchini, Corn and Bacon Crepes
Yield:

6

servings

1

x
---
Description
This recipe can be easily doubled, which you might want to do if you plan on freezing the crepes. I use an 8-inch non-stick skillet. The batter might become a bit thick after the waiting time, so you might want to add 1 Tbs of water before making the crepes. It can also be refrigerated, covered, for a day before using.
---
Scale
Ingredients
12

crepes (recipe below or use store-bought)

1 ½ cup

s ricotta cheese

½ cup

grated parmesan cheese

1

or

2

thick bacon strips

1

large zucchini

1 cup

corn kernels (thawed if using frozen)
Salt and fresh black pepper
Tomato sauce (recipe below or use store bought)
Queso fresco cubed (about ½ cup)
For the crepes:
¾ cup

all purpose flour
Large pinch of salt

2

eggs

1 cup

whole milk

1/3 cup

cream
For the sauce:
2 cup

s crushed or canned tomatoes (I use bottled)

1

or

2

cloves peeled garlic

4

or

5

fresh sage leaves

1

Tbs olive oil
Salt and pepper to taste
---
Instructions
Mix ricotta with ¼ cup parmesan cheese, salt and pepper. Reserve.
Cut bacon slices into thin strips. Start cooking them over low heat on a large skillet.
Slice zucchini in half lengthwise, remove the first layer of seeds and chop into pieces.
Add to skillet with browned bacon. Add salt and cook for a few minutes over high heat. If zucchini releases water cook until it evaporates.
Add corn and cook for an extra minute. Add black pepper and check salt. Let cool for a while.
Preheat oven to 400ºF /200ºC.
Place crepes on a flat surface. Put 2-3 Tbs of ricotta distributed along the center. Put 2 Tbs zucchini mixture on top. Roll crepes to form a log and place on a buttered oven dish. Repeat with remaining crepes and filling.
Put tomato sauce on top of filled crepes, dot with queso fresco and then sprinkle parmesan.
Bake for 15 minutes until hot, bubbly and cheese is melted.
For crepes:
In a medium bowl combine flour and salt.
Add eggs and whisk until you have a smooth paste.
Add milk and mix well until no lumps remain.
Add cream. Let rest for 1 hour.
Preheat crepe skillet, dot with the tiniest bit of butter and, pour ¼ cup batter. Distribute evenly and cook, over medium-high heat, for 2 minutes or so, before turning it over and cooking for another minute.
Transfer to a plate and repeat with remaining butter.
If not using immediately wrap in plastic and refrigerate for up to 2 days or freeze for up to 1 month.
For sauce:
Put crushed or canned tomatoes in a medium saucepan.
Add peeled garlic cloves, fresh sage leaves, olive oil, salt and pepper to taste.
Simmer over low heat until it thickens. 
---
crepe recipe from
Eggs
, by Michel Roux
---