If there's a dish that is shared among friends in this country that is empanadas, or handpies or turnovers, and corn is a traditional filling. I added basil.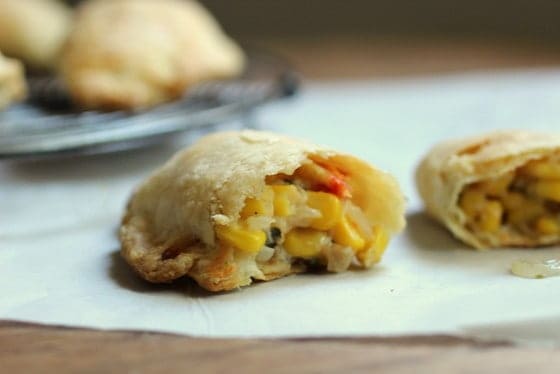 It's the delivery or take-out food by excellence; we have all said, at one time or another, 'we'll just order some empanadas' whenever there's a gathering with friends in the horizon and there's no one to do the cooking. We have a wide variety of fillings that include meat, chicken, cheese and onion, caprese, ham and cheese, spinach, and corn as the most common.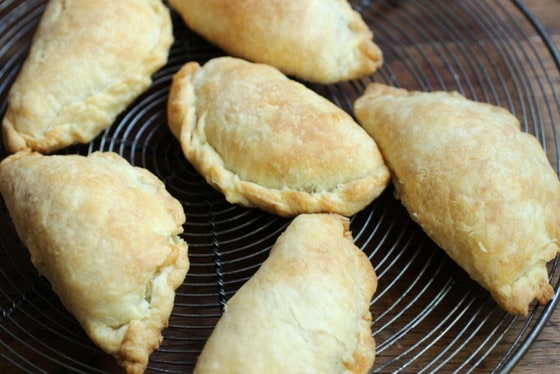 Today is a special post, involving friends and specifically friends in need.
Our helping hands theme for Sunday Supper, hosted by the phenomenal blogger and friendly
Liz, of That Skinny Chick can Bake
, came after the not-at-all friendly
Sandy 
came and went. A devastating natural tragedy that left many homes and families in need of assistance of all kinds.
I think the need to help is almost natural in the food blogging community. We're very nurturing, just like food is, and tend to be there for whoever needs it.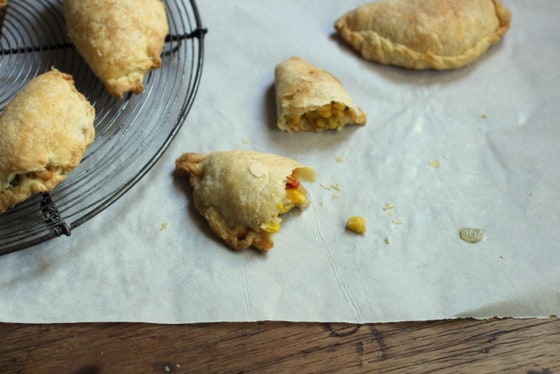 These handpies are simple to make because they can be made in steps. Though any store-bought pie dough can be used and the shape of the empanadas con be square, like these mushroom ham ones, making it easier to cut them from a piece of rolled dough.
In this case, the dough is the one I used for this 
pecan pie
. It's very different from the one I posted for the meat empanadas.
The reason I used this buttery one is because I already had it in the fridge. Yeah, it wasn't something terribly planned, but it's the kind of versatile dough that goes from sweet pie to savory handpie.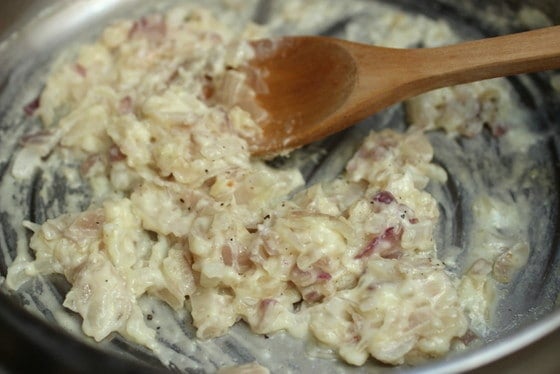 The thing with these corny pockets is that they can be eaten warm or at room temperature.
They don't have cheese, though you're very welcome to add some parmesan or gruyere to it, but then you would have to eat them hot. This corn basil filling is very flavorful and you won't miss the cheese one bit. If you want it spicy, add some cayenne pepper or red pepper flakes. Cumin is another spice that goes well with it.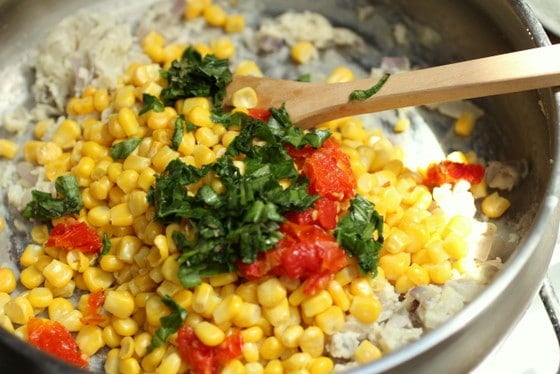 I kept it very simple. A white sauce (equal parts of butter and flour cooked, to which milk is added) enriched with corn, tomatoes, onion and basil. The kind of thing that I would really make to take over to whoever is going through a crisis.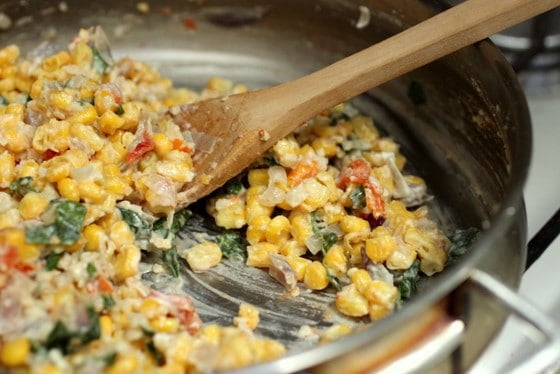 Print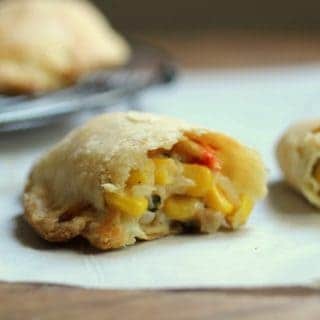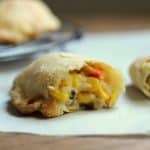 Corn basil empanadas
Yield:

2

dozen

1

x
---
Description
I made 1/3 of the recipe and got 8 medium (fist sized) empanadas. If you make the whole filling you can keep it in the refrigerator for a week. Or assemble the empanadas and freeze them, unbaked,  for a month. To bake, transfer them to a baking tray without defrosting and bake in a 350ºF oven.
If you want a glossy finish, brush the top of the empanadas with egg mixed with a bit of milk.
---
Scale
Ingredients
For the filling:
6

Tbs butter

6

Tb flour 1 large white or red onion (finely chopped)

1 cup

milk

6 cup

s corn kernels (fresh or frozen and defrosted)

½ cup

chopped basil

6

Tbs chopped sun-dried tomatoes
Salt and black pepper
---
Instructions
For the pie dough:
Cut the chilled dough into small pieces, between a walnut and a golf ball.
Make little rounds and roll them on a floured surface trying to keep the round shape as much as possible, until you have 6-inch rounds.
Keep refrigerated, well covered so they don't dry out.
For the filling:
Melt butter in a pan, add onion and cook, without browning, until softened, about 2 minutes.
Sprinkle flour over onion and mix with a wooden spoon. Cook stirring for 3 or 4 minutes, until barely starting to color.
Add milk stirring constantly. Let come to a boil and remove from heat.
Add corn, basil, tomatoes, salt and pepper.
Mix thoroughly and let cool completely.
To assemble:
Put 3 or 4 Tbs filling on each dough round.
Moisten the edge of the dough with water and close, pressing the dough together lightly.
Flute the edges and arrange on a buttered baking tray.
Bake in a 375ºF / 190ºC oven for 30 minutes, or until lightly browned.
---
---