.
These jam thumbprint cookies brought raves from my office colleagues!
.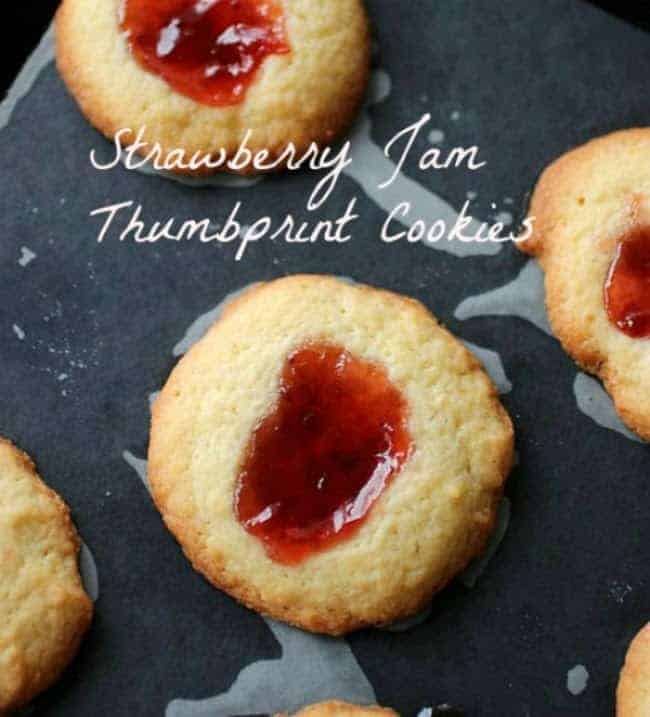 To say that this country is all about the soccer world cup final match tomorrow, might be the most accurate sentence I've written so far since I started blogging. The understatement of 2014. Weather and politics have taken such a back seat lately, they don't know where to stand. And we don't care, that's how much of an impact this sudden soccer match has on us. Football, as called everywhere but in the US,
rules
. No other sport can barely stand up to it, the passion and time devoted to it makes the Superbowl pale in comparison. And the World Cup... well, it's like taking the Superbowl worldwide, you get the idea.
.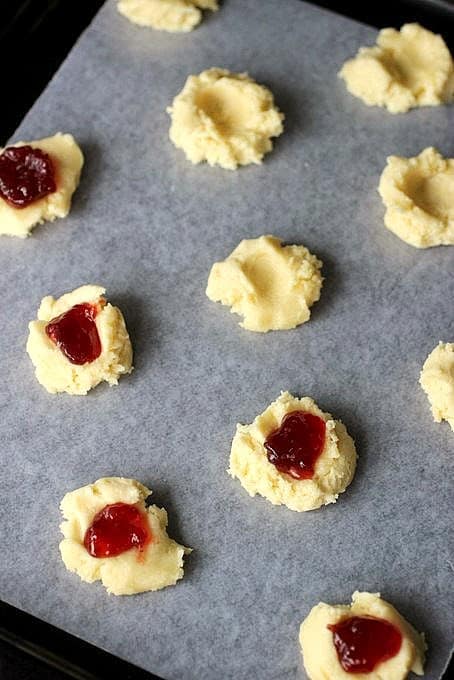 I often wonder why sports have such an extreme effect on us, on our patriotism – be it a country or a team really. What is lacking in us as a society that can only be expressed through a sport? We suddenly are friendly and kind to everyone. They're talking about having Monday as a last-minute holiday for god's sake! Yup, no work. To either celebrate or mourn I guess… Crazy.
But make no mistake, I'm in the thick of it…You should see my tweeter account.
.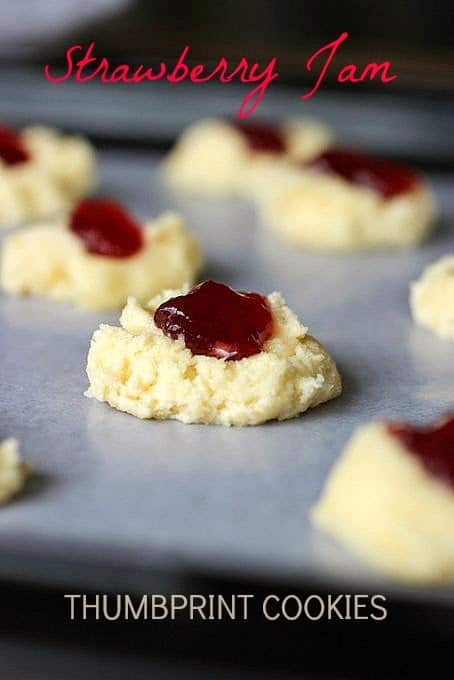 And food is always in the middle of any sports celebration. Two of the matches were on working days, and guys, the country froze, no kidding. It was like being at the office on a Sunday, no phones, no emails, no nothing. For a few hours, there was no class for kids at school.
So, you know, I had no excuse but to bake, ha.
.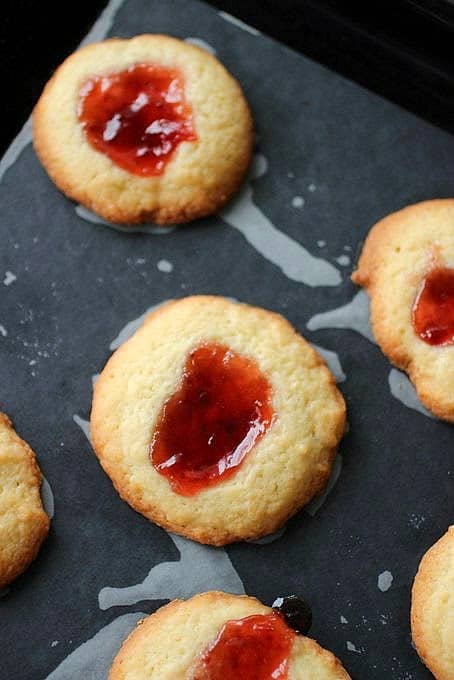 These thumbprints were such a hit, don't mind the crappy pictures, or the way the will look if you forgo looks for flavor and texture. Because I tend to not overdo it with extra flour, they were not your perfectly shaped, round, gorgeous cookies with a pool of un-spilled jam in the middle. Not by far. The filling leaked, the dough stretched to wherever it felt comfortable, and they stuck a
bit when I packed them, wax paper and all.
.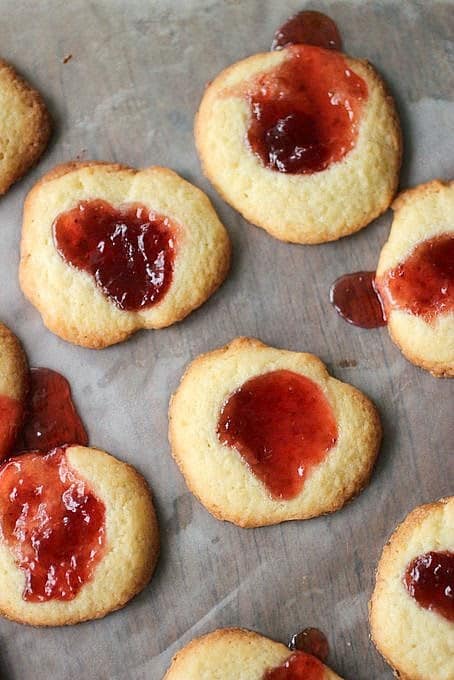 But, a huge but, I think every single person at the office stopped by my desk to tell me how amazing they were. So looks are not everything; yeah, if only they told us teenage girls that until we believed it…
But do believe a bunch of Argentinians who munch on commercial thumbprint cookies on a daily basis, because they actually do. Huge packages are brought into the office weekly and are the first to go.
This recipe is a winner. Hope we are too tomorrow. And if we're not, maybe another batch of strawberry jam thumbprints will soothe broken hopes and hearts.
.
.
.
Print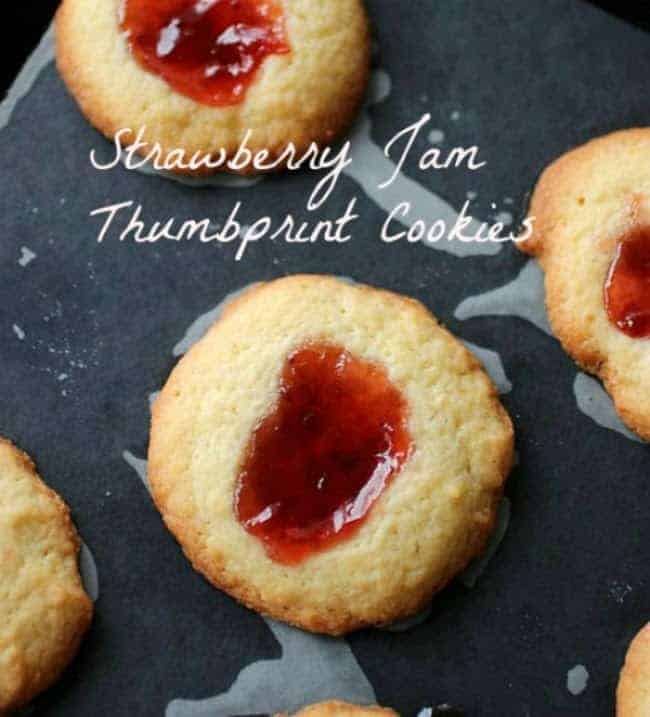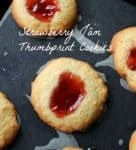 Strawberry Jam Thumbprint Cookies
---
2 cups

all purpose flour

2 teaspoons

baking powder

1 cup

225g unsalted butter, softened

1 cup

sugar

1

large egg (at room tº)

1 teaspoon

vanilla extract

¼ cup

milk
Strawberry jam (about 1 cup)
---
Instructions
Preheat oven to 350ºF / 180ºC. Grease or line with parchment paper, two cookie sheets.
In a large bowl, beat butter with sugar, until fluffy, a minute or two.
Add egg and vanilla and beat well, until smooth.
Mix flour and baking powder.
Alternate the flour mixture in two parts with the milk in one part, just like you would when making a cake. Mix very well, until there are no dry spots.
Refrigerate for 15 minutes before using. Or, cover the bowl with plastic wrap first and refrigerate for up to a few days.
---
recipe from The Buttercup Bake Shop Cookbook, by Jennifer Appel
---