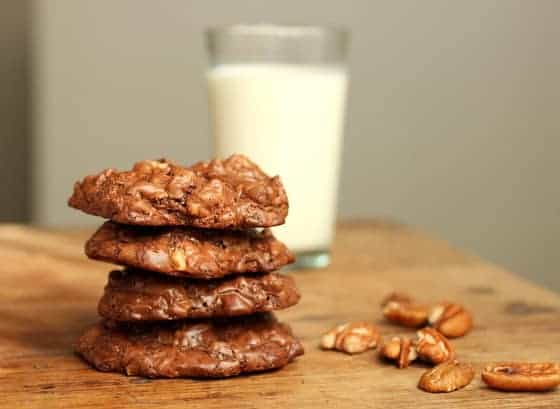 Every once in a while there comes a recipe that is everything you hoped for. Enter these chocolate whoppers.
Even though you expected to be disappointed due to the ridiculous high expectations that grew from reading so many these-are-the-best comments everywhere, or the fact that at one time there was a
famous restaurant
in NYC during the 80's that couldn't keep up with the demand, or when you read that this
fabulous lady customized her famous brownies
from those famous cookies, yes, you prepare yourself for a bit of a letdown.
Which never happens. If you haven't already come upon these cookies you're in for a treat. Lucky you.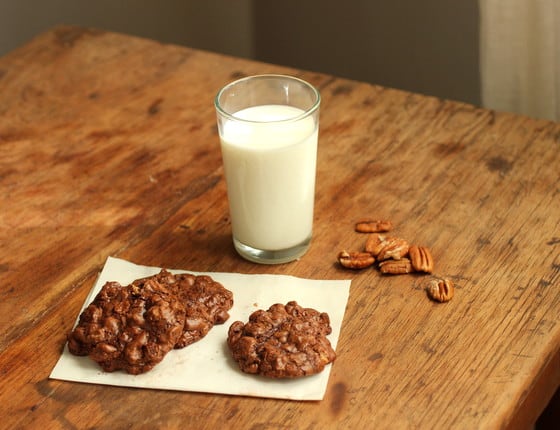 We're having a cookie exchange at the Sunday Supper table today. Just when you thought you'd run out of cookie ideas we're bringing a truckload to your doorstep.
And we have a special guest, Janet K. Keeler, author of Cookielicious, who will be joining us tonight at 7pm EST, to chat on twitter, where five of her books will be given away.  How's that for holiday spirit?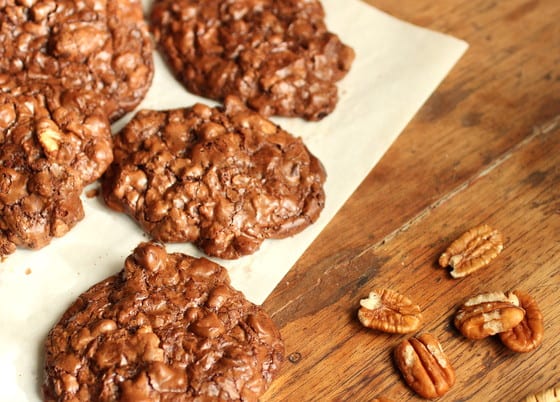 This is the kind of cookie recipe that makes me want to have a blog that gets a million visits a day, so to make sure everyone is able to read about it. Oh, I'm no treasure finder here, I'm just the messenger.
If you're ever going to make these fantastic chocolate cookies don't look at the recipe, except to buy the ingredients. It doesn't make sense. Halfway through the recipe it makes even less sense.
And when you've finally mixed everything together you'll be certain there is a mistake. Like I forgot to put the whole amount of flour or sugar.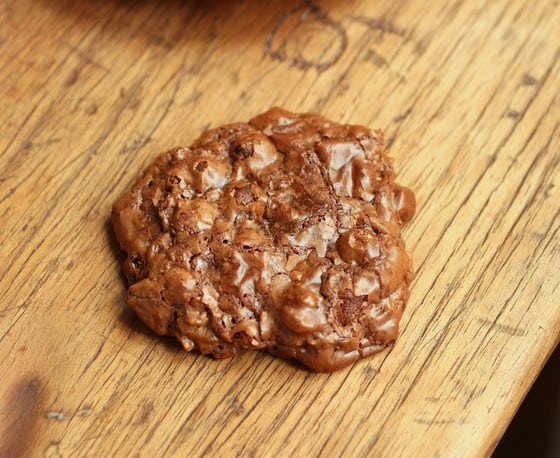 This is chocolate, a lot, and nuts with a decent amount of sugar, little butter and almost no flour. Yet, the brownie like batter bakes just fine and develops a shiny and crackly surface that is just gorgeous.
This is the ultimate, dare I use that word? really? cookie for the dark chocolate lover.
If you, like me, think coffee makes anything chocolate a bit better, then the bar is raised even more.
After a few days of storing these dark beauties, they harden and turn somewhat powdery when you bite them. A completely different thing from the first day, but incredibly good.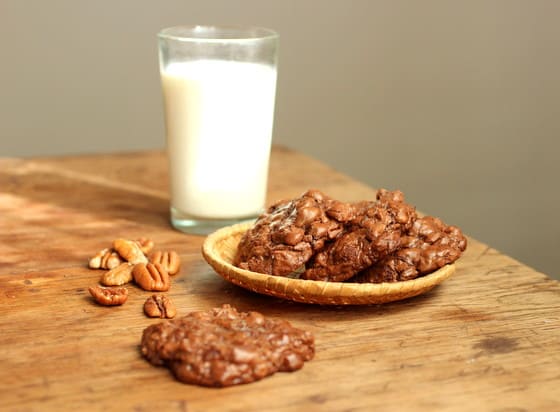 I could go on forever about these, but I really, really think you should give them a try.
Said by the blogger who wrote she isn't really interested in cookies..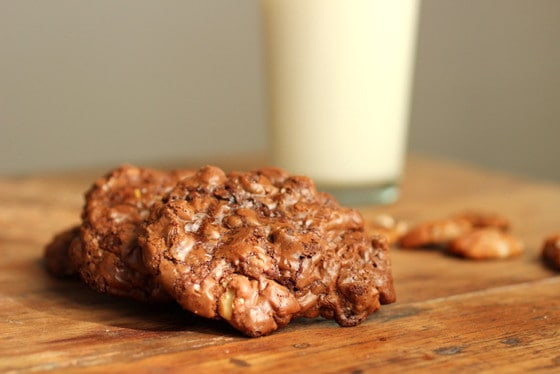 Print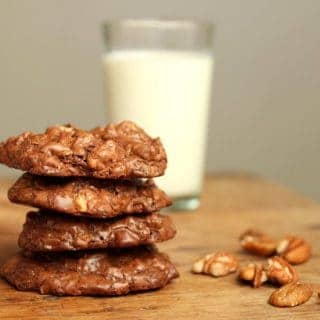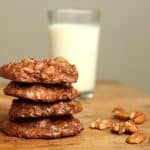 Chocolate Whoppers
Yield:

2

dozen

1

x
---
Description
A silpat is what works best when lining the baking sheet. You can substitute hazelnuts for the walnuts and pecans. The better the chocolate the better the cookie. I use Callebaut 70%
---
Scale
Ingredients
8 oz

225g bittersweet chocolate

3 oz

85g unsalted butter

¼ cup

sifted all purpose flour

¼ teaspoon

baking powder

½ teaspoon

salt

2

eggs

¾ cup

granulated sugar

2 teaspoon

s instant coffee

2 teaspoon

s vanilla extract

1 cup

semisweet chocolate chunks or chips

1 cup

walnuts (coarsely chopped)

1 cup

pecans (coarsely chopped)
---
Instructions
Preheat oven to 350º. Line a baking tray with silpat.
Melt chocolate and butter and reserve. In a small bowl mix flour, baking powder and salt.
In a large bowl, beat together eggs, sugar, coffee and vanilla for 1 or 2 minutes.
Add chocolate and mix well.
Add flour mixture and mix just until incorporated. Add chocolate chunks, walnuts and pecans.
Drop tablespoons of this mixture onto the prepared baking sheet, leaving some space between them. Do not press down.
Bake for 10 to 12 minutes, until shiny and crackly. The middle of the cookies will be soft.
Let cool completely on a wire rack before removing from the baking sheets.
Store in an airtight tin.
---
from Cookies, by Maida Heatter
The Sunday Supper list of Favorite Cookies:
---