These intense chocolate cookies have been my favorites for years. They have nuts (walnuts, pecans, or a mix), a shiny, crackly skin, and a dark chocolate fudgy center with chocolate chips that is gooey and incredibly rich. They can be made in different sizes and last several days. A fabulous chocolate cookie recipe I'm sure you'll love!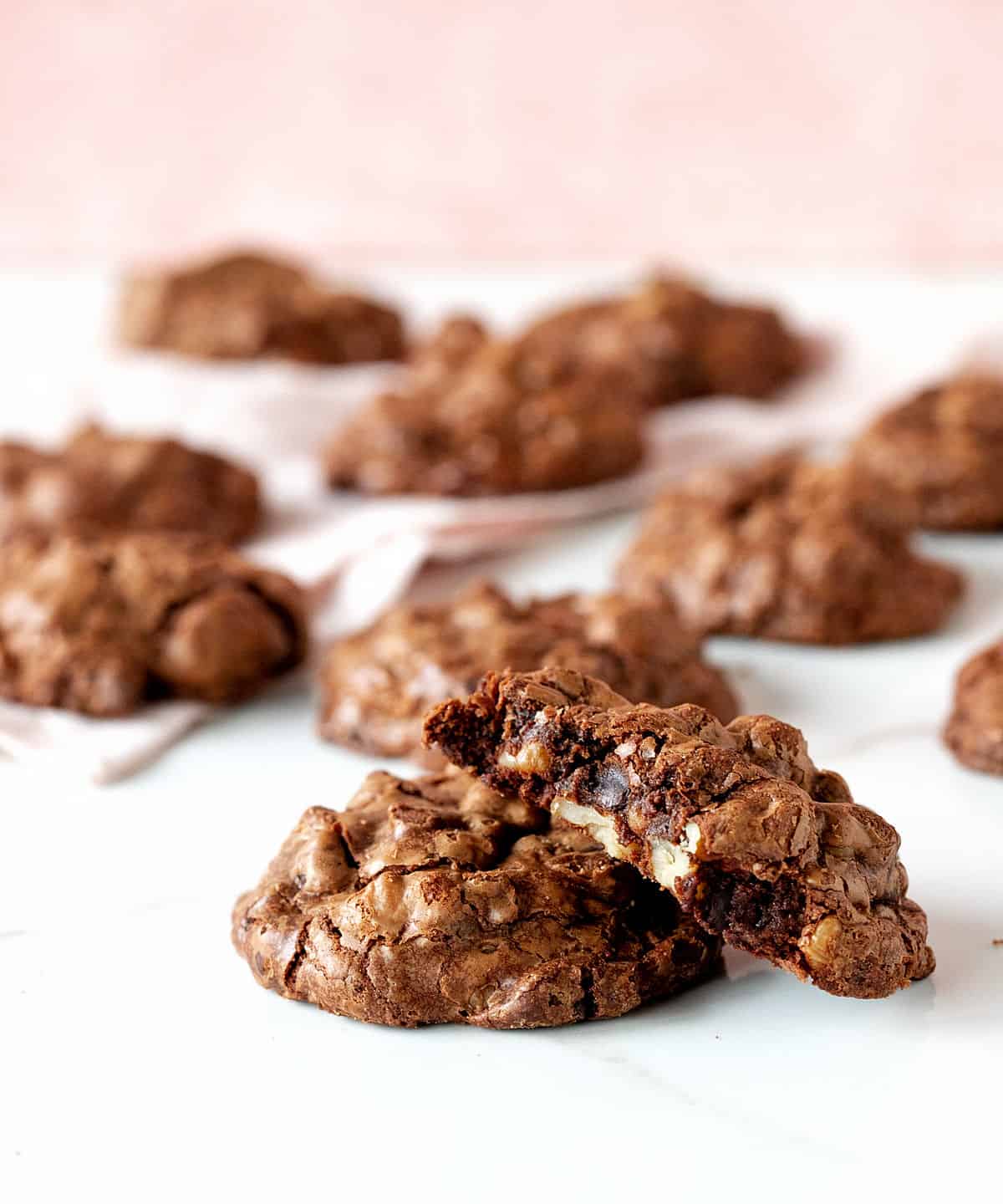 As an Amazon Associate, I earn from qualifying purchases. Please read my disclosure policy.
Originally posted in December 2012, this post has been updated with images and text. The recipe remains the same because it's amazing!
These are cousins to the brownie cookies, but with an interesting amount of nuts.
Once in a while, there comes a recipe that is everything you hoped for.
Meet the chocolate whoppers - their original name - a recipe by legendary baker Maida Heatter, one of my favorite bakers, a virtual mentor of sorts, who passed away a few years ago at the age of 102.
Truth is, I expected to be a little disappointed with this recipe due to the ridiculously high expectations that grew from reading so many stellar comments about them and the fact that, at one time, there was a famous restaurant in NYC during the '80s that sold them and couldn't keep up with the demand.
Well, it never happened. Quite the opposite. I ended up selling an adapted version of them when I had a cafe, and they flew off the shelves, literally. So, you're in for a treat. Lucky you.
This is chocolate, a lot, and nuts with a decent amount of sugar, little butter, and almost no flour.
Yet, the brownie-like batter bakes just fine and develops a shiny and crackly surface that is just gorgeous.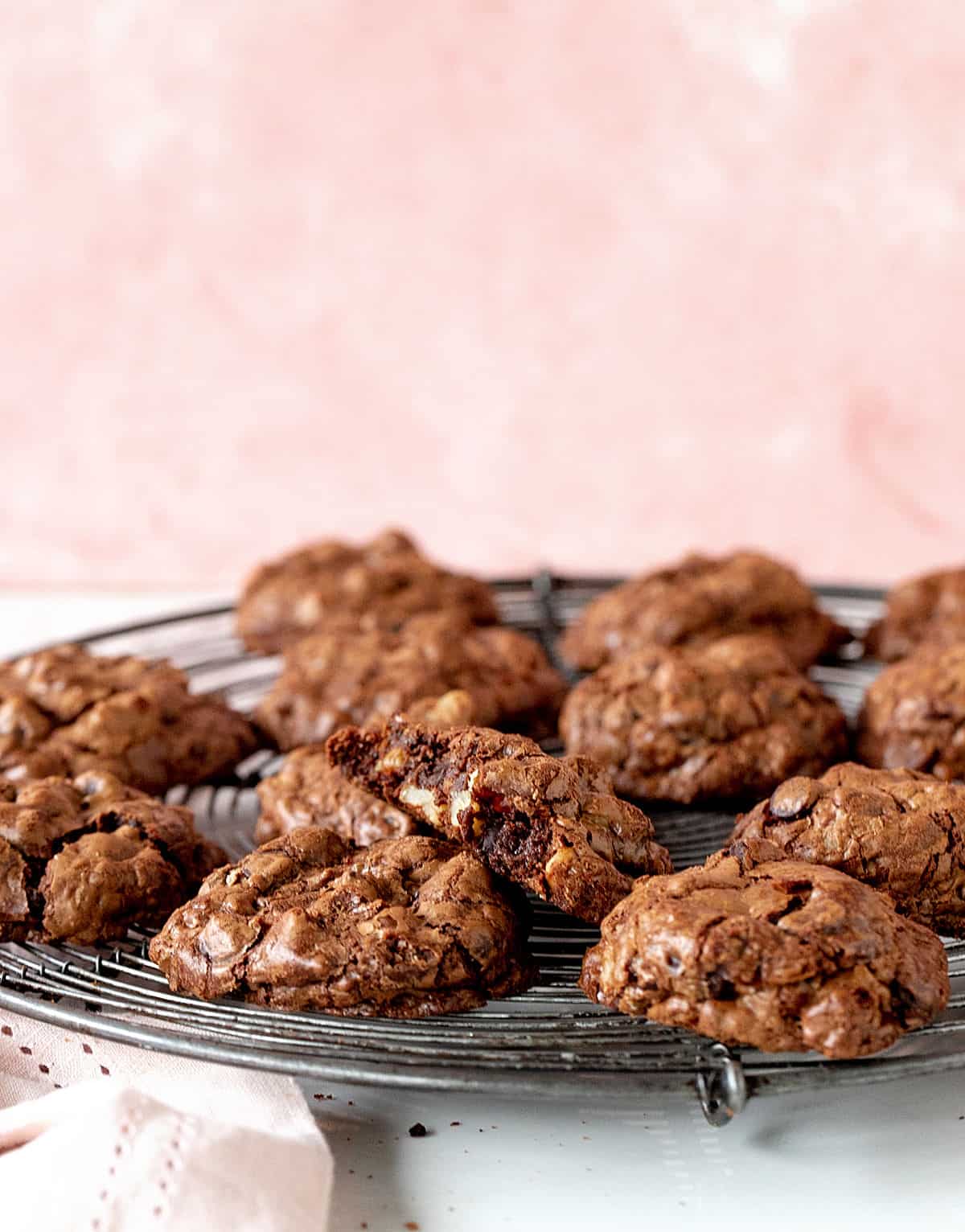 Ingredients
Chocolate: use your favorite dark semisweet chocolate for this recipe. I love using Callebaut 54% dark chocolate callets, Ghirardelli Chocolate Dark Bar 60%, Green & Black's dark chocolate 70%, and Ghirardelli's 72% intense dark chocolate. The higher the percentage of cocoa, the less sweet the chocolate is.
Chocolate chips: use your favorite semisweet chip. I love Ghirardelli premium baking chocolate chips and Nestle toll house semisweet chips.
Nuts: I use walnuts or pecans, and you can use a mix. It is essential that you use them. Otherwise, the cookies won't hold.
Sugar: regular, white granulated sugar is what you need.
All-purpose flour.
Baking powder: make sure it's not expired.
Salt: I like to use kosher salt when baking. But regular table salt works just fine.
Eggs: fresh, large eggs.
Vanilla: I use pure vanilla extract or pure vanilla paste when available, but a good vanilla essence (artificially flavored) also works and is infinitely cheaper.
Coffee: it's optional, but it's an ingredient that brings out the chocolate flavor and deepens it. The cookies will not taste like coffee. Use either coffee extract or instant coffee powder. Don't use espresso powder, as it will not dissolve.
See the recipe card towards the end of this post for quantities.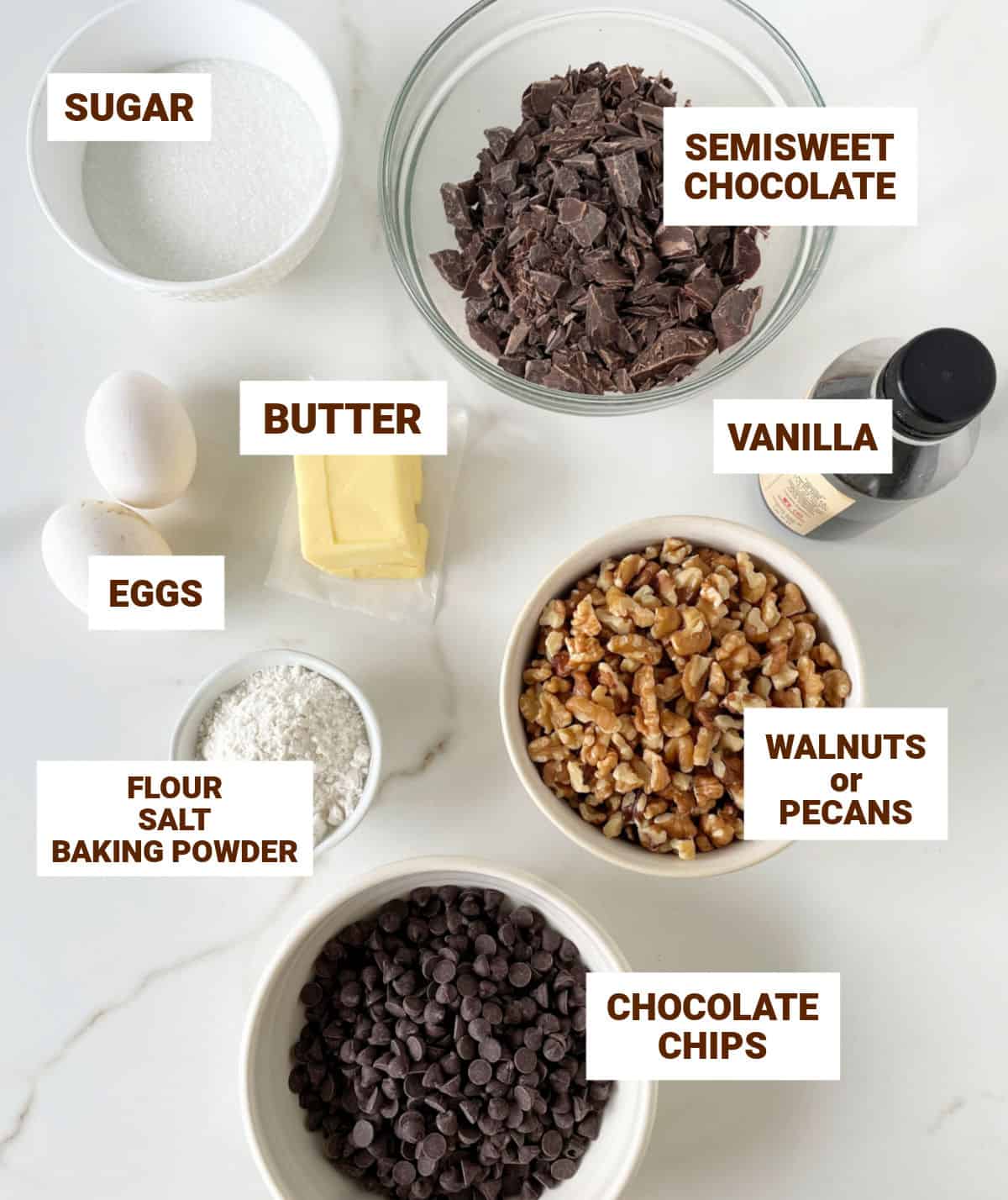 Make the recipe as instructed. It does work.
Because when you've finally mixed everything you'll be certain there is a mistake. Like I forgot to put the whole amount of flour. But no, it's fine and the cookies will be phenomenal.
This is like an old-fashioned brownie in cookie form. The way most brownies used to be, with walnuts.
You'll need two large bows, an electric mixer, and a spatula. The process is very simple.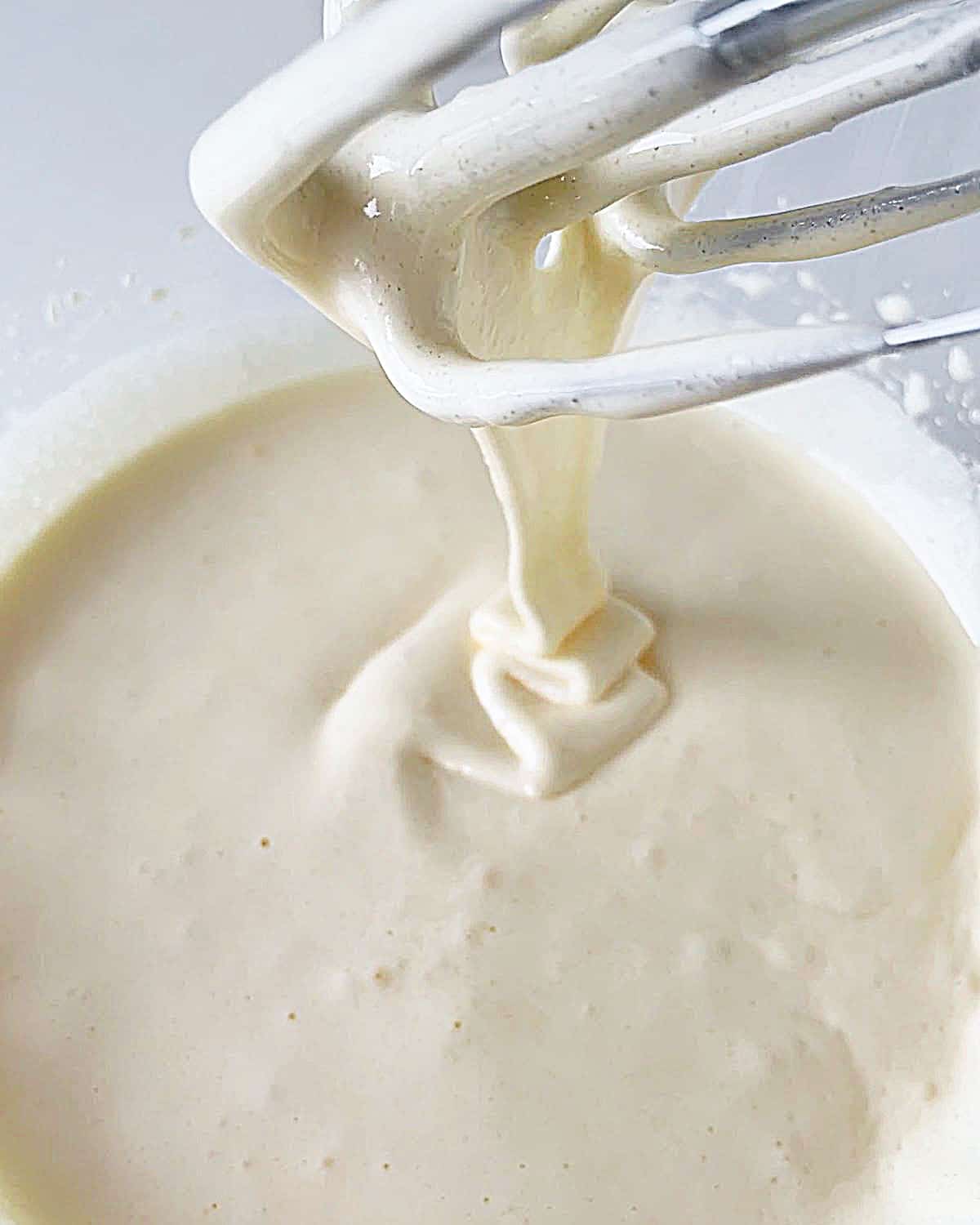 Beat eggs with sugar for a few minutes until thick, pale yellow color, and foamy. This part will create that shiny, crackly coat the cookies have.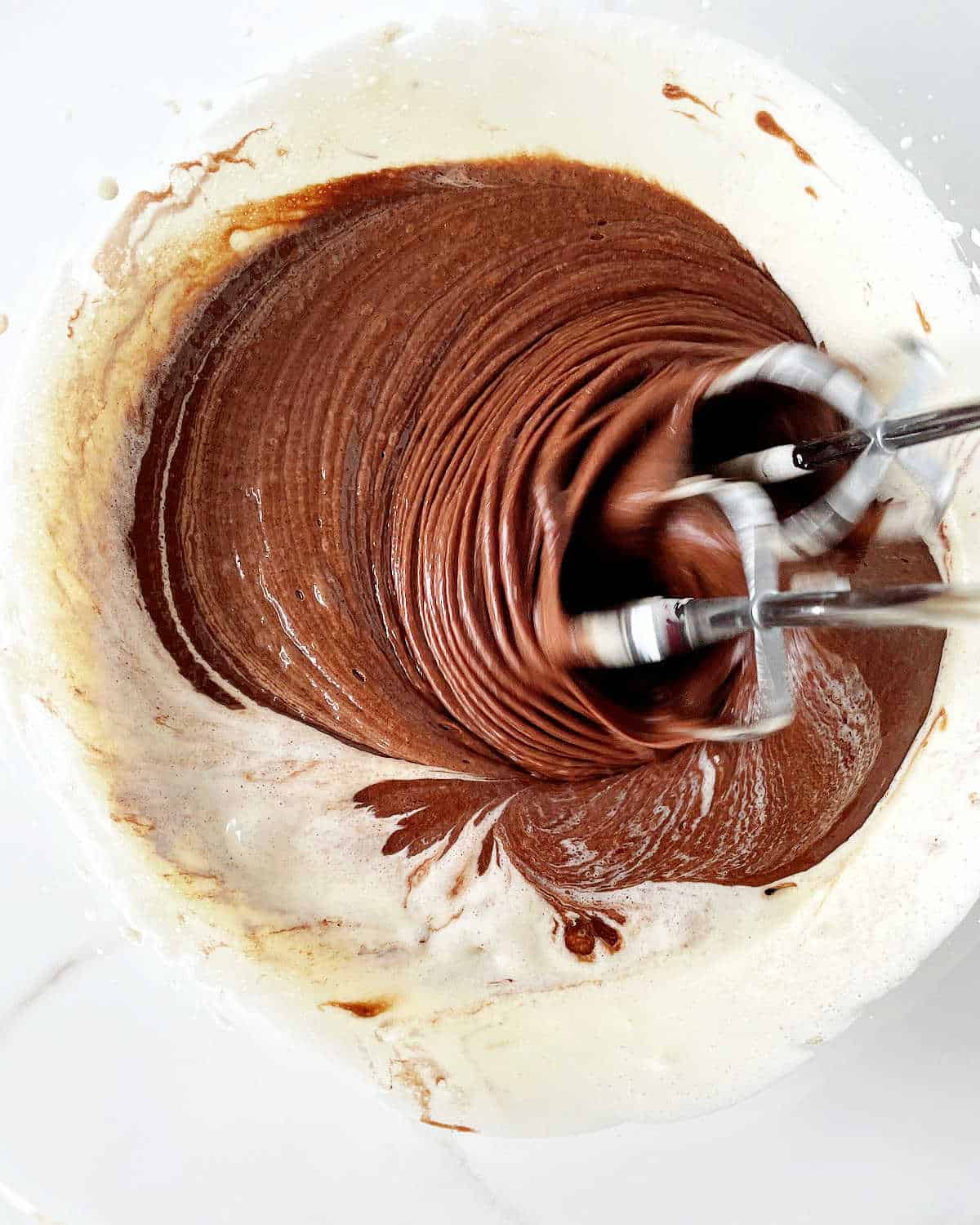 Add melted chocolate and butter, and flavorings. Mixed until integrated.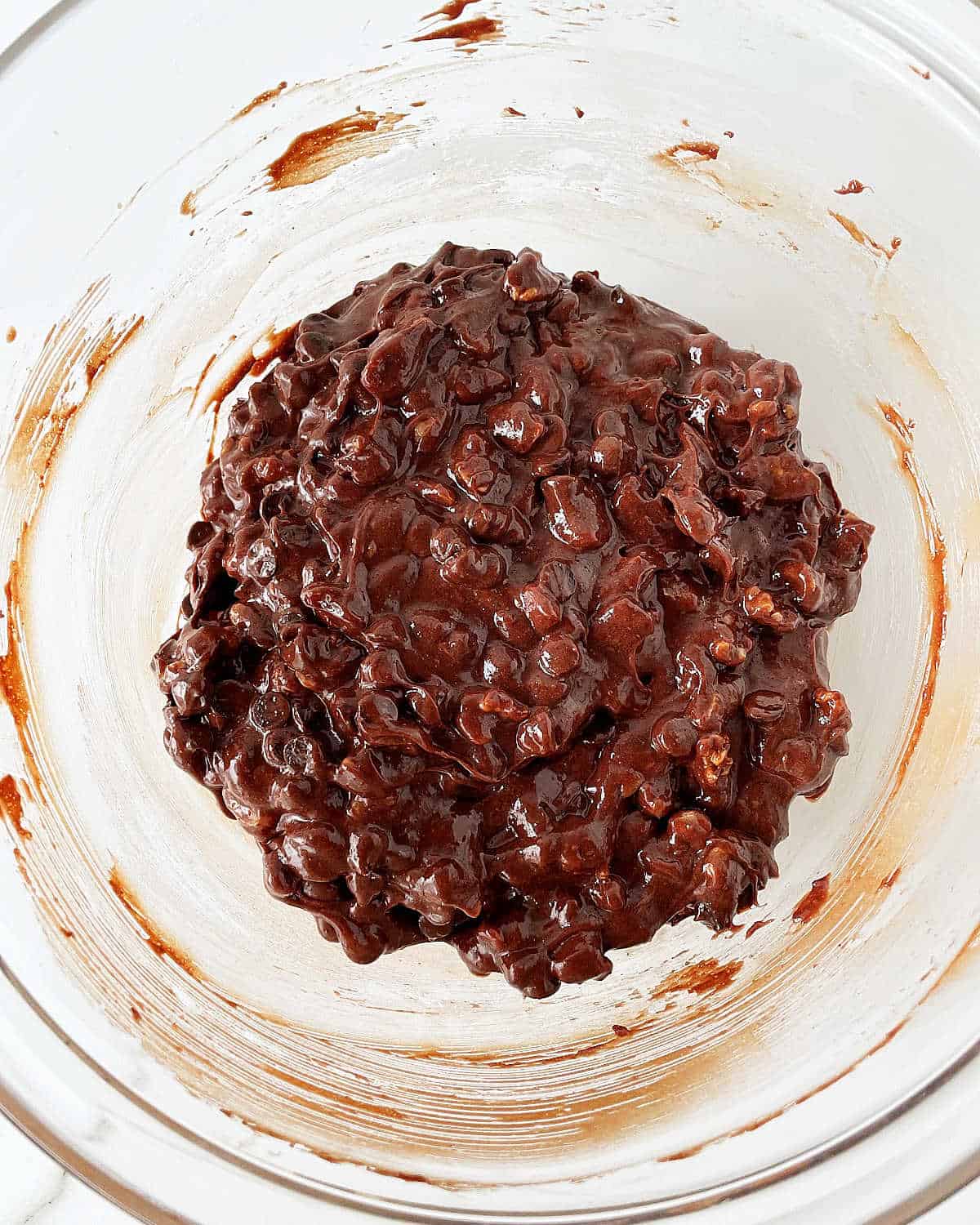 Add the dry ingredients (also called the flour mixture), the flavorings, and the nuts. The final mixture is shiny and thick but will feel runny for a cookie.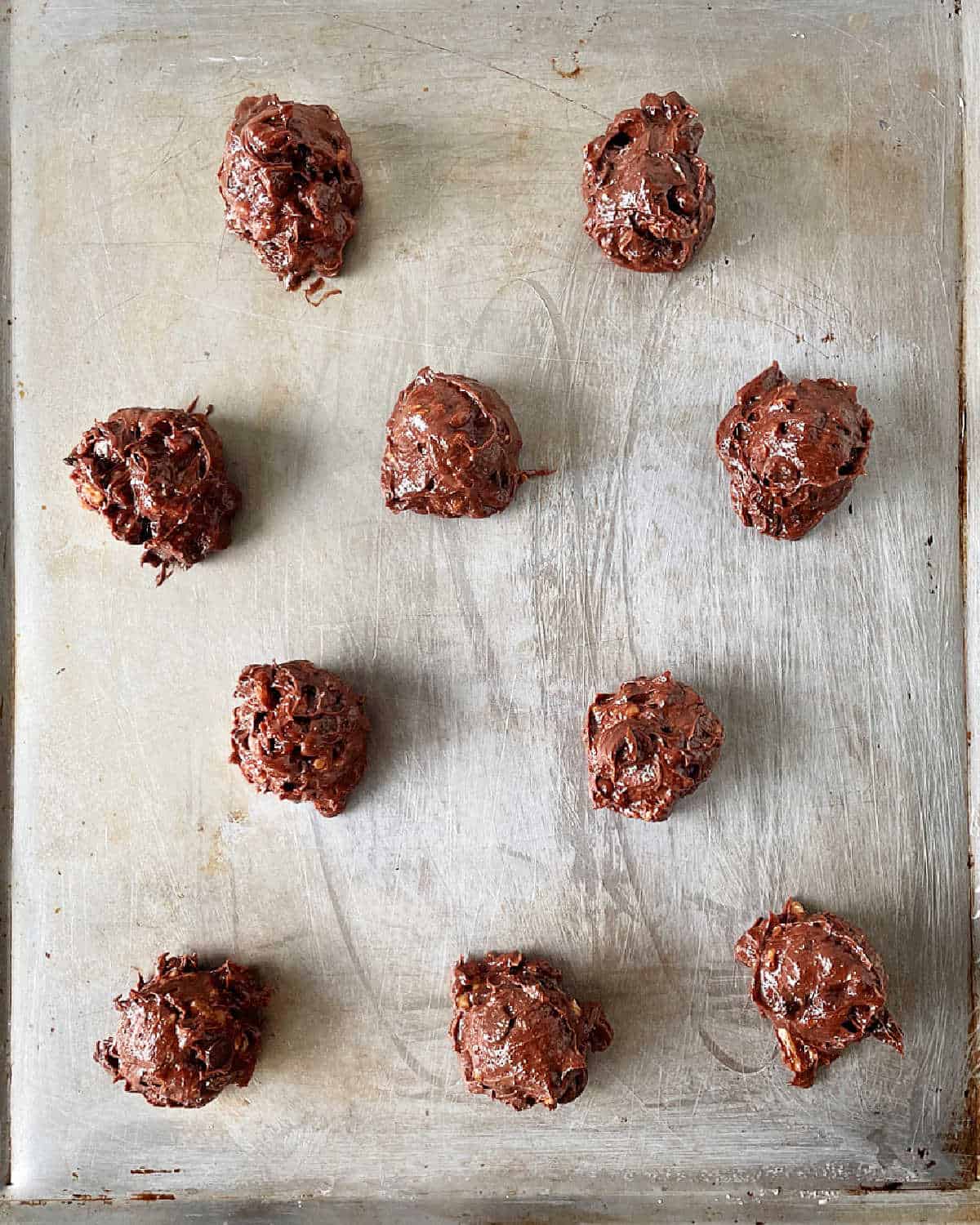 Place scoops on the buttered or lined (with parchment paper) cookie sheet, separating them an inch and a half to allow them to expand during baking.
Should you chill the dough?
Cookie dough varies when it's chilled. The ingredients have time to meld together, the dry ingredients absorb more liquid, and things like that.
Chilled: the cookies will not expand as much and will hold their shape more. But they will brown more on the outside by the time the center is done (fudgy but baked).
No chilling: the cookies are baked right after the dough is mixed. The cookies expand more and the shapes will be irregular.
Both ways work and the flavor is amazing whether you chill the dough or not.
I bake them directly, without chilling.
They're still fudgy in the center but the skin is shinier and lighter in color.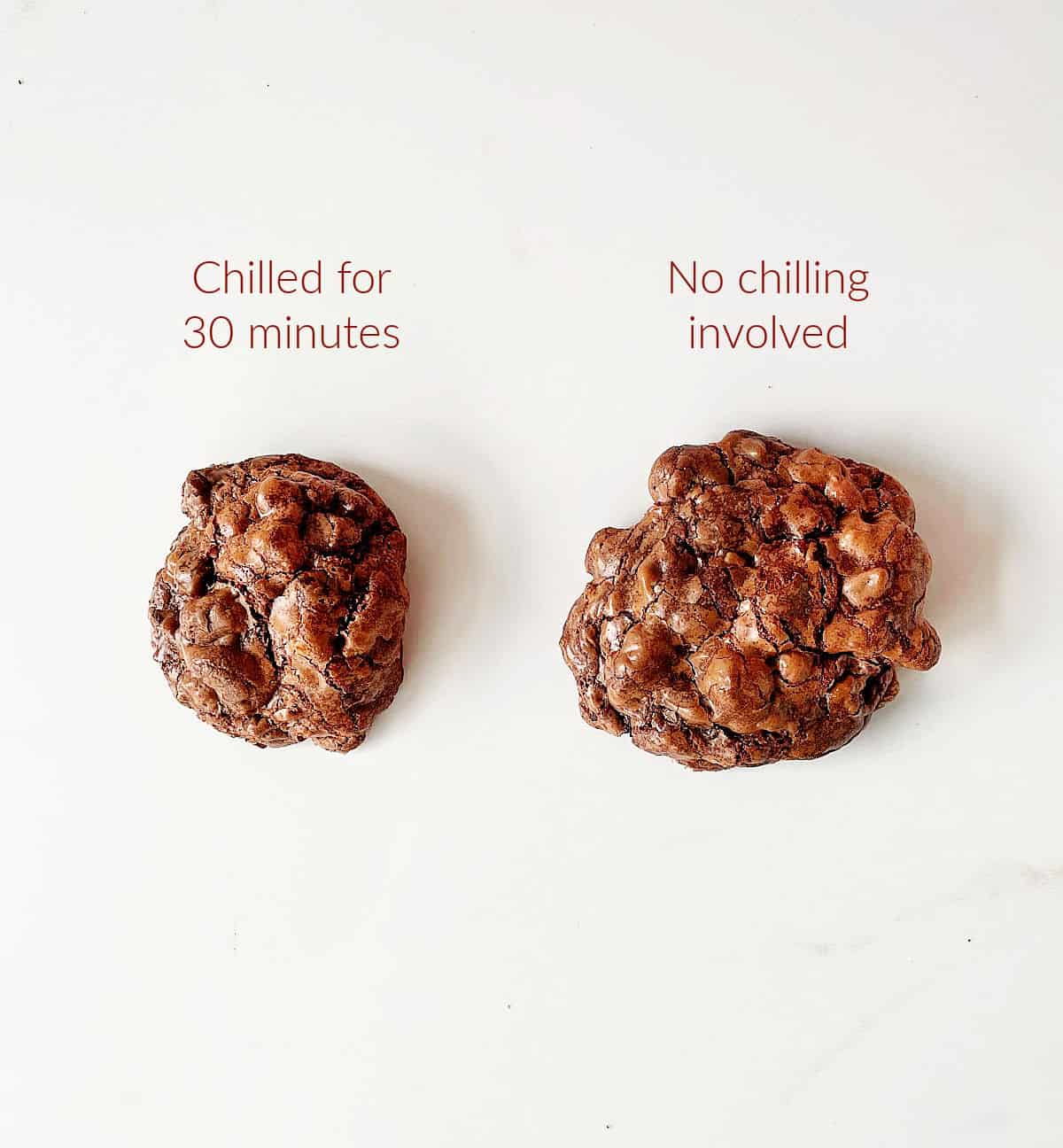 Kitchen notes
Organization: read the recipe first and ensure you have ingredients at the correct temperature, equipment, and enough workspace. This will make the process so much easier.
Baking time: keep in mind that all ovens and pans are different, even if they look the same or very similar. The baking time in my recipes is as accurate as it can be, but it might take you more or less time. You can use a thermometer(like the OXO oven thermometer) to check that your oven is at the right temperature. I recommend you keep track of how your oven works and what tiny details you might need to adjust.
Chocolate chips: use your favorite type, the semisweet ones you use for traditional chocolate chip cookies. But know that you could use half milk chocolate chips (a good brand) for a sweeter cookie.
Flavorings: vanilla extract is a must. And, though coffee is listed as optional, I always add it. It's amazing paired with chocolate because it amps its flavor, it makes it richer. You won't taste coffee, you'll simply love the intensity of the chocolate. A third extract that goes very well with the other two is pure almond. Just a few drops. I use all three in the Best Easy Fudgy Brownies recipe.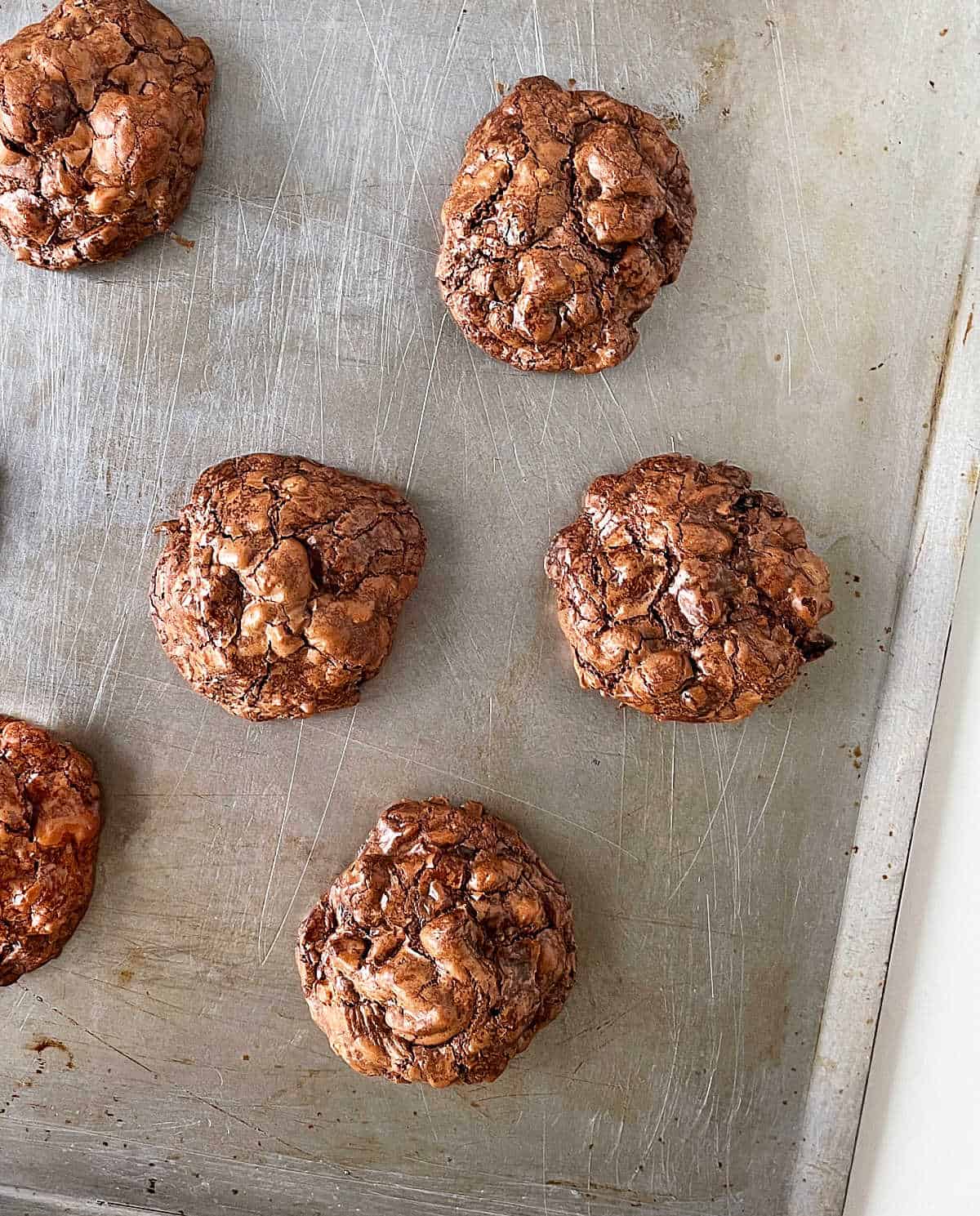 Storing
An airtight container is recommended. I like to use metal tins, but cookie jars work just fine.
After a few days of storing these double chocolate cookies, they harden, lose their fudgy center, and turn somewhat powdery when you bite them. Quite different from the first day, but incredibly good. A client at the cafe said he liked them more that way.
I could go on forever about these, but I really think you should give them a try.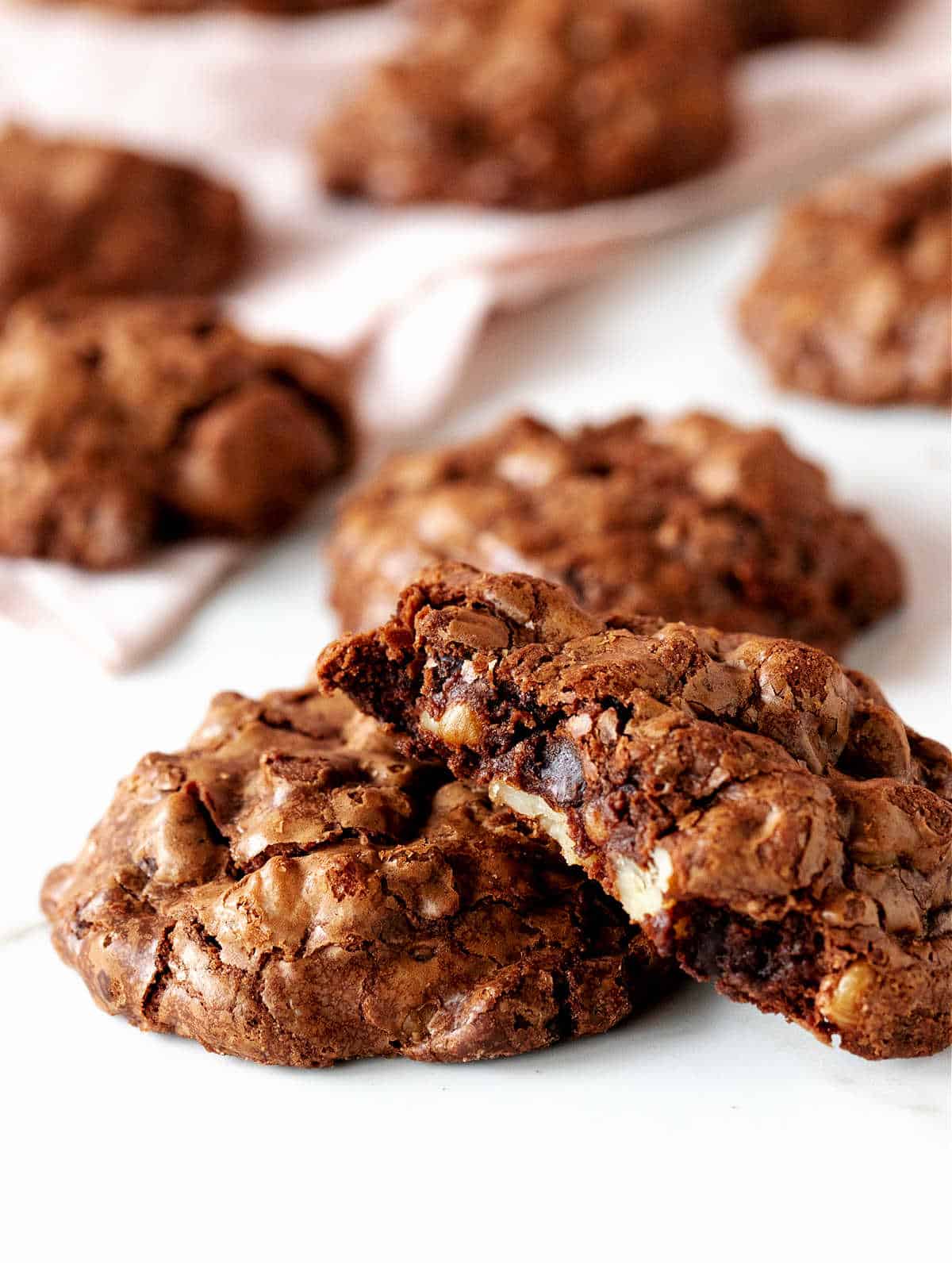 ---
Related recipes you might like:
---
Let me know in the comments below if you made this recipe and loved it and if you had issues so we can troubleshoot together. I love to hear what you think, always. Thanks for being here. It's much appreciated.
You might also consider subscribing to our FREE email series to Boost your Home Baking Skills! And our regular newsletter.
And let's connect via Facebook, Instagram, and Pinterest.
Print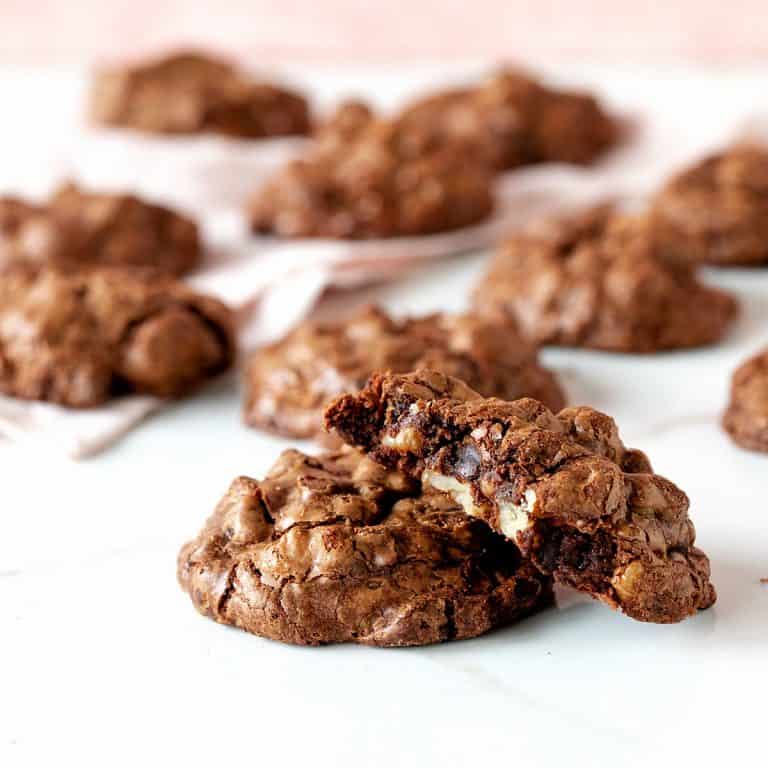 Chocolate Walnut Cookies
These intense chocolate cookies have been my favorites for years. They have nuts, a shiny, crackly skin, and a dark chocolate fudgy center with chocolate chips that is gooey and incredibly rich. They can be made in different sizes and last several days. A fabulous chocolate cookie recipe I'm sure you'll love!
Total Time:

27 minutes

Yield:

2 dozen
8

oz

semi sweet chocolate, chopped

3

oz

unsalted butter

¼

cup

all-purpose flour

¼ teaspoon

baking powder

½ teaspoon

salt

2

eggs, at room temperature

¾

cup

granulated sugar

½ teaspoon

instant coffee or coffee extract, optional but recommended

2 teaspoons

vanilla extract

1

cup

(6 oz) semisweet chocolate chips

8.5

oz

walnuts or pecans, or use 1 cup of each (2 cups total after they're chopped)
Instructions
Preheat oven to 350º.
Butter two cookie sheets or line with buttered parchment paper.
Melt chopped chocolate with butter and reserve. I use the microwave in 15 second spurts, mixing after each one. You can also use a double boiler were the water doesn't touch the bottom of the bowl, just the steam.
Coarsely chop the walnuts or pecans.
Beat together eggs with sugar in a large bowl for 2 minutes. The mixture will be thick and light colored.
Add chocolate mixture and mix well.
Add flour, salt, and baking powder and mix just until incorporated.
Add chocolate chips and chopped walnuts. Mix until it's all coated with chocolate. The mixture will be shiny and will feel too thin for cookies.
Drop tablespoons of this mixture onto the prepared baking sheet, leaving some space between them. Do not press down.
Bake for 10 to 12 minutes, until shiny and crackly. The middle of the cookies will be soft.
Let cool completely on a wire rack before removing from the baking sheets.
Store in an airtight tin.
Notes
Baking: I use buttered cookie sheets for this recipe. But a silpat (silicone sheet) or greased parchment paper also work.
Chocolate: the better the quality, the better the outcome. I love dark chocolate, like Ghirardelli Intense 72% cacao bar or Green & Black Organic 70% cacao bar. But you can use less intense ones for a sweeter cookie, like Ghirardelli Semi sweet Premium Bar.
Nuts: I use all walnuts or pecans, but the original recipe calls for some of each. It is essential that you use them. Otherwise, the cookies won't hold. You can substitute hazelnuts.
Storing: airtight containers are recommended. I like to use tins, but cookie jars work just fine.
Author:

Paula Montenegro

Prep Time:

15

Cook Time:

12

Category:

Cookies

Method:

Baking

Cuisine:

American
Nutrition
Serving Size:

1/24

Calories:

197

Sugar:

14.9 g

Sodium:

55.1 mg

Fat:

13.9 g

Carbohydrates:

18 g

Protein:

2.9 g

Cholesterol:

23.1 mg
Keywords: chocolate nut cookies
Recipe from Cookies, by Maida Heatter