This is my favorite recipe for plain, fudgy brownies, the ones I keep frozen at all times for last-minute snacks or dessert. The recipe is one-bowl simple, gooey, full of chocolate flavor, and can hold add-ins wonderfully without compromising its texture. It also makes an amazing brownie cake (topped with dulce de leche and whipped cream).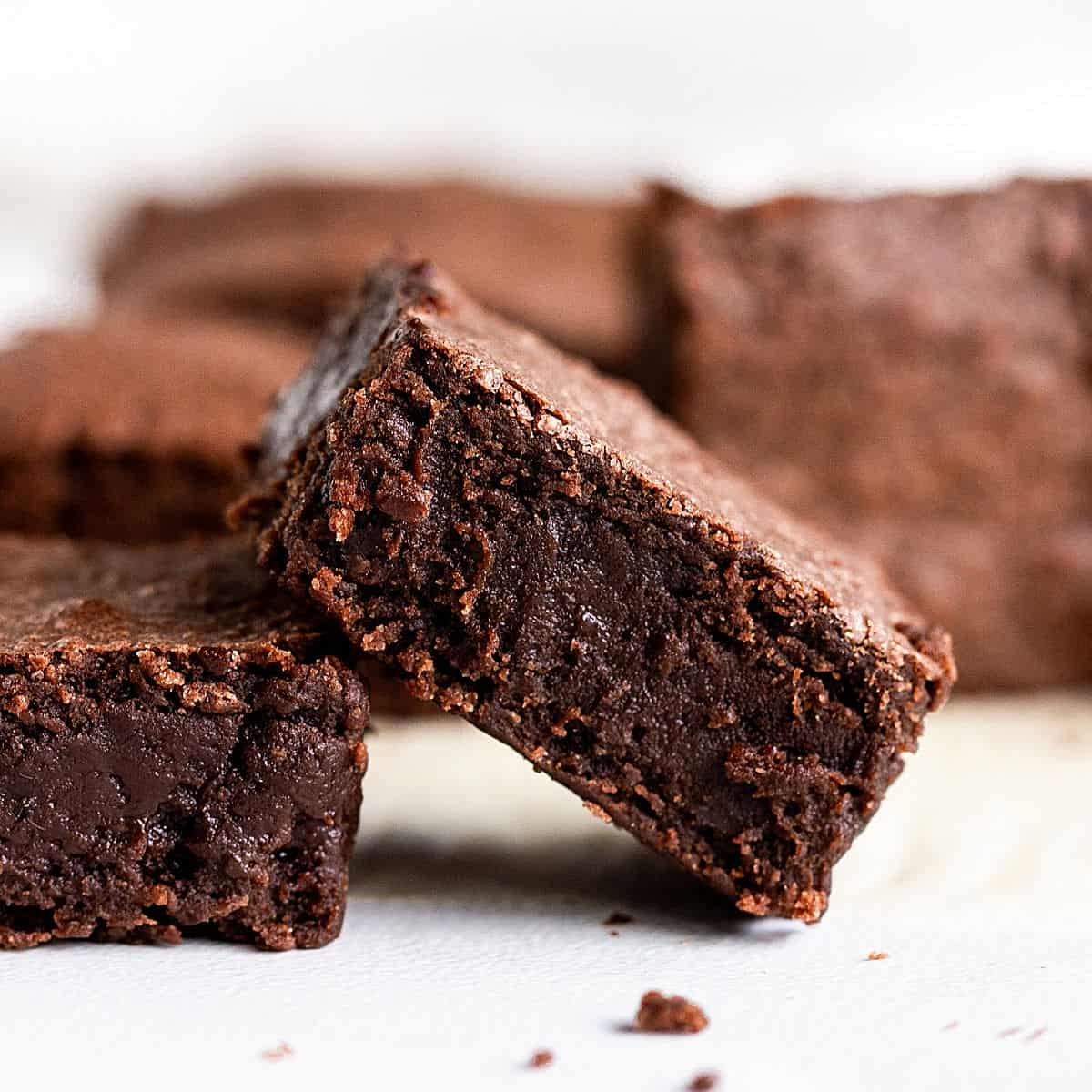 This brownie recipe took me by surprise. In modern times of excessive information and a million recipes for everything, they rank as one of the best I ever made.
Why? Because they check several boxes.
What makes a great brownie
Easy to make - the batter is mixed in one bowl and with a wire whisk.
Gooey and fudgy - bake them just right and you got yourself a perfect, gooey, fudgy brownie.
Flavorful - the mix of melted chocolate and cocoa powder makes them have extra chocolate flavor.
Freezer friendly - they are great to have frozen at all times for last-minute chocolate cravings.
I'm a brownie lover per se. There's abundant evidence in the recipe archives, a whole category devoted to these beauties with a few of my favorites like Fudgy Hazelnut Brownies (GF), the fantastic Mint Brownies, and the non-traditional ones like the Brownies with whiskey and raisins.
So I set out to make these brownies with a lack of interest really. Boy, was I wrong! They are everything you expect of a go-to brownie recipe because they have a great balance of sugar and chocolate, and are so good warm. I couldn't resist and took a bite before they cooled down completely.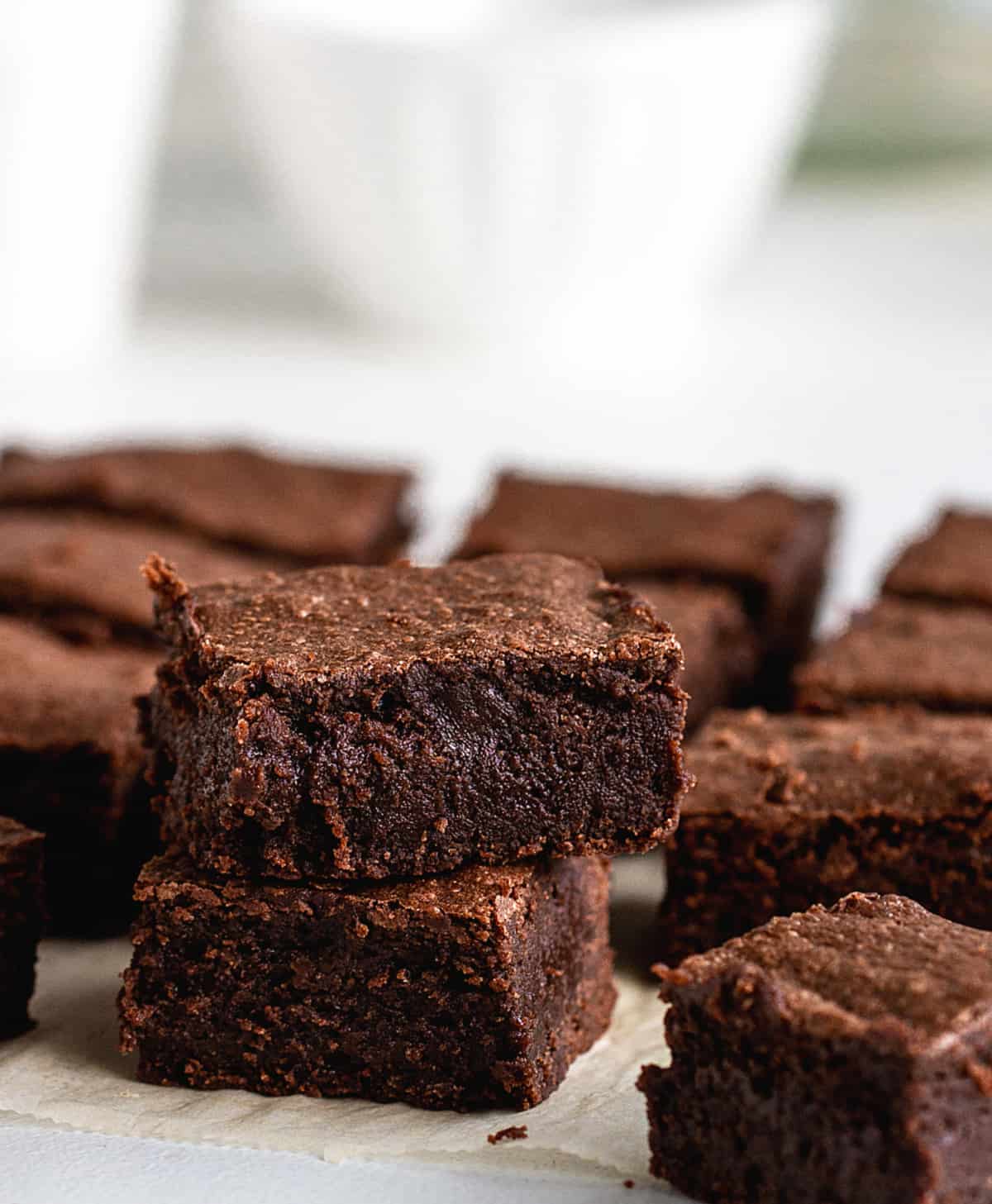 Main ingredients
Chocolate - great ingredients make great recipes. I love to use any premium brand of 60-72% chocolate. The higher this number (which is the percentage of cocoa solids) the less sweet the chocolate.
Butter - use unsalted for best results.
Cocoa powder - use unsweetened, always, unless clearly specified.
Flavorings - I found out that the mix of vanilla, almond, and coffee gives brownies the best flavor ever! Of course, you can use only vanilla, but trust me on this one. I have coffee extract, but you can use a teaspoon of instant coffee and dissolve it in the vanilla before adding.
I'm linking my favorite brands in the recipe card notes.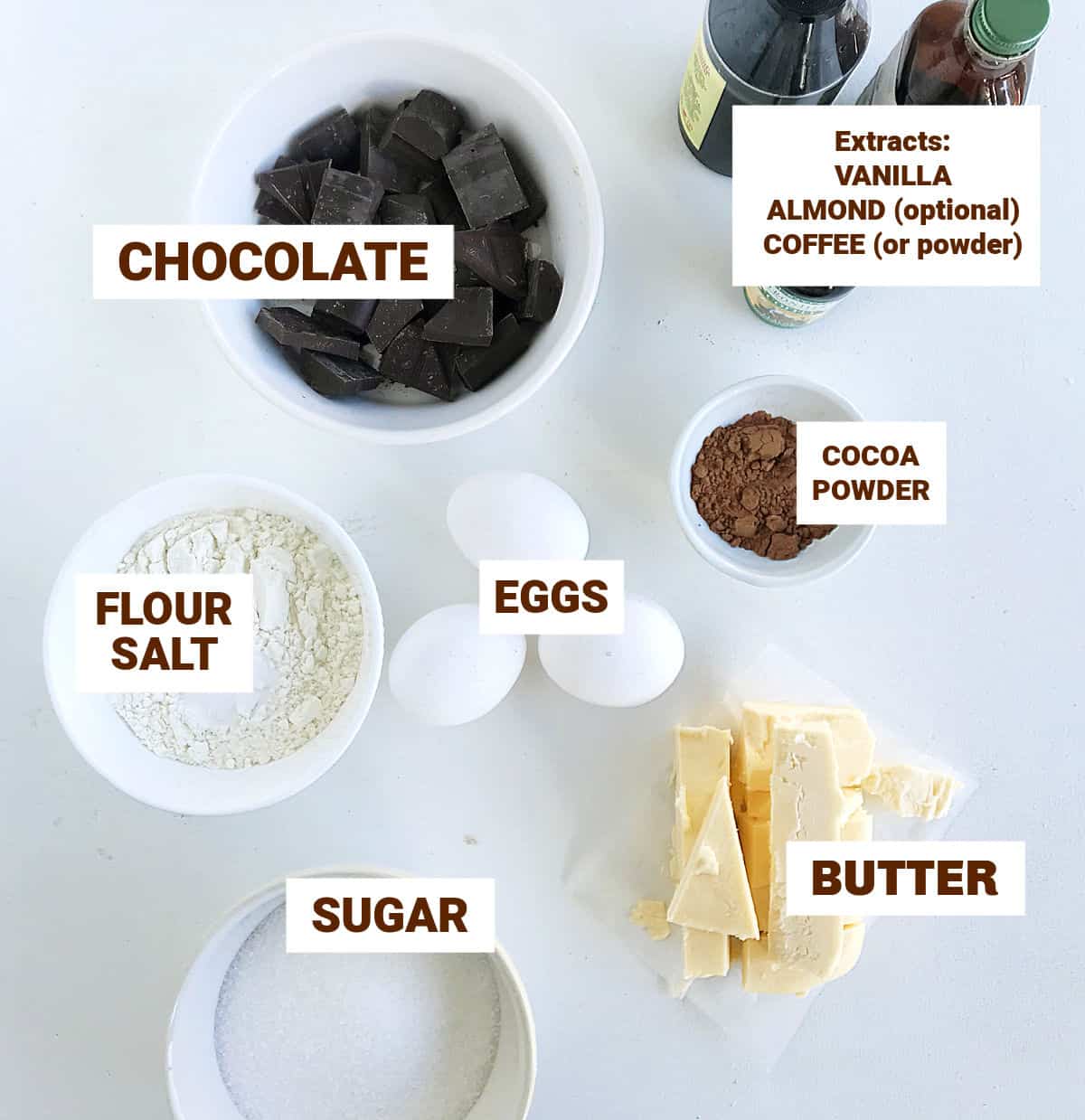 How to melt chocolate and butter
Microwave: it's the easiest and fastest way to do it. Simply put both ingredients in a microwave-proof bowl and microwave in 15-second spurts, whisking well after each time. This last part is very important as the chocolate sometimes holds the shape but is melted inside. You don't want to overdo it and chance scorching the chocolate.
Stovetop: you can use a small saucepan with water where the bowl with the chocolate fits on top but doesn't touch the water. The butter and chocolate will melt with the vapor that comes up when the water heats. This is a safer way because it's harder to scorch chocolate this way, but it takes much longer.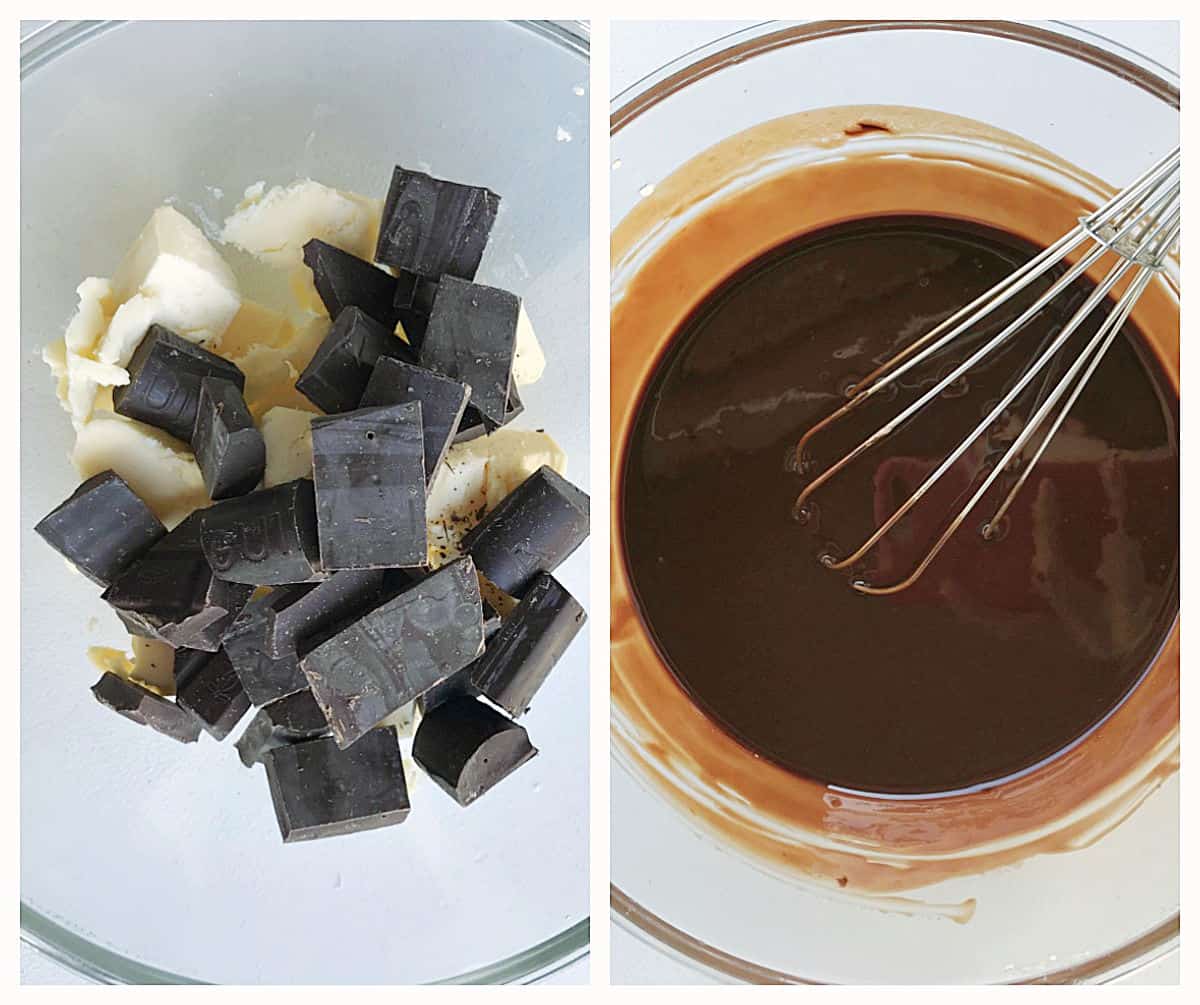 Preparing the pan
A little trick I learned a long time ago for pans with no removable bottoms, which includes most bars and cakes, is to line them with parchment paper but using just one long strip covering the bottom and two of the sides.
Measure the width of the pan you're using and cut a strip the same size. The length of the strip is given by the width of the parchment paper you bought.
Butter or spray the pan and add the strip of parchment paper, allowing the grease to act as glue.
Pou in the batter, bake it, and, after it's cooled down run a smooth-bladed knife along the sides that had no paper.
Now you can aid yourself by lifting the two pieces of paper to remove the whole block of brownies from the pan.
---
Making brownies from scratch
If you're used to the boxed version and want to start making them from scratch, this is a fantastic recipe because it's all made in one bowl.
WATCH THE STEP-BY-STEP VIDEO 👇🏻
---
What makes a brownie fudgy?
It usually has to do with a high-fat ratio compared to other ingredients, especially flour. Too much flour and you have a drier, cakey brownie.
Baking time also plays a part, because we want fudgy and chewy, not the fudge type that is dry.
When are they done?
I like to take them out when the middle is still jiggling a bit. If they firm up completely they'll be on the drier side. Another way is to insert a tester which should come out with moist crumbs attached, not runny batter.
The edges will be dry and a bit shrunk. When the sides pull out, it usually means the brownies are done or close to being done.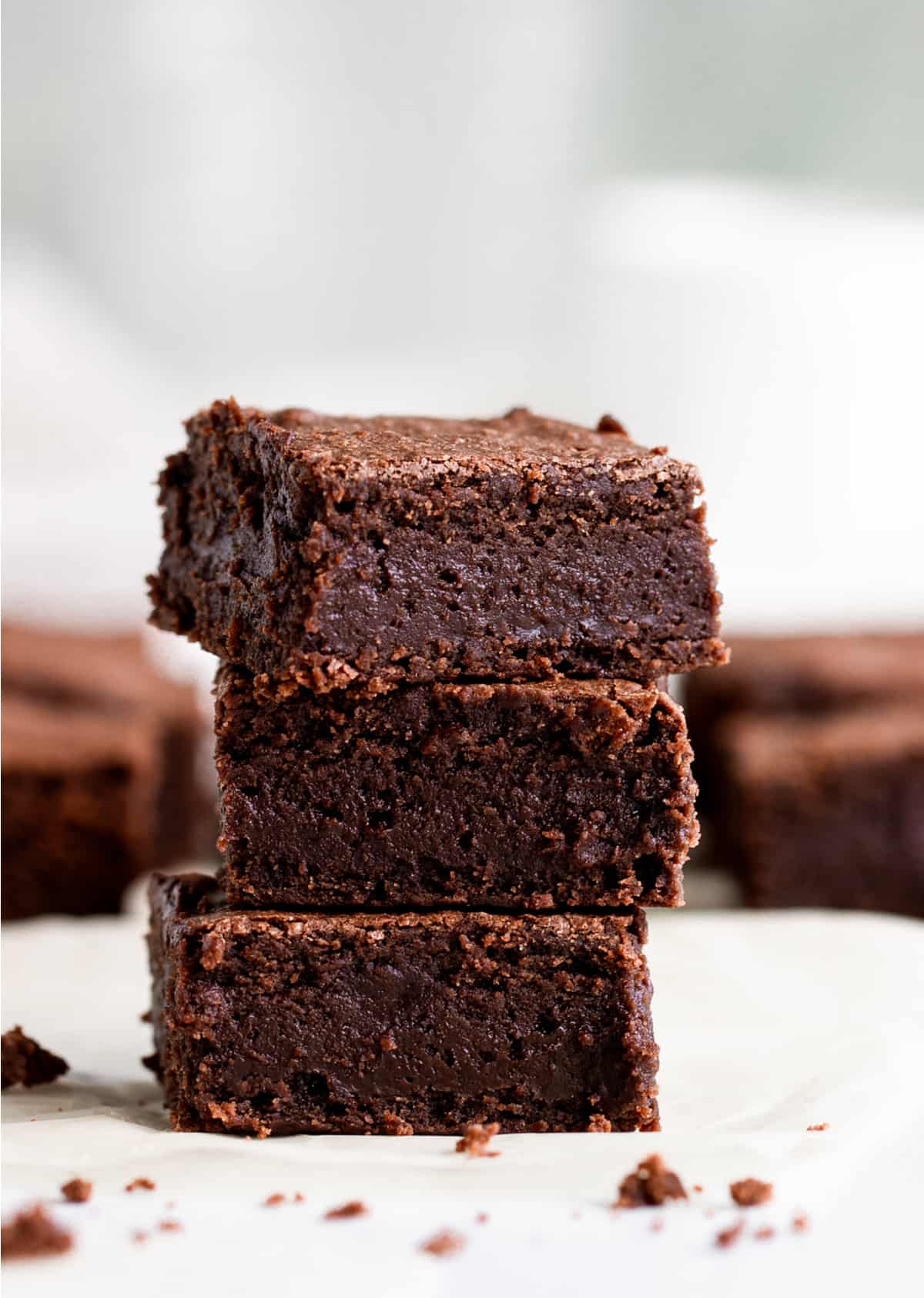 Freezing brownies
They freeze really, really well.
I cut them in squares, wrap them up in plastic and then in aluminum foil. Label and date them for easier handling afterward. Defrost at room temperature, wrapped.

Vintage Kitchen Tip
There is a whole post devoted to Freezer Baking & Desserts. A simple guide to use your freezer for baked goods!
One thing I love about these is that they are like old-fashioned brownies, the flavor, and texture are very traditional but with a more modern fudginess.
They were so good, rest assured this recipe goes into my use-all-the-time folder. And they will be made a lot. And though I will never settle for just one brownie recipe, this recipe is one of the best ever.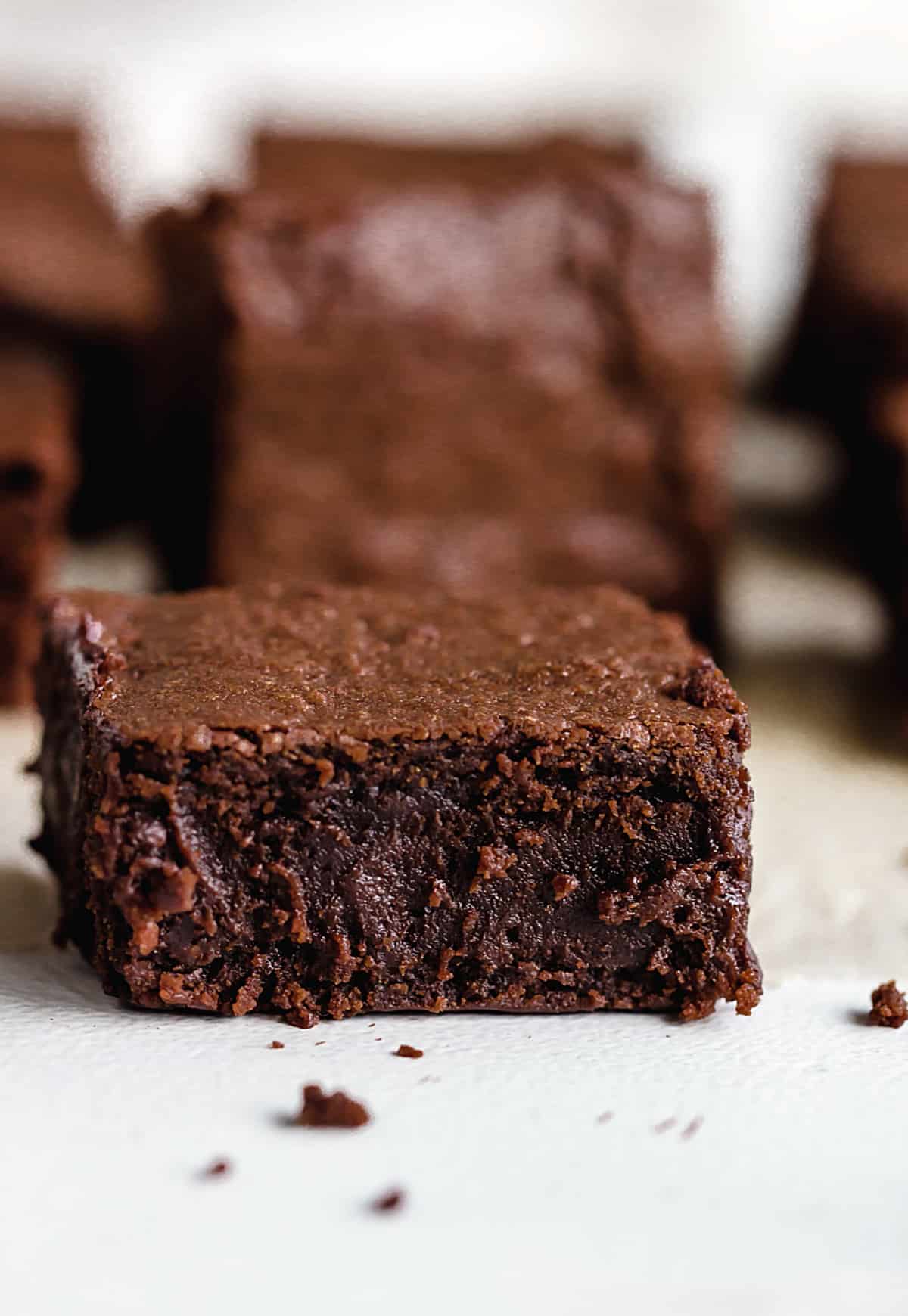 ---
Related recipes you might like:
---
Let me know in the comments below if you made this recipe and loved it, and if you had issues, so we can troubleshoot together. I love to hear what you think, always. Thanks for being here, it's much appreciated.
You might also consider subscribing to our FREE email series to Boost your Home Baking Skills! And our regular newsletter.
And let's connect via Facebook, Instagram, and Pinterest.
Print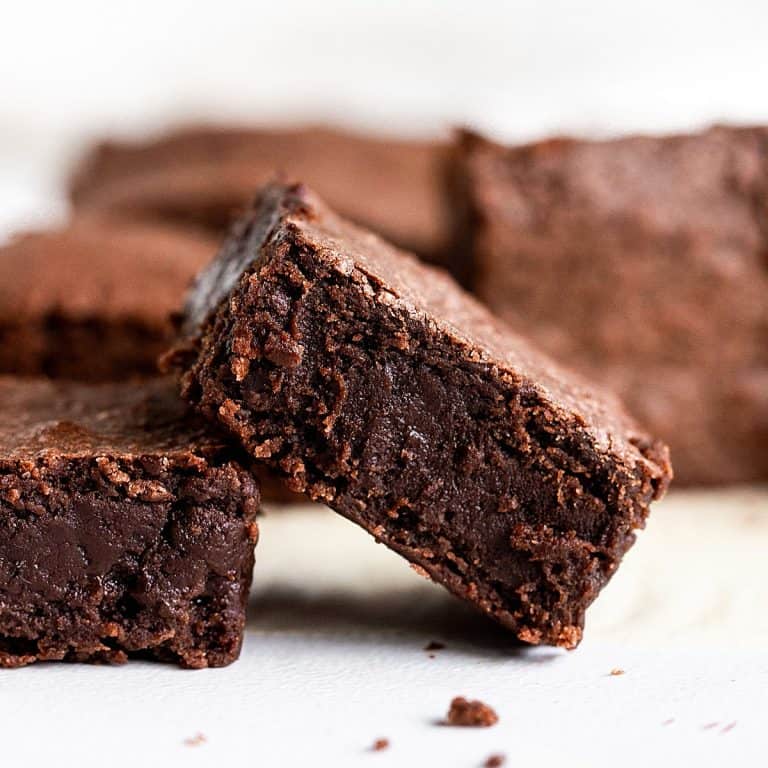 Best Ever Brownies
This is my favorite recipe for plain brownies, the one I use to make a brownie cake (with dulce de leche and meringue) and the ones I keep frozen at all times for last-minute snacks or dessert. The recipe is one-bowl simple, gooey, full of chocolate flavor, and can hold add-ons wonderfully without compromising its texture.
Total Time:

45 minutes

Yield:

12

medium squares

1

x
¾

cups

all-purpose flour

½ teaspoon

salt

1 tablespoon

unsweetened cocoa powder

1 teaspoon

pure vanilla extract or paste

½ teaspoon

coffee extract, or 1 teaspoon instant coffee (dissolve it in the vanilla), optional

½ teaspoon

pure almond extract, optional

¾

cup

unsalted butter

6

oz

dark chocolate (I use 60 to72%), coarsely chopped

1

cup

white sugar

3

large eggs, at room temperature
Instructions
Preheat the oven to 350ºF / 180ºC.
Butter or spray a 9-inch (20x20cm) square pan and line with a strip of parchment paper. See Notes, below
In a large bowl melt butter and chocolate, see Notes below for methods
Add the sugar and mix for 30 seconds.
Add the vanilla and other extracts if using, and mix well.
Add the eggs and beat by hand until very well mixed.
Add sifted flour, cocoa, and salt. Mix well by hand until batter is shiny and smooth.
Pour into prepared pan and bake for 20-25 minutes, until a bit jiggly in the middle.
Let cool for about 30 minutes on a wire rack.
Run a smooth-bladed knife along the egdes and lift parchment paper to transfer the brownies to a rack to cool completely before cutting.
You can pop them into the fridge for a few hours to make cutting them easier.
They are better the next day in my opinion.
They keep for a few days and can be frozen up to a month, well wrapped.
Author:

Paula Montenegro

Prep Time:

20 minutes

Cook Time:

25 minutes

Category:

Brownies & Bars

Method:

Baking

Cuisine:

American
Nutrition
Serving Size:

1/12

Calories:

297

Sugar:

22 g

Sodium:

118.1 mg

Fat:

18.3 g

Carbohydrates:

30.5 g

Protein:

3.4 g

Cholesterol:

77.9 mg
Keywords: one bowl brownies, fudgy brownies