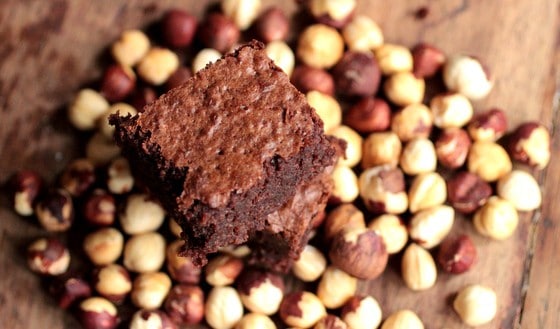 I promised you brownies and that's what you're getting. Boozy, fudgy hazelnut dark chocolate brownies. Lucky you. Really.
These are my way of not feeling guilty for throwing away a very large amount of vodka infused hazelnuts. The
homemade hazelnut liqueur
that I posted yesterday calls for straining the final liquid and discarding the rest. Ha. Like that was gonna happen.
Almonds, walnuts? Maybe. But I don't throw away good hazelnuts, pistachios or cashews.
Because when I tasted the leftover nuts, they still had a lot of flavor. So between wondering if I should let them steep until there was no flavor left, I decided to use them, pretty much the same way the
homemade raspberry liqueur
is still with the berries inside.
The funny thing, for me, 'cause I don't think you'll loose any sleep over it, is that I can throw away a lot of food sometimes for different reasons, but I just couldn't bring myself to do it with the hazelnuts.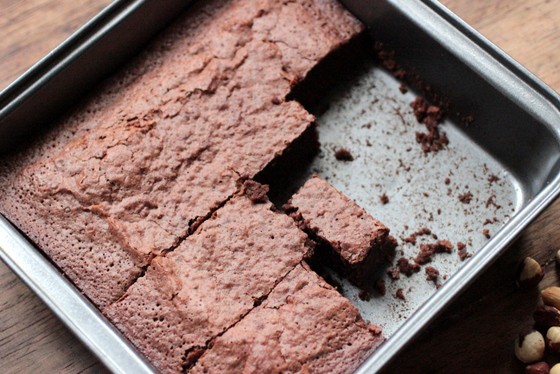 But then I remembered one of the best cakes I ever made, from Alice Medrich, with chocolate and hazelnuts, which still remains at the top of my list to this day.
And as I lay awake one morning, thinking about blog stuff, like I always do, which is ironic because I devote to it more thoughtful thinking than I do to other things sometimes, like my job for instance, I decided I would whip up a simple brownie recipe together and substitute some of the flour for ground nuts, sort of like this chocolate almond torte.
So, fifteen minutes later, I was downstairs measuring butter and chocolate, and from there it was like I was following an already written recipe. The first try produced some of the best brownies I have ever made or tested, a thought which was later reinforced by dozens of guests at this party and a part of my family for whom I made these two nights ago.
I was so proud of myself, after all I had come up with the recipe from scratch infifteen minutes.
Well, 25 years and 15 minutes, because after all, nothing happens overnight, and my understanding of pastry and ability to change recipes or come up with new ones, is the result of years and years of baking, reading recipes and being interested in food.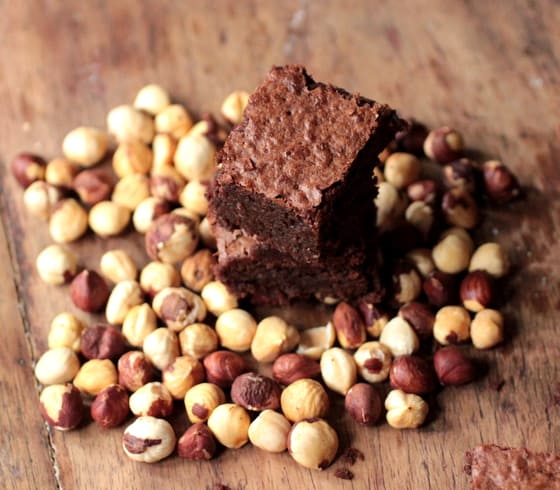 So here are the brownies, which incidentally are gluten free, because after the hazelnuts, the amount of flour needed was so small I thought it was a good moment to use the very neglected rice flour in my pantry. 
You can substitute ground nuts, any kind, for the boozy ones here.
And if you freeze these fudgy hazelnut brownies, I'm not responsible for you eating the entire thing directly from the freezer, with the door open.
Print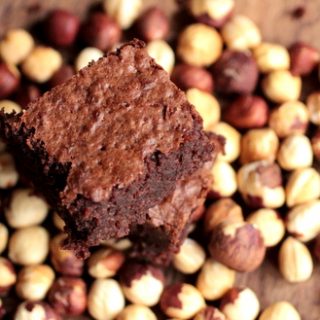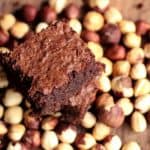 BOOZY FUDGY HAZELNUT DARK CHOCOLATE BROWNIES
---
Description
You can substitute regular ground nuts (sans alcohol) in the recipe. And add 2 Tbs of your favorite liqueur.
---
Scale
Ingredients
Scant

1 cup

(100g butter,)

8.5 oz

240g dark chocolate, chopped

3

eggs (room tº)

¾ cup

sugar

¼ cup

rice flour

¼ teaspoon

salt

½ teaspoon

cinnamon

½ teaspoon

baking powder

1 cup

ground hazelnuts (use toasted or from the liqueur)

1 teaspoon

vanilla extract
---
Instructions
Preheat oven to 350ºF /180ºC. Line an 8-inch square pan with aluminum foil or parchment paper hanging over two sides, for easier unmolding. Or simply spray or butter it.
Melt butter and chocolate in a large bowl. I use the microwave, 30 seconds at a time stirring well in between.
Add sugar and eggs, one at a time, mixing very well but not beating.
Add rice flour, salt, cinnamon and baking powder and mix.
Add nuts and vanilla and mix just until blended.
Spread on prepared pan and bake for about 25 minutes, until it is slightly puffed and dry to the touch. Don't over bake.
Cool on wire rack completely. For easier cutting, put 30 minutes in the fridge.
You can keep them at room tº for a few days, in the fridge for a few weeks, or freeze them.
---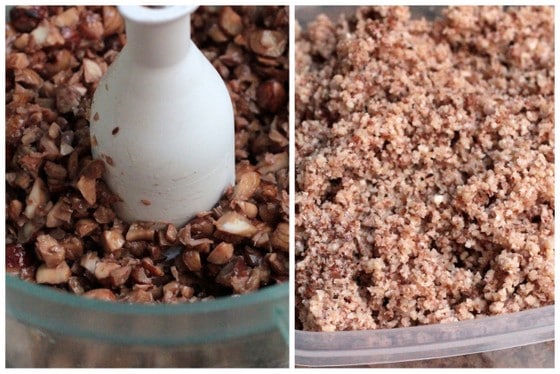 Processed leftover hazelnuts from the homemade liqueur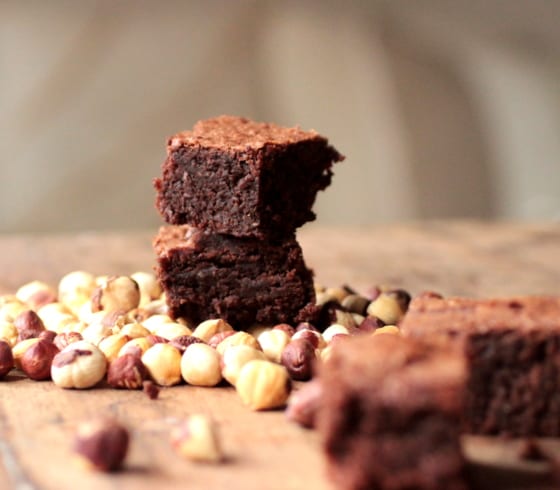 ---