An infusion of vodka, hazelnuts, and brandy, this homemade liquor is super easy. It just takes time until the flavor comes through.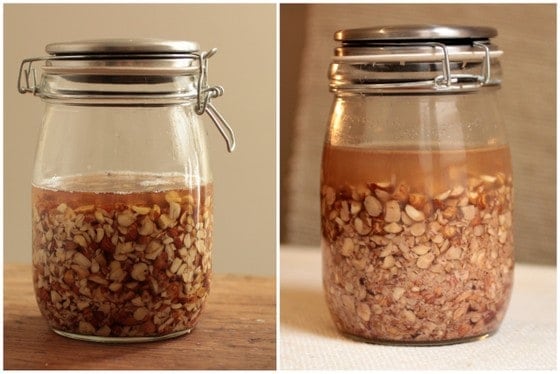 One thing I learned since I started blogging is that I'm not alone in any of my little or not-so-little obsessions, quirks or whatever.
Homemade liqueurs is one of them.
From vanilla limoncello to raspberry wine, and ending with this hazelnut infusion that rendered the fudgiest hazelnut brownies.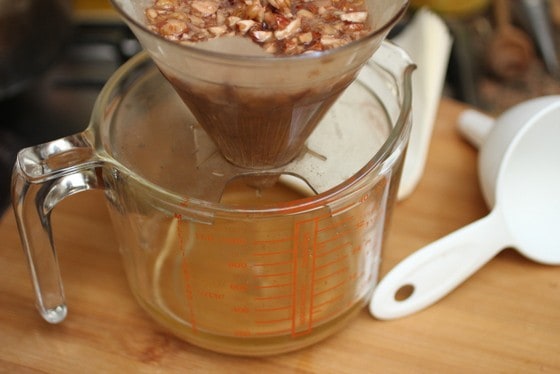 A few months ago I discovered that if you put vodka in a glass bottle, you can add so many different things, wait weeks or a few months and have anything from raspberry liqueur to vanilla extract, amaretto, you name it.
I waited two months before using the finished product.
And loved it. Especially for baking. So so good.
Though it's not exactly like the original thing, my beloved Frangelico liqueur, I did pour it back into my beloved empty Frangelico bottle. Because it's also so pretty, I couldn't just throw it away.
Print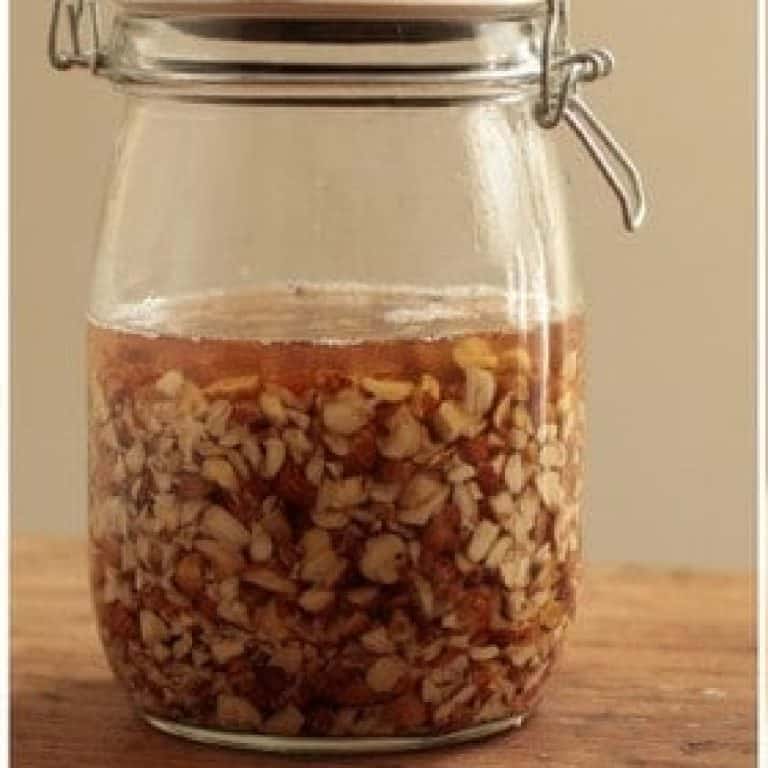 Homemade Hazelnut Liqueur
Super easy to make, you just need to wait a few months before it's infused. With the hazelnuts that are left, you can make the fudgiest hazelnut brownies.
Total Time:

10 minutes

Yield:

3 cups
½

pound

2 cups raw hazelnuts with skins, roughly chopped

1

cup

vodka

½

cup

cognac

½

cup

sugar

½

cup

water

1

vanilla bean (split)
Instructions
In a clean jar with lid, mix hazelnuts, vodka and cognac. Close tightly, place in a cool, dark place (kitchen cabinet for ex), and let steep for 4 weeks.
After that time, the mixture with be cloudy. Scrape the split vanilla bean and add all of it, seeds and pod, to the hazelnuts and let steep 2 more weeks.
Make a simple syrup by placing the sugar and water in a saucepan. Bring it to a boil and remove from the heat. Let cool.
Have ready a colander and piece of cheesecloth. I use the drip coffee filters. Pass the hazelnut mixture through it, letting it drip. Don't rush it. Discard the filters as they fill with the wet hazelnut powder. Your liquid will be clear, and you'll have most of your hazelnuts intact.
Once the whole of the liquid is sieved, you can either throw away the hazelnuts, or process them and put them back in the original jar. Use them for the hazelnut brownies.
Add half of the simple syrup to the liqueur. Taste it. It will not be completely mellow but you will get a feeling if you want more sweetness. Add more of the syrup if you feel it needs it.
Transfer to a bottle, using a funnel, add the remaining scraped vanilla bean and keep with your other liqueurs.
Author:

Paula Montenegro

Prep Time:

10 minutes

Category:

Drinks

Method:

Infusing

Cuisine:

International
Keywords: hazelnut liqueur