A simple way of making this at home and using it for baking adventures. It takes several months of waiting for the flavor to infuse, and it keeps for a long time after it's drained.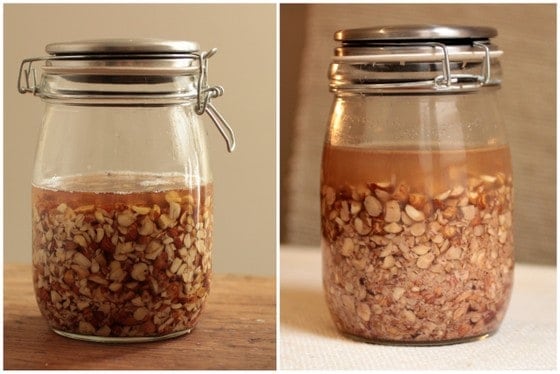 Life has been odd these past few weeks. Each post seems like a huge hurdle to pass, yet when I sit down to finally write it, I end up with much more on my screen than what my tired brain thought I would be able to come up with.
And really?
Aren't we all happy reading short posts?
Nowadays, with the immense good food blogs out there, and then those with added stuff besides the food, and then those that are hilarious or just interesting, well, if it's happening to me it's probably happening to you too.
I learned since I started blogging that I'm not alone in any of my little or not-so-little obsessions, quirks, or whatever. Isn't it nice to feel accepted after all?
But this will be a short post and I have a good reason. I'm simply tired.
Don't know exactly why, and I'm too tired to find the reason anyway. So I hope you enjoy this homemade hazelnut liqueur because tomorrow I have another interesting recipe for you.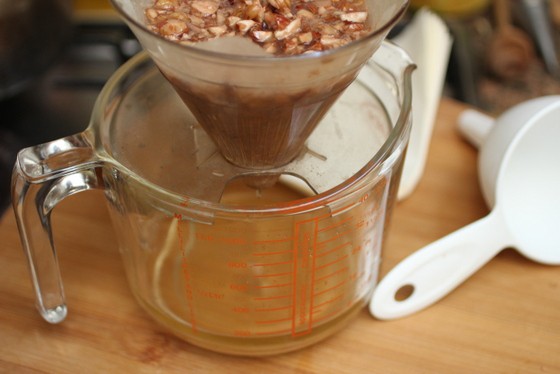 A few months ago I discovered that if you put vodka in a glass bottle, then you can add so many different things, wait weeks or a few months and have anything from raspberry liqueur, vanilla extract, amaretto, you name it.
Then you can make this chocolate raspberry bundt cake or the gluten-free hazelnuts brownies. Lucky you.
I waited two months before using the finished liquid. And loved it. Especially for baking. So so good. However, it's not exactly like the original thing.
And I poured it back into my beloved empty Frangelico bottle. Because it's also so pretty, I couldn't just throw it away.
Print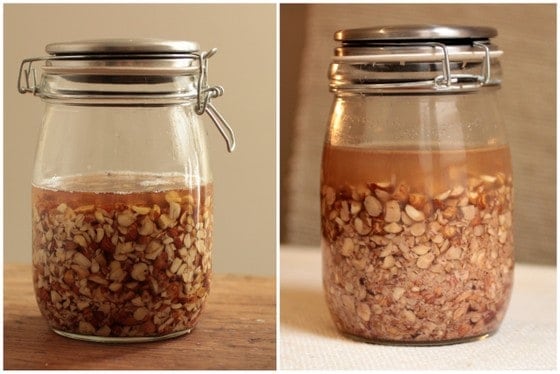 Homemade Hazelnut Liqueur
½

pound 2 cups raw hazelnuts with skins, roughly chopped

1 cup

vodka

½ cup

cognac

½ cup

sugar

½ cup

water

1

vanilla bean (split)
Instructions
In a clean jar with lid, mix hazelnuts, vodka and cognac. Close tightly, place in a cool, dark place (kitchen cabinet for ex), and let steep for 4 weeks.
After that time, the mixture with be cloudy. Scrape the split vanilla bean and add all of it, seeds and pod, to the hazelnuts and let steep 2 more weeks.
Make a simple syrup by placing the sugar and water in a saucepan. Bring it to a boil and remove from the heat. Let cool.
Have ready a colander and piece of cheesecloth. I use the drip coffee filters. Pass the hazelnut mixture through it, letting it drip. Don't rush it. Discard the filters as they fill with the wet hazelnut powder. Your liquid will be clear, and you'll have most of your hazelnuts intact.
Once the whole of the liquid is sieved, you can either throw away the hazelnuts, or process them and put them back in the original jar. Use them for the hazelnut brownies.
Add half of the simple syrup to the liqueur. Taste it. It will not be completely mellow but you will get a feeling if you want more sweetness. Add more of the syrup if you feel it needs it.
Transfer to a bottle, using a funnel, add the remaining scraped vanilla bean and keep with your other liqueurs.
Adapted from Serious Eats