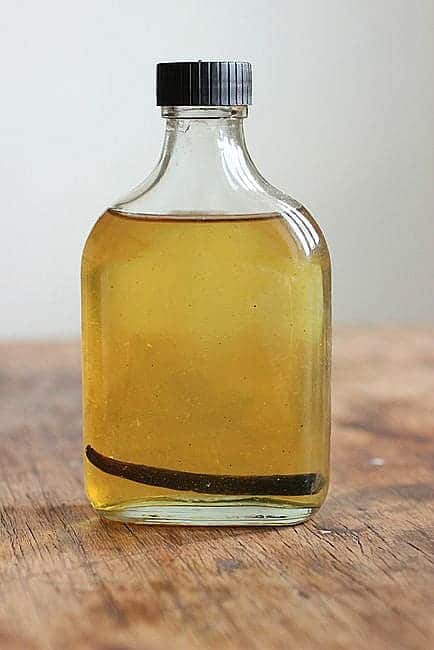 A few months ago I pretty much started filling up bottles with vodka and throwing ingredients inside; a let's-see-how-this-goes situation. A few wonderful recipes happened like the homemade hazelnut liqueur and the raspberry one I used in my favorite with favorites chocolate cake. There was half an almost-dried vanilla bean, tightly wrapped in plastic, my idea of preventing it from drying with bad results, and two lemons, which had been part of a few pounds intended to make preserved lemons; while the latter still belongs in my to-do list, the lonesome piece of vanilla found the bottom of a little glass jar filled with lemon peel and vodka, followed by simple syrup. Homemade vanilla limoncello was born, following my friend David's recipe. And then I forgot about it. For months.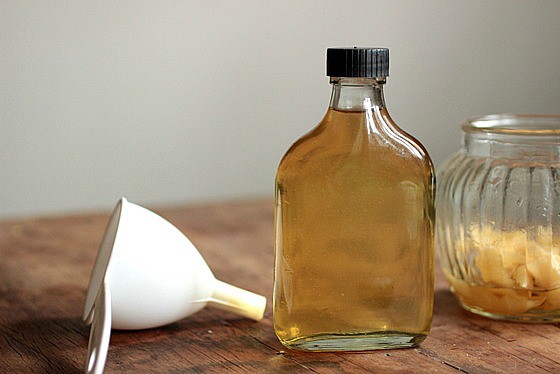 .

I should've been a chemist, I know that now, but food chemistry is so much more fun. A few months ago a friend of mine who is an excellent chef, told me he had started studying chemistry before deciding to follow a n very successful culinary career, and since I know I pondered the idea for a while after finishing high school, I have a feeling there are many frustrated chemists among cooks and bakers.
Anyway, the
forgotten bottle mentioned above, transformed into a light yellow hued liquid
and the vanilla bean was transferred with the limoncello to the final bottle.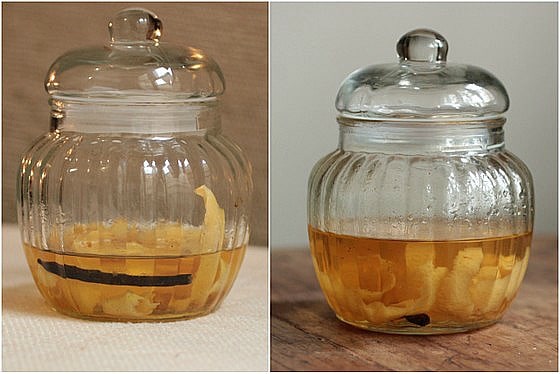 And then it was forgotten for a few months again. Not intentionally, but it did. And a lot can be said of the flavor force a broken, almost-dried vanilla bean has. The liquor mellowed to an almost sugary acid candy flavor with a marked vanilla undertone. Very different from regular limoncello, almost incongruous with what I was expecting, sending my frustrated chemist mind into brainstorming mode, because it's made for baking, from a simple cake to a magnificently flavored limoncello ice cream. Coming tomorrow, I promise, because right now it's getting late to post this and I didn't have time to add that recipe. But it's worth waiting.
.
Left: vodka, lemon peel & vanilla Right: after adding simple syrup
Print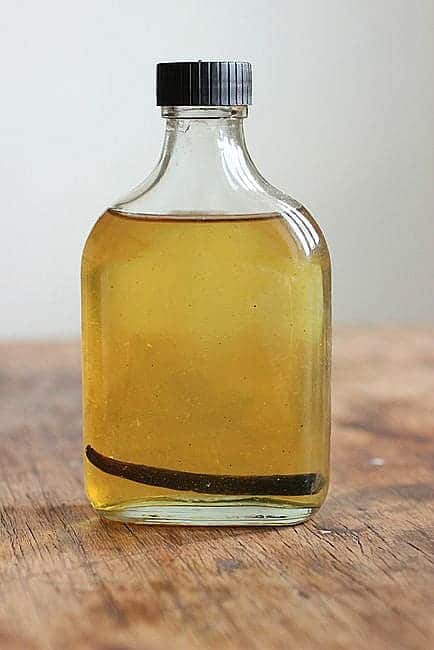 HOMEMADE VANILLA LIMONCELLO
Instructions
Prepare limoncello according to recipe's directions, adding the beans with the vodka in the first step.
After adding the syrup, transfer the vanilla bean to the final jar.
It will have more vanilla flavor as the weeks go by.