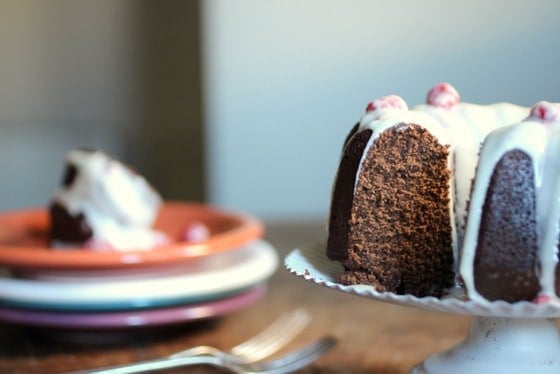 After almost two days without internet connection, again, this post is a bit late, but the raspberry wine bundt cake is just as good. And it's made with homemade raspberry liqueur, one of many I started working on two months ago.
I can say these two days my energies were channeled towards cleaning my entire house, again, as I have for the past month. Not that I don't normally clean it, but I'm still trying to bring it to normalcy after
the flood
. Which will never happen really.
And it's not a bad thing. But I already told you that, I'm getting repetitive, sorry. Collateral damage I believe.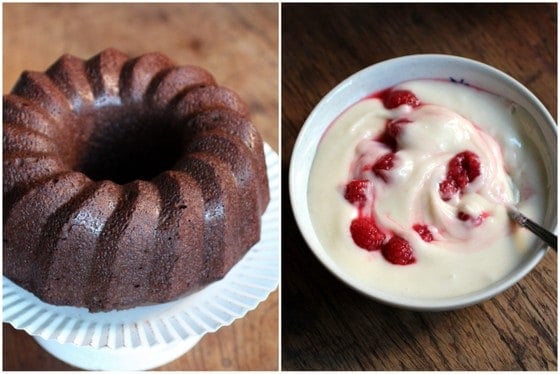 So let's
talk about berry bundt cakes, which is the theme chosen by the Bundt a Month
group leaders,
Lora
and Anuradha. Cake + berries is open to many ideas, but I
had to work with an alternative, as fresh berries weren't found in the market,
the fall is really in full swing and I had already made one
white chocolate raspberry bundt
and had a strawberry chocolate cake coming this Friday, and my
secret stash of frozen blueberries was lost in the flood.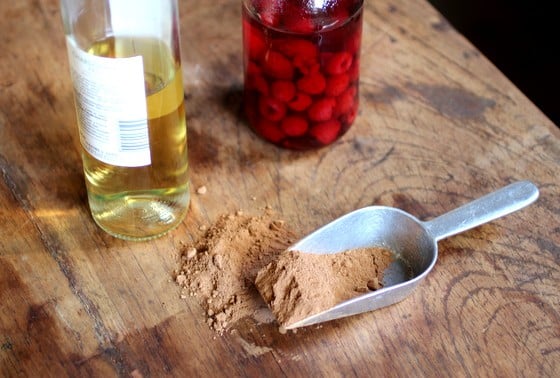 But then I
saw my wonderful homemade raspberry liqueur, made with fresh berries, vodka and
vanilla bean, quietly sharing space with my other bottles, a deep red clear
water of the freshest kind. I had planned on using it a few weeks ago, but
since that obviously didn't happen, it had gotten better. And a deeper red too.
So raspberry wine bundt cake it would be, and a chance to make one of my favorite recipes of all times. For those who know me and my blog, it's no surprise how much I like to put booze in my baking. So much, it's almost embarrasing. But it's better to step up to our own obsessions.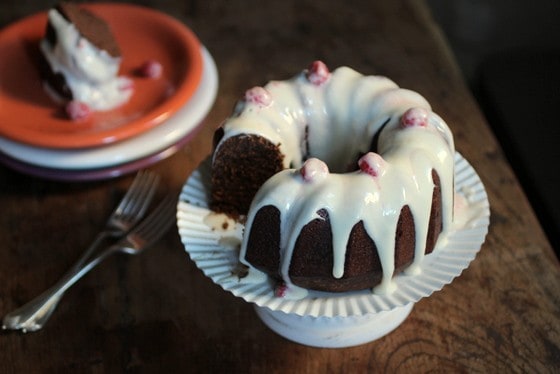 This cake is all about the flavor, a combination of deep chocolate, spicy something not quite distinguishable, which I assume is the mix of booze and good cinnamon, and a melty texture to top. It all makes me go back for another bite, and another, and then another slice. I took this to a friend's house a few weeks back. We had a barbecue after a funeral we had to attend of another friend's father who had passed away.
The day was a sunny fall day, with clear skies and nice temperature, and this cake was the perfect ending to a gloomy start. For those who thought it was simply a chocolate cake, it surprised them in the best possible way. And I saw two more go down the same path I had, one bite, then another, then another slice...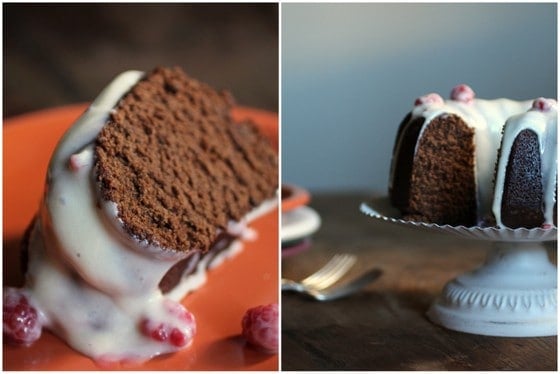 The homemade raspberry liqueur is one of many I've been macerating for a few months. Man, I'm obsessed. So easy and so good. Especially for baking.
Print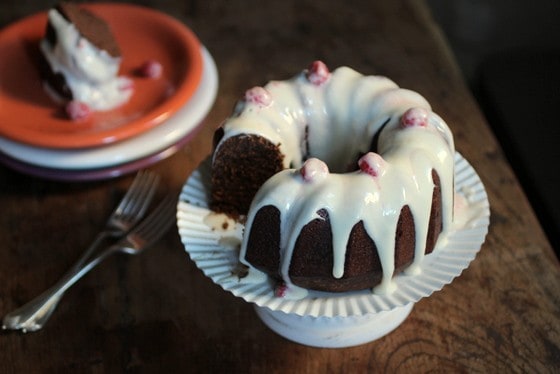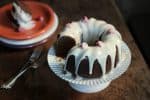 RASPEBERRY WINE CHOCOLATE BUNDT CAKE
---
Description
The liqueur takes about a month to be ready to use. You can substitute it with a store bought one.
I halved the cake recipe because I was using a medium mold. If you want to make 3 layers, double it and use a mascarpone filling and frosting, like the book suggests.
---
Scale
Ingredients
For the cake:
8

Tbs 115g unsalted butter, at room tº

1 cup

190g firmly packed brown sugar

1/3 cup

65g granulated sugar

2

large eggs (at room tº)

2/3 cup

raspberry liqueur (see recipe below)

1/3 cup

sweet white wine (such as late harvest)

1 teaspoon

vanilla extract

1 ½ cup

+ 2 Tbs (

175g

all purpose flour)

½ cup

+

2

Tbs unsweetened cocoa powder

¼ teaspoon

baking soda

½ teaspoon

baking powder

¼ teaspoon

ground cinnamon
Scant

½ teaspoon

salt
For the glaze:
1 cup

powdered sugar

2

or 3 Tbs raspberry liqueur (see recipe below)
For the liqueur:
1 cup

fresh raspberries

1 cup

vodka

1

vanilla bean
---
Instructions
For the cake:
Preheat oven to 350º. Butter or spray a bundt pan. I used a silicone pan.
In a large bowl beat butter until creamy, about 1minute. Gradually add both sugars, beating until very creamy, about 3 or 4 minutes.
Add eggs, one at a time, beating for a minute after they're incorporated.
In a separate bowl, sift together all the rest of the ingredients of the cake. (I do it directly over the butter mixture).
Add the dry ingredients in three additions, alternating with the raspberry liqueur and white wine in two additions. Mix until very well blended but don't overmix at this point.
Pour into prepared pan and bake for 40 minutes, our until a tester inserted in center comes out clean. Let cool on wire rack for twenty minutes or so, and then unmold onto rack and let cool completely.
Drizzle glaze over top of cake, letting it drip to the sides. You can add more fresh raspberries on top.
For the glaze:
Mix powdered sugar with raspberry liqueur.
Add fresh raspberries or some from the liqueur, and swirl a few times to marble.
For the liqueur:
In a glass jar or bottle, add raspberries and vodka.
Cover and keep in a dark dry place for 2 weeks.
Add the vanilla bean to the liquid and keep covered in the same place for 2 more weeks.
---
Raspberry liqueur recipe from this site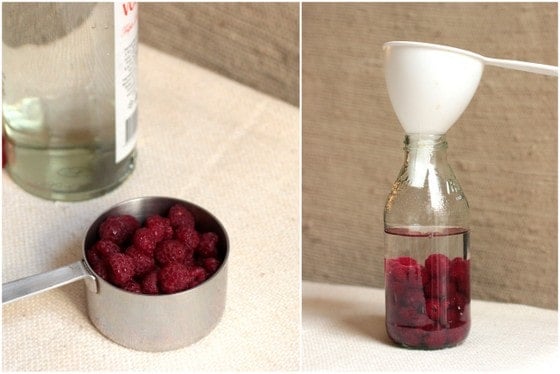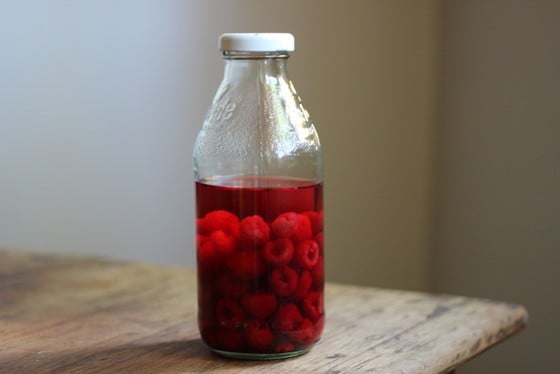 Take a look at what the Bundt a Month group baked with berries this month: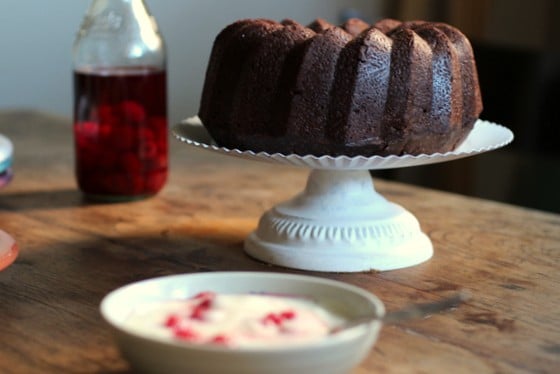 ---