This rich chocolate cake is a true showstopper with its moist, fudgy layers and smooth 2-ingredient chocolate mousse. The flavor is unique and deeply chocolate. Whether you're hosting a special occasion or simply treating your family, this recipe is bound to impress.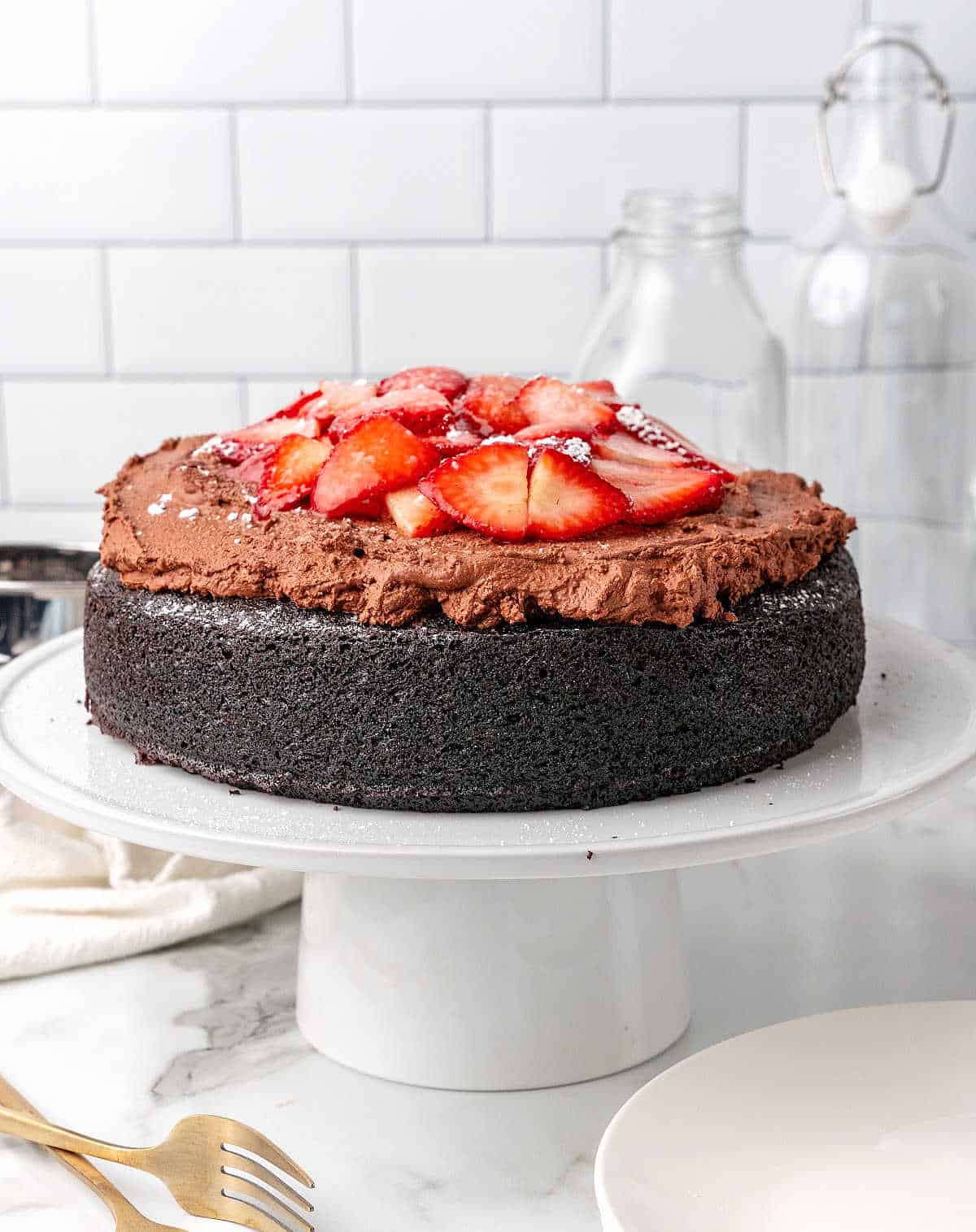 I'm not used to making vegan desserts; this chocolate cake was my first time experimenting with one.
I wanted to see what it was like compared to my usual chocolate cake and flourless chocolate torte. It's truly unique in texture and flavor.
It has none of the traditional ingredients we are used to finding in a cake, like butter, eggs, and milk.
A dairy-free, moist chocolate cake recipe that is utterly delicious, and a must-try for chocolate lovers, even if you don't follow a plant-based diet.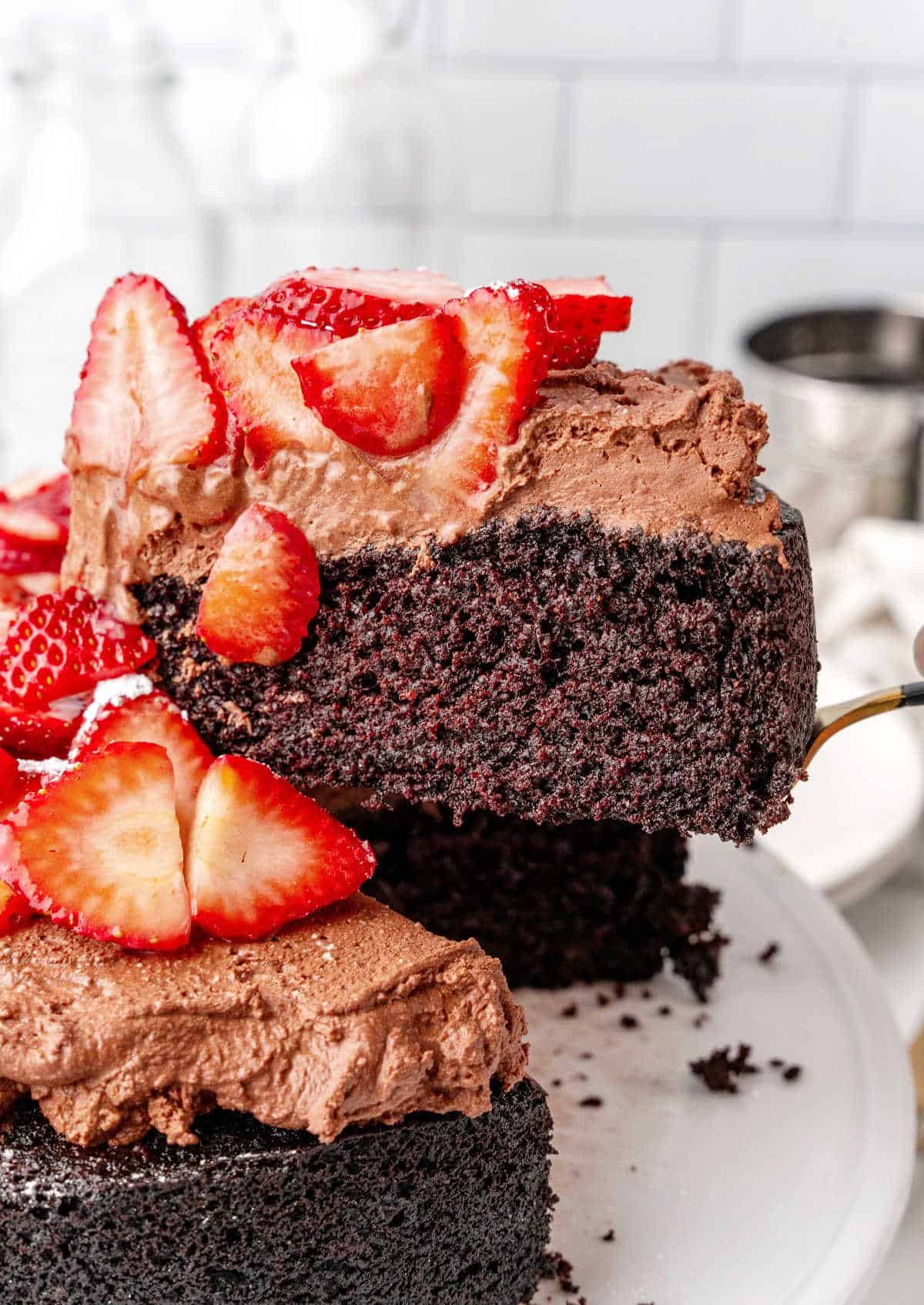 If you're not used to vegan baking like me, when you read the list of ingredients in this cake, it feels like some non-foodie editor forgot a part of the recipe.
Although it's common to replace butter with oil, the idea of replacing eggs with vinegar is mind-blowing. At least to me. Here they are omitted and not missed at all.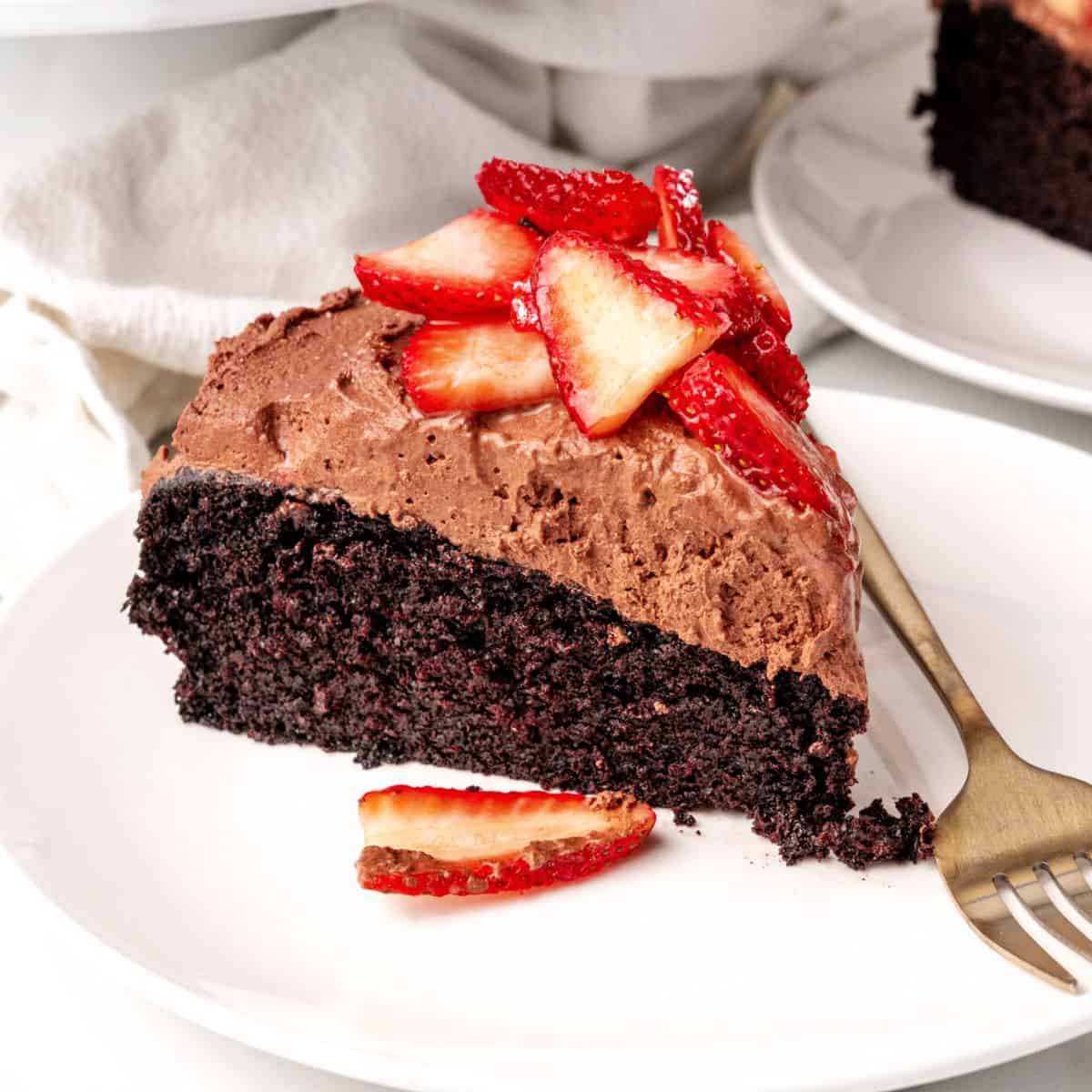 Ingredients
Use a clear shot of the ingredients for this recipe, prepped, and labeled if necessary. Insert the ingredients into the list below, omitting quantities.
Chocolate: use your favorite dark semisweet chocolate for this recipe. I like Callebaut 54% chocolate wafers or Ghirardelli Premium baking bar.
Cocoa powder: always use unsweetened. I like Hershey's unsweetened cocoa powder, Ghirardelli Premium baking cocoa, and Scharffen Berger natural cocoa powder. And, in my experience, the dark ones are the best (this does not apply to the super dark used for making homemade Oreo cookies known as dark cocoa powder).
Vegetable oil: sunflower, coconut, canola.
Vegetable milk: soy milk and almond milk work very well.
All-purpose flour.
White, granulated sugar.
Baking powder and baking soda: make sure they aren't expired.
Vinegar: white is the most neutral, but I've used red wine and apple cider vinegar for this cake with great results.
Salt: I like to use kosher salt when baking. But regular table salt works just fine.
Vanilla: I use pure vanilla extract or pure vanilla paste when available, but a good vanilla essence (artificially flavored) also works and is infinitely cheaper.
Strawberries: fresh are always the first choice, but a vegan strawberry sauce also works. It will render a sweeter cake.
Water and ice cubes: for the chocolate mousse process.
See the recipe card towards the end of this post for quantities.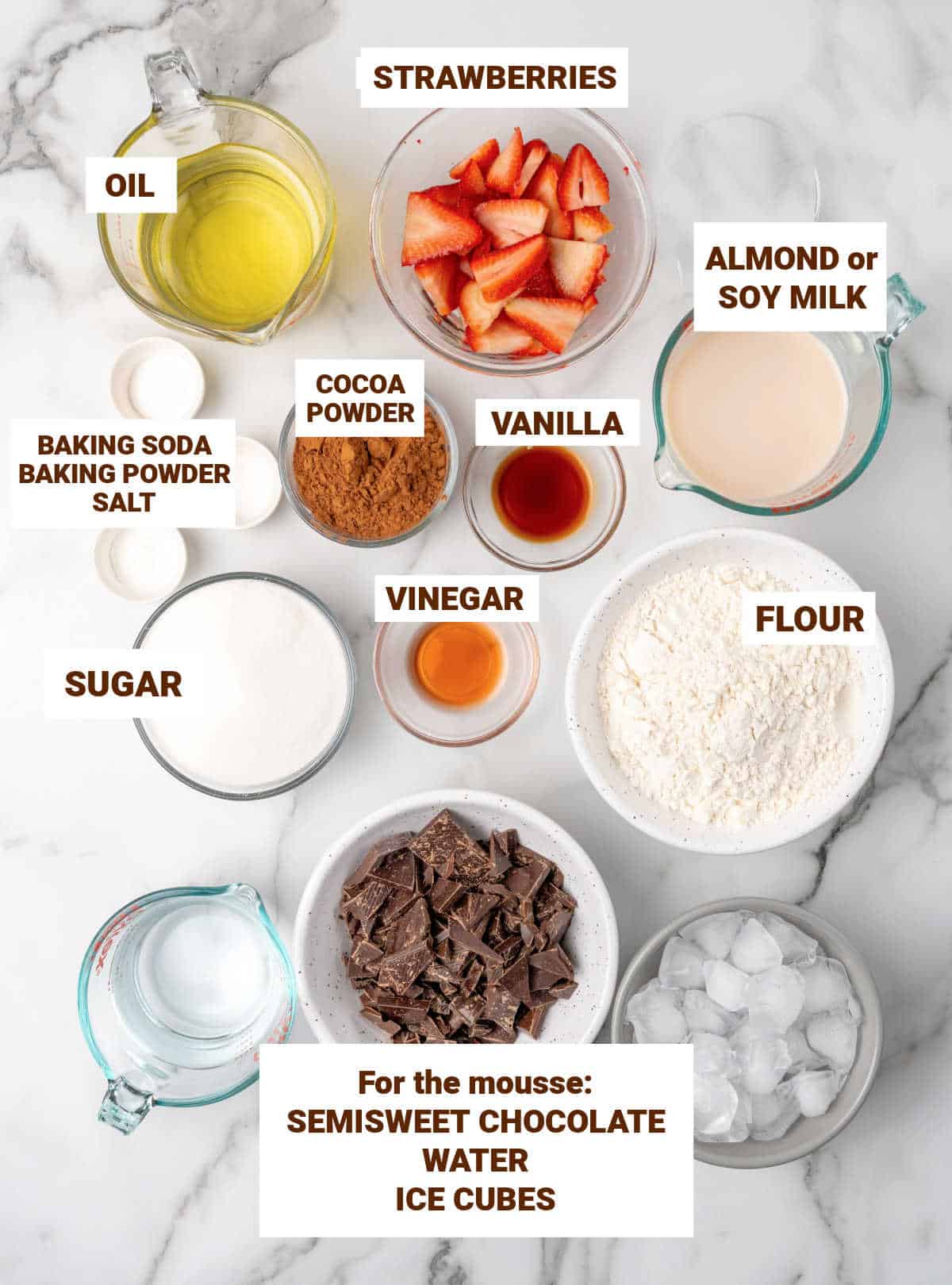 How to make the cake batter
Use an electric mixer or a stand mixer with the paddle attachment.
One or two layers: I like the single-layer cake (9-inch springform pan), but you can use 2 round 8-inch cake pans, use the mousse as filling and topping, and make a naked cake (no frosting on the sides).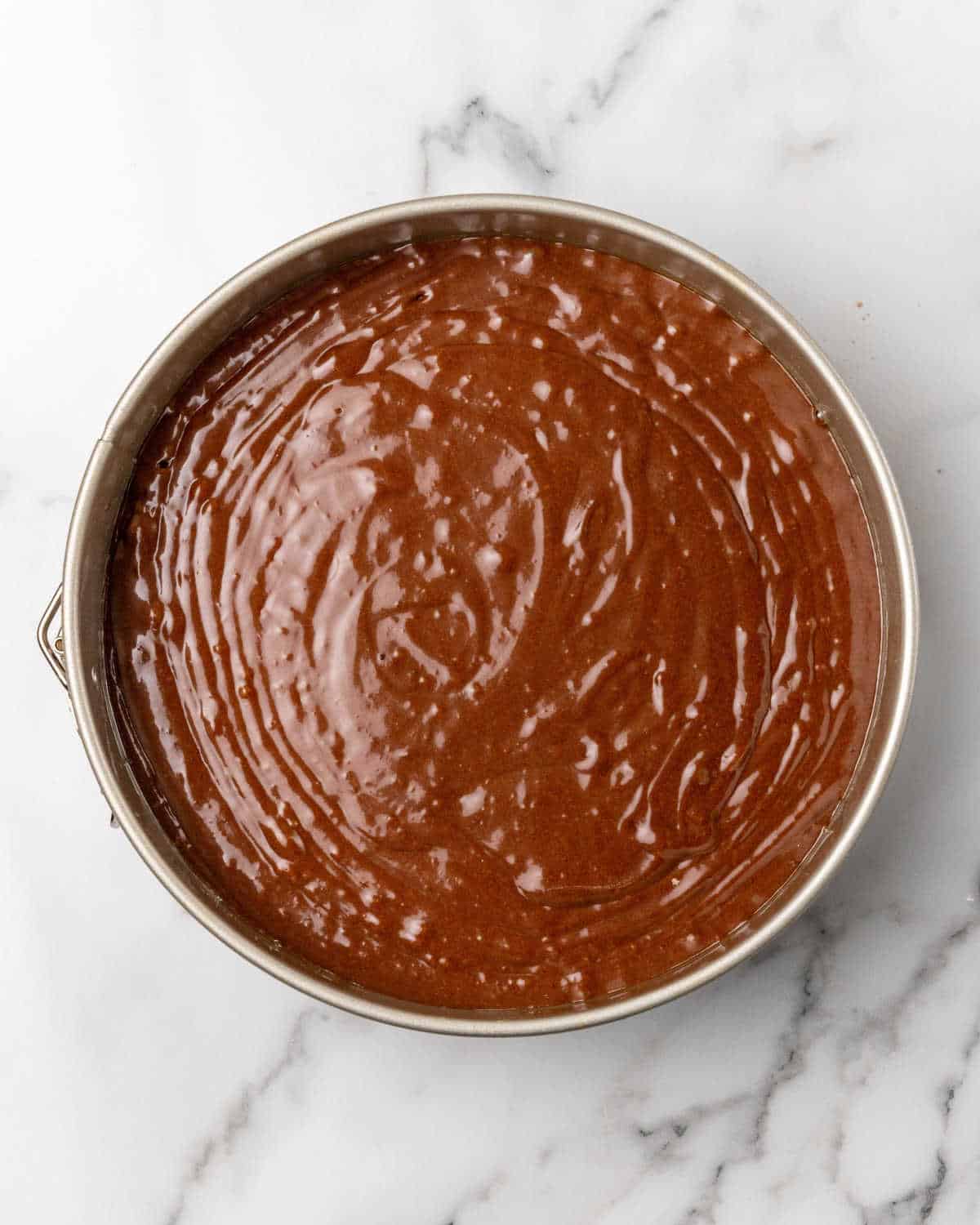 You'll have a shiny and smooth batter, just like in a regular chocolate cake mixture.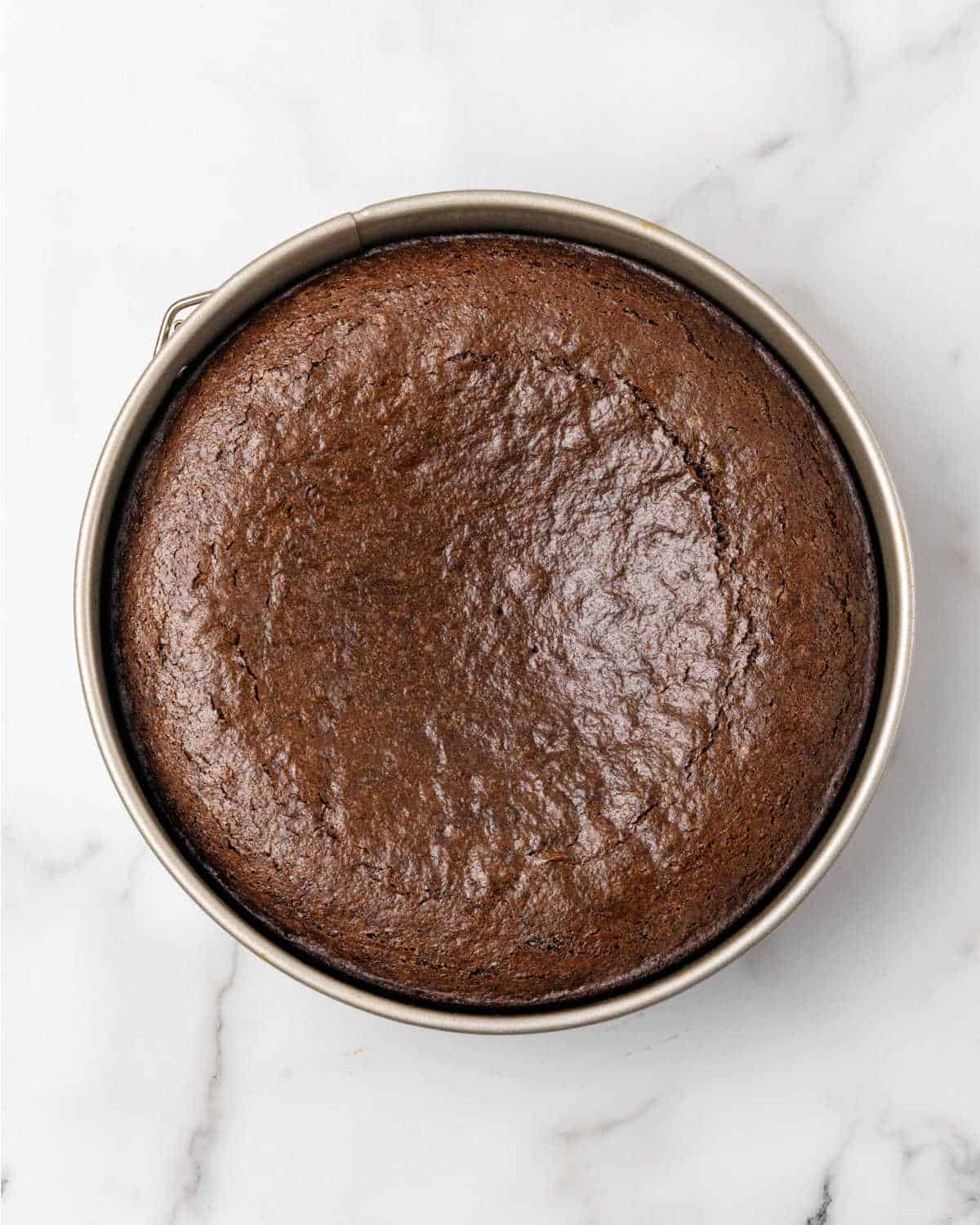 The cake will sink in the middle as it cools down, which is fine. The indentation will be filled with the chocolate mousse.
2-ingredient chocolate mousse
Chocolate mousse is a wonderful thing, but it can be time-consuming to make, and you end up with a pile of dirty bowls on top of the ones you used for the cake.
So this decadent chocolate mousse filling is magic.
Just two ingredients: dark chocolate and hot water. Chocolate is ruined if you add a few drops, but not if you add a lot of water.
It does work, so well and so simple. Chocolate mousse in no time. And perfect for filling.
The chocolate flavor is absolute, so use one you love straight from the packet.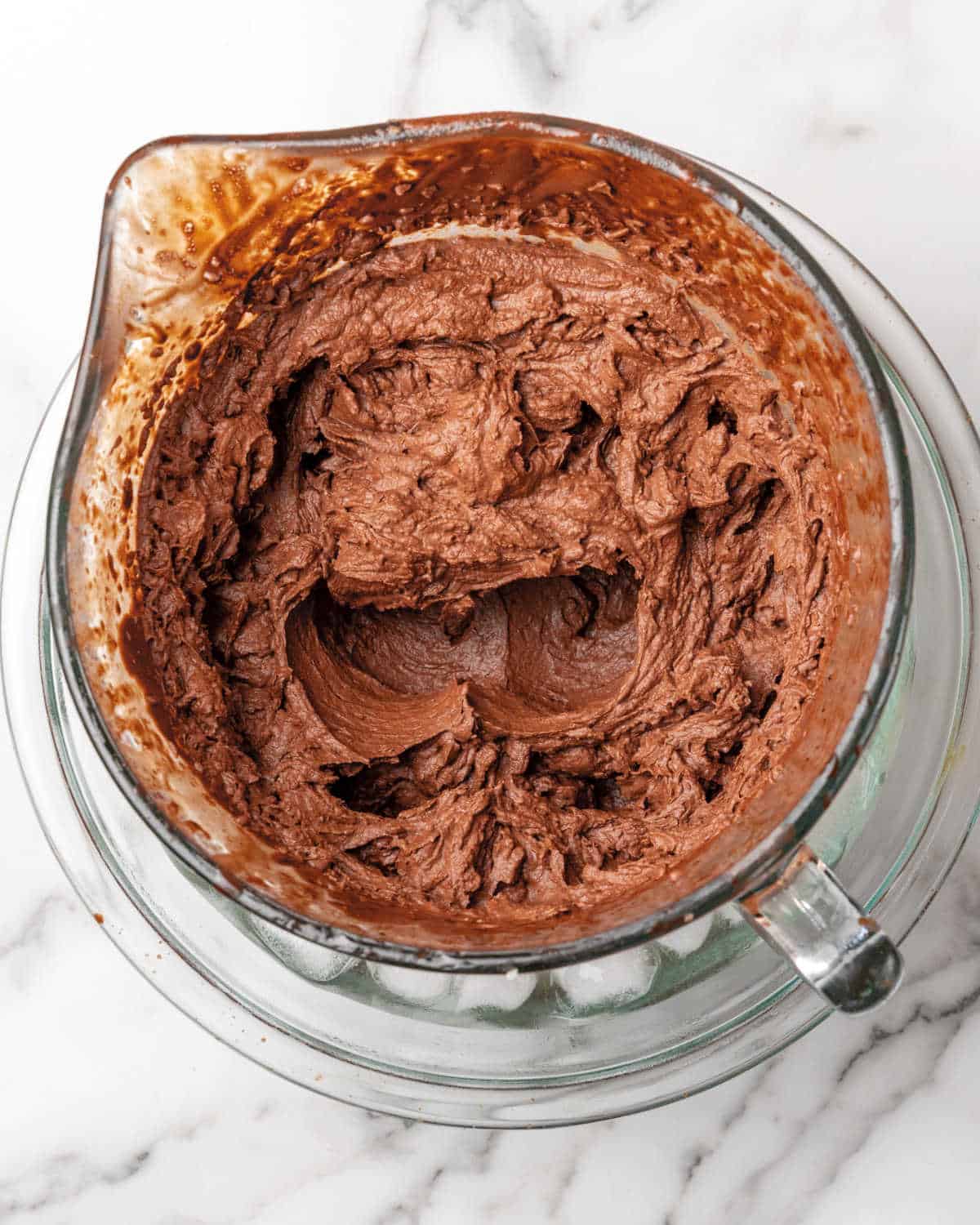 Melt chocolate in a large bowl, add hot water and beat at high speed over a bowl of ice water. Nothing will appear to happen for the first few minutes. But just wait and see. It'll start getting cold and stiff suddenly, like a regular mousse.
Vintage Kitchen tip: if the mousse gets too firm to spread, add a few teaspoons of hot water and beat some more until it loosens up and you reach the desired consistency and creamy texture.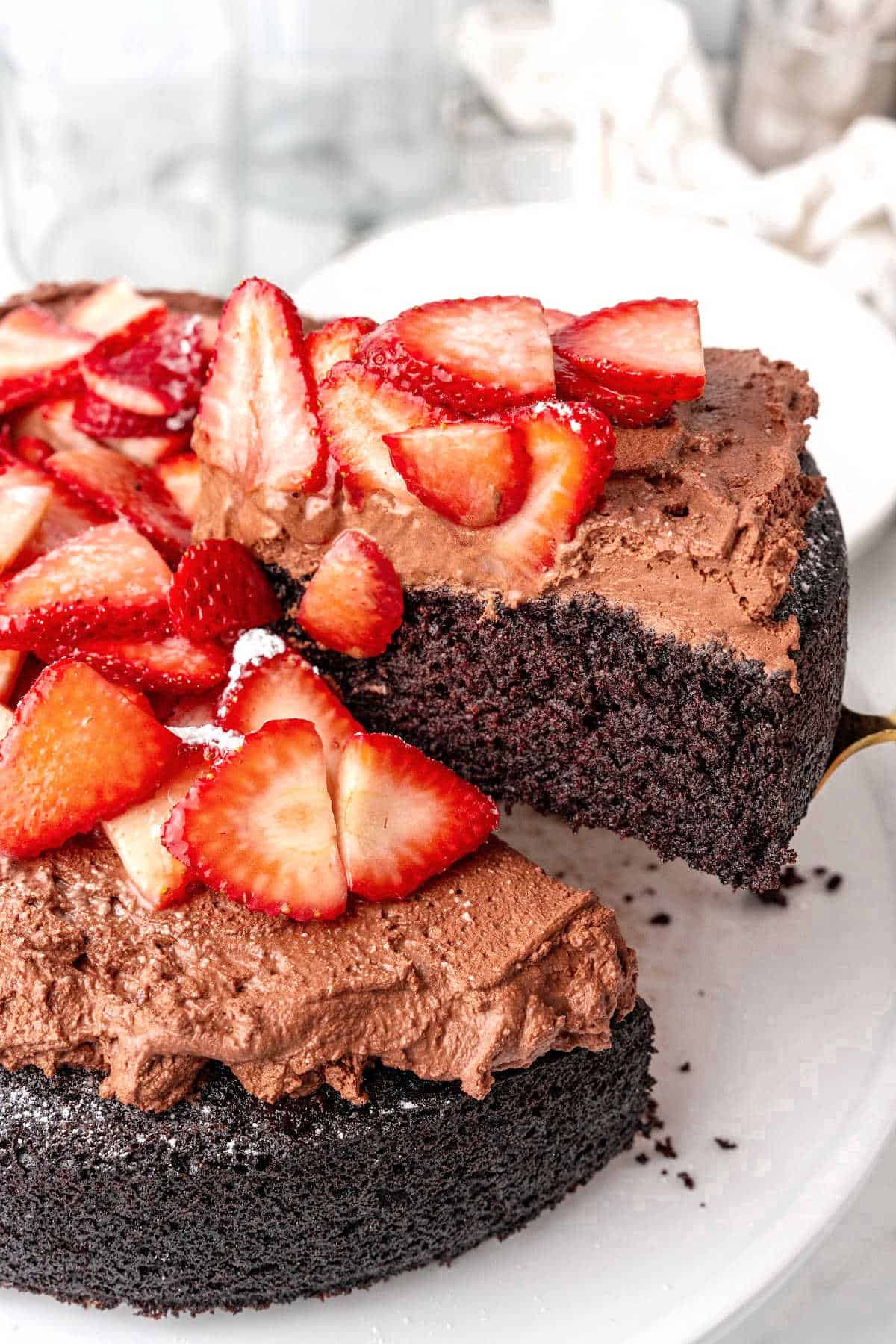 Berry topping
Fresh strawberries: we might debate that it's an optional ingredient, but I highly encourage you to add some. They're tangy but sweet and balance out the richness of the mousse.
Strawberry sauce or topping is another alternative. I find it to be too much on top of the mousse, but it works if you like sweeter desserts, as this vegan cake is not very sweet.
Other fresh berries: use one, like raspberries, or a mix with blackberries and blueberries. This can be instead or in addition to the strawberries.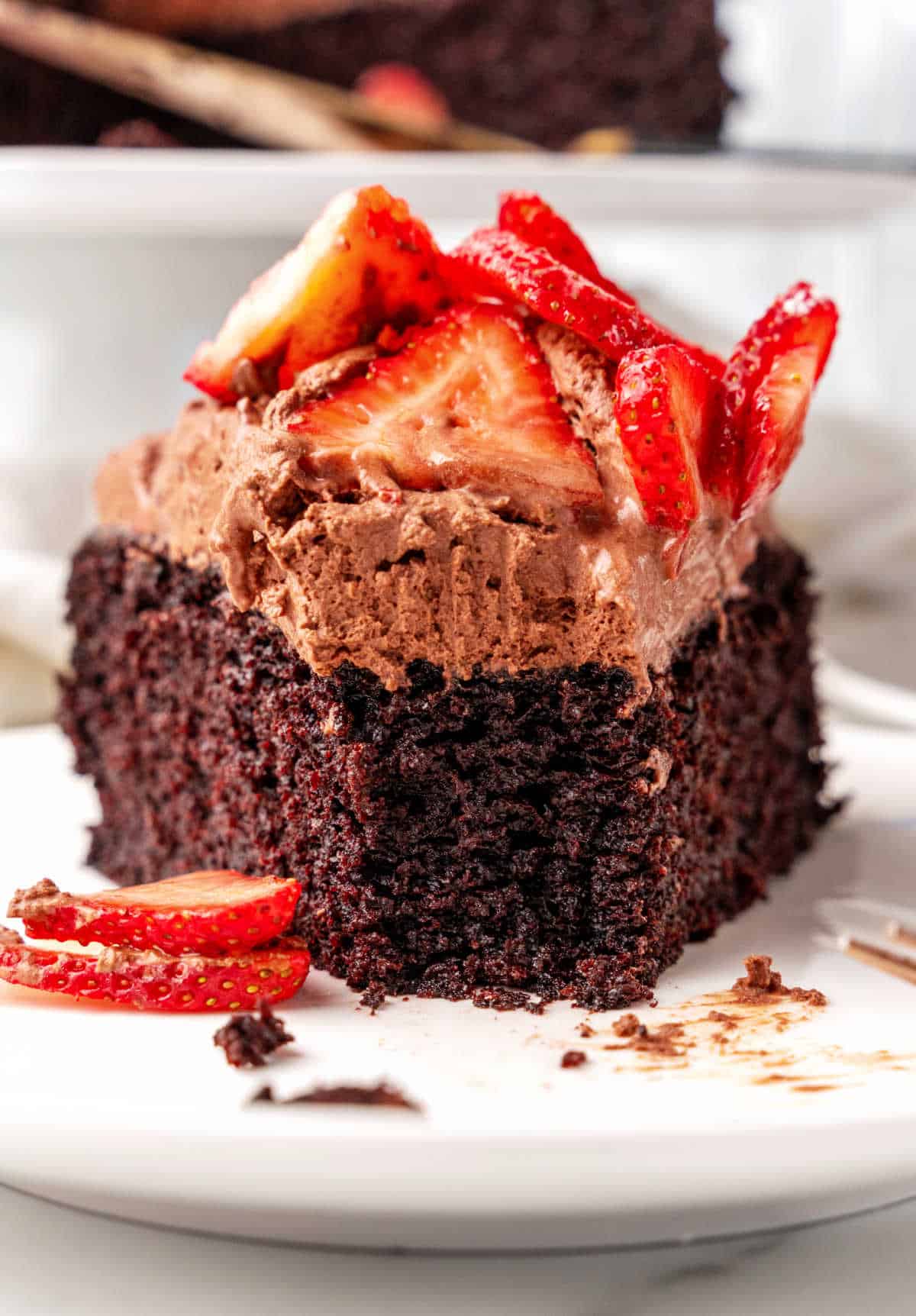 Kitchen notes
Organization: read the recipe first and ensure you have ingredients at the correct temperature, equipment, and enough workspace. This will make the process so much easier.
Baking time: keep in mind that all ovens and pans are different, even if they look similar. The baking time in my recipes is as accurate as it can be, but it might take you more or less time. You can use a thermometer(like the OXO oven thermometer) to check that your oven is at the right temperature. I recommend you keep track of how your oven works and what tiny details you might need to adjust.
Chocolate mousse: use it immediately, so make it when the cake is completely cool and ready to be filled.
Make ahead: the cake layer can be made several days before and kept well wrapped in the fridge or frozen for a month.
Serving: due to the chocolate mousse topping, this cake is best served slightly cold and not at room temperature as I usually recommend with chocolate cakes.
All chocolate cake: omit the strawberries and add some chocolate shavings or drizzle chocolate ganache on top of the mousse.
---
Related recipes you might like:
---
Let me know in the comments below if you made this recipe and loved it and if you had issues so we can troubleshoot together. I love to hear what you think, always. Thanks for being here. It's much appreciated.
You might also consider subscribing to our FREE email series to Boost your Home Baking Skills! And our regular newsletter.
And let's connect via Facebook, Instagram, and Pinterest.
As an Amazon Associate, I earn from qualifying purchases. Please read my disclosure policy.
Print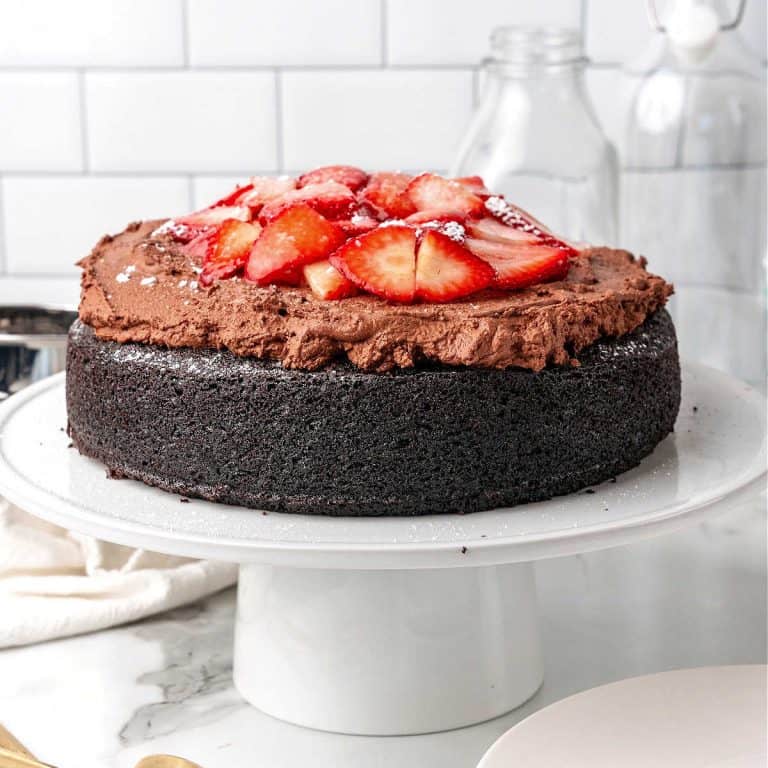 Chocolate Mousse Cake (dairy-free)
This vegan chocolate cake is a true showstopper with its moist, fudgy layers and smooth 2-ingredient chocolate mousse. The flavor is unique and deeply chocolate. Whether you're hosting a special occasion or simply treating your family, this recipe is bound to impress.
Total Time:

2 hours 10 minutes

Yield:

8 servings
For the cake layer:
2

cups

all-purpose flour

¾

cup

unsweetened cocoa powder

2 teaspoons

baking soda

1 teaspoon

baking powder
Pinch of salt

1 ¾

cups

soy or almond milk

2 teaspoons

white or red wine vinegar

1 ⅔

cups

sugar

1 ¼

cups

vegetable oil (sunflower, coconut oil, or light olive oil)

2 tablespoons

vanilla extract
For the chocolate mousse layer:
10

oz

. dark semi-sweet chocolate, chopped

¾

cup

hot water
Ice

1 ½

cups

fresh strawberries (hulled and sliced)
Powdered sugar (for sprinkling)
Instructions
For the cake:
Preheat oven to 350ºF/180ºC. Butter or grease a 9-inch springform cake pan. You can also use two 8-inch round cake pans and fill the layers with the mousse.
In a large bowl, sift together the dry ingredients: flour, cacao powder, baking soda, baking powder, and salt.
Stir to combine and make a well in the center.
Add soy milk, vinegar, sugar, oil and vanilla. Beat or whisk until very well combined. The batter will be quite runny.
Pour into prepared pan and bake for 45-50 minutes or until a cake tester or toothpick comes out with almost no crumbs attached. It will feel springy to the touch.
Let cool on a wire rack and then unmold onto the serving platter.
Cover the top with the chocolate mousse and decorate with sliced fresh strawberries. Sprinkle with sugar and serve.
For the chocolate mousse:
Begin making the mousse right after the cake is cooled and removed from the pan.
Have ready a large bowl with ice and cold water (ice water), enough so that the bowl with the chocolate fits comfortably.
Melt the chocolate: start with chopped chocolate in a microwavable or glass bowl. You can use the microwave (short 10-15 second spurts stirring well between each one until it's fully melted) or a double boiler with the bowl containing the chopped chocolate not touching the water. In both cases, make sure it doesn't scorch.
Add the hot water to the chocolate

all at once

. Immediately put the bowl over the ice water.
With an electric mixer, start beating at high speed. It will not thicken for the first few minutes, but it will start to do so unexpectedly. And it will stiffen pretty quickly.
If the mousse is too thick to spread, add a few teaspoons of very hot tap water and beat until smooth until spreadable. Use immediately.
Notes
You can use any fruit you like for the topping and your favorite frosting or whipped cream.
Author:

Paula Montenegro

Prep Time:

20 minutes

Cooling time:

60 minutes

Cook Time:

50 minutes

Category:

Cakes

Method:

Baking

Cuisine:

International
Keywords: vegan chocolate mousse cake
Adapted from Tea with Bea