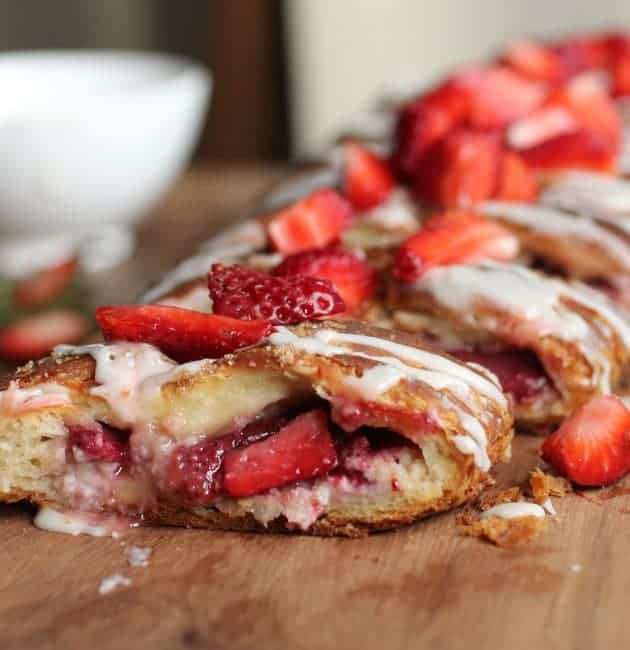 This strawberry lime almond danish was a given.
Almost two months since buying them for the first time, I'm still much in awe with the sweet, incredibly red strawberries I keep buying, asking the fruit guy every single time if they're really good, as good as the last ones he sold me, or where those just a lucky batch not to be repeated until the last month of summer.
His confidence when selling them, even if it's still winter here, telling me to take as many kilos as I want because they're
that
good, followed by my
mmm…I don't know
answer, together with a lip frown, rooted in years of never finding those fresh peaches from my childhood or truly ripe kumquats with their acid sweetness ever again; yet returning home with at least a pound of strawberries, here I am once more, raving about this strawberry danish braid, a huge emphasis on the berry part. HUGE.
Can you believe I'm not giving the last batch of frozen sweet cherries a second thought these days?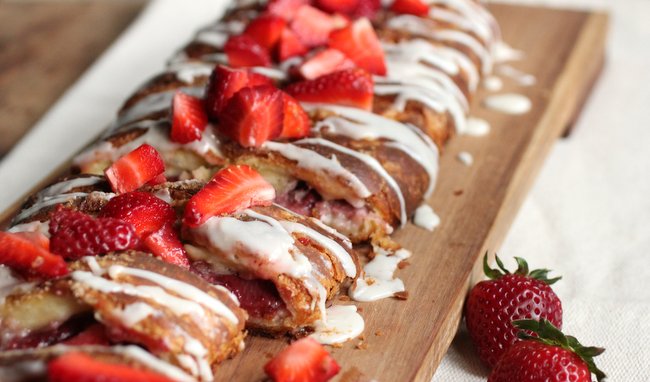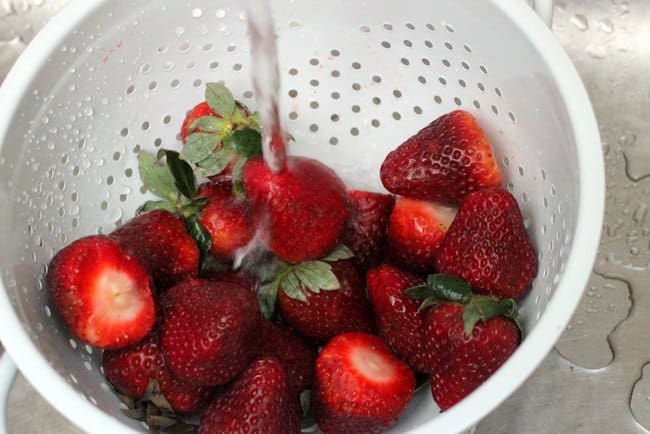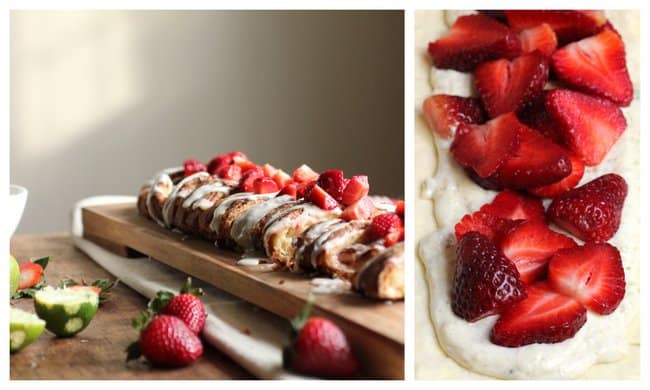 This is my September post for the Twelve Loaves challenge, the bread baking group started by the talented Lora of Cake Duchess (with an extra very special thanks to the wonderful Renee of Magnolia Days who is always available to keep the group on its tracks), where we pick a theme each month and bake whatever we fancy, yeasted or not, as long as it's in the bread category, so muffins, scones, and such are part of it too. Maybe you remember the cinnamon sugar challah, the whole wheat mountain bread or the mind-blowing cheese pesto filled naan. Today it was farmer's market, and as you can see a trip to the market produced fresh strawberries and limes. There is lime in the filling and the glaze and the red berries inside and out too.
The quick danish dough that I use is a miracle in itself, a recipe from Beatriz Ojakangas who wrote quite a few books and specializes in Scandinavian baking; and despite all her credits as a baker and author, I will advocate this single quick danish pastry recipe as one of the best things to ever appear in my baking universe. It's gold.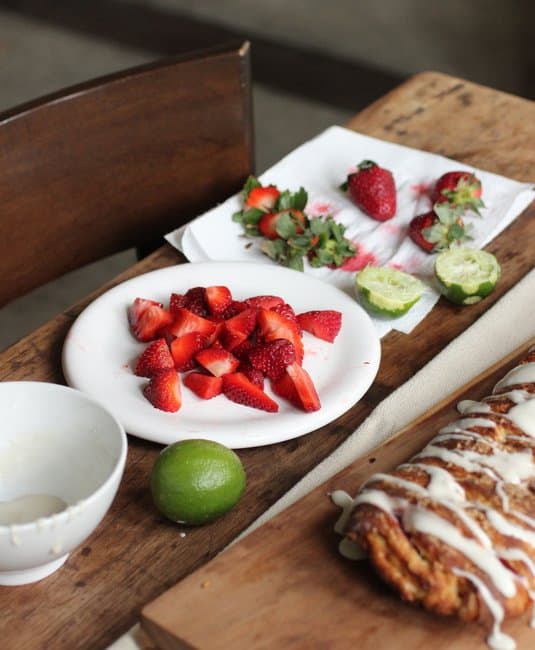 When I first started this blog, and didn't have a clue about photography, and a bunch of other stuff as it turned out, but I was eager to share this quick method of making Danish dough will all of you, so I posted a prune-filled one, which is really good, but considering the number of good food blogs and pictures going around, those older posts look so dated it's easy to overlook them and their recipes. 
So I'm printing it again here in the hopes that you will make it, despite your fear of yeast, laminated doughs, and baking in general. It is a danish pastry after all, so it does imply a little extra work, but the results are so.much.better than you can ever imagine.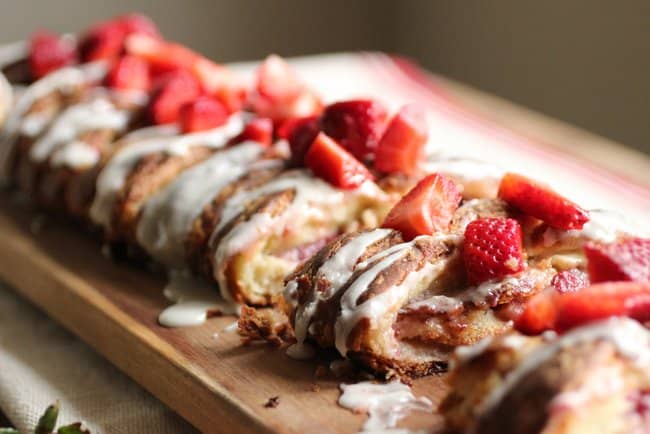 And finally, I'm not particularly fond of fresh strawberries.  
What?
Yes, considering they appear at the same time as blackberries, peaches, figs, raspberries and other fruits and vegetables I'm forgetting now, they always get pushed to the end of the line.  
But then this filling came to be – with almond cream, cream cheese, and lime zest – it entered the intricate pattern of this braid, baked till it puffed and the strawberries softened, got a tingle from the lime glaze, and suddenly boom!
Strawberries are at the top, first in the line. They sure earned it.
Print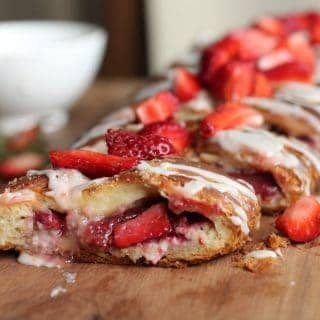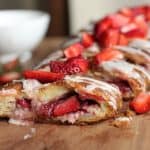 STRAWBERRY LIME ALMOND DANISH BRAID
Prep Time:

120

Cook Time:

45

Total Time:

2 hours 45 minutes

Yield:

8

servings

1

x
Category:

Bakery

Cuisine:

Scandinavian
---
Description
I made half the dough recipe, so you can easily double it. These braids freeze perfectly after baked, wrapped first in film and then foil. Warm them up before eating.
For the almond cream, I make this one and substitute the walnuts for almonds. You can simply mix ground almonds and cream cheese (half of each) for a simpler version.
---
Scale
Ingredients
For the danish dough:
2

to

2 1/2

cups all-purpose flour
Large pinch salt

3/4 cup

170g unsalted butter, cold and cut into medium pieces

1 teaspoon

active dry yeast (not instant)

1/4 cup

60ml tepid water (not hot)

1/4 cup

60ml cream, barely warm (not hot)
A few gratings nutmeg

1

egg

2

Tbs 30g sugar
For the filling:
1 1/2 cup

s 230g aprox. fresh strawberries, sliced

1/3 cup

cream cheese

2/3 cup

s almond paste (recipe below)
Zest of

1/2

lime
For the almond paste:
1 1/2 cup

s 180g whole almonds, lightly toasted if you like

1 1/2 cup

s 250g powdered sugar

1

egg white

1 teaspoon

almond extract

1

–

2

teaspoons corn syrup (if needed)
For the glaze:
1 cup

powdered sugar
Juice of

1

lime
Fresh strawberries (to serve)
---
Instructions
For the quick danish dough:
Put 1 ¾ cups flour and salt in the work bowl of a food processor, fitted with the steel blade.
Add the cold butter, cut into chunks, and process until the butter is the size of kidney beans.
In a bowl, dissolve the yeast in the warm water. Let stand 5 minutes until foamy, and then stir in the cream, nutmeg, egg, and sugar. Mix very lightly with a fork.
Transfer the flour and butter mixture to a large bowl; add the yeast mixture and mix lightly with a fork or spatula just until the dry ingredients are moistened. Similar to scone mixing.
Shape into a square, it will be very irregular, transfer to a plastic, wrap and refrigerate 4 hours or up to 4 days.
Turn the dough out onto a lightly floured board; dust with a little flour. Flatten with a rolling pin to make a16 to 20-inch (40x51cm) square.
Fold into thirds, top 1/3 down and remaining 1/3 cup, making 3 layers. Turn dough a quarter to your right, as if it were a book, so that the large open part it on your right, and roll again.
Repeat the three folds two more times for a total of three times. Like puff pastry. This should result in a sort-of square. Wrap and chill the dough 30 minutes or as long as overnight.
When ready to bake, take the dough out of the refrigerator and transfer to a floured surface.
Roll into a 12×6-inches (30x15cm) rectangle. Place on a baking sheet that has been covered with lightly buttered and floured parchment paper or Silpat. What did we do before Silpat??
Spread the almond cream cheese filling, down the length of the center of the strip. Top with sliced strawberries.
Cut slanted or straight strips along both sides towards the center using a dough scraper or a pastry wheel. Be very careful and gentle when doing this; I slashed one of my beloved Silpats. Fold strips over the filling in a crisscross pattern.
Let rise 1 hour (more or less depending on the tº), just until the pastry appears puffy. It will not double. Sprinkle with sugar.
Turn on the oven to 375ºF/180ºC about 20 minutes before baking.
Bake about 20 to 25 minutes, until golden.
Frost with lime glaze and top with fresh strawberries cut into chunks.
For the strawberry cream cheese filling:
Mix room temperature almond cream with cream cheese until smooth.
Add lime zest and mix well.
For the lime glaze:
Mix powdered sugar with lime juice in a bowl until completely smooth.
If you want it thicker or thinner add more or less juice.
---
dough barely adapted from The Great Scandinavian Book, by Beatriz Ojakangas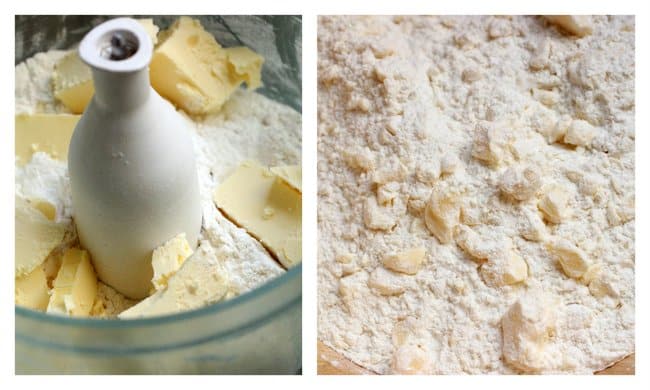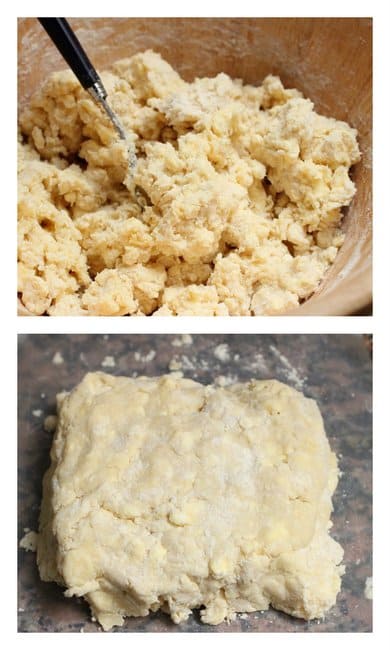 Ready to chill for the first time (4 hours) before the first fold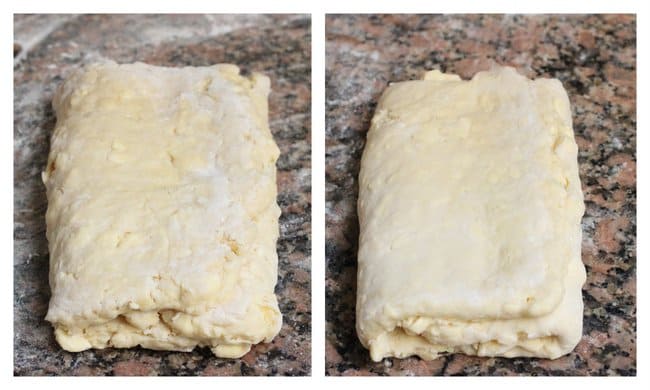 Left: after first fold into thirds    Right: after three folds into thirds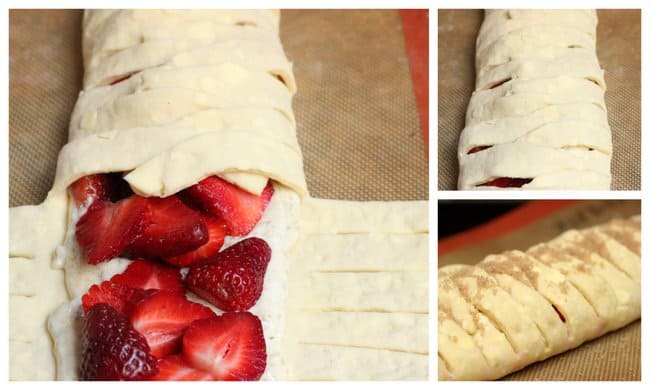 After a trip to the Farmer's Market, here's what the group baked this month:


---