Homemade croissants take time and patience, but the results are out of this world! Follow the steps and have sweet, buttery, puffy pastries anytime.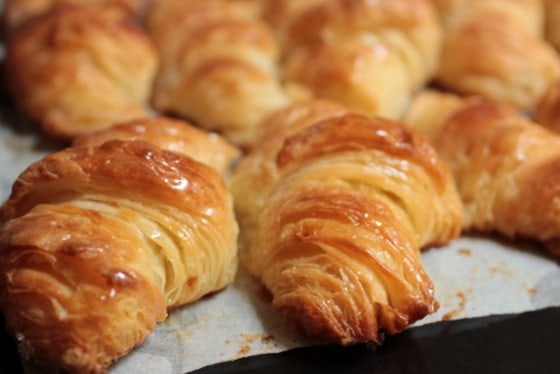 I think any laminated dough, be it french all butter croissants, puff pastry, danish, is one of baking's great accomplishments when made at home.
It is a project. This is no last-minute idea, especially if you take the traditional way of mixing and folding.
I make a danish dough in the food processor and it's a dream, but there's no escaping the laminating if you want the puffy look. And you absolutely want the puffy look when it comes to croissants.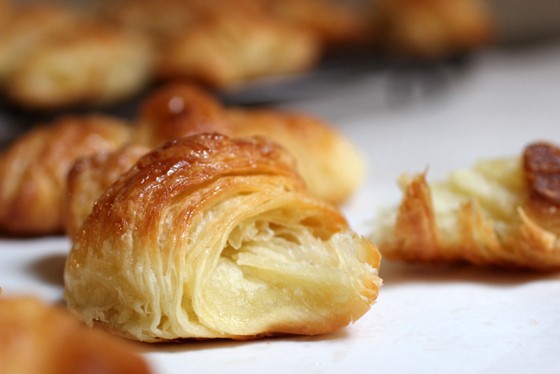 Today, our Tuesdays with Dorie group is finally tackling croissants. French all butter croissants, by contributing baker Esther McManus.
The recipe is very traditional, though there are some that add an egg. Not this one, just flour, sugar, milk, salt, and of course, a lot of butter.
I have made french all-butter croissants dozens and dozens of times. Back when I was living my other life, which included a big kitchen and a lot of step kids, making croissants was fairly normal.
When you're a baking freak like I am, having a lot of teenage mouths willing to devour anything you make is like a dream come true. So I would bake a ridiculous amount of whatever I wanted since it always found a willing tester. Or many.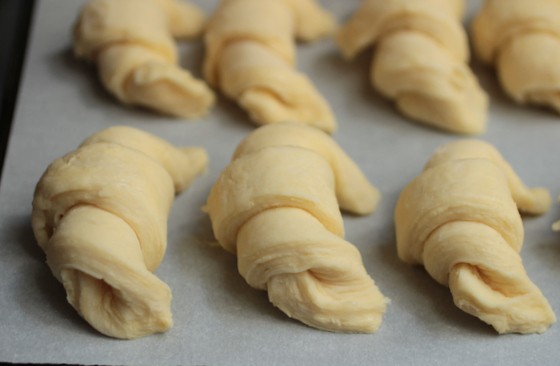 This is, in theory, a very simple yeast dough that is kneaded, and, after resting overnight, a block of somewhat softened butter is added. And the process of folding and resting begins.
As with many masterpieces of the baking world, it needs some focus and organization. Have enough counter space ready, a good rolling pin, a knife to cut the triangles, enough time to let the dough mark the step and not the other way around, and read the recipe thoroughly before starting.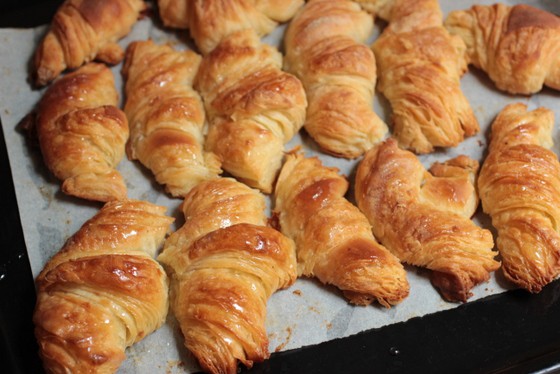 It takes time because the dough has to rest for at least one hour between each envelope-style folding.
The reason for this is the yeast. The gluten activates when you handle the dough, and if it's not allowed to rest it becomes impossible to work with. Just like any yeast dough.
And it's important to mark the dough by making an indentation with your thumb between folds so as not to lose track of them. You don't want to find yourself in the middle of the kitchen, trying to figure out if you are going to make the final turn or if you already made it.
So you mark the dough. Just press your thumb when the fold is done. After the second turn, press your thumb twice. And so on.
Since croissants need three foldings, the last one a four-layer turn, it will take a few hours to complete. And then it has to rest again, otherwise, you won't be able to roll it thin enough to cut the triangles that will become the croissants.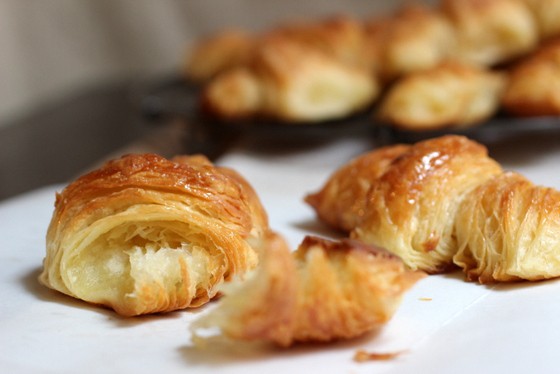 To laminate is to alternate layers of dough and butter, by folding the dough onto itself, thus creating a final dough that looks like a stack of sheets.
They will puff up dramatically in the oven due to that layering effect and the water that
evaporates as steam during baking.
So the layers have to be distinctive, otherwise, the effect will be lost and you will have a mess consisting of flour and butter. If you didn't manage to make puff or croissant pastry rise at some time, you know exactly what I mean. A pool of butter and uncooked dough.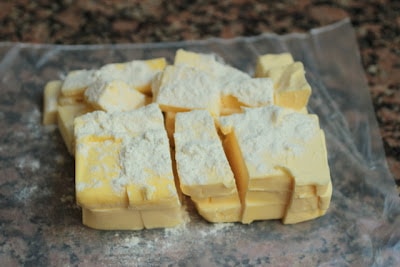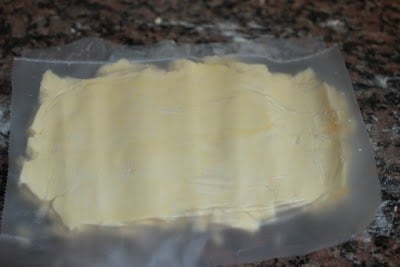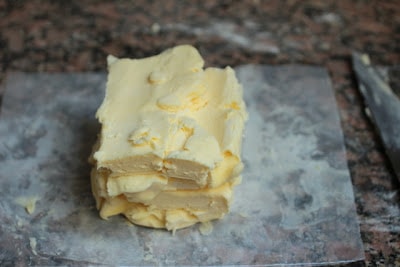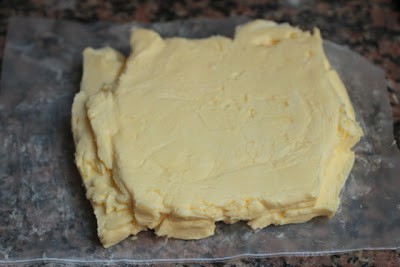 Ready to go into the fridge before adding to the dough
In this recipe, the butter is mixed with a few tbs of flour before being shaped into a square. The book suggests using the mixer, but I never do that, because I don't want to wash a bowl and beaters full of greasy butter.
I simply put the butter in pieces over a piece of plastic (I use freezer sheets), sprinkle the flour, add another sheet on top, and pound with the rolling pin. You pile it up again and repeat. It takes three or four times for the flour to mix. But the mess is minimal as you can see in the pictures.
I have to say that the mixing, folding, and shaping were pretty uneventful since I was familiar with it. The dough had a bit of resistance, even after resting for hours, something that happened to me on occasion before. So they didn't roll as thin as I wanted.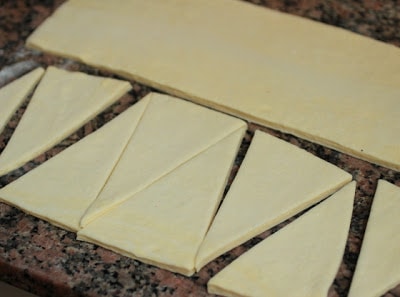 But the lamination came out really good, as you can see in the pictures. The shape not so much. And here I have to say that after 20 minutes in the oven, the croissants had puffed and were turning a gorgeous golden, but they were also dripping in butter. Dripping, as in a lot of melted butter in the tray.
So much that I transferred the parchment paper with the almost there croissants to another tray, so they could dry out a bit more while they finished baking.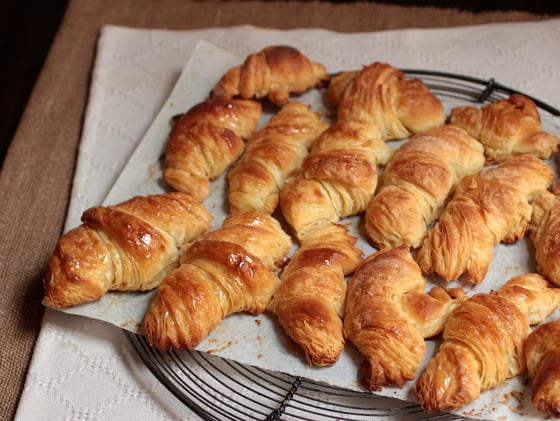 You can clearly see that they kind of flattened and couldn't hold their shape so much.
I used a top-brand butter, so there was no reason for this to happen. And though I never used this recipe before, it doesn't appear to have a different ratio of butter than others. One of those mysteries.
When you cut the triangles, be sure to use a sharp kitchen knife. The cuts should be precise and neat, no sawing motions, or you'll disturb the layers and it will affect the puffiness.
I brushed them with simple syrup (sugar covered with water and boiled two minutes) right out of the oven, because I never glaze them before baking. I just don't like it. But the syrup gives them a nice shine, and add a very slight sweetness.
The flavor was amazing, really buttery (what else!) and crunchy, the way a good laminated dough can be.
I like making small croissants for several reasons, one of them being that they never get soggy and have a lot of golden, flaky crunchiness. In this case I made different sizes to see how they baked. By far the best ones where the smaller croissants. A perfect bite.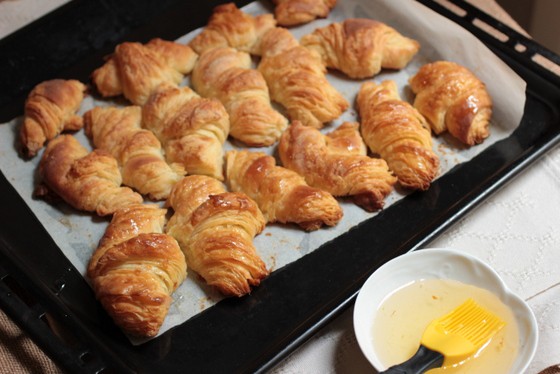 I'm feeeling the croissant bug start to crawl inside my mind, so I see a lot of it this year. I will of course, make my tried and true recipe again, from Nancy Silverton, and maybe give this one another try. I have to get that dripping butter business settled once and for all.
And I still have half of this recipe in the freezer. We have to tackle variations on this dough, like pain au chocolat and almond croissants. I'm so looking forward to that.
There is a video with the whole croissant process, that you might want to watch.
And this is the French croissant recipe.