A fabulous recipe for buttermilk scones, with fresh strawberry bites and orange zest. Get all my tips for making the best scones and have them ready in under an hour!
.
Our theme for today is April Showers, as in baby and bridal. Looking back, and unless there's a huge gap in my memory which is rare, I have never been to either. All I know about April showers are the ones that carry unwanted rain and water.
But I do know about scones, whether it's
double chocolate scones
, with apricots and cashews, dark chocolate and cherries or the mini parmesan chive scones, yep, I can tell you a thing or two.
So let's talk about these gorgeous fresh strawberry buttermilk scones that I made a while ago, and decided that if I ever do go to a bridal or baby shower, I would certainly bring these to share. Though it's autumn here, or fall, I'm very surprised at the number of strawberries and asparagus that abound in the markets. Not that I'm complaining, it's a nice surprise.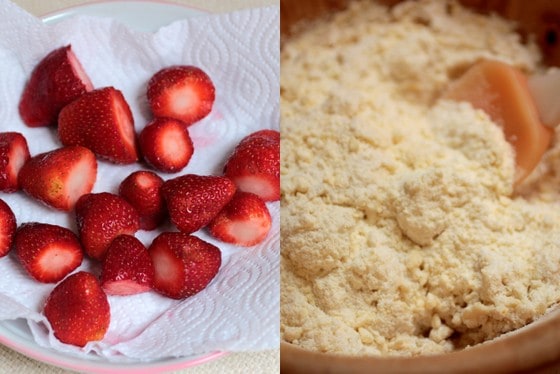 Scones played a big part in my life from both sides of my family.
One because my very Irish great grandmother had two recipes that left a mark in all of us, a plum pudding so time-consuming I don't think I'll ever make it again, and some very easy scones that, though they had nothing special in terms of ingredients or technique, apparently nobody managed to get them quite the way she used to make them. I guess there is one of those recipes in every family. You know the feedback, 'They're good, but not quite like the ones granny made'.
Yes, that sentence doesn't only apply to husbands and their mother's cooking.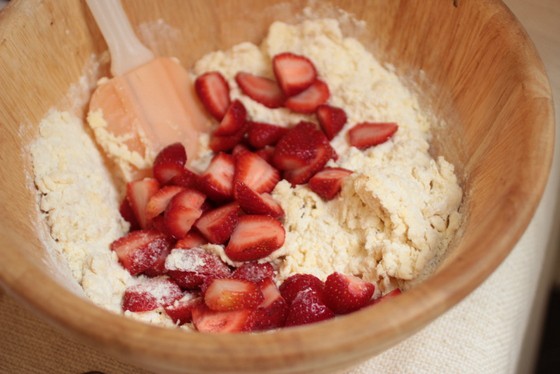 And two, because my paternal grandfather went to college in the US to study engineering, something very rare at that time (1918), even more for a guy living in rural Argentina. But it happened, and he came back with two degrees and a love for pancakes and scones, something I already told you in the
cornmeal berry pancakes
post.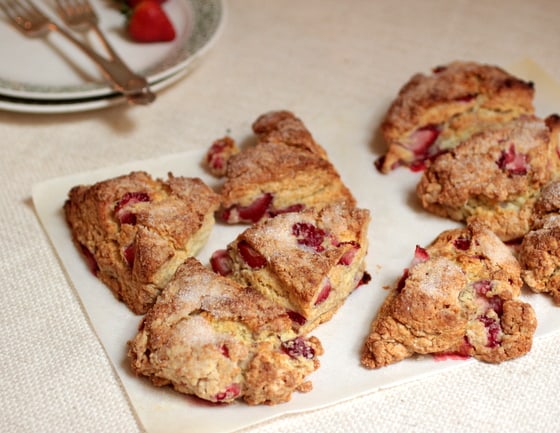 I imagine 
that bridal and baby showers include some kind of finger eating, tea time and nice outfits. So scones are a great thing to put on the table. And fresh strawberries, well, they are a great addition any time you can find them.
The first and foremost rule of scone baking is very cold ingredients. I'm not kidding when I say frozen butter. And don't take the buttermilk half an hour before you start mixing the scones. Butter, buttermilk, they belong in the fridge and freezer until you need to scatter and pour them.
The second rule is a high oven. They need that extra heat to rise however they can in spite of all that butter. And if by any chance you forgot to turn the oven on before you start with the mixing, please don't leave the baking sheet with the cut scones waiting on the counter. Put them in the fridge or freezer the ten or fifteen minutes it takes for the oven to reach its temperature. Are we clear?
And for a shower, I suggest making 24 smaller scones.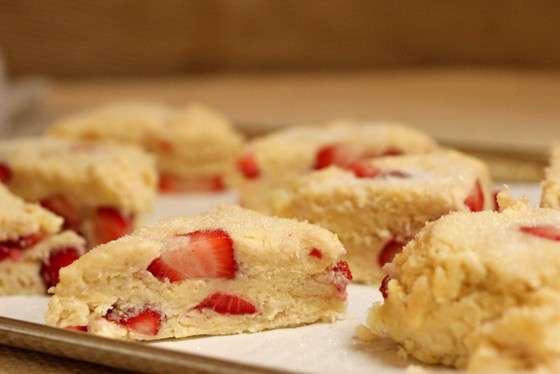 Print
STRAWBERRY BUTTERMILK SCONES
Yield:

12

scones

1

x
---
Description
You can use many fresh fruits, such as rapsberries, peaches, blueberries. And pair with zest from other citrus such as orange and lime.
---
Scale
Ingredients
2 ¾ cup

s 360g pastry or all purpose flour

1

Tbs baking powder

1 teaspoon

baking soda
Large pinch of salt

¼ cup

+ 2 Tbs (80g sugar)
Zest of

1

lemon
A few gratings of fresh nutmeg

6 oz

. 170g unsalted butter, cut into cubes and frozen

225

g fresh strawberries (sliced)

2 teaspoon

s vanilla extract

½

to

¾

cup buttermilk (cold)
Extra sugar (for sprinkling)
---
Instructions
Preheat oven to 400ºF /200ºC. Line a baking sheet with parchment paper or grease the bottom.
Place flour, baking powder, soda, salt, sugar, nutmeg and lemon zest in the bowl of a food processor fitted with the steel blade. Pulse a few times to mix.
Scatter cubes of frozen butter on top, and process on low until the mixture is grainy and the butter the size of peas. Don't over-process.
Transfer to a large bowl, add the strawberries and mix lightly with a fork or spatula.
Add buttermilk all over the flour and fruit mixture, and mix with a spatula or fork until it comes together, but don't mix too much, or the scones will be tough and flat.
On a lightly floured surface, transfer the mixture, and with a dough scraper or your hands, pat it together, folding it unto itself,  until you have a dough that holds together. It will still be shaggy in places.
Make a rectangle, cut it in half, and then cut each half into 6 triangles or similar. Transfer to the prepared baking sheet, sprinkle the tops with sugar, and bake for about 25 to 30 minutes, until golden, dry and quite firm. If you need to check, with a fork lift the top of a scone and see if the inside is dry.
They should be eaten within a few hours of baked, preferably warm.
---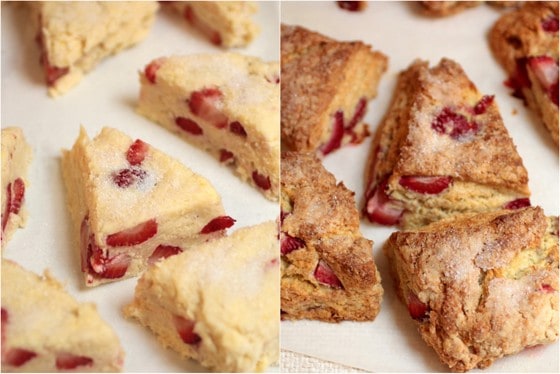 ---