You should know that I take my scone recipes very seriously, and, as far as parmesan scones go, this recipe is the best ever.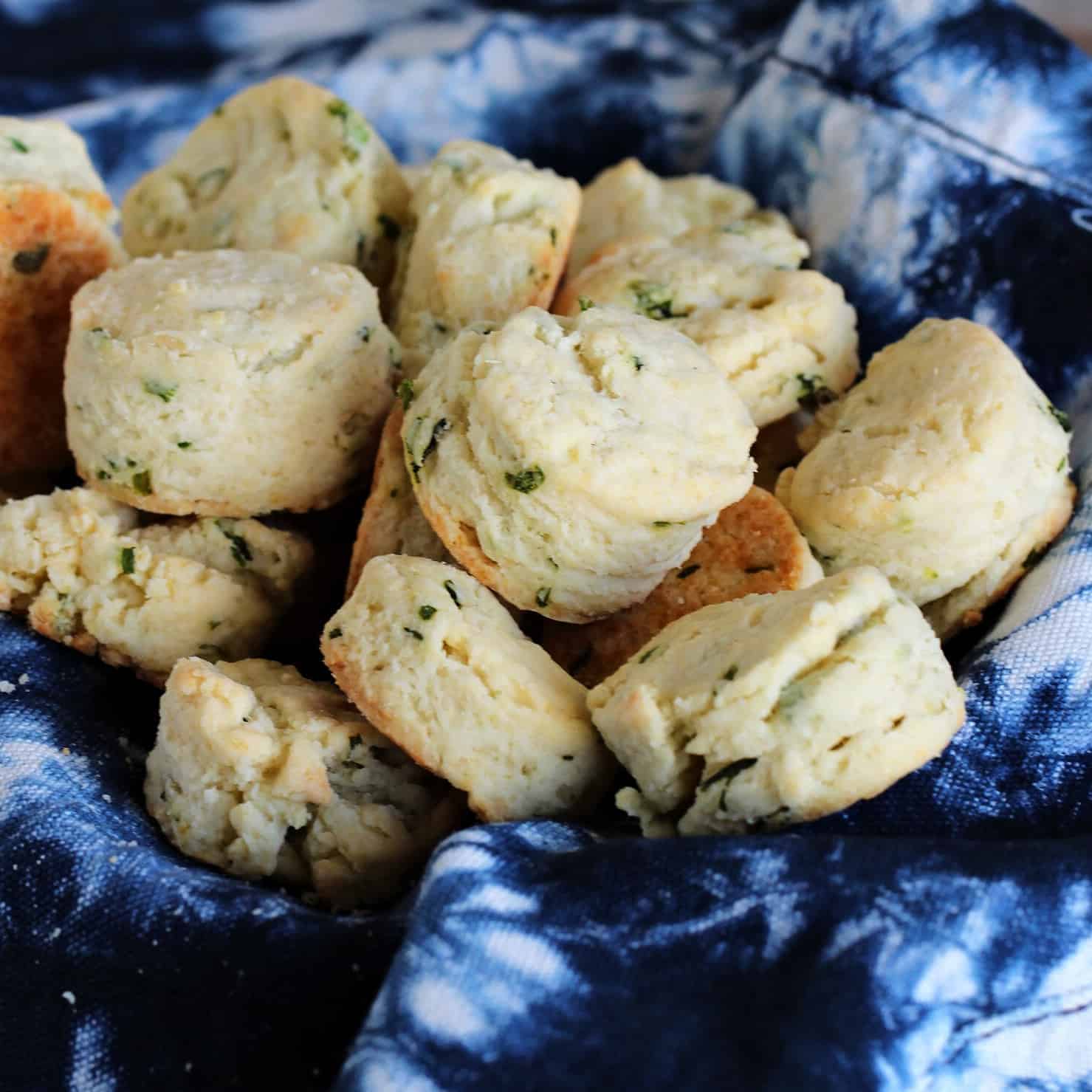 I have Irish blood from my mother's side (Fitzgerald), and scone making has forever been a serious hobby in my family. And though nothing will ever compare to my great grandmother's recipe – fact or fiction we don't know anymore as nobody makes them the way she did and that was forty years ago – of course I went and found my own favorites.
In the sweet aisle, I have these orange cream scones at the top of my list. They are versatile (use another citrus, add nuts), just sweet but not too much, flaky and have all of those qualities we crave in a good scone.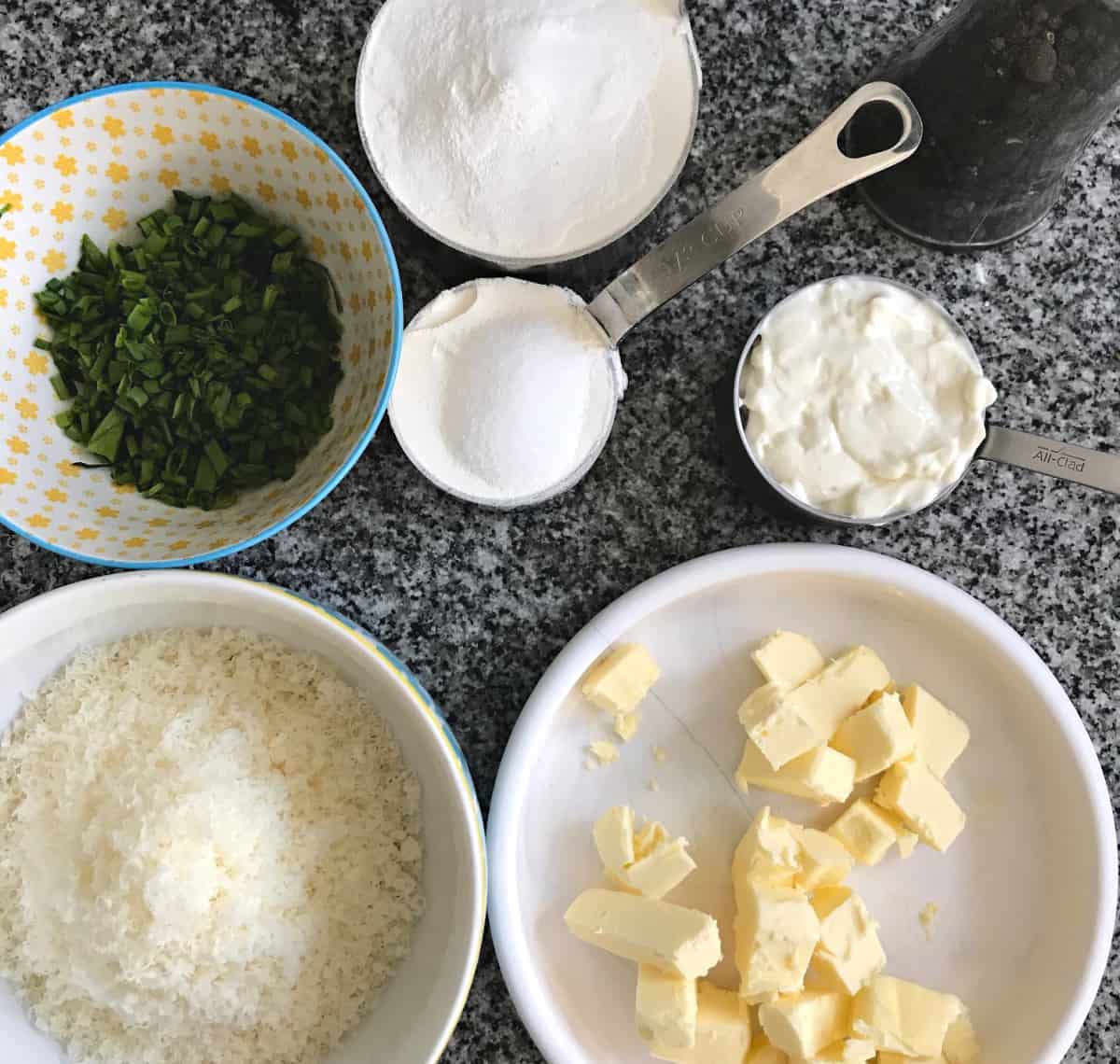 So, the search for the perfect savory scone began. And it took awhile. And many pounds of butter and cheese. But it was a good journey.
Let's say I inherited that Irish love; making scones is one of my favorite things to bake. All that flour and butter, baking them from scratch on a chilly day, the idea of eating a warm scone… all of it makes me salivate, and sort of makes me a pavlovian baker probably.
It turns out that one of my most admired bakers ever, Nancy Silverton, also makes the best parmesan scones. I say also because the orange scones mentioned above are also adapted from one of her recipes. As are these.
Why are these my favorite ones? They are balanced, flavorful, easy to make, and have chives which make all the difference between a good parmesan scone and an amazing one.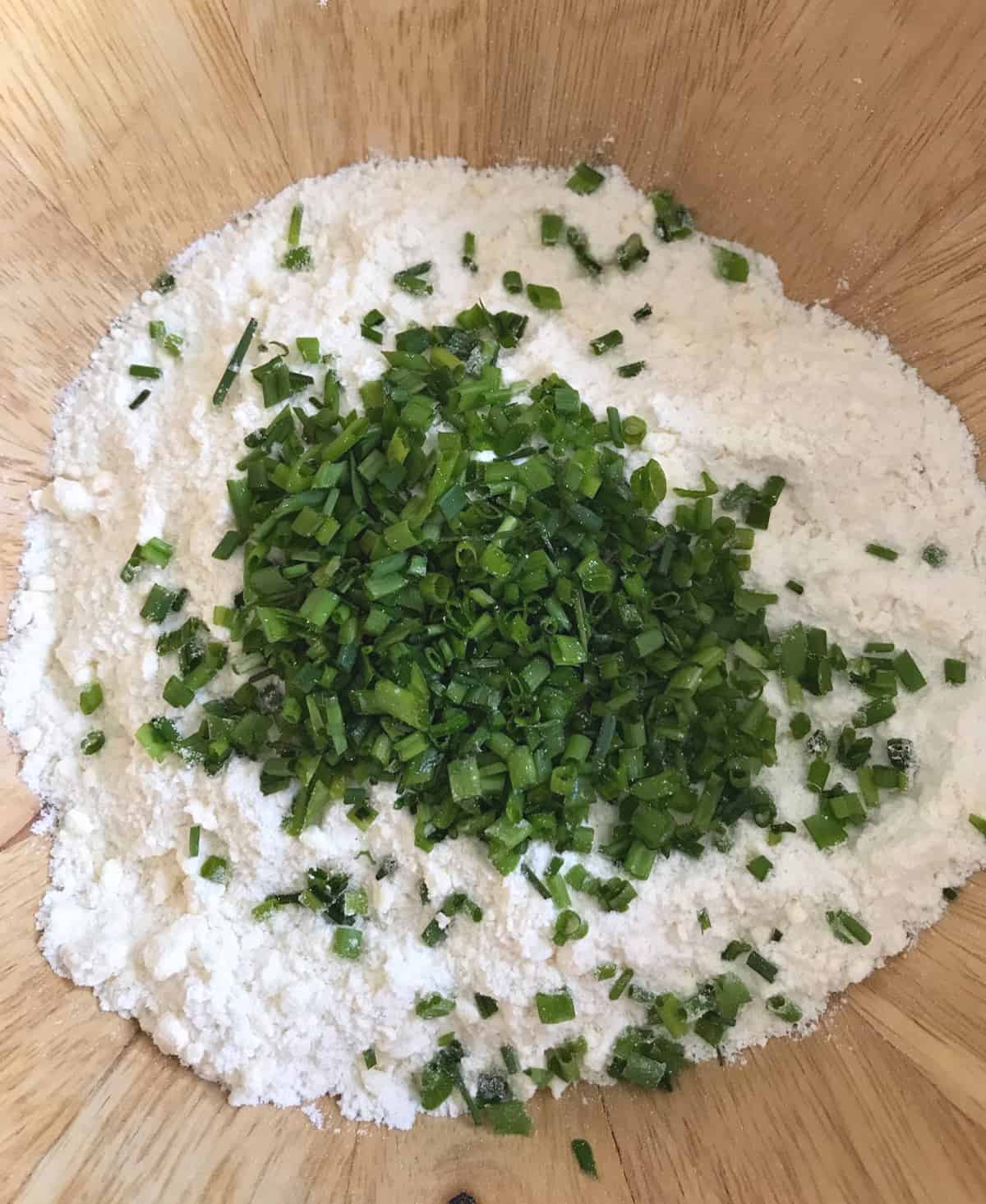 3 tips for making the best scones:
The first and foremost rule of scone baking is very cold ingredients. I'm not kidding when I say frozen butter, at least very cold. And don't take the cream half an hour before you start mixing the scones. Butter, cream, milk, they belong in the fridge until you need to scatter and pour them.
The second rule is not to work the dough much. It should come together but still have floury patches. You don't need to work it until it's smooth, like a pie dough for instance. It is an uneven dough, with dry spots, and that's good for flakiness later.
The third rule is a rather high oven. They need that extra heat to rise however they can in spite of all that butter and cream. And if by any chance you forgot to turn the oven on before you start with the mixing, please don't leave the baking sheet with the cut scones waiting on the counter. Put them in the fridge or freezer the ten or fifteen minutes it takes for the oven to reach its temperature.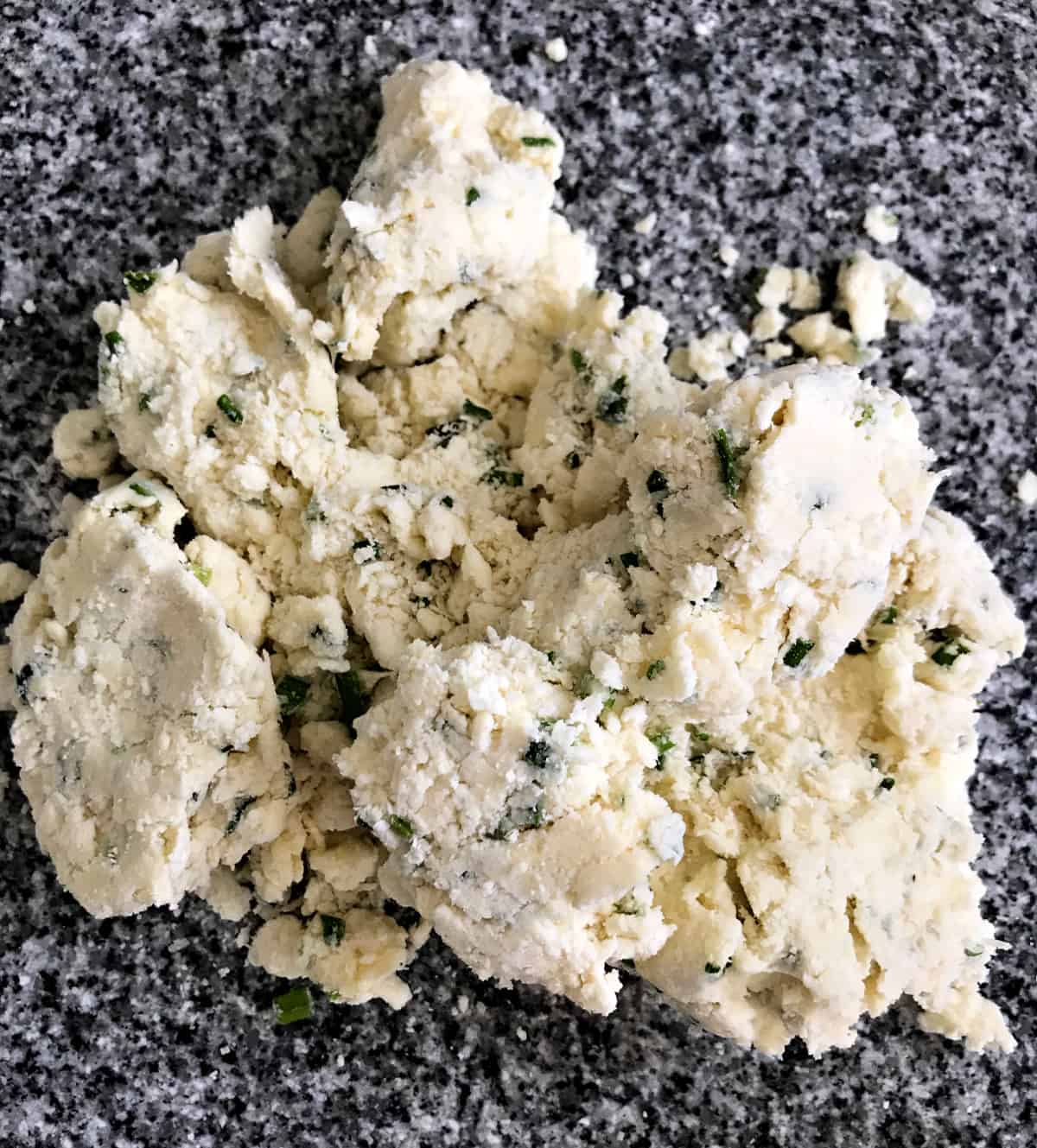 As with most baking recipes practice rules. Practice, practice, practice!
None of us was born making amazing pastries, I know I wasn't. I still remember my first tough pieces of pie dough, ughhh, and be glad you didn't have to taste my first potato gnocchi!
So yes, practice makes perfect. There's no way around it. Especially for recipes like scones. And these parmesan chive scones are no exception.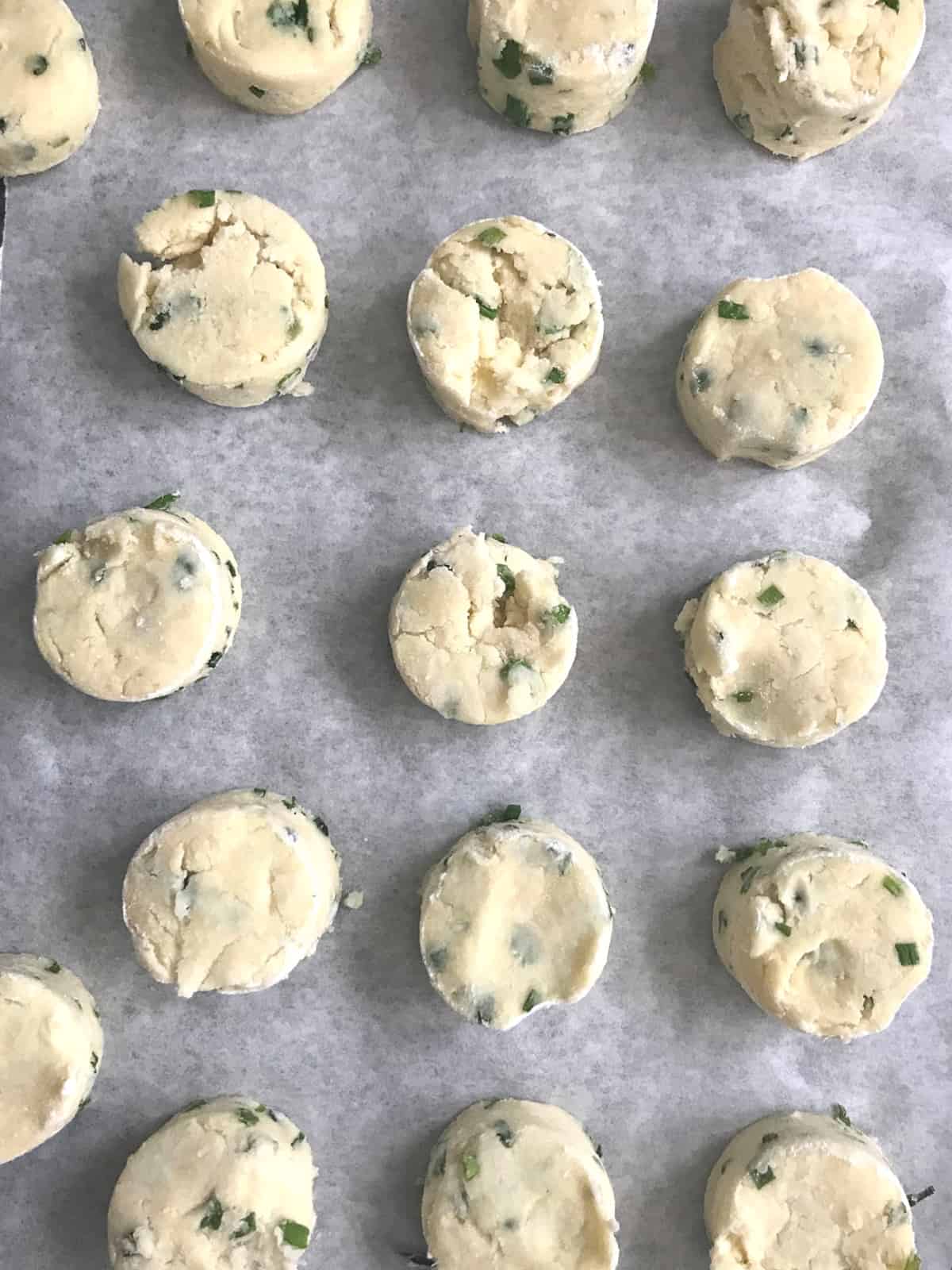 How to store and keep scones
One of the most wonderful things about scones is that they can be frozen raw, already formed. So you can make a big batch, cut them, put them on trays and freeze them.
Once frozen, put them in a plastic bag or container so the tray doesn't occupy freezer space.
That way, you can bake them to order! Directly from the freezer into a hot oven. Freshly baked parmesan scones (or any other kind) whenever you feel like it.
So get into the kitchen and you can have these parmesan chive scones out of the oven in under an hour! Enjoy them warm with a dot of butter or just plain.
Print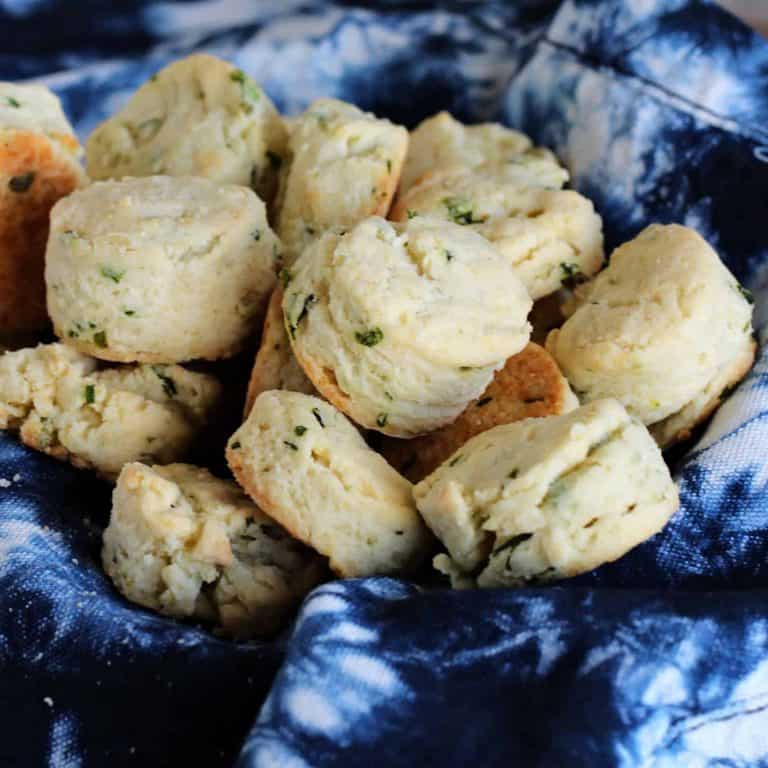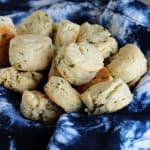 PARMESAN CHIVE SCONES
---
Prep Time:

15 minutes

Cook Time:

15 minutes

Total Time:

30 minutes

Yield:

25

mini scones

1

x
Description
The best parmesan scones ever! Easy to make and a crowd pleaser.
---
Scale
Ingredients
5 tablespoon

s (75g) unsalted butter, cubed and very cold

1/4 cup

(60g) sour cream, cold

1/4 cup

(60g) whole milk, cold

1

and 1/3 cups ((190g) all-purpose flour)

2 1/2 teaspoon

s baking powder

1 teaspoon

salt
Black pepper (to taste)
Scant

1 cup

((45g) grated parmesan cheese)

1/4 cup

chopped chives or green onion
---
Instructions
Preheat oven at 375ºF / 190ºC.
Have ready oven trays or cookie sheets.
I use the processor at the beginning, but you can do it by hand.
Put flour, salt, cheese and baking powder in the bowl of the food processor or a large bowl.
Pulse a few times to mix or mix with spoon or spatula.
Scatter cold diced butter and pulse until it is the size of peas.
By hand start mixing the butter into the flour with the palms of your hands. It wil take a bit since the butter is cold.
If using the processor transfer the mixture to a large bowl.
Add pepper and chives. Mix a bit.
Mix together sour cream and milk in a small bowl and add to the flour mixture.
Mix with a fork until most of the dry ingredients are mixed. There will be dry patches, that is fine.
Now, you can give it a few turns inside the bowl with your hand or do it on the counter.
The dough should come together just barely, be careful not to overwork it as it will soften the butter too much and that will prevent the scones from rising properly. It should have some dry spots. It doesn't need to come together like pie dough.
Give it a few folds onto itself and pat it about 1 1/2 to 2 inches thick.
Using a round cutter dipped in flour, cut circles. Continue dipping in flour to prevent sticking every time you cut a scone.
Put them on the baking sheets spacing a bit, and put them in the freezer for 5 minutes.
Make sure the oven is at the right temperature and bake them for about 15 minutes, until puffed and no longer creamy inside. You might need to open one and check.
The bottoms will be golden but the rest of the scone not so much.
Let them cool until warm and enjoy.
---
Notes
Make sure the ingredients are very cold. See tips in the post above.
Scones can be frozen, unbaked, directly in the baking sheets.
When frozen solid transfer to a plastic bag. Bake them directly from the freezer in a 375ºF oven.
You can make them larger or any shape you want.
Category:

baking

Cuisine:

American
Keywords: parmesan, scones
---