A fantastic recipe for making potato gnocchi at home that never fails. Tested for decades, they're soft and tender. And they freeze beautifully.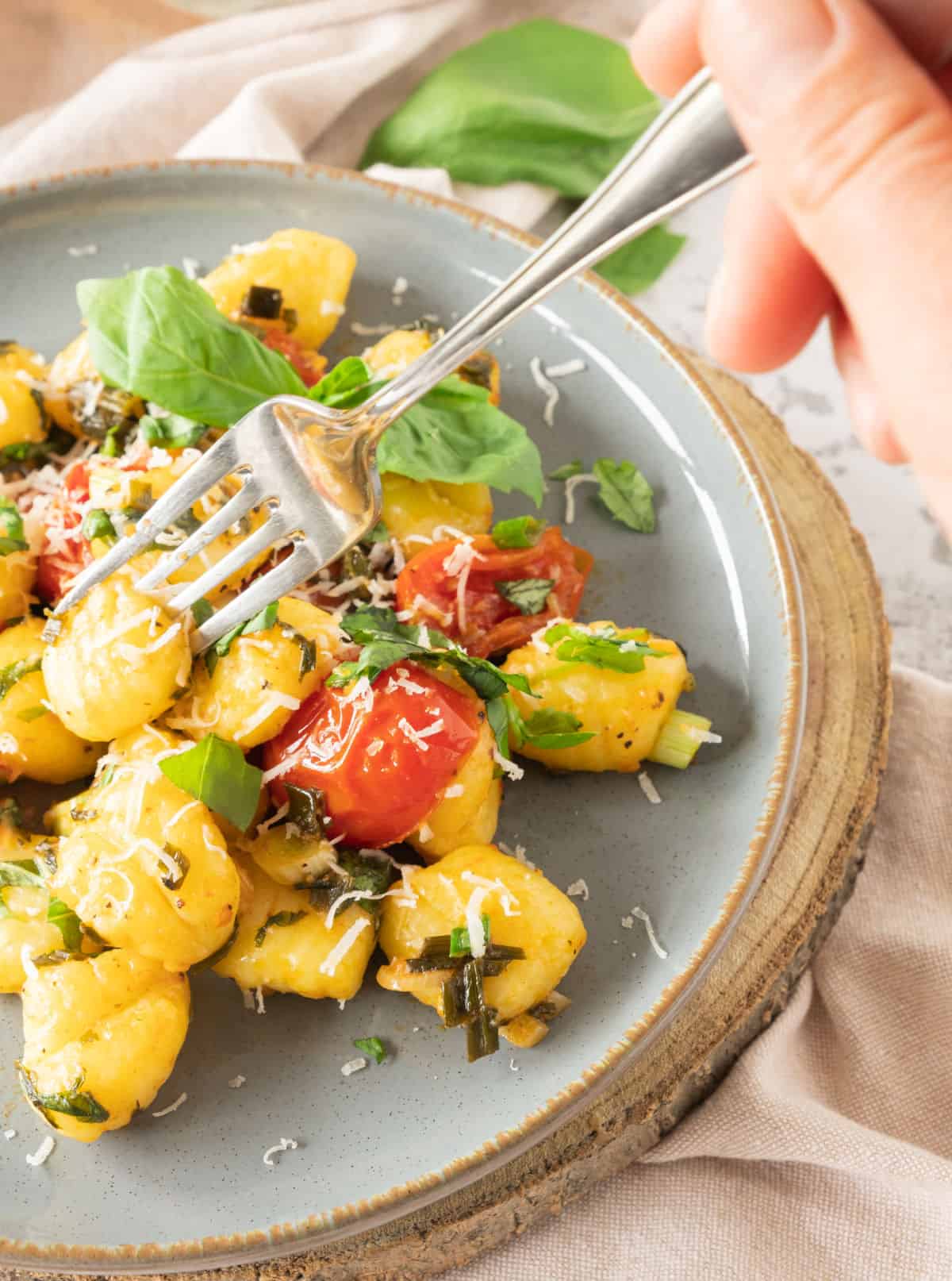 Pre-summer has officially started in the vintage kitchen. Last night the a/c was necessary to sleep and this morning I made my first foray to the terrace, covered from head to toe in sunscreen, a few magazines, my phone, and a glass of ice water.
Just as I stretched out my towel, strategically placed myself according to the sun's placement, and made sure everything was in place for a good hour of sun, the telephone rang inside the house, not my cell. It was my mom, of course, to give me some absolutely irrelevant morning news.
Given how hot these few days have been, and the mild winter we just left behind, I suspect the summer will be long and soooo hot.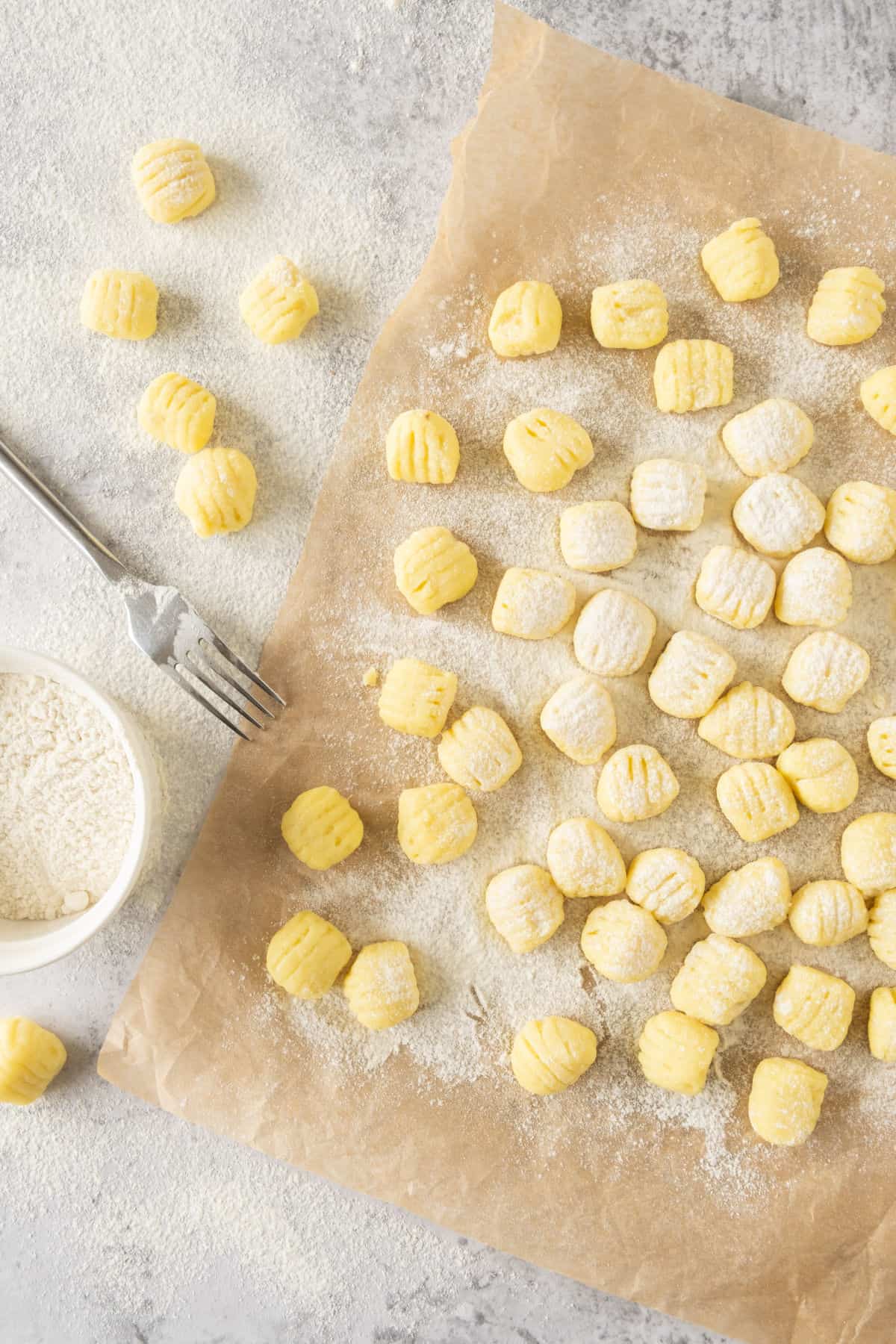 A few days ago I saw my favorite pumpkin ricotta gnocchi and realized it was that time of the month.
It's a tradition here to eat gnocchi on the 29th of each month. You put a few bills underneath your plate and it's supposed to bring economic abundance.
And tell me, who wouldn't accept some prosperity if all that was asked of you was to eat a plate of soft, pillowy, rich, amazing homemade potato gnocchi? But it seems prosperity has so many plates to go to that it doesn't get here quite as often as I would like it to.
A bit like Santa when you were a kid and it didn't bring you what you wanted and had to settle for what it did. There is no complaints department to go to.
This recipe was taught to me decades ago, but I didn't master it until much later. One thing to know about homemade gnocchi, it really is a matter of practice, you have to learn to feel the dough. If you put too much flour you will have cute little rocks and if you put too little you risk having a big bowl of lumpy mashed potatoes with flour.
So, this recipe is very good in its proportions. Very good. You only need to add more flour to be able to roll and form the gnocchi.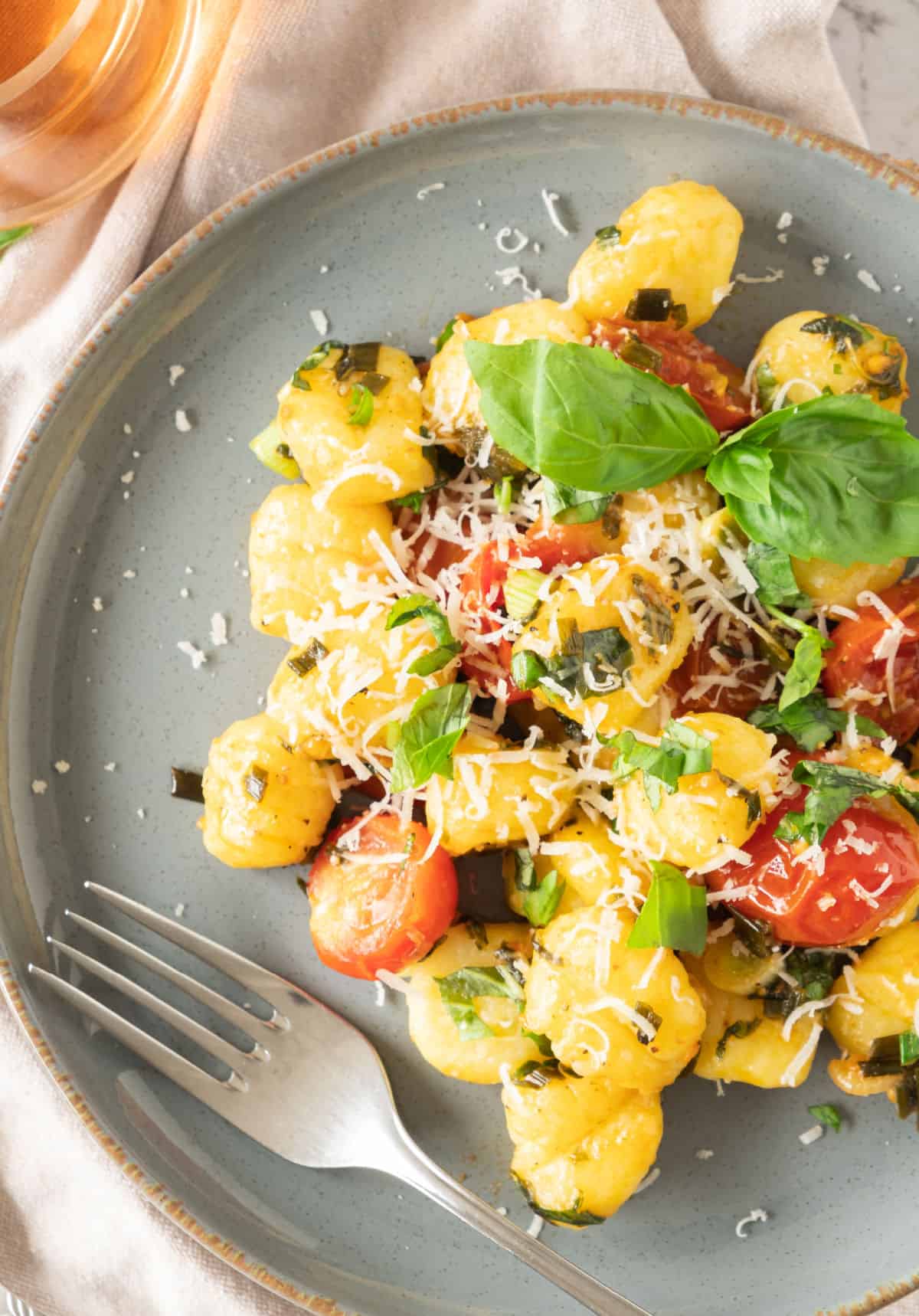 You don't even have to slide them down a fork to get the striation when you make them the first few times. You can cook them like tiny dumplings, and what are them anyway, right? What is important is to start with cold mashed potatoes. That way it won't absorb unnecessary flour.
I always put the finished fresh gnocchi in the freezer before cooking. It ensures that they will not stick together and that way I can cook a large batch at a time. If I have some left, once they're totally frozen they go into a bag, ready to be cooked at a moment's notice.
Print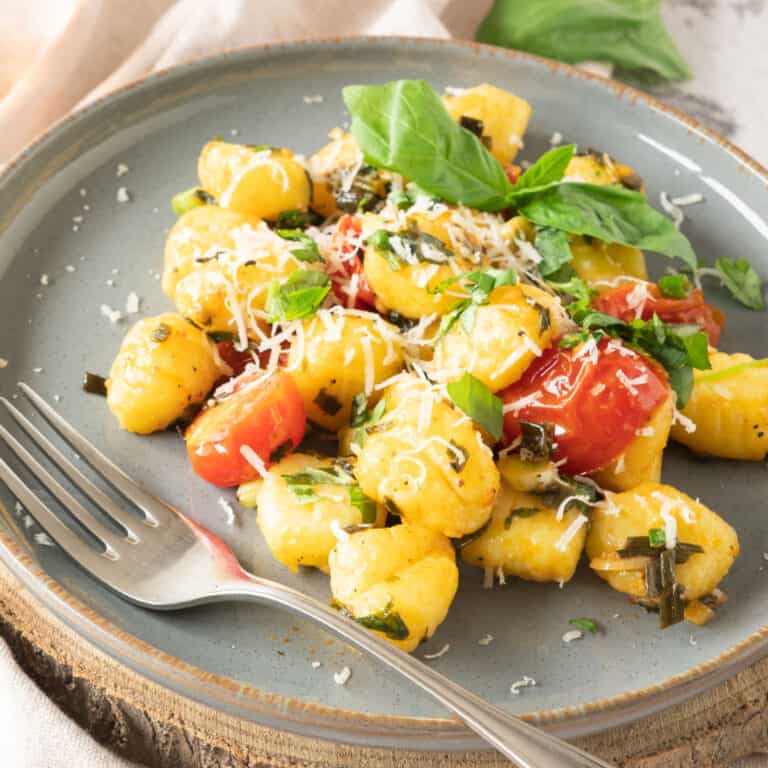 Potato Gnocchi with Tomatoes and Basil
I've been making this potato gnocchi recipe for decades, so trust me when I tell they are fantastic! You can make a large batch and freeze them too. With tomato, basil, and parmesan they are simple and delicious.
Total Time:

10 minutes

Yield:

2 servings
½

pound

cold mashed unseasoned potatoes

1

egg yolk

1

Tbs melted butter or olive oil

⅔

cups

100g all purpose flour

2

Tbs parmesan cheese (grated)

1 teaspoon

salt
Black pepper
Nutmeg (a few gratings)

1

cups

cherry tomatoes (cut in half)

1

spring onion (minced)
Additional grated parmesan cheese
Fresh basil (minced)
Instructions
Have sheet pans floured lightly.
In a large bowl mix cold potatoes, yolk and butter or oil.
Add flour, cheese, salt, pepper to taste, nutmeg.
Mix well and dump onto a floured counter.
Add a few tablespoons all purpose flour on the dough, and fold over itself a few times to mix.
Gather into a long rectangle, and divide in 3-4 parts.
Take each portion and make long, thin ropes, about the width of a finger. Try to add as little as extra flour as possible, since that will make them tough after cooking. But do add by Tbs if the dough doesn't come together; you need to be able to cut it into pieces.
Cut small pieces, the size of lima beans. It grows a lot when you boil it. You can slide them down a fork to create the ribbed surface, I hardly ever do it, though I did it today to show you how it looks.
Put the individual morsels on the prepared sheets. I like to freeze them for an hour before boiling them. (You can freeze them in the sheets until rock solid and transfer them to plastic bags for storage in the freezer).
Have salted water boiling in a large pot, they need space to cook.
Meanwhile, put some olive oil in a skillet and add the onion. Cook 1 minute at medium heat and add the tomatoes, sal, pepper and let them soften a bit.
Add the gnocchi (in batches if necessary) to the boiling water directly from the freezer.
When they rise to the top they are done. Take them out with a skimmer and add them to the skillet.
Cook over medium/high heat everything together for a minute or two and serve immediately with fresh basil and additional cheese.
Author:

Paula Montenegro

Cook Time:

10 minutes

Category:

Pasta

Method:

Mixing + Cooking

Cuisine:

Italian