If you never made pumpkin gnocchi you will love this super easy recipe.
And if you never ate this type of homemade pasta, you're in for a ride! Once you have the ingredients measured, this dish is ready in less than 45 minutes.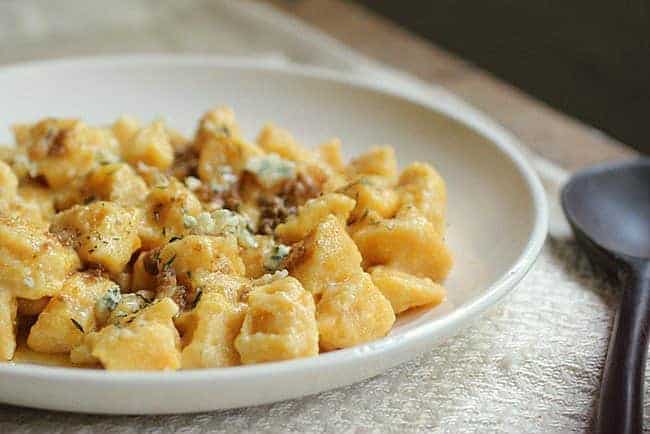 As if homemade pumpkin gnocchi wasn't good enough, I went ahead and drowned them in brown butter flavored with blue cheese. Sorry about the self-congratulation, but this super plate of pasta deserves it. Really does.
Do you understand what this recipe means? Let me deconstruct it, as they do now.
There's a top layer of brown butter with some blue cheese added to it; that means a flavored brown butter, and it's like the extraordinary thing that is butter when browned just got a little saltier, greasier, oh my, just wonderful.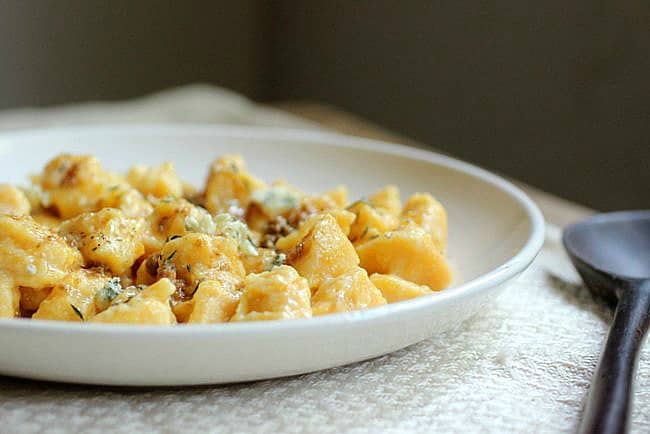 About the ingredients for this recipe.
Ricotta: is an Italian soft cheese with a mild flavor. It gives this gnocchi moisture and texture. The soft type is needed for this recipe which is easily available in supermarkets and online. We use a lot of ricotta cheese in this blog. Big fans.
Pumpkin or Butternut squash: I use homemade squash puree but pumpkin puree works fine too.
Brown butter: it's very easy to make it, and we have a post about with detailed instructions. The flavor is magical and perfect for these gnocchi.
Cheese: I'm very partial to good parmesan cheese, but asiago works well too.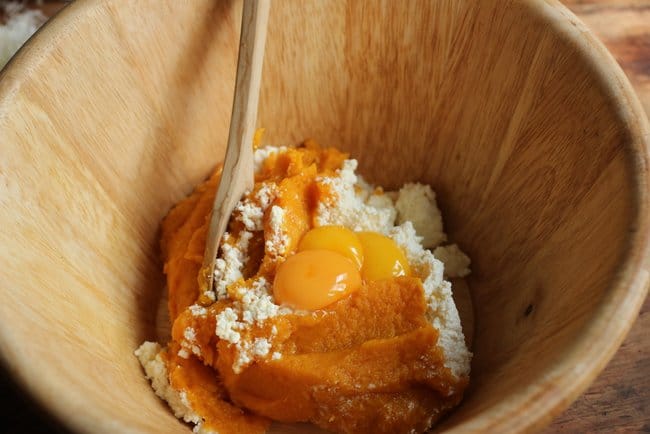 Making gnocchi is, in my opinion, the best way to start making homemade pasta. Though it's not the pasta we think of when we think of eating homemade noodles, it is a great way of getting started with flour and doughs.
Steps for making pumpkin ricotta gnocchi:
Mix pumpkin puree, ricotta, and egg yolks. I use a large wooden bowl (image above), but any type works. Also, I use a wooden spoon, but if you're more comfortable with a spatula, use it. I find that a wooden spoon mixes everything better.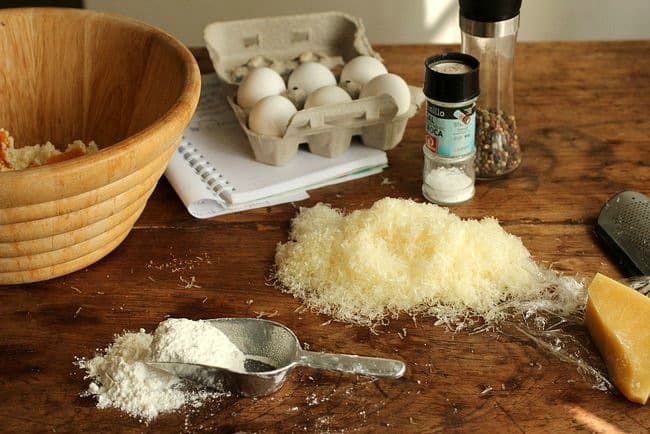 Use good parmesan cheese, grated. Beware of Microplane graters that are too small holed as the cheese tends to clump and don't distribute well. I like to use medium-sized ones.
Add cheese, flour, and seasonings (image below) to the pumpkin and ricotta mixture. Use a wooden spoon to mix it all thoroughly but never beat it. We want a smooth and uniform dough but we don't want to add air.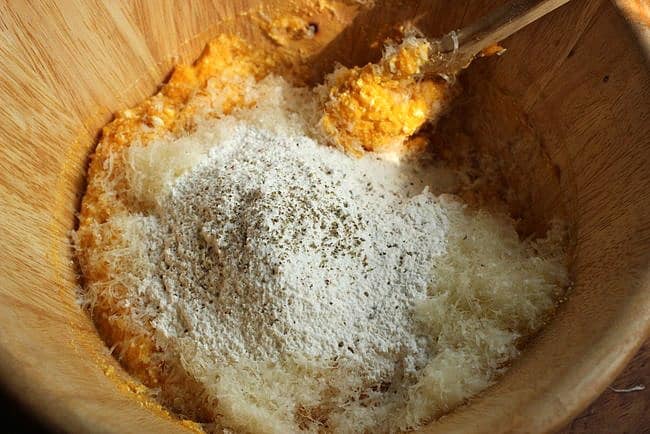 So, we have our homemade gnocchi dough ready (image below).
Now comes the tricky part, and what is, in my opinion, the crucial step for making light and airy gnocchi vs. tough, average gnocchi.
It all comes down to how much flour you add to it.
Doughs, in general, behave differently depending on many factors.
Temperature and moisture play a big role, and that includes both the temperature of your kitchen or room where the gnocchi are being made, the amount of moisture in the ingredients (ricotta and pumpkin puree can vary a lot depending on the brand or how you drain it) and the temperature of your hands,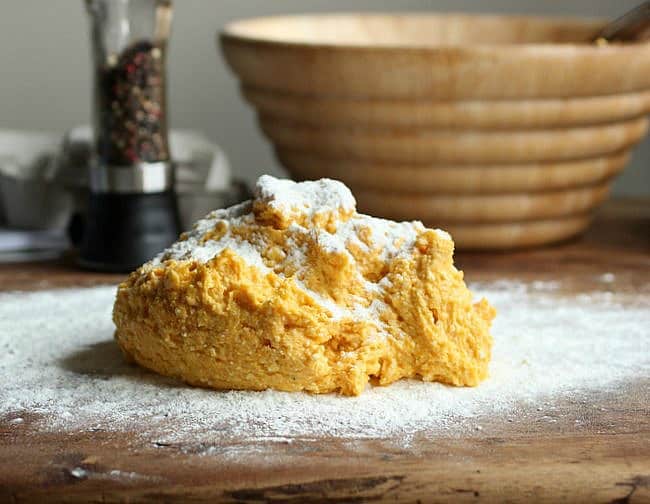 That's why I will forever say that practice is everything when it comes to pasta, doughs, and bread.
Practice, practice, practice! Become a master at knowing how the gnocchi dough should feel and not only be guided by the amount of flour in the recipe.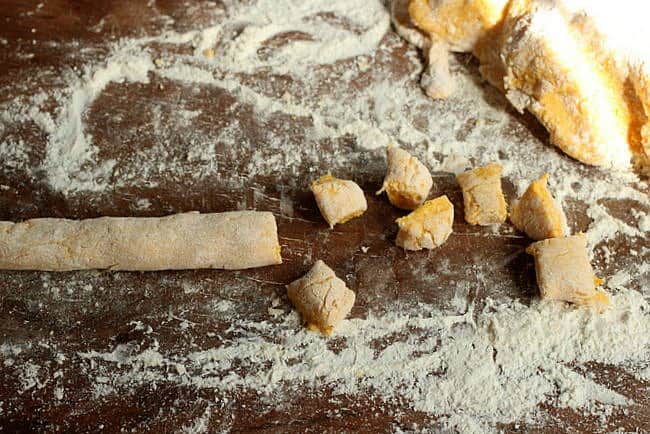 This recipe works!
Make no mistake, this recipe works and I have made homemade gnocchi a million times through the years.
But the type of ricotta cheese and/or squash puree you use will add more or less liquid to the dough, and because of that we almost always need to adjust.
So, how much flour is enough?
The dough should feel soft and you should be able to roll it into a thin rope with your hands. But, it should not be firm as for example a pie crust dough. That would mean that you added too much flour.
It should not be sticky either, but you should only add enough flour to roll it and be able to cut small pieces (image below).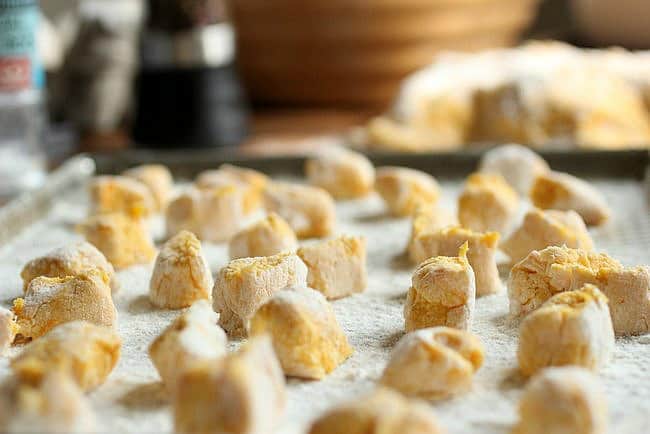 How to freeze gnocchi.
One of the best parts of making homemade gnocchi is that you can spend a few hours once in a while, make a large quantity and then freeze it.
That way you have made-to-order fresh pumpkin ricotta gnocchi every time you crave it!
Roll the dough and cut it in small pieces.
Put them in a lightly floured baking sheet (image above) separated from each other.
Freeze directly in the sheet. When they are completely frozen and rock-solid transfer the gnocchi to a plastic bag or container and keep frozen.
When ready to cook, boil them directly from the freezer.

My number one tip for this recipe:
Make a test boil first with a small amount of dough!
Make the initial mixture according to the recipe.
Have ready a boiling pot of salted water.
Take a small amount, maybe 1/4 cup, and roll it on a floured counter until you have a rope.
Cut the gnocchi and add it the water. Let them rise to the surface, take them out with a skimmer or hand colander and try them.
You will know instantly. They will either rise with their original shape or they will disintegrate and you will have more of a boiled puree than gnocchi.
I recommend you also put them in the freezer for 5 minutes before boiling them. They tend to keep their shape better.
Beneath that, you find bites of pale orange pumpkin with ricotta, so smooth they will make you a convert if you had any doubt about making homemade gnocchi, which is only a matter of practice and lightness of fingers.
Homemade pasta is a wonder, the results so different and better, it is worth the effort.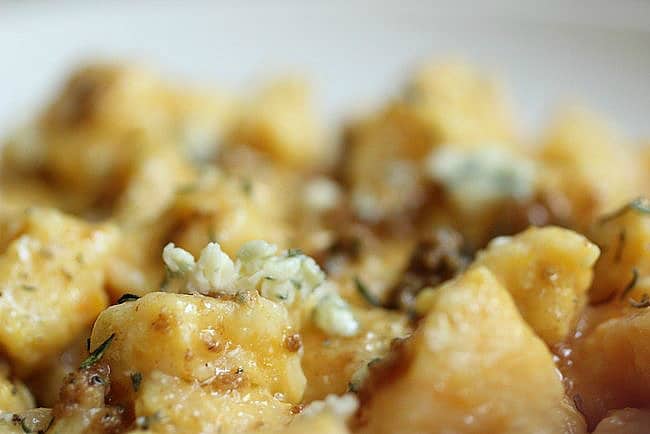 Tips & tricks for making this recipe:
Moisture: ingredients vary a lot in moisture content and that is the main reason for failure. Not enough flour and you have pumpkin ricotta puree, the balls melding into one big mess; too much flour and they keep their shape wonderfully but you run the risk of cracking a tooth – an exaggeration I know, but then you should've seen my first attempt at potato gnocchi.
Texture: so it's all about knowing what the right texture is, which in this recipe's case, is about being

able to make a rope but not lift it up easily from the table. That way you'll get

gorgeous gnocchi that freezes perfectly well; so spend some time making

a big batch and then freeze them for later times. Talk about a great quick dinner.

Butter sauce: pumpkin and pasta are commonly paired with butter and herbs, especially sage. The idea is not to overpower the soft flavor of the pasta. So the amount of blue cheese is given by how strong it is.
Organization: making gnocchi is easy if you organize your working space and ingredients, much like marshmallows. There's no need to panic when you've read the recipe through and have enough table space to work on.
Ridges: I don't roll them down the fork to make the characteristic ridges, because they are extremely tender, and I'd have to make them much firmer (read: too much flour) in order to be able to make the indentations.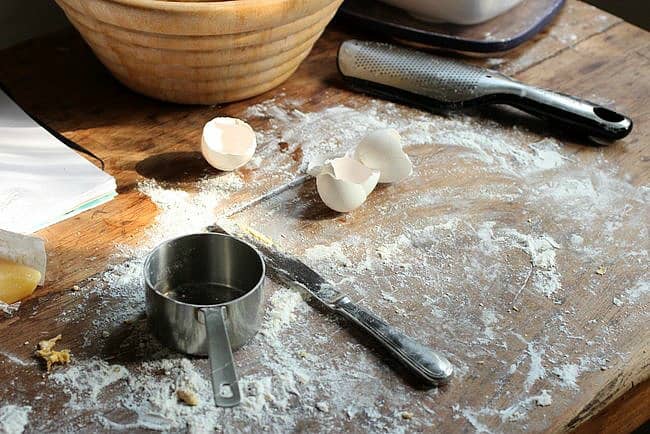 Other similar recipes you might like:
Orange Ricotta Cheesecake
Lemon Ricotta Pie
Blueberry Lemon Ricotta Polenta Cake
Bruschetta with ricotta, bacon, and tomatoes
Summer berry ricotta squares
Let me know if you make this recipe! I'd love to hear what you think about it.
Thank you for being here, I appreciate it! Let's connect via Facebook, Instagram, and Pinterest.
Print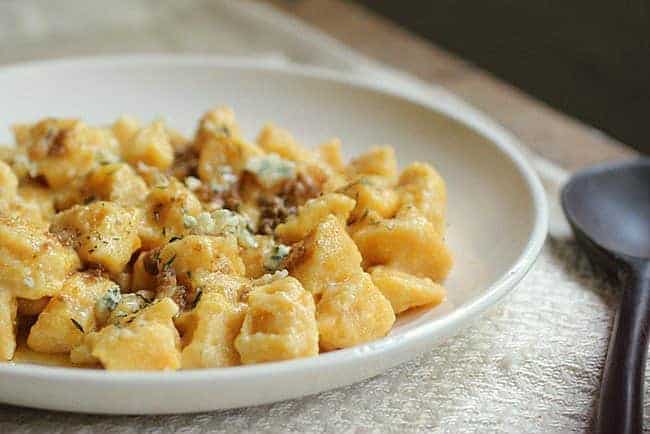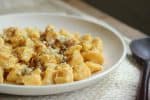 Homemade pumpkin ricotta gnocchi with brown butter
Author:

Paula Montenegro

Prep Time:

30

Cook Time:

15

Total Time:

45 minutes

Yield:

4

servings

1

x

Category:

Pasta

Method:

Boiling

Cuisine:

International
---
Description
If you never made pumpkin ricotta gnocchi t you will love this super easy recipe.
And if you never ate this type of homemade pasta, you're in for a ride!
---
Scale
Ingredients
For the pumpkin gnocchi:
2 cups

(

450g

) cold butternut squash or pumpkin puree, see below

6.5 oz

(

180g

) soft ricotta cheese, drained if too watery

3.5 oz

(

100g

) parmesan cheese, grated

3

egg yolks, at room t°

1 ½

to

2

cups flour + more for the working surface
For the blue cheese brown butter:
8

Tbs butter

½ cup

crumbled blue cheese
Fresh or dried thyme (for sprinkling)
Freshly ground black pepper
---
Instructions
For the pumpkin gnocchi:
In a large bowl, mix pumpkin with ricotta. Add yolks, parmesan, a little salt, pepper and mix well.
Add 1 cup flour and start combining with a fork. It should be thick but still wet.
Heavily flour board and dump the pumpkin mixture. Add flour on top to cover, and, with floured hands, start gathering the dough.
Take a piece of pumpkin dough, and shape it into a log. You should be able to make a rope, so add flour as you need, a little at a time, and make sure you stop when you can cut it in pieces and they hold their shape. They will still be very soft. That is fine.
Transfer them to a floured baking tray, not touching each other.
When ready to eat them, cook in abundant salted water, directly from the fridge or the freezer (no need to defrost them).
Once they float to the surface they are done. Take them out, draining the water well and transfer to the serving plate. Drizzle with the butter on top, sprinkle with thyme, some black pepper and more blue cheese if you want.
Eat immediately.
For the blue cheese brown butter:
Melt butter in a saucepan over medium heat.
It will bubble and make loud chirping noises. Then the bubbles will subside and it will foam. That's when it'll start to brown, so watch it carefully. You want a golden color.
Remove from the heat, add the cheese and mix. Some bits might remain.
Use hot or warm.
To make pumpkin puree:
roast a butternut squash or pumpkin cut in half, in a 350ºF oven, until soft.
Scoop out the pulp and process it until smooth. Keep refrigerated. If it's too wet when you process it, drain it through a kitchen towel or cheesecloth, in a colander over a bowl. The excess water will collect in the bottom. Just throw it away.
Refrigerate them if you're using them soon. If not, freeze them until rock hard, then transfer to a bag and keep frozen.
---
Notes
I suggest you start with the amount of blue cheese given in the recipe and add some more on top of the pasta if you feel you want more. If your ricotta is watery, drain it through a kitchen towel or cheesecloth on a colander over a bowl for a few hours.
The pumpkin puree needs to be as dry as possible, so you might need to drain it. For details on how to make squash or pumpkin puree, go to this post.
**One thing you can do if you're doing gnocchi for the first time, is to have a pot of boiling salted water when you start making the gnocchi. Shape a small amount without adding too much flour, boil them and taste them. Fix amount of flour and seasonings accordingly.
Keywords: pumpkin gnocchi, pumpkin ricotta gnocchi
---