I'm very 
used to making quiche, this leek shallot mushroom quiche in particular. Which is a french, fancy sounding word for tart. The 
kind that has a buttery crust and rich filling which involves a binding cream 
and eggs mixture. 
Today in our
French Fridays with Dorie
group we are making mushroom and shallot quiche, to which I added leeks and chives. Why? Because they were there and they really go perfect together. The thing about quiche is pretty much like frittata or risotto: it's the perfect way to clean your fridge of odds and ends. Vegetables and cheeses, deli meats, anything and everything can go into a quiche.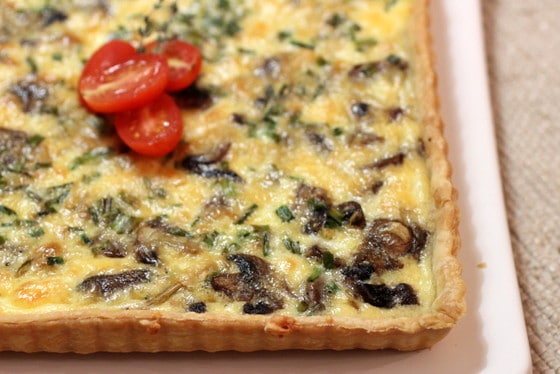 Quiche is 
the perfect thing for a lunch together with a salad, for a picnic, for a buffet 
table and, if you make them bite size, it's the ultimate appetizer to eat while 
you mingle holding a cocktail in your other hand.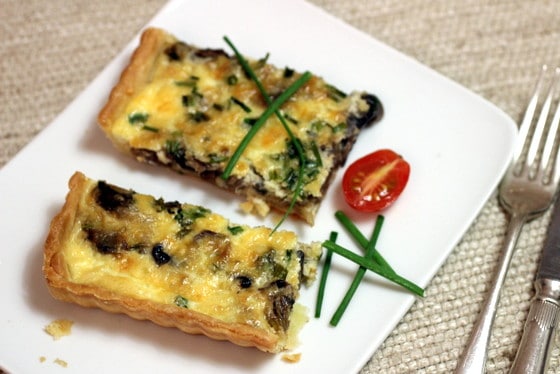 My go-to
tart dough has only four ingredients, flour, salt, butter and ice water. 
Here Dorie uses a recipe that adds an egg to those ingredients. The result is a great dough. It is lighter but still rich and flaky, rolls like a dream and, my favorite part, bakes perfectly with absolutely not a bit of shrinking anywhere.
That is, provided you first let it rest for three hours after it comes together, and then at least half an hour in the freezer after it it fit into the pan.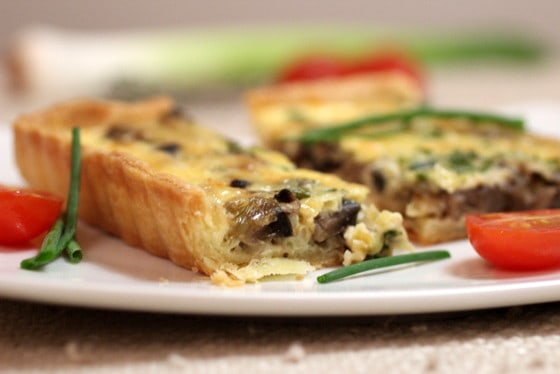 The filling
is simple and I never follow quantities. I just melt butter and some olive oil, 
and throw in coarsely chopped leeks, shallots, add salt and pepper, cook it a 
bit, then add chopped mushrooms and thyme, more salt and pepper and it's done 
when the mushrooms are brown and all their water has evaporated. You know how 
they can be, watery to make you cry. But if the heat is high, that is not a 
problem. 
It is very important not to use watery ingredients when making quiche, as the result will be soggy. And soggy is no good. Nobody likes a soggy tart.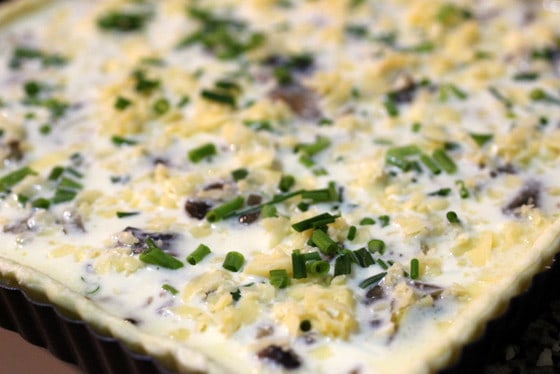 The final 
part is the binding cream. Cream and eggs. Sometimes a bit of milk. Just mix it 
together without beating, some salt and pepper and pour it over the filling 
that is already in the tart shell. Some chives and grated cheese (gruyere or 
fontina) and into the oven until it turns a golden, shiny color. And then eat 
it with pleasure.
That said, I made my version thin. It is a lot of butter and cream after all.
My absolute favorite quiche is one I make with caramelized onions and soft goat cheese. Irresistible.
You can find the original recipe
here
.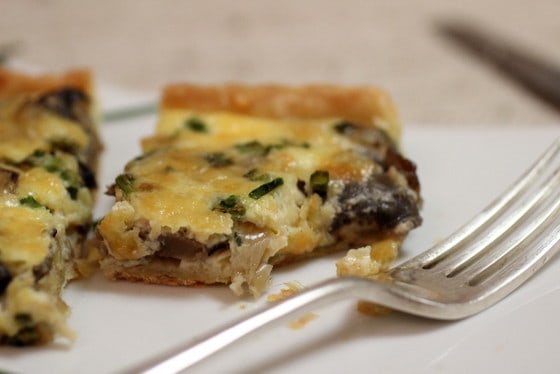 ---