My mother was in no way what you'd call a homemaker, regardless of how you define that word. The kitchen, garden, house chores, and organization were not her areas of expertise or interest, at all. Give her something to sell and her innate talent surfaced. She could sell a camera to a blind person. But that's another story. You're here for the leftover pasta frittata and we'll get there.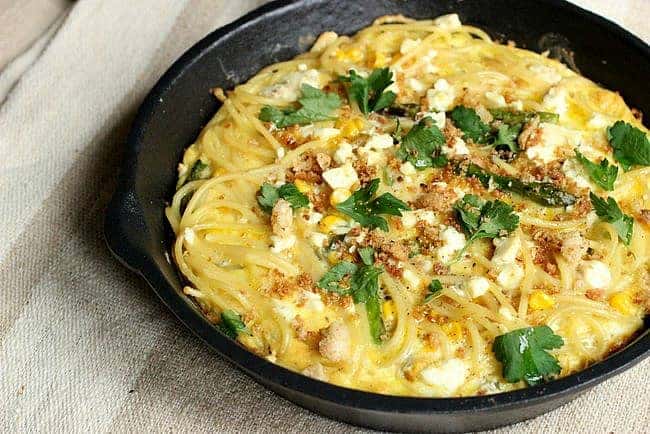 .
When your mother doesn't cook, lunch and dinner, the latter especially since I went to school all day, can be quite challenging. Or not, depending on how you look at it, because as kids we got to eat all those no-no foods, like hot dogs and mashed potatoes (no bun and not real potatoes…), buttered rice or french fries with fried eggs on top, fritters of every kind, stuff like that. These last were usually made with leftovers. Just like this frittata, which in those times was really a tortilla, the Spanish version, which implies flipping the thing over, with the aid of a plate but most often a flat pot cover, to cook it on both sides in the same skillet on the stove. Let me tell you there was much pride on how well you flipped the tortilla back then.
A frittata is finished in the oven, which makes it oh.so.simple!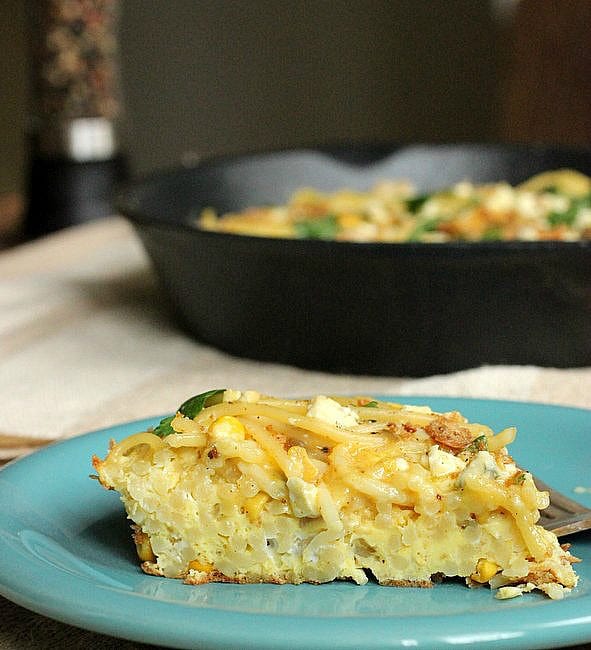 Leftover 
pasta frittata or tortilla was her signature dish in many ways, together with roasted meat and 
potatoes, and that almost made up her 
entire repertoire, a discussion we had a few times these past months
when she stayed at my house
because she claims she actually cooked quite a lot and I just 
laugh. She made white sauce too, sorry forgot about that. And mixed it with the 
leftover pasta
, into the oven and 
called it au gratin pasta. In case you're siding with her on this, the sauce 
for the pasta was a can of tomato sauce.
Anyway, this frittata made with the charred corn, asparagus, and brown butter breadcrumbs is to honor that childhood meal that I loved. Yes, I did. I do love reheated pasta and with eggs and extra cheese, what's not to love about it.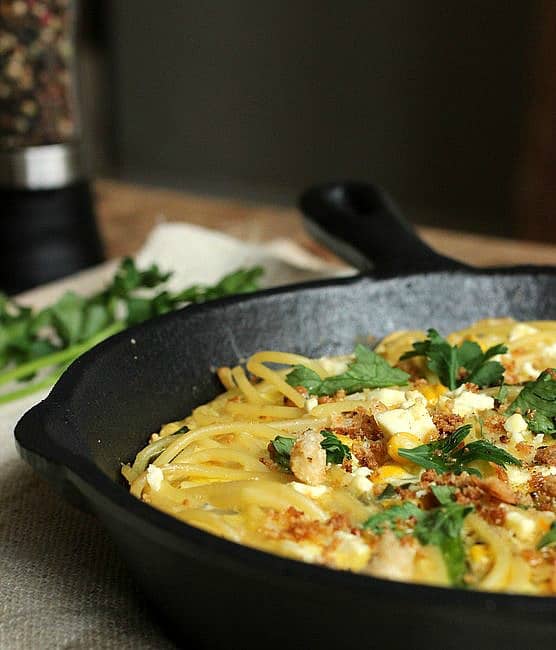 But before we get to the recipe, it's vintage Monday, so I have stuff to share with you:
Where do you have your props when you're shooting? Do you run around the house, looking for a plate? My favorite tip on how to store props, though I don't know if I can pull it off being the hoarder I am
If you haven't watched this already, do so now! Even if you have, once more will only make you laugh again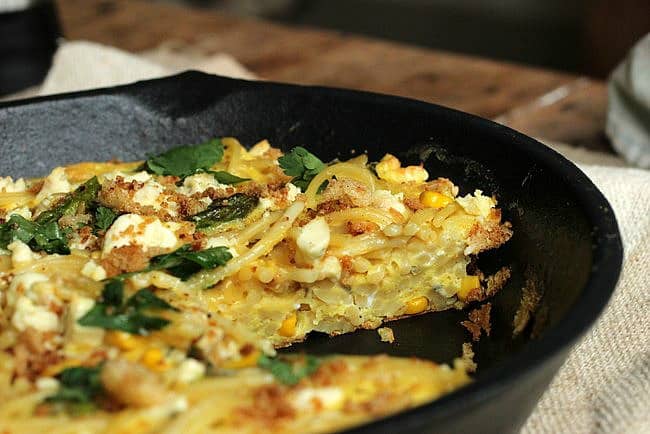 And some food links, because we are foodies, aren't we?
I completely rearranged my Pinterest boards and created new ones. Some pins from my new favorite
Recipe Inspiration
: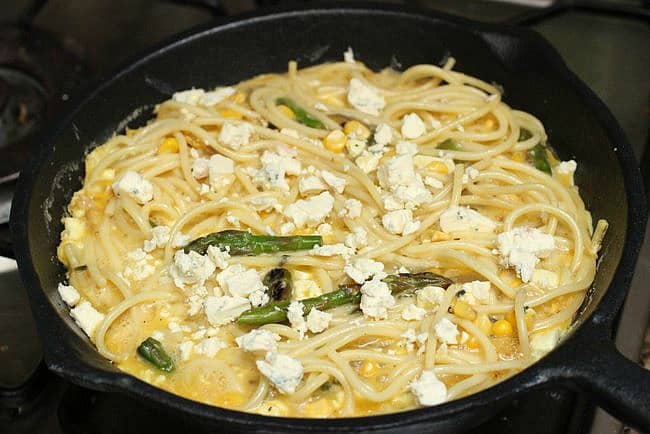 Before going into the oven
Print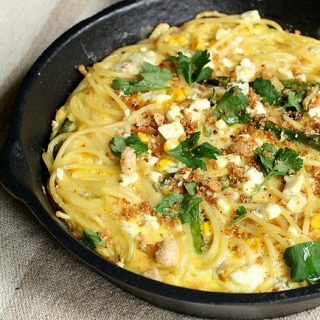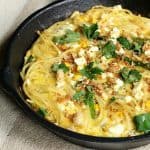 ---
Description
I also topped this frittata with brown butter breadcrumbs I had left. I like my frittata not completely set on top, and not cutting the noodles, but that's personal preference. 
---
Scale
Ingredients
1

pound 450g leftover pasta

6

eggs

½ cup

grated hard cheese (such as parmesan or blue cheese, divided)

3

Tbs cream
Chopped parsley (a few Tbs)
Salt and pepper

1

Tbs butter or olive oil
---
Instructions
Preheat oven to 350ºF /180ºC
In a large bowl mix pasta, egg, cream and half of the cheese. Season with salt and pepper to taste.
Melt butter or oil in a cast iron skillet over low heat. Add the egg mixture and let cook without stirring for about 8 to 10 minutes. Scatter the extra cheese on top.
The egg will start to cook on the outside, but the middle will be very wet still.
Transfer the skillet to the oven and bake in the middle rack for 7 or 8 minutes, until the middle is almost firm. Set the oven to broil and the temperature to 400ºF /200ºC.
Broil it for 5 more minutes so the top begins to set. Remove carefully using oven mitts or a thick kitchen towel , add chopped parsley and serve.
---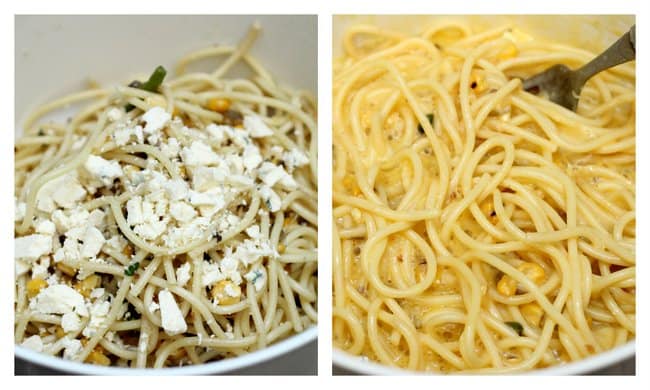 ---