Growing up, leftover pasta was always transformed into a frittata and was a crowd-pleaser. My mother's specialty. It's delicious, easy to assemble in 30 minutes, and works with any pasta, especially leftovers. Bake it as creamy and cheesy as you want it.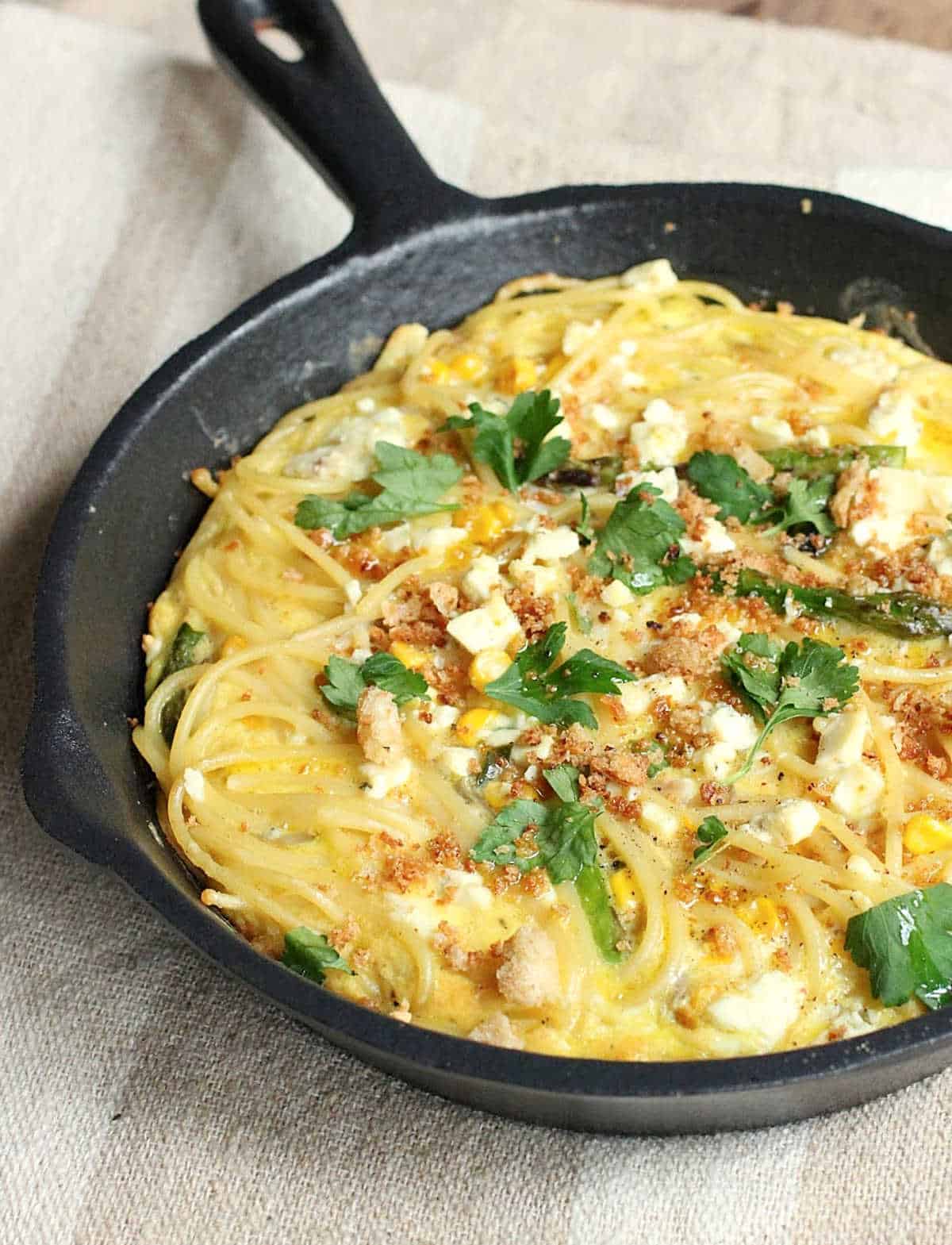 This frittata is a hearty way of using leftover pasta.
It has eggs and different types of cheese, so you get flavor and soft, creamy bites.
At my house, we loved the frittata (or tortilla as we call it) that would appear at the table the next day after a pasta meal.
Adding eggs and cheese made this a leftover dish we eagerly looked forward to.
When your mother doesn't cook, lunch and dinner can be pretty challenging. And not always something to look forward to, lol.
But this is a star dish of hers, that also works amazingly well with leftover tomato sauce pasta.
Frittata vs. tortilla
Tortilla is the Spanish version, and after the bottom is golden and done, the whole thing is flipped over (with the aid of a plate or a flat pot lid) and returned to the skillet to finish cooking.
Let me tell you, there was much pride in how well you flipped the tortilla back then, just like with pancakes.
A frittata is finished in the oven, which makes it oh.so.simple!
So the tortilla crust is similar on all sides, and the frittata has a smooth bottom, but the top is irregular and less crusty usually.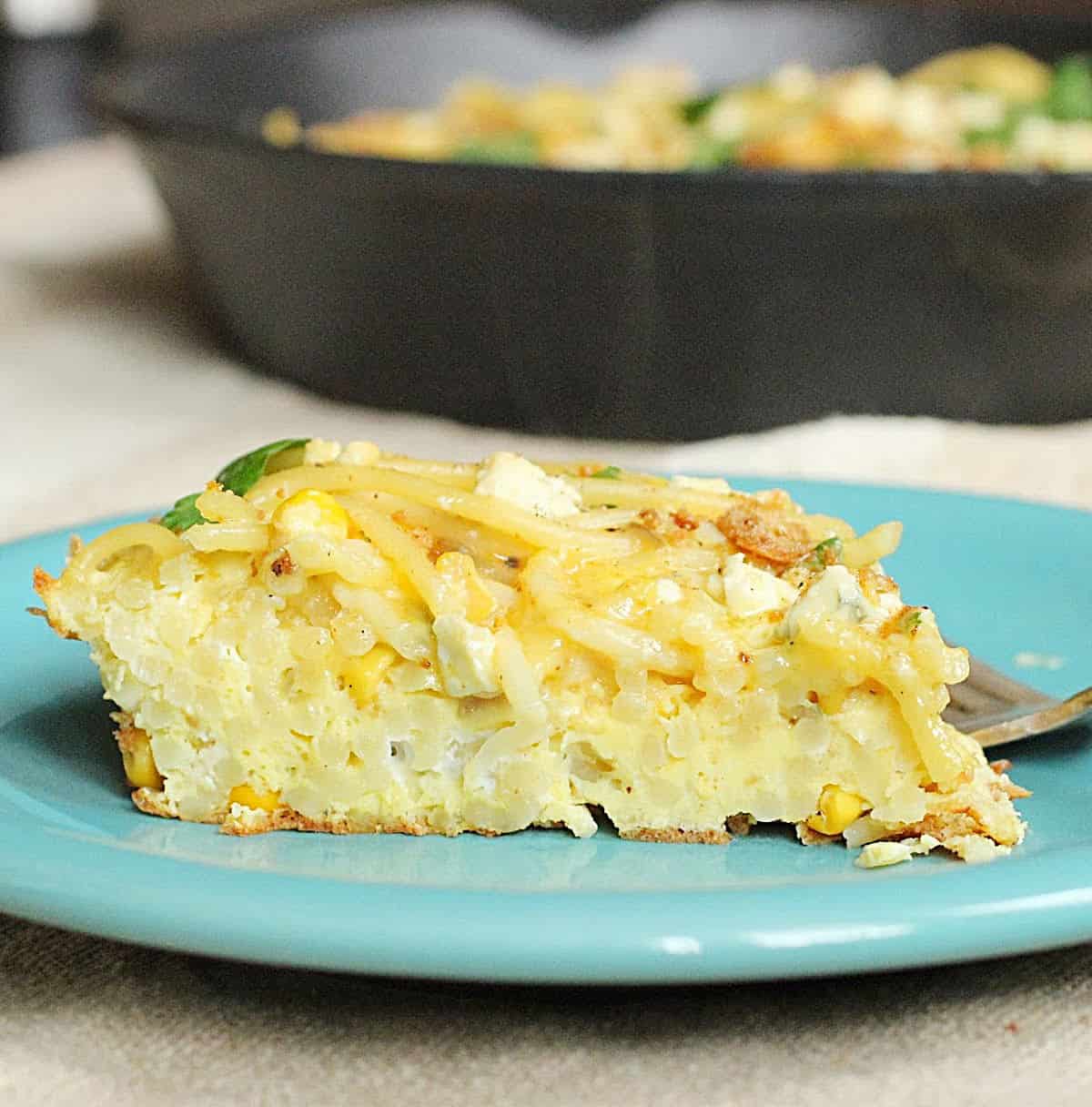 Ingredients
Pasta: leftovers or fresh, they all work. I used leftovers from the Charred Corn Asparagus Spaghetti.
Binding agents: we need to add eggs to bind it all together. This recipe uses cream for richness and creaminess.
Seasonings: it is essential to add a nice dose of salt, pepper, herbs, spices, or whatever suits your taste buds. If the cheese is too salty, you must go easy on the extra salt. Besides that, even if your leftover pasta is well seasoned, you're adding many extra ingredients, so don't skimp on flavor.
Cheeses: it adds lots of flavor. Consider the cheeses you use and adjust the salt in your seasoning.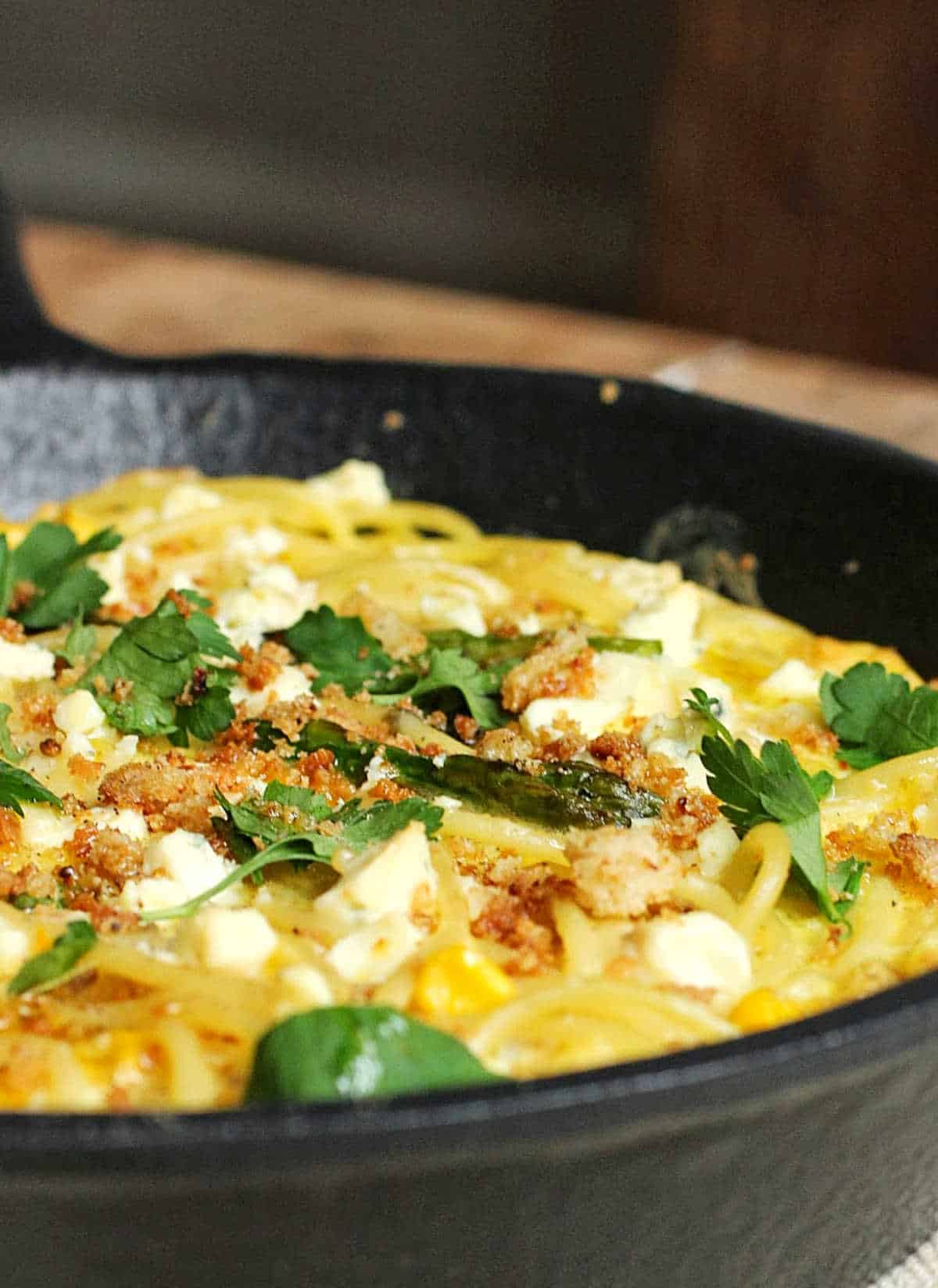 How to make pasta frittata
Mix all the ingredients in a bowl before adding them to the skillet. A cast-iron skillet fits this type of dish, but you can use a stainless steel skillet or a baking dish.
Cook it on the stove and finish it in the oven. That's pretty much it.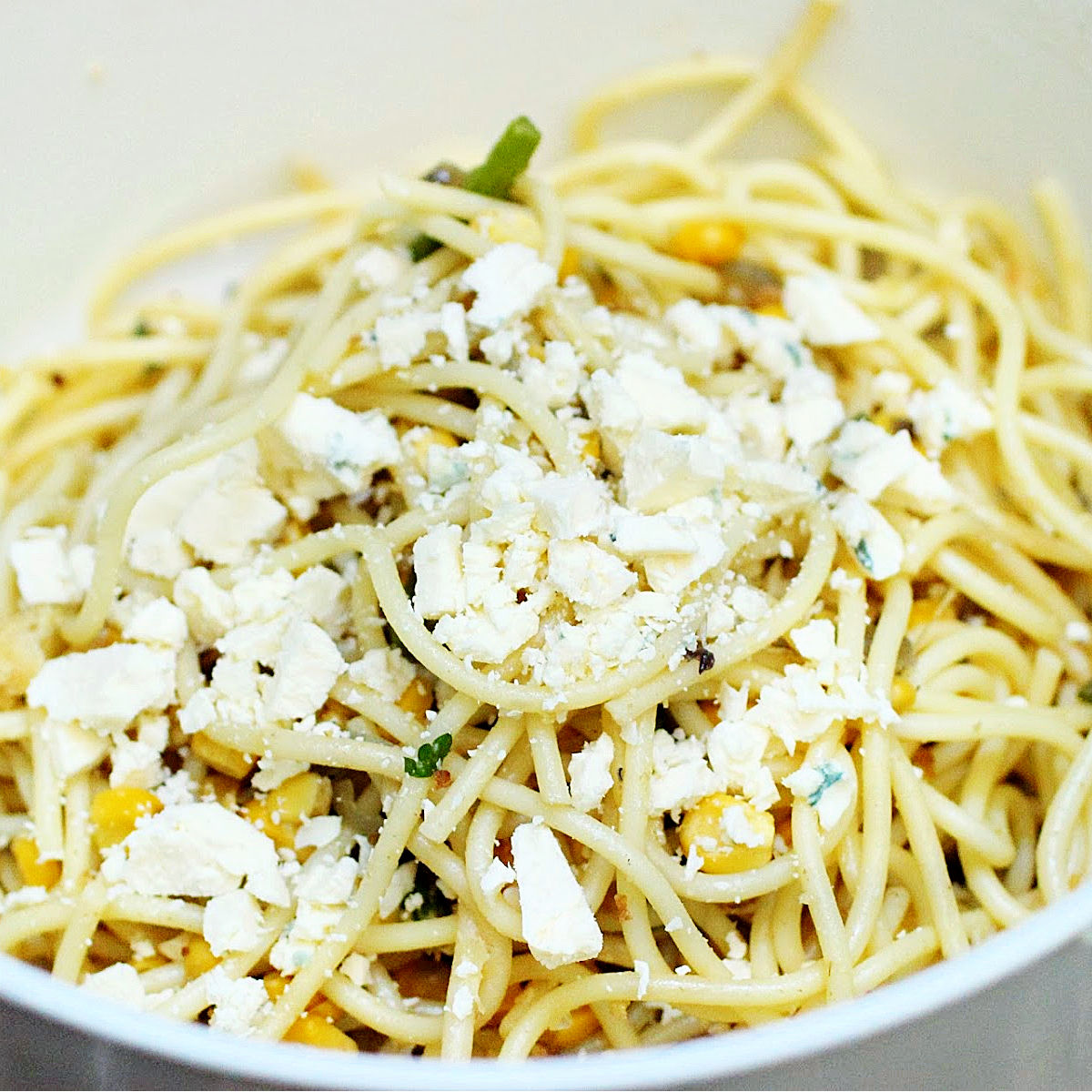 Start with the add-ins: use whatever leftover pasta you have (I love it with tomato sauce also), and add the cheeses and herbs if using. Season it well!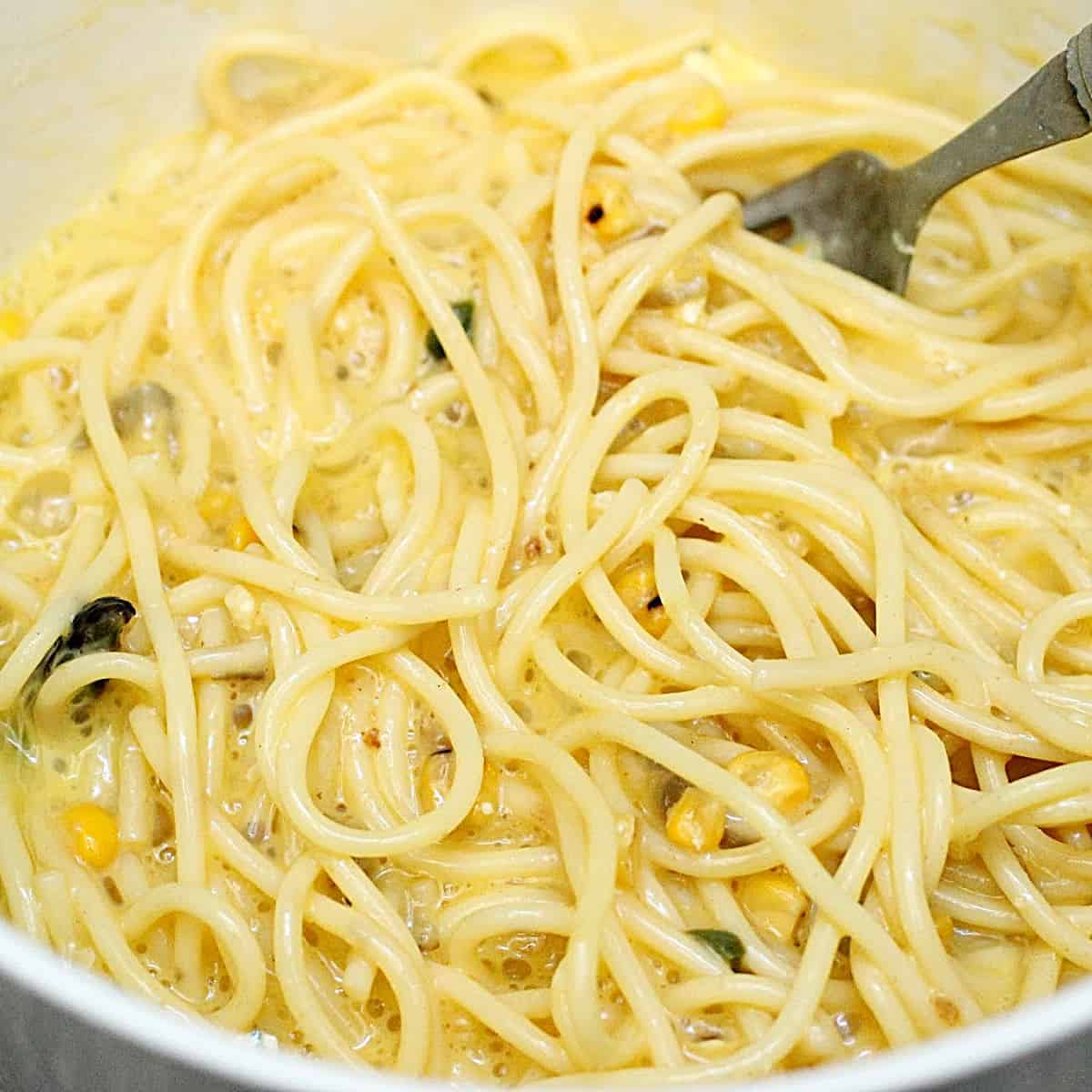 Add eggs: beat eggs in a separate bowl and add to the spaghetti, or make a well in the center, add the eggs, and mix with a fork. Check seasonings.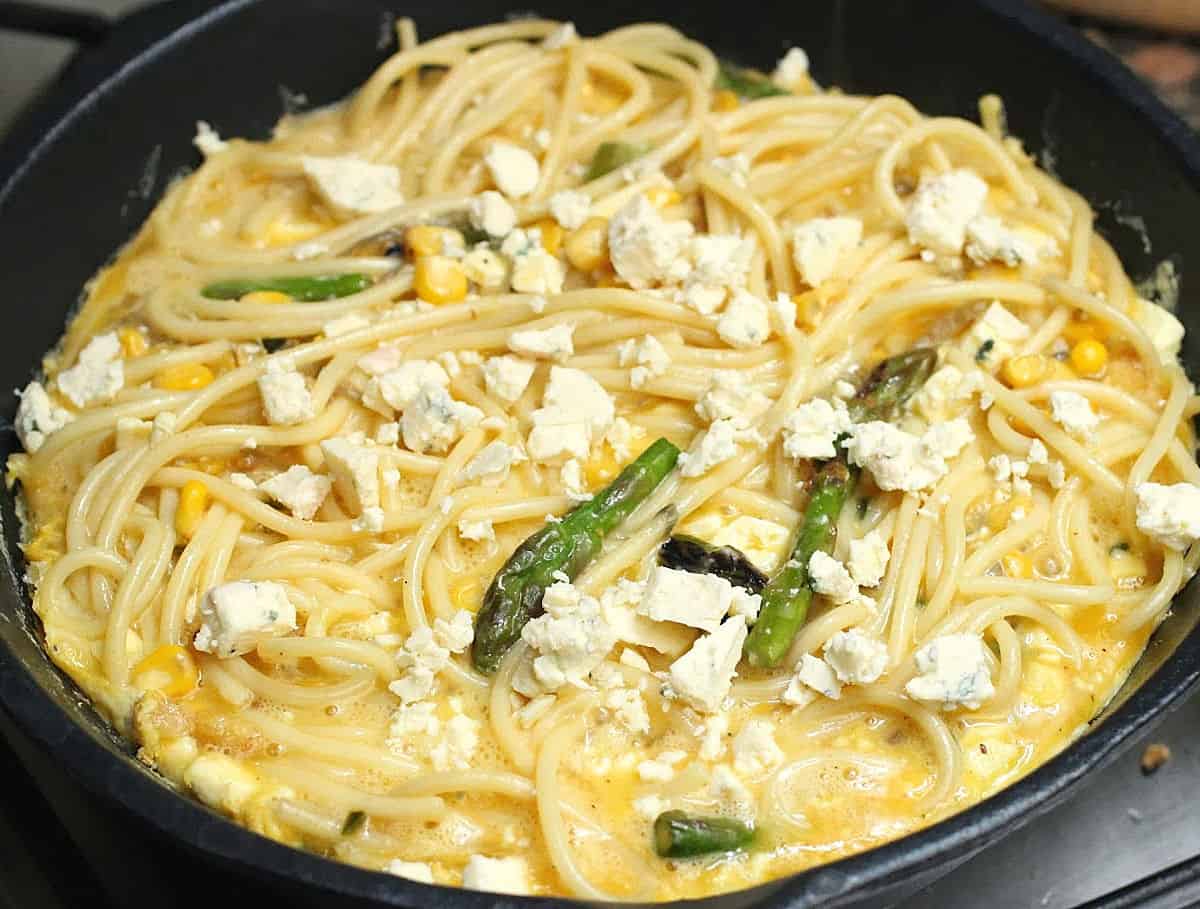 Cooking it: cook first on the stove until a light crust develops. Scatter cheese over it and finish it in the oven.
Vintage Kitchen tip: as with any egg-based recipe, you can have it more or less baked, juicy, and not dry. So take that into account when you take it out of the oven. It should still slightly jiggle in the center.
Variations
Other pasta: use any combination of pasta shape and sauce you have. I have also used corn and tomato pasta and jalapeño arugula pasta.
Individual servings: you can use 1-serving ramekins for a different presentation.
Vegetables and deli meats: if you roasted or leftover veggies, you can add them to this frittata. Same goes for ham, bacon, or other meats that you think go with the pasta you're using.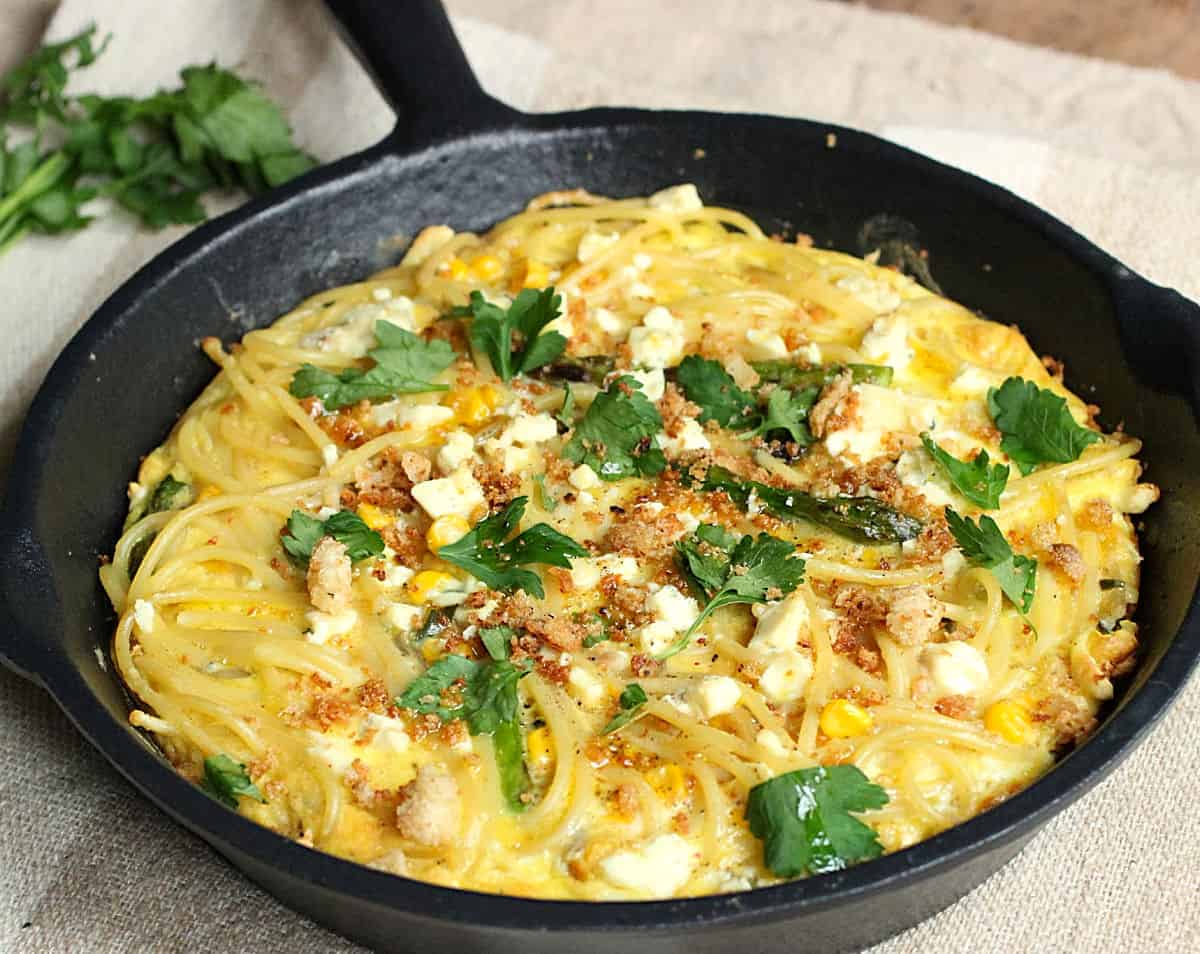 Freezing
This is a great dish to make and freeze!
Similar to what we suggest when making our homemade quiche recipe, you can have one in the freezer and pop it in the oven (medium, 350°F/180°CC) for a last-minute frittata dinner. Or lunch.
Always wrap it well. I recommend first plastic wrap and then aluminum. It lasts a month, sometimes more.
---
Related recipes you might like:
---
Let me know in the comments below if you made this recipe and loved it and if you had issues so we can troubleshoot together. I love to hear what you think, always. Thanks for being here. It's much appreciated.
You might also consider subscribing to our FREE email series to Boost your Home Baking Skills! And our regular newsletter.
And let's connect via Facebook, Instagram, and Pinterest.
As an Amazon Associate, I earn from qualifying purchases. Please read my disclosure policy.
Print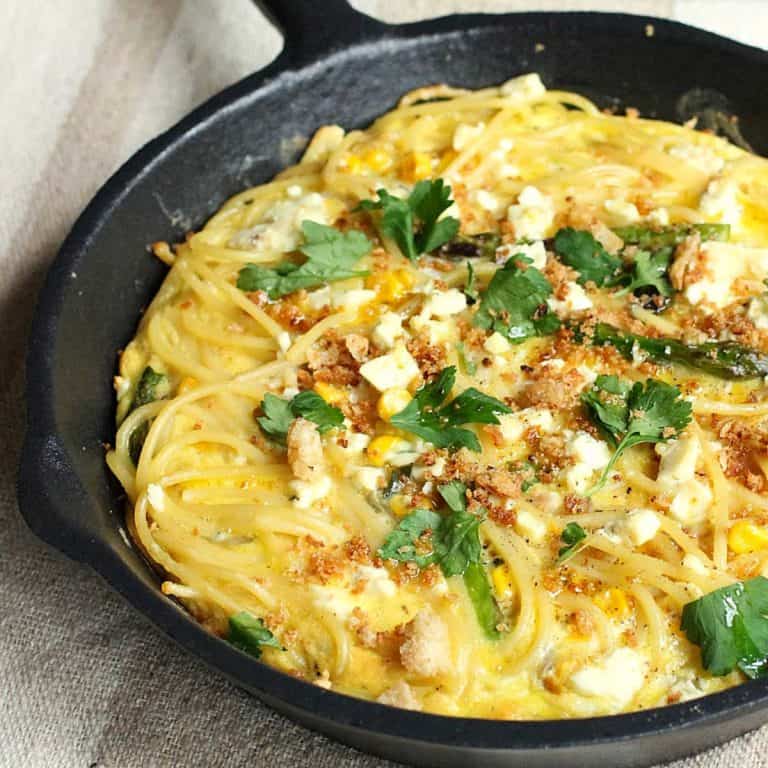 Leftover Pasta Frittata
Growing up, leftover pasta was always transformed into a frittata and was a crowd-pleaser. My mother's specialty, it's delicious, easy to put together in 30 minutes, and works with any type of pasta. Bake it as creamy and cheesy as you want it.
Total Time:

30 minutes

Yield:

4 servings
1

pound

leftover pasta

6

eggs

½

cup

hard cheese, such as parmesan and/or cheddar, grated

⅓

cup

melting cheese, such as mozzarella, grated

3

-

4

tablespoons cream

2 tablespoons

fresh parsley, chopped
Salt and pepper

1

-

2

tablespoons butter or olive oil
Instructions
Preheat oven to 350ºF /180ºC
In a large bowl mix eggs, cream and seasonings.
Add pasta and half of the hard cheese and all of the melting cheese.
Season with salt and pepper to taste.
Melt butter or oil in a cast iron skillet over low heat.
Add the egg/pasta mixture and let cook without stirring for about 8 to 10 minutes.
Scatter the extra cheese on top.
The egg will start to cook on the outside, but the middle will be very wet still.
Transfer the skillet to the oven and bake in the middle rack for 7 or 8 minutes, until the middle is almost firm. Set the oven to broil and the temperature to 400ºF /200ºC.
Broil it for 5 more minutes so the top begins to set, or until you feel it's done to your liking, some people like it well done.
Remove carefully using oven mitts or a thick kitchen towel , add chopped parsley and serve.
Notes
Eggs: there's no need to beat the eggs too much, it's more of a thorough mixing. We don't want the frittata to rise and fall too much, as you would a souffle or dutch pancake.
Seasonings: it is essential to add a nice dose of salt, pepper, herbs, spices, whatever is your jam. Even if your leftover pasta is well seasoned, you're adding a lot of extra ingredients and it will water them down.
Variations: you can use any leftover pasta (with tomato sauce it makes a fantastic frittata) and other cheeses. I like to use soft like goat cheese or mozzarella, but really, any cheese you love works. If using hard cheeses grate them for easier melting.
Author:

Paula Montenegro

Prep Time:

10

Cook Time:

20

Category:

Pasta - Eggs

Method:

Baking

Cuisine:

International