Quiche is a French savory tart and a wonderful dish to have frozen at all times. The butter crust is homemade, and our binding cream is the best! This version is ideal for leftover ham and cheese from all those holiday tables and a great recipe for brunch, potlucks, picnics and back-to-school season.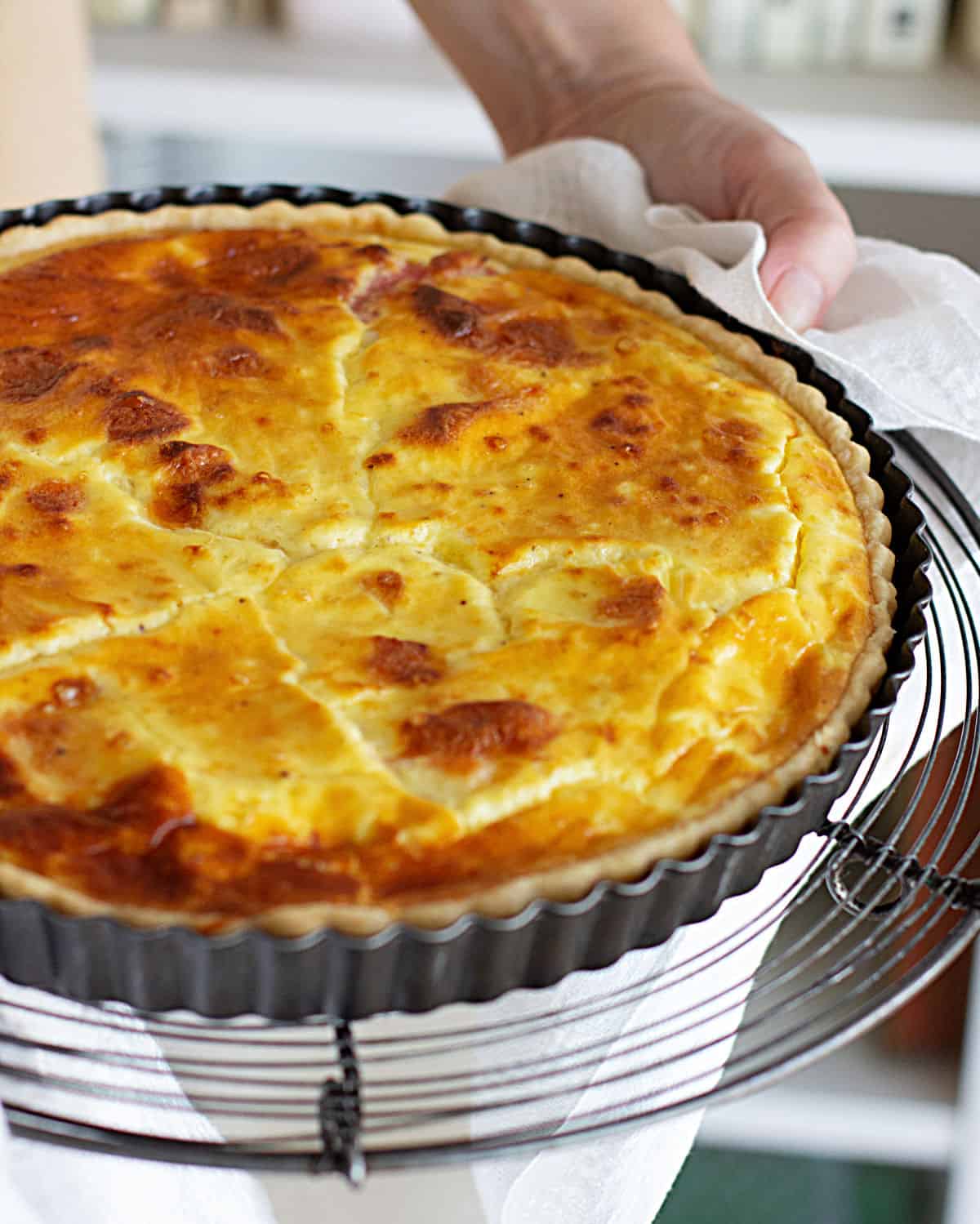 This recipe can also be called ham quiche Lorraine (the original that uses bacon)
It uses leftover pieces of ham and cheese we usually find when rummaging in the refrigerator. Or when the holiday season is over. The ham can be substituted with other meats like turkey.
This quiche is the one I make the most. Even more than the Mushroom Quiche, and that's saying a lot.
Why make this recipe
Cleans out the fridge: when I say use leftovers, I mean it. Not only ham and cheese. Almost anything can be used as a filling here.
Crowd-pleaser: among kids and adults, this is such a favorite at my house and with friends that having one frozen at all times has saved more than an impromptu brunch.
Freezer friendly: it's the quiche to have frozen for a month or more. Double-wrap it tightly and then pop it directly in a medium oven or let it defrost in the fridge overnight. A meal saver!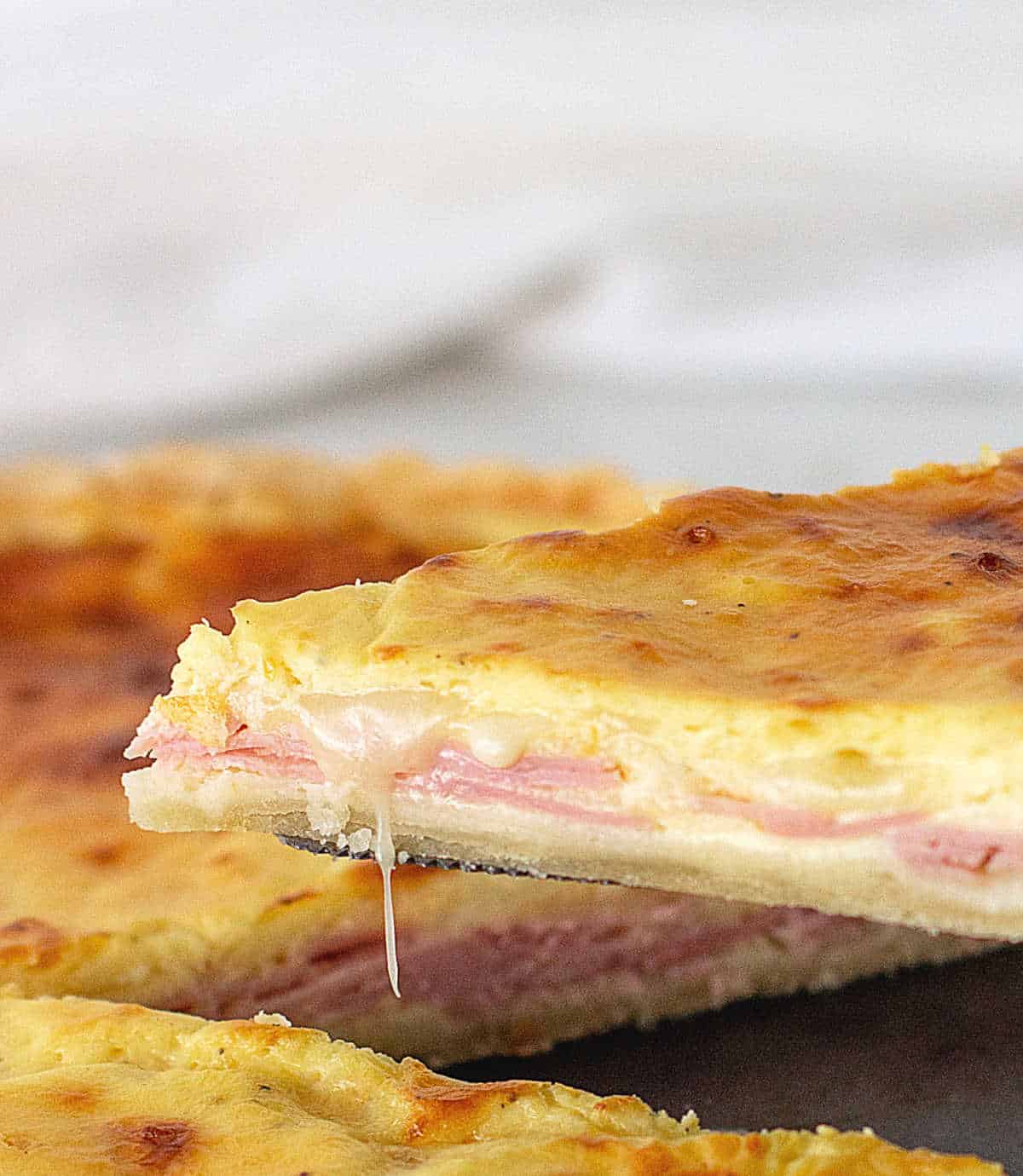 Ingredients
All-butter shortcrust pastry.
Ham: any type works. I like natural or smoked hams.
Cheese: a semi-hard cheese and a softer, melting one are combined to add texture and flavor. We use parmesan cheese (asiago and gruyere also work) and mozzarella (swiss is also good for melting).
Cream: whipping, heavy whipping, or heavy cream.
Yogurt: natural or Greek yogurt. Don't use flavored ones.
Eggs: fresh, large.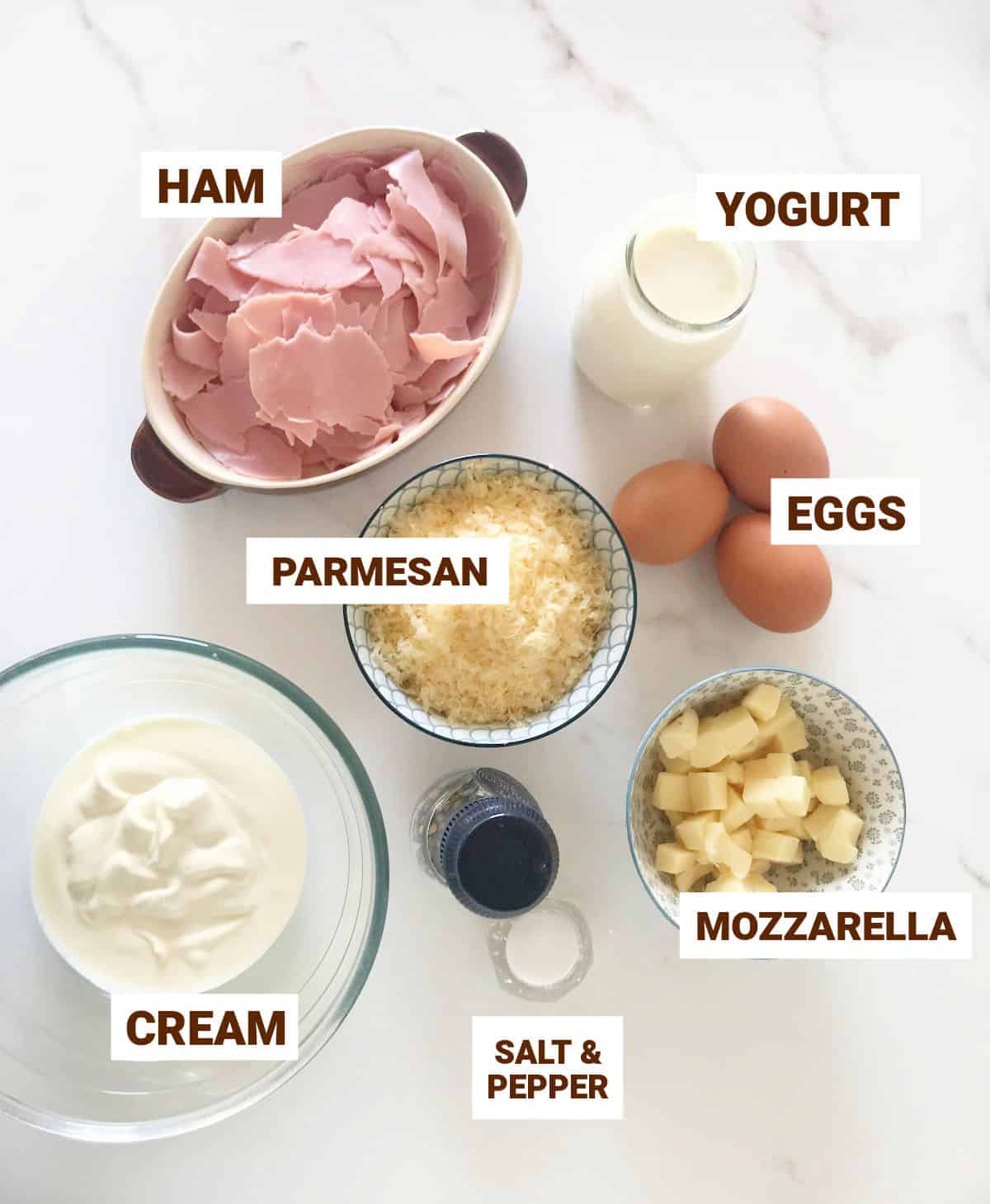 The crust
An all-butter quiche pastry is best, and homemade is highly recommended. Our go-to quiche dough has only four ingredients: flour, salt, butter, and ice water.
It's the Shortcrust Pastry (or Pate Brisée), and there's a whole post devoted to it.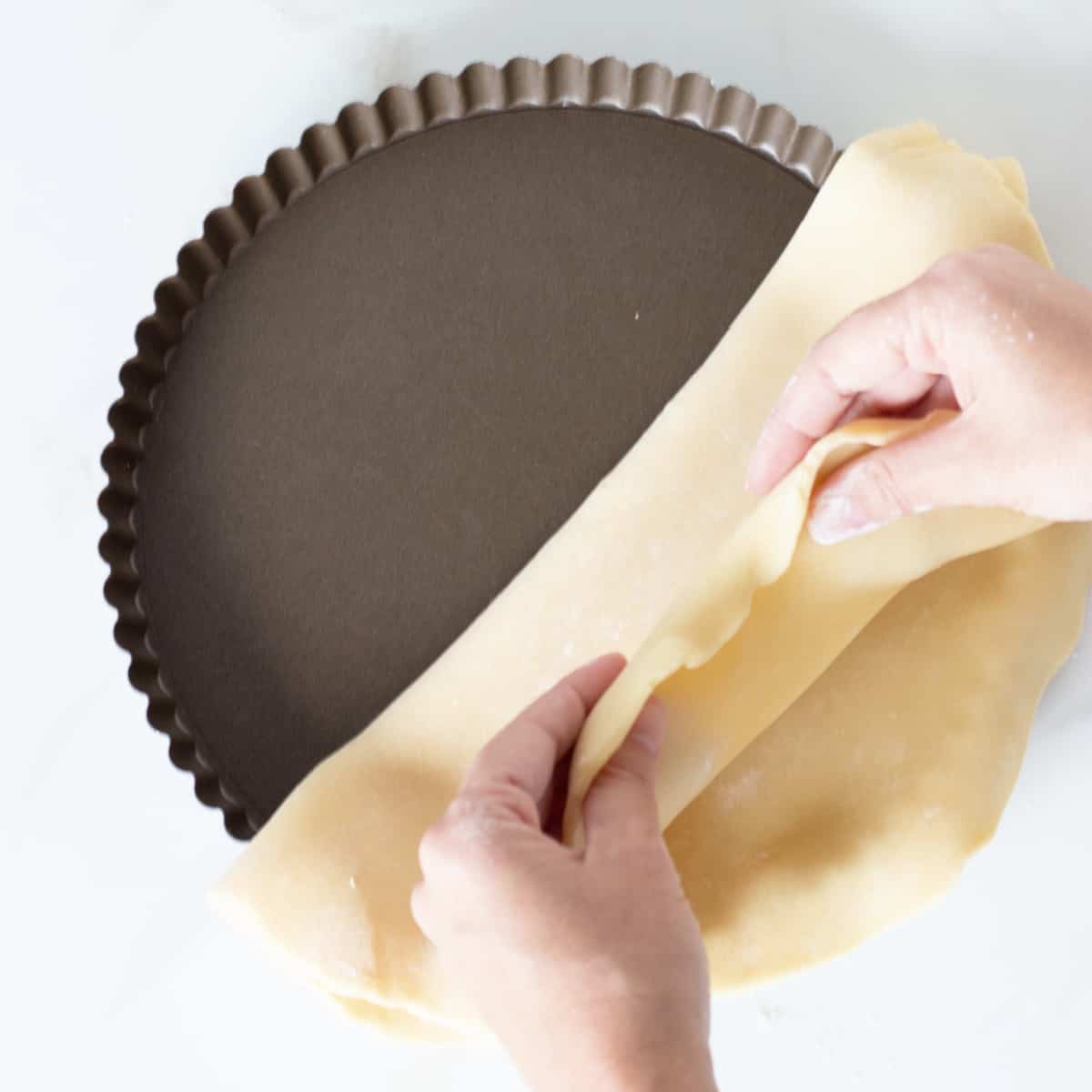 The add-ins
The filling is simple, and I usually eyeball quantities. But for the sake of this recipe, I did, of course.
Ham: I recommend coarsely chopping or cutting it into large pieces. I tore strips with my hands usually. I like to feel the ham pieces and like them to be irregular.
Cheese: I use two types of cheese. A cubed melty one (mozzarella) and a grated semi-hard one so that you get the sharp flavor and the melting awesomeness. Any combination you like can work, even if it's just one type.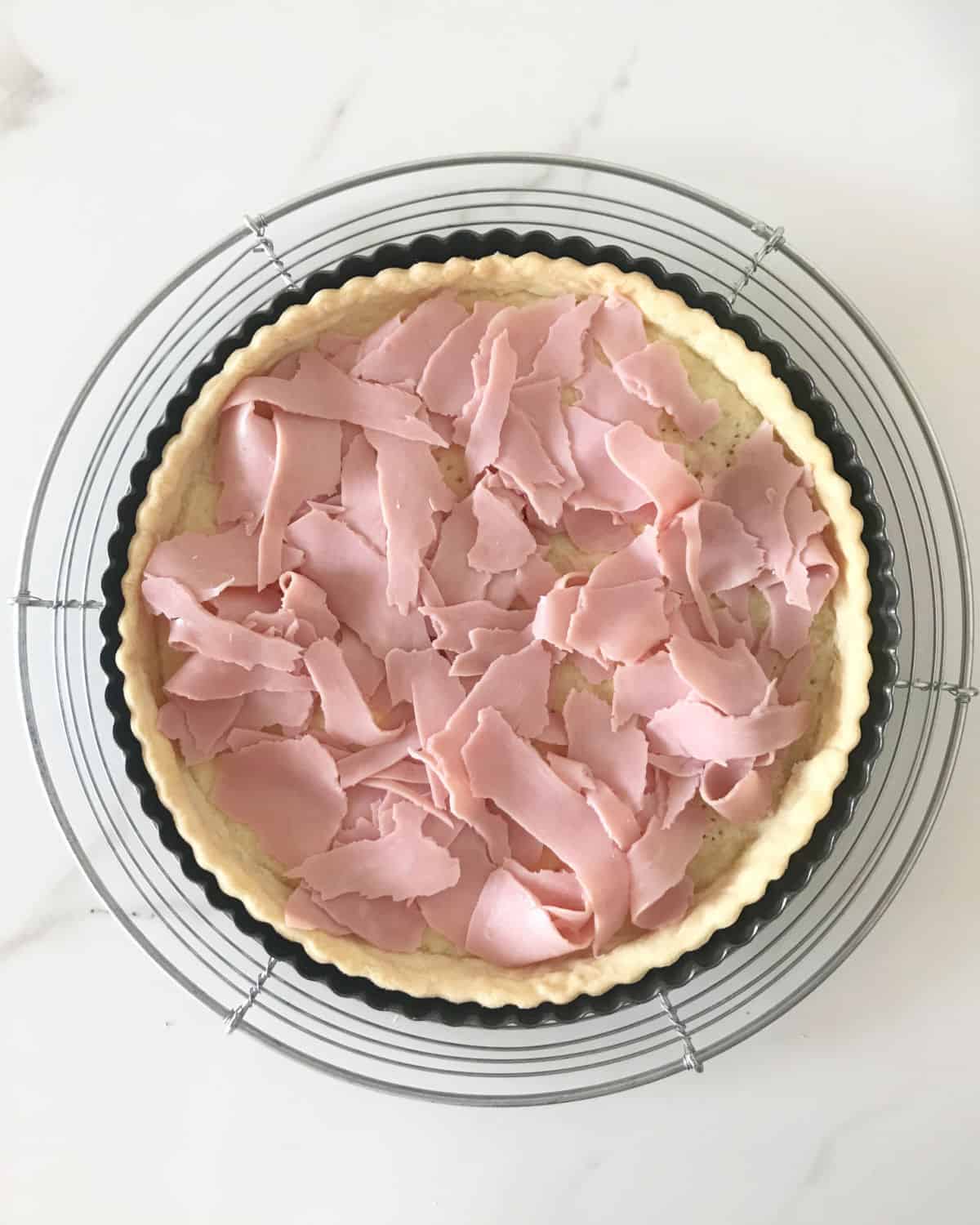 Place the ham pieces in the bottom of the prepared crust for the first layer.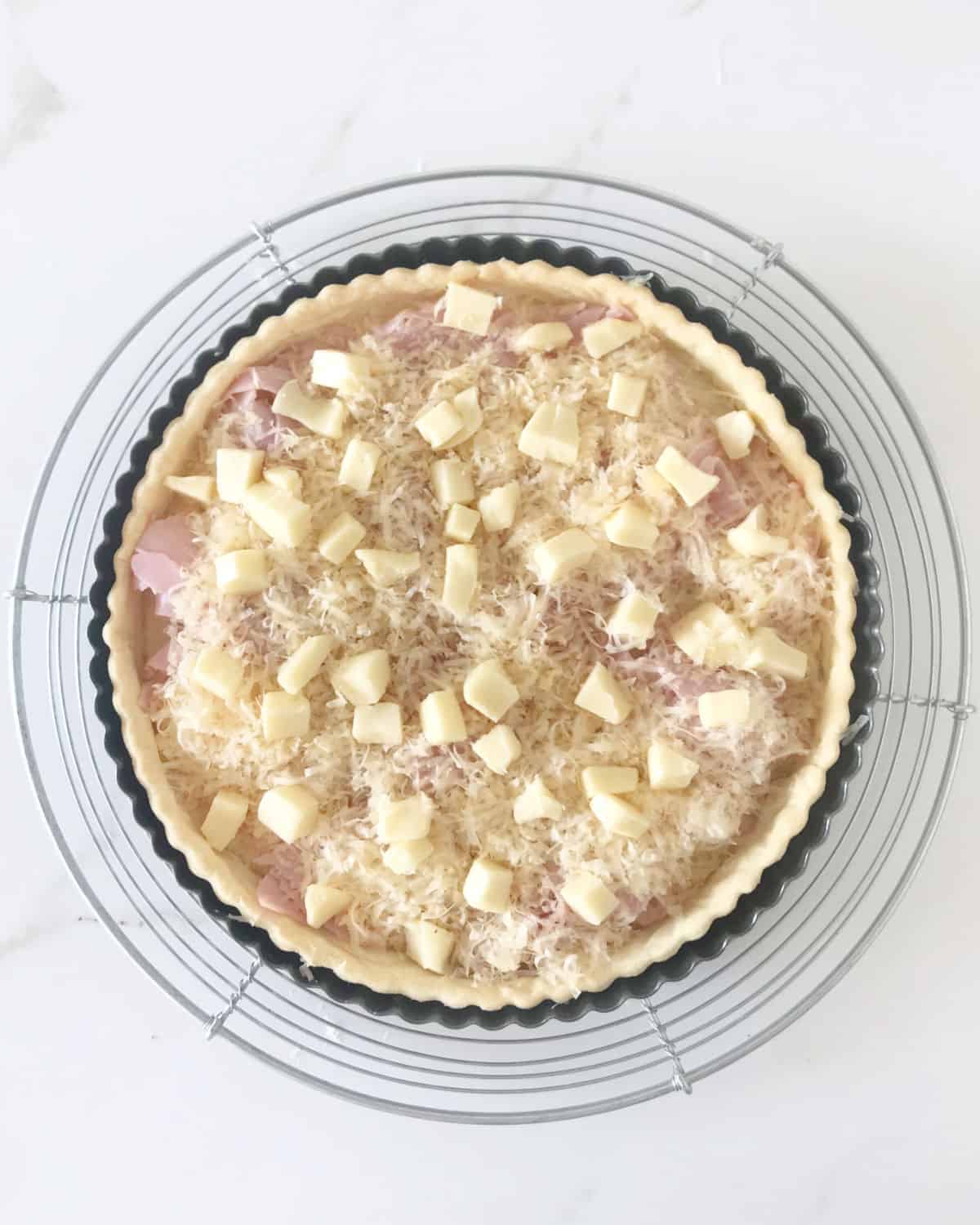 Sprinkle the cheese, covering it.
The binding cream
This is essentially the glue that makes it all come together.
Through the years, I have streamlined it and now have what I feel is the best recipe, which involves natural yogurt. Only 5 ingredients, including salt and pepper.
This creamy mixture is added after layering the ham and cheeses in the half-baked crust.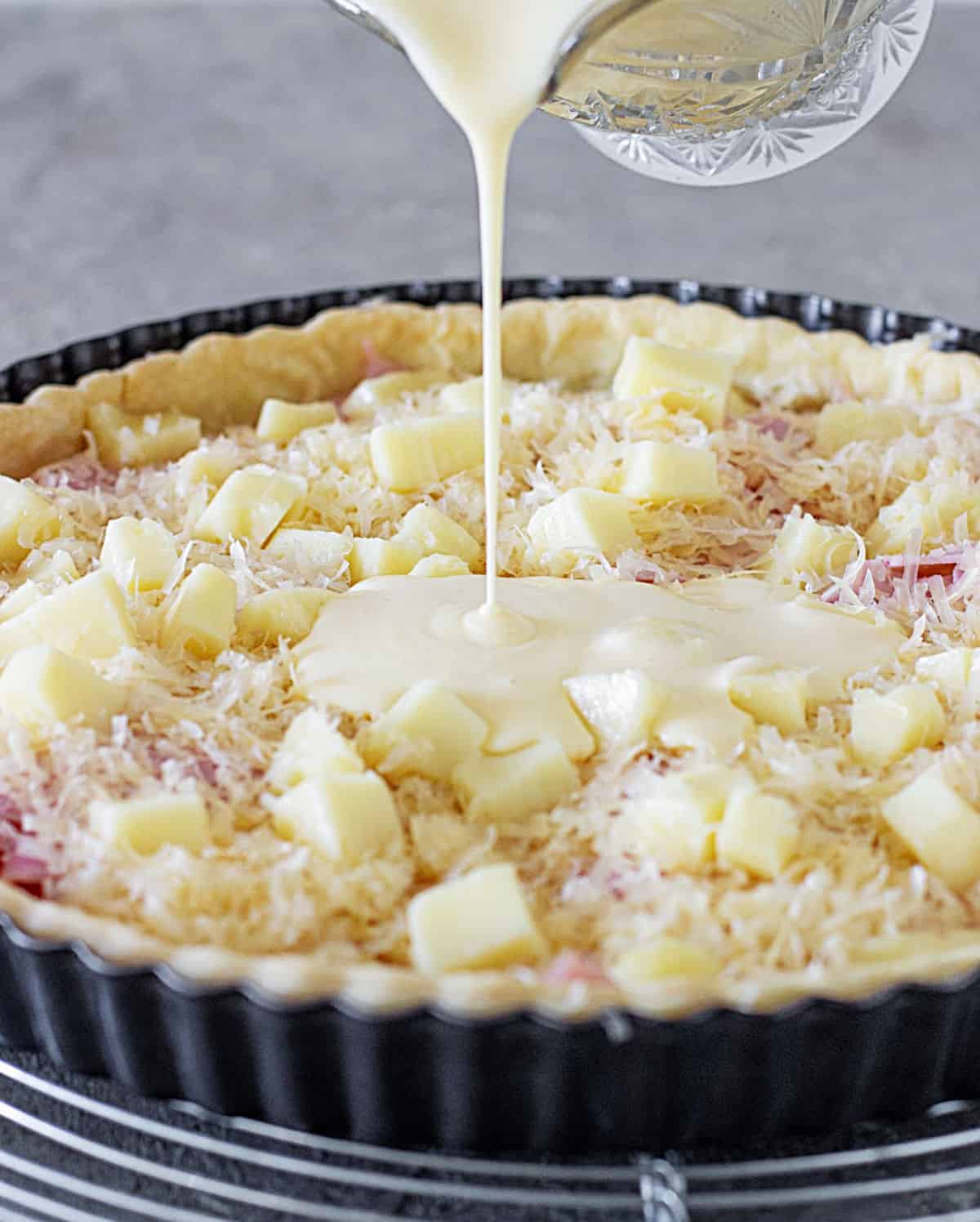 Kitchen notes
Organization: read the recipe first and ensure you have ingredients at the correct temperature, equipment, and enough workspace. This will make the process so much easier.
Baking time: consider that all ovens and pans are different, even if they look similar. The baking time in my recipes is as accurate as it can be, but it might take you more or less time. You can use a thermometer(like the OXO oven thermometer) to check that your oven is at the right temperature. I recommend you keep track of how your oven works and what tiny details you might need to adjust.
Seasoning: consider the cheese saltiness when you season the binding cream.
Make-ahead: the baked quiche freezes wonderfully for a month, well wrapped. The crust-lined pie pan can be frozen before adding the filling.
Serving: choose to serve it hot, straight from the oven, or at room temperature as finger food. It travels well for picnics and is amazing as part of a brunch table.
Herbs: add a few tablespoons of fresh chopped herbs to the add-ins.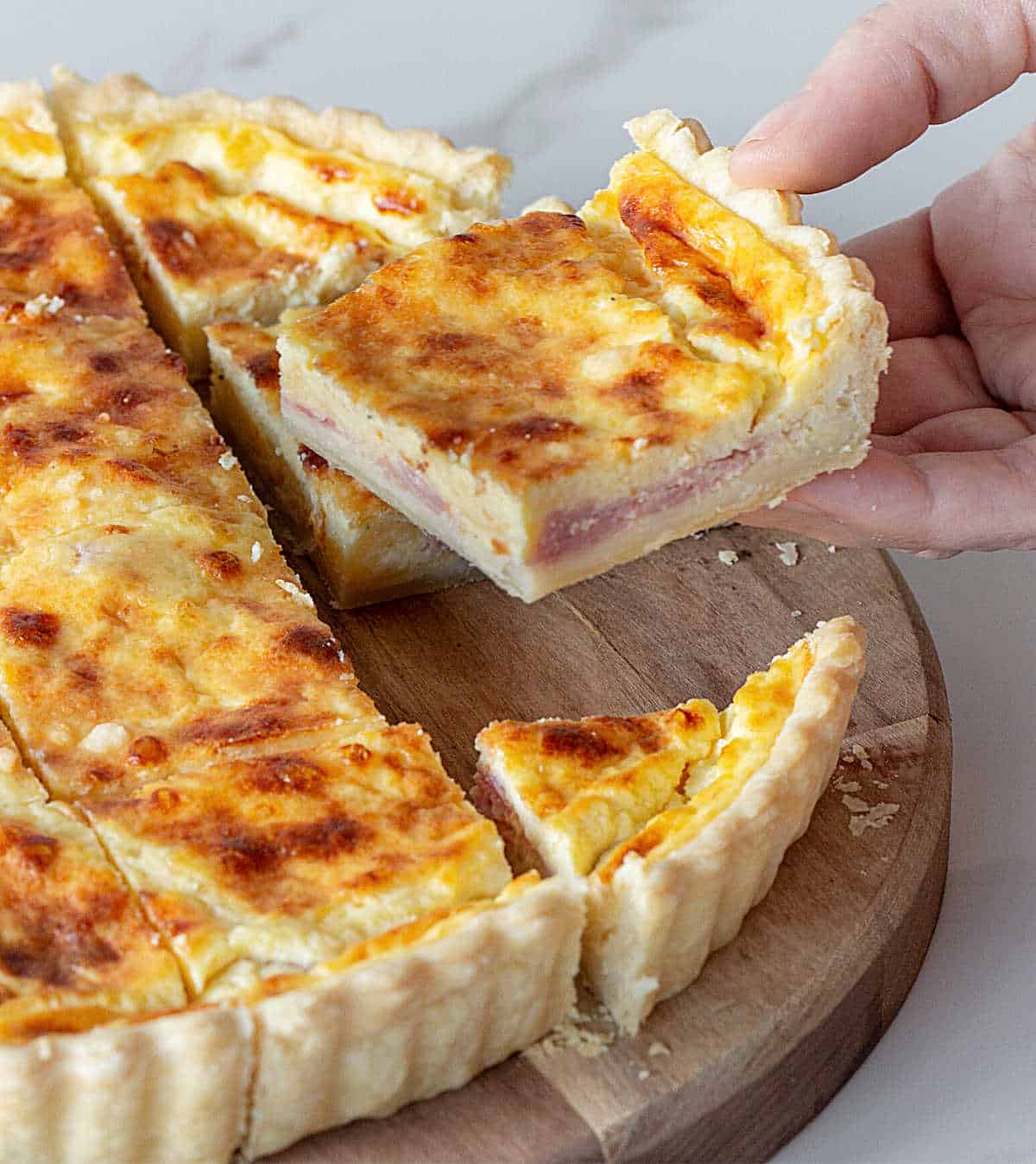 ---
What can I substitute for cream in Quiche?
I don't recommend it because it will lose a lot of it's richness, but you can use whole milk. It will probably need more oven time to set properly as milk is much thinner. I would also add an extra egg yolk.
What cheese is best in Quiche?
It depends on the quiche you're making. For this one, I recommend a hard cheese with character and flavor, such as Parmesan or gruyere, and a melting cheese like mozzarella. Other quiche recipes might use soft cheeses such as brie, taleggio, or ricotta.
What do you serve with quiche?
A simple green or tomato salad on the side is a good way to serve it. But it can also be served on its own or eaten at room temperature as finger food.
Related recipes you might like:
---
Let me know in the comments below if you made this recipe and loved it and if you had issues so we can troubleshoot together. I love to hear what you think, always. Thanks for being here. It's much appreciated.
You might also consider subscribing to our FREE email series to Boost your Home Baking Skills! And our regular newsletter.
And let's connect via Facebook, Instagram, and Pinterest.
As an Amazon Associate, I earn from qualifying purchases. Please read my disclosure policy.
Print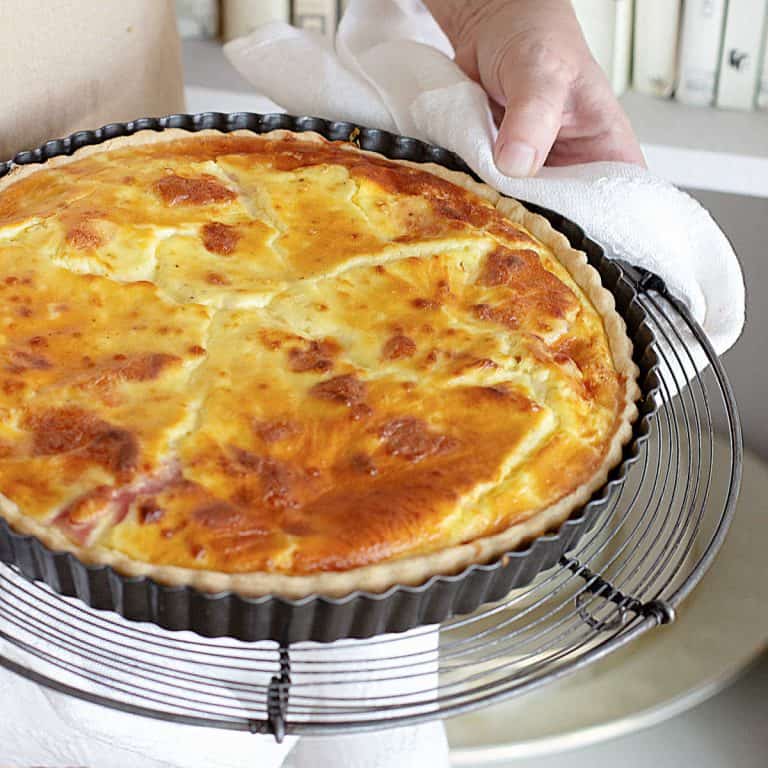 Leftover Ham Quiche (with cheese)
Quiche is a French savory tart and a wonderful dish to have frozen at all times. The butter crust is homemade, and our binding cream is the best! This version is ideal for leftover meats and cheeses from all those holiday tables and is a great recipe for brunch, potlucks, and picnics.
Total Time:

2 hours 55 minutes

Yield:

8 servings
For the filling:
5

oz

(150g) ham, thinly sliced (I like natural or smoked)

4

oz

(100g) cheeses (I use mozzarella and white Cheddar)
For the binding cream:
¾

cup

(190g) natural yogurt (or Greek)

¾

cup

(190g) cream (whipping, heavy or double)

3

eggs, at room temperature
Salt and black pepper to taste
Instructions
For the crust:
Make shortcrust pastry according to the recipe in the post linked above.
Blind bake (pre-baking) according to instructions in the link above, and reserve. Leave the oven on.
Or use a commercial pie crust.
For the filling:
Preheat the oven to 350°F /180°C.
Grate Cheddar (or other semi-hard cheese you're using) and cube the mozzarella or whatever melting cheese you have.
For the binding cream:
In a large bowl mix cream and yogurt until combined with a wire whisk or spoon. No need to use an electric mixer.
Add eggs and mix until well combined but without beating. We don't want to beat the eggs much, only combine them well.
Add salt and pepper and mix. I suggest you taste it and adjust seasonings. It should be somewhat salty. Remember the mushrooms and leeks are cooked without salt.
To assemble the quiche:
It's best to fill the quiche dough near the oven.
Scatter the ham sliced in the bottom.
Add both kinds of cheese, distributing evenly over the ham.
Slowly add the cream covering the whole surface. Don't overflow the walls of the quiche, but they will fill completely.
Bake for 35-40 minutes, until puffed and golden.
Let cool on a wire rack for a few minutes and eat.
Or eat at room temperature.
Notes
Make-ahead: let cool completely on a wire rack after taking the quiche out of the oven. Wrap in plastic and refrigerate for 2-3 days. Or freeze, well wrapped, for a month.
Serving: choose to serve it hot, straight from the oven or at room t° as finger food (second image from top). It travels well for picnics and is amazing as part of a brunch table.
Flavorings: you can add some spice (ground jalapeños, Merken, paprika, etc) to the binding cream for a spicy kick. Or a thin layer of mustard before adding the ham.
Author:

Paula Montenegro

Prep Time:

20

Homemade Pie Dough:

120

Cook Time:

35

Category:

Pies & Tarts

Method:

Baking

Cuisine:

International
Keywords: ham and cheese quiche, ham and cheese tart