This grilled naan is filled with melting mozzarella and pesto, requires no yeast, and can be grilled in a skillet or outdoors! You can have it ready in an hour and you can vary the flavors of the filling.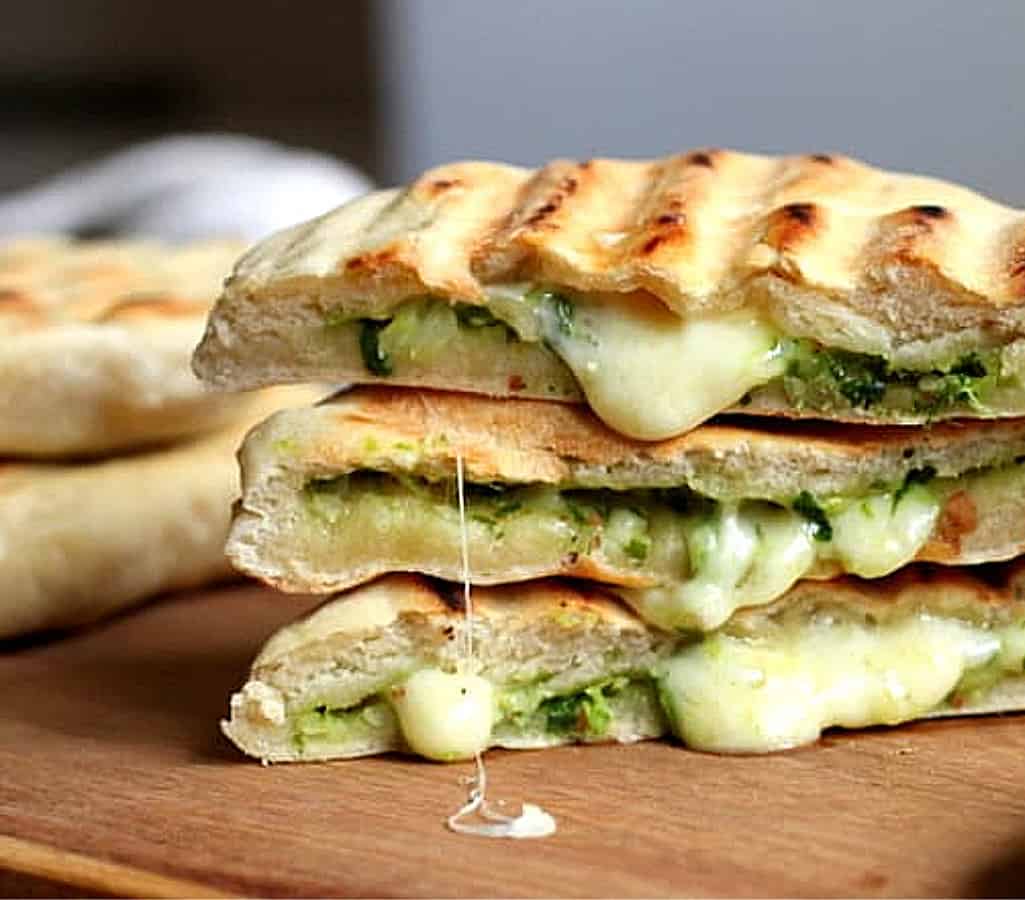 This appetizer recipe skyrocketed to the top of my starch-filled list. It is truly amazing and one you'll want to make often.
Naan made with yogurt but no yeast, filled with melting mozzarella and green onion pesto and grilled on a skillet.
For all of you who are afraid of working with yeast or making bread, this dough is as easy as the pizza mix with baking powder that you can buy in the supermarket.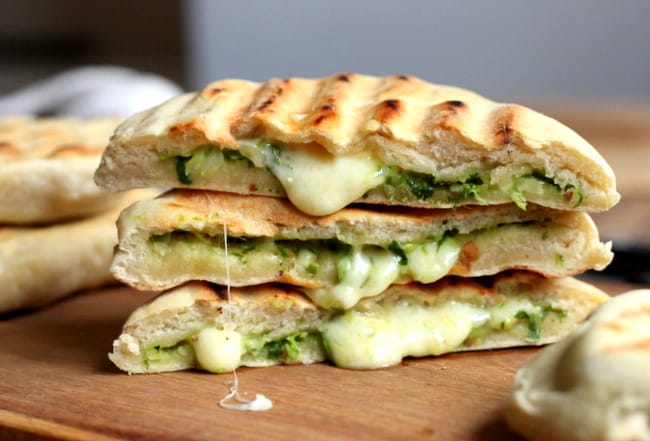 About naan
Naan means bread and is a flatbread very popular in Indian and other Asian cuisines, made with yogurt, yeast and baked in a tandoor or clay oven. But they can easily be grilled in a cast iron skillet or outdoor grill.
There are many types and recipes for naan.
Today we're focusing on this no-yeast recipe, made with yogurt and baking powder. It comes together in ten minutes and needs to rest for 1 hour. So take that extra time into account.
But even with the resting time, you can have warm cheese filled naan bread in an hour and a half. So it's great to make it as an appetizer when grilling outside. It only takes about 30 minutes of actual hands-on time.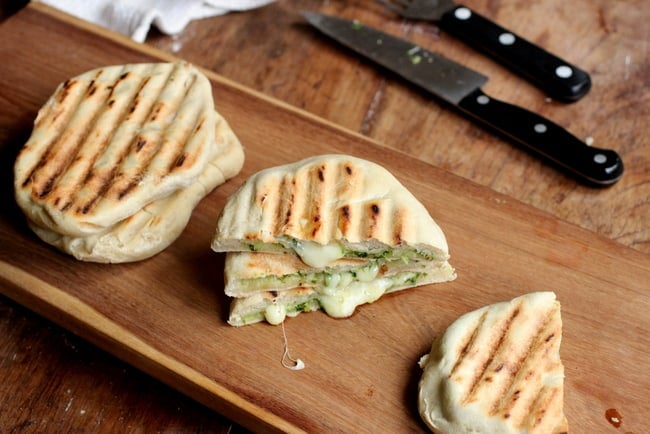 Simple steps
Mix all dry ingredients in a large bowl and add wet ingredients (images 1 and 2). Start by mixing with a fork or wooden spoon until you have a rough mixture.
Knead for about 5 minutes (with a stand mixer or by hand on a floured counter) until you have a slightly sticky but smooth dough (image 3).
Shape into balls and let rest for 1 hour (image 4).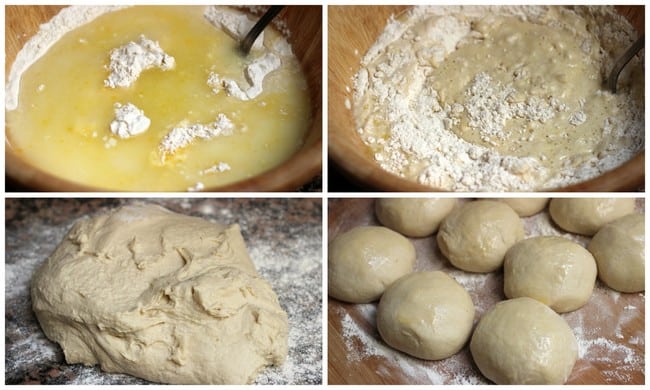 Cheese: it's important to use a cheese that melts well. Mozzarella (the one used for pizza is the best) is a really good one, but whatever you use for your favorite grilled cheese sandwich will work.
Pesto: You can go with not-so-traditional pestos like the one here - more ideas here for other Condiments & Sauces - and even use purchased ones.

Grilled

veggies are perfect too. Just remember you need the final filled bread to be

flat so that it cooks evenly. It might be a good idea to process or cut in

small bits the vegetables first.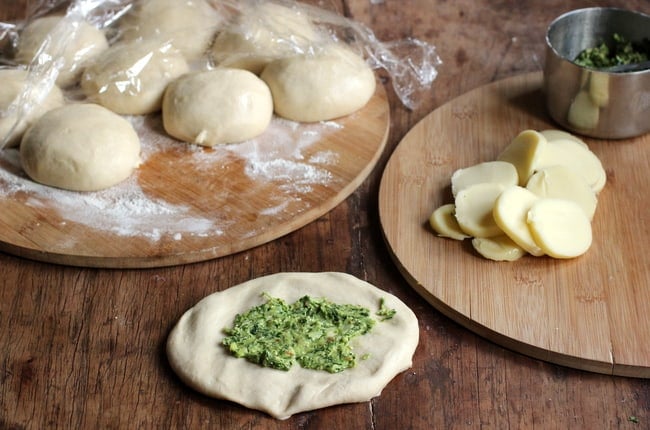 Pesto filling
The word pesto is very loosely used here, this was more a mixture of green onions, almonds, and parsley with olive oil, salt, and pepper. Maybe we should say paste?
Maybe, but pesto or paste will not change the awesomeness of this filled pieces of dough, grilled on the stove and eaten right there, almost hot to the touch.
Make your own fillings, most Mediterranean pizza toppings will go well, or something like this Chorizo Tomato filling. or the Sun-dried Tomato Pesto. The original recipe, from this wonderful blog, uses garlic scapes, something I can't yet find here. Use a tablespoon for each bread, it is enough. Using too much will hamper the right cooking of the dough.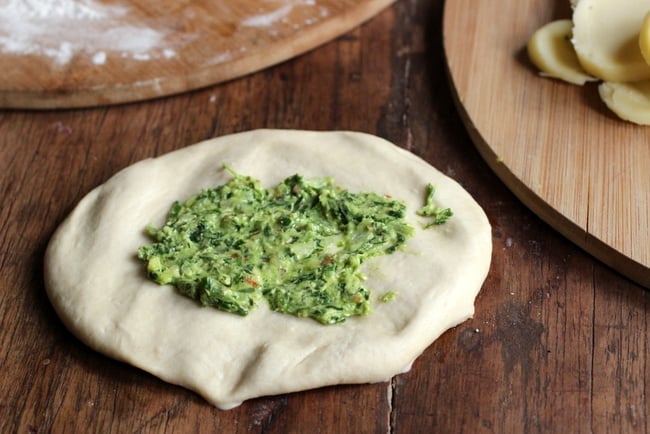 What type of pan is used?
In a very fortunate turn of events, I found a million years old steak iron that belonged to my grandmother.
Steak irons (similar to cast-iron steak skillets) are flat surfaces with ridges, two handles but no sides, made of cast iron, used to cook mainly steak, obviously. I live in Argentina and we consume a huge amount of meat, so having a steak iron was a regular staple in all kitchens when I was growing up. All made from good, sturdy iron, meant to last forever, literally.
Many electric gadgets appeared throughout the years, but it took many years for the faithful steak iron to be replaced. Nowadays it's still sold and used, but not as much.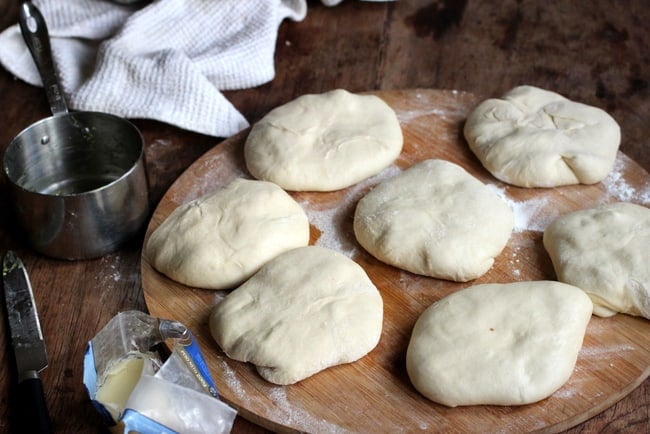 So the grilling of the filled naan is very easy, not even smoke because you don't need to use oil.
You can drizzle some right before eating the bread, and maybe sprinkle with some coarse salt. What's unavoidable is to use a good melting cheese, like the mozzarella I used here, which is the type we label pizza mozzarella, not fancy but buttery in flavor and great for melting.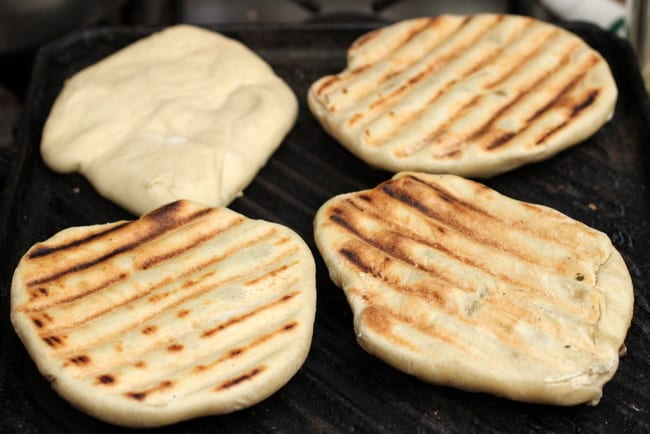 Top tips
Dough: make sure you take into account the resting time. The dough is somewhat sticky, so refrain from adding too much extra flour, It will be less sticky by the time you have to assemble the bread.
Filling: Don't use more than 1 tablespoon of pesto and 1-2 thin sliced of cheese. If the final breads are too thick they will not cook properly inside.
Grilling: you can use a cast iron steak skillet as I used or a regular one, like the ones used for baking skillet cookies. And you don't need to butter or oil it. This bread produces no smoke while cooking. Or use an outdoor grill.
Freezing: Unfortunately, these do not reheat well after freezing, probably because they're not yeasted.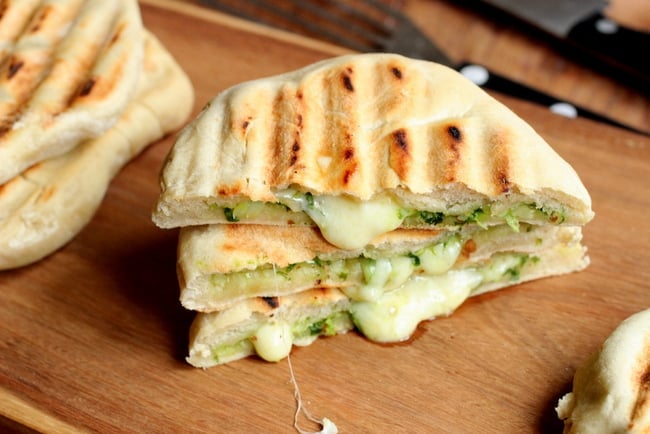 Whatever you fill this naan dough with, enjoy it warm.
Other recipes you might enjoy:
Skillet Blue Cheese Burger
Double Cheese Dill Scones
Cheddar Scallion Pecan Quick Bread
Roasted Tomato Bread
Let me know in the comments below if you make this recipe! I'd love to hear what you think about it. Thank you for being here, I appreciate it! Let's connect via Facebook, Instagram, and Pinterest.
If you like the recipes in this blog, consider subscribing and getting all new posts by email. As a thank you, we'll also send you a FREE recipe e-book and our Guide to Freezer Baking!
Print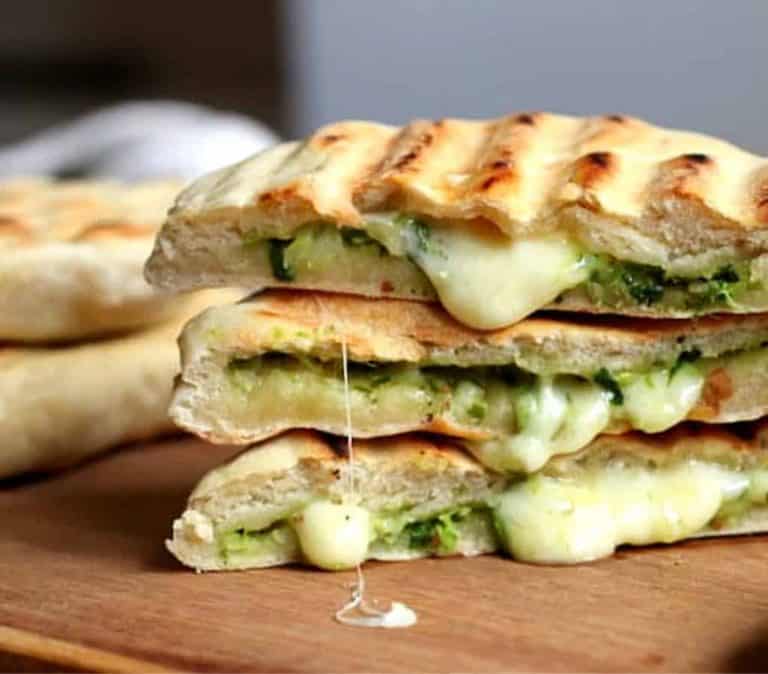 Mozzarella Pesto Naan (no-yeast)
A fantastic appetizer that can be made in a skillet or grill. The dough has no yeast.
Total Time:

1 hour 40 minutes

Yield:

6

1

x
5

to

5 ½

cups (

700g

to

750g

) all-purpose flour

4 teaspoons

baking powder

1 tablespoon

salt

1 teaspoon

sugar

½ cup

plain yogurt (natural, unsweetened)

1

egg

¼ cup

olive oil + extra to brush the bread

1 ½ cups

warm water

½ cup

pesto (any type works)

7 ounces

(

200g

) of mozzarella cheese (or another melty one) cut into thin slices
Instructions
In a large bowl or the mixer, mix flour, baking powder, salt, and sugar.
In a medium bowl mix yogurt, egg, warm water, and oil. Mix and pour into a well in the flour mixture.
With the dough hook start mixing at low/medium speed, until a smooth dough forms that sticks around the hook, about 5 minutes. If it is too wet, add a tablespoon of extra flour. If making by hand, integrate the ingredients inside the bowl and then knead until smooth.
On a floured counter, divide the dough into 10 equal portions.
Form buns and put them on a plate dusted with flour.
Lightly brush the surface of each with olive oil, cover with loose plastic, and let rest for 1 hour.
Divide each bun into two parts.
Flatten half of the dough portions, and put a tablespoon of pesto in the center, spread it a little without breaking the dough, and put a piece of cheese on top.
Cover with another piece of dough, joining the edges well and taking care that the filling does not escape.
Turn on the skillet or grill, brush it with olive oil and add the bread.
Cook slowly over low heat until the dough is dry and the loaves are golden brown.
Repeat on both sides, allowing time for the dough to cook well.
Eat right away.
Author:

Paula Montenegro

Prep Time:

90

Cook Time:

10

Category:

Bread, Appetizers

Method:

Grilling

Cuisine:

International
Naan recipe from Feasting at Home