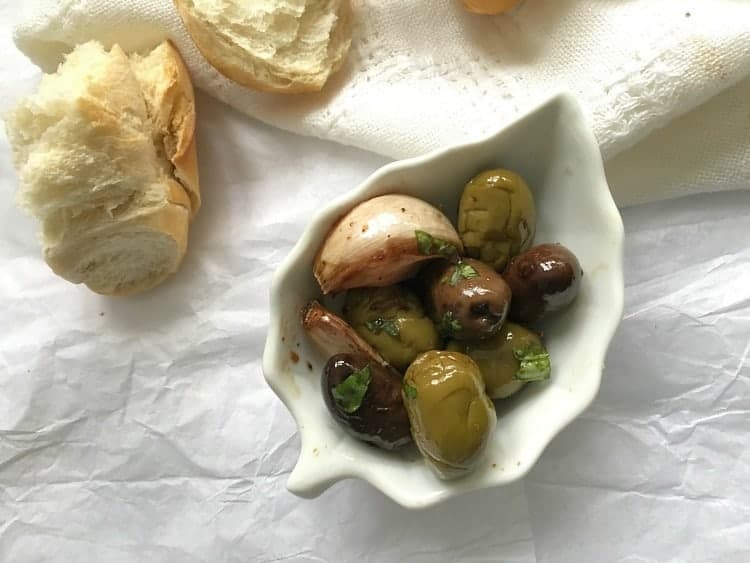 It was raining last night and I had a friend coming over for dinner. I cleaned up my fridge a few days ago and continue to do so, not intentionally, so I'm even prouder of myself than I was days ago. If it's such a good feeling why don't I do it more often? There's a thought for a rainy day.
Well, so the meal consisted of a few things, one of which was this finger-licking appetizer. I had to use my fresh mint and had little french breads; they were just dying to be torn up and slathered with soft garlic that had been roasted with olive oil and marsala.
I also used up some fennel and steak, and it was raining a lot and it was almost the weekend, so we ended up eating greedily. When I opened the refrigerator this morning, looking for my morning fix of coffee with a bit of milk, which I know can't really be called a breakfast, it gave back the cleanest, most organized image since I started with this blog.
It put a smile in my face, so again, why don't I do it more often? Never mind, it made for a happy morning so let's leave it at that.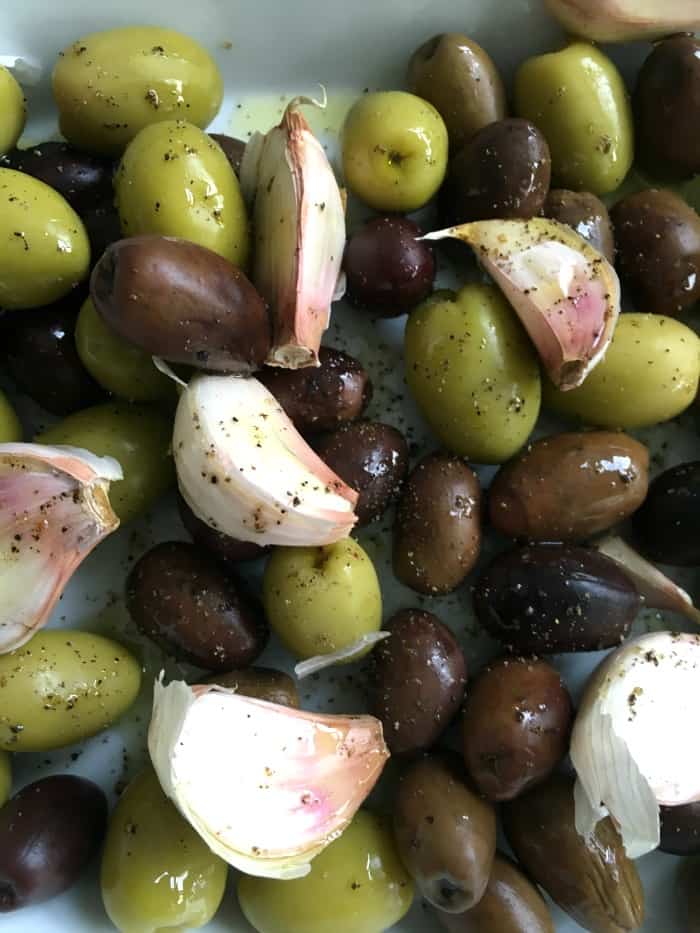 This olive appetizer is really good and comes together in minutes. Really. I can't emphasize that enough. I normally use both green and black olives, but tonight I used only green ones because the breads had used up my last remaining black ones and, you know, a little change is a good thing. Here we use the phrase 'bread with bread, a meal for fools', you know baked black olives with black olive bread, which aptly describes it.
Anyway, this is as easy as throwing olives (with their pits please), unpeeled garlic cloves, pepper, olive oil and marsala in an ovenproof dish and baking it. The idea is to give time for the marsala to become syrup-y and the garlics to soften and caramelize.
I like my marsala to become thick, not watery, so I put it from the beginning. You can also add it after 15 minutes. The better the marsala the better the dish, not only for the flavour but for the consistency of the syrup; pretty much like the difference between a good soy sauce and a watery one.
The mint goes fresh at the end, just before serving. You could totally not put it if you don't have any, but it adds a nice touch and it gives the dish kind of a sophisticated air.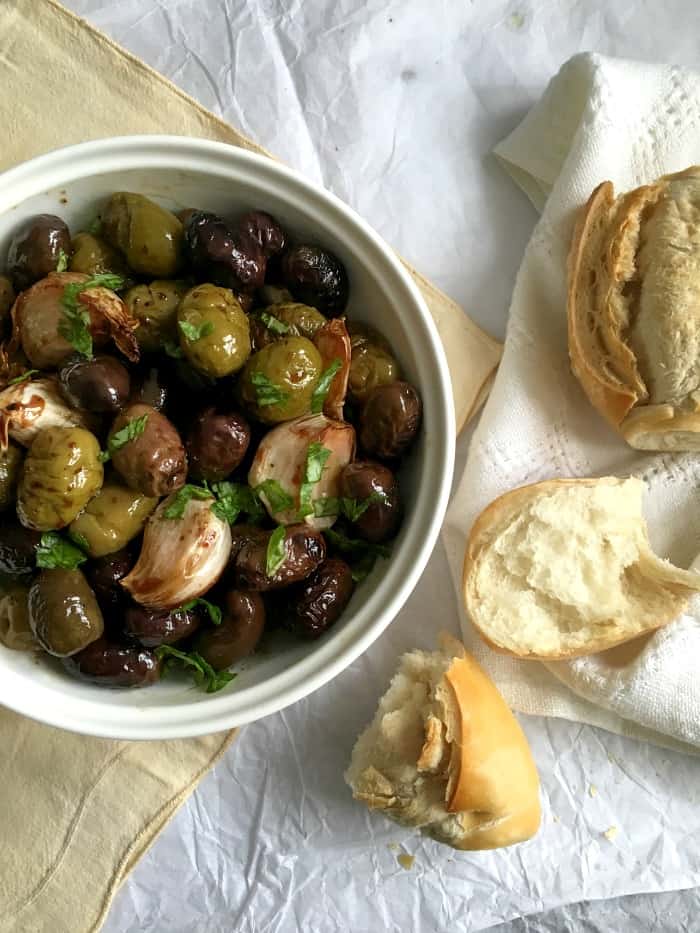 Since we're baking garlic today it's fit to discuss the fuzziness of people avoiding it in public when they really love it and eat it all the time at home. You will stink the same whether you eat it secretly or in a restaurant where everyone turns their head trying to find the one that ordered such a garlicky dish that the whole area smells. I guess it's the end of this discussion.
We ate to our heart's content yesterday so I guess I'll stay in today, I don't want someone pointing at me…
Print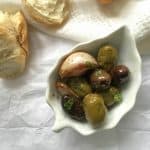 Marsala roasted Olives and Garlic
---
Prep Time:

184 minutes

Cook Time:

62 minutes

Total Time:

245 minutes

Yield:

6

1

x
Scale
Ingredients
4

large heads garlic

¼ cup

extra-virgin olive oil

1 teaspoon

salt
Freshly ground black pepper

1 ½

pounds 700g black, green or purple olives, or a combination, unpitted

½ cup

dry marsala

½ cup

fresh mint leaves
---
Instructions
Preheat the oven to 325ºF/ 170ºC.
Separate the garlic cloves, leaving their skins intact. Place the garlic in medium ceramic or terra-cotta casserole dish, add olives and olive oil. Toss to coat and sprinkle with black pepper. (You can add the salt now, I do it before serving).
Roast for 20 minutes. Add the marsala, increase the oven temperature to 400ºF/200ºC and roast until it becomes thick and syrupy.
Add chopped mint and serve with crusty, warm bread.
---
Notes
Careful with the added salt as it becomes very concentrated.
Use olives with pits, they make a big difference.
Category:

Appetizer

Cuisine:

International