Creamy and irresistible, I believe this is the best sweet ricotta pie ever! And I have tried many over the years. The crust is the classic Italian pasta frolla, the filling comes together in minutes and is flavored with lemon. It's the perfect dessert for Easter, among other celebrations.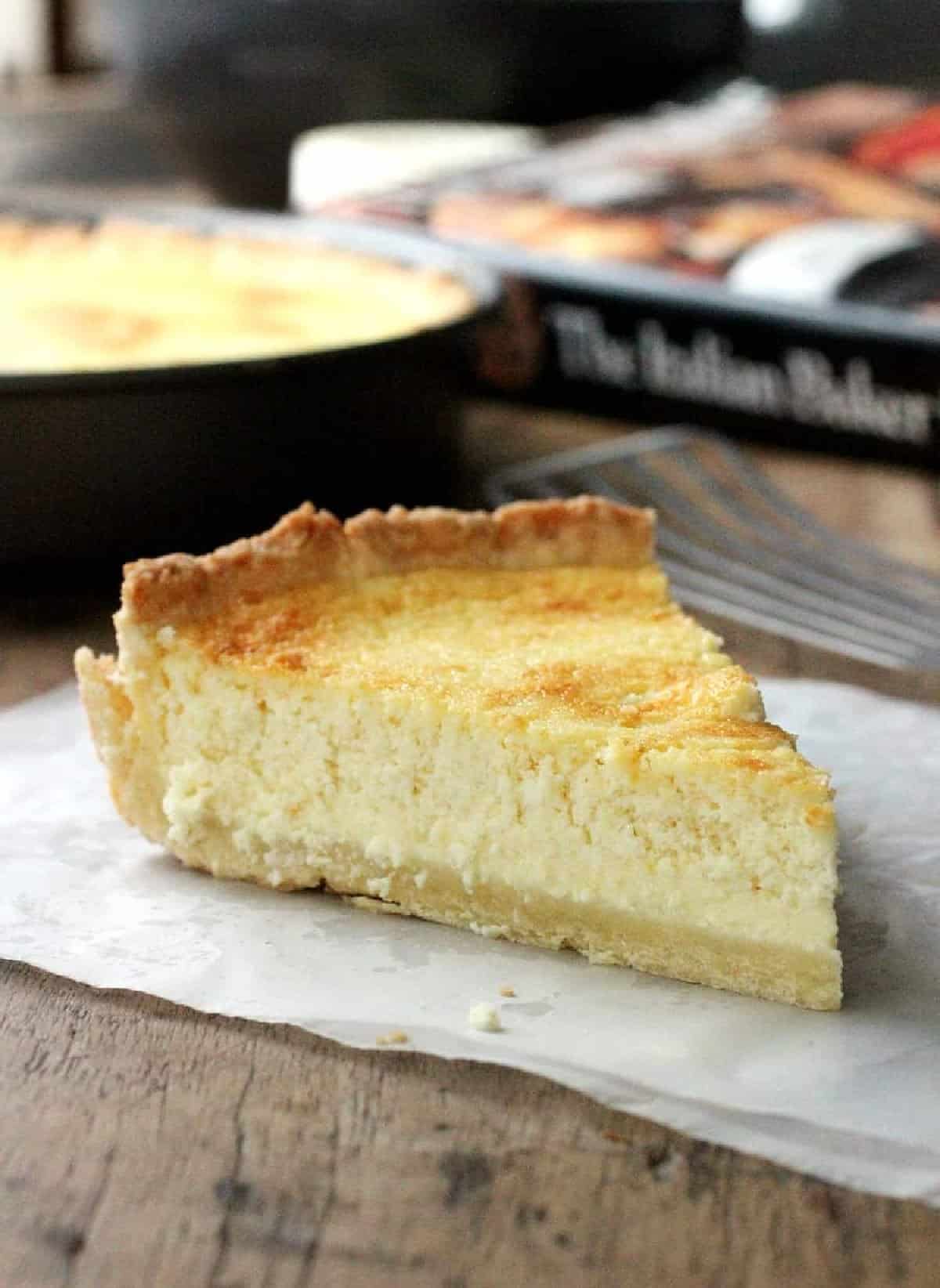 For those of us who like Italian desserts, baking with ricotta is common, both sweet like this ricotta pie recipe or the popular ricotta cheesecake, and savory where we whip ricotta toast in a matter of minutes.
And we eat it year-round, especially for Easter and also many birthdays, at least in our household, where this lemony ricotta cheese pie with its soft but rustic texture, is requested often. It's not cake, I know, but it's a tradition.
This is a pie that can accommodate different flavors, especially citrus.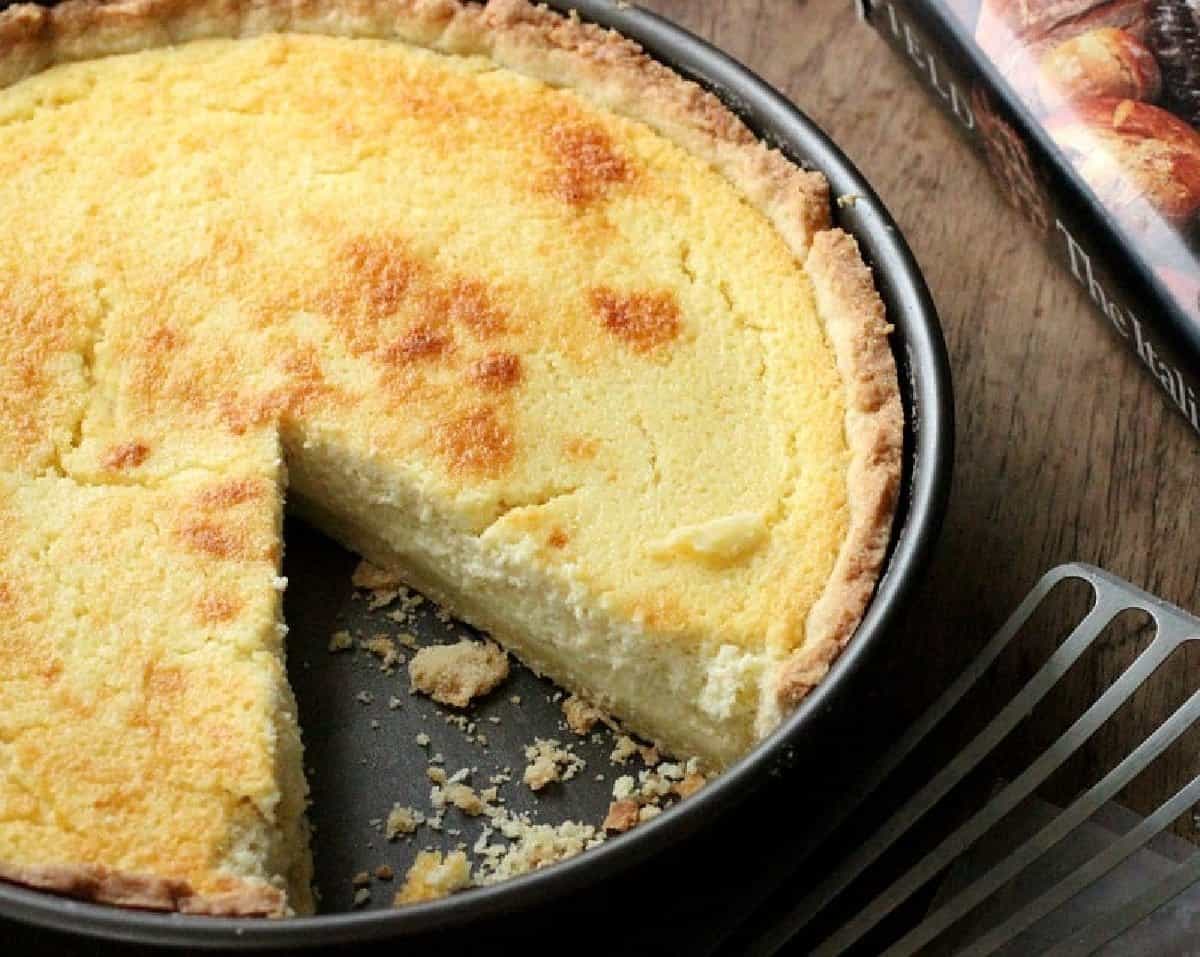 Ingredients
Sweet pie crust. The Italian pasta frolla is the traditional dough for this pie.
Ricotta. Use full-fat ricotta cheese for a richer and tastier pie. But you can use low fat and the pie will still be good.
Eggs. Fresh, large, grade A.
White granulated sugar.
Flour. Use all-purpose, cake or pastry flour, all of them work as only a tablespoon is needed to firm up the filling.
Salt: I use kosher salt for my baking, but table salt also works.
Cream. Heavy or double cream for best results.
Sour cream. The regular, full fat type.
Lemon zest and lemon juice.
Vanilla - I use pure vanilla extract or pure vanilla paste when available, but a good vanilla essence (artificially flavored) also works.
Marsala. It's a sweet wine used a lot in Italian baking recipes. You can omit it and use more vanilla extract. But it gives it a unique flavor.
What is ricotta cheese?
Ricotta is a soft, grainy cheese made from cow's milk in this case (though it can also be made with goat, sheep, or buffalo milk). The type I use for all of my recipes is the regular ricotta sold in supermarkets or specialty stores. It's creamy, moist, and has an almost sweet taste.
Are you familiar with it?
Quality varies according to brands and you can find some with additives to make it thicker or whatever. I try to buy original ricotta sourced from good small producers. It tastes much better and I like the consistency more.
I always use whole milk ricotta for this pie. You can also make your own homemade ricotta and the flavor will improve a lot.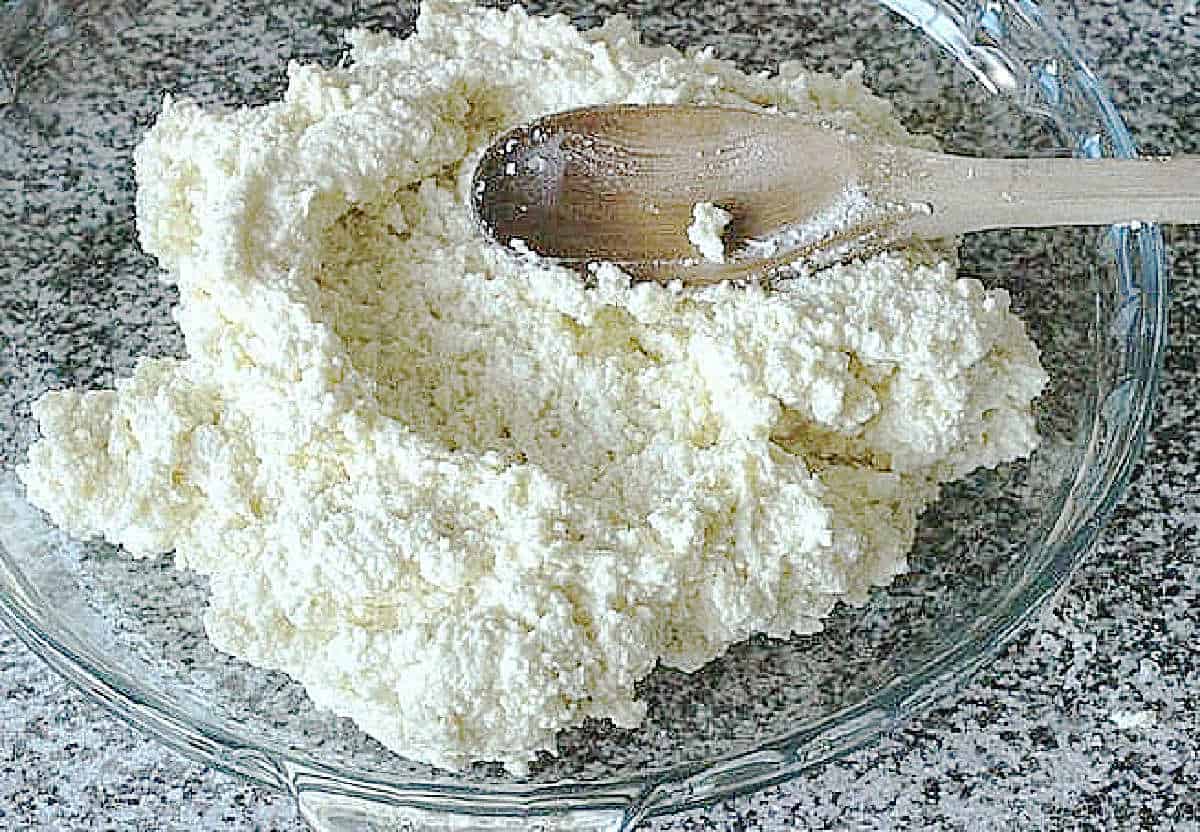 The ricotta filling
The filling is a mixture of this soft cheese, eggs, flavorings, and a few other pantry ingredients. Very easy to put together since it's a matter of mixing them all in a large bowl with a whisk or spatula.
Ricotta: it might be watery as natural yogurt sometimes is. So you might need to drain it if that is the case. Simply put a colander with a cheesecloth over a bowl, add the ricotta and wait until the liquid has collected. Use it directly. If leaving it do drain overnight or for several hours, cover the bowl and refrigerate it.
No need to beat: use a hand whisk (best option), a spatula, or a wooden spoon to mix the filling. No need for an electric mixer.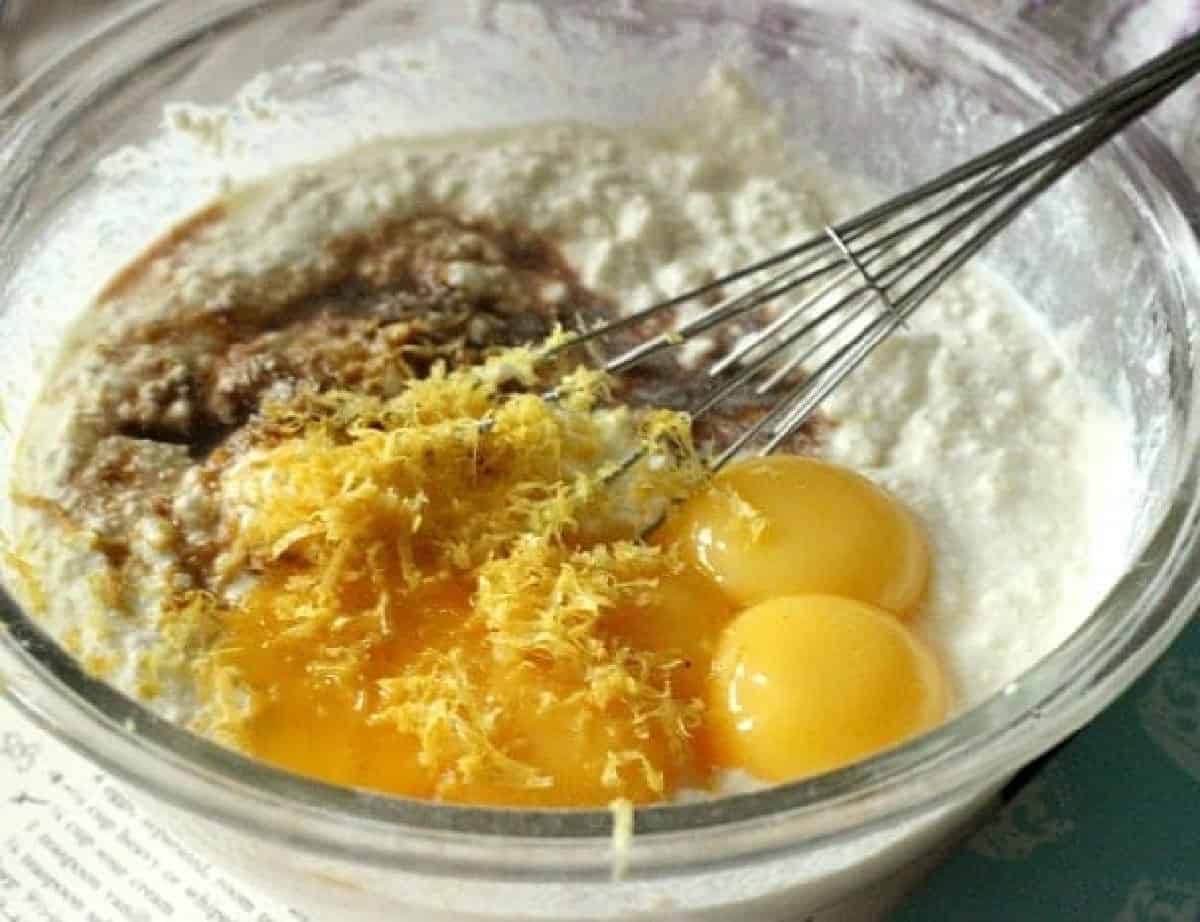 What is pasta frolla or Italian sweet pie dough?
It's an Italian-style, sweet pie dough and there's a whole post in this blog dedicated to it, the Italian pie crust recipe (pasta frolla).
It's made with flour, butter, egg, sugar, and sometimes a pinch of baking powder which makes it less short or snappy than a regular sweet dough recipe. Flavorings are sometimes added too.
As with any sweet crust, you can make it by hand or in the food processor and both techniques are explained in the post. It can be kept in the fridge, well wrapped, for a few days, or frozen for up to a month.
It's very friendly when rolling it and doesn't need to be very thin. We love it for some fruit free-form tarts, like the rustic peach galette.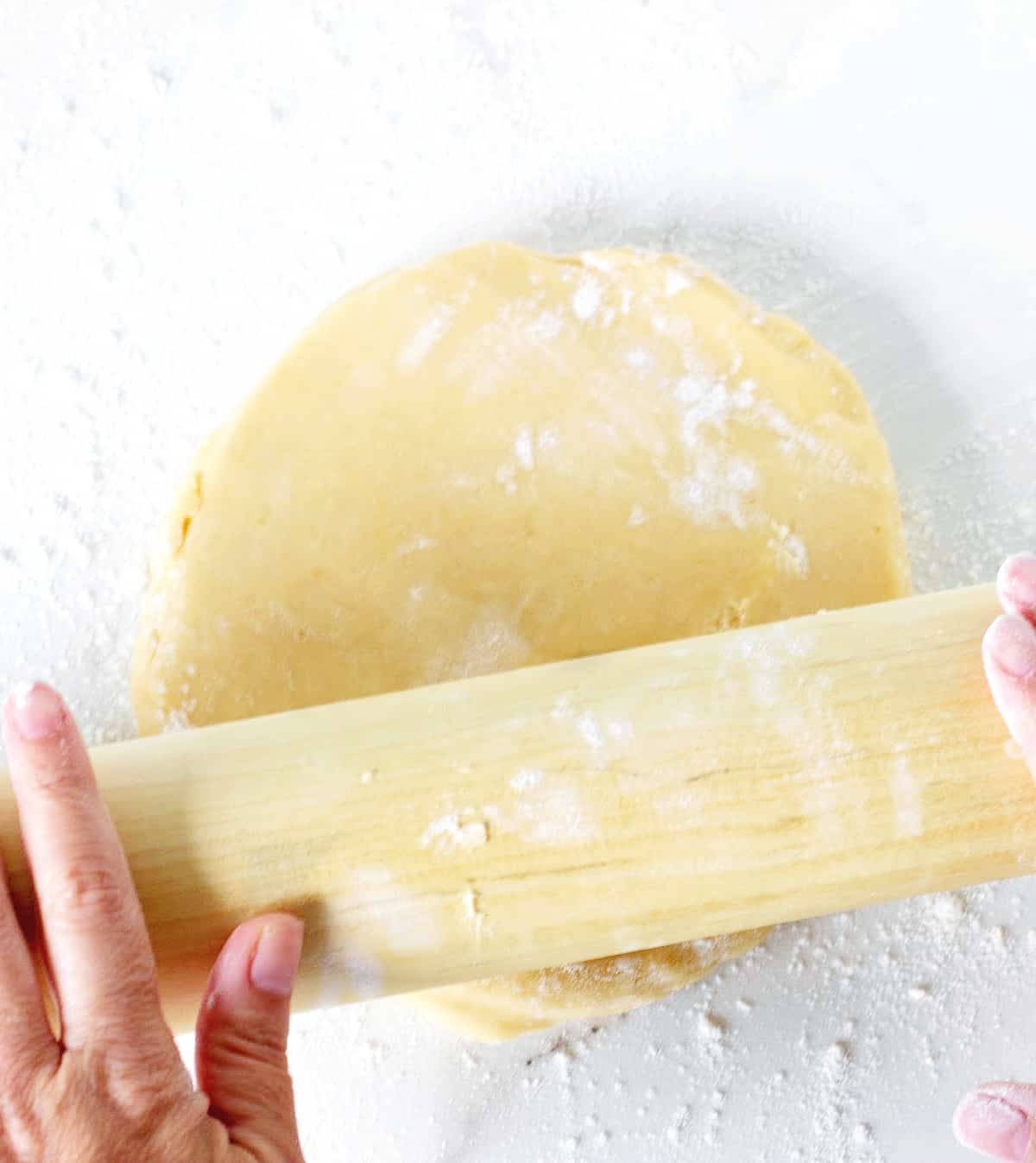 Rolling the dough
Start with cold dough. Keep it in the fridge up until you have everything set up. You want to keep it as cold as possible while rolling it so it's easy to manipulate and doesn't break when you line the pie pan.
Organize your space. Make sure you have ample space in your counter, some flour ready to lightly dust the surface, the rolling pin, the pan, and, ideally, a pastry or dough scraper (or cornet) or cookie spatula to help you lift it up after it's rolled.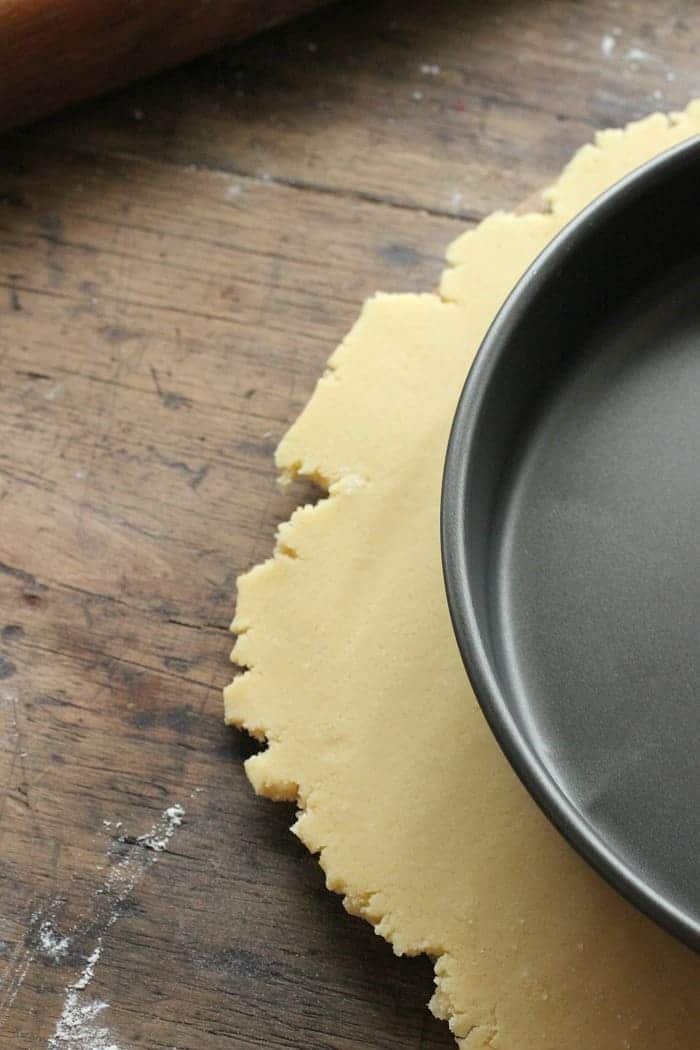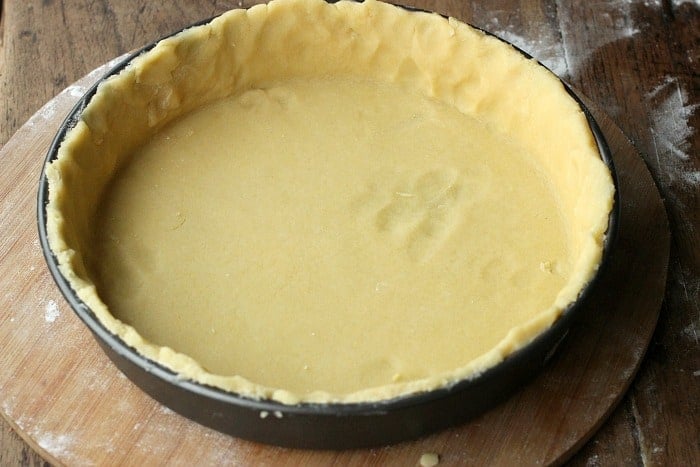 The dough is a tad softer than regular sweet pie dough, which we want to be flaky and crunchy whenever possible, and bake it blind to achieve that. Here we go for a more tender one (baking powder helps with that) and bake it directly with the filling.
It is the dough used for crostatas, which is the Italian version of lattice pie, like this fig jam pie.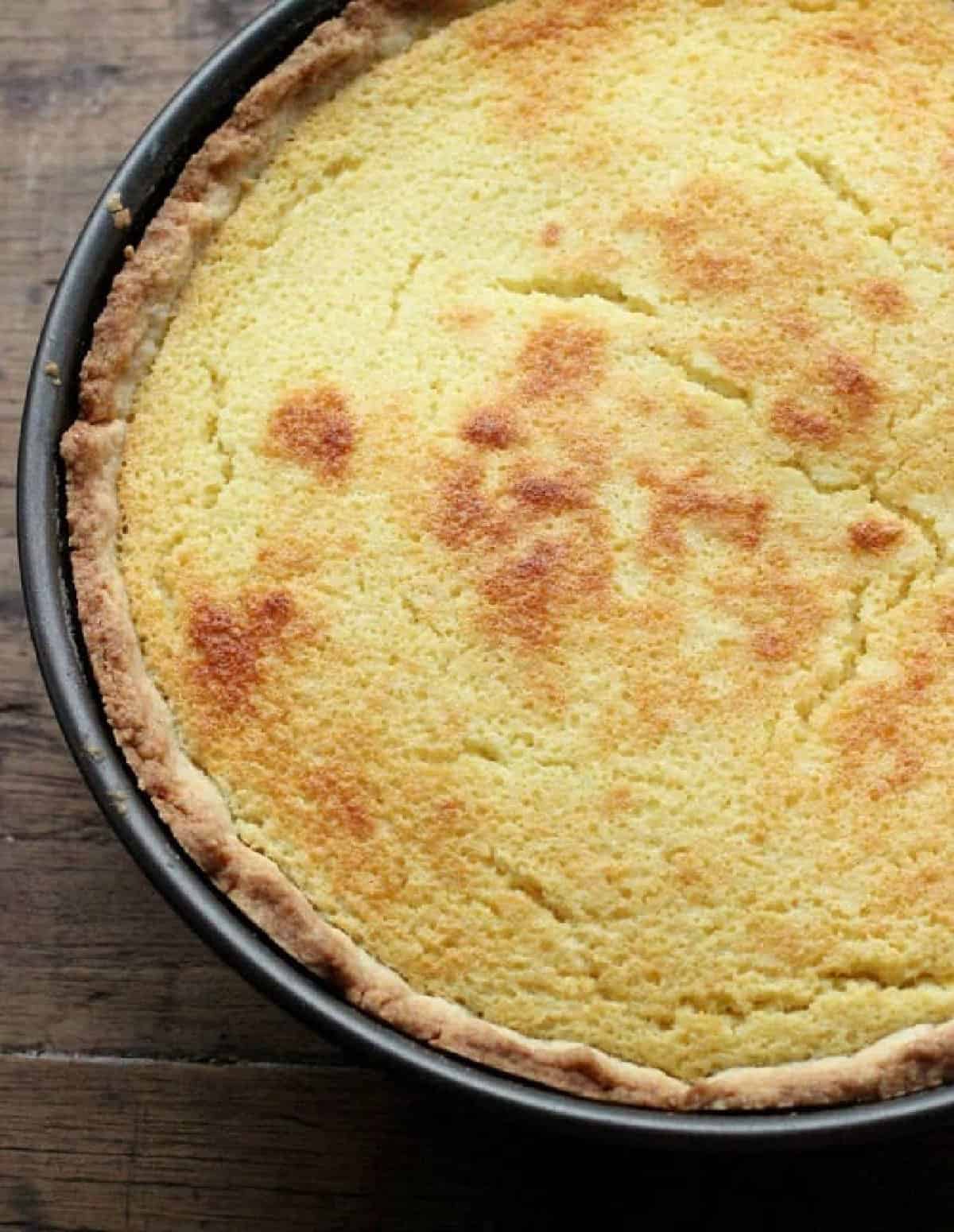 Simple ingredients make the best desserts.
I've always loved that about Italian food, how they take a basic ingredient and turn it into an amazing dish, like this tomato focaccia or my favorite mushroom risotto recipe.
The recipe is adapted from a fantastic cookbook, The Italian Baker, by Carol Field. It was revamped and printed again, and I highly recommend it for Italian sweets and baking.
If this amazing ricotta pie is not on your Easter and Thanksgiving pie list, it should be. Once you get familiar (in case you aren't) with this type of creamy pie, you'll add it to your list of great recipes, those you make again and again.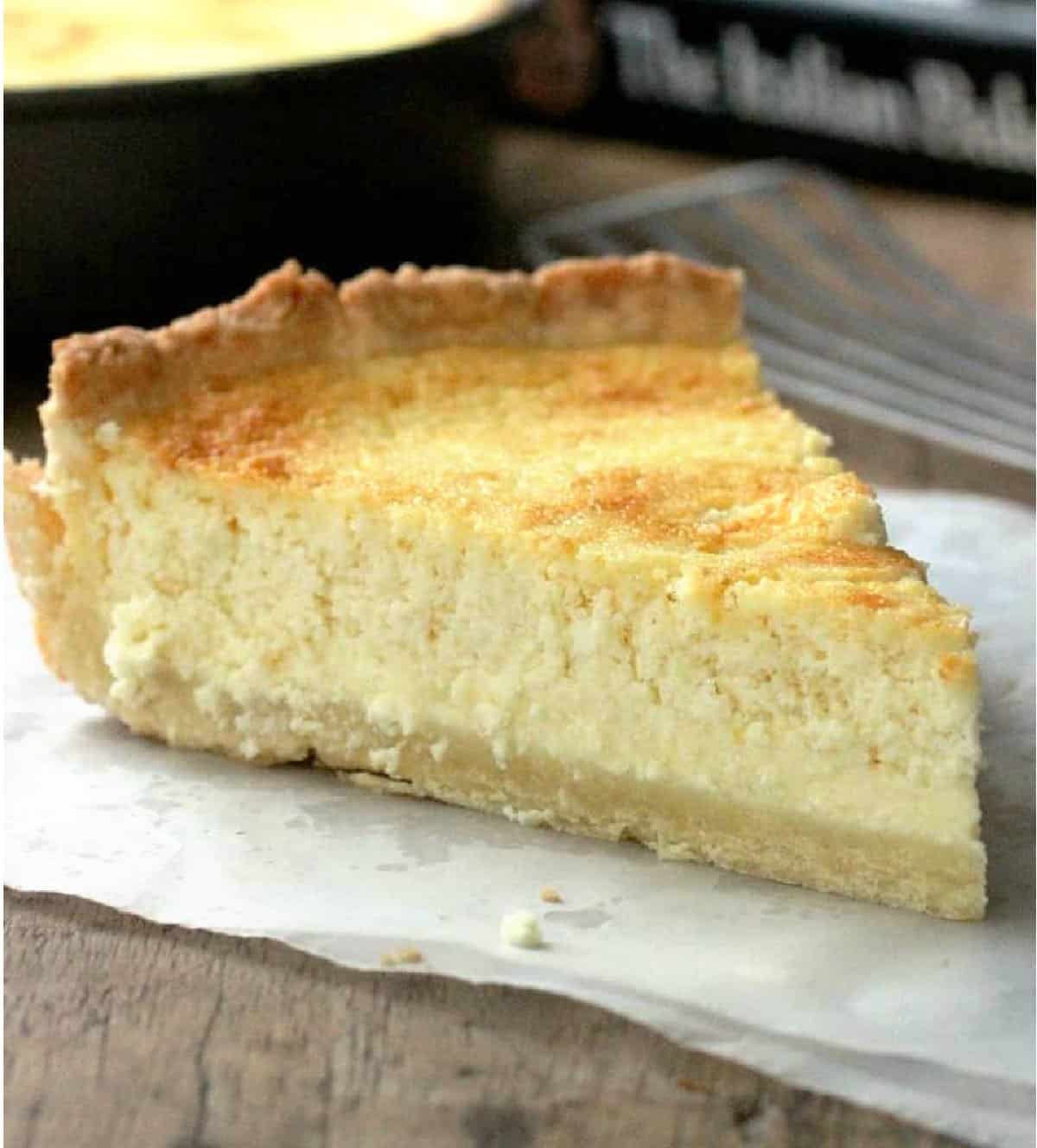 ---
Related recipes you might like:
---
Let me know in the comments below if you made this recipe and loved it and if you had issues so we can troubleshoot together. I love to hear what you think, always. Thanks for being here. It's much appreciated.
You might also consider subscribing to our FREE email series to Boost your Home Baking Skills! And our regular newsletter.
And let's connect via Facebook, Instagram, and Pinterest.
Print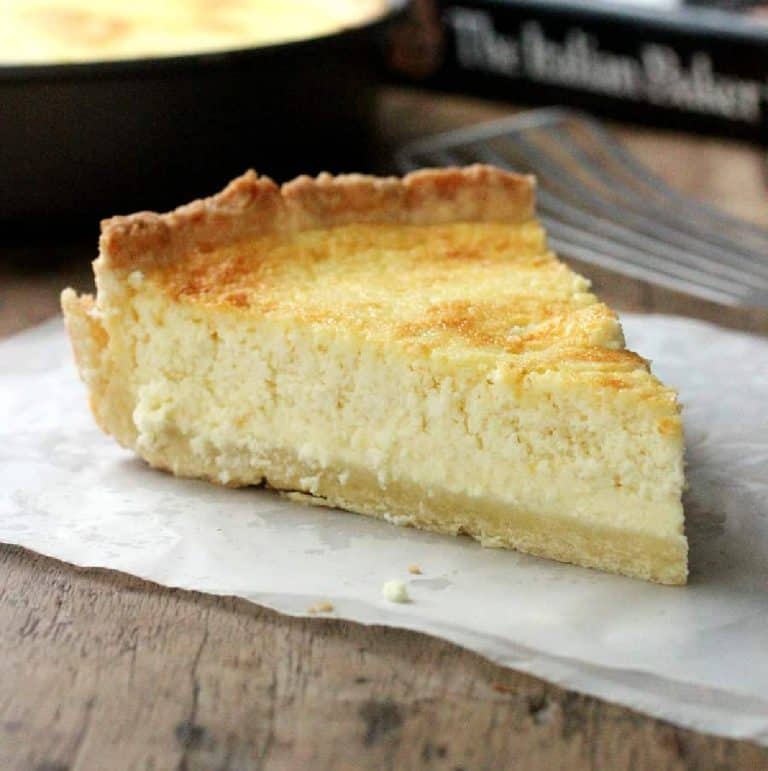 The Best Italian Ricotta Pie
The best Italian ricotta pie, with an easy-to-make sweet pastry dough and a filling full of flavor. A great recipe for Easter and a brunch table.
Total Time:

140 minutes

Yield:

8 servings
For the dough:
For the filling:
1

pound

whole-milk ricotta (drained if it's too watery, see Notes below)

½

cup

(100g) sugar

1 tablespoon

flour (all-purpose or cake)

4

eggs, separated and at room temperature

¼

cup

(50g) double or heavy cream, at room temperature

¼

cup

(75g) sour cream, at room temperature

1 teaspoon

vanilla extract (or

2

if not using marsala)
Pinch of salt

3 tablespoons

Marsala wine (optional but recommended)

1 tablespoon

lemon zest

1 teaspoon

lemon juice
Instructions
For the dough:
Have ready a 9-inch pie pan with removable bottom. In case you don't have a pie dish, you can use a springform pan for cakes. You'll come halfway up the sides with the crust so it's roughly the same height as a pie.
When ready to bake, roll the dough on a lightly floured counter until a few inches bigger than the pie plate.
Carefully line the pan without stretching the dough and pinch the edges. You might need to cut a few overhanging pieces.
Prick the bottom and refrigerate or freeze (better) while you make the filling.
Preheat oven to 350ºF / 180ºC.
For the filling:
Mix ricotta and gradually add sugar and flour until creamy. You can do this by hand, it just needs to be well integrated.
Add egg yolks, cream, sour cream, marsala if using, vanilla, lemon juice, and zest. Mix well.
Beat the egg whites with the salt until medium-firm peaks form and add them in 2 parts to the ricotta mixture with a spatula.
Integrate them until there are barely remains of beaten whites, but don't mix too much and don't beat.
Pour into the cold pie shell and bake for 50-60 minutes, until the filling is almost firm and golden. It should barely giggle in the middle.
Let cool completely on a wire rack.
It can be kept at room temperature for two days or refrigerated, well covered, for several days.
Notes
Ricotta: it might be watery as natural yogurt sometimes is. So you might need to drain it if that is the case. Simply put a colander with a cheesecloth over a bowl, add the ricotta and wait until the liquid has collected. Use it directly. If leaving it do drain overnight or for several hours, cover the bowl and refrigerate it.
Creamy ricotta: this is a cheese that's supposed to be somewhat grainy, not completely smooth like cream cheese. But you can blend it or process it first to achieve a smoother consistency.
Flavorings: you can flavor with other extracts or liquors, such as almond, hazelnut, or orange. And other citrus like orange zest, instead of or in addition to the lemon.
Author:

Paula Montenegro

Prep Time:

45 minutes

Cook Time:

35 minutes

Category:

Dessert

Method:

Baking

Cuisine:

Italian
Nutrition
Serving Size:

⅛

Calories:

637

Sugar:

26.4 g

Sodium:

693.7 mg

Fat:

38.1 g

Carbohydrates:

57.8 g

Protein:

15.9 g

Cholesterol:

240.3 mg
Keywords: Italian ricotta pie