As predictable as they come, this post is about a stunning lemon ricotta pie because, surprise, it's Pi Day!.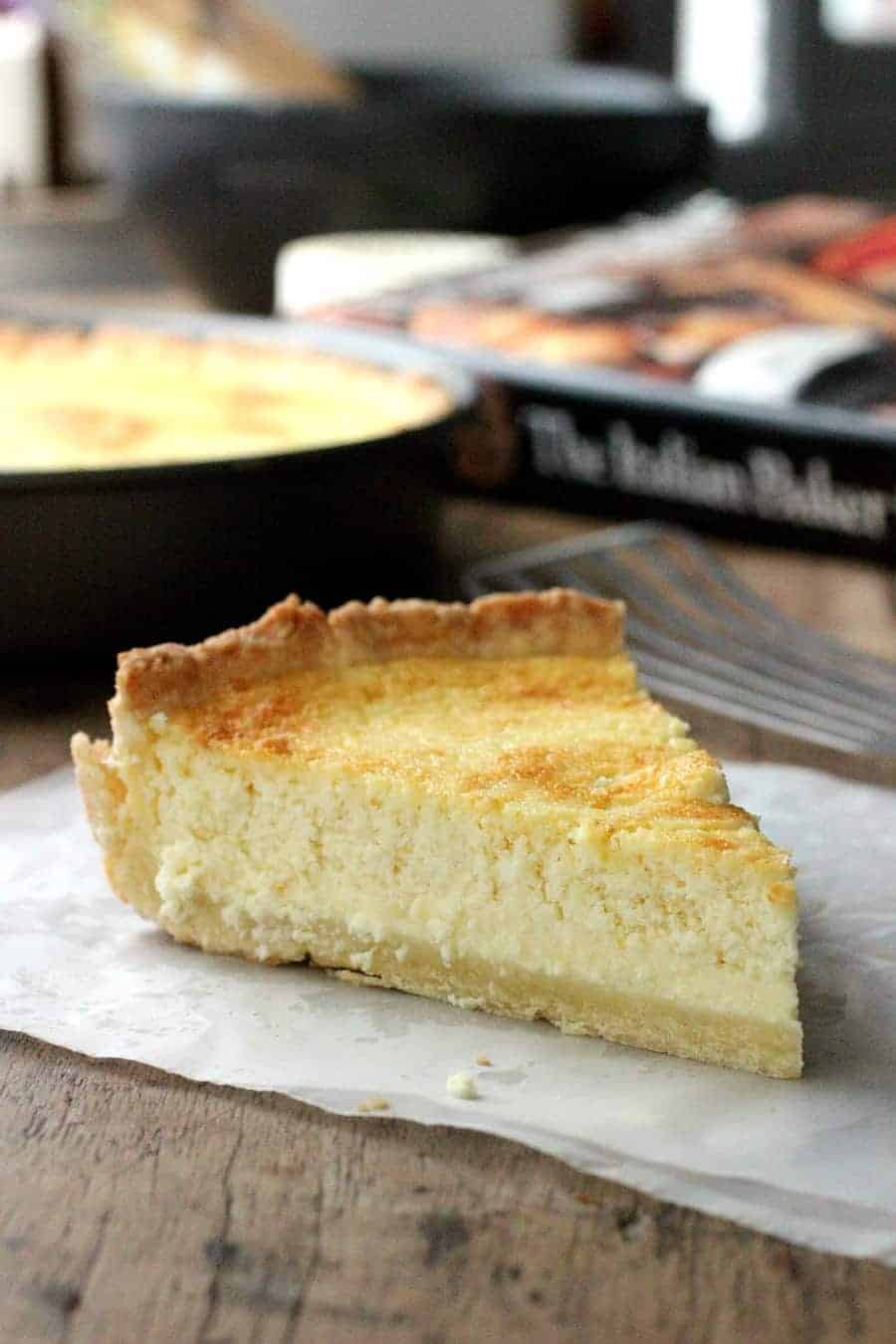 Simple ingredients make the best desserts. I've always loved that about Italian food, how they take a basic ingredient and turn it into an amazing dish. Case in point is rice and risotto (this mushroom scallion risotto being one of my first choices).
First, let's talk ricotta.
What is ricotta cheese?
Ricotta is a soft, grainy cheese made from cow's milk in this case (though it can also be made with goat, sheep or buffalo milk). The type I use for all of my recipes is the regular ricotta sold in supermarkets or specialty stores. It's creamy, moist and has an almost sweet taste.
Quality varies according to brands and you can find some with additives to make it thicker or whatever. I try to buy original ricotta sourced from good small producers. It tastes much better and I like the consistency more.
Are you familiar with it?
It's a much-loved ingredient, not only for pies but for savory dishes, such as the famous oven baked ricotta, a crowd-pleaser if there ever was one, and so ridiculously easy to make! Here in Buenos Aires, where I live, people go absolutely nuts whenever I post something with it. It's insane how we love it.
I always use whole milk ricotta for this pie. You can also make your own homemade ricotta and the flavor will improve a lot.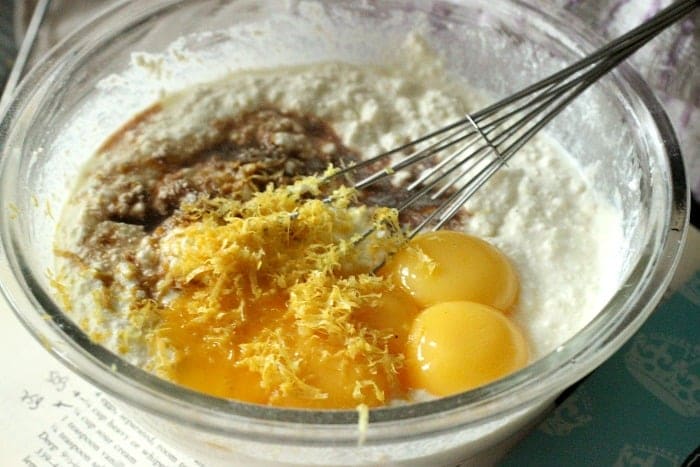 The filling is a mixture of this soft cheese, eggs, flavorings, and a few other everyday pantry ingredients. Very easy to put together once you have the dough.
Let's talk about the dough.
What is pasta frolla or Italian sweet pie dough?
Pasta frolla is a simple sweet dough made with flour, butter, egg, and sugar. Flavorings are sometimes added. And you might also find some with a pinch of baking powder too.
This dough is easy to make as any other sweet dough recipe.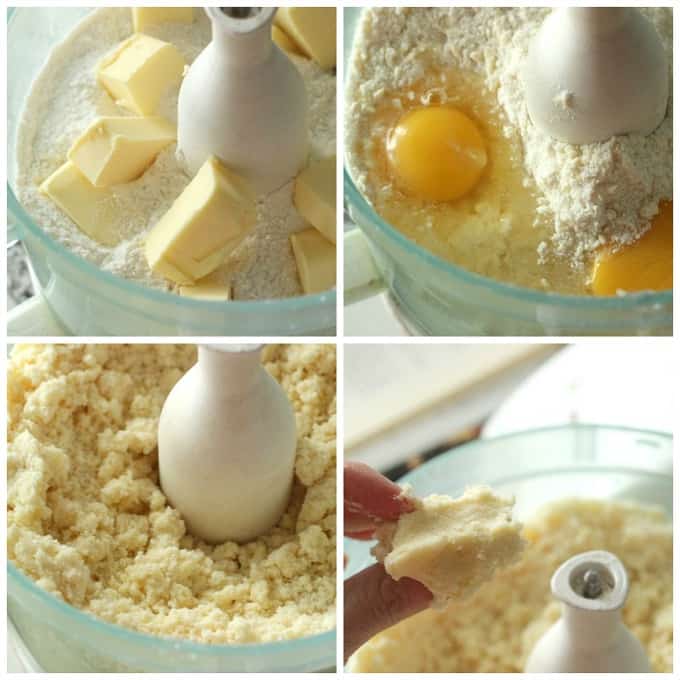 The dough comes together easily.
Some tips for making a great sweet pie dough:
Butter, have it cold and in pieces. This is very important so it mixes a bit with the flour but is not completely incorporated into it. Some pieces of butter the size of peas should remain in order to ensure flakiness when it is baked. I use a food processor for this part, but you can easily make it in a bowl with a dough cutter or use your hands, always being careful not to overwork the butter and heating it up too much (due to warm hands). If that happens, return the bowl as is to the fridge for 10 minutes, and then continue.
Don't overwork the dough after adding the flour. This is a critical step if you want a tender, light dough. Once the flour is added, don't overwork it, it doesn't need to be kneaded. It needs to be mixed until there are no visible streaks of flour.
Always let it rest in the fridge before rolling it. This step is absolutely essential. The dough, even if you didn't work it much when assembling it, will have developed some gluten (great for bread for example but not for doughs), so it needs to relax in the cold refrigerator before it is rolled. Otherwise, it will be difficult to stretch and will be too elastic, which will make it shrink as it bakes and be tough.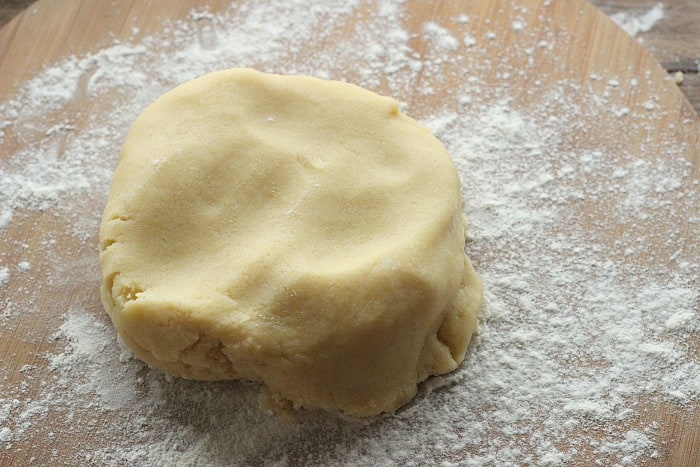 Rolling the dough
Start with a cold dough. Keep it in the fridge up until you have everything set up. You want to keep it as cold as possible while rolling it so it's easy to manipulate and doesn't break when you line the pie pan. But keep in mind that sweet doughs (such as this pasta frolla or other similar ones with eggs and sugar) are more delicate than for example a savory dough made with just flour, butter, and water.
Organize your space. Make sure you have ample space in your counter, some flour ready to lightly dust the surface, the rolling pin, the pan and, ideally, a cornet or spatula to help you lift it up after it's rolled.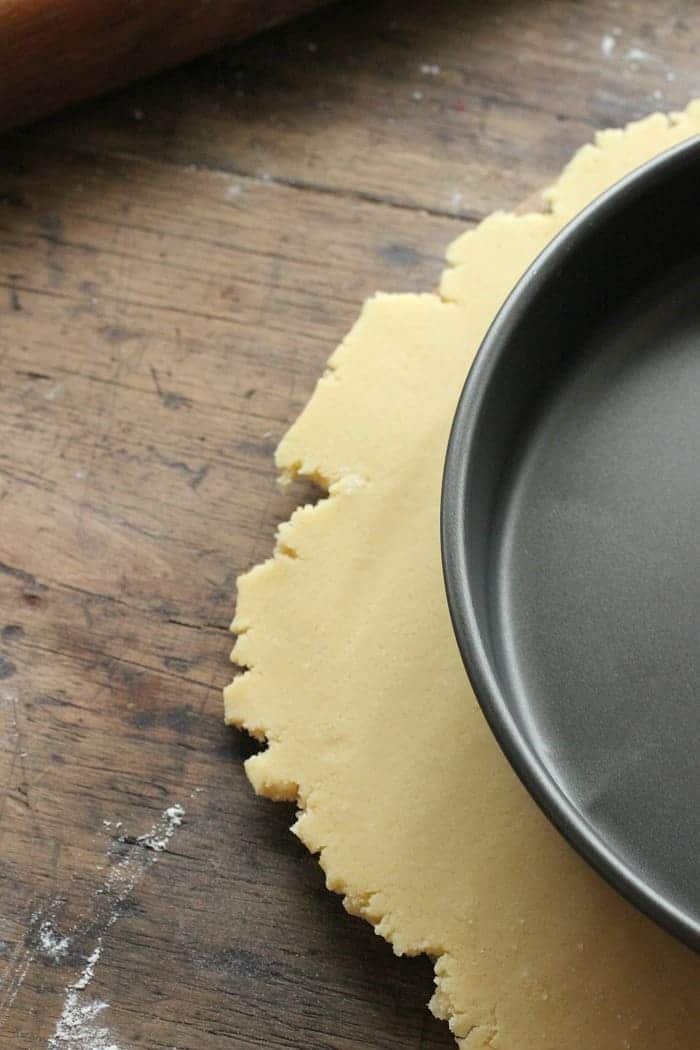 A version of this pie, but with a double crust, is very traditional here.
I find the upper dough adds little to the final pie, so I omit it, and go for this gorgeous, single crust lemon ricotta pie, with a hint of marsala, a sweet baking wine that adds just a touch of depth. You can omit it of course. Add an extra dash of vanilla.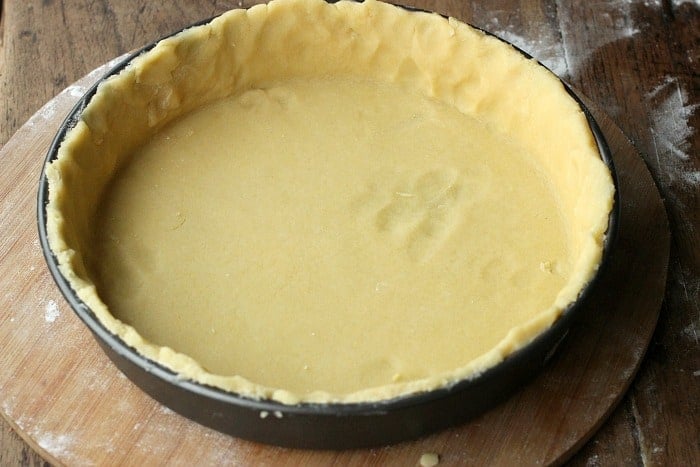 The dough is a tad softer than regular sweet pie dough, which we want to be flaky and crunchy whenever possible, and bake it blind to achieve that. Here we go for a more tender one and bake it directly with the filling.
It is the dough used for crostatas, which is an Italian lattice pie.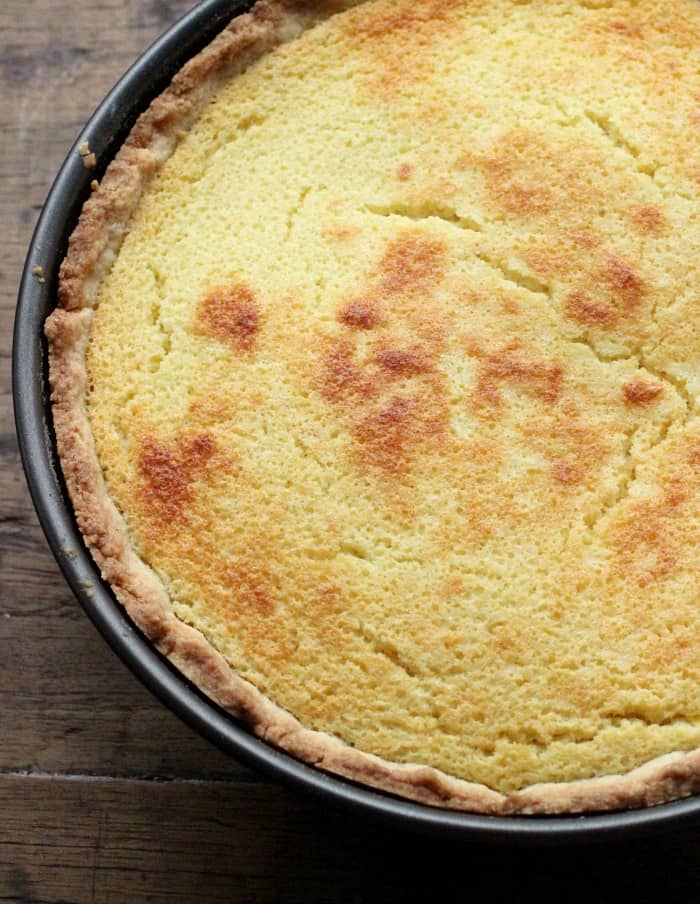 As with any sweet dough, you can make it in the food processor and keep it in the fridge, well wrapped, for a few days, or freeze it for up to a month. It's very friendly when rolling it and doesn't need to be very thin, like, say, a crust for a chocolate french tart.
The recipe is adapted from a fantastic cookbook, The Italian Baker, by Carol Field. It was revamped and printed again not long ago I think, and I highly recommend it for Italian sweets and baking.
I know this lemon ricotta pie is not on your Thanksgiving pie list, but it should be included in every other list you have. Cross my heart. Once you get familiar (in case you aren't) with this type of creamy pie, you'll add it to your list of great recipes, those you make again and again.
As far as Italian desserts go, this creamy lemon ricotta pie will make a fan out of you, so freaking delicious I can't explain.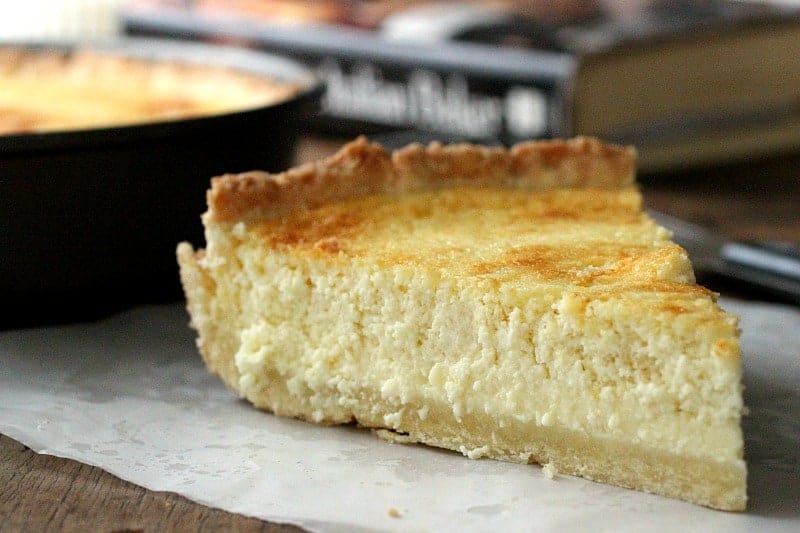 Other similar recipes you might like:
Orange Ricotta Cheesecake
Strawberry Pie
Raspberry Apple Crostata
Summer Berry Ricotta squares
Fresh Fig and Walnut Pie
Bourbon Brown Butter Pecan Pie
Print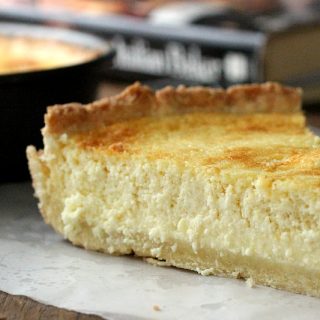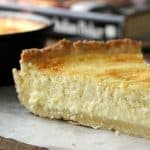 The best lemon ricotta pie
Author:

Paula Montenegro
Prep Time:

45 minutes

Cook Time:

35 minutes

Total Time:

140 minutes

Yield:

8

servings

1

x
Category:

Dessert

Cuisine:

Italian
---
Description
This is a classic Italian recipe.
---
Scale
Ingredients
For the dough:
2 1/4 cup

s 300g all-purpose flour

1/2 cup

100g sugar
Pinch of salt

1 cup

220g unsalted butter, cold and in pieces

1

egg

1

egg yolk
For the filling:
1

pound whole milk ricotta (drained if it's too watery)

1/2 cup

100g sugar

1 Tablespoon

flour

4

eggs (separated and at room tº)

1/4 cup

50g cream

1/4 cup

75g sour cream

1 teaspoon

vanilla extract (or

2

if not using marsala)
Pinch of salt

3 Tablespoon

s Marsala wine (optional)
Zest of

1

lemon
---
Instructions
For the dough:
In a food processor pulse a few time to mix flour, sugar and salt.
Scatter butter pieces on top and mix until you have butter the size of peas.
Add egg and yolk and process using on/off until it starts to come together. Don't let it form a ball. It should come together when you pinch it with your fingers.
Turn it onto the counter and press it together to form a flat disk. I put it inside a plastic bag and aid myself with the bag while pressing my knuckles until it comes together. That way I don't touch the dough unnecessarily.
Refrigerate for 1 hour and up to 2 days.
When ready to bake, roll it on a lightly floured counter until a few inches bigger than the pie plate.
Carefully line the pan and pinch the edges. You might need to cut a few overhanging pieces.
Prick the bottom and refrigerate or freeze (better).
Preheat oven to 350ºF / 180ºC.
For the filling:
Mix ricotta and gradually add sugar and flour until creamy. You can do this by hand, it just needs to be well integrated.
Add egg yolks, cream, sour cream, marsala if using, vanilla and zest. Mix well.
Beat the egg whites with the salt until firm peaks and add in 2 parts to the ricotta mixture.
It should be integrated by don't mix too much.
Pour into the cold pie shell and bake for 50-60 minutes, until the filling is quite firm and golden.
Let cool on wire rack.
It can be kept at room tº or refrigerated.
---
Notes
You can flavor with other extracts or liquor.
Keywords: pasta frolla, ricotta, pie
barely adapted from The Italian Baker, by Carol Field
---