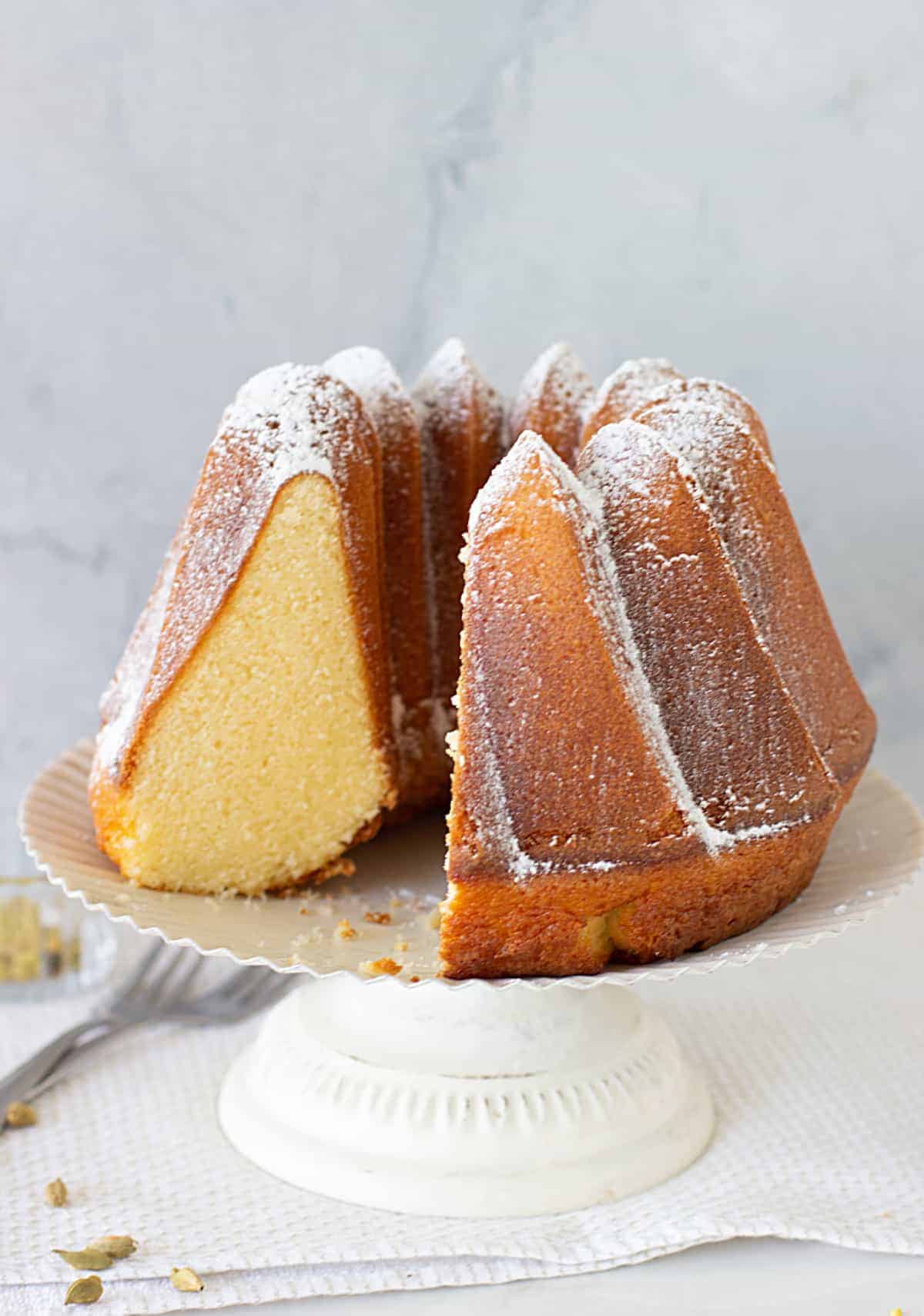 Baking a cake is, by my definition, a good thing. Always. And baking a bundt cake a little bit better. There is  omething about an unmolded beautiful patterned cake. It works every time.
That said, this is my second attempt at this cake.
So let's just say that those first sentences didn't apply for my first try. A low-rised cake with a crumb that looked like it took two steps towards rising and then decided it was not worth it, is really not a nice thing to see. Oh, it unmolded like a charm by the way, which is probably an even bigger slap on my face since it's usually the downfall of many bundt cakes.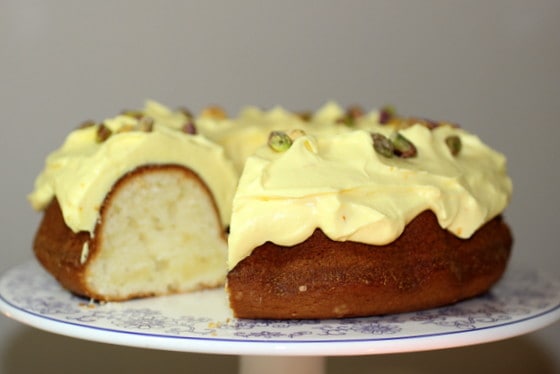 So I went back to the trenches, pulled out my never fail recipe and whipped up the cake I should've made in the first place. So much for trying to innovate too much for this month's Bundt a Month challenge. 
Our hosts are the
Cake Duchess
and
Baker Street, two wonderful bakers and friends.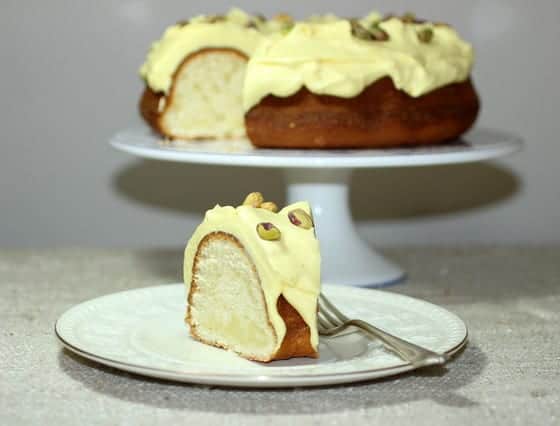 There's a reason why some recipes are called basic. They work. Every time.
The flavors remained unchanged, because I definitely wanted a cardamom cake with the creamy frosting I had seen on my
friend's blog
. It sounded exotic and it is. Saffron and rosewater together sounded intriguing and mysterious.
I had been wanting to make a cardamom cake for the longest time. I usually use this spice when making danish dough, but as a very faint undertone.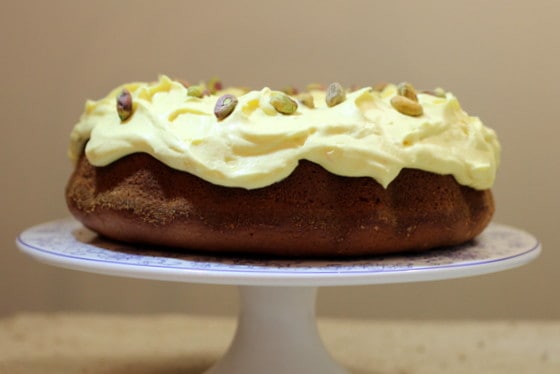 Here I ground the pods, the insides of course, quite a lot of them, and the flavor and taste is unmistakably good.
So aromatic and fresh and just plain wonderful.  I completely omitted the vanilla and got exactly the cake I wanted.
A word about vanilla extract here. I love it, and I think it enhances many other flavors like lemon and orange. I usually add a few drops no matter what other flavoring I'm using. But for this cake just cardamom was the right call, especially since it is fresh.
And a word about cardamom: when you grind your own pods it's like using a different spice compared to the powder that you buy already ground. Really, there's no comparison. Just so you know. A grinder is a very good purchase if you're into spices. I use a coffee bean grinder which was never used for coffee beans.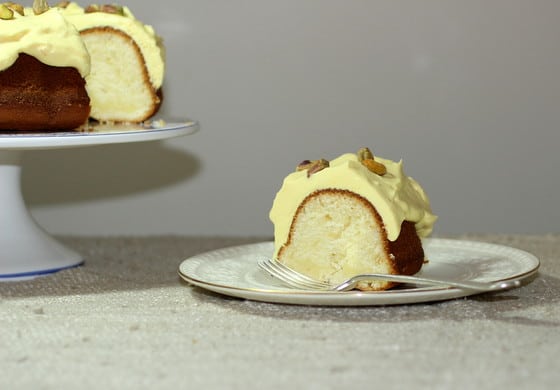 About that cream. The saffron gives it a color that turns a beautiful yellow if your pinch is a bit on the large side like mine was. I might've overdone it, but I think the yellow color is gorgeous. The rosewater had been sitting forever in my pantry and this is my first time using it.
It worked so well together it surprised me. Why? Because it really smells soapy, like your
great-grand-mothers' cologne from three hundred years ago. Too flowery. But if used in a tiny amount and mixed with the saffron cream, it
simply produces a new and very nice flavor. Absolutely new to me.
So use the rosewater sparingly, no matter what this or any other recipe says. That is my advice. At least the first time you try it. You can always add more the next
time, but you'll find it hard to eat something that tastes a bit like soap.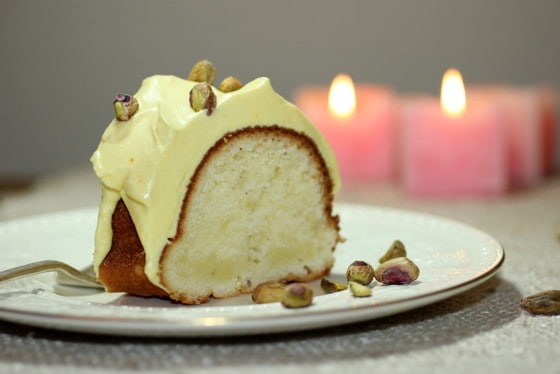 To wrap this up, this cardamom cake with saffron rosewater cream is good. I really liked it. The flavors come together in a great way, each one complementing the other one. But, the cardamom cake is amazing on it's own, dusted with a bit of powdered sugar. A total keeper.
Print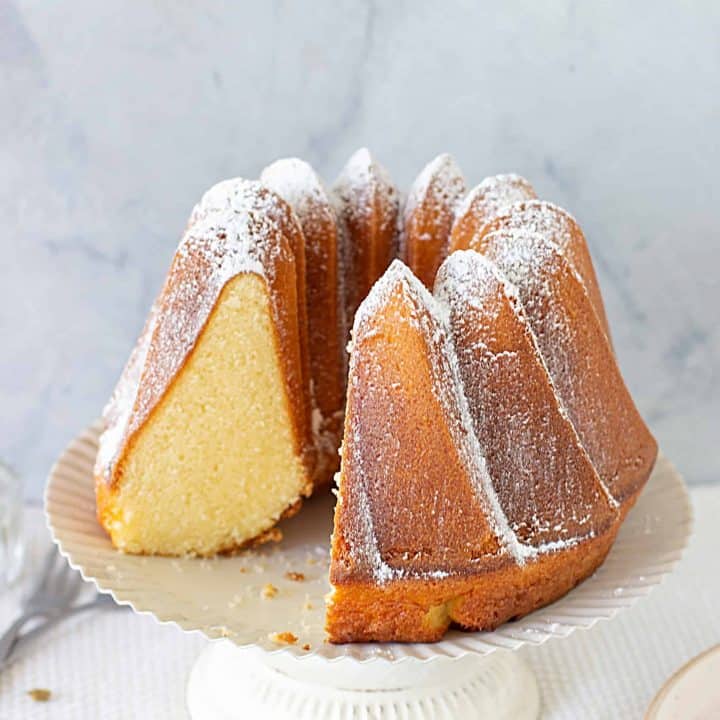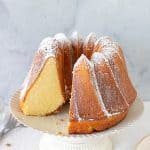 Cardamom Bundt Cake
Author:

Paula Montenegro
Prep Time:

20

Cook Time:

50

Total Time:

1 hour 10 minutes

Yield:

10

servings

1

x
Category:

Cakes

Method:

Baking

Cuisine:

International
---
Scale
Ingredients
2 ½ cup

s flour

2 ½ tsp

baking powder

½ tsp

salt

¾ cup

unsalted butter

1 ¾ cup

sugar

1 teaspoon

ground fresh cardamom (about

20

pods)

3

eggs (room tº)

1 cup

whole milk

¼ cup

cream
Saffron Rosewater Cream (½ recipe )

½ cup

natural pistachios (toasted)
---
Instructions
Preheat oven to 350º. Spray a bundt pan with vegetable spray and coat with fine dry breadcrumbs. Set aside.
Sift flour, baking powder and salt. Set aside
In a large bowl, beat butter until creamy. Slowly add cardamom and sugar and beat 2 minutes.
Add eggs one at a time, beating well after each addition, and then beat for 2 minutes.
Beginning and ending with dry ingredients, add them in three parts alternating with milk and cream in two parts. Pour batter into prepared pan, spreading evenly.
Bake about 40 minutes for a big cake. Wait 5 minutes and invert onto wire rack. Cool completely.
When ready to serve, cover the top with the saffron rosewater cream and sprinkle with toasted natural pistachios.
---
Keywords: cardamom cake, cardamom bundt
The rest of the bundt bakers made these amazing cakes:
Apple Bundt Cake with an Attitude by Deb | Knitstamatic
Cinnamon Crown Bundt Cake by Renee | Magnolia Days
Ginger Pear Bundt Cake by Holly | A Baker's House
Gingerbread Apple Cake by Lora | Cake Duchess
Gram's Fig Spice Bundt Cake with Buttermilk Glaze by Stacy | Food Lust People Love
Italian Anise Bundt Cake by Karen | In The Kitchen with KP
Maple Pecan Bundt with Maple Glaze by Jennie | The Messy Baker Blog
Mexican Chocolate Bundt Cake by Alice Choi | Hip Foodie Mom
Moroccan Inspired Olive Oil Bundt Cake with Ras El Hanout by Laura | The Spiced Life
Nutmeg Bundt Cake by Dorothy | Shockingly Delicious
Peach and Roasted Cinnamon Bundt Cake with Cinnamon Sugar by Kim | Cravings Of A Lunatic
Spiced Dark Chocolate with Cinnamon Glaze by Kate | Food Babbles
Spicy Chocolate Bourbon Bundt Cake by Carrie | Poet In The Pantry
---