This is by far one of the best sweet doughs I ever made. It is a yeast bread laced with cardamom, with a soft texture and it comes together easily. It's the perfect recipe for holiday braided breads.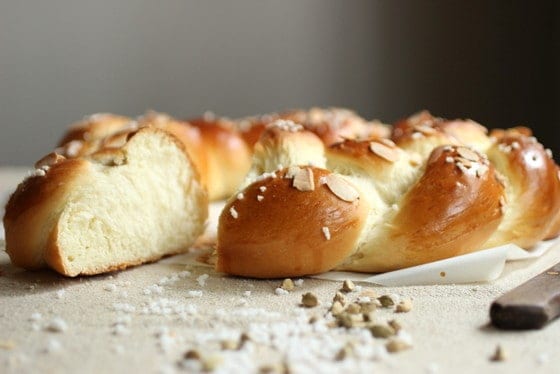 Baking festive bread is something that's always on my end-of-the-year bucket list. Sadly for them, they hardly ever get made. Blame it on the hectic month of December, which here includes hot days and preparing for summer vacation.
About this Pulla bread recipe
It is a specialty of Scandinavian baking, and is very popular in Finland.
This is a brioche-like dough, enriched with eggs and butter. Easier to make and much more gentle on your stand mixer since it doesn't need to knead it for so long you're afraid it might just explode, as it does with brioche.
I knew this was a great bread, but it exceeded my expectations. It is easy to make, absolutely delicious with a wonderful crumb, and can be used for so many things, from cinnamon or orange rolls to little sandwich breads, to french toast or bread pudding.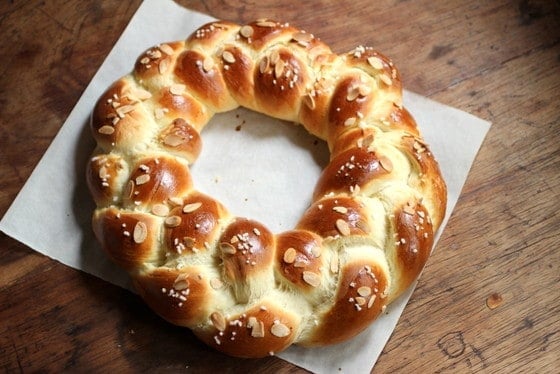 What is cardamom?
Cardamom is a spice made from seeds and, in my opinion, has a lemony mint flavor, very unique.
So aromatic and fresh and just plain wonderful. I completely omitted the vanilla and got exactly the cake I wanted.
Buying pods and grinding them yourself is highly recommended. As opposed to buying ground cardamom. The flavor is very different in my experience. Unless you buy super freshly ground cardamom, it loses its flavor and power very quickly.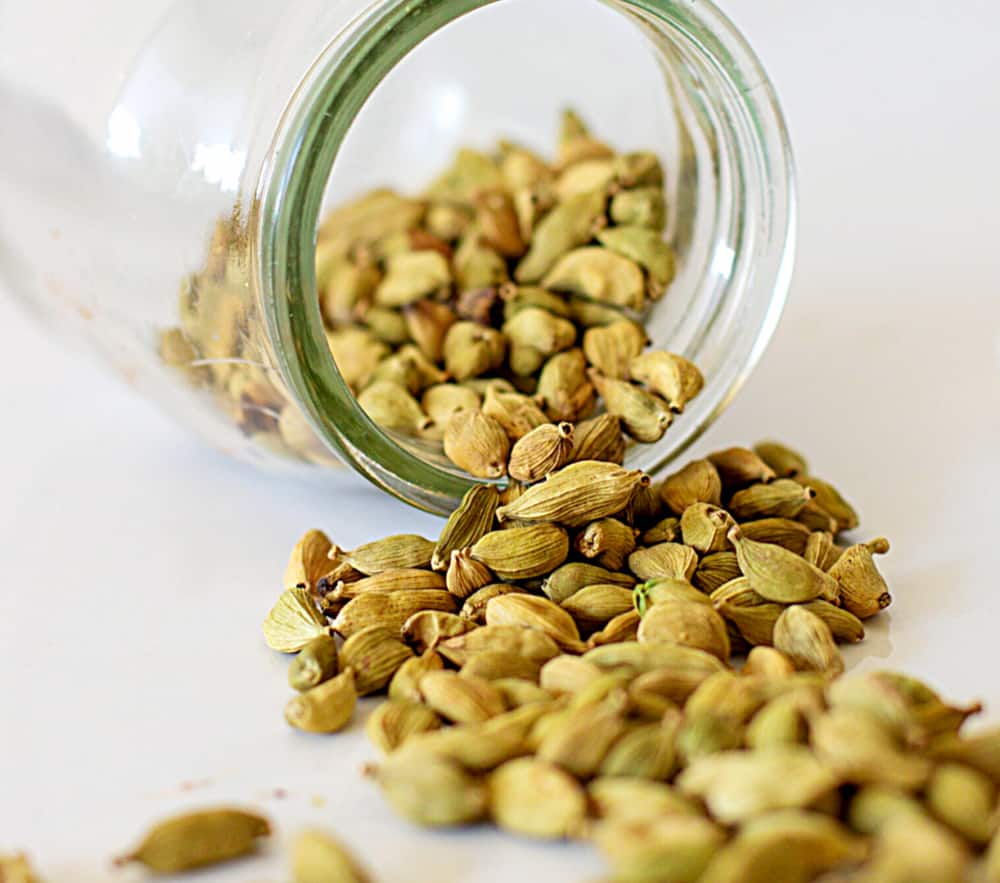 This is a recipe from Beatrice Ojakangas that I made for a group I was in many years ago.
Now, if you never heard of her it's fine. But if you never made her quick danish dough recipe you really should. Really. No kidding. You should make danish with her recipe, it's amazing.
Back to our bread, I love Scandinavian baked things. They usually have cardamom, which is one of my favorite spices.
I love my simple Cardamom Bundt Cake with that incredible texture, or the very spicy Ginger Cardamom Cookies, one of my favorites for the holiday season.
The butter is melted before adding, very nice, it makes for a silky smooth dough. Then comes an interesting part which involves oiling the work surface in order to work easily when braiding the bread.
This is a round braided loaf, so the three strands have to be very long. But man, that oiled dough is a marvel to work with, the strands get braided in no time, there's no messy adhering of dough to the counter and it's quite easy to maintain the shape of the whole thing.
After all, it's almost Christmas, we want our bread to look pretty. Don't we? Though my braids will always be irregular. It's just my style. or so I tell myself.
This bread is quite a magnificent thing. It comes out of the oven all puffed and golden, the kind of bread that attracts looks.
It makes a good King's Wreath or Easter Bread. They are supposed to be different, but usually, one type of dough works well for both occasions.
I really urge you to try it. It's that good.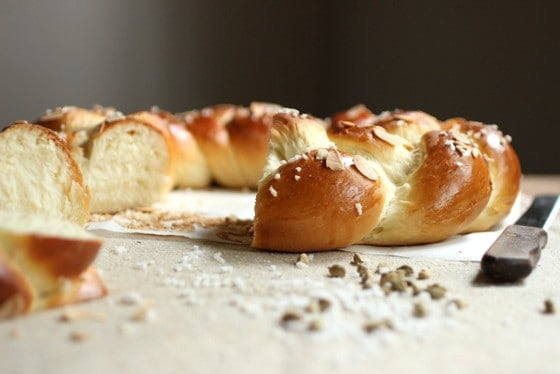 ---
Related recipes you might like:
---
Let me know in the comments below if you made this recipe and loved it and if you had issues so we can troubleshoot together. I love to hear what you think, always. Thanks for being here. It's much appreciated.
You might also consider subscribing to our FREE email series to Boost your Home Baking Skills! And our regular newsletter.
And let's connect via Facebook, Instagram, and Pinterest.
Print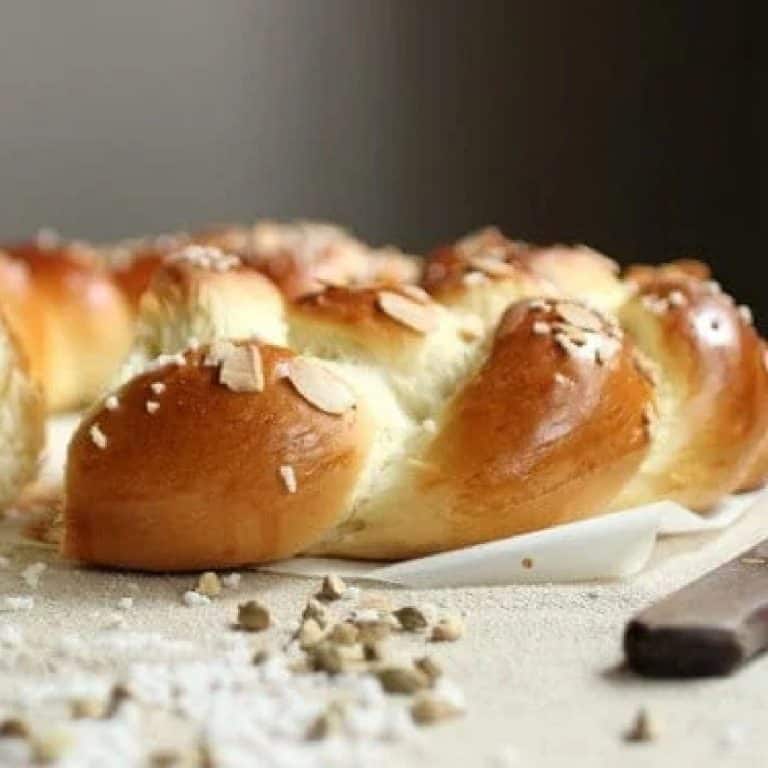 Pulla (Finnish holiday bread)
This is by far one of the best sweet doughs I ever made. It is a yeast bread laced with cardamom, with a soft texture and it comes together easily. It's the perfect recipe for holiday braided breads.
Total Time:

3 hours

Yield:

1 large bread
For the dough:
1

cup

(250g) whole milk, warm

1 teaspoon

active dry yeast

¼

cup

(60g) warm water

½

cup

(100g) sugar

1 teaspoon

vanilla paste or extract

1 teaspoon

ground cardamom

1 teaspoon

salt

2

eggs, room temperature

4 ½

to

5

cups

(630 to 700g) all purpose flour

½

cup

(115g) melted butter
Milk to brush before baking
Light brown sugar to sprinkle
For the glaze:
1

egg

1

-

2

tablespoons milk

¼

cup

sliced almonds, toasted
Instructions
In the bowl of a stand mixer or a large bowl (I do it by hand) put warm water.
Add yeast and mix with a wooden spoon or similar. It will be lumpy and weird. Cover with a clean kitchen towel and let stand 3-5 minutes until frothy.
Add warm milk, sugar, cardamom, and eggs. Mix a few times until eggs are combined.
Add ⅓ of the flour amount and salt. Mix with the spoon. It will be lumpy and rough.
With the stand mixer: attach the dough hook.
At low/medium speed add the melted butter and rest of the flour (the smaller amount) ½ cup at a time. Stop the mixer, cover the bowl with a clean kitchen towel and let rest for 15 minutes.
By hand: Add melted butter and half of the remaining flour (the smaller amount) and mix well with a spoon. Add the rest of the flour and mix. It will be dry and lumpy.
Cover the bowl with a clean kitchen towel and let rest for 15 minutes.
Now on to the kneading.
If using the stand mixer use the dough hook at medium speed for 6 to 8 minutes, until you have a shiny, satiny but slightly sticky dough. You might use the extra flour stated above but don't be tempted to add more unless the dough is very wet and sticky.
If kneading by hand, do it on a clean surface, ideally marble counter or similar.
Knead while adding the rest of the flour by tablespoons until the dough is shiny, slightly sticky but it's easy to separate it from the counter. It takes a few minutes to start coming together. You should knead for 8-10 minutes.
Put the dough in an oiled or buttered large bowl and turn it onto itself so the whole surface is greased.
Cover with plastic wrap and let rise in a draft-free warm place until doubled, 45 minutes to 1 hour, depending on the temperature of the place. Alternatively, you can now refrigerate it for 8 hours. Once you're ready to shape, take it out of the fridge and wait 15 minutes or so, it depends on how warm your space is. Don't wait too much since the cold dough is much easier to shape.
Have ready a buttered or parchment-lined baking sheet.
When ready to braid, gently punch the dough down and turn it onto the counter or similar surface cut the dough in 3 parts and make them into ropes.
Put three ends together pinching them down and braid them. Then join the ends to make a wrath.
Transfer the braid to the pan. cover with a clean kitchen towel and let rise 30 minutes or so, until slightly puffed.
Or braid it some other way, see notes above.
Preheat the oven to 350ºF /180ºC.
Mix the egg and milk and brush the surface with it. Sprinkle with pearl sugar if you want, and sliced almonds.
Bake for about 30-40 minutes, until puffed, golden.
Let cool on a wire rack.
Author:

Paula Montenegro

Prep Time:

20 minutes

Resting time:

2 hours

Cook Time:

40 minutes

Category:

Breads

Method:

Baking

Cuisine:

Scandinavian