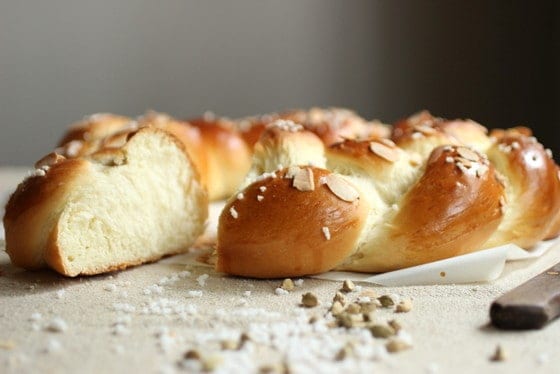 Festive breads is something that's always on my end-of-the-year bucket list, but sadly for them, they hardly ever get made. Blame it on the hectic month of December, which here includes hot days and almost there summer vacations.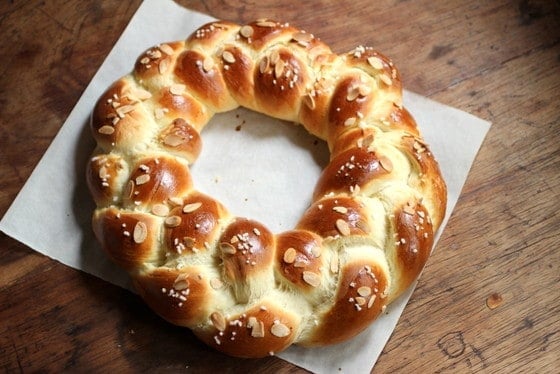 So I'm glad I made today's Tuesday with Dorie recipe. The contributing baker is Beatrice Ojakangas. Now, if you never heard of her it's fine. But if you never made her quick danish dough recipe you really should. Really. No kidding. You should make danish with her recipe, it's amazing.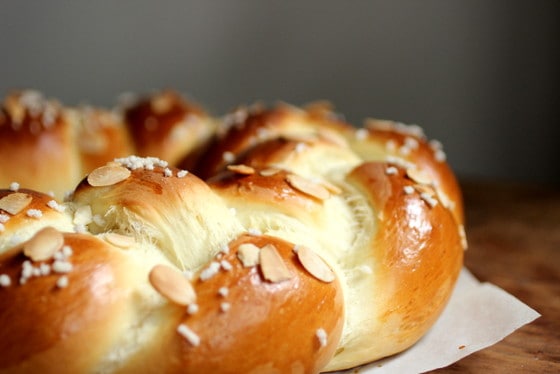 Back to our bread, I love scandinavian baked things. They usually have cardamom, which is one of my favorite spices, ever since I discovered whole pods. The fragrant, lemony, intense aroma of just ground cardamom is an experience in itself. The flavor after baking is sweet and unique.
This is a brioche like dough, enriched with eggs and butter. Easier to make and much more gentle on your stand mixer since it doesn't need to knead it for so long you're afraid it might just explode, as it does with brioche.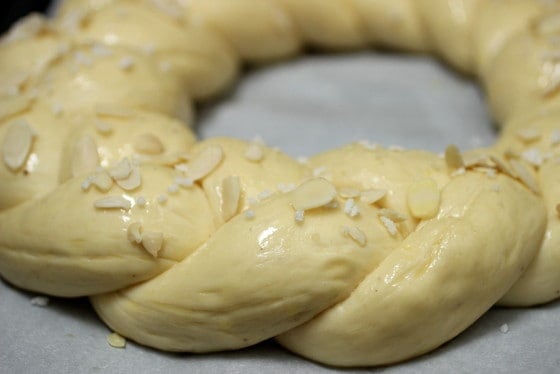 The butter is melted before adding, very nice, it makes for a silky smooth dough. Then comes an interesting part which involves oiling the work surface in order to work easily when braiding the bread.
This is a round braided loaf, so the three strands have to be very long. But man, that oiled dough is a marvel to work with, the strands get braided in no time, there's no messy adhering of dough to the counter and it's quite easy to maintain the shape of the whole thing.
After all, it's almost Christmas, we want our breads to look pretty. Don't we? Though my braids will always be irregular. It's just my style. or so I tell myself.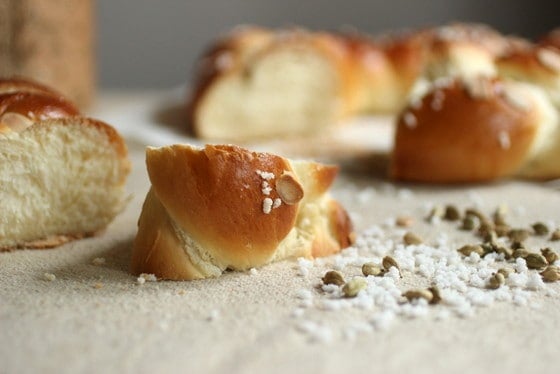 There was a bow involved, to put over both overlapping ends of the circle to cover it, which I didn't do. I just added some extra pearl sugar and almonds there before baking. And the pic in the book, Baking with Julia, doesn't have a bow. Or I can't find one. So I'm going with that.
Bow or no bow, this bread is quite a magnificent thing. It comes out of the oven all puffed and golden, the kind of bread that attracts looks.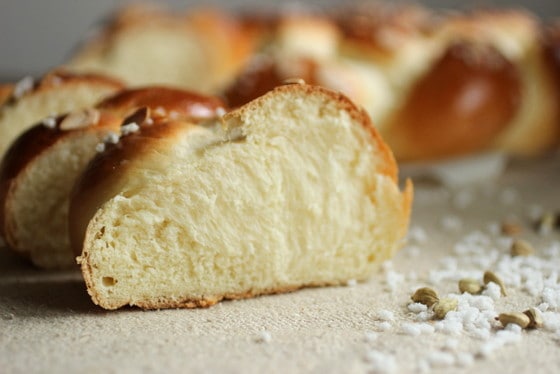 I went from almost not making this recipe today to not only posting it, but also the ideas of working with it are making quite a long line in my mind. It's a not-too-sweet, easy to work with, perfect for so many additions, and quite-fast-to-make dough, considering there's no overnight fridge sleepover like brioche.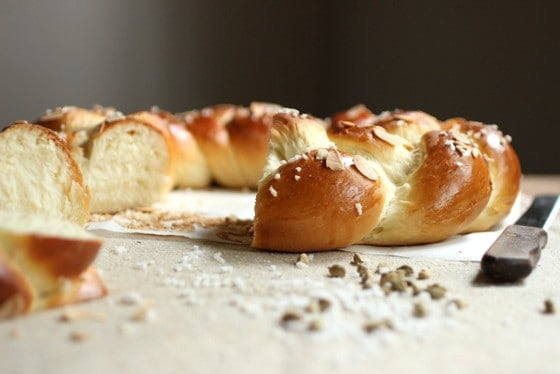 It'll make a good King's Wreath or Easter Bread, a sweet bread made here on jan 6 and Easter time. They are supposed to be different, but usually one type works for both occasions.
The host today is Erin, of
The Daily Morsel
. She has not only the full recipe, but also posted wonderful step-by-step pics of the whole process.
I really urge you to try it. It's that good.
---