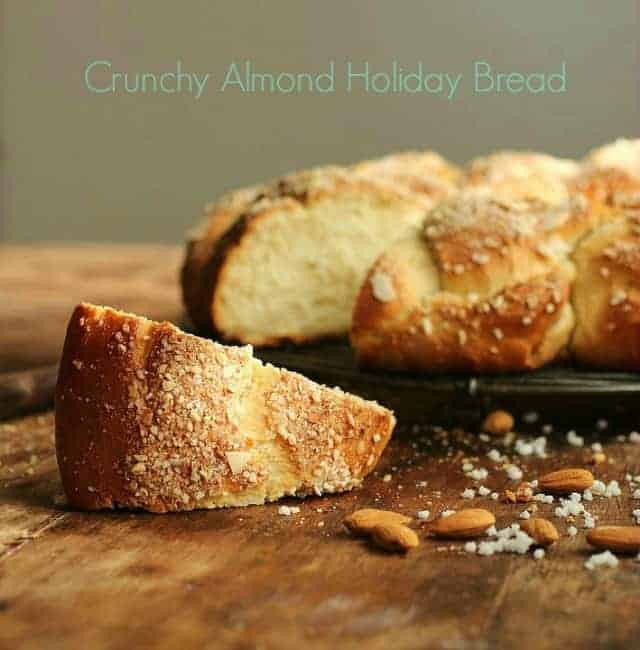 So after last week's news about selling my house, I'm in the middle of moving out, while working a lot and putting my best face while enduring 35ºC (94ºF) with a million percent humidity like today.
But, as you all know, we food bloggers are a rare breed and can make a crunchy almond holiday bread in the middle of all that chaos. It's for the blog after all! It must be done!
Considering it's almost Christmas – yes it is, whether you're ready or not – and I wouldn't dream of missing the last post of Twelve Loaves this year, the bread baking group founded by
Lora
and run with the invaluable help of
Renee
, I present you with a bread with a hefty dose of almonds - ground, sliced and extract - just perfect for a quiet moment nursing your cup of whatever liquid suits your mood.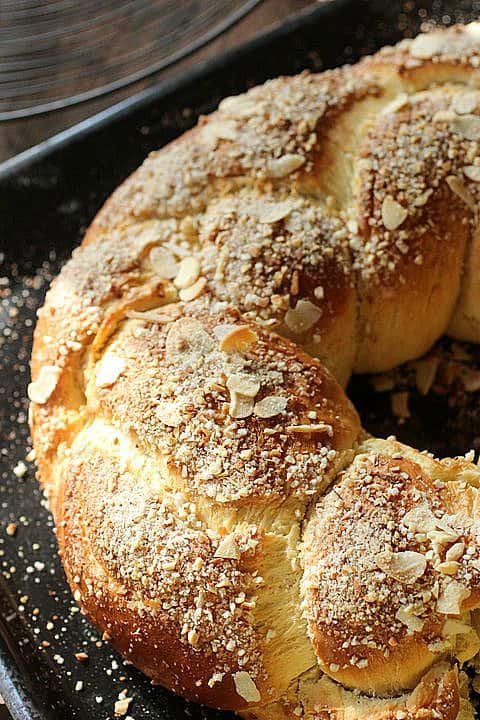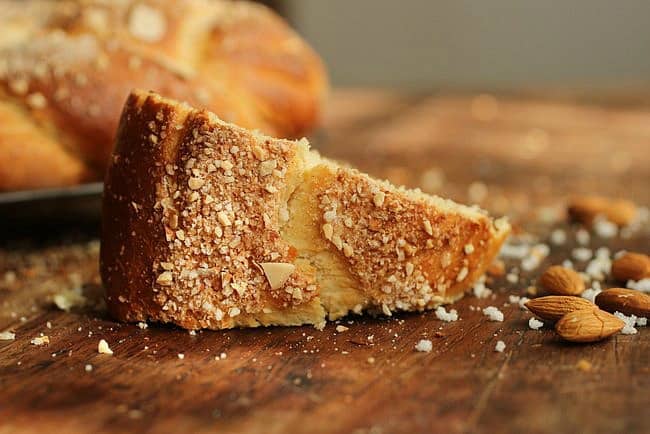 The theme we decided for December is holiday breads, very innovative I know, but the truth is, holidays are about traditions and eating certain foods, and friends and family demanding similar recipes year after year, sometimes so hard for us bloggers to do, don't you agree? the same recipe I mean, I always want to make something new.
So a list of good, trusted recipes will come in very handy. Believe me, this is not the time of year to think outside the box too much and end up with hours logged in baking and nothing to account for them. There's just too much going on to have to start all over again.
No, this is the time to make our favorites and watch those around us smile in joy at the prospect of eating that once-a-year-loaf of bread again.
.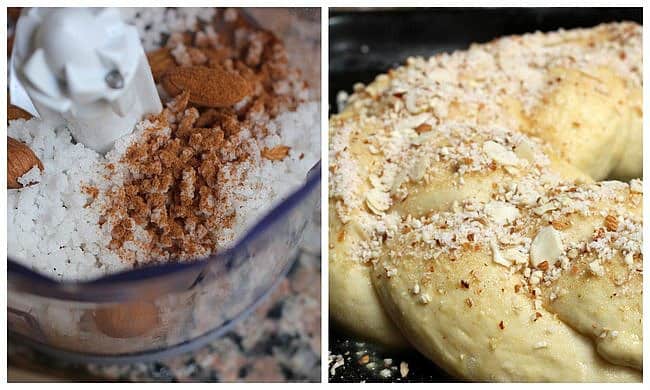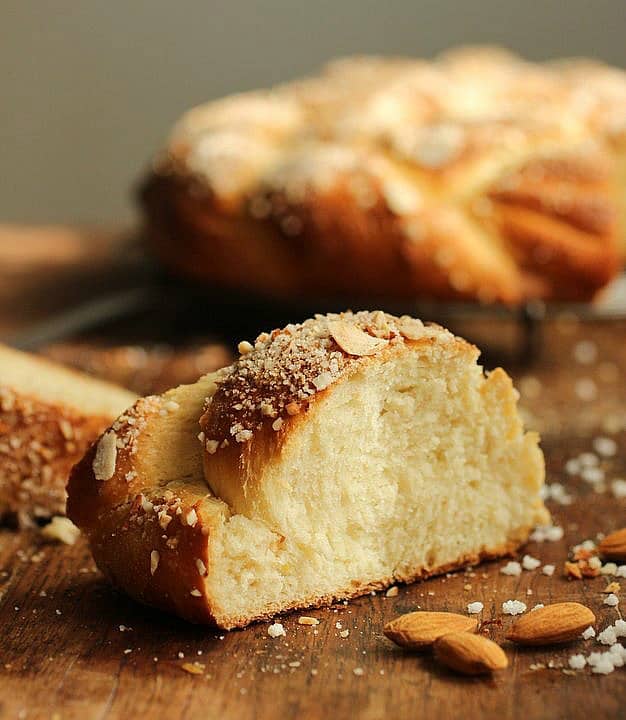 Or braided
ring in my case. It turns out I have a thing for lightly sweet breads, braided
and glazed. Like the
Finnish pulla
or the
cinnamon sugar challah
, my two favorites so far. And now this simple braid with a crunchy topping of almonds and coarse raw sugar - which looks like broken styrofoam bits - and pure almond extract with lemon and vanilla in the dough. Aren't you glad you can add it to your collection?
I used to make lists of homemade gifts every year, long ones with very optimistic recipes and amounts per person. The last few years I'm cutting through the disappointment, and there are no lists, not even the thought that I have to give homemade cookies and jars to everyone I know. So, it's a surprise if I do, even for me.
.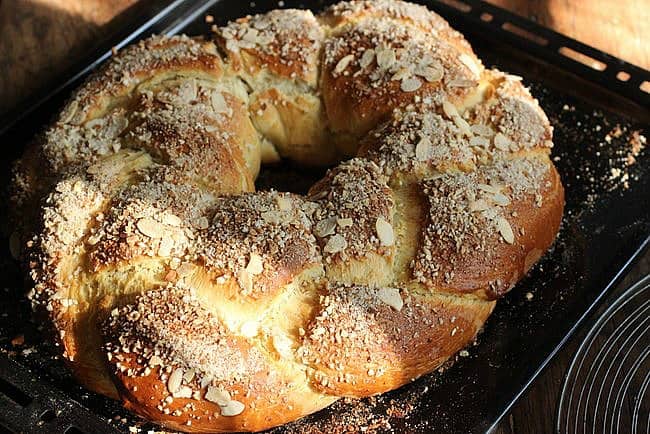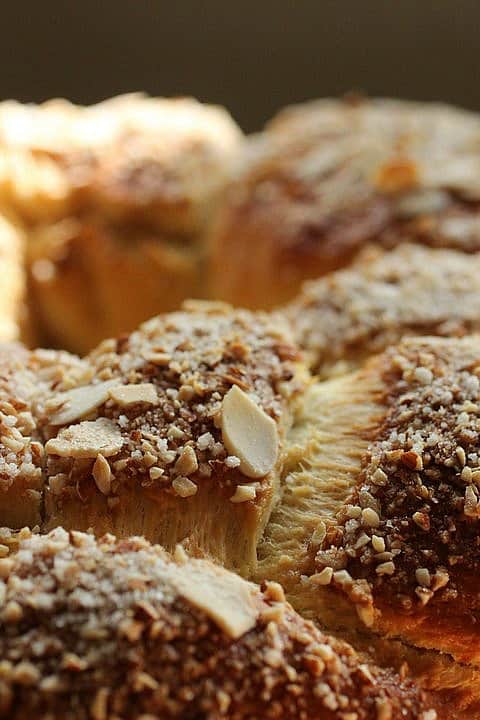 If you want to give a braided sweet bread such as this one for the holidays, remember to wrap it as soon as it cools so it keeps moist, like the pandoro I made last year. Or add a note that it can be frozen and toasted later. Or a recipe for a caramelized apple bread pudding or french toast.
That is if you don't eat it warm first. So good.
.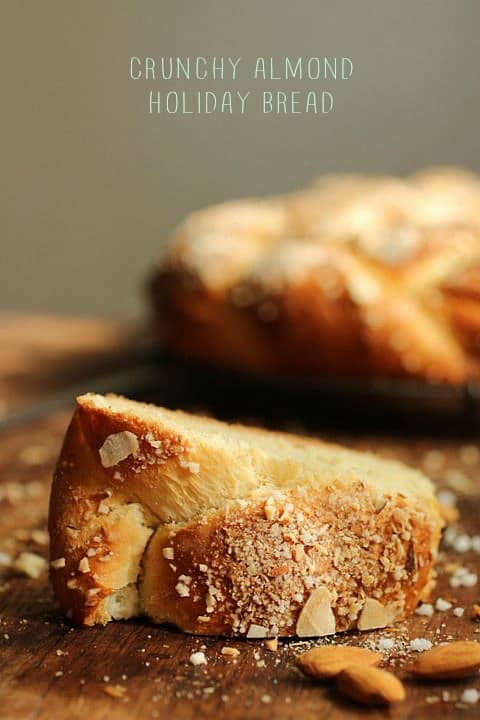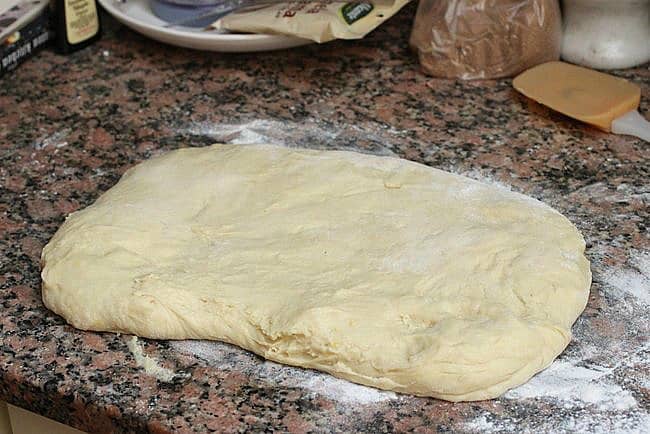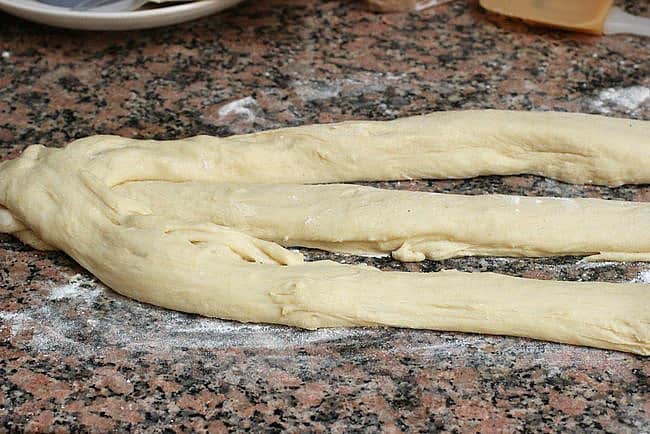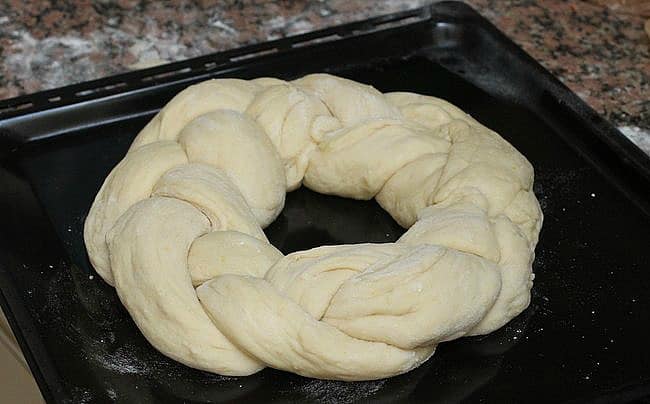 Print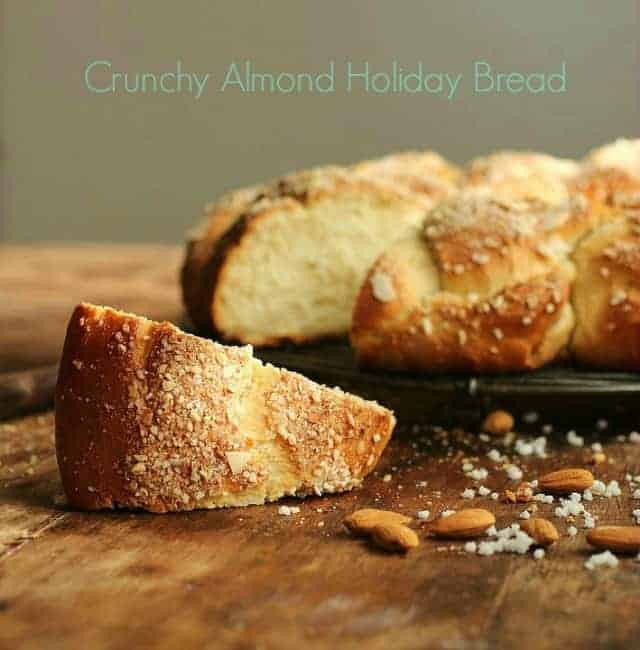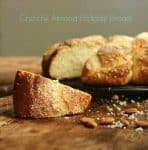 Crunchy Almond Holiday Bread #TwelveLoaves
---
Description
You can use all purpose flour instead of both flours listed below. I use cream together with lowfat milk; you can use full fat milk and ½ cup water too.
---
Scale
Ingredients
For the bread:
1

Tbs active dry yeast

½ cup

sugar
Zest of

1

medium lemon

1 teaspoon

salt

3 ½ cups

cake flour

1 ½ cups

bread flour

1 cup

milk (I use lowfat)

¼ cup

cream

¼ cup

water

5

Tbs olive oil

2 teaspoons

pure almond extract

½ teaspoon

vanilla extract

3

eggs
For the crunchy topping:
¼ cup

coarse raw sugar

¼ cup

whole almonds

½ teaspoons

ground cinnamon

¼ cup

sliced almonds

1

egg + 1 Tbs water (glaze)
---
Instructions
For the bread:
In the bowl of a stand mixer (or large bowl if you're kneading by hand), mix 2 cups cake flour, yeast and lemon zest.
Heat together milk, cream, water and oil to lukewarm (120ºF). Add it to the yeast mixture together with the eggs, mix with a wooden spoon a bit, and add salt, almond and vanilla extract. Mix well until creamy, about 1 minute.
Attach to the stand mixer fitted with the dough hook and start adding the rest of the flours, ½ cup at a time. Knead for 4 or 5 minutes, adding a few extra tablespoons if needed because the dough is wet. The dough will leave the sides of the bowl for the first minute when you add flour, but it won't completely gather into a ball. That is fine.
If making by hand, mix with a wooden spoon while you add the remaining flour, until it's very thick. Then dump the dough into a lightly floured counter, and knead by hand for no less than 5 minutes, adding extra flour by tablespoons to make a
slightly sticky dough.
Transfer the dough to a greased bowl, cover with plastic and let rise until doubled, about 1 ½ to 2 hours depending on the
temperature of the room.
On a lightly floured counter, flatten the dough into a rectangle, and cut it into three ropes.
Pinch 3 ends together, and braid it. Don't worry if it's not perfect.
Transfer to a parchment paper lined or greased baking sheet, and pin the two ends together to make a ring. Cover with a clean kitchen towel and let rise until almost doubled, about 40 minutes.
Preheat the oven 20 minutes before baking to 350ºF
For the crunchy topping:
While the bread is rising for the last time, in a processor (I use the small one) mix sugar, whole almonds and cinnamon until it's coarsely ground. Transfer to a bowl and mix in the sliced almonds.
When ready to bake, mix the egg with a tablespoon of water, and brush generously but carefully the top of the dough. Sprinkle with the almond mixture.
Bake for 30 minutes, turn down the oven to 325º and bake 10 more minutes, until golden and crunchy.
Transfer to a wire rack and let cool. Or eat warm.
---
adapted from Bread For All Seasons, by Beth Hensperger
Our wonderful list of holiday recipes:
---