A fantastic twist on the traditional challah bread. It's much sweeter and can be made as a braid or loaf. You'll love it either way!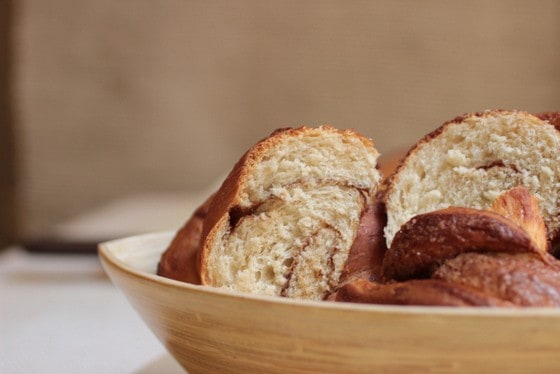 When you have your own business your home tends to, at some point, end up invaded by things/stuff/junk related to said business. Unless you're very, very organized, have a lot of extra space or are so disciplined that you manage to separate both worlds even when working next room from where you sleep, there is a huge chance you will eventually exchange much needed personal space for work related spaces all over your house.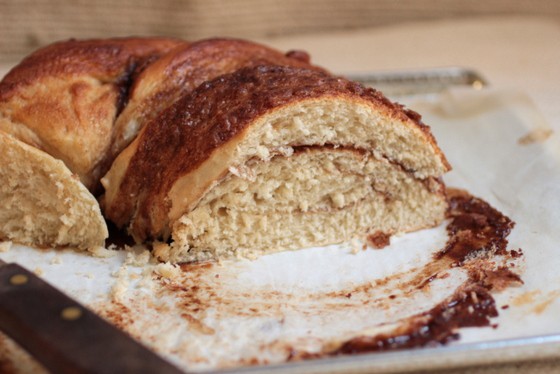 In other words, your home will be overtaken by you business junk.
The tricky thing is to realize this before it takes over your life and you feel like you're living in a warehouse. The former will hardly happen unless you're very disciplined or organized, in which case you won't be writing a post like this one in the first place.
But one area that is always pretty organized both in my house and in my mind are cookbooks and food-related magazines. I know my recipes; you'd be amazed at how I remember where a certain recipe was, even if it's from a magazine, and I have hundreds. Well, most of the time anyway. So, after selling the cafe, narrowing down my textile clients which allow me to focus and not have a million fabrics and projects going on at the same time, my house is starting to get rid of clutter or stuff from those 'in-between moments' when you don't know where you're going and feel the need to keep everything.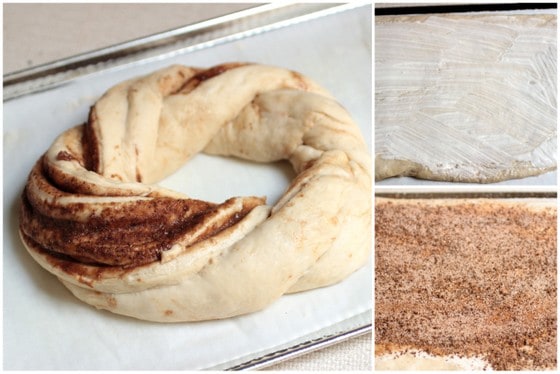 Add to that the recent flood that hit my neighborhood and arbitrarily rid my house of things, whether I wanted or not. Some were welcome, some not so much. But there were no options.
Now, I can say I'm considering taking advantage of this sort of clean slate that I have been forced into. It's not so simple, it's very confusing and maddening at times, but it's permeating my mind during the day and keeping me awake during the night. Big changes are a certain thing in my life in the next months. Let's see where they take me.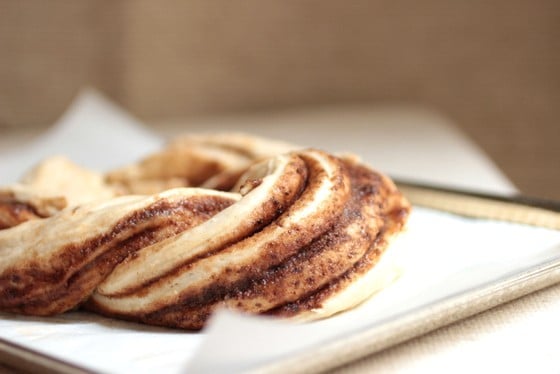 So I will share this comforting cinnamon sugar challah. Every time I bake with cinnamon, bread especially, the word comfort comes to mind, floating in a sea of confusion and change, it´s a nurturing feeling I need a lot of right now.
Without getting into any deep thoughts, baking bread usually finds me at either end of the stick, very energetic or very meditative bordering sadness. And it lifts me up or enhances the happy feeling.
There's never a bad moment when it comes to bread baking. And challah is one of my favorite, not only because it tastes great but because it's extremely versatile, both in itself and as a leftover. Any bread pudding is made better with it. French toast is amazing with a piece of eggy challah. It makes the best ham and cheese grilled sandwiches. Not to mention croutons. Or the most decadent caramelized apple upside-down bread pudding.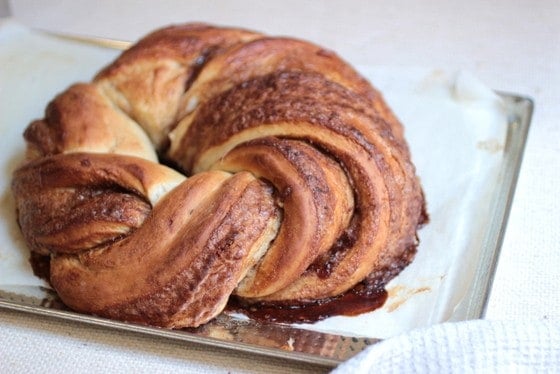 I baked this bread more than a month ago, one day when I still had fresh peaches, and found the need to perpetuate them in some way. First I made the peaches in vanilla syrup and then set out to make a fresh peach challah, which I haven´t had the time to post yet. There was a variation of cinnamon sugar challah in the book, so in a heartbeat I decided to divide the dough and make both.
I had just seen a fantastic chocolate bread in Shulie's site and this braided estonian kringle in Lora's site, so I went with that idea and let's just say that cinnamon sugar is meant to be baked in direct contact with the heat, as it caramelizes and becomes a crunchy, fragrant surprise. Bake it in any shape you want, and add other spices too or nuts. It makes the day brighter.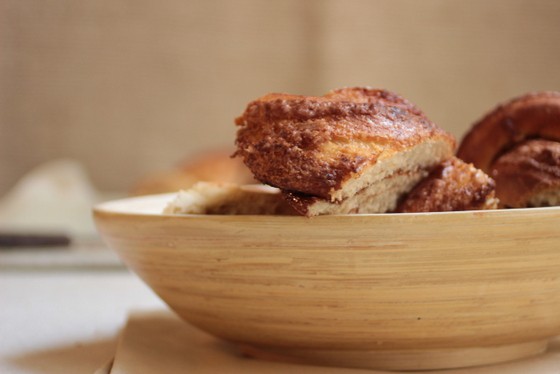 Let me know in the comments below if you make this recipe! I'd love to hear what you think about it. Thank you for being here, I appreciate it! Let's connect via Facebook, Instagram, and Pinterest.
If you like the recipes in this blog, consider subscribing and getting all new posts by email. As a thank you, we'll also send you a FREE recipe e-book and our Guide to Freezer Baking!
Print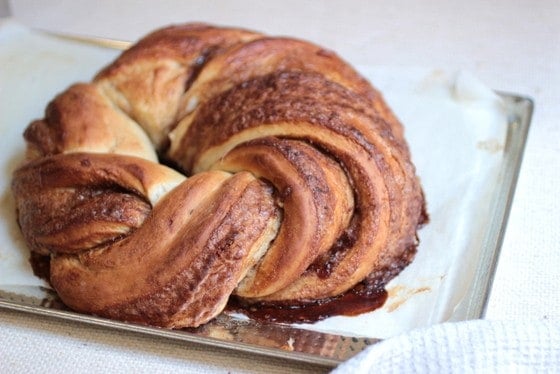 Cinnamon Sugar Challah
A fantastic twist on the traditional challah bread.
*Time doesn't include proofing or resting. So take that into account.
Total Time:

1 hour

Yield:

2 medium braids
For the bread:
7 ½

to

8

cups

all-purpose flour

2 ½

cups

warm water

2 tablespoons

active dry yeast

⅓

cup

+

1

tablespoon

sugar

3

large eggs, at room temperature

½

cup

vegetable oil

2 teaspoons

salt
For the filling:
3 tablespoons

heavy cream

4 tablespoons

sugar

1 ½ teaspoons

ground cinnamon
Instructions
For the bread:
In a large bowl or in the work bowl of a stand mixer, place 6 cups of the flour.
Make a well in the center with your hand and pour ½ cup of the water and sprinkle yeast and 1 Tbs of sugar over the water. Stir the water gently to dissolve the yeast (some of the flour will be incorporated) and let stand 10 minutes.
Add the remaining sugar, remaining water, eggs, oil and salt and mix with a wooden spoon or the paddle attachment until a shaggy mass is formed. This dough comes together quickly.
If using stand mixer knead for 6 or 7 minutes, adding additional flour 1 Tbs at a time if needed to form a smooth and springy but not dry dough.
If kneading by hand turn the dough onto a floured surface and knead for 6 to 8 minutes adding additional flour 1 Tbs at a time if needed to form a smooth and springy but not dry dough.
Place the dough in a greased deep container. Turn over to coat with oil, cover with film and let rise in a warm, draft free area until doubled, about 2 to 2 ½ hours. Don't let rise more than doubled.
Gently deflate dough down, cover again and let rise until almost doubled, about 1 hour.
Gently deflate dough. Turn onto a lightly floured work surface and divide in 2 equal portions. Roll each piece into a rectangle. Brush with half the cream. Sprinkle with half the cinnamon sugar. Repeat with other rectangle.
Roll up like you would cinnamon rolls, starting at the long edge. Transfer the rolls to a greased parchment paper that will fit the baking tray. (You can use two papers and baking trays, or keep one half of the dough in the refrigerator while you roll and let the other rise. When ready to bake the first one, take the second piece of dough out, roll, fill and let rise. Bake one at a time).
Cut the roll in two, exposing the filling. Put the ropes side by side and pinch the edges together on one end. Twist the two halves together carefully. Pinch the other end. Bring the two ends together to form a rope. Transfer the parchment paper carefully to the baking tray.
Cover loosely with some foil or parchment paper and let rise until it's spongy but not quite doubled, about 45 minutes.
Preheat oven to 350ºF / 180ºC about 20 minutes before baking.
Bake for 40 to 45 minutes, until sugar has caramelized, bread is deeply golden and bottom sounds hollow when tapped.
Let cool on wire rack before slicing.
For the filling:
Mix cinnamon and sugar in a bowl.
Author:

Paula Montenegro

Prep Time:

20 minutes

Cook Time:

40 minutes

Category:

Bread

Method:

Baking

Cuisine:

International
Keywords: cinnamon challah