This bread is a fall dream come true, with sweet potatoes, spices and a crunchy topping that will make you lick your fingers.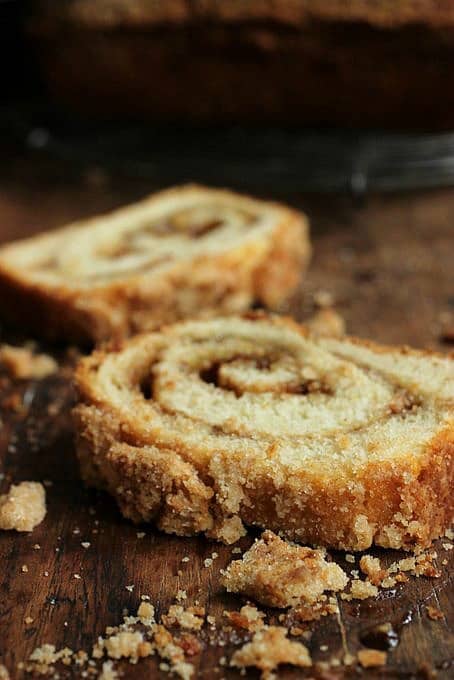 I posted this sweet potato spice bread a couple years ago for a baking group and thought it perfect for a repost, since today it's raining here, humidity at full speed and a drop in temperature that made me wear a sweater and thick socks. The perfect morning fall bread.
Also, there's this thing called Thanksgiving coming up. You might need a new bread recipe.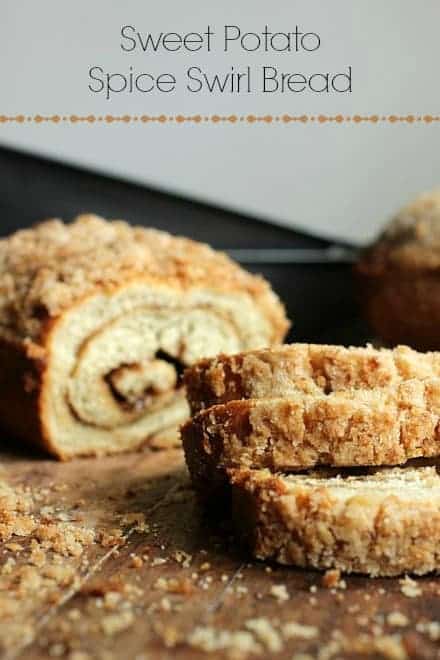 We're a month away from summer here, mind you, but one might think fall is starting from the weather, and this bread screams autumn spices and flavors; it can lift up anything, even a dreary spring day in Buenos Aires.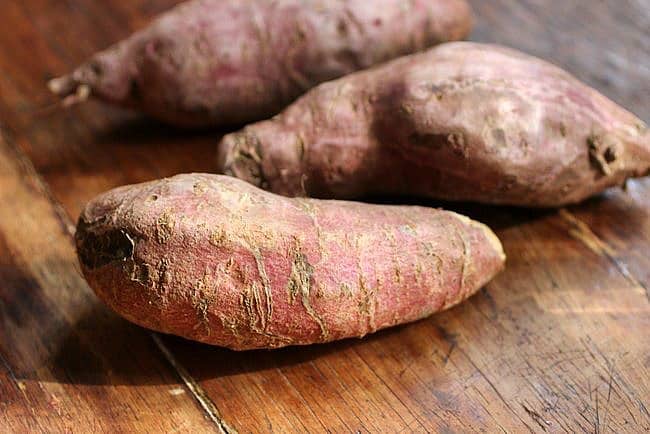 I have to confess some countries have sweet potatoes so pretty in color it makes me jealous. Really. No, really.
The flavor is great when in season, sweet as it should be, but people the color! Greyish green with a hint of dubious yellow, pretty much like my skin in winter?. So let's start by saying that your sweet potato spice bread will have a much more lively color.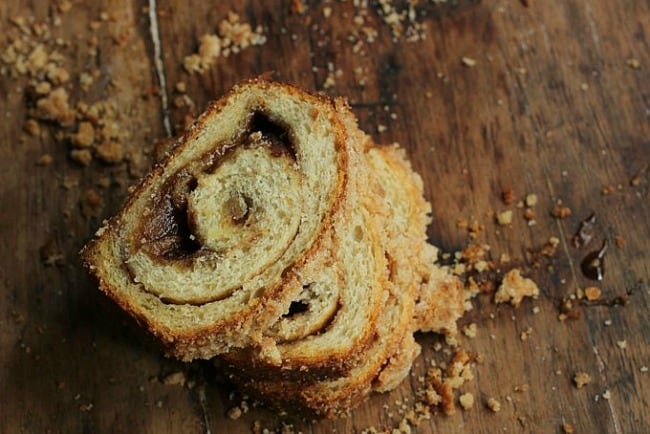 It comes down to how to use them since the orange you all think of will never happen in my kitchen.
Well, it turns out that baking them into a bread is perfect, they will add moisture and an undefinable flavor – a good thing sometimes – but since they don't have much flavor by themselves when it comes to sweet baking, we do have to add some kind of enhancer or tugboat to throw them into the limelight. In this case, spices, a crowd pleaser and one of my favorite things in the history of ever. Spices make my kitchen come alive.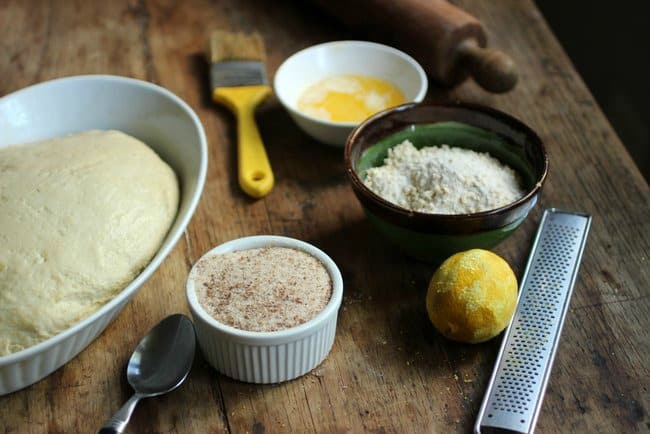 It reminds me of cinnamon bread with a different undertone. The spice swirl is what makes it sweet and moist, and the crunchy topping... well, you'll love it! It's a traditional streusel, but it adds a layer of flavor that makes the whole so much better than the parts.
I mean, what isn't better with streusel right? Ask my favorite chocolate walnut pound cake if you're in doubt.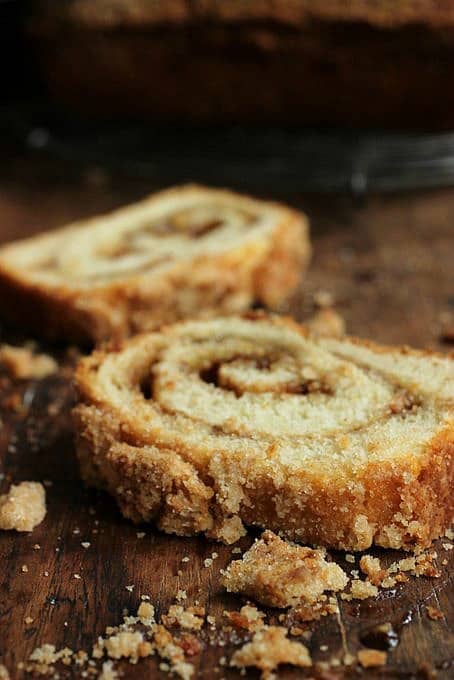 And as for the sweet potatoes, let's not forget they're more on the dry side, there's never a need to drain them like I do with pumpkin before baking with it. They completely forgot the moisture factor, dry as a gulp of dust, having cooked them in the microwave. But who can argue with sweet potatoes done in less than 8 minutes? That little appliance does a great job cooking potatoes of all kinds in record time.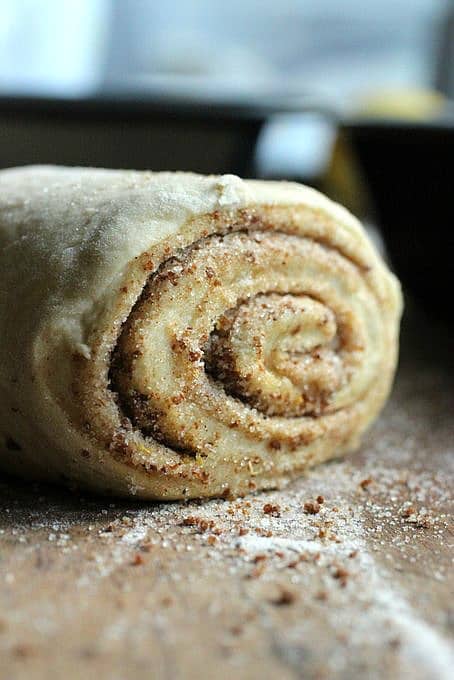 This is a cross between a cinnamon roll and a bread. Not too sweet as a whole, it does have a spicy syrup that forms while baking, and looks almost like pumpkin or apple butter - maybe a good idea for a filling? – and a streusel that will be hard to leave alone. The loaves might crack open in the top, something I absolutely love about baked bread and loaf cakes, and here it had the bonus of the caramel oozing out too. I could've eaten the streusel and caramelized edges forever. Who says I didn't, right?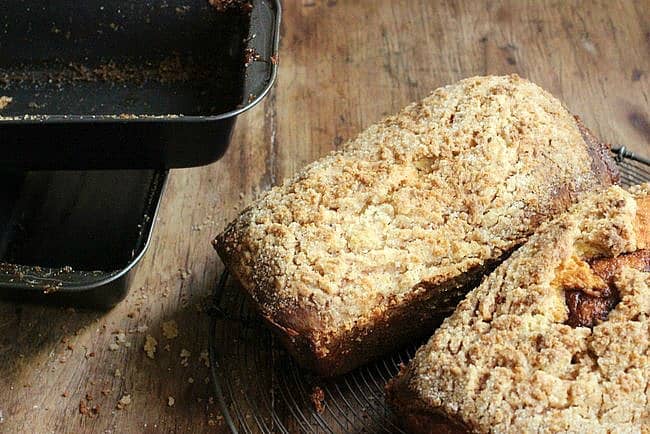 The bread is all about the filling and the crunchy topping. You'll crave for more of both.
It makes super toasts too. Or maybe bread pudding the day after? It's spice bread after all, and it's all good.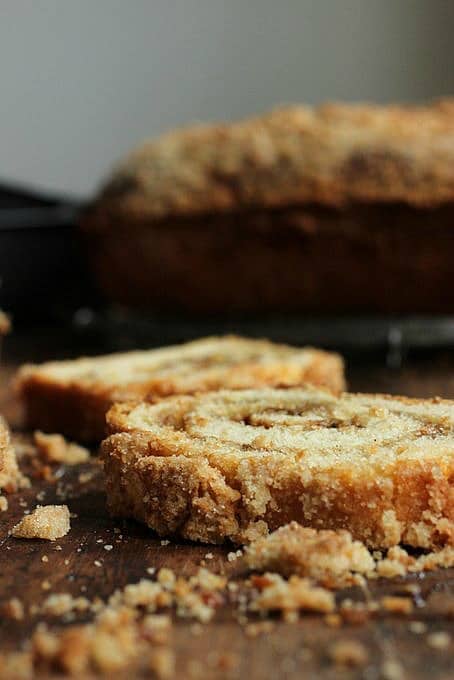 Print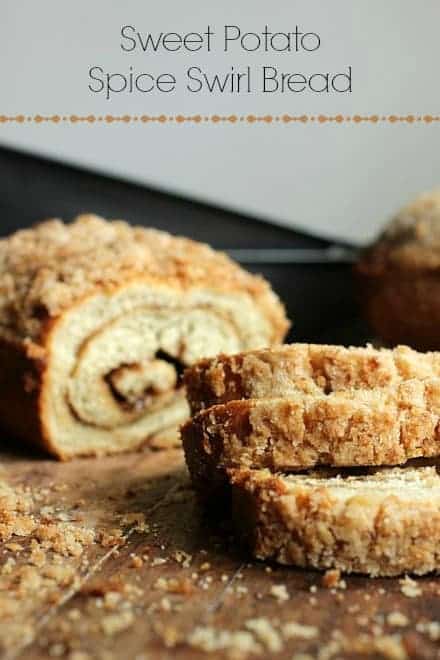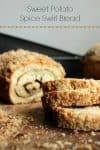 Sweet Potato Spice Bread with crunchy topping
---
Description
You can use orange zest if you want a sweeter bread. * To make the purée: microwave the sweet potato, skin on, for about 10 minutes and check piercing it with a fork. It should go straight through it, no resistance at all.
---
Scale
Ingredients
For the bread:
1

Tbs active dry yeast
Pinch of sugar

¼ cup

warm water

1 cup

warm buttermilk

1 cup

sweet potato purée *

3

Tbs sugar

3

Tbs canola oil

1

egg
Grated zest of 1 lemon
About

4

to

4 ½

cups bread flour
For the spice streusel:
¼ cup

sugar

¼ cup

brown sugar
Grated zest of 1 orange or lemon

½ teaspoon

cinnamon
Pinch each of ground ginger and allspice

⅓ cup

all purpose flour

4

Tbs 60g butter, cold, cut into pieces
For the spiced sugar:
1 ¼ cups

light brown sugar

1 teaspoon

ground cinnamon

1 teaspoon

ground ginger

½ teaspoon

ground allspice

3

Tbs 45g unsalted butter, melted + additional for pans
---
Instructions
For the bread:
In a small bowl mix yeast, pinch of sugar and ¼ cup warm water, until foamy, about 3 minutes.
In the bowl of the electric mixer, mix sweet potato purée, buttermilk, oil, sugar, egg, zest and 2 cups flour.
With the dough attachment start mixing at medium speed until the dough start to combine.
Start adding the rest of the flour, ¼ cup at a time, until you have a springy but slightly sticky dough. It took me the 4 cups. Be careful not to add too much flour and end with a dry dough.
Transfer to an oiled bowl, cover with plastic wrap and let rise until doubled, about 1 ½ hours.
Transfer to a lightly floured board. With a rolling pin, make a rectangle about ¼ inch thick. You might need to let it rest a minute or two in between a few rolls to get it to the right thickness.
Brush evenly with melted butter and sprinkle with the spiced sugar. It might seem like a lot but the result is wonderful.Carefully start rolling from the long side, as you would any cinnamon roll, trying to get a fairly tight rope.
Brush two 9x5 inch loaf pans spray or additional melted butter, cut the dough in half and place each into one pan. Sprinkle with the streusel, dividing evenly.Carefully start rolling from the long side, as you would any cinnamon roll, trying to get a fairly tight rope.
Brush two 9x5 inch loaf pans spray or additional melted butter, cut the dough in half and place each into one pan. Sprinkle with the streusel, dividing evenly.
Sweet Potato Spice Swirl Bread
Cover with a clean kitchen towel and let rise again until puffed, about 45 minutes.
About 20 minutes before baking, preheat oven to 350ºF / 180ºC.
Bake loaves until golden and a tester inserted comes out clean, from 45 to 1 hour. If you use a smaller loaf pan (8x4 inch), it will take longer.
Let stand a few minutes after you remove them from the oven, and then invert them onto a wire rack. If you don't the caramelized rim will harden and make it impossible to remove. You'd have to pop them again into the oven for 5 minutes to loosen it up if this happens.
Keep leftover well wrapped in the freezer, already cut in slices preferably if you plan on toasting them.
For the streusel:
Mix all ingredients except butter in the food processor. Add butter and mix until it start to clump.
For the spice sugar:
Mix all ingredients in a bowl.
---
adapted from Bread For All Seasons, by Beth Hensperger
.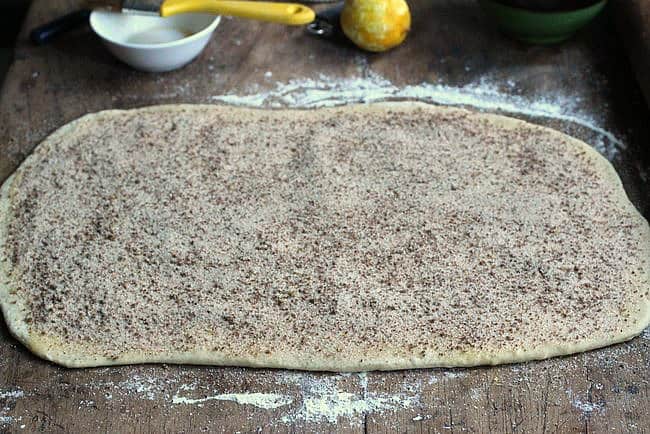 ---