I love pandoro, that golden holiday bread, plain but with a wonderful flavor and texture. It's enriched with eggs and butter so you know it will be delicious. It's a favorite around here to give as a gift and it makes great bread pudding.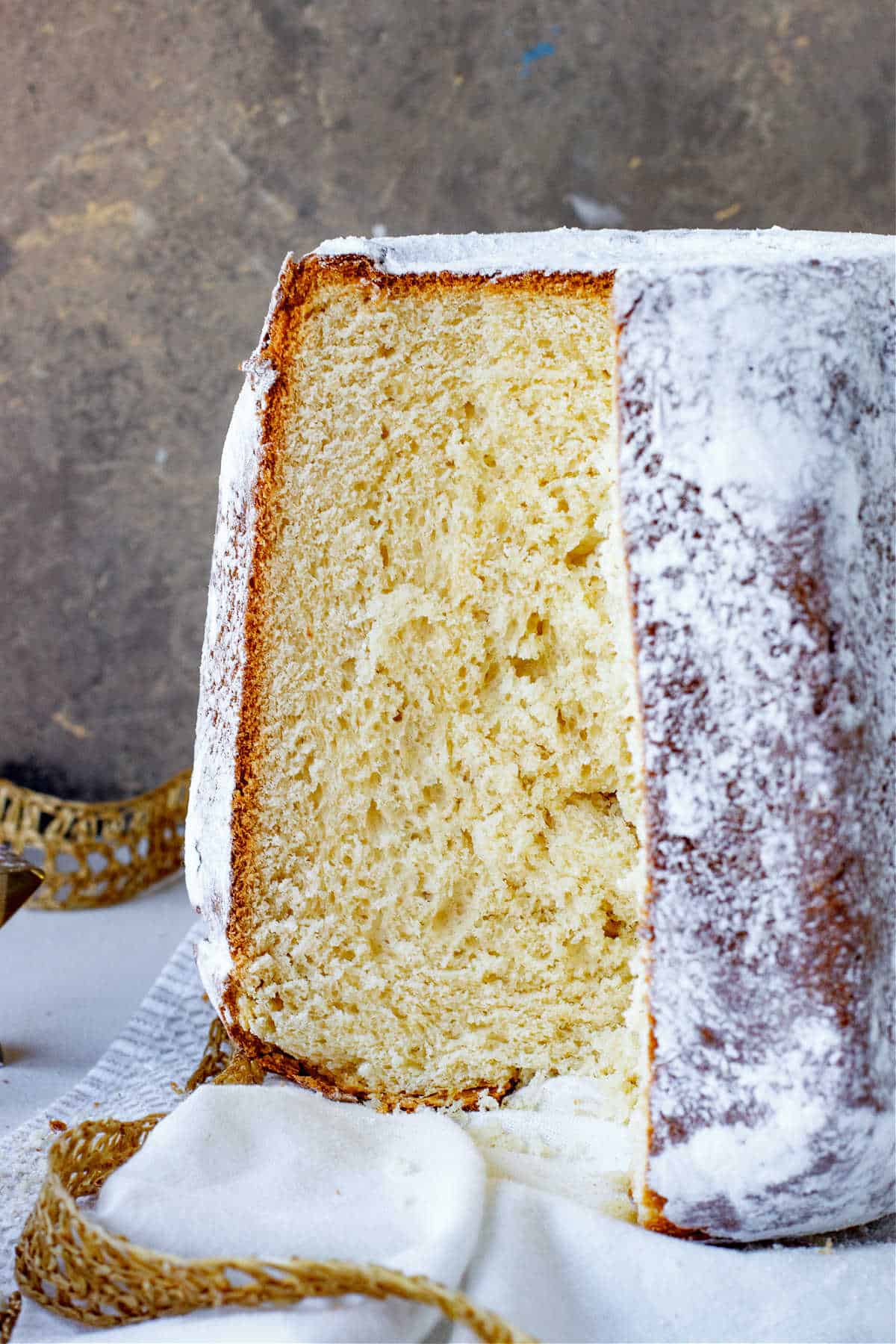 Pandoro is an Italian holiday bread (pan means bread and d'oro means golden), egg and butter based, like brioche or pulla. But the texture and flavor are completely different. It's a very simple sweet plain, yet utterly delicious bread.
This bread reminds me of snow globes, those glass balls with fake snow inside, that you turn upside-down and make them come alive.
The bread is wrapped inside a clear bag, tied, and a packet of powdered sugar, usually vanilla flavored, is attached to it. When you're ready to eat it, you empty the packet inside, close the bag, give it a few shakes and out comes a white bread, completely covered in the sugar.
It's magical and festive.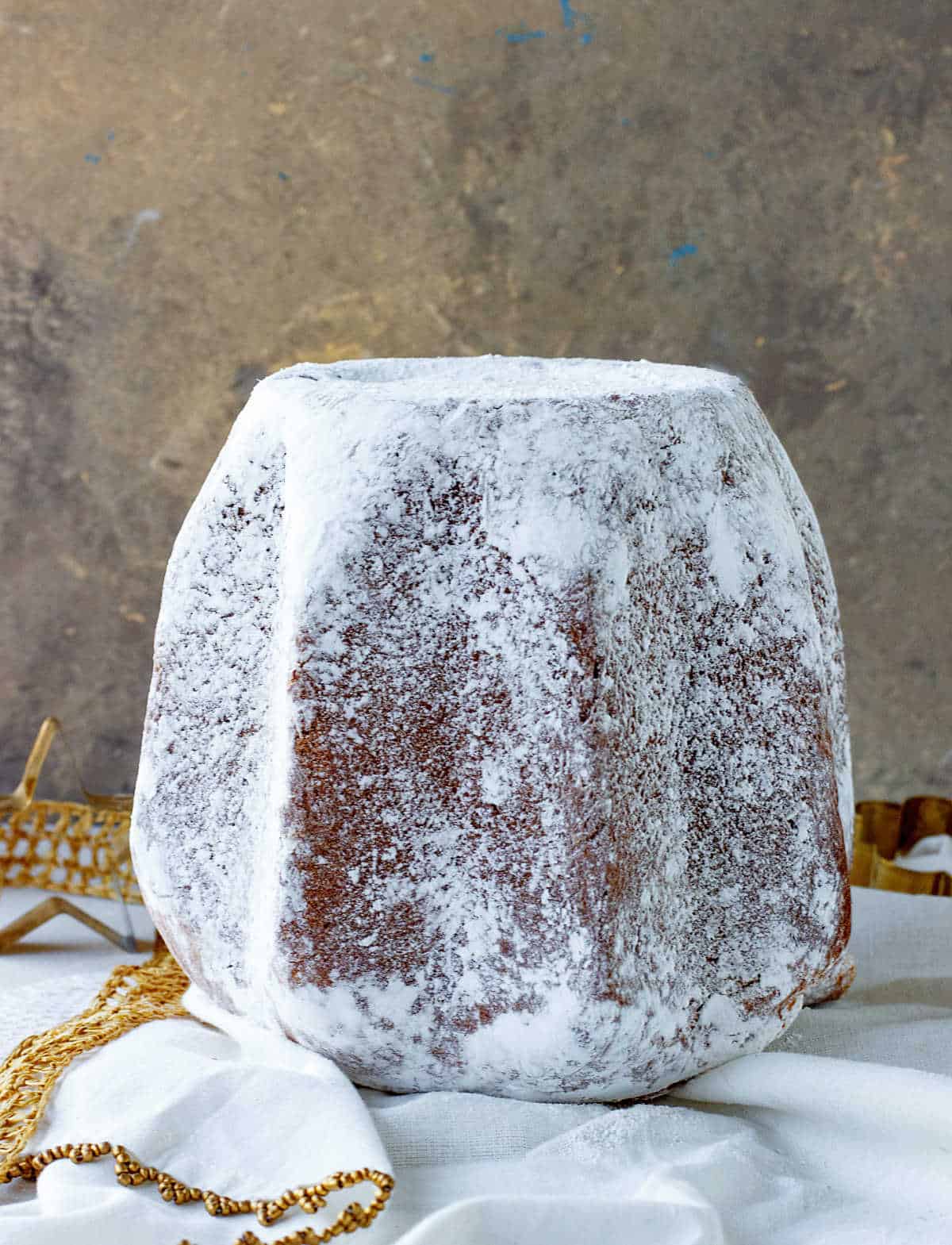 Ingredients and steps
I'm putting these two items together because I think it will be clearer that way and help you more.
It consists of a yeast starter and two more steps until the dough rests a final time and is then baked, but there's a small amount of hands-on time, as it usually happens with yeast breads.
The ingredients are divided in three parts, but they are very simple and easy to find. This bread is rich and dense, so a sponge and two rises are needed to create that soft but chewy texture
The sponge
This is the first step and it helps the final bread to get more strenght in spite of all the heavy ingredients, like eggs and butter.
It takes 3 minutes to make it and then we have to wait half an hour, until it's frothy and bubbly.
Even if not too many bubbles appear, the mixture should be puffed. If that doesn't happen and there's no activity, that means that the yeast is not working. So go get new, fresh yeast and start over!

Vintage Kitchen Tip
First dough
This step builds on the last and some more yeast is added to strengthen the final dough.
Stand mixer: it is highly recommended; though pandoro can be made by hand, well, it will be somewhat messy and you'll end up hating me from all the arm power you'll need. And I want us to keep on being friends.
Ingredients (image below) are simple and you should have them already measured.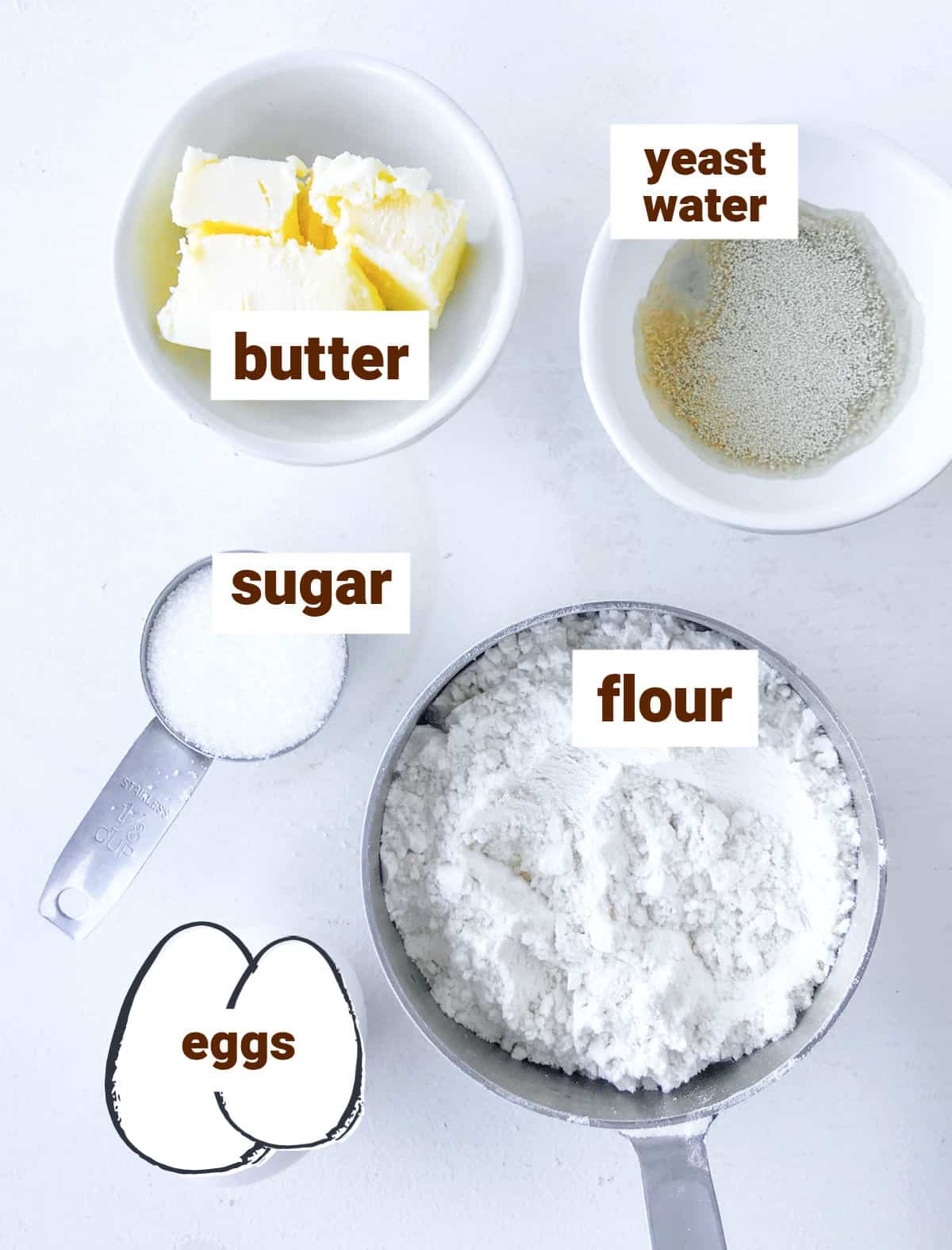 Mixing: this is easy to do with a stand mixer. The final dough (image below) is soft and quite sticky. To proof, simply leave it in the same bowl and cover it.
Resting: this is the moment when the yeast starts doing its magic and the dough doubles in size. It should not increase more than that. So keep an eye after 45 minutes to 1 hour.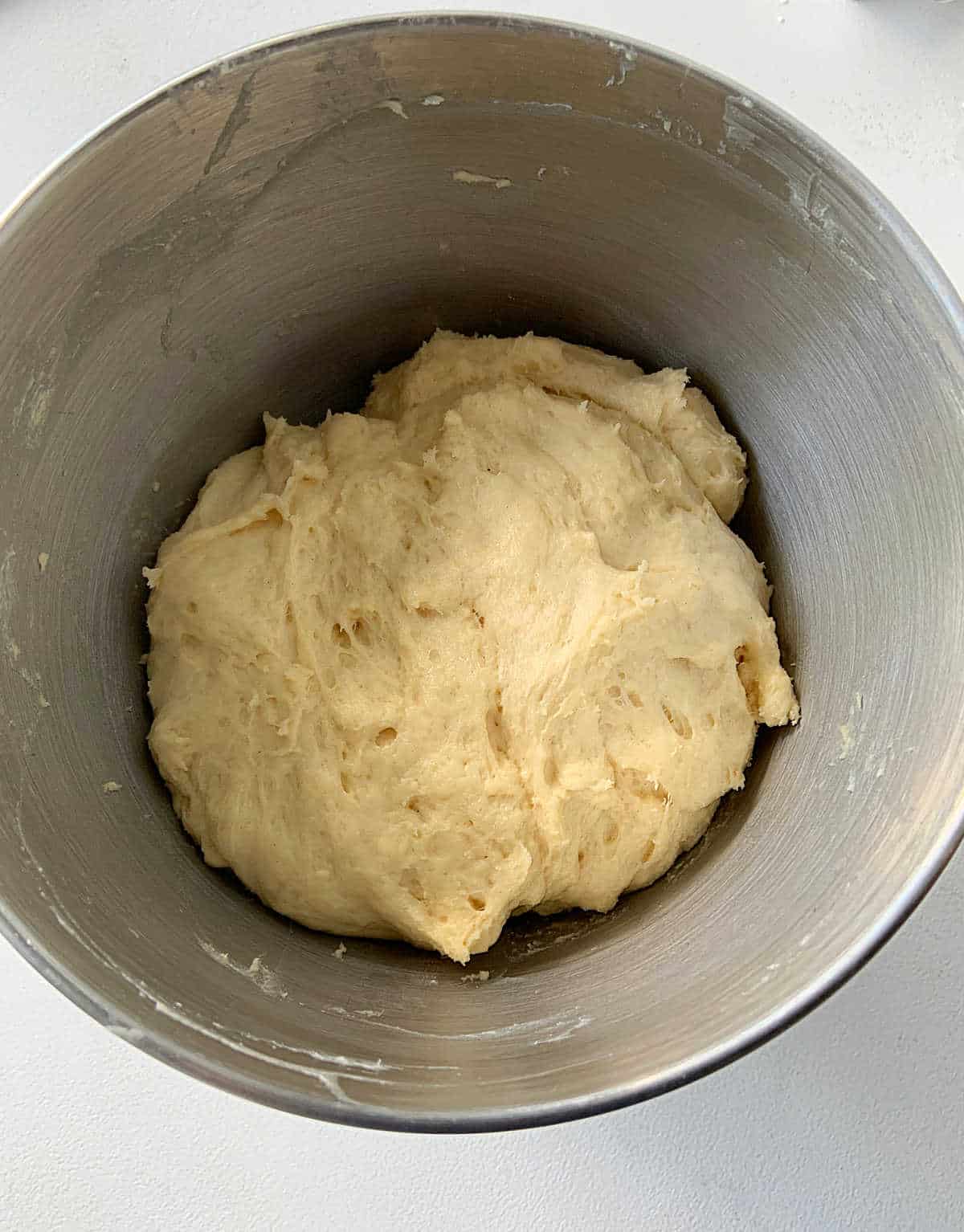 Second dough
The final step, it continues to build on the other two.
You'll see that, besides the flavorings, almost the same ingredients are added, building the final rich dough that will become our fantastic golden pandoro bread.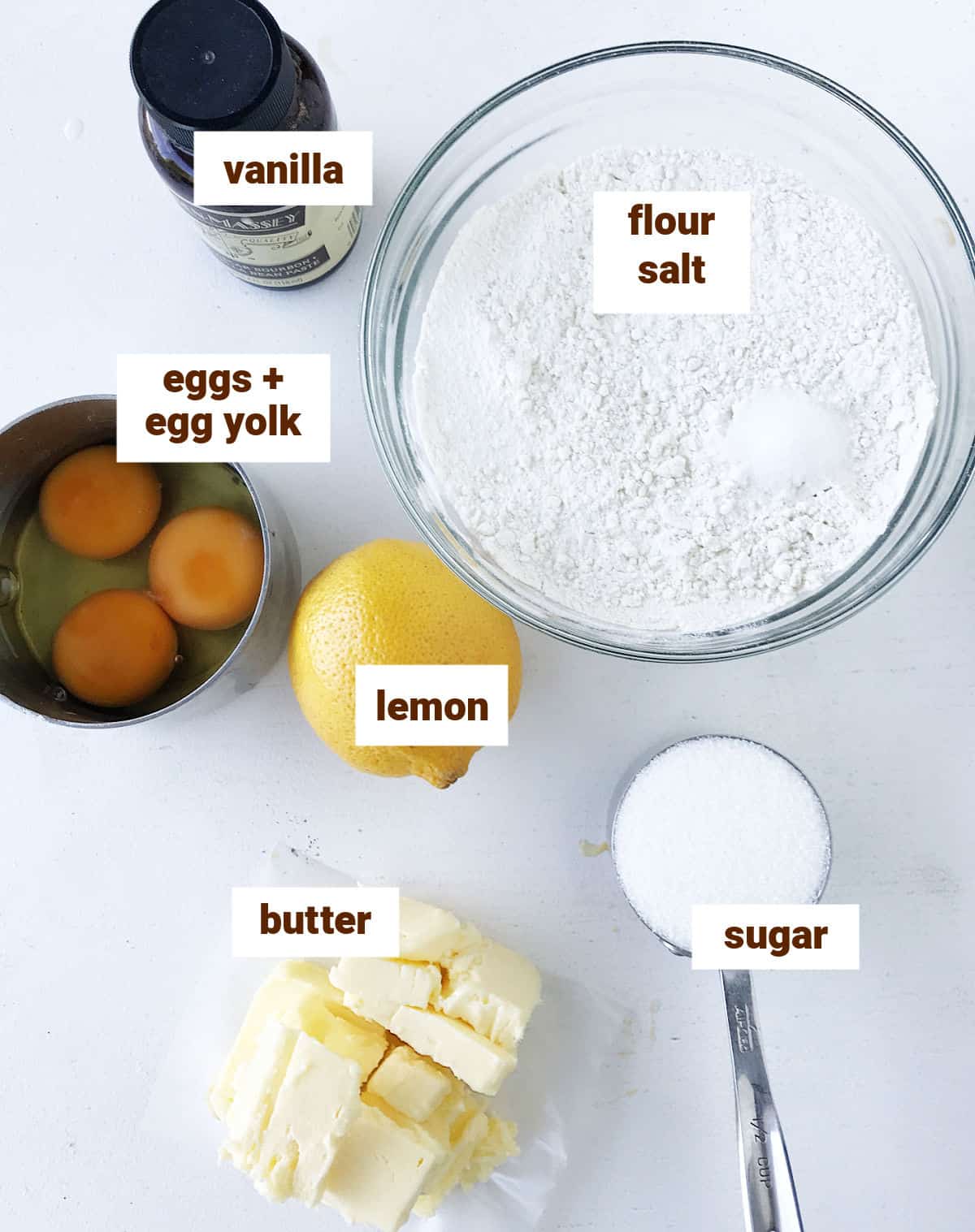 Flavorings: lemon zest and vanilla are the traditional ones and, similar to the great Alfajores recipe, the final flavor is amazing.
Adding butter: make sure it's soft and add it in pieces, a few at a time, allowing it to be integrated a bit before adding the next (image below). At some point, it will all be dissolved and part of the dough.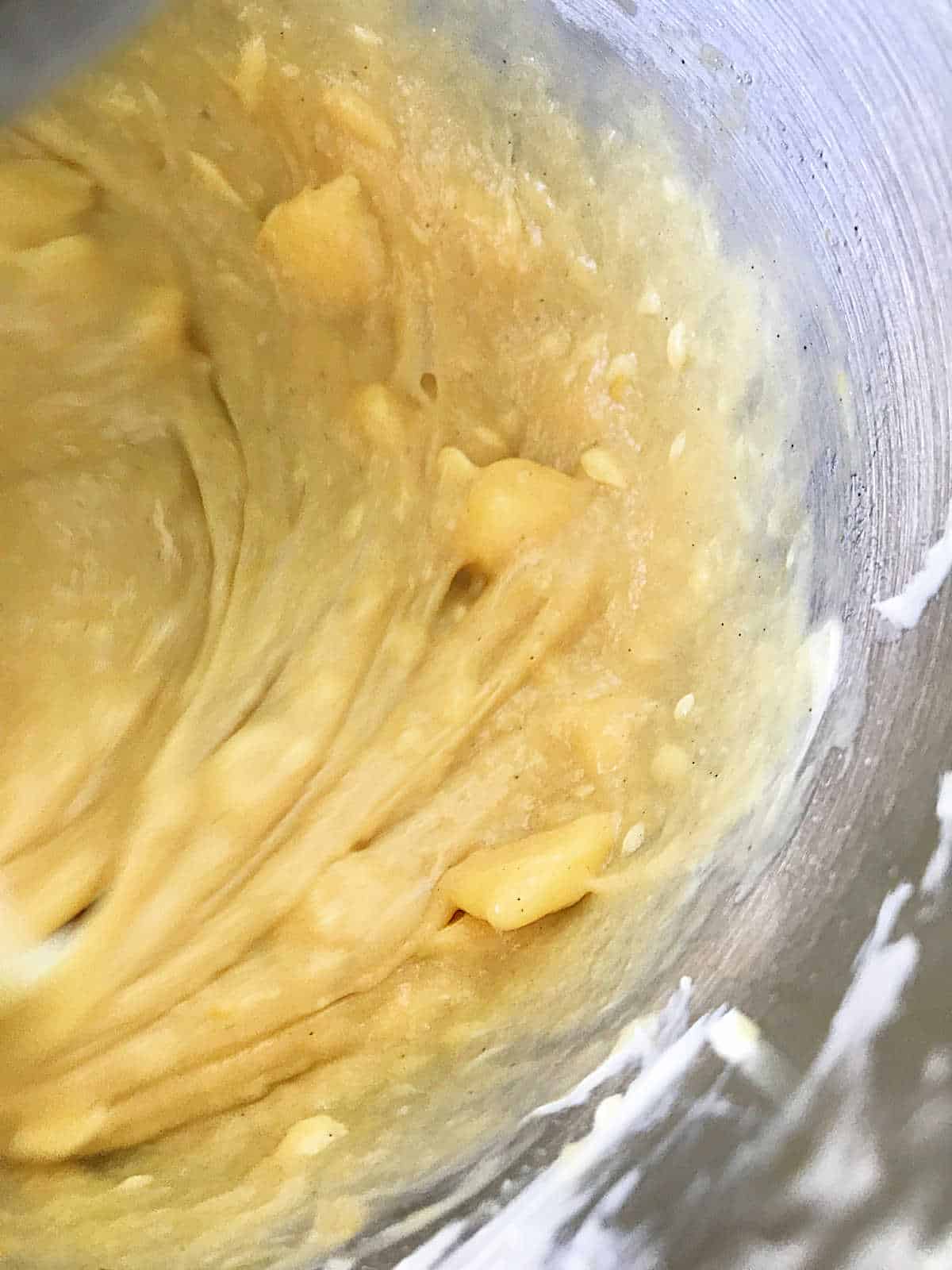 When is the dough ready?
Knowing how much flour a dough needs is probably the most critical part of bread making and something that happens with practice.
But a good parameter is when the dough starts to create 'strands' that regularly leave the sides of the bowl but not completely. Don't be tempted to add flour until a ball forms because that is too much and the bread will be tough.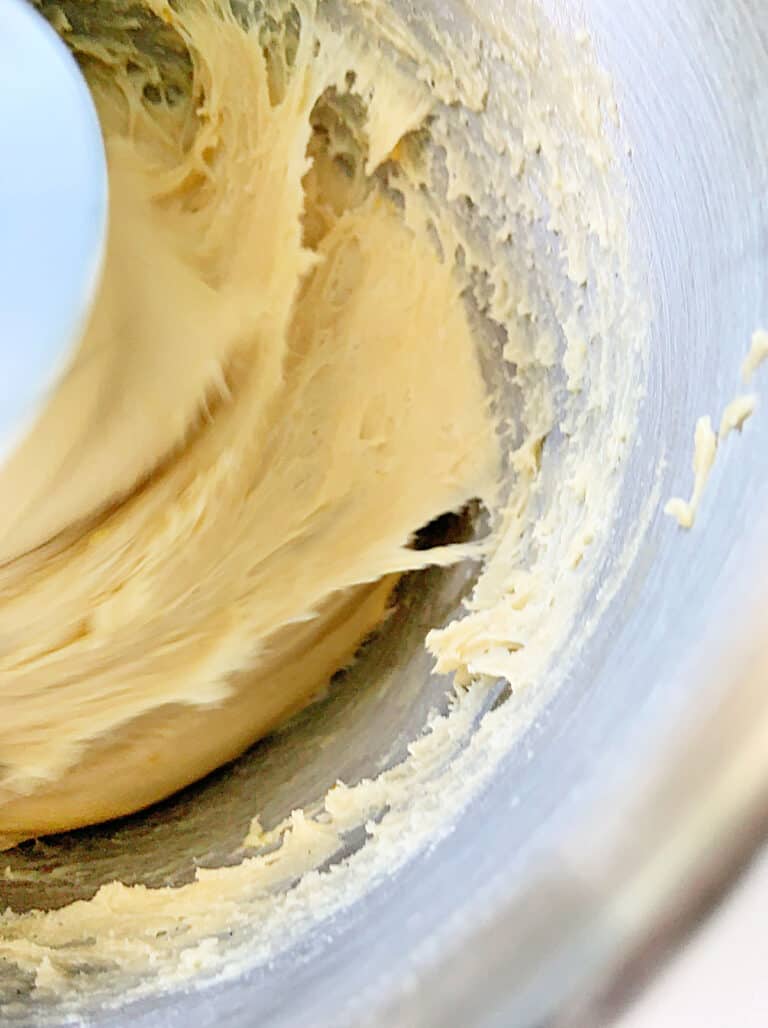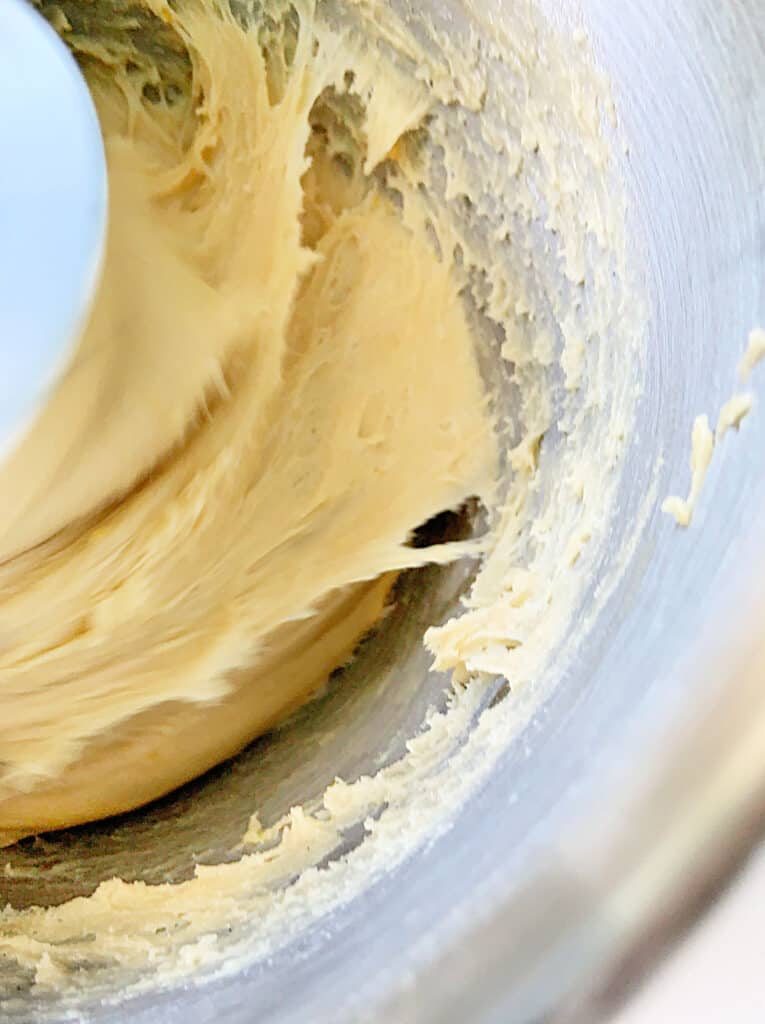 Proofing the dough
This means that it is allowed to rest and double in size one last time before baking, after it's completely kneaded and finished.
Make sure it's covered with a clean kitchen towel and in a place where there are no drafts and the temperature is mild. This is important for the dough to rise as it should (image below).
Depending on how strong the yeast you use is and the temperature of the room, it will take more or less to double in size. Keep in mind that it's not good for the pandoro to rise too much, more than double.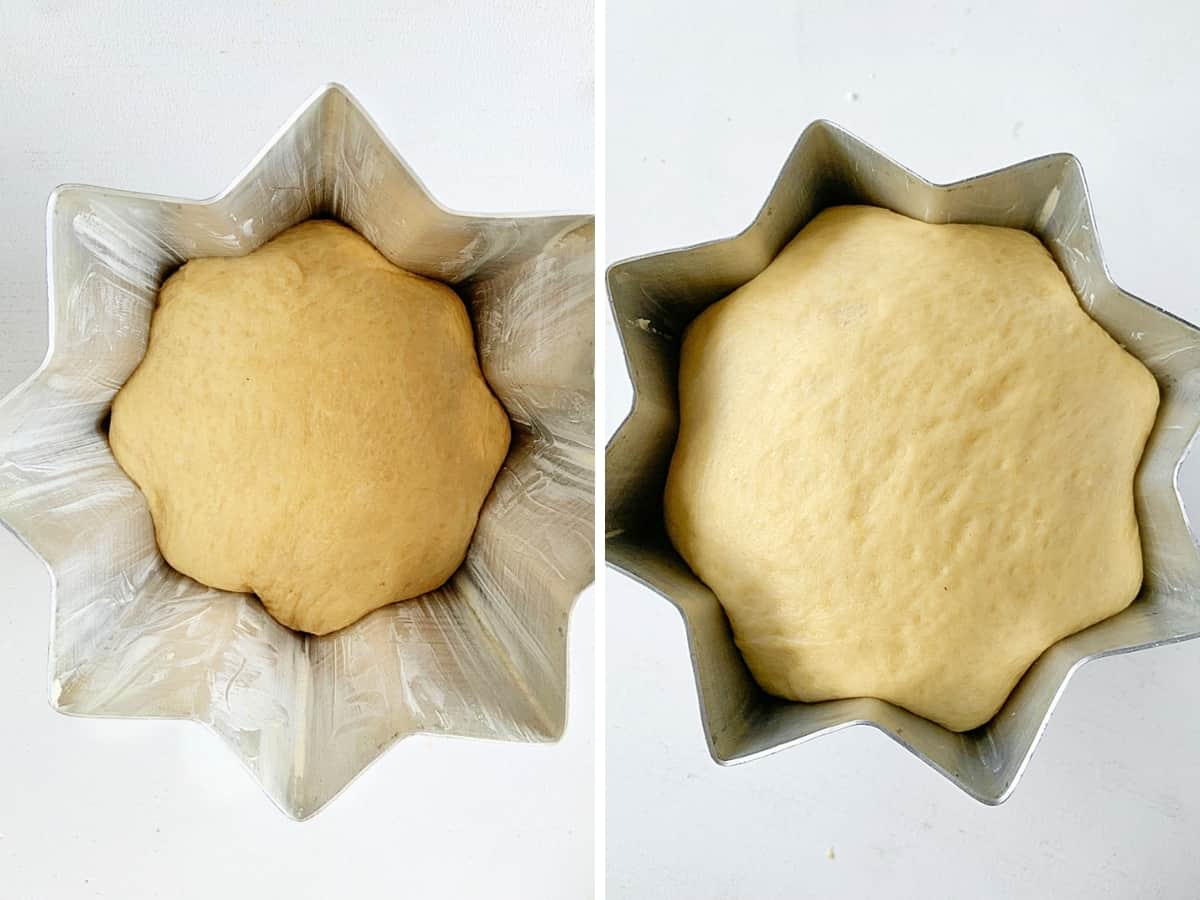 Serving it
Traditional way: the way to eat it is to dust with powdered sugar, preferably vanilla sugar, as explained in the Notes section of the recipe card.
I like to put it in a plastic bag, add the sugar, close the bag with my hand and shake it until the sugar coats most of the bread. Like a snow globe.
Gifting it: put the Pandoro bread in a cellophane bag, add a packet of vanilla sugar (or put it outside the bag), and instructions to serve it.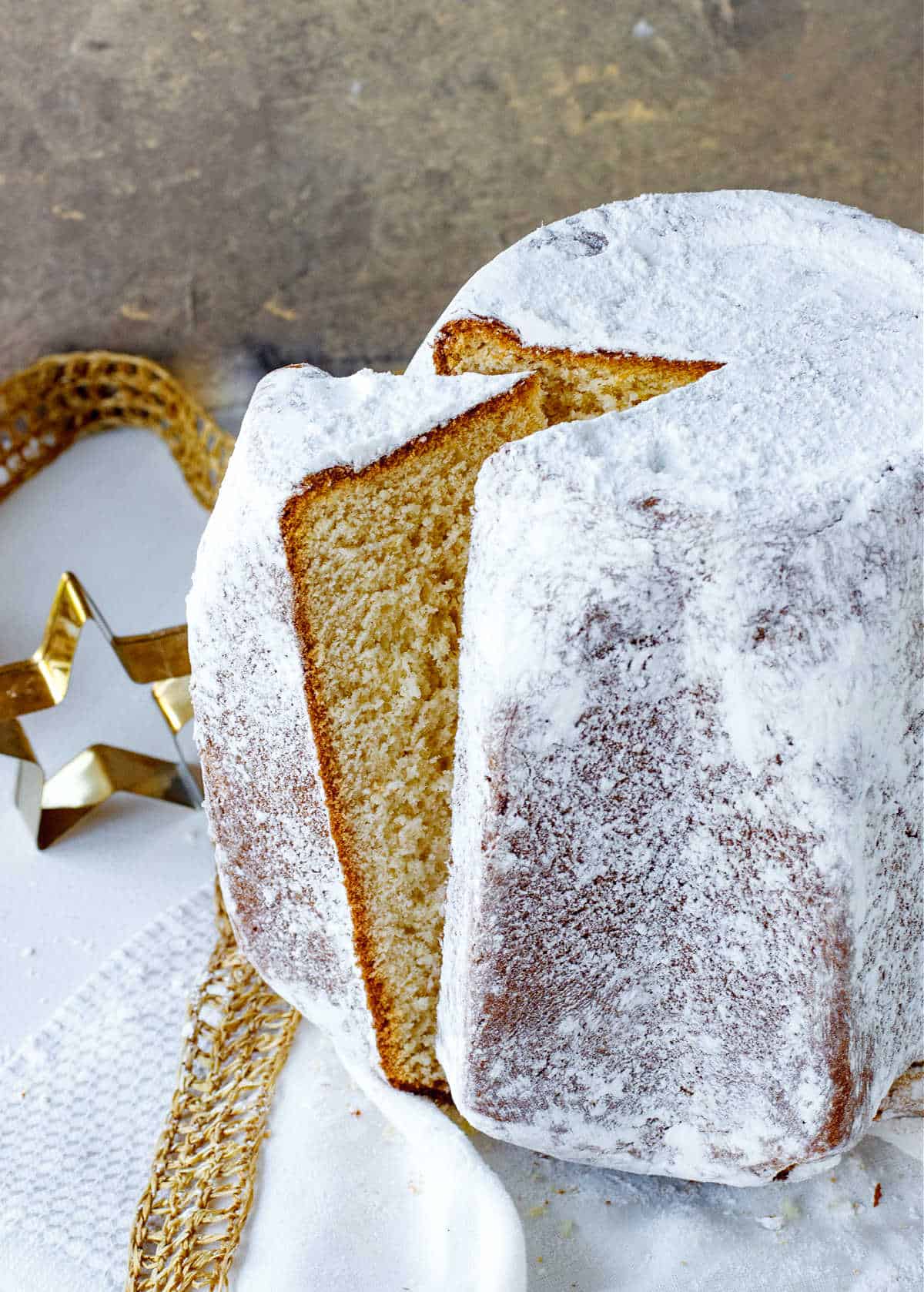 My top tips
Organization: read the recipe and take into account the resting times. There's little hands-on work, but there are several hours where the bread will be proofing and growing. It's important to allow the yeast to do its job at its own pace.
Yeast: any type can be used. Be careful when using the instant or one of those fast-rising ones as they usually leaven faster than the time frames given in this recipe.
Vanilla sugar: it can be bought online like Dr. Oetker Vanilla Sugar or Alsa Vanilla Flavored Sugar. You can make your own by adding some vanilla beans to a jar of powdered sugar. Or, easier than the latter, mix powdered sugar with some Pure Vanilla powder, which will instantly flavor the sugar.
Flavoring: you can add some chopped candied lemon or orange, and orange zest, but I think the beauty of it resides in its clean unassuming appearance and the extraordinary flavor that you discover when you take a bite.
Flour: all-purpose works very well, but you can also use half bread flour and half cake flour. They both do their own thing so the bread will have texture and also softness.
Related recipes you might like:
Let me know in the comments below if you make this recipe! I'd love to hear what you think about it. Thank you for being here, I appreciate it! Let's connect via Facebook, Instagram, and Pinterest.
If you like the recipes in this blog, consider subscribing and getting all new posts by email. As a thank you, we'll also send you a FREE recipe e-book and our Guide to Freezer Baking!
Print
Adapted from The Italian Baker, by Carol Field