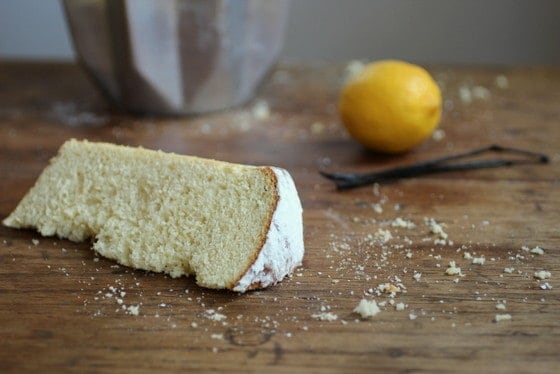 This bread reminds me of
snow globes
, those glass balls with snow inside, that you turn upside-down and make them come alive. Pandoro is an italian sweet bread, with a flavor unlike any other.
The bread is wrapped inside a clear bag, tied, and a packet of powdered sugar, usually vanilla flavored, is attached to it. When you're ready to eat it, you empty the packet inside, close the bag, give it a few shakes and out comes a white bread, completely covered in the sugar.
It's magical and festive. Let's hope 2013 turns up that way too.
Before you say anything, I know it's upside down. The smaller part should be the top, but I serve it the other way around, because it usually doesn't stand straight otherwise, and I don't want a falling pandoro.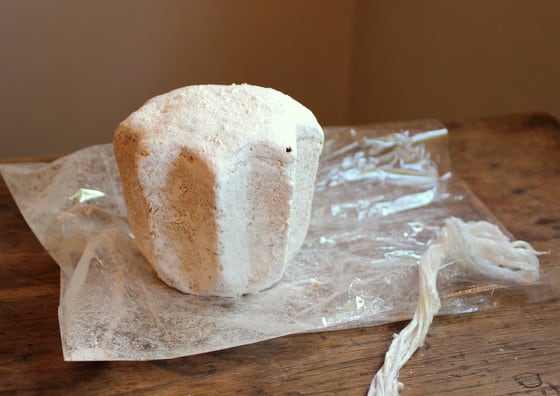 This Pandoro bread is part of the Twelve Loaves baking group. The theme this month is a clean slate to start the year. Way too many options for a baking fanatic like myself, but then, I had wanted to make Pandoro in december, and since that obviously didn't happen, this was the perfect occasion. Read below for details about this group.
This is another egg and butter bread, like brioche or
pulla
. But the texture and flavor are completely different. Interesting how similar ingredients can deliver such different results. It's a very simple sweet plain bread.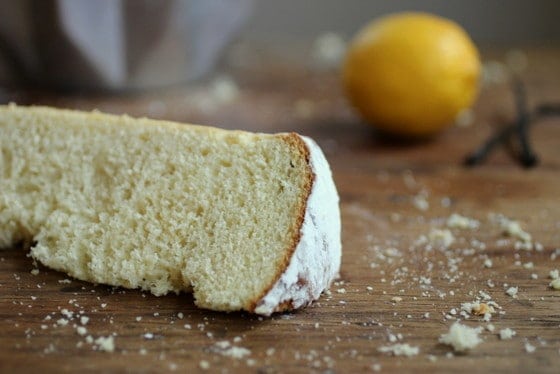 This recipe is the only one I ever made, and I don't think I ever want to find another one.
It consists of a yeast starter and two more steps until the dough is resting, but it gets done in less than a day, with a small amount of hand-on time, as it usually happens with yeast breads.
A standing mixer is highly recommended; though it can be made by hand, well, it will be somewhat messy and you'll end up hating me. And I want us to keep on being friends.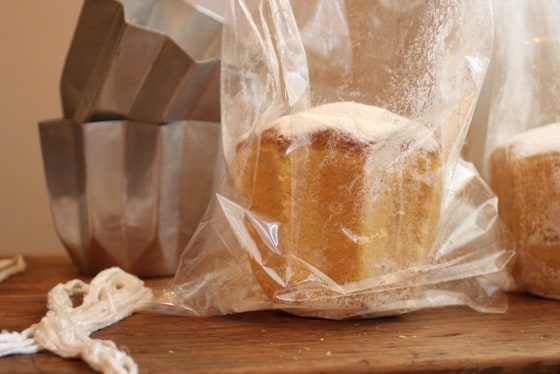 As it usually happens, most yeast bread fanatics own a stand mixer, like myself, who got it as a wedding anniversary more than ten years ago. Seeing how my (ex) husband was very into giving me jewelry for important occasions, I had a serious talk with him and made sure he understood that, for me, things like a kitchen aid were far more life altering than any ring.
Back to this sweet bread, you can add some chopped candied lemon, but I think the beauty of it resides in it's clean, unassuming appearance, and the extraordinary flavor that you discover when you take a bite. The crumb is tender, so tender it almost melts in your mouth. And the mix of vanilla extract and lemon zest, a small amount of each, gives it an undefined flavor. Like the flavor of these alfajores.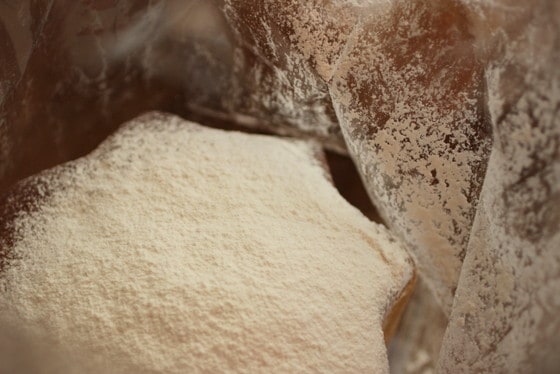 The recipe use cake flour and bread flour together. This mix of flours works so well with these type of doughs I highly recommend you don't change that. The first time I made this, was with cake flour only. I took the breads to a friend´s house on new year's eve. They own a few bakeries, a family business started by my friend's grandfather who was an Italian immigrant. His father was there, who has been a bread baker all his life, and he immediately said it was missing some texture. So the recipe was right about using both flours.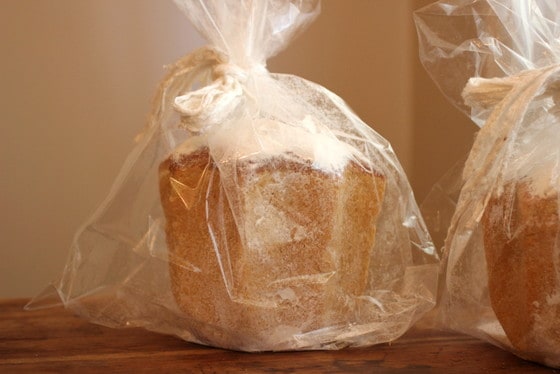 Print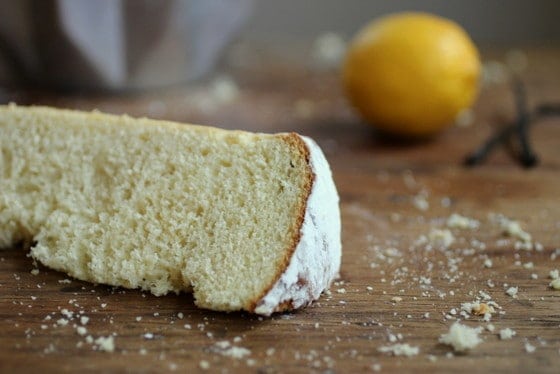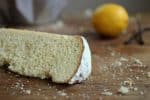 PANDORO - Golden Italian Sweet Bread
---
Scale
Ingredients
For the sponge

4 ¼ teaspoons

active dry yeast

½ cup

warm water

1

egg

2

Tbs sugar

¾ cup

100g all purpose or bread flour
For the first dough

3 cups

+ 3 Tbs (

380g

pastry or cake flour)

3 ¼ cups

435g all purpose or bread flour

1 teaspoon

active dry yeast

1

Tbs warm water

¼ cup

sugar

2

eggs

½

stick (55g unsalted butter, room tº)
For the second dough

4

eggs

2

egg yolks

1 cup

200g sugar
Reserved mixed flours

1 teaspoon

salt

1 teaspoon

vanilla extract
Zest of

1

lemon or

1 teaspoon

pure lemon extract

2 ½

sticks (285g unsalted butter, at room tº)

4

Tbs + ½ cup all purpose flour for kneading (if necessary)
Confectioners' sugar (to serve)
---
Instructions
For the sponge
In the bowl of the electric mixer, stir the yeast into the water and let stand 5 minutes, until foamy.
Add egg, sugar and flour and mix with a wooden spoon until well combined.
Let stand, covered with plastic wrap, until doubled, about 30 minutes.
For the first dough
Mix the two flours together. Measure 2 ½ cups of this mix that will be used for the first dough, and reserve remaining for second dough.
In a small bowl stir the water with the yeast and let rest 5 minutes, until foamy.
Add yeast mixture, sugar, eggs and flour to the sponge. Mix with the paddle attachment until well combined.
Add the soft butter and beat until well blended.
Cover with plastic wrap and let rest until doubled, about 45 minutes.
For the second dough
Add eggs, yolks, sugar, vanilla and lemon zest to the first dough and beat well with the paddle attachment.
Gradually add the softened butter and mix until well incorporated. Add reserved flour and salt in ½ cup additions.
Change to the dough hook and knead 8 to 10 minutes. The dough should be soft, buttery and delicate.
It should not clean the sides of the bowl completely, but add up to ½ cup more flour if the dough is still too wet.
Place the dough in a buttered bowl and cover tightly with plastic wrap. Let rest in a warm place until doubled in volume, anywhere between 2 to 4 hours.
Sprinkle the top of the dough with the 4 Tbs flour. Turn out onto a well-floured surface and, with floured hands, cut the dough in half with a dough scraper or a knife.
Shape each half into a loose ball and place in well buttered or sprayed star-shaped pandoro molds. Cover with a clean towel and let rise until doubled, between 2 ½ to 4 hours.
Preheat oven 30 minutes before baking to 350º F /180ºC.
Bake breads for 30 minutes. Reduce oven tº to 300ºF/150ºC and continue baking for another 30 minutes. If the top is too brown cover loosely with aluminum foil.
Let cool on wire rack and unmold.
Dust with confectioners' sugar and shake inside a cellophane bag before serving.
---
from The Italian Baker, by Carol Field
Here is what the rest of the group made to kick-start the year:
Alabama Light Bread by Dorothy | Shockingly Delicious
Basic White Bread by Renee | Magnolia Days
Classic Oatmeal Bread by Liz | That Skinny Chick Can Bake
Grandmom's Dinner Rolls by Jennie from The Messy Baker Blog
Italian Potato Bread by Rosella | Ma Che Ti Sei Mangiato
Orange, Date and Nut Loaf by Katerina / Diethood
Rosemary Olive Oil Bread by Alice | Hip Foodie Mom
Whole Wheat Pita Bread by Holly | A Baker's House
Whole Wheat Sea Salt Bagel by Lora | Cake Duchess
English Muffin Bread by Karen / Karen's Kitchen Stories
---