Hot Cross Buns are traditional Easter little breads, and this recipe delivers big time. They are soft, tender, with a hint of cinnamon and studded with raisins. They can be made ahead and frozen!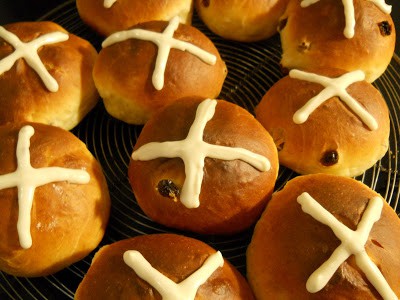 I don't care much for celebrations.
No really, not even Christmas. But don't hate me, please. It's not that I don't like to celebrate, I just think there's a mandatory nature that doesn't agree with me.
What if, for example, I'm mad at my spouse and it so happens to be our anniversary? Or if I want to give gifts to my friends during the year, and I just don't feel like shopping in December?
So let me re-phrase. I don't care much for appointed celebrations. That said, it's strange how I managed to get two recipes posted
around Saint Patrick's and now one around Easter. I just wanted to bake and they were perfect occasions.
So you see, I'm celebrating because I choose to. See my point? Don't you agree? Not many do.
So, I find myself trying, hard sometimes, to find some whatever-holiday-is-approaching spirit.
This is how today I present you with hot cross buns. Cute little things they turned out to be. I had never made them before. Barely sweet, easy to do and very forgiving, since I forgot the dough for more than an hour when it was supposed to rest for only twenty minutes. So they ended up having an extra rise.
They turned out perfect.
They have eggs, like challah or like butterless brioche. The dough is very much brioche-like; sticky, slapping around the mixer, looking like it needs a ton more flour than what the recipe calls for. But no. Everything went smoothly. It can also be left to rise overnight in the refrigerator. I even baked some in a loaf pan, like brioche Nanterre, and they came out great.
Back in the day, they were a Christian tradition, the cross symbolizing the crucifixion. They are usually sold on Good
Friday, but why stop there. They are even a good alternative for lunch or dinner since the sugar and spices don't dominate the bun.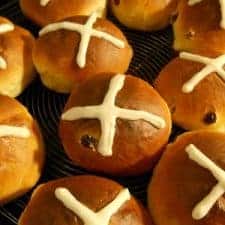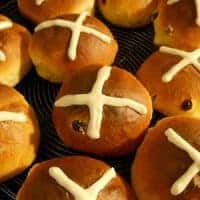 Hot Cross Buns
Soft, tender and studded with raisins, these are traditional Easter little breads.
Ingredients
1 Tbs + ¾ teaspoon active dry yeast
½ cup very warm water
¼ cup warm milk
½ cup canola oil (I used sunflower)
1/3 cup granulated sugar
1 ½ teaspoons kosher salt
3 ½ to 4 cups unbleached all-purpose flour
½ teaspoon ground cinnamon
½ teaspoon grated nutmeg
3 large eggs (lightly beaten)
2/3 cup dried currants or raisins (light, dark or a mix)
1 large egg white
¾ cup powdered sugar
Instructions
Line two 12 by 17-inch baking sheets with parchment paper. I used one sheet and one loaf pan, both sprayed with vegetable oil.
Place the yeast and warm water in the bowl of a standing mixer and stir to dissolve with a fork. Allow to stand for about 3 minutes.
Add the warm milk, oil, sugar and salt to the yeast mixture and stir with a whisk to combine.
Add 1 cup flour, cinnamon and nutmeg, stirring with a wire whisk until the ingredients are well combined.
Add the eggs and mix well. Attach bowl to the mixer with dough hook and gradually add 2 ½ to 3 cups flour while kneading on medium-low speed, until you have soft, pliable dough.
On medium speed, knead for 5 to 7 minutes. The dough will be wet and sticky but will start to come together. I added about ¼ cup more flour. Cover bowl with plastic wrap and let rest for 20 minutes.
Knead the dough for 1 or 2 more minutes, or until it becomes smooth, supple and elastic but not too firm. Transfer to a lightly floured surface and, with your hands lightly floured also, stretch into a rectangle.
Spread the dried currants evenly over the rectangle. Fold the whole mass like an envelope, and knead it gently until the currants are well distributed, about 2 to 3 minutes. Some of the currants may pop out of the dough, but they can easily be incorporated again after the first rise, when the dough has softened.
Shape the dough into a loose ball and place it in a lightly oiled bowl, along with any loose currants.
Turn to coat the top of the dough with oil and cover the bowl tightly with oiled plastic wrap. Let the dough rise at room tº, until doubled in volume, about 1 ½ to 2 hours. (You can also refrigerate the dough, without letting it rise, and let it double slowly overnight. Take it out first thing in the morning and continue with the next step).
When the dough has doubled, gently pour it out of the bowl onto the floured work surface, pressing in any loose currants.
Flour your hands lightly and divide the dough into 18 equal pieces (each weighing about 2 oz / 50g). I divided it into 15 pieces.
Shape the rolls, cupping the pieces with your rounded palm and making circular movements until you have a rounded bun, and place them on the prepared pans, leaving 1-inch space around the edges and 2-inches between the rolls so they won't grow together as they rise.
Cover them loosely with oiled plastic wrap and let them rise at room tº until almost doubled in volume, about 45 minutes to 1 hour. Since I only had one baking sheet, I baked five of the rolls in a loaf pan. (If the dough had been refrigerated overnight, it will take twice as long for the rolls to rise).
While the bread is proofing (rising), make an egg wash: In a small bowl mix egg white with a pinch of salt. Cover with plastic and set aside.
About 15 minutes before you're ready to bake, preheat the oven to 400ºF / 200ºC.
When the buns have doubled, use a lame or a razor blade, or a small sharp knife to cut a shallow cross on the top of each one. Lightly brush the buns with the egg wash, being careful not to deflate them. Reserve the remaining egg wash. For you info, I didn't use the egg wash, just baked them directly; and I did make the cross with the razor blade but don't believe it's necessary really.
Bake in the oven for 10 minutes; then lower the oven tº to 350ºF / 180ºC and bake for an extra 5 to 10 minutes, or until the buns have turned a nice golden brown and the surface feels slightly firm but not hard when you press it lightly. These rolls should have a thin soft covering, not a hard crunchy crust. Transfer the rolls to a rack and let them cool for 5 minutes.
Meanwhile, make the frosting by mixing the remaining egg white with the powdered sugar.
Put on a pastry bag, fitted with a small plain tip, or a teaspoon, to make an X of frosting over the cross of each bun. The frosting will harden somewhat as the buns cool.
They are best eaten the same day they are baked. Store leftovers at room tº in a plastic bag, but it's better if you freeze them, wrapped in aluminum foil and then a plastic bag. Thaw at room tº before serving.
from Amy's Bread, by Amy Scherber and Toy Kim Dupree
Buns ready for last rise before baking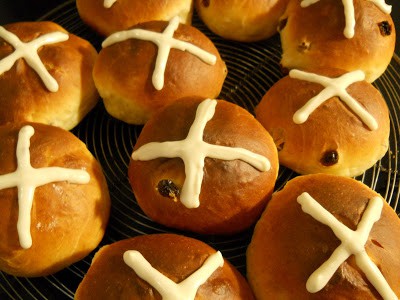 ---