How are you preparing for Easter? I personally think that any holiday, especially on a Sunday, is a great excuse to put together a brunch table. So I prepared a list of great baking ideas to inspire you. Some are easy and perfect if you need a last-minute addition to your menu. There are both sweet and savory recipes, our fav ones.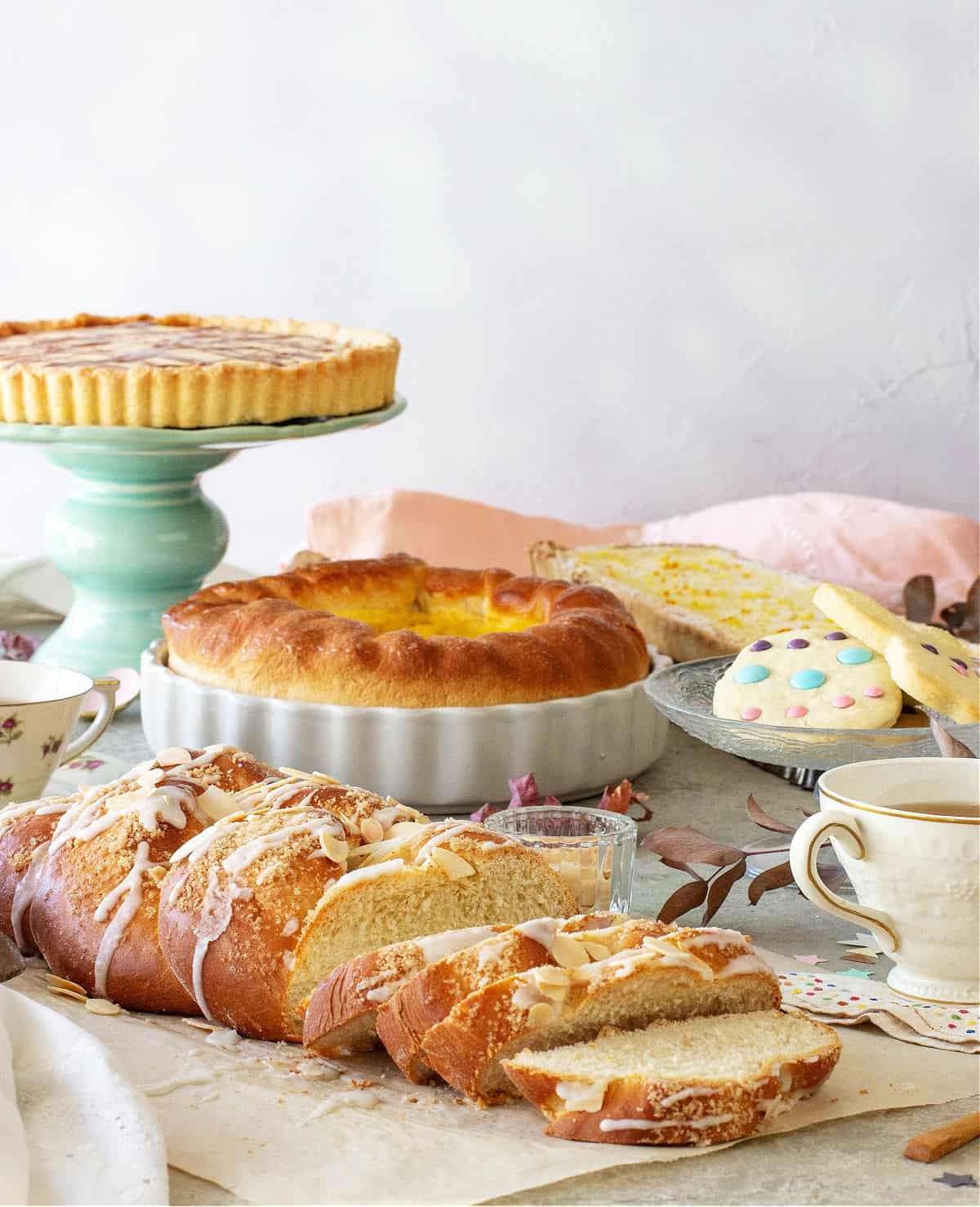 This post is updated every year with more relevant content.
Every year I gather with family, sometimes old friends, and celebrate around a nice brunch table for Easter. It's always special and there's always too much food, as pertains to those of us brought up with any type of Italian heritage.
Setting the table: take the time to think about what color palette you want that goes with your food. Easter and Spring are all about light and sunshine (hopefully) so make sure your plates and linens match the spirit you want for the brunch.
And before you think I'm not into the full Spring spirit because of the decoration colors, let me tell you that we are opposites here, so fall has arrived. Yup, it's all cooler days here in Buenos Aires.
The recipes
The great thing about baking is that most recipes are good to eat year-round. We are not as eager to bake in the scorching summer, but spring and fall are perfect occasions. And a holiday is the perfect excuse.
These are, hands-down, my favorites for Easter.
Savory
I have to confess that savory baking is one of my favorite things. And eating the results is a big part of why I love it, lol.
---
Bread & Scones
There are some traditional recipes below that I love to include on a holiday table. All brunches should have some type of bread and cookies, of course!
---
Cookies
Easter is not complete without a few cookies. Here are our favorites.
Lemon Crinkles: a crowd-pleaser, these are fantastic and easy to make.
Amaretti: chewy and airy, these are gluten-free almond cookies made with few ingredients. It's a great way to use those leftover egg whites.
Chocolate Walnut (or Pecan) cookies: intense chocolate cookies that have nuts, a shiny, crackly skin, and a dark chocolate fudgy center with chocolate chips that is gooey and incredibly rich.
White Chocolate Almond cookies: soft and delicious, these are sweet with a caramel tone and lots of crunchiness from the sliced almonds.
Lemon Shortbread cookies: this 5-ingredient recipe makes a delicate, glazed crisp cookie with a melt-in-your-mouth texture and subtle lemon flavor.
Lemon Shortbread: this is a glorious mix of butter, sugar, and flour with added lemon zest to make it better, a nice zing cutting through that buttery amazingness.
Pies and Desserts
Some traditional pies and some wonderful desserts that will be approved by your pickiest eaters.
Cakes
I narrowed down my favorite cake recipes for this time of year which was not easy. I hope you find them amazing like I surely do.
---
A bonus recipe that is more an idea, because it doesn't have a post, only the image below.
We took our favorite sour cream sugar cookie dough and made egg and bunny cookies decorated with chocolate candies in pastel colors. Look for those that are meant to be baked without losing color or form.
Cookie decoration was never easier! These were made by my friend Juliana over at Horneando Algo.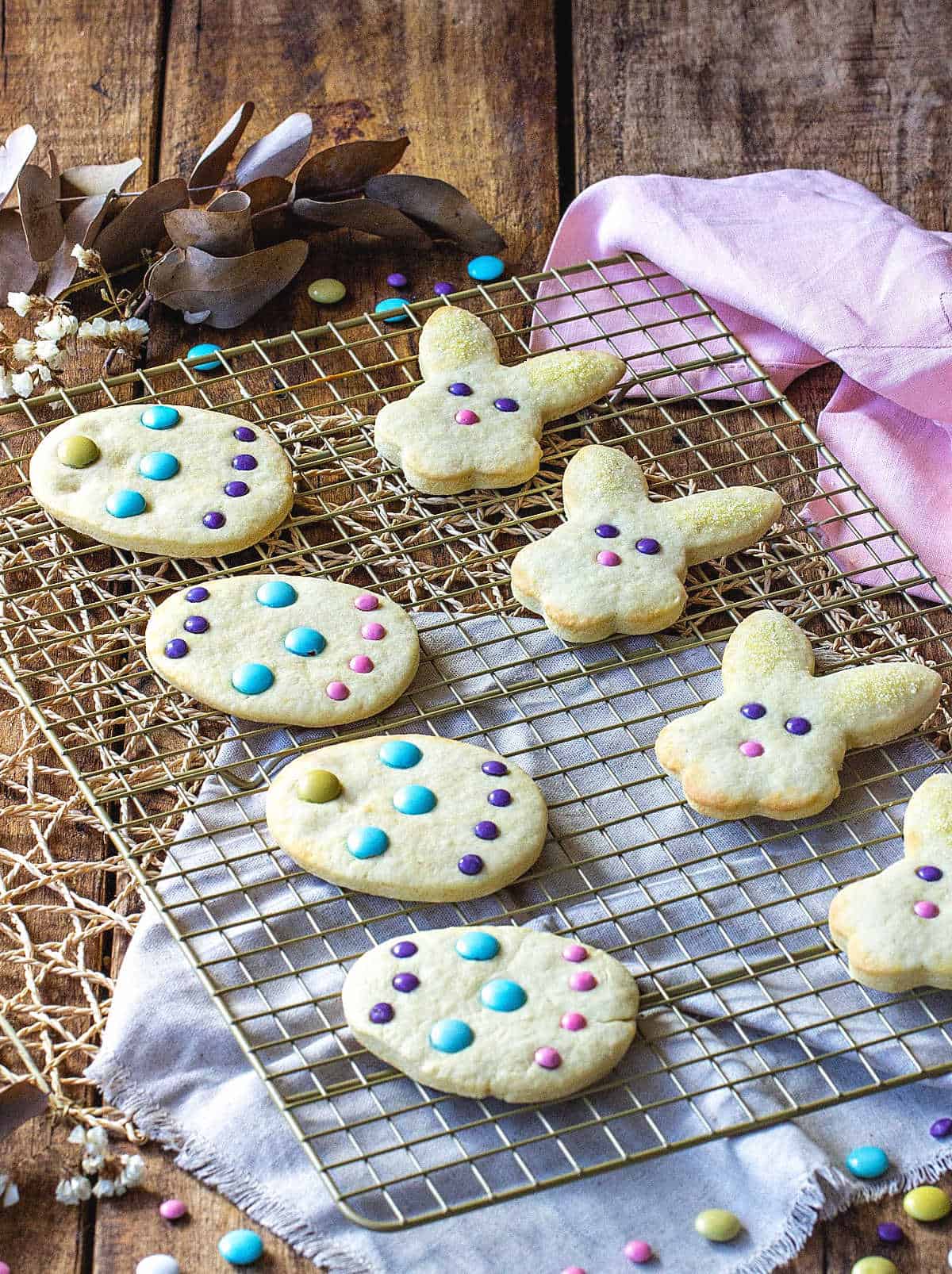 Let me know in the comments below if you made this recipe and loved it and if you had issues so we can troubleshoot together. I love to hear what you think, always. Thanks for being here. It's much appreciated.
You might also consider subscribing to our FREE email series to Boost your Home Baking Skills! And our regular newsletter.
And let's connect via Facebook, Instagram, and Pinterest.
Have a wonderful Easter holiday weekend everyone!