Wonderfully easy to make, these white chocolate blondies have walnuts, are ready in under an hour and freeze well. Laced with coffee, they taste like the best giant caramel cookie.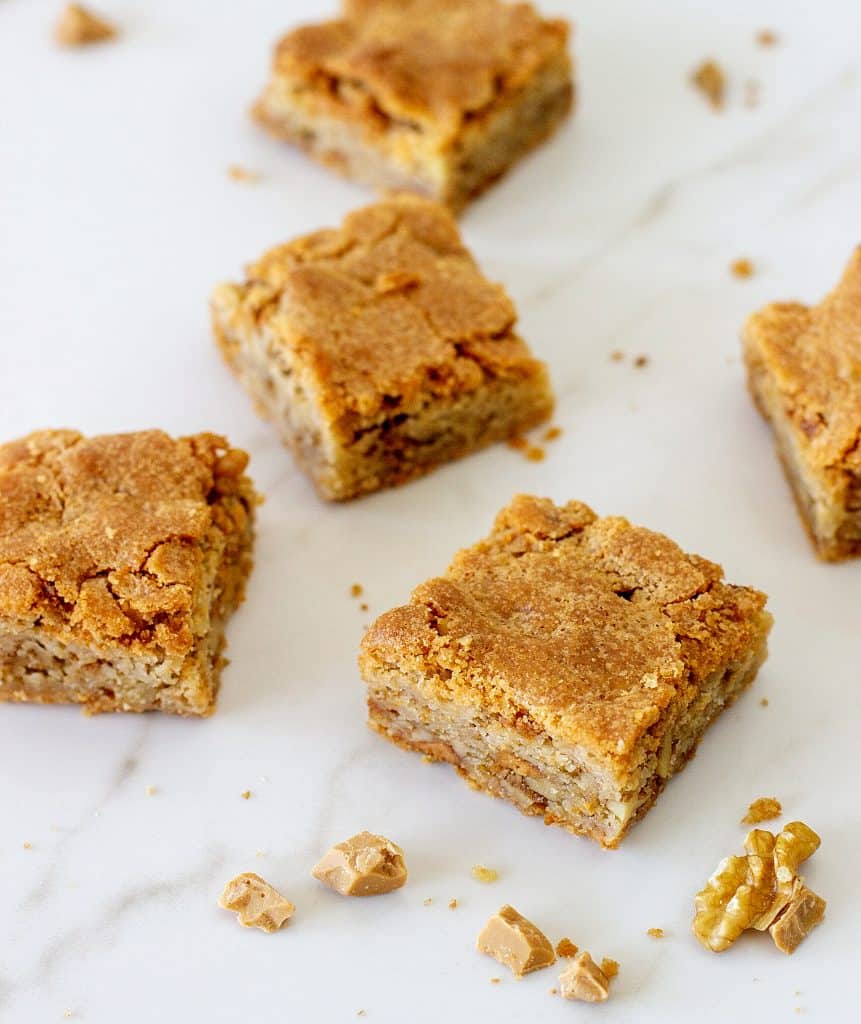 Originally published in September 2012, this post is updated with images and text. The recipe was slightly changed.
Are you staring at these wonderful blondie squares?
They are one of my favorite recipes, full of white chocolate chunks, walnuts, and a dash of coffee that enhances the caramel undertone and pairs wonderfully with the nuts. A mix of flavors I'm completely in love with when it comes to baking.

They're a favorite here around the holidays, along with the gooey honey walnut squares and the Best Hungarian Shortbread.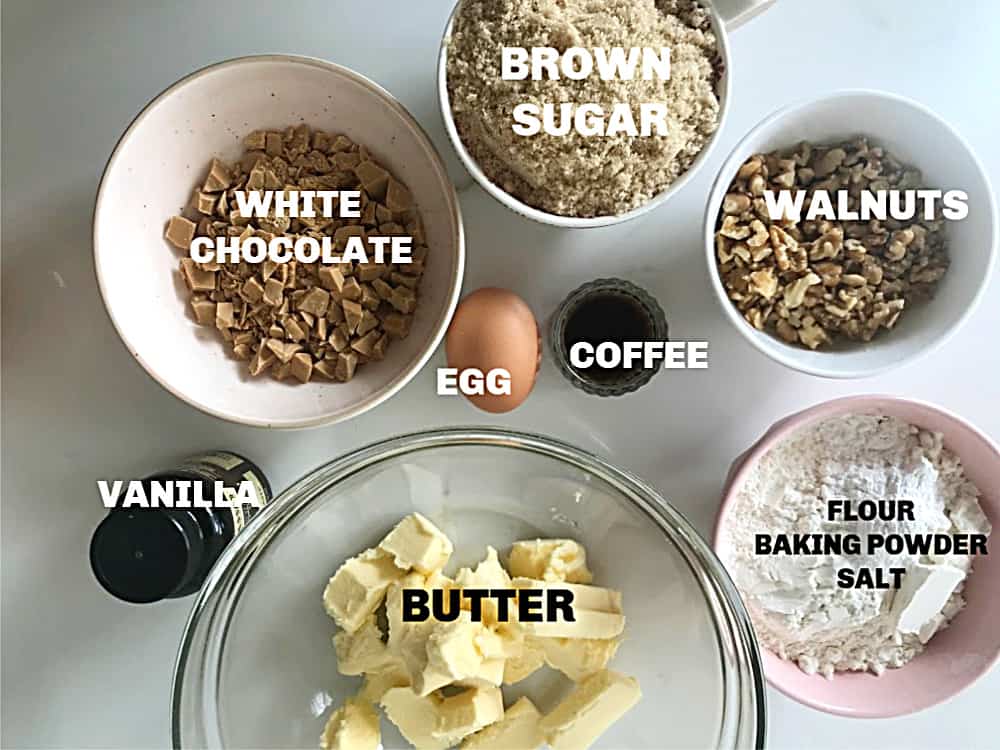 Main ingredients
As you can see in the image above, the list of ingredients is pretty straight forward.
I'm partial to a solid block of chocolate cut into chunks with a big knife, so that's what I used here. That way you get big and small pieces that add texture to the final blondie. Chips get a bit lost in the batter but they will work if that's all you have.
White chocolate: as you can see above, the color of the chocolate I use might not be considered 'white' haha. That is because I like to use the caramelized one from Valrhona, Dulcey, which I also used for the white chocolate almond cookies. I simply love it. There's no paid content or anything here. You can use regular chips or chunks as I do when I'm out of this one.
Coffee: it adds a lot of flavor because it enhances the others, like white chocolate and walnuts. If coffee is a no-no, omit it and use more vanilla.
Easy steps
Have all ingredients ready and measured.
Mix butter with sugar and add the egg (image 1). I use an electric hand beater, but it can be made with a stand mixer.
Add flavorings and mix well (image 2).
Add dry ingredients (image 3). Patiently mix it with a spatula or wooden spoon. Or use an electric beater but mix just until combined.
Add chopped chocolate and walnuts (image 4). Mix until it is well combined and evenly distributed.
Lining the pan
I use a square pan, spray or butter it, and line it with a strip of parchment paper almost as wide as the pan (image below).
This will aid you when removing the blondie from the pan in a single block.
After that, it's easier to cut.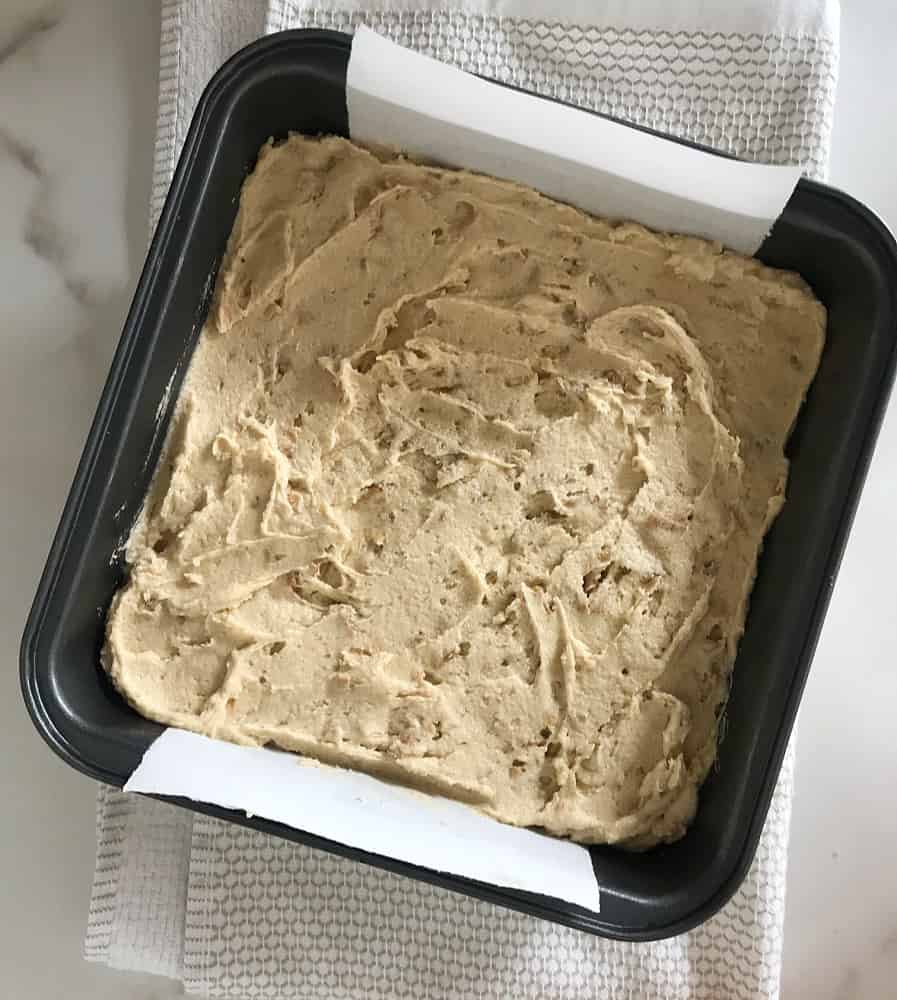 Bonus: add a coffee glaze
Though I didn't use it today, these white chocolate walnut blondies are fantastic drizzled with a coffee glaze.
Use the traditional powdered sugar glaze, as explained in the Brown Butter Bundt Cake.
Or kick it up a notch with a Kahlua glaze, one of my favorites of all times.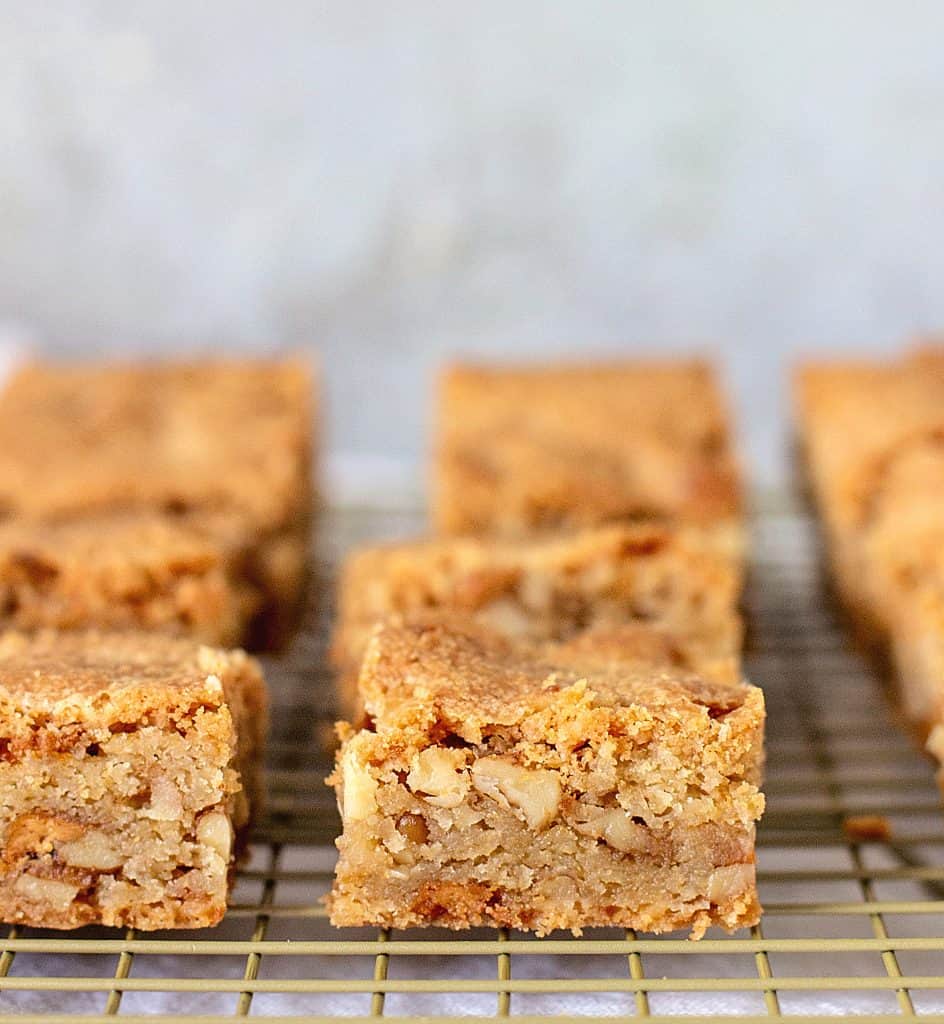 Variation
I used to make this blondie recipe with a lot more coffee flavor. I still love that variation but find the one posted here to be more friendly, especially with kids.
That said, this is my sophisticated adult substitution:
Add a tablespoon (or two) of coffee liqueur such as Kahlua. Use different nuts, a mix of hazelnuts and pecans is my favorite.
The coffee cuts through the extra sweetness of the white chocolate perfectly. It enhances it while letting it remain center stage.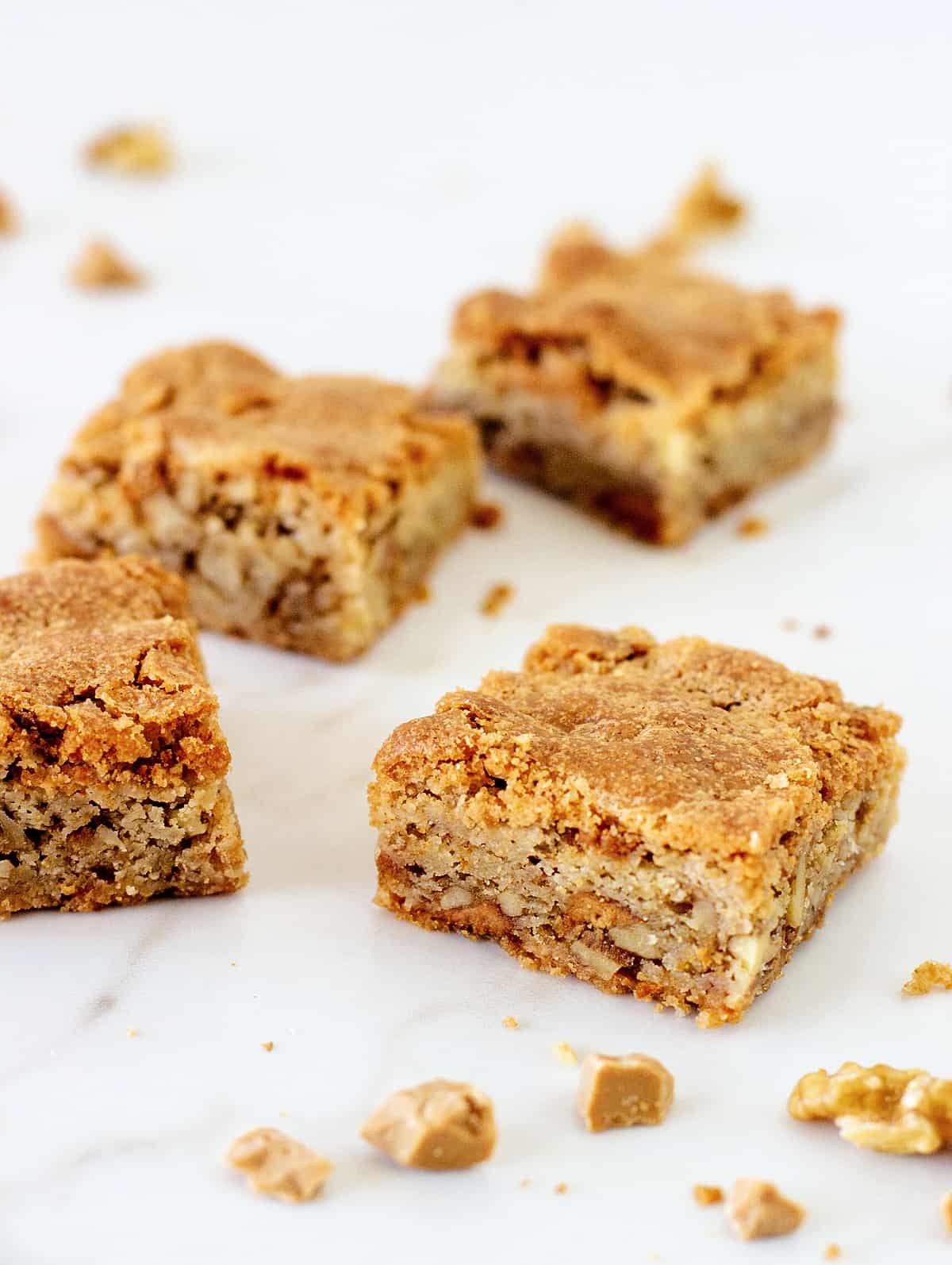 This white chocolate blondie recipe is versatile and perfect for the holiday season!
Other recipes you might like:
Peanut Butter Swirl Brownies
Cookie Blondies
Coffee Chocolate Mini Bundt Cakes
Brown Butter Bundt Cake
Let me know in the comments below if you make this recipe! I'd love to hear what you think about it. Thank you for being here, I appreciate it! Let's connect via Facebook, Instagram, and Pinterest.
If you like the recipes in this blog, consider subscribing and getting all new posts by email. As a thank you, we'll also send you a FREE recipe e-book and our Guide to Freezer Baking!
Yield: 9 medium
White Chocolate Blondies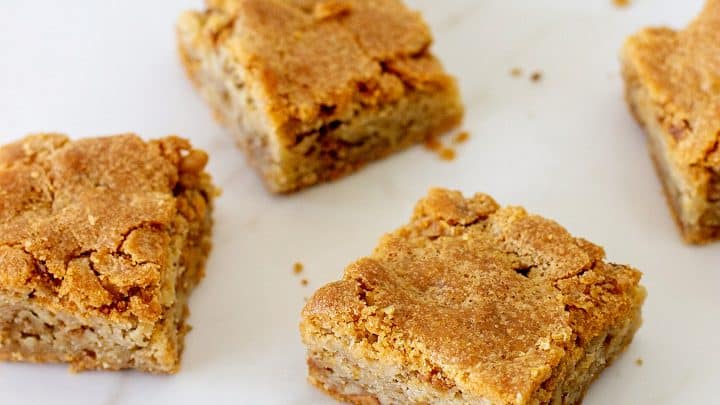 Total Time
1 hour
5 minutes
Ingredients
1 tablespoon ground instant coffee
1 tablespoon water
1 teaspoon vanilla extract
2 cups firmly packed brown sugar
¾ cup (180g) unsalted butter
2 large eggs, at room t°
2 cups (280g) all-purpose flour
2 teaspoons baking powder
½ teaspoon salt
5 oz. (140g) white chocolate, cut into chunks (or use chips)
¾ cups (100g) walnuts, coarsely chopped (you can toast them lightly for a better flavor)
Instructions
Preheat the oven to 350ºF/180°C.
Butter a 9-inch square cake pan and line the bottom with parchment paper.
Combine coffee and water in a small saucepan and stir until dissolved.
Over low heat, add sugar and butter and stir until butter melts.
Turn off heat and let the mixture cool to room tº, stirring occasionally. You can transfer it to a bowl to speed it up.
Add eggs and coffee liqueur to butter mixture and whisk to combine.
Sift flour, baking powder, and salt directly onto butter mixture and stir to blend.
Stir in chocolate and nuts.
Bake until a tester comes out almost clean, about 35 minutes. Do not over bake or they will be tough.
Cool in pan on a wire rack for at least 15 minutes.
Loosen sides with a knife, turn onto a plate, peel off the paper, cut into wedges and serve.
Notes
Freezing: you can freeze them for up to a month. I recommend cutting them first when they are cooled down, wrapping in plastic wrap and then in aluminum paper.
Variation: add a tablespoon (or two) of coffee liqueur such as Kahlua. Use different nuts, a mix of hazelnuts and pecans is my favorite.
---