Hungarian Shortbread, filled with quince paste, which makes it almost too good to be true.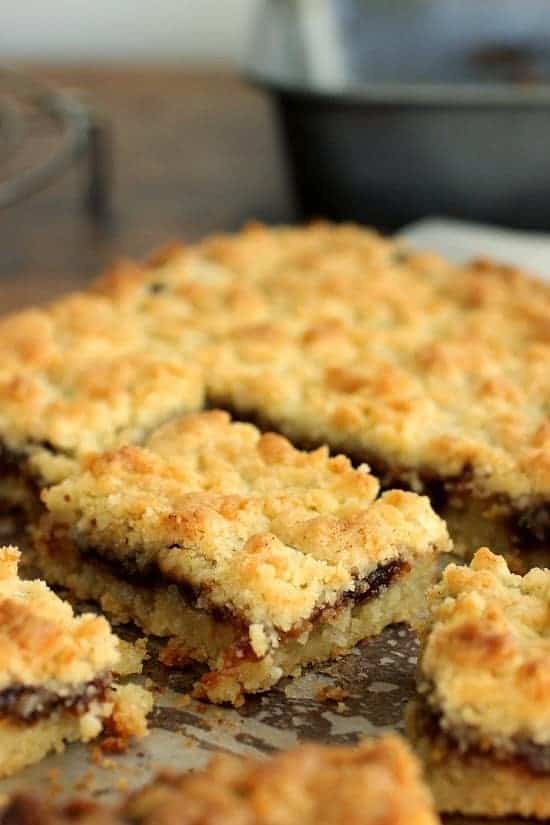 This is not your ordinary shortbread recipe. I don't know if the name Hungarian shortbread has to do with the added egg yolk to the recipe, or the method, where the almost frozen dough is grated to create a different texture of what we're used to.
Either reason, this is a phenomenal recipe by Gale Gand. One that will skyrocket to the top of your sweet shortbread list.
The original has rhubarb, but I needed a flavor to make year round. And besides rhubarb is very hard to find here.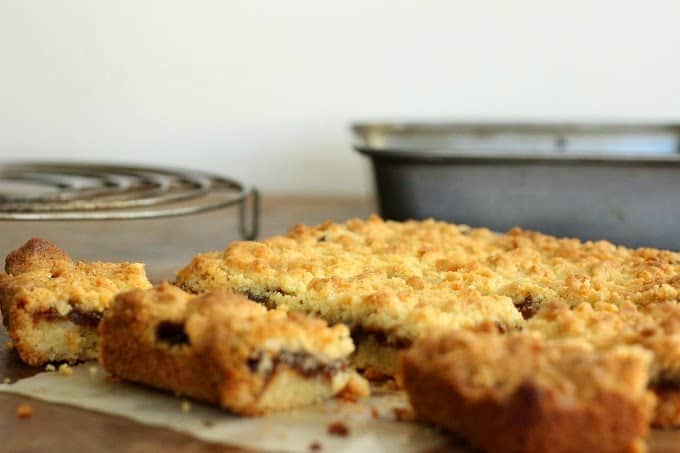 So I settled on quince paste, store bought. They are the new fruit in season right now and they're so hard to work with sometimes, that it will prove a challenge. And I will get them off my mind once and for all.
I made quince paste once, many years ago, and let me tell you the state of my poor hands after peeling them raw made me want to run to my room and cry. I swore never to peel another one ever again, especially since this country has commercially good quince paste sold everywhere.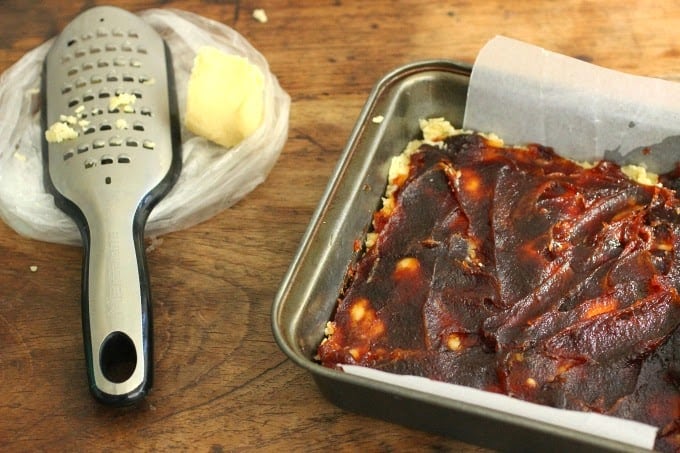 So I used store-bought quince paste for this recipe, which is everywhere here, one of our favorite things to eat. You can use raspberry jam too, or any other thick jam or marmalade. The possibilities are endless.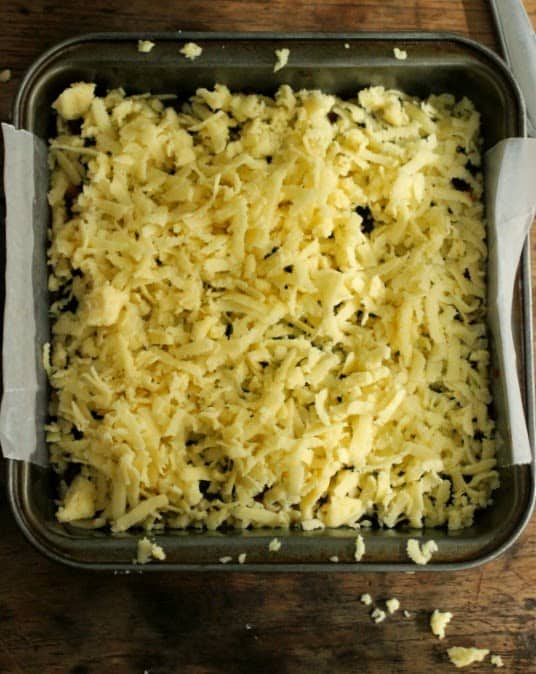 This shortbread recipe has been bookmarked since the beginning. The picture in the book is mouthwatering and it looks like something easy to do and crowd-pleasing.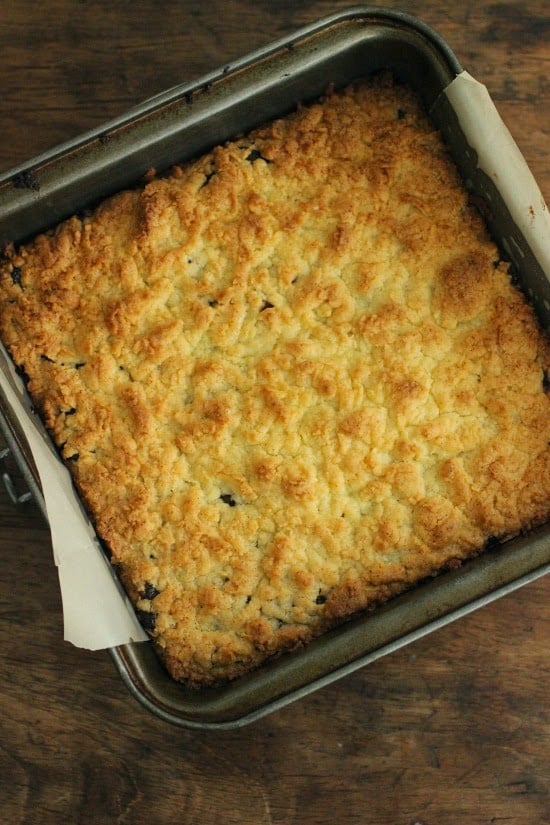 Both things are right. The dough is a regular shortbread mixture of softened butter, sugar, and flour with the addition of egg yolks. The interesting part is that the dough is first frozen and then grated onto the prepared pan, then the jam filling is sandwiched between two layers of this raw shortbread grated mess before baking. I guess that's the secret to it being so moist and almost fluffy. Here you kill two birds with one shot and have your moist, filled soft cookie square as soon as you are able to bite into it. Which in my case was while still warm. Delicious.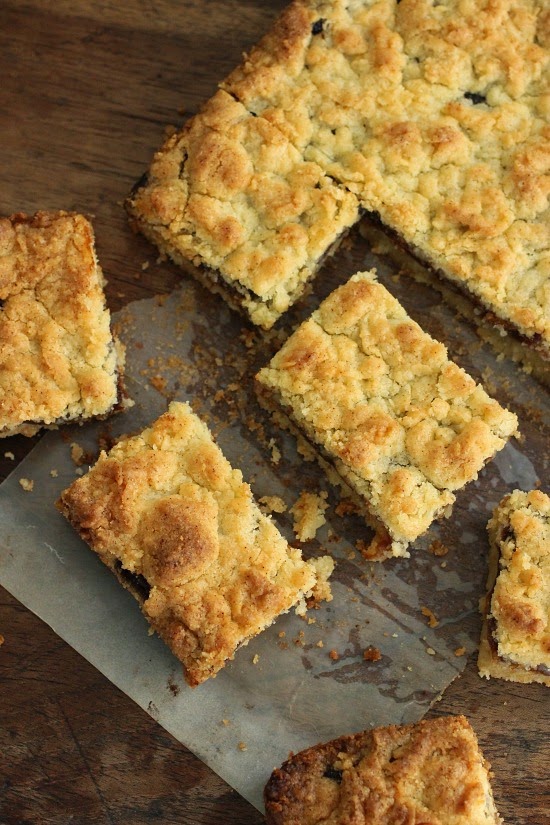 If you use a store-bought, good quality jam this is as easy as a crumble. After all, it is almost a double-crusted fruit crumble; it sure tastes like one.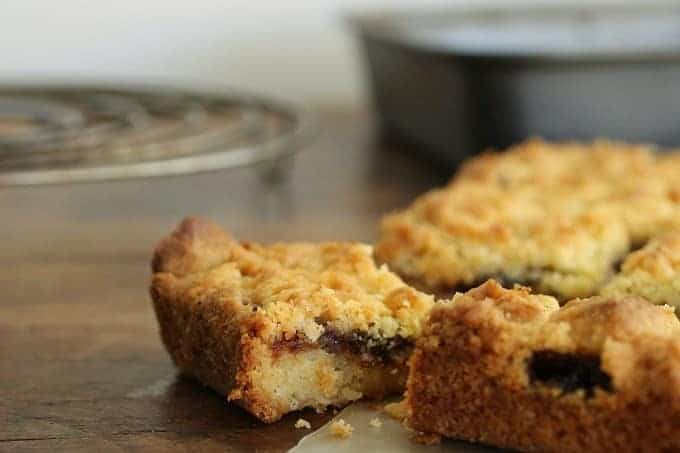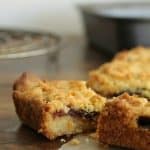 Quince Hungarian Shortbread
Ingredients
2

cups

280g all purpose flour

1

teaspoon

baking powder

1/4

teaspoon

salt

1

cup

225g butter, room tº

2

egg yolks

1

cup

200g sugar

11

oz.

300g quince paste or raspberry jam
Instructions
In a bowl beat butter until light and creamy.

Add egg yolks and mix well.

Add sugar, beating a few minutes until almost incorporated.

Add flour, baking powder and salt. Incorporate with a wooden spoon or spatula; it will be a tad sticky.

Divide in two and wrap in plastic. Freeze until hard but not rock solid, about 45-50 minutes.

Preheat oven to 375ºF / 190ºC.

Line a 8-inch square pan with parchment paper, leaving 2 sides unlined.

Using a wide holed grater, grate one of the dough pieces, letting it cover the bottom of the pan. Press lightly to avoid holes or parts with no dough.

Cover the bottom dough with quince paste or jam. If it's too stiff, soften it with a few tablespoons orange juice or water. Be careful to not tear the dough.

I put paste by tablespoons and then spread it with the back of a spoon.

Grate the rest of the cold dough, letting it fall as evenly as possible. Press very lightly if you want, but not much.

Bake for 15 minutes, turn the oven down to 350ºF / 180ºC and bake another 30 minutes, or until it's golden, dry and it looks crunchy.

Let cool on wire rack, but if some parts of paste or jam are stuck to the sides, unstuck them while still hot with a non-serrated knife.