Shortbread is a glorious mix of butter, sugar, and flour. I added lemon zest and it became even better, with a nice zing cutting through that buttery amazingness. The dough can be refrigerated for a day before baking and the baked shortbread keeps very well. A great holiday idea!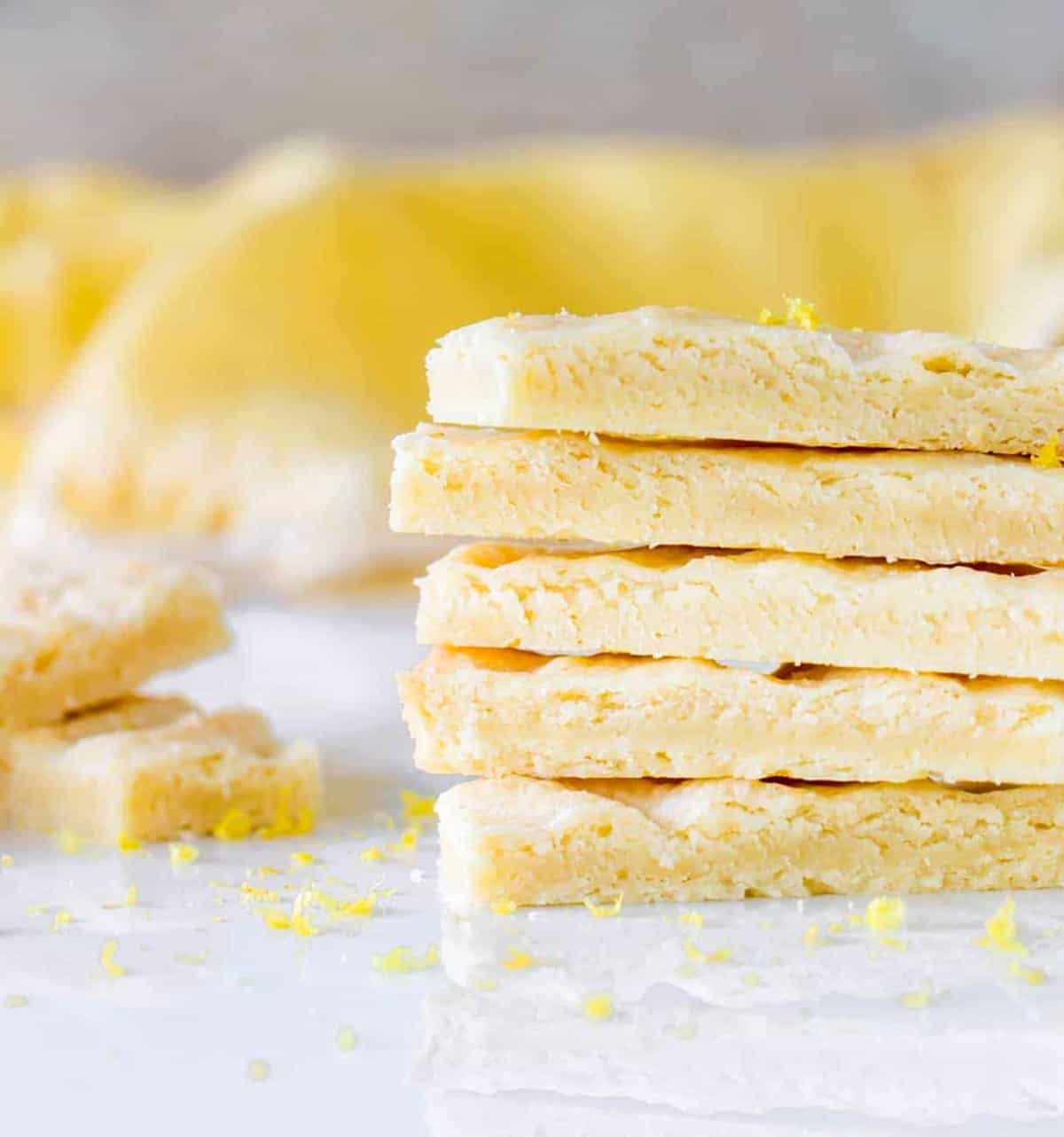 I love shortbread. It's so easy to make and so difficult to screw up! This recipe is a twist on the traditional one, a cousin of the fabulous lemon shortbread cookies that we love so much.
About this recipe
Citrus zest: adding it really makes it stand out. There is a nice acidity that cuts through all that butter and sugar in the best way. Because it is a rich cookie.
Easiness: the dough is patted onto the pan, so it's easier to make than shortbread cookies that have to be cut and glazed individually.
Storing: it keeps well in an airtight container, a tin preferably.
Make ahead: you can make the dough a day ahead, pat it in the pan, cover it and refrigerate it until ready to bake.
Serving it: it can be used to accompany ice cream, to serve with after-dinner coffee, or simply as part of a dessert table with other more sophisticated recipes.
Ingredients
As you can see in the image below, shortbread ingredients are simple and I bet you have them at home right now.
The original trinity of ingredients is butter, flour, and sugar.
Most recipes nowadays usually include some salt to enhance the flavors. This recipe today uses powdered sugar for the dough and a small amount of granulated sugar for sprinkling the shortbread before baking; it creates a crunchy crust and a nice, golden color.
Unsalted butter: use the best brand you can afford. The better the butter the better the flavor.
Powdered sugar. Also called confectioners sugar, it's available in the baking section of most supermarkets.
Flour: I normally make it with all-purpose. But have used cake flour several times and it works very well too.
Salt: I use kosher salt for my baking, but regular salt also works.
Lemon zest: freshly grated from fresh lemons to get the best lemon flavor. I use a microplane zester/grater directly over the shortbread dough.
Granulated sugar: a little is sprinkled on top before baking.
Vanilla - I always use pure vanilla extract when available, but a good vanilla essence (artificially flavored) also works.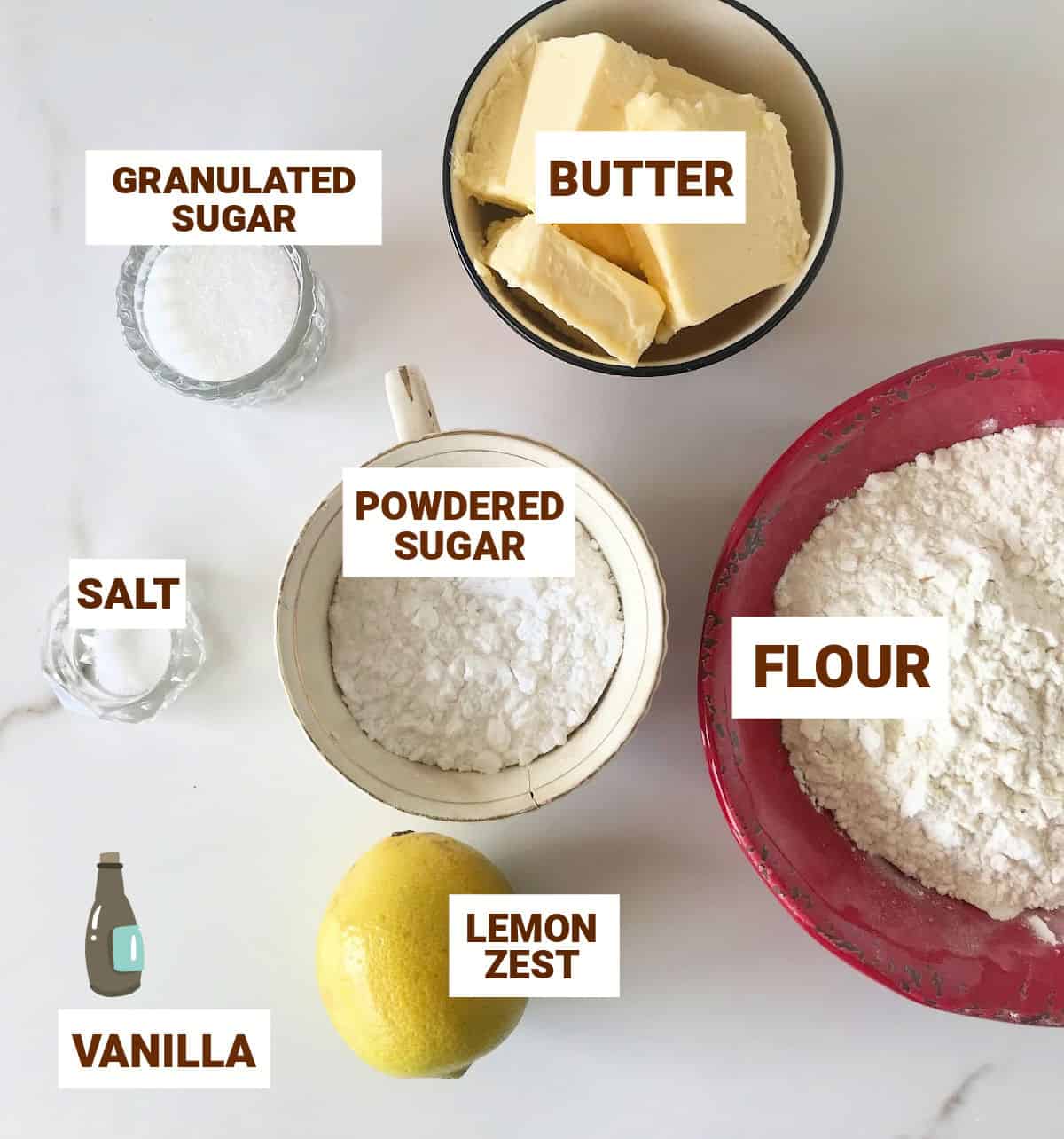 Easy steps
These will apply to most shortbread recipes, but let's get into the details for this lemon version.
Cream butter. It must be at room temperature (soft but not greasy or beginning to melt) and you should be able to mix everything with a spatula.
Add lemon zest (also called lemon peel). I grate it directly over the butter mixture using a microplane zester (image 1).
Add powdered sugar and mix well (image 2). Sift it first so it's easier to incorporate.
Flour mixture. It includes the flour and salt. Add it in 2 batches for easier mixing. You might feel it's too much flour and that it will never combine well (image 3), but it will.
Final dough: trust the process and keep on scraping the ingredients together with the spatula until you have a dough with a smooth and soft texture (image 4).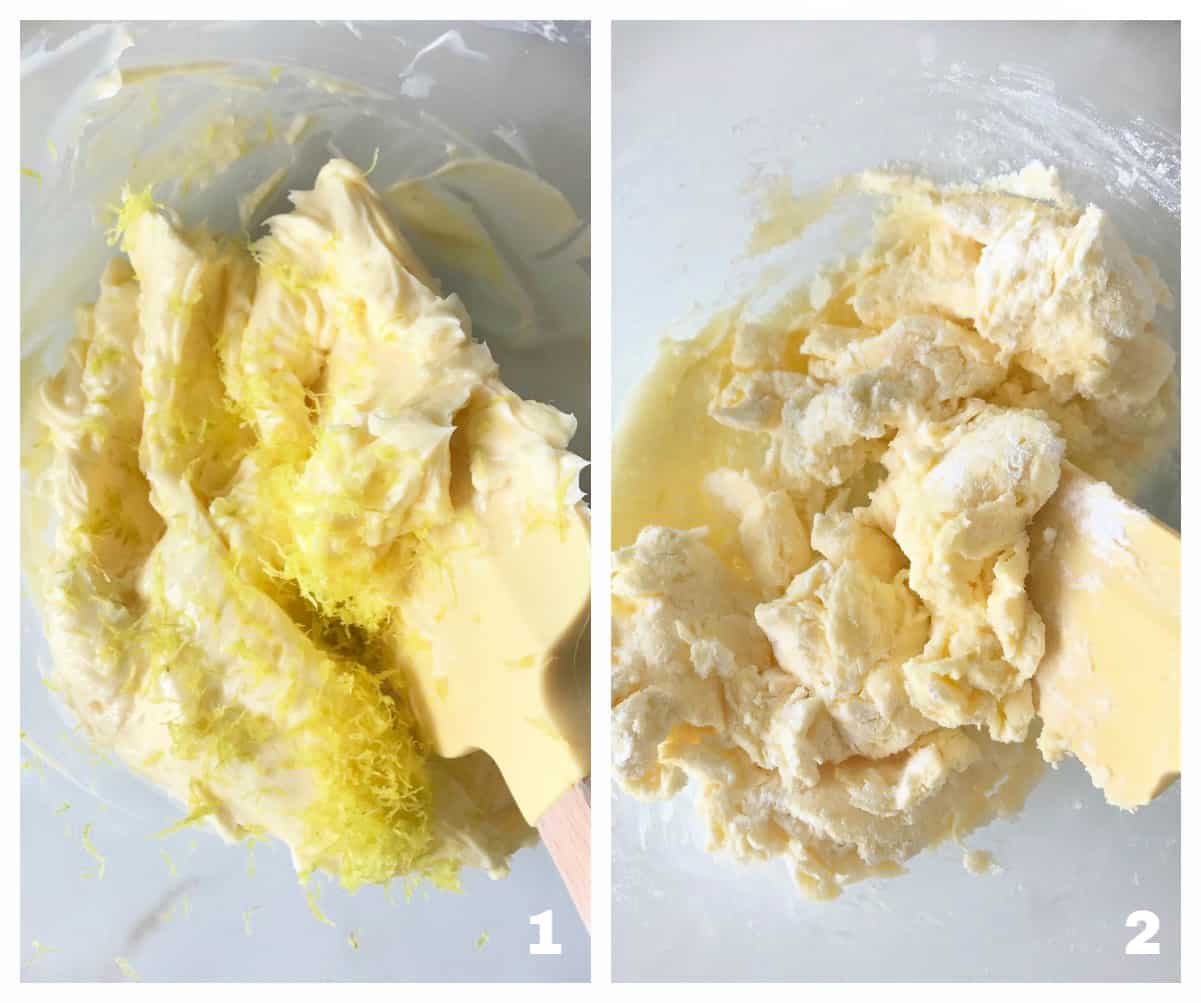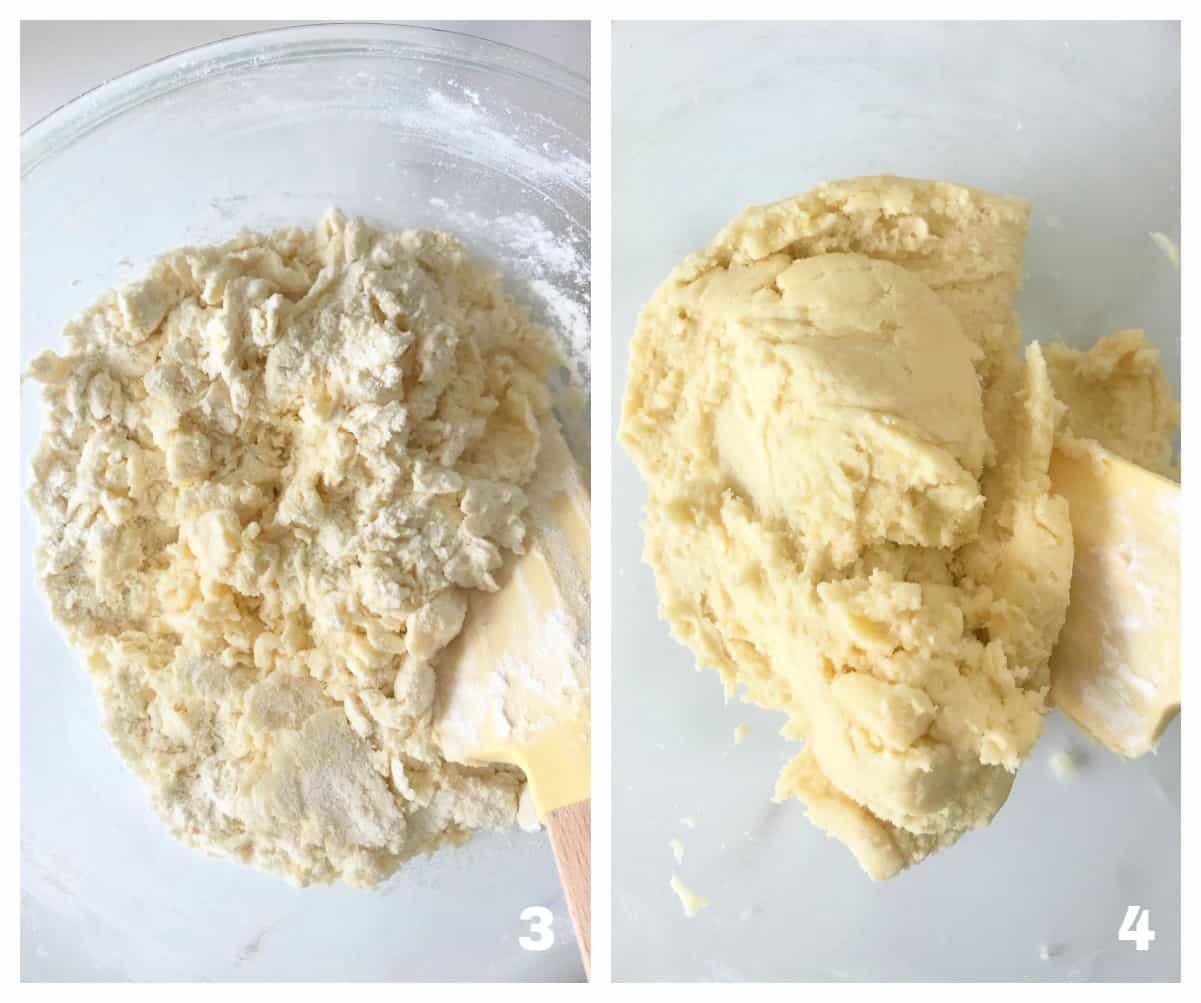 Filling the pan
The best way to fill the pan is to transfer the dough from the bowl to the pan in pieces, little mounds distributed through the bottom.
That way when you spread it will be evener. If you dump it all in the middle and start to pat it (with your fingers) it will be harder to distribute it as evenly as possible.
Crunchy topping
Shortbread will get a crisp top if it's golden enough.
In this version, we aid that step by adding a tablespoon or two of sugar before baking. It will stay there (not seep into the dough) and will add a nice crunch.
This is optional but highly recommended. You can use brown sugar for a more caramel crunch.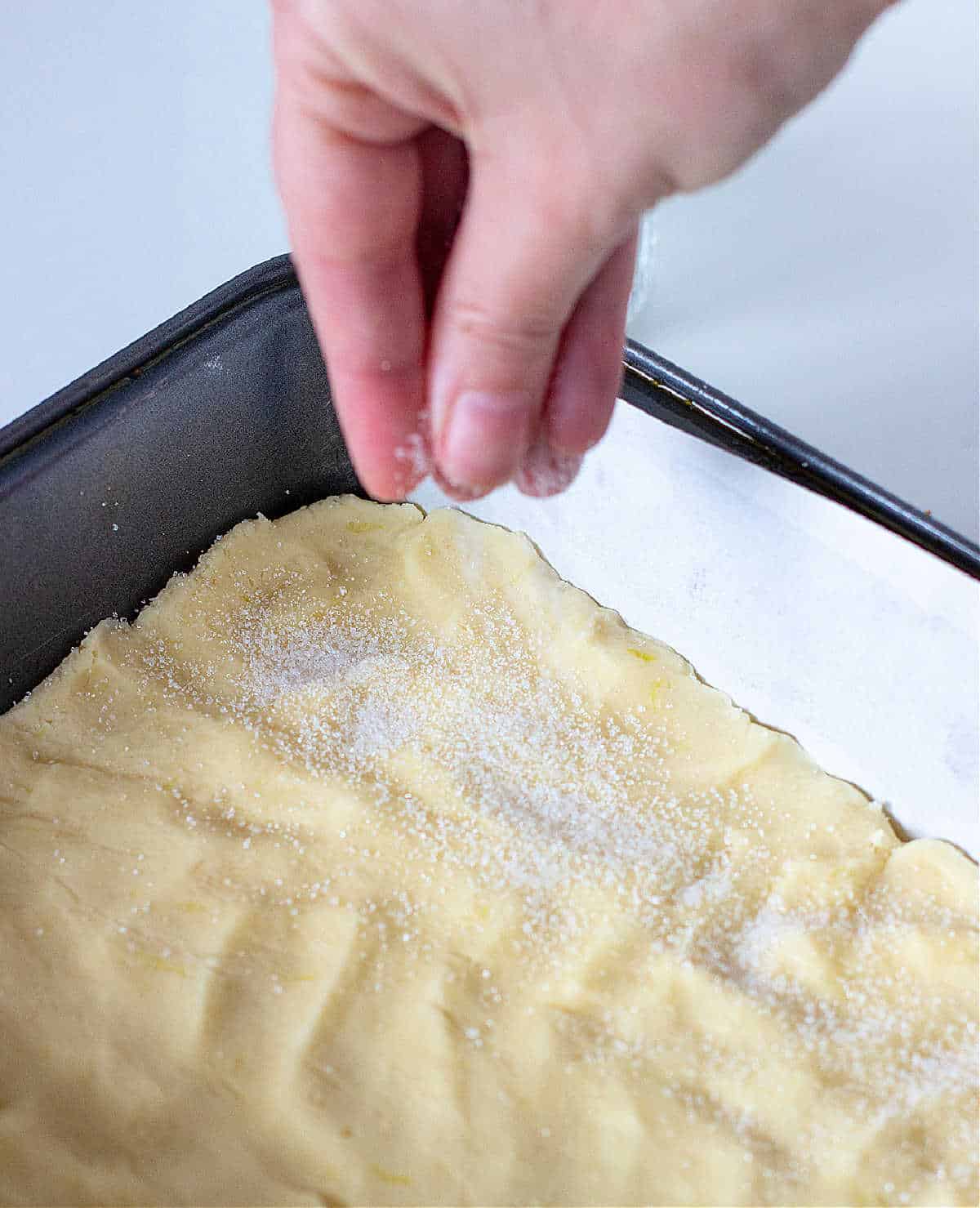 When is shortbread fully baked?
This is a great question as it usually has people going for the barely colored shortbread, or the golden finish.
just like cookies, it depends on personal taste. Do you like softer, lighter cookies, or go for the crisper more golden ones?
I alternate between both but tend to like a crispier, golden-colored shortbread (image below).
Cutting the shortbread
This part is essential that you do it while the shortbread is still hot. That is, about ten minutes after you take it out of the oven.
Using a smooth bladed knife, cut strips lengthwise and then do the same to the other side, creating a criss-cross pattern (see image above).
Alternatively, cut squares or triangles (cutting said squares in half diagonally).
I recommend cutting small portions as it is a very rich and buttery cookie.

Vintage Kitchen Tip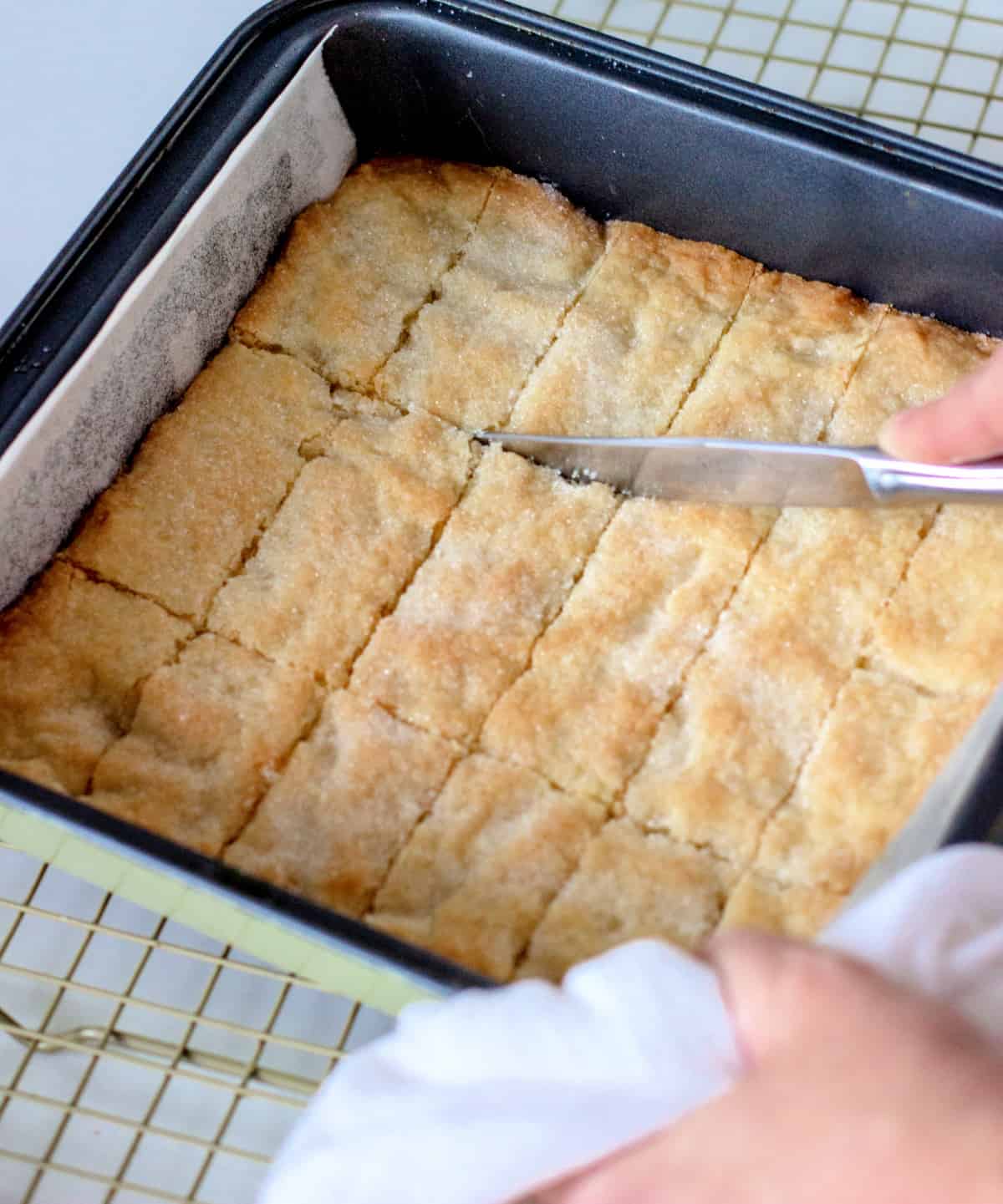 Frequently asked questions
Does shortbread improve with age?
I find that it's better a few days after it's baked because the flavors are more balanced. You do have to store them in a tightly closed tin (ideally) so that they don't lose their crunchiness.
Can I freeze shortbread?
Yes, you can. Either the unbaked dough already in the pan or the baked cookies or fingers. This last option I recommend doing so after cutting and separating the pieces. And always remember to wrap the pan or the cookies well to avoid as much freezer burn and ice as you can.
Why do you put shortbread in the refrigerator before baking?
To avoid the butter from melting before the shortbread is baked. This is crucial to get that crunchy bite. And also especially important if you're making cookies instead of a whole pan (as we do in this recipe), so that they keep their shape and prevent them from spreading too much.
How long does it last?
In an airtight tin, it can last a week or two. This will depend on how it was baked. Slow, even baking produces crunchier shortbread that is drier so it lasts longer.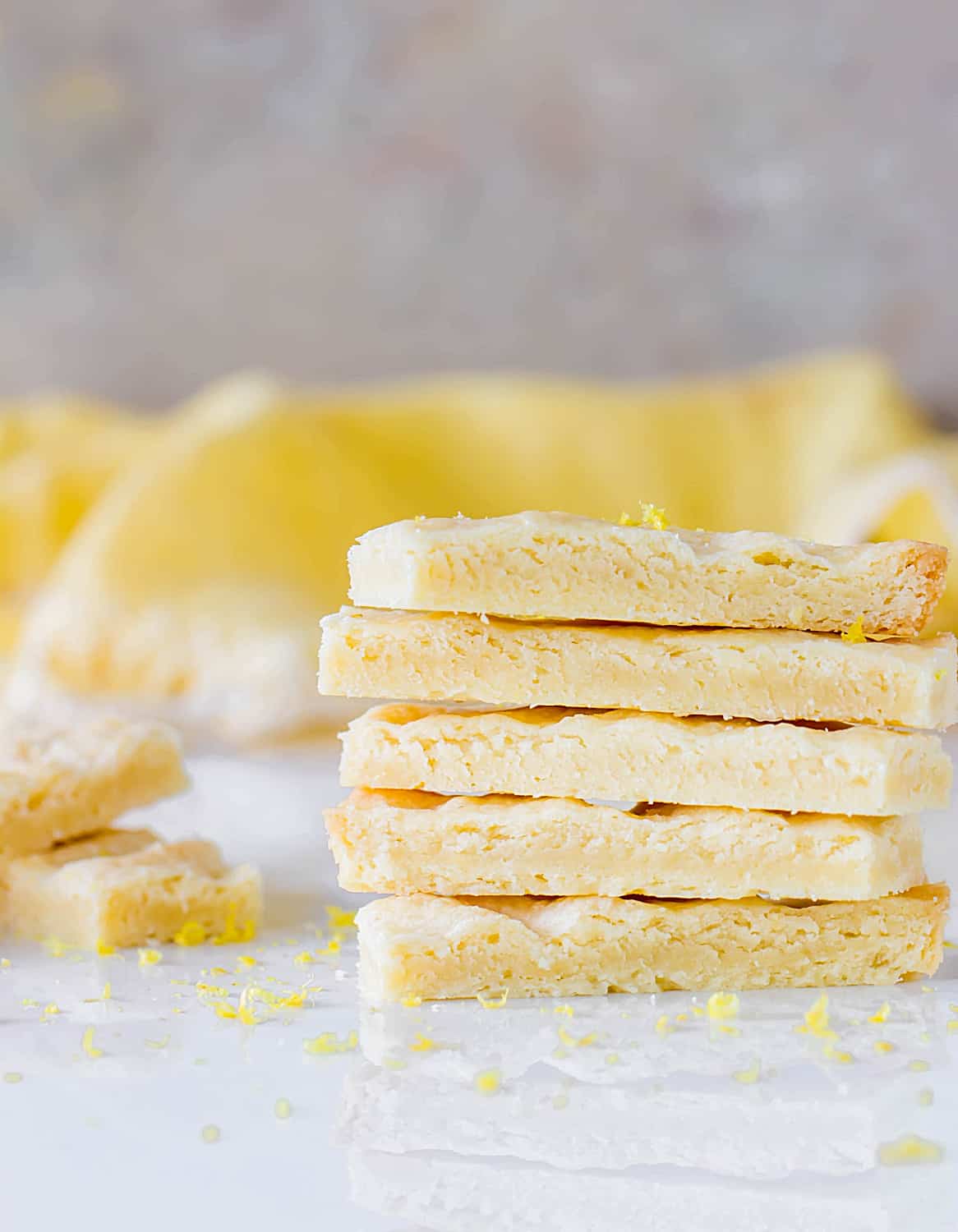 Holiday ideas with this recipe
It all comes down to different flavorings and toppings. Make a large batch, double (or triple?) this recipe.
From there you can:
Flavorings - divide the dough and add different flavorings to each portion, like different citrus zest or spice, or ground nuts. You can add more than one, like lemon zest and walnuts.
Different shapes - I cut them into sticks, but they can be cut into triangles, squares, or diamonds.
Toppings - drizzle them with a lemon glaze made with powdered sugar and lemon juice (similar to the one we use for the Lemon Shortbread Cookies) or a thin chocolate ganache. Before the glaze sets, you can sprinkle citrus zest, ground nuts, or even festive sprinkles.
Gifting: layer the dry ingredients in an airtight jar, attach a nice card with the instructions to make the shortbread, and give them out as gifts.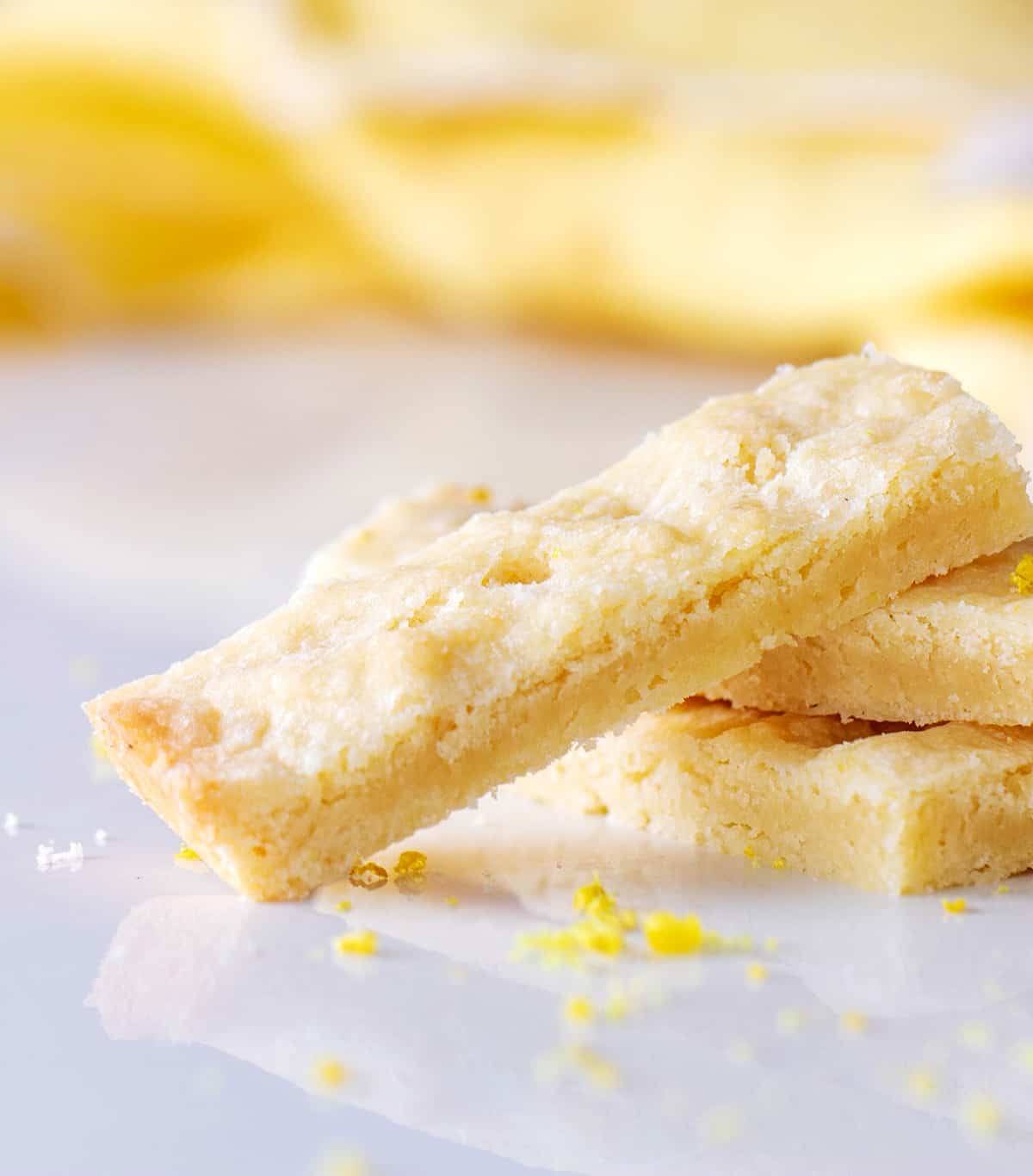 ---
Related recipes you might like:
---
Let me know in the comments below if you made this recipe and loved it, and also if you had issues, so we can troubleshoot together. I love to hear what you think, always. Thanks for being here, it's much appreciated.
You might also consider subscribing to our FREE email series to Boost your Home Baking Skills! And our regular newsletter.
And let's connect via Facebook, Instagram, and Pinterest.
Print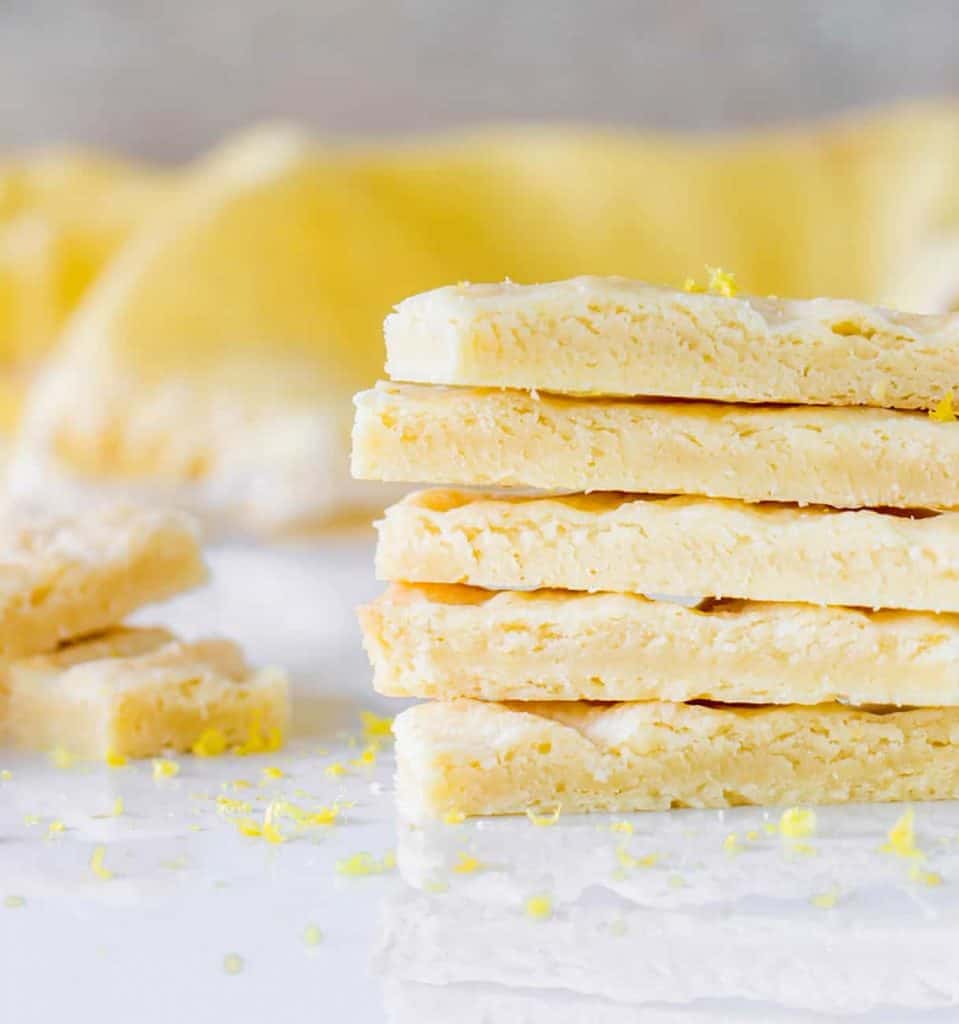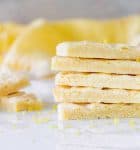 Easy Lemon Shortbread
Author:

Paula Montenegro

Prep Time:

85

Cook Time:

45

Total Time:

2 hours 10 minutes

Yield:

16

sticks

1

x

Category:

Cookies

Method:

Baking

Cuisine:

International
---
Description
Shortbread is a glorious mix of butter, sugar, and flour. I added lemon zest and it became even better, with a nice zing cutting through that buttery amazingness. The dough can be refrigerated for a day before baking and the baked shortbread keeps very well. A great holiday idea!
---
¾

cup

(175g) unsalted butter, at room temperature

1

and ¼

cups

(175g) all-purpose or cake flour
Large pinch of salt

2 tablespoons

lemon zest

⅛ teaspoon

vanilla extract (drops, literally)

½

cup

(70g) powdered sugar, sifted

1

-

2

tablespoon granulated sugar, for topping
---
Instructions
Have ready a 9-inch (20x20cm) square baking pan that has been buttered or sprayed with baking spray.
Line it with parchment paper: t

ake a large piece of parchment paper of about 8 inches (almost as wide as the pan) and cover the bottom and two sides of the pan. The other two sides will remain buttered but not lined with paper. This will help you remove the shortbread after it's baked.

In a large bowl mix soft butter with the lemon zest and vanilla.
Add the powdered sugar and incorporate well so there are no lumps. I recommend sifting the sugar before adding, or sifting it directly over the butter mixture as I do.
Add the flour and salt in 2 parts, mixing with the spatula until it is smooth, well combined and no dry spots remain.

Transfer the dough to the prepared pan, scattering small amounts on the bottom.

With your hand, lightly pat the dough until it covers the whole surface. Make sure the edges are covered. Make it as even as possible, but relax because it will not be very smooth.

Refrigerate the whole pan, covered in plastic wrap, for 1 hour or up to 24 hours.

Preheat oven to 325°F/160*C.
Sprinkle the granulated sugar over the top before baking.
Bake the shortbread for 40-45 minutes, until the top is dry, it has puffed a little and is beginning to color.

You can leave a couple more minutes if you want a more golden shortbread. Just don't let it dry out.
Let cool 10 minutes on a wire rack and carefully cut into sticks or squares o triangles with a smooth bladed knife.

Let cool on the cooling rack completely, lift the whole square of the pan with the aid of the parchment paper, and carefully break each piece.

Keep in airtight cookie jars or tins.
---
Notes
Organization: always read the recipe first and make sure you have all the ingredients, at the right temperatures, and also the rest of the equipment and space to make it. This will make the process so much easier!
Baking time: keep in mind that all ovens and pans are different, even if they look the same or very similar. The baking time in my recipes is as accurate as it can be, but it might take you more or less time. You can use a thermometer that is placed inside the oven (like the OXO oven thermometer) to check that your oven is at the right temperature. I recommend you keep track of how your oven works and what tiny details you might need to adjust.
Dough: once you have it patted in the pan, the unbaked shortbread can be kept for 24 hours in the fridge, or frozen for up to a month, always well wrapped. Bake directly from the freezer.
Make-ahead: shortbread keeps well for several days in airtight tins or jars.
Flavor variations: use another citrus, add a teaspoon of your favorite spice, drizzle a lemon glaze after the shortbread is baked and cooled down, add a tablespoon of ground nuts to the dough.
Nutrition
Serving Size:

1/16

Calories:

134

Sugar:

4.5 g

Sodium:

45.1 mg

Fat:

8.7 g

Carbohydrates:

12.9 g

Protein:

1.2 g

Cholesterol:

22.9 mg
Keywords: lemon shortbread