This is the traditional Choripan from Argentina, a chorizo sandwich made with pork/beef sausage, french bread and usually eaten with authentic chimichurri. The ultimate street food.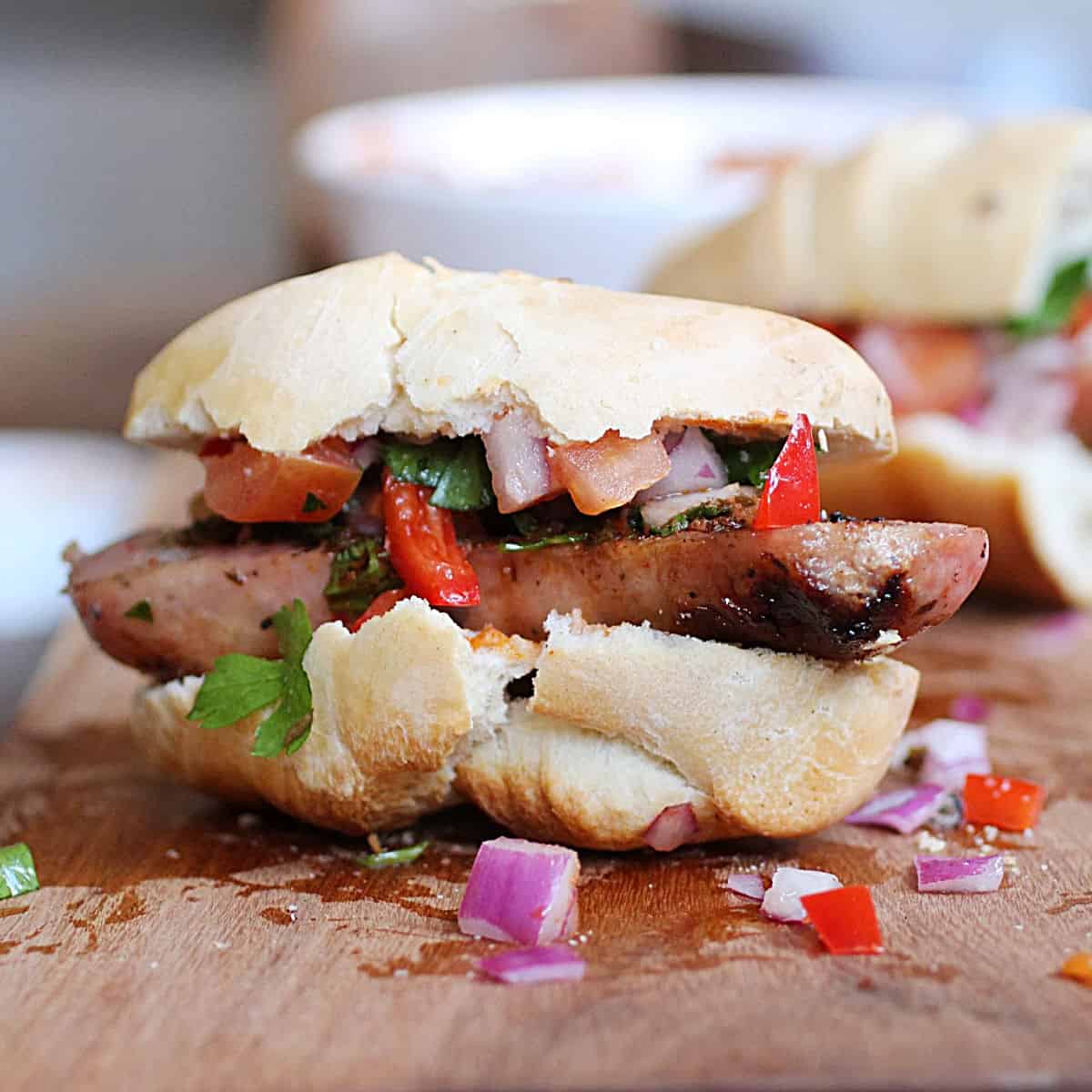 Originally published in 2012, the text and images in this post have been updated to serve you better. The recipe remains the same.
Street food is messy and flavorful, and that's the best part about it, don't you agree? These chorizo, chimichurri, and salsa sandwiches fit right into that description.
What is a choripan?
Choripan is a chorizo sandwich, typical of Argentina.
Pan means bread in Spanish, and Chori is the abbreviation of chorizo. In fact, our slang word for choripan is chori.
This chorizo sandwich is the most representative street food here, a national passion, the bite before the meat at almost every barbecue.
The sausages fit perfectly in our medium French bread rolls, probably the most common bread in Argentina.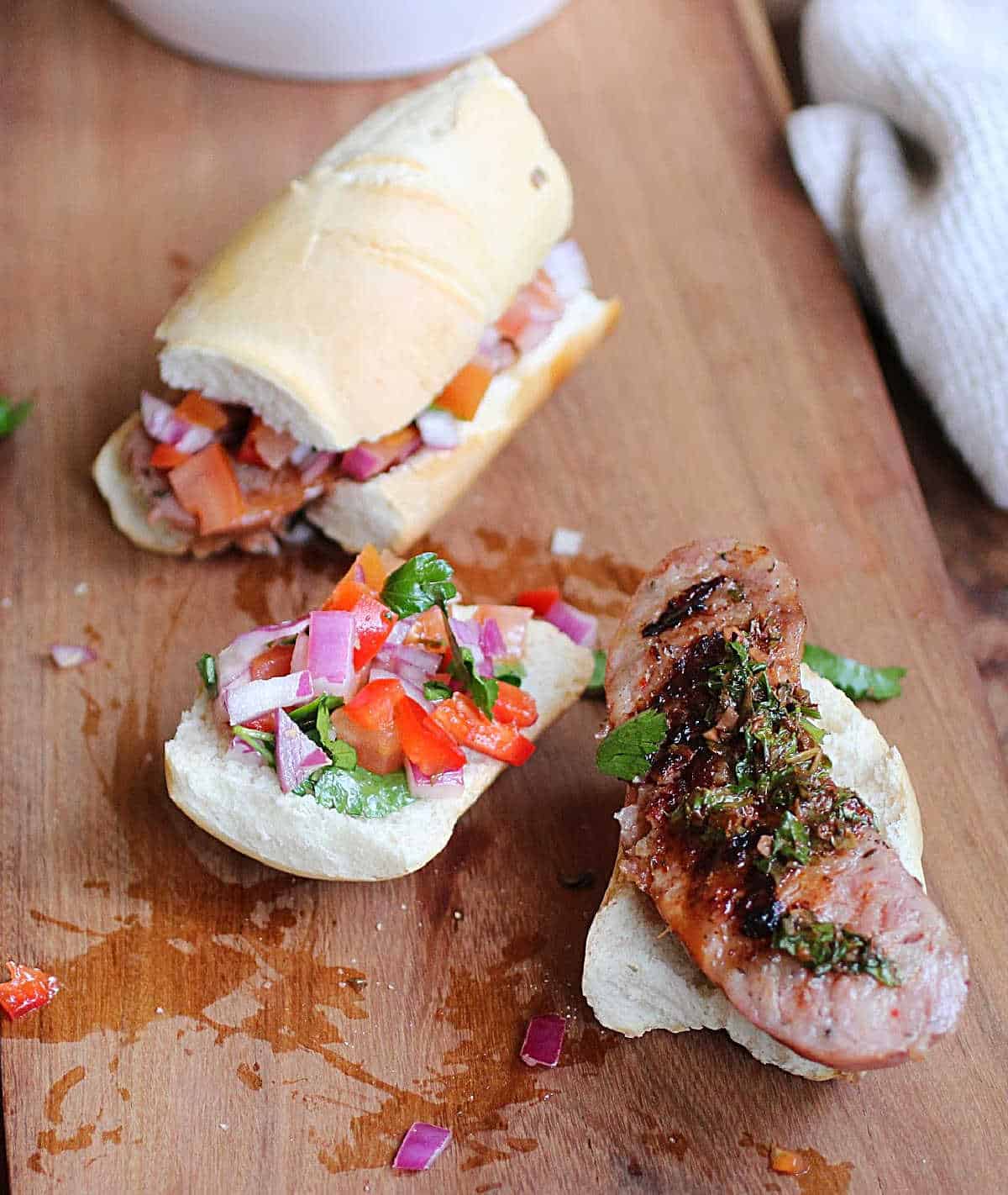 Type of chorizo used
Traditional chorizo sandwiches are made with a sausage with a high pork percentage.
Though some still like those with mostly ground pork, nowadays, many of us prefer to buy sausage with up to 60-70% of cow meat since an all-pork sausage would be too heavy due to the high-fat content.
These sausages are thick and not too long.
They are grilled fresh, not smoked or left to dry.
Grill or skillet
Chorizos are an outdoor barbecue type of food here, but they can be cooked inside, in a regular or cast iron skillet.
They do create an interesting amount of smoke.
Butterfly chorizo: is the name given to the sausage that is cut in half lengthwise towards the end and barbecue or cook it a little further, opened side down, so it creates a thin crust.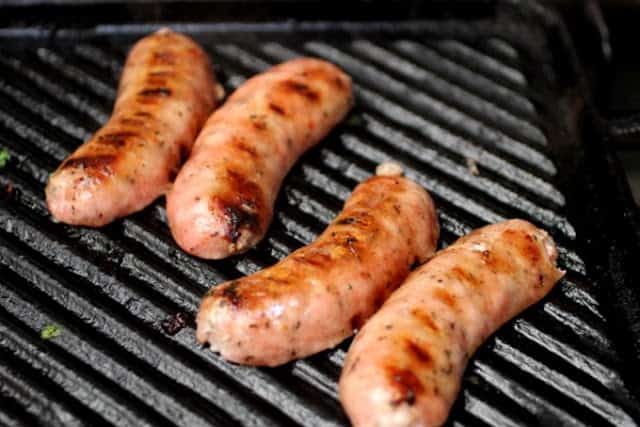 We really do love our chorizo sandwiches with chimichurri and/or salsa criolla, which means creole in Spanish, our signature quick fresh garnish to go with barbecued meats.
Salsa
Argentine salsa is very similar to pico de Gallo. We call it salsa criolla which means creole.
It's made with onion, red and/or green peppers, tomato, and parsley. All drenched in red wine vinegar and some oil.
I used red onion because it looks prettier, but the real one is made with the regular, white one.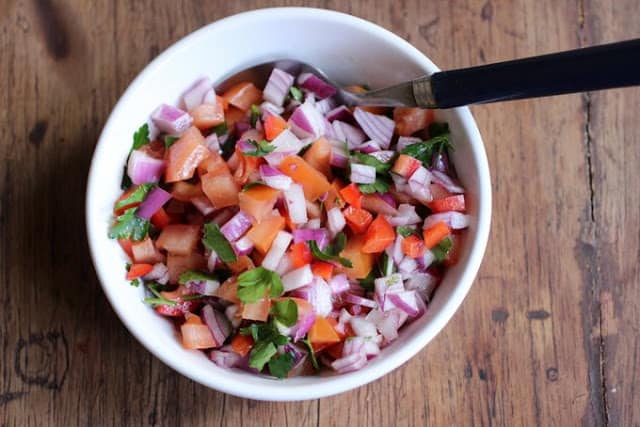 Chimichurri
Chimichurri is our most authentic sauce for barbecued meats, and when it comes to chorizo sandwiches, it's fair to say that chimichurri is a must. An either-or situation.
You use a bit of chimichurri or nothing at all. Don't even think of mayonnaise or ketchup. It's a no-no.
Chimichurri then is the only accompaniment for them.
Second, comes salsa criolla. And one more thing to make you gasp: chimichurri, the authentic one, doesn't ever ever ever have cilantro. Only parsley. It had to be said.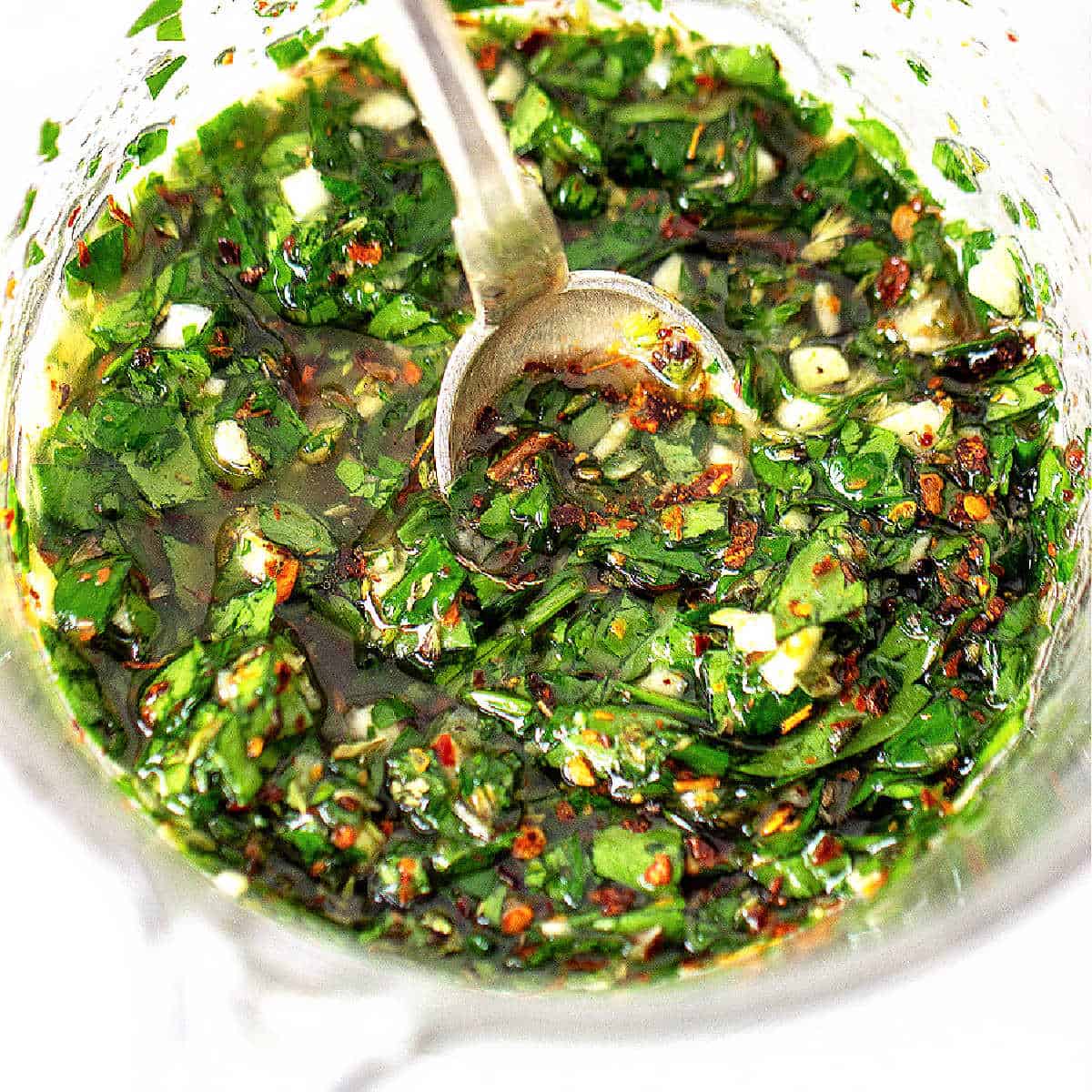 As I mentioned in this butter steak post, we seldom use rubs, marinades, or basting sauces while barbecuing meat. Only medium-coarse salt (barbecuing salt) and sometimes pepper. Maybe a touch of lemon for pork cuts or sweetbreads, but that's it.
The amount of heat and time renders its natural fats, making the meat incredibly delicious. The same goes for chorizos and sausages.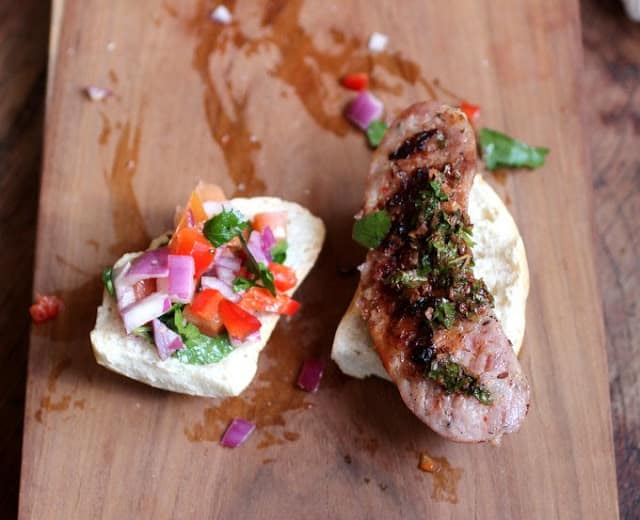 ---
Related recipes you might like:
---
Let me know in the comments below if you made this recipe and loved it and if you had issues so we can troubleshoot together. I love to hear what you think, always. Thanks for being here. It's much appreciated.
You might also consider subscribing to our FREE email series to Boost your Home Baking Skills! And our regular newsletter.
And let's connect via Facebook, Instagram, and Pinterest.
Print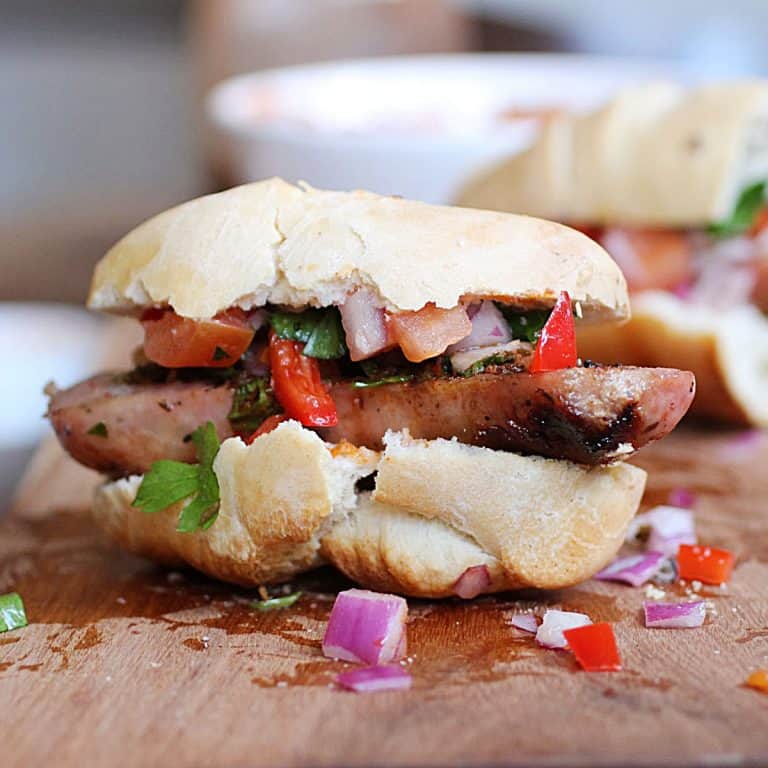 Choripan (Chorizo Chimichurri Sandwiches)
Choripan is a simple chorizo sandwich with chimichurri and maybe salsa. It's Argentine street food, incredibly flavorful and unforgettable!
Total Time:

45 minutes

Yield:

6 sandwiches
For the sandwiches:
6

chorizos

6

french bread buns
Salsa Criolla (recipe below)
For the salsa:
½

large red onion (diced)

1

large tomato (seeded and diced)

¼

red pepper (deveined, seeded and finely diced)

½

cup

fresh parsley (loosely packed)
Instructions
For the sandwiches:
Grill the chorizos in the grill, either outside or inside. I sometimes use a small electric oven. If they start to sputter, prick them a few times with a fork to release the fat.
If using the stove grill or oven, it should take at least 20 minutes at a medium heat. Let it cook thoroughly, you don't want raw chorizo. Open it, butterfly style, and sear it for a few minutes. You can also leave them whole, but I like it to be charred as much as possible, that's why I butterfly it.
I like to warm the bread, either by popping them a few minutes in the oven or on the grill, but it's not really necessary if you like the bread and it's very fresh.
Open the bread in two, add some salsa, put half or the whole butterflied chorizo on top (depending on the size of the bread), some chimichurri and more salsa.
Top with the remaining bread.
For the salsa criolla:
Put the diced onion, tomato and red pepper in a bowl.
Add vinegar, salt, olive oil and black pepper to taste.
Add chopped parsley. Mix well.
Notes
Use pork/beef sausages, ideally 70-30%.
You can use slider buns and add half a chorizo per sandwich, or big buns and use it whole. I suggest crusty french bread, not soft buns.
Chimichurri is the traditional garnish for this sandwich.
If you barbecue them outside, they should take 20-30 minutes to be done, half on each side, so that some fat is rendered and the skin is crisp. Pierce them a few times with a fork before grilling so they don't burst in the grill.
You can butterfly them (open in half lengthwise) when they are almost done, and grill them a bit more open side down.
Author:

Paula Montenegro

Prep Time:

20 minutes

Cook Time:

25 minutes

Category:

Sandwiches

Method:

Grilling

Cuisine:

Argentine
Nutrition
Serving Size:

⅙

Calories:

362

Sugar:

1.2 g

Sodium:

745.5 mg

Fat:

23.4 g

Carbohydrates:

19.2 g

Fiber:

1.2 g

Protein:

17.5 g

Cholesterol:

52.8 mg
Keywords: choripan, chorizo sandwiches