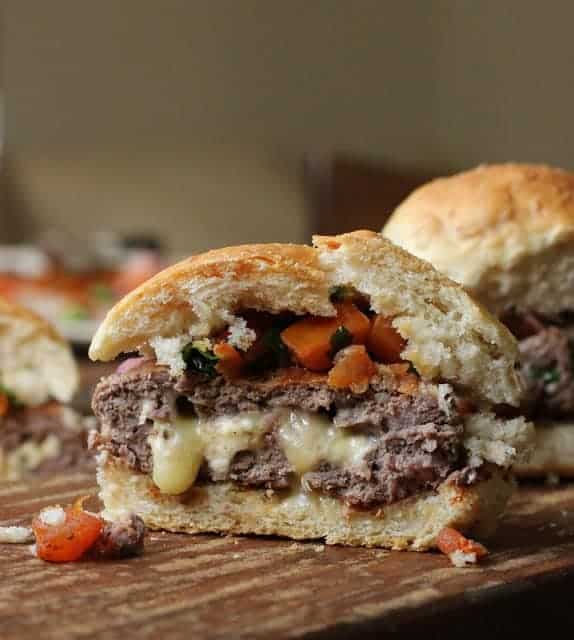 Since it's the end of the summer for the northern section of the world map,
popsicles
popping
 and 
burgers
 grilling, I might add my small contribution to the season while there's still time, blue cheese burgers, full of cheese in the middle and using the leftover salsa from this chorizo sandwich, my addition to street food last Sunday, which prompted a string of recipes coming to my mind faster than the roadrunner and left me wondering what was the hurry?
Or maybe it's simply my cooking nature and I'm embracing it.  A few days of continuously testing recipes, photographs, books piling up taking over half my available kitchen space, a few posts started so not to loose the momentum and ideas, followed by so much washing of dishes, floor sweeping and marble counter wiping, I ache for a manicure and nothing else. Maybe coffee.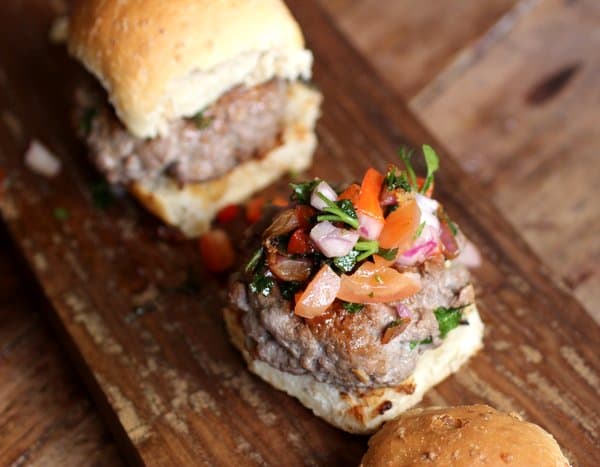 Then the idea that I just need, fervently, to declutter, not my recipe bucket list or my abandoned office space at home, but
my life
, popped up a few days ago and just made sense, prompted by reading a very simple thought –
Holding on to clutter comes from a scarcity mindset, a fear that you don't have enough. When you are in a scarcity mindset, it becomes harder to reach your goals
– my newest addition to my findings page, a clever little tool, sort of a
pinterest
for quotes.
The clutter in the fridge has become easy to get rid of, these skillet blue cheese burgers a fine example, part beef, part pork, they took care not only of the ground beef and pork sausages but also the stray chunks of cheese, a few slider buns I had made who knows when and four remaining garlic cloves – and isn't my clay garlic baking 'oven' the cutest thing?.
My only regret is the fear of whatever it is you can get from eating raw meat, so I cook my burgers too much, but hey, I always eat what I post, so a juicy burger was good on paper only. That will change when I buy my own meat grinding attachment. Am I really
decluttering?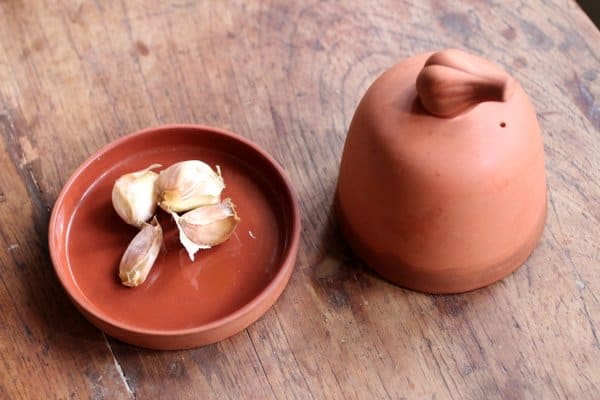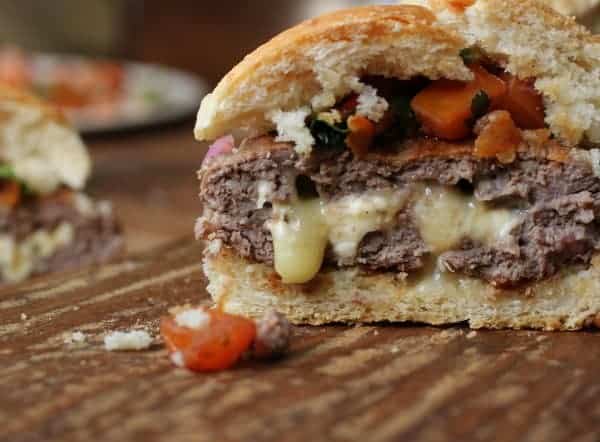 After the fridge came my closet, or part of it; three large garbage bags later, all I can say is it looks a little neater, but nothing radical, so I'm torn between thinking there wasn't that much clutter, read: clothes-that-haven't-been-worn-in-years because that's how we measure it, right?, or this getting rid of excess is a mind frame, a way of thinking and living. Of course I know the latter is the answer, I've known it for years, just used my freewill not to acknowledge it; and now I have to do something about it.
Anyway, in between blue cheese burger bites I'm enthusiastically getting rid of old baggage, which started a few months ago with the flood; after the water had done it's thing I threw away so many wet boxes of papers and things that I swore I needed, it became twenty-carat-diamond clear they had no space in my life qualifying them for the extra work it meant to patiently scatter each piece of paper around the house hoping they would eventually dry. Do you know it can be days before an insignificant piece of paper completely dries? Sometimes nature does know how to make us wake up. Silver linings, many times I hate you.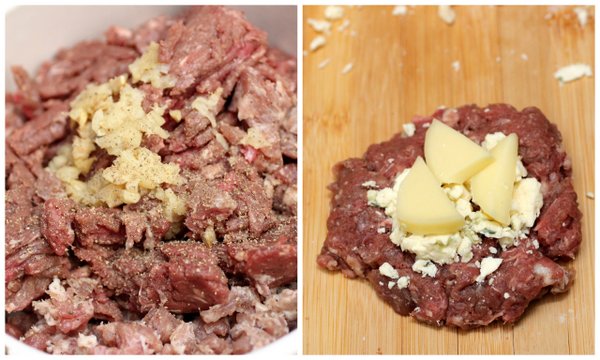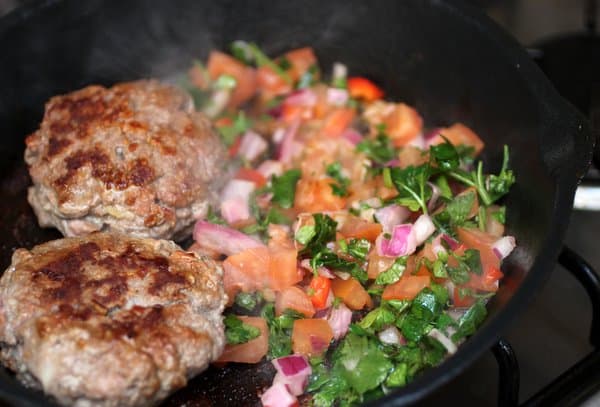 The blue cheese gave the burgers a sharp flavor and a small amount of mozzarella made that center melty. If I say it's a cheese filled burger it better melt when I cut it. If you're a double cheese type of person, go ahead and add more blue cheese to the top of the burger when you flip it. And a few slices of tomatoes and onions work as well as the salsa as a topping.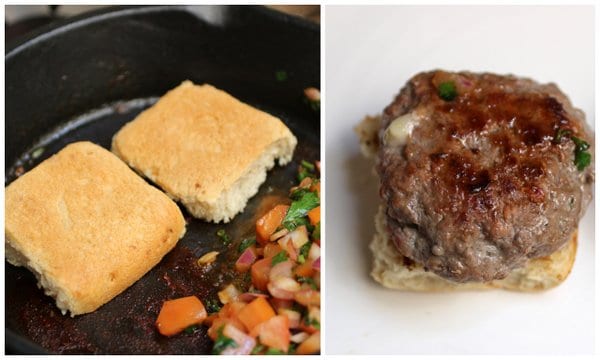 Of course, nothing beats grilling burgers outside instead of cooking them in a skillet.
Print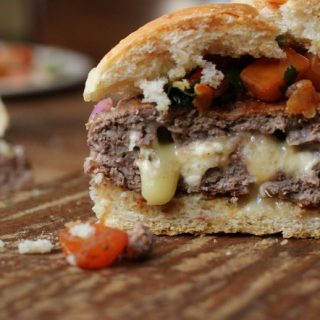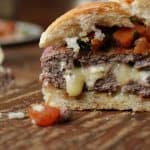 Skillet Blue Cheese Burgers
---
Description
I suggest you use a large skillet so you can make all the burgers at the same time. And you can warm the buns in the oven too instead of adding them to the skillet. I have the little garlic oven, but some foil works as well.
You can make sliders too, and you will get about double the amount.
---
Scale
Ingredients
7 oz

200g pork sausage (no casings) or ground pork

14 oz

400g ground beef, with no more than 15% fat

4

garlic cloves
Salt and black pepper

4 oz

115g blue cheese, crumbled

2 oz

60g mozzarella cheese, sliced

1 cup

Salsa (see recipe here)

4

burger slider buns
---
Instructions
Preheat oven to 350ºF and roast garlic cloves wrapped in foil with a drizzle of olive oil, until tender, about 30 minutes.
In a bowl mix pork, beef and mashed garlic. Add salt (not too much since the blue cheese is salty) and black pepper. Mix very well with your hands for a few minutes; this part is important so the proteins in the meats break down and bind the whole thing together.
You can also knead it with a stand mixer, something I recommend if you're making burgers for a crowd.
Heat skillet over medium/low heat.
Divide the mixture into 4 equal parts. Take each part, divide it in two, flatten one into a disk and add some blue cheese and a smaller amount of mozzarella.
Top with the remaining portion of meat and carefully cover the cheese, making sure the sides are sealed. Flatten it without letting the cheese spill.
Repeat with remaining meat and cheeses.
Add patties to the skillet, and cook them for about 7 – 10 minutes on each side, until golden.
Push the meat to one side, stacking them if needed, or transfer them to a tray, and keep them warm in a very low oven.
Divide the salsa in two. Increase the heat to high, add a drizzle of olive oil to the skillet and half a cup of salsa. Sautée it for a minute or two and add the bottom of the buns if you want to the skillet, so they warm up and soak some of the juices.
Mix the fresh salsa with the cooked one. Put the burgers with salsa on top between the warm bread and eat.
---
Today's four related recipes worth looking at:
Roasted Grape, Blue Cheese and Honey Crostini from Two Peas and Their Pod
---