These baked potatoes are crispy but creamy, easy to make, spicy from the garlic and parmesan and just what you need for game day. Or any other day really. I could eat them on a very regular basis!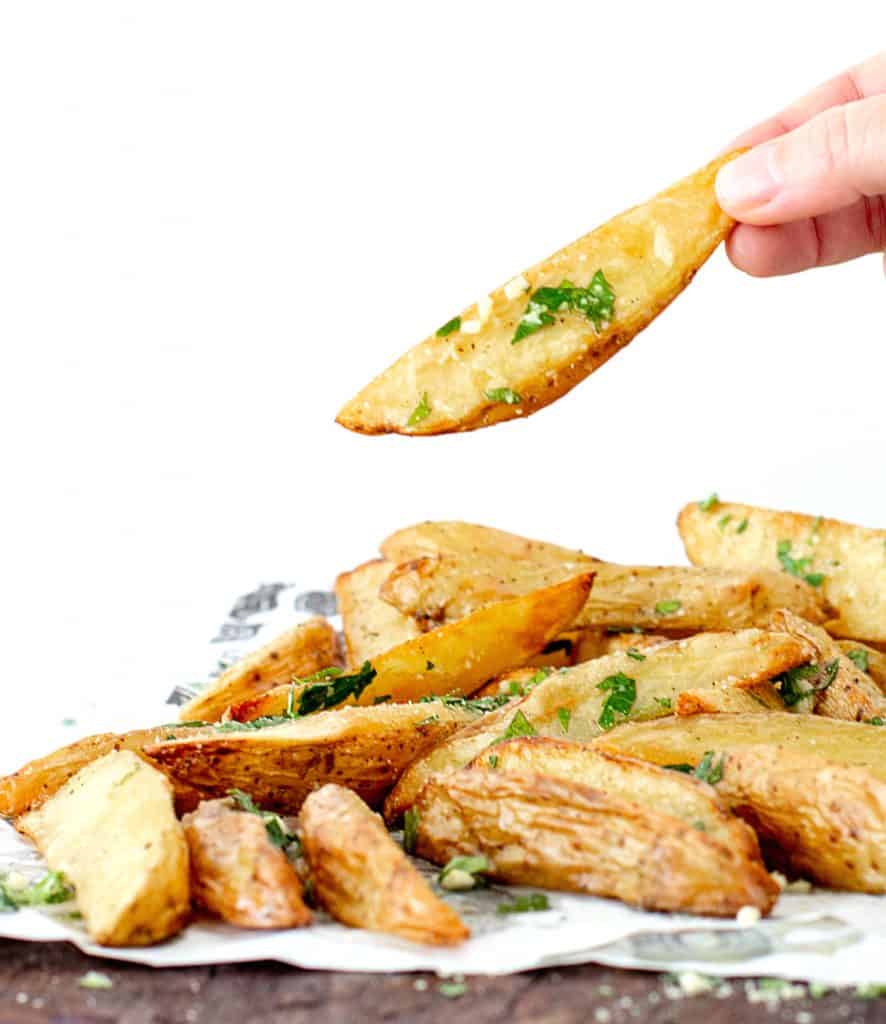 It's the season for potatoes and wings, cheese and beer.
So, in keeping up with the spirit, let me recommend these parmesan potatoes. I'm sure you will love them. We all do.
They come together in no time really. You cut the wedges, bake them and, while that is happening, prepare the magic condiments. That's it.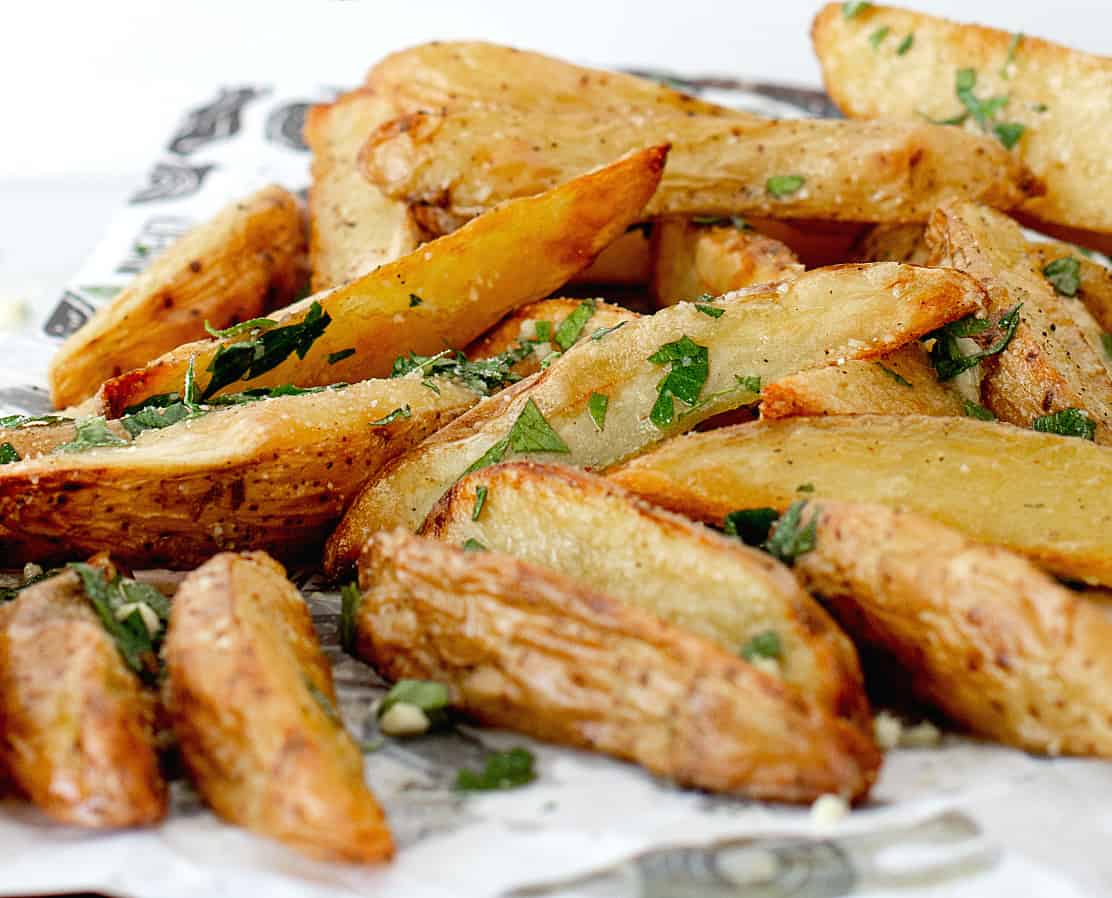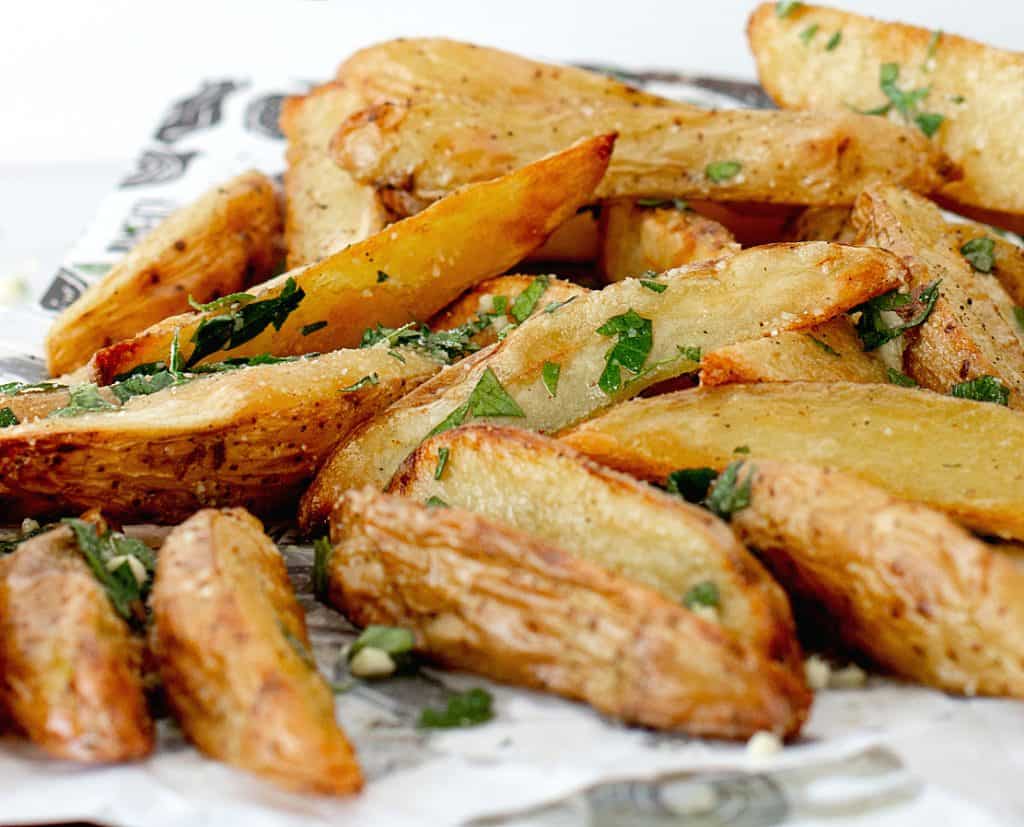 How to prepare the potatoes.
Size: find potatoes that are roughly the same size. It will be easier to have wedges that bake more evenly.
Wash well and scrub if needed. You will leave the skin on so this step is important. Alternatively, you can peel them.
I like russet potatoes, but any kind good for baking works here. Even baby or new potatoes, such as the ones I use for the Peruvian potato salad.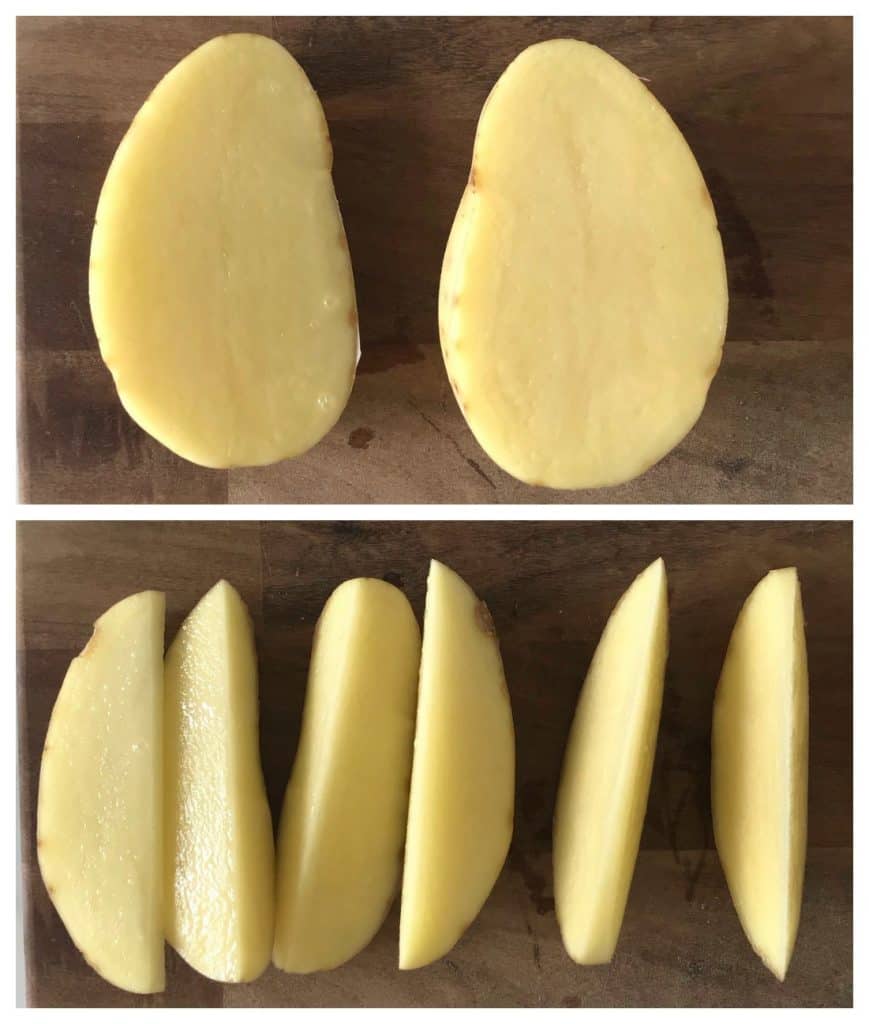 How to cut wedges.
It's very easy. You can cut each potato in 6 or 8 wedges.
Start by cutting the potato in half (image above, top).
To make 6 wedges: take each half and cut it in 3. You will have to cut the first at a 45° angle from the center (image above, bottom).
To make 8 wedges: take each half and cut it in half again. You have 4 pieces. Cut each of those pieces in half again.
The difference is in how thick the wedges end up being. I cut them in 6 usually because I choose medium-sized potatoes.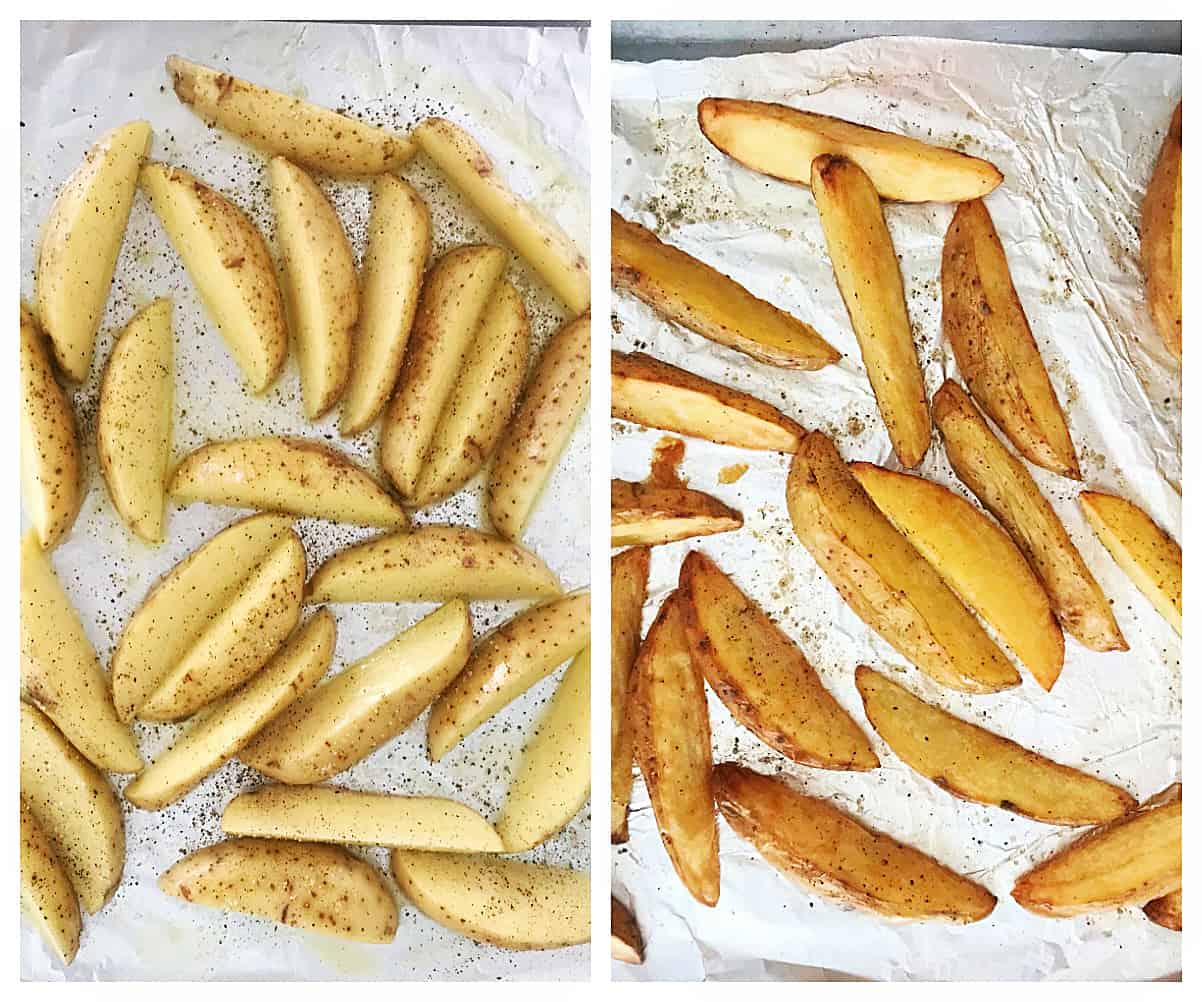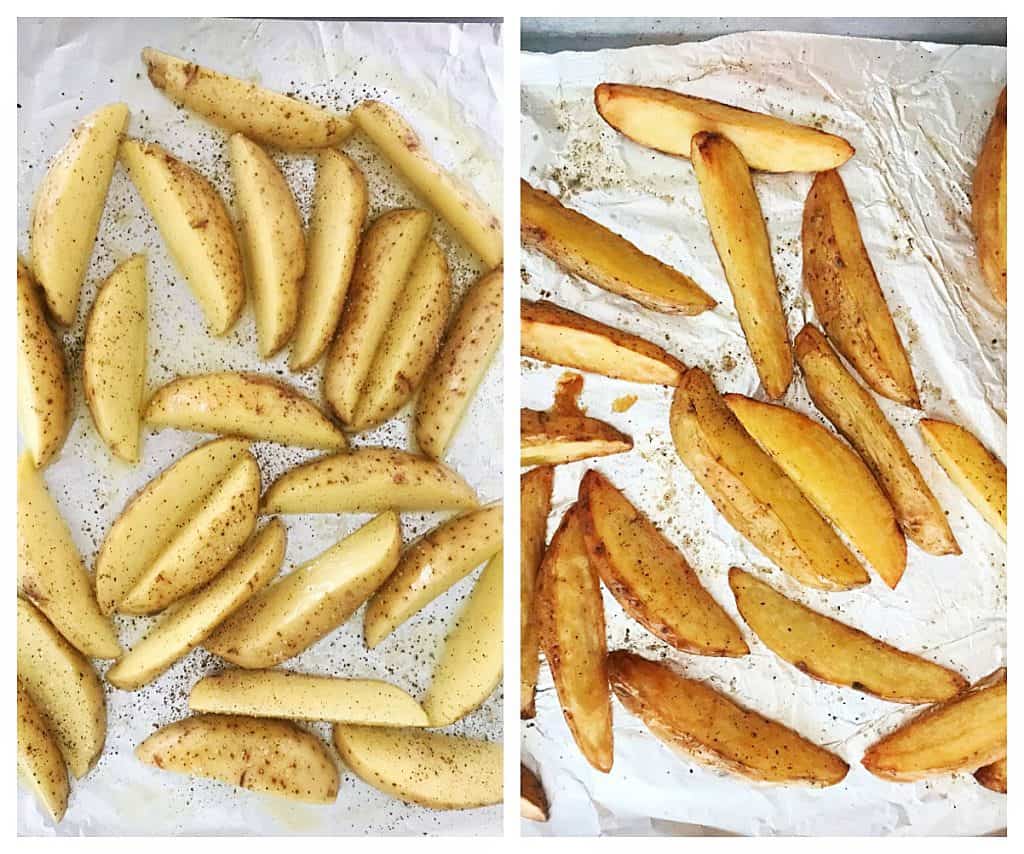 The magic seasoning.
These potatoes burst with flavor! There's so much stuff in every bite, it's imperative we talk about it.
Garlic: chopped raw, it is essential for a spicy kick.
Parmesan: use a good one that is pungent and is salty in a good way. It will benefit these potato wedges immensely.
Parsley and lemon: they add freshness, acid and balance the whole thing.
All four together they are amazing. And so easy to have ready. Simply chop, mix and drizzle. Parmesan Garlic Baked Potato Wedges for the win!
Serving these parmesan potatoes.
Straight from the oven! This is what I recommend.
Season them in the pan and transfer the whole thing to a flat surface (better than a bowl). I like to use wooden boards with thick paper napkins underneath.
Or transfer them and season in the serving plate. It makes little difference in my opinion.
If you like vinegar and have some chimichurri lying around, they are a great last-minute seasoning. Dip them in the sauce and you're set!
Enjoy these easy and wonderfully flavorful snack.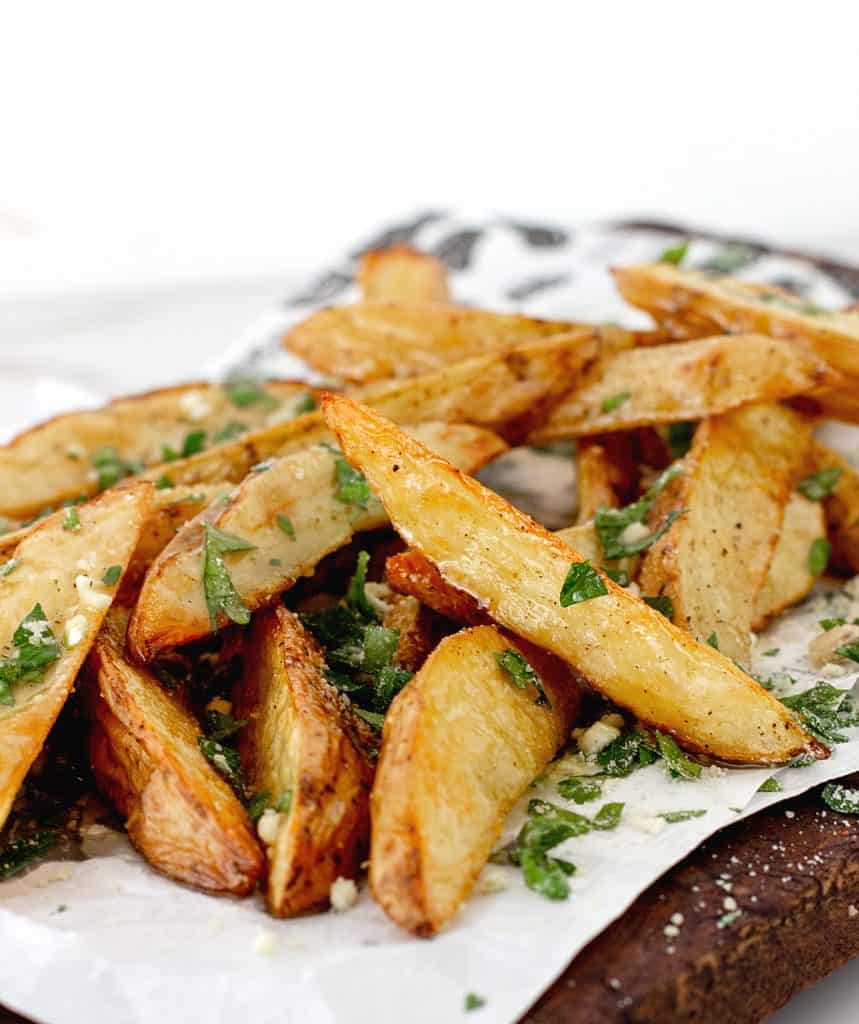 Other recipes you might like:
Spicy Baked Potato Wedges
Royal Pesto Potato Salad
Baked Meat and Cheese Potatoes
Peruvian Potato Salad
Potato and Leek Soup
Authentic Chimichurri Sauce
Bourbon Barbecue Sauce
Let me know if you make this recipe! I'd love to hear what you think about it.
Thank you for being here, I appreciate it! Let's connect via Facebook, Instagram, and Pinterest.
Yield: 2 pounds
Garlic Parmesan Baked Potato Wedges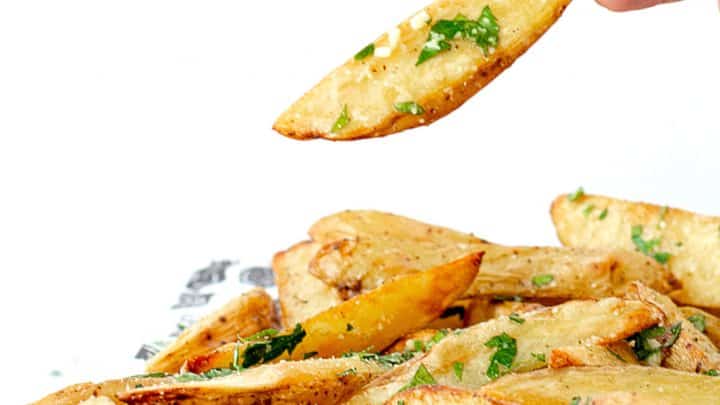 These baked potatoes are crispy but creamy, easy to make, spicy from the garlic and parmesan and just what you need for game day. Or any other day really. I could eat them on a very regular basis!
Ingredients
For the potatoes:
A few tablespoons olive oil
A few tablespoons butter, melted
2 pounds medium potatoes, scrubbed and dried, with skin (see Notes below)
For the seasoning:
2 tablespoons chopped parsley
1 garlic clove, peeled and finely chopped
⅓ cup grated parmesan cheese
Juice of ½ a lemon
Instructions
Preheat oven to 350ºF /180°C.
Put aluminum foil in an oven tray (it makes it easier to clean up afterward). Or bake them directly.
Cut washed and dried potatoes in half, and then each half in thirds or fourths, depending on how big you want the wedges. Put them in a bowl.
Add melted butter and oil to the potatoes and mix a bit to coat the wedges. Or do this directly in the aluminum paper, careful not to tear it.
Season lightly with salt and pepper. Remember that the cheese is salty.
Bake for 30-40 minutes, or until they are tender inside and golden outside.
While the potatoes are baking, mix parsley, garlic and parmesan in a small bowl.
Transfer the potatoes to a serving board or plate and toss this mixture over the potatoes.
Drizzle with lemon juice and eat immediately.
Notes
Potatoes: use potatoes that are similar in size so the wedges bake uniformly. What you want to look for is them being roughly the same height. I use russet because they are creamy, hold their shape well and are easily available, but any type of potato you like for making fries will work.
Seasoning: the quantities given in the recipe are as reference. Increase or decrease any of the ingredients according to your taste.
---