A night of friends, laughter, good food, a trickle of rain, empty bottles and glasses, caramelized onion dip, music, dessert plates with chocolate remains, pictures, gifts. That's how I spent my birthday. The day began foggy, which year after year indicates that my birthday is up. I cannot say for sure it will be tremendously cold, but it will definitely be foggy. It marks the beginning of winter, shorter days, more kitchen hours and less sun in the terrace.
As I set out to finish the preparations for the night, it dawned on my that, though it isn´t the turn of a decade as is usually referred to, you know, a birthday or a year that ends with a 0, it is a decade since I decided to live a different life. The last ten years were intense, to say the least.
They saw me separate, divorce, move six times, start my own business, fall in love, loose a brother, loose a grandmother, become closer to my parents and brother, leave many fears behind, loose my dogs, gain a tremendous amount of confidence in myself, start another business, enjoy my own company, enjoy my true friends more than ever, learn how to ask for favors, understand I don't always need to have the answer, dive back into my first love that is food, start a blog.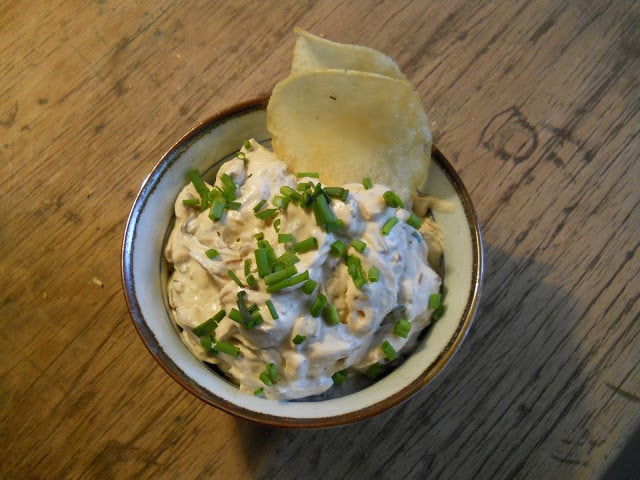 I want to believe I'm much wiser than I was ten years ago, and it's probably true in some aspects, and I bet untrue in others. I don't think our essence is much changed. I simply think life's sweets and sorrows mold it; they let different aspects come out while we try to find a balance.
Definitely my wish for myself and anyone reading this, is to be able to enjoy the life we're living. Enjoy it in a big, selfish way, while helping others do the same.
The more you give to others (not in an altruistic, stoic way) while trying to achieve whatever you want for yourself, will reap the best benefits. Share and it will come double. That is something I did learn in these ten years.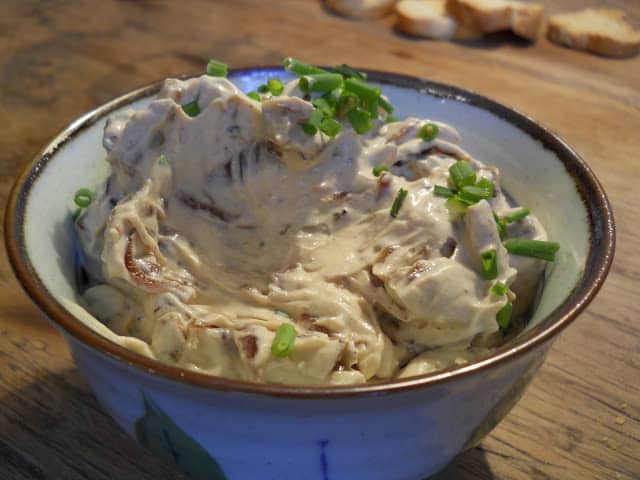 As I wake up to a house with party remains everywhere the sun is shinning and the sky is a cloudless light winter blue. I will spend
a good few hours cleaning and washing dishes; then I'm off to another friend's house to have lunch.
It's a holiday here. No, not because it's my birthday, ha.
It's our National Flag Day. Yes, it turns out I was born a patriot.
Print
Caramelized Red Onion Dip
Yield:

2 cup

s

1

x
---
Scale
Ingredients
1

large red onion

1

Tbs butter

2

Tbs oil (vegetable or olive)

1/8 teaspoon

cayenne pepper

½ teaspoon

kosher salt
Freshly ground pepper

4 oz

115g cream cheese, room tº

¼ cup

sour cream

¼ cup

mayonnaise

2

Tbs chives (chopped)
---
Instructions
Peel onion, cut it in half and then slice thinly.
Melt butter and oil in skillet, add onion and cayenne, salt and pepper.
Cook, stirring occasionally, for about 20 to 30 minutes, until the onion turns soft, brown and caramelized. Allow to cool.
In a bowl mix cream cheese, sour cream, mayonnaise and cooled onions.
Mix well, check for seasoning and mix in chives.
Serve at room tº with potato chips or toast.
---
barely adapted from The Barefoot Contessa Cookbook, by Ina Garten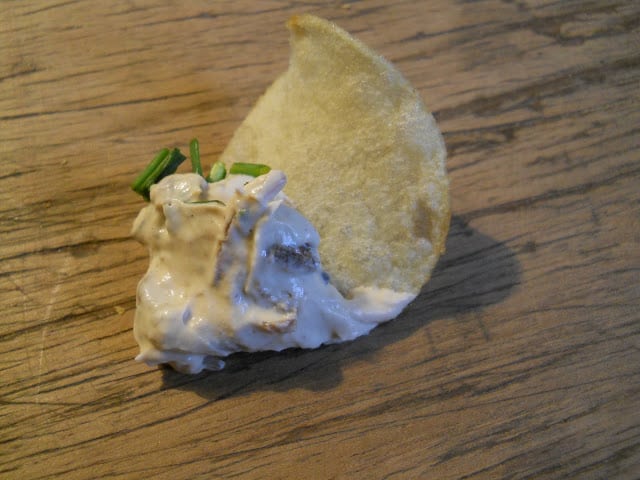 ---