Avocado hummus because, you know, a new year calls for a new hummus.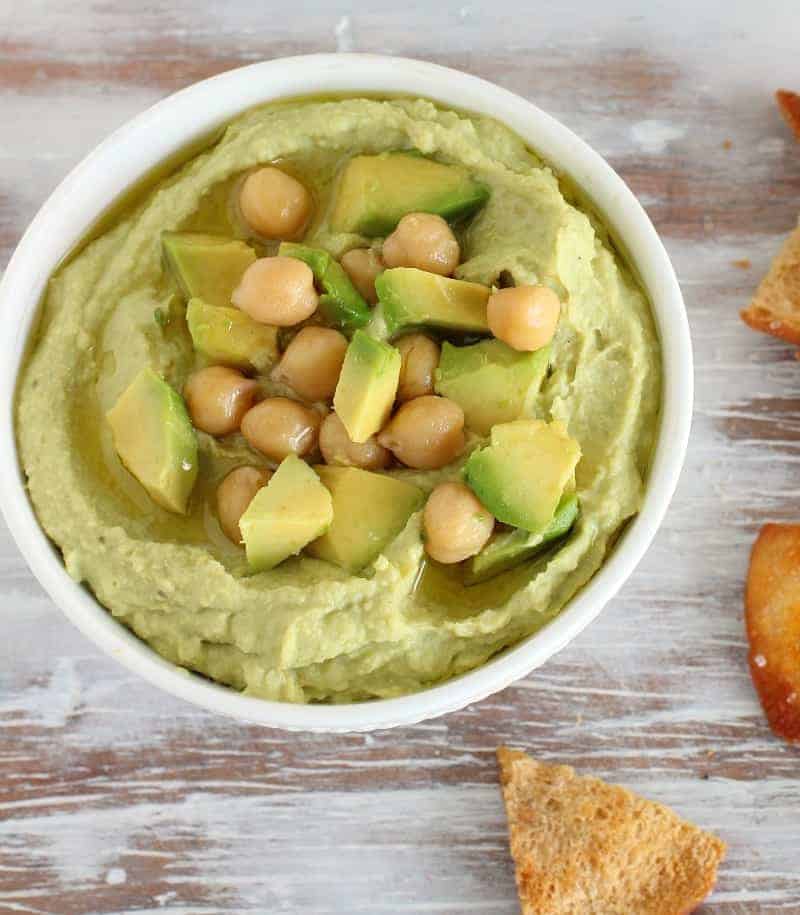 Not that it's new really, but iterations of a basic hummus recipe is always on my list. I love the garbanzo dip that much. And more! I can eat it almost every day. And do sometimes.
Hummus is a middle eastern wonder of an appetizer or dip that comes together in a few minutes. The secret to creaminess is a good food processor and peeling the garbanzo beans, one by one, popping them with your fingers until you have a pile much larger and annoying than the legume part because they are almost weightless. Not a task you want – or have the time – to do every time you make avocado hummus. I go for not so creamy most of the time. Unless I have company and it's all hands on deck peeling the garbanzo skins.
The avocado, being the good oil that it is, adds a layer of unctuousness to this avocado hummus that is very welcomed. And added health benefits.
Personally, I add avocado to everything that remotely pairs with it. It's one of my favorite additions to sandwiches, eggs, appetizers, and salads.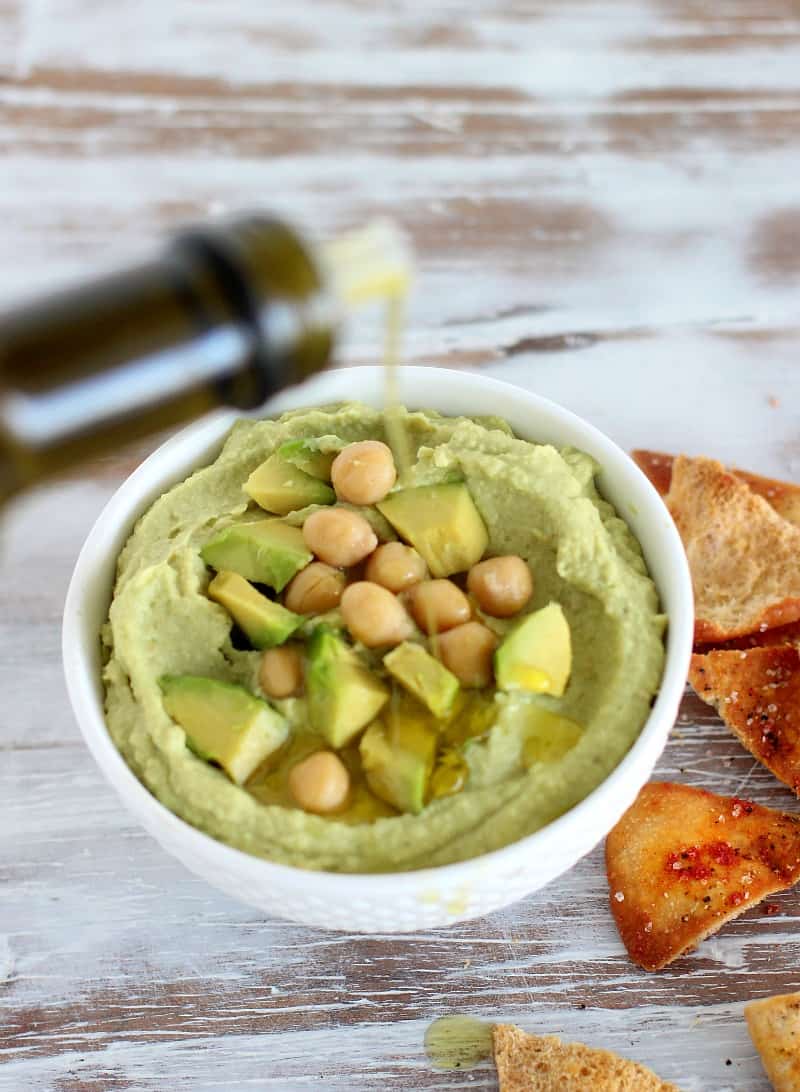 All you need to have at all times to make this amazing garbanzo dip is tahini or sesame paste. It is sold almost everywhere nowadays and lasts a lot.
And haas avocados of course. I am completely partial to those smaller, uglier types because the flavor is so much better!. I can't stress enough how much better. And if you're making avocado hummus that has few ingredients, they need to be top notch.
So, since it's the time of year when we try to eat healthier and leave behind some of the sugar craziness of the past months, let's make a bowl of this creamy stuff and some pita chips that will add good calories to your day.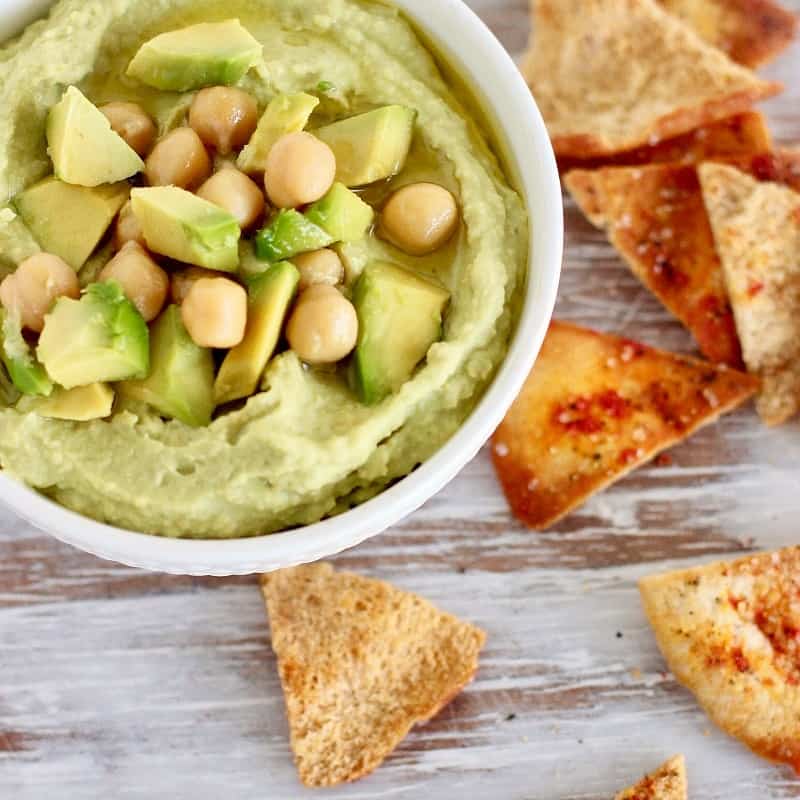 The pita chips are a breeze to make in the oven with some olive oil, salt, pepper and smoked paprika. Just refrain from eating them all by themselves. Not that it happens to me.
Have the best 2018!
Print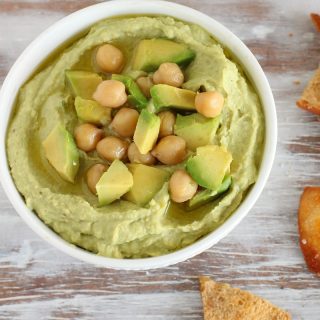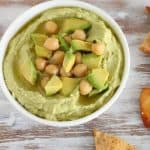 CREAMY AVOCADO HUMMUS
Prep Time:

15 minutes

Cook Time:

20 minutes

Total Time:

35 minutes

Yield:

2 cup

s

1

x
---
Scale
Ingredients
2

Haas avocados

1 cup

cooked garbanzo beans (can or fresh)

1/4 cup

freshly squeezed lemon juice (

1

medium lemon)

1

fat Tbs. tahini (sesame paste)

1/2 cup

olive oil
Sea salt
Black pepper

4

pita breads
Smoked paprika
---
Instructions
For the pita chips:
Preheat oven to 300ºF /150ºC.
Open the pita bread and cut each half into 6 pieces (triangles or whatever shape you want).
Scatter them on a baking sheet and drizzle with olive oil. Sprinkle with sea salt, black pepper and smoked paprika to taste.
Bake for 20-30 minutes, until dried and toasted. Let cool completely and keep in tins or cookie jars. If they are not well dried they will lose their crunch quickly. Otherwise, they keep a few weeks.
For the hummus:
In the bowl of the food processor add avocados (peeled, cored, cut into chunks), the lemon juice, tahini, olive oil, salt, and pepper to taste and process several minutes until very smooth.
Check seasonings and add more juice and/or tahini and/or salt to taste.
Serve with pita chips.
Keep covered in the fridge.
---
---