A twist on the traditional hummus dip, this avocado version is super creamy, healthy, and full of flavor! Make it with or without garlic, it stays fresh for several days and is amazing as a dip, in sandwiches or salads.
Originally published in January 2018, this post has been updated with text and images to serve you better. The recipe remains the same.
Iterations on basic hummus are always on my mind, the eggplant version being one of my favorites.
This avocado dip came to be a day I realized the avocados I had were going to expire very soon. I tested and tweaked the recipe to get to this one, but there is room for personal taste.
Whether you like it with or without garlic, more or less tahini, the idea is to let the avocado shine while maintaining that unique hummus flavor.
What is hummus?
Hummus is a middle eastern wonder of an appetizer or dip that comes together in a few minutes.
It has few ingredients, but chickpeas and tahini (a slightly bitter paste made from sesame seeds) are a must.
Some say that the secret to creaminess is a good food processor and peeling the garbanzo beans, one by one, but I hardly ever do that. In this version the avocados add so much creaminess that you are safe in that area.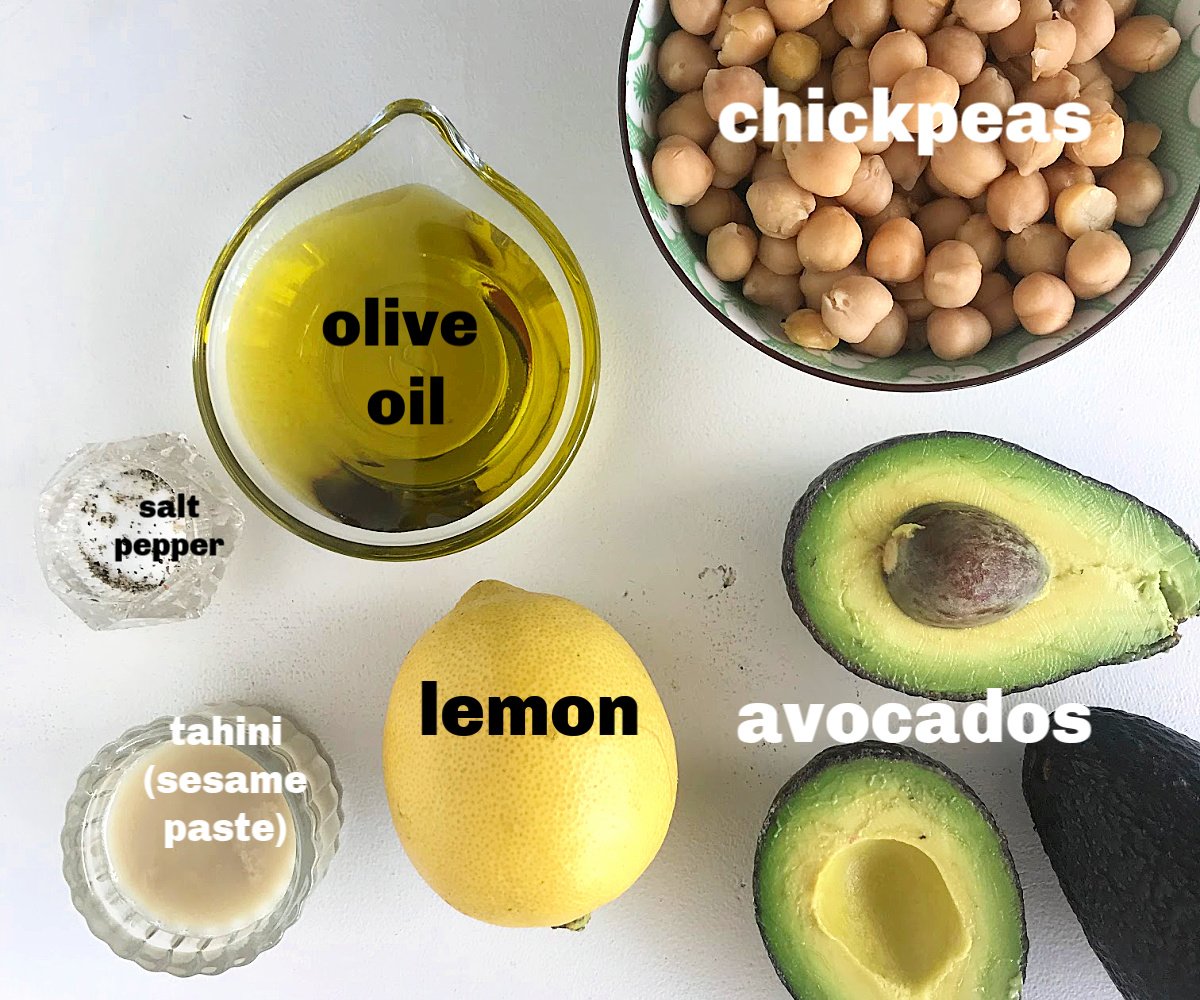 Ingredients
As I mentioned before, the ingredients are few and easily available. Some comments:
Haas avocados: are highly recommended as opposed to the large, greener avocados. Though it's a matter of personal taste, these small ugly things have the best flavor and less water content, and that really makes a difference.
Tahini: is a sesame paste that gives the hummus a distinct smoky flavor.
Chickpeas: also called garbanzo beans. Use canned or dried. I prefer the latter when I have the time to hydrate them.
Choosing avocados
It's essential to choose just-ripe avocados for the best result.
An avocado that is ready to be eaten is slightly soft but not mushy; when you lightly press it barely gives.
The skin might be black but not always completely, some dark green might still be there.
The stem at the top should come off easily and reveal a light spot. If the spot is brown the avocado is probably a little over-ripen.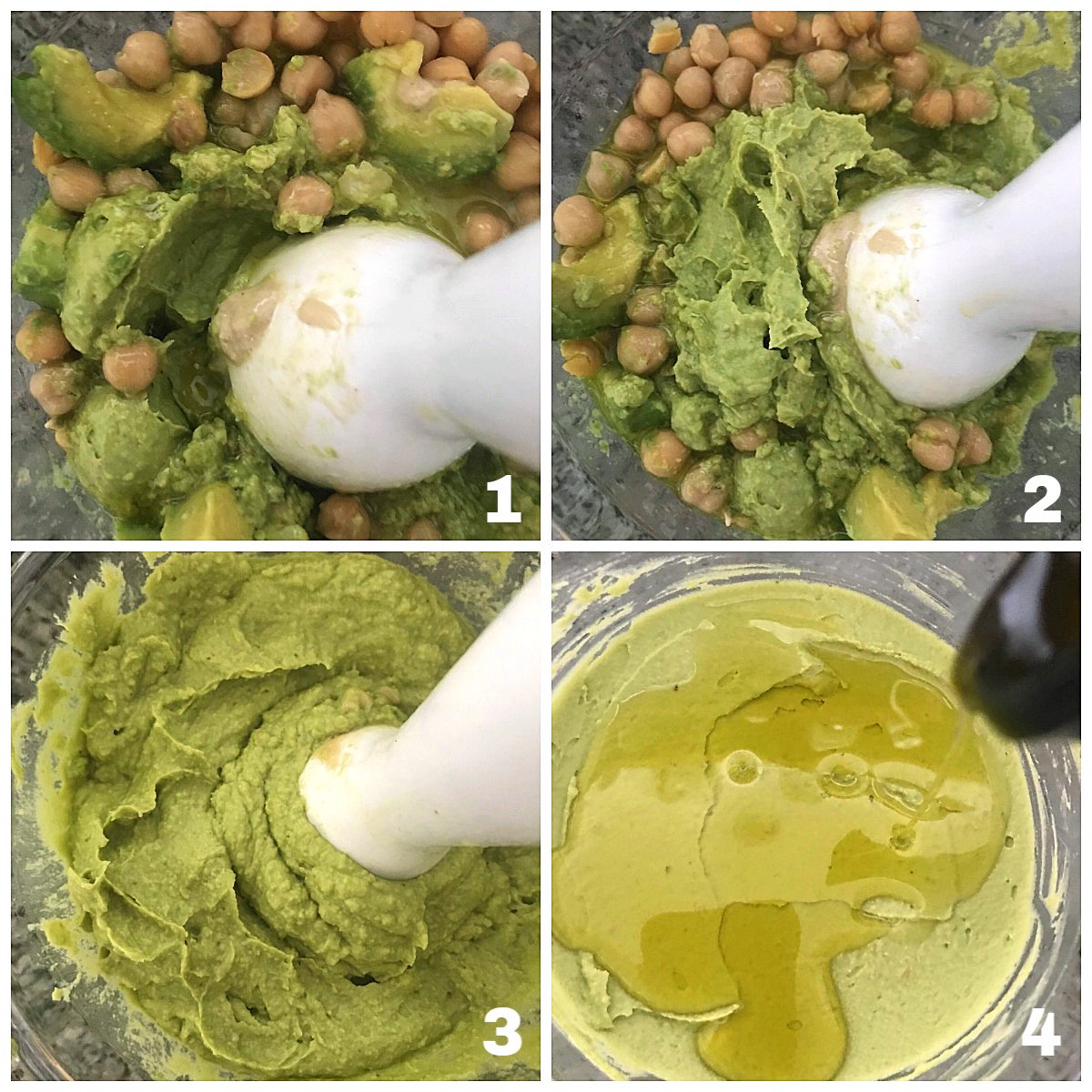 The avocado, being the good oil that it is, adds a layer of unctuousness to this dip that is very welcomed. A collateral healthy benefit.
Top tips
Make it at the last moment possible to prevent the avocados from oxidizing and turning brownish.
Mixing: I love the immersion blender (image above) because it's fast and makes it super creamy (image 3). But you can use a blender (I don't like how so much is always so hard to take out from the bottom of the jar) or a processor.
Storing: add a thin layer of olive oil (image 4) to prevent it from turning a brownish-green so fast.
Serving: Keep some garbanzo beans and chunks of avocado to top the hummus bowl. Alternatively, serve with a sprinkling of smoked paprika and sesame seeds.
How to cook garbanzo beans from scratch:hydrate overnight in a bowl with cold water. Drain and cook in salted water until very tender. Keep refrigerated, covered.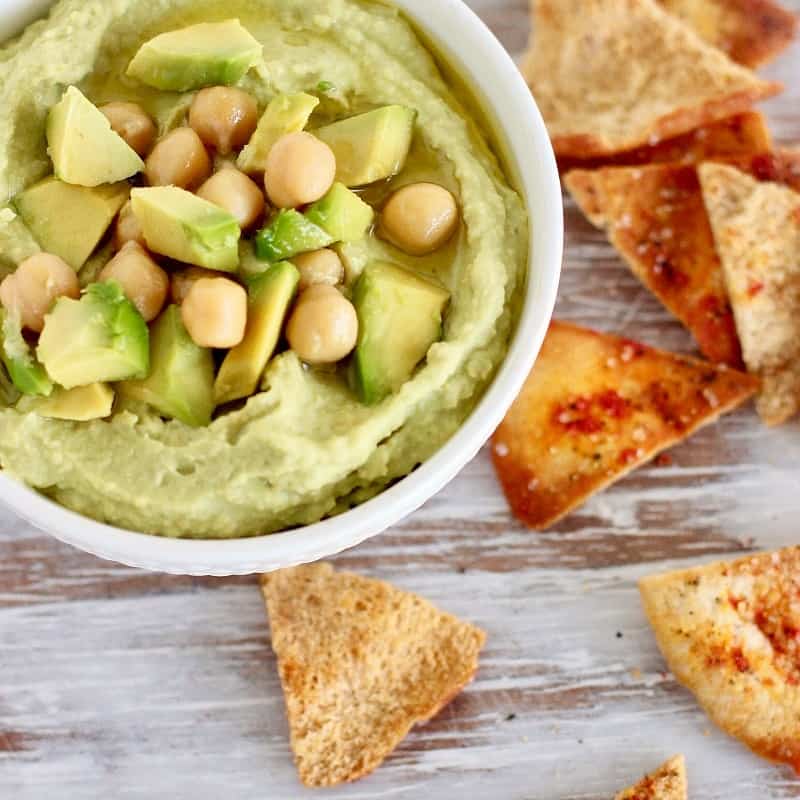 Pita chips
The pita chips are a breeze to make in the oven with some olive oil, salt, pepper, and smoked paprika.
If you take the time to bake at a slow oven they will keep for weeks in a tightly covered tin. But if in a hurry you can bake them faster, like you would toast, and eat them that day.
Just refrain from eating them all by themselves. Not that it happens to me.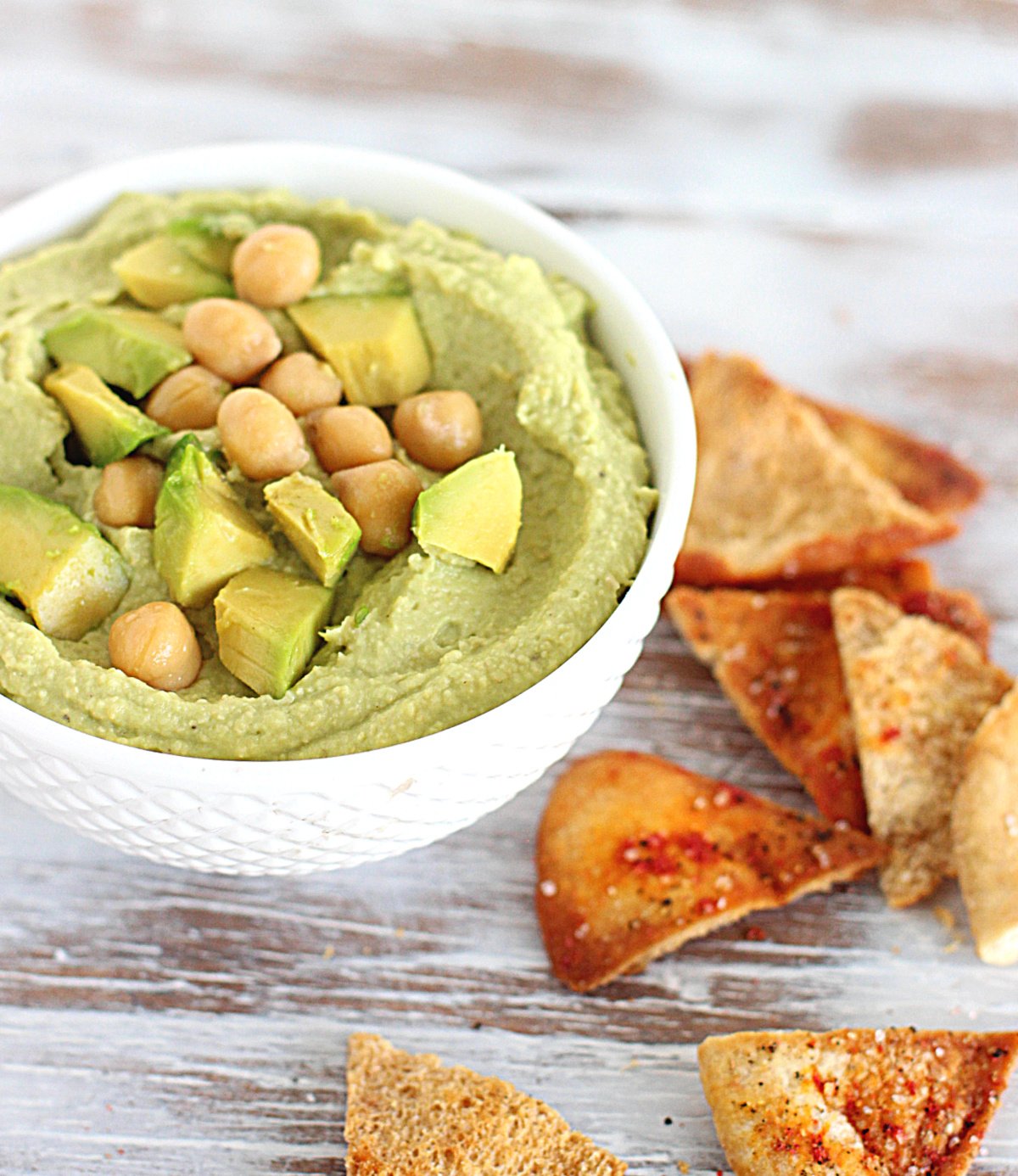 Other recipes you might like:
Roasted Carrot Dip
Easy Sun-Dried Tomato Dip
Eggplant Hummus
Avocado Hearts of Palm Salad
Let me know if you make this recipe! I'd love to hear what you think about it.
Thank you for being here, I appreciate it! Let's connect via Facebook, Instagram, and Pinterest.
If you like the recipes in this blog, consider subscribing (find the form below this post) and getting all new posts by email.
Print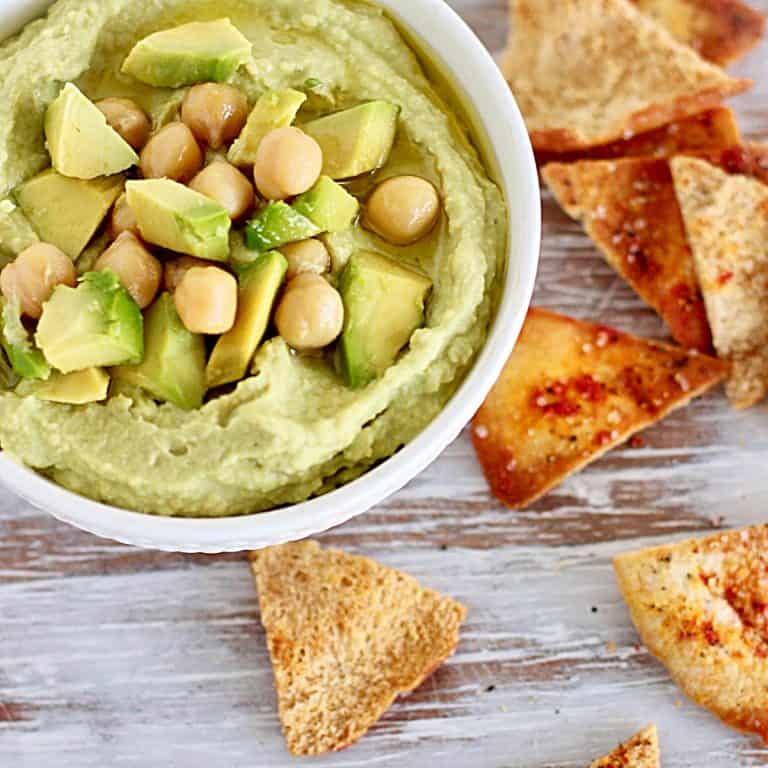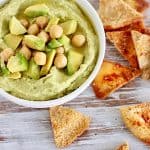 Creamy Avocado Hummus
Author:

Paula Montenegro

Prep Time:

10 minutes

Cook Time:

5 minutes

Total Time:

15 minutes

Yield:

2 cups

1

x

Category:

Appetizers & Dips

Method:

Mixing

Cuisine:

International
---
Description
A twist on the traditional recipe, this Avocado Hummus is super creamy, healthy and full of flavor! Make it with or without garlic, it stays fresh for several days and is amazing as a dip, in sandwiches or salads.
---
2

ripe Haas avocados, scooped

1 cup

cooked garbanzo beans (canned or fresh)

¼ cup

freshly squeezed lemon juice (

1

medium lemon)

1

fat tablespoon of tahini (sesame paste)

½ cup

olive oil
Sea salt
Black pepper

4

pita breads
Smoked paprika
---
Instructions
For the pita chips:
Preheat oven to 300ºF /150ºC.
Open the pita bread and cut each half into 6 pieces (triangles or whatever shape you want).
Scatter them on a baking sheet and drizzle with olive oil. Sprinkle with sea salt, black pepper and smoked paprika to taste.
Bake for 20-30 minutes, until dried and toasted. Let cool completely and keep in tins or cookie jars. If they are not well dried they will lose their crunch quickly. Otherwise, they keep a few weeks.
For the hummus:
In the bowl of the food processor mix chickpeas, avocados (peeled, cored, cut into chunks), the lemon juice, tahini, olive oil, some salt and pepper and process several minutes until very smooth.
Check seasonings and add more juice and/or tahini and/or salt to taste.
Serve with pita chips.
Keep covered in the fridge with a thin layer of olive oil on top to prevent darkening.
---
Notes
Avocados: I highly recommend haas avocados (small and wrinkled) as the results will be superior.
Tahini: can be found in some supermarkets, gourmet shops, middle eastern markets or you can buy it online Tahini 100% pure Sesame
Garlic: I don't use it for this recipe but it can be added. Roasted garlic works well too.
Serving: serve it with the pita chips mentioned above, with toast, as part of a sandwich or quesadilla, or as part of a budha bowl.
Storing: use a jar, add a thin layer of olive oil on top, close the lid and keep it in the fridge for several days. Even though the top starts to darken, below the hummus is green, similar to guacamole.
---