I come bearing my two favorite cocktail nuts recipes! Both are sweet and spiced, incredibly easy to make and can be more or less hot according to your taste! Any nut can be used, are ready to eat in less than an hour, and last several days.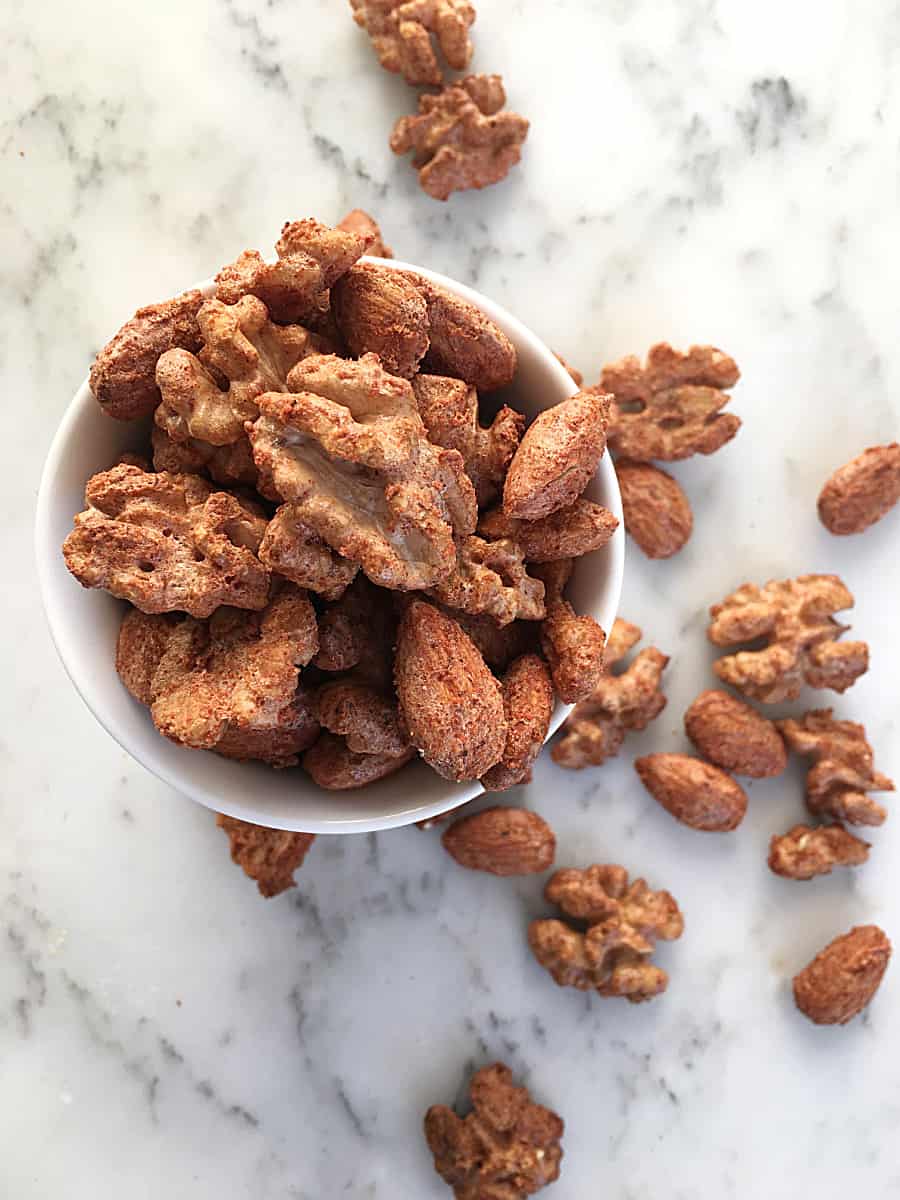 How is your holiday season coming along? Ready for the last stretch?
These recipes today are super easy to make, of course, so you can add them at the last minute. Just in case you think you need one more thing on your holiday buffet table.
Walnuts and almonds (image above), one of my favorite combinations when it comes to cocktail nuts.
Sweet and spiced pecans (image below), the eternal favorite, with that creaminess that we all love.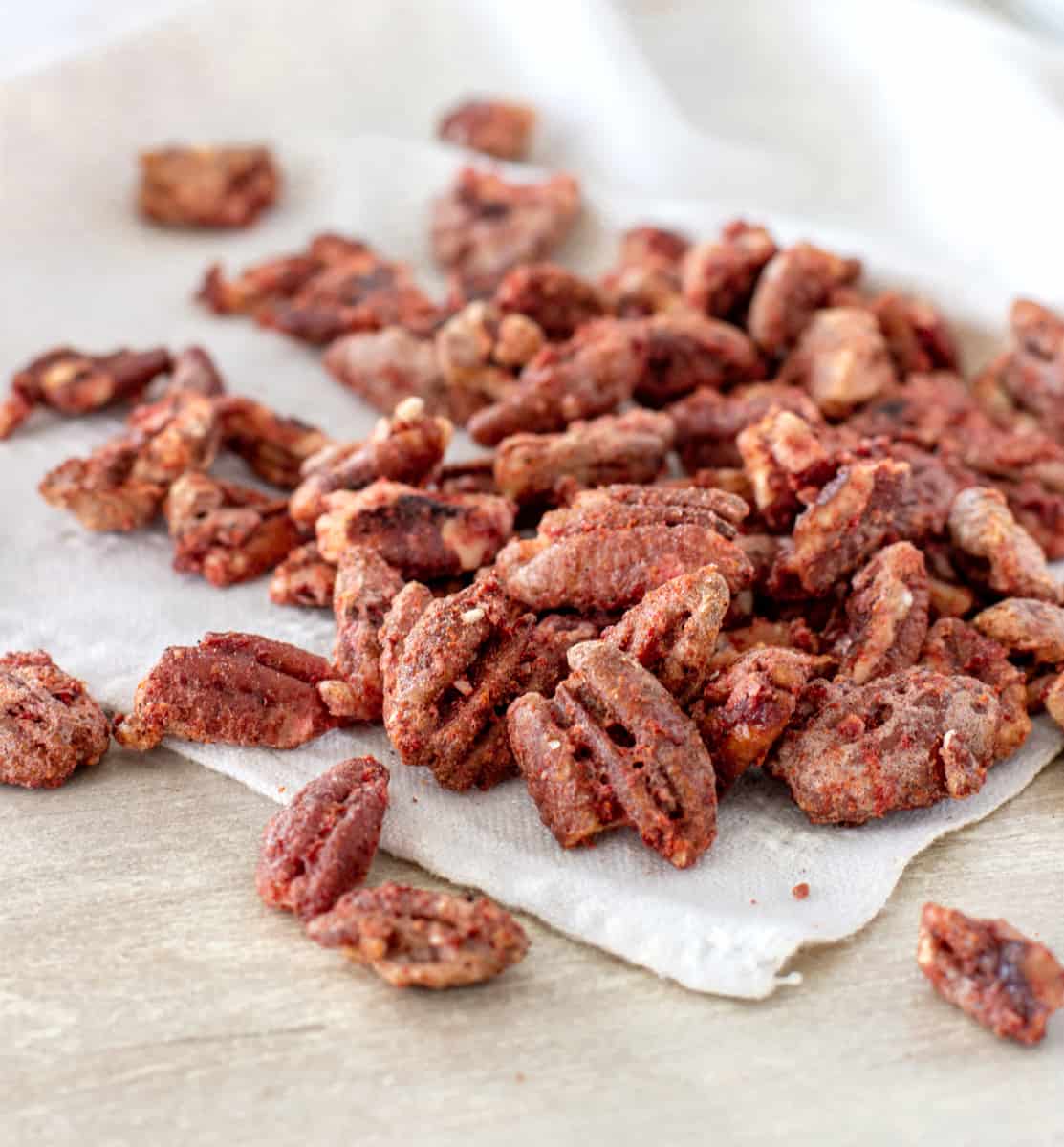 These two recipes are very similar.
And great when you have leftover egg whites!
The first one is the old reliable favorite I made constantly. Not only for Christmas and New Year's but for everyday snacking also.
The second one, a variation, came to be when I ran out of two of the ingredients and had to improvise. It turned out amazing!
So I started alternating between both, depending on the hotness I wanted in my nuts. Because one has cayenne pepper and that always comes with a lot of heat attached, doesn't it?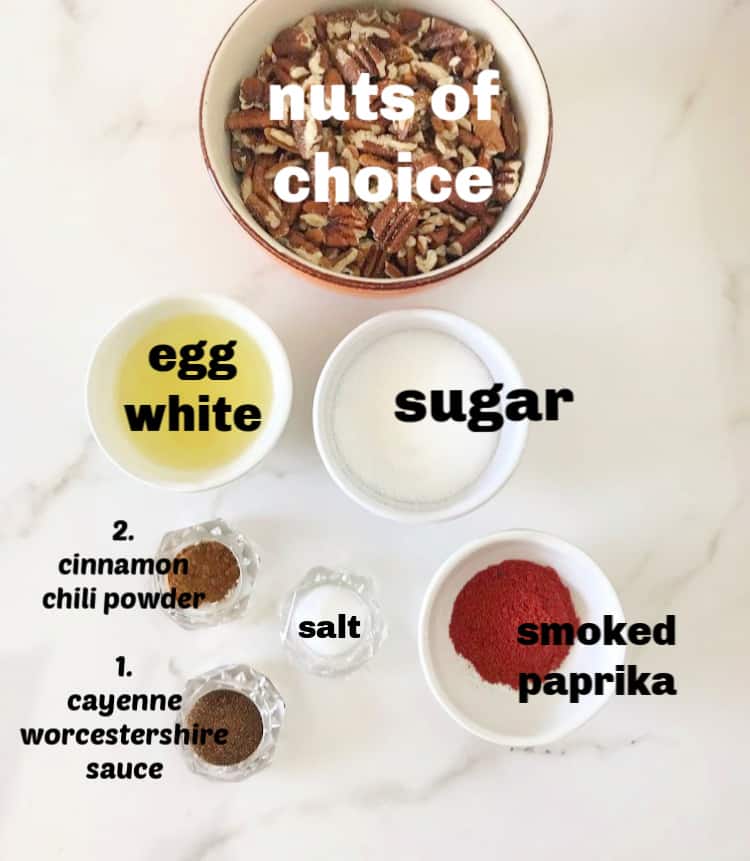 Ingredients
These sweet and spicy nuts are made with very simple ingredients. Give or take.
Nuts - my favorites are pecans, walnuts, and almonds. I used pecans for the process shots for this post, but some images have walnuts and almonds. They all work wonderfully.
Sweet part - I use regular granulated sugar. But, truth be told, you can use any type you like. Brown sugar works well and adds a caramel undertone. If you use coconut sugar or muscovado, take into account that they don't sweeten as much as white does.
Spiced part - the recipe with cayenne pepper is spicier than the other. This spice is very hot, so take that into account, you may want to start small the first time you make them. And then the paprika, which can be sweet, spicy, smoked. I love smoked.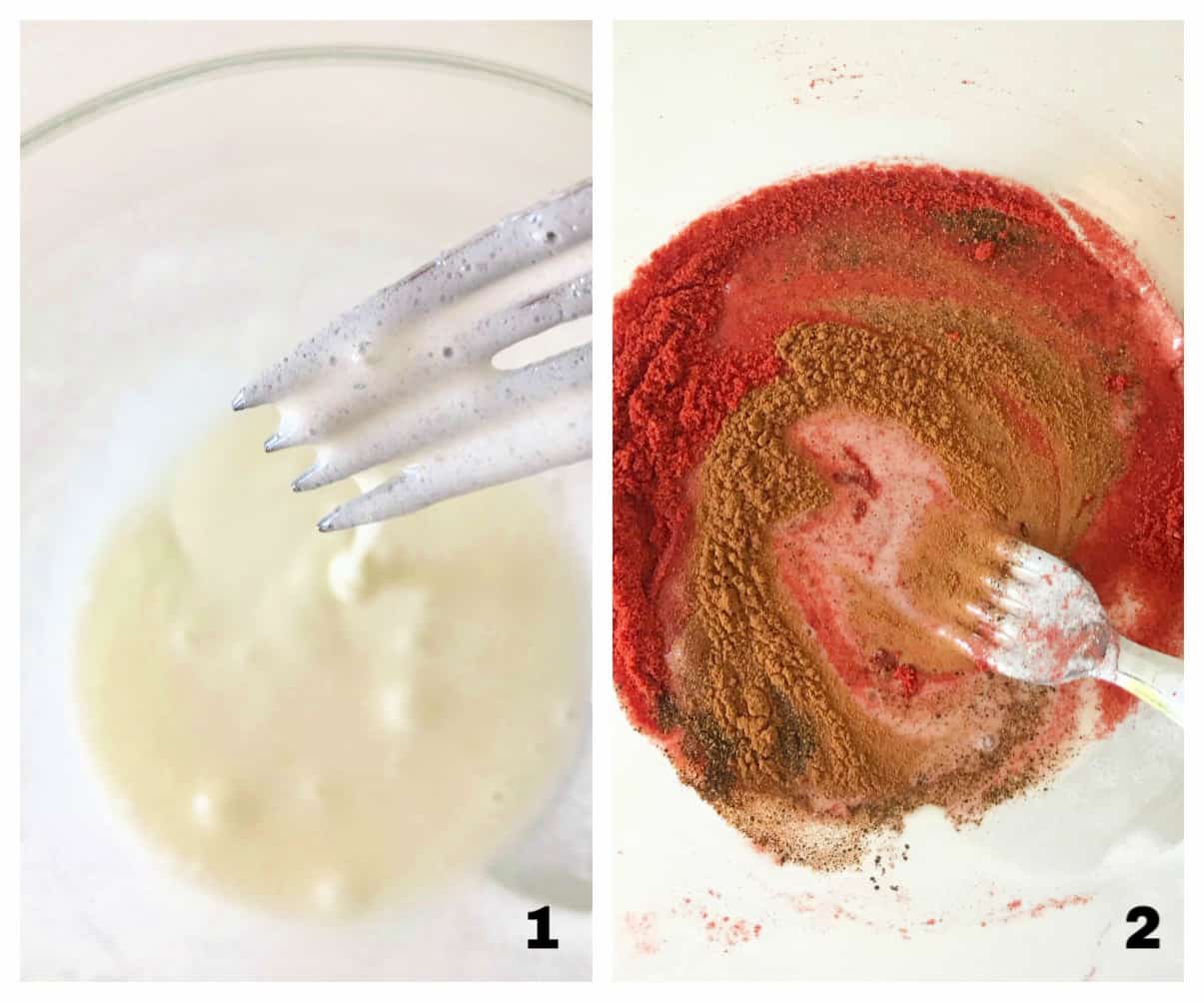 Steps for making sweet spiced nuts.
Grab a bowl, a fork or whisk and a spatula.
Lightly beat egg yolk with sugar until foamy (image 1). You can use an electric beater if you want and beat until beginning to form peaks.
Add all spiced and mix (image 2). It will be a reddish-brown, quite ugly color if you ask me.
Add pecans (or whatever nuts you're using) and mix well (images 3, 4).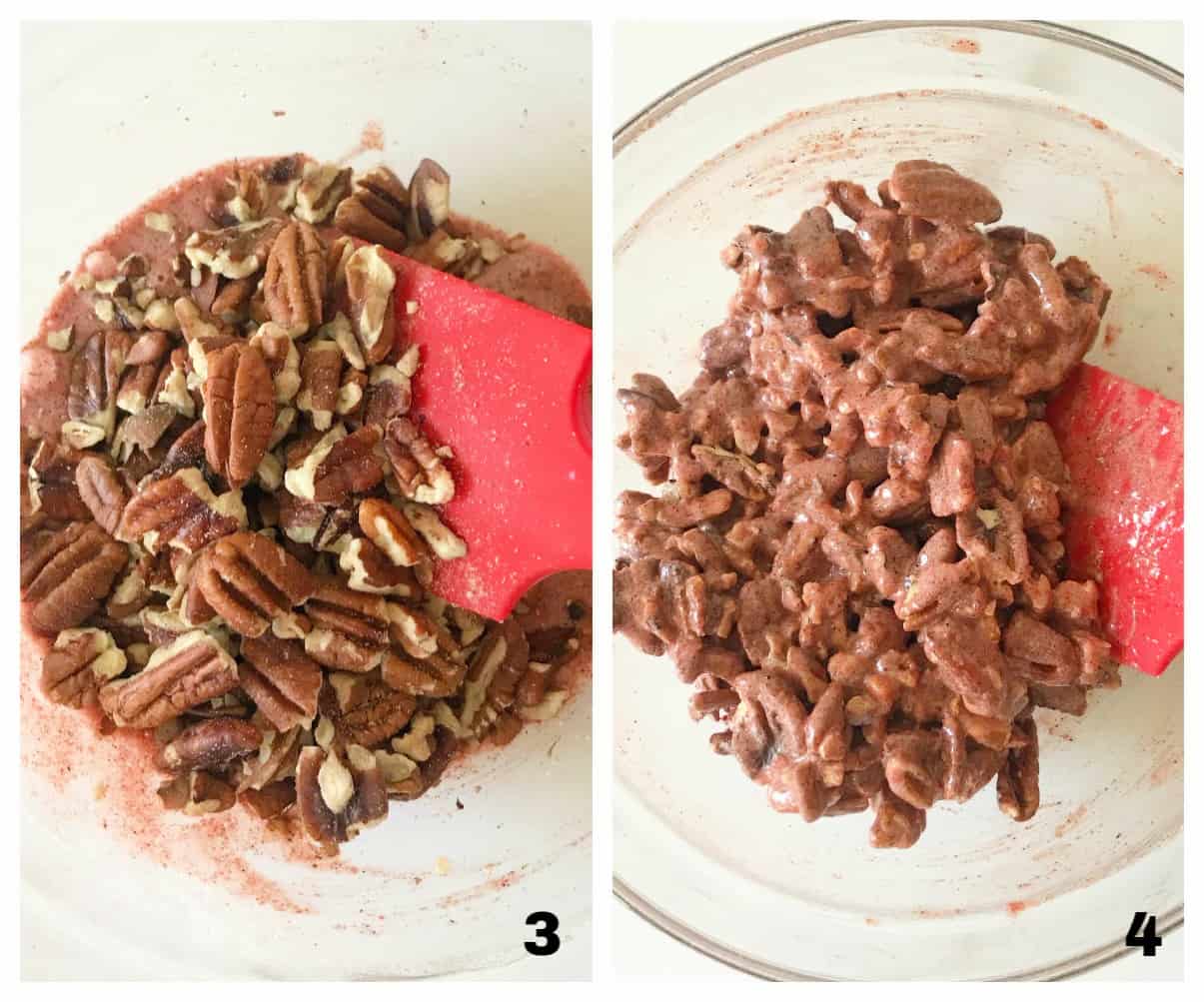 Line a baking sheet with aluminum paper if you want. I always do this to avoid having to clean the baking sheet.
Spread the nut mixture with the spatula (image 5). Try to not overlap them so they bake better.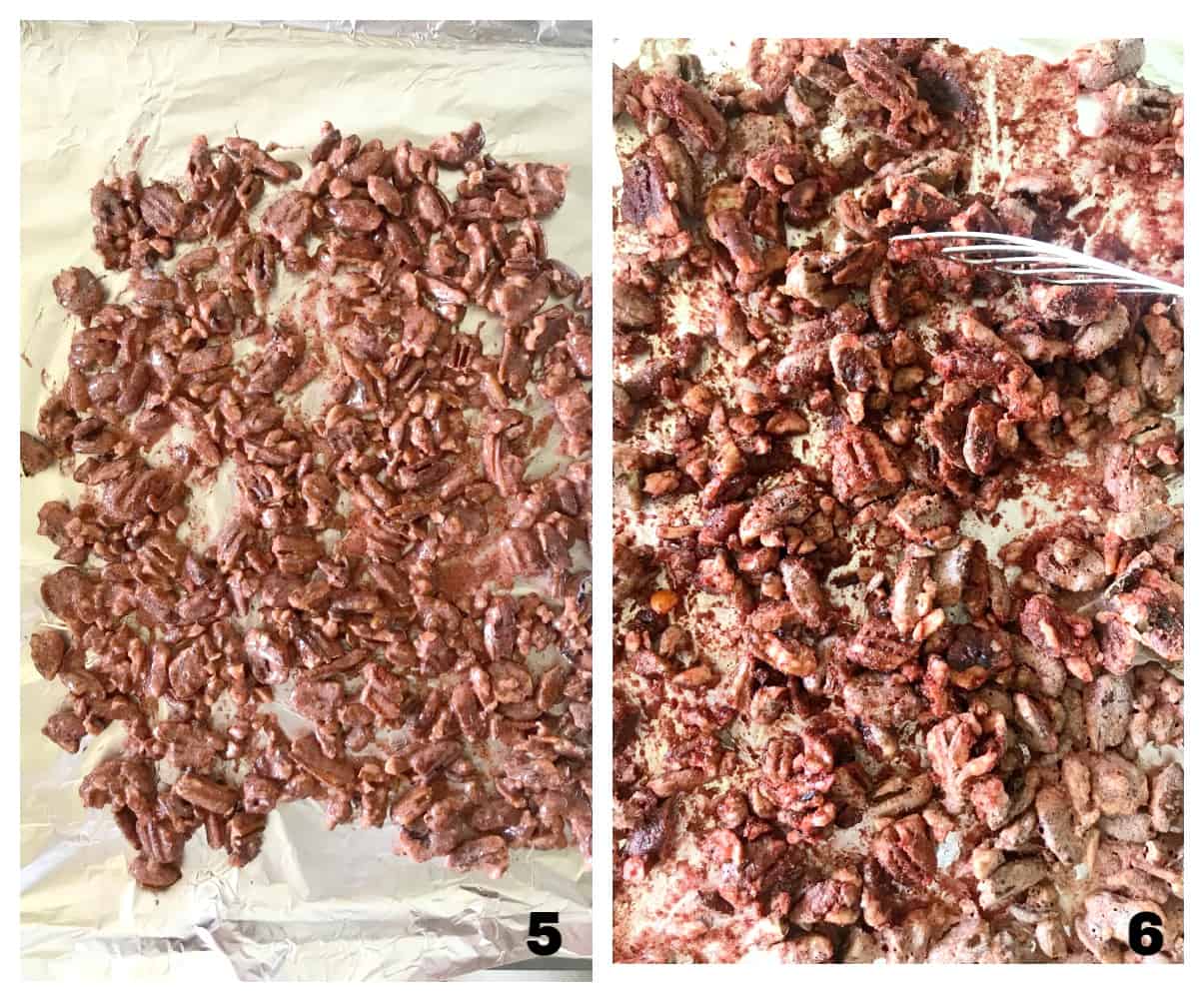 Bake as directed and stir them after 5 minutes in the oven (image 6). This is important for them to bake as evenly as possible. Do this carefully and try not to tear the paper.
When they are done, remove the pan from the oven and move the nuts carefully with a spatula so they cool down without sticking to the aluminum paper.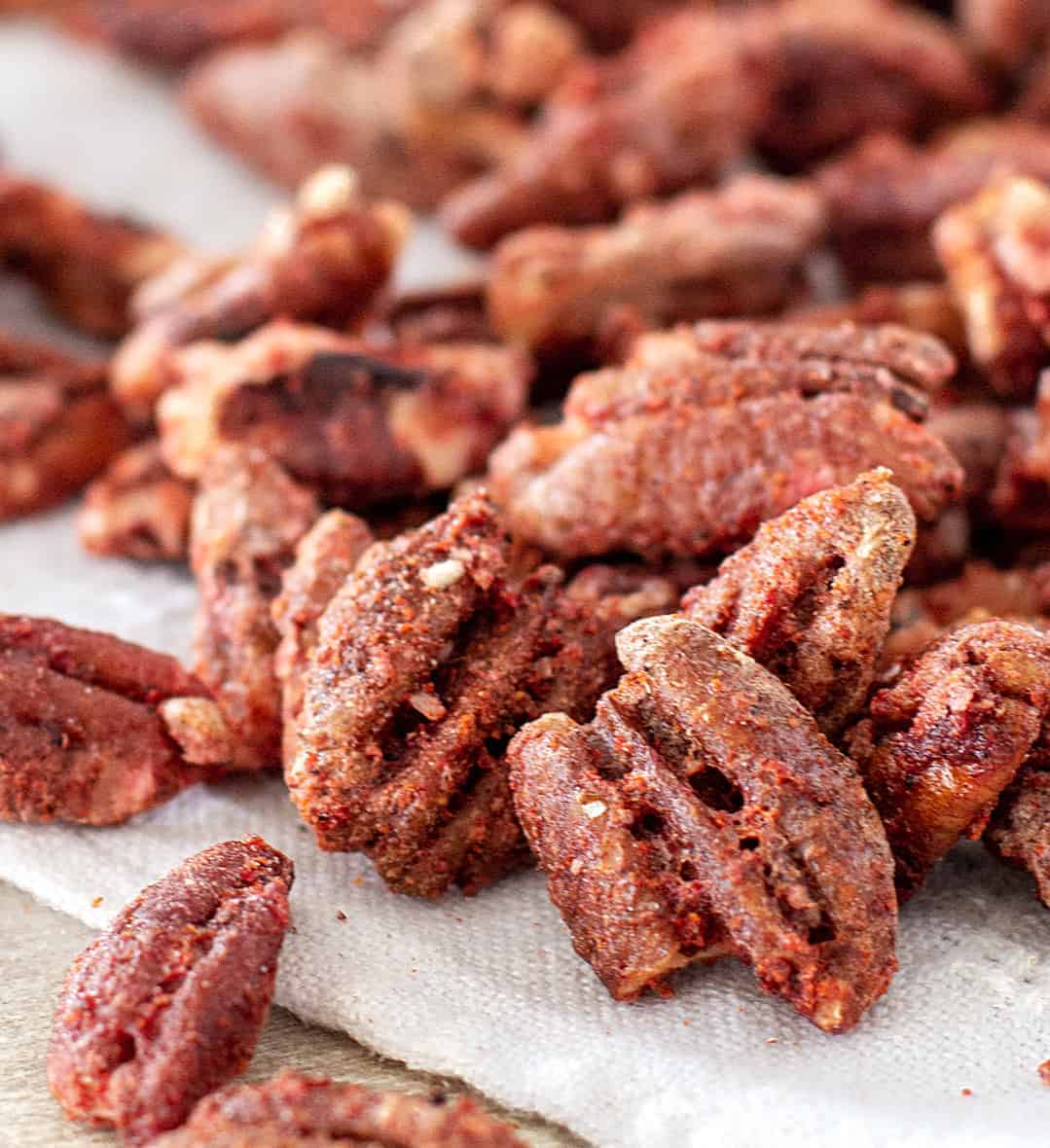 Sweet and spiced nuts are a great idea as an appetizer for a party, a gathering, a buffet table. Even a picnic if you ask me.

They keep well and are ready so fast that it really is a savior recipe when it comes to celebrations!

Paula ~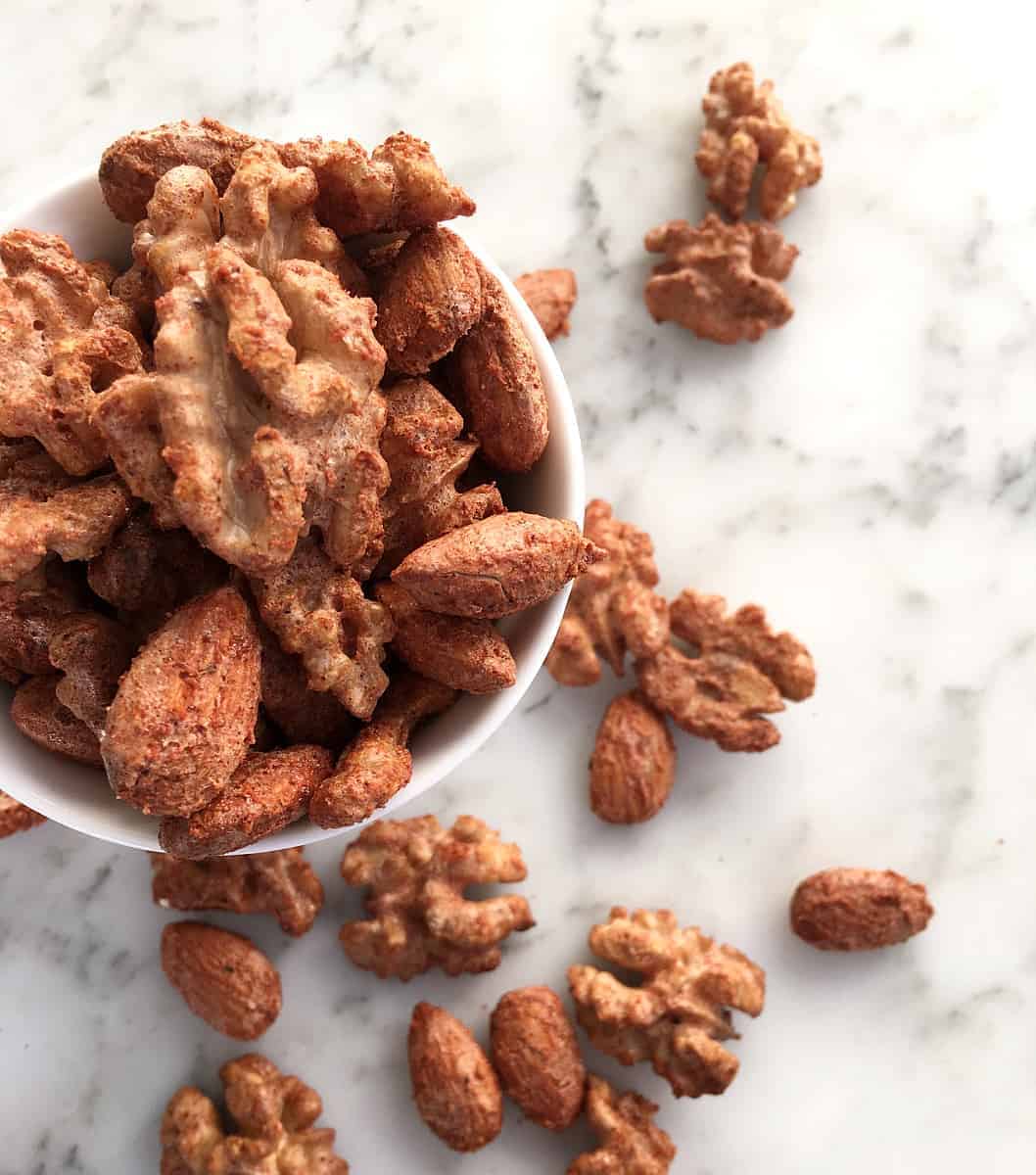 Other recipes you might like:
Mushroom Leek Quiche
Mushroom Cheese Strudel
Eggplant Hummus
Baked Ricotta with Roasted Tomatoes and Onions
Semolina Bread
Corn Basil Empanadas
Let me know in the comments below if you make this recipe! I'd love to hear what you think about it. Thank you for being here, I appreciate it! Let's connect via Facebook, Instagram, and Pinterest.
If you like the recipes in this blog, consider subscribing and getting all new posts by email. As a thank you, we'll also send you a FREE recipe e-book and our Guide to Freezer Baking!
Print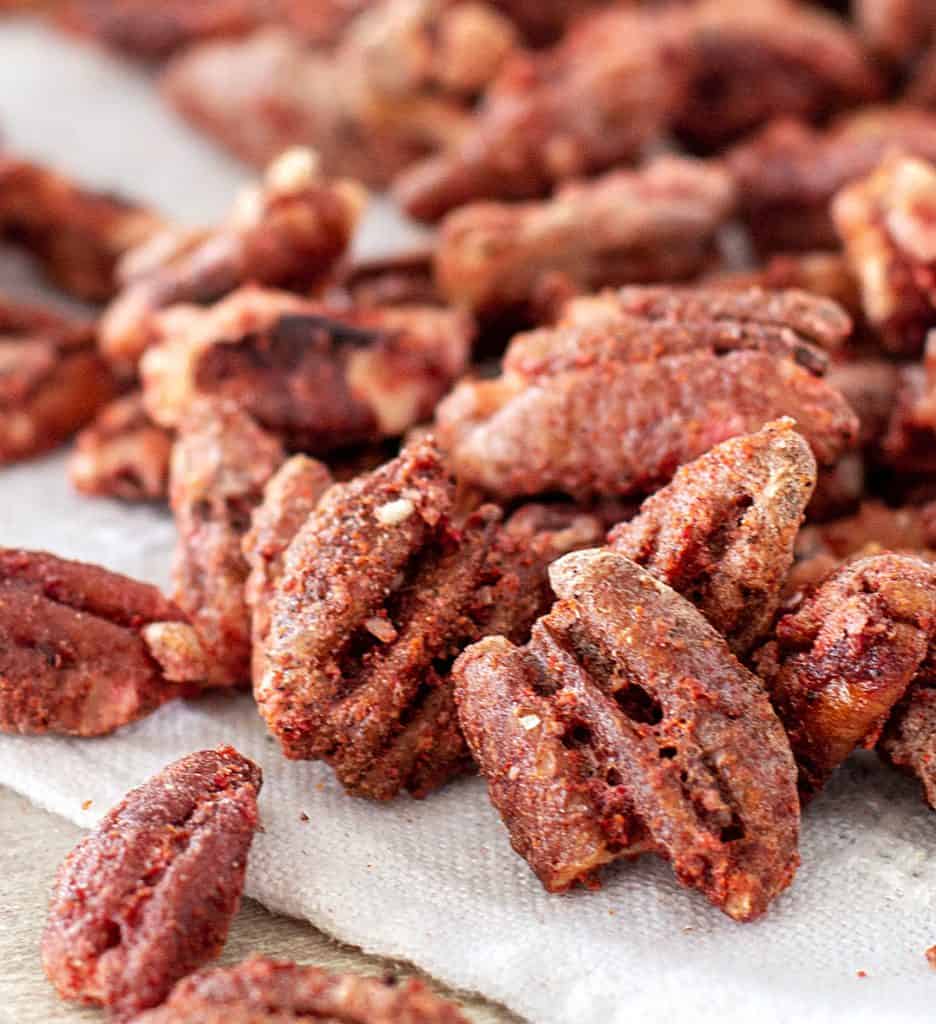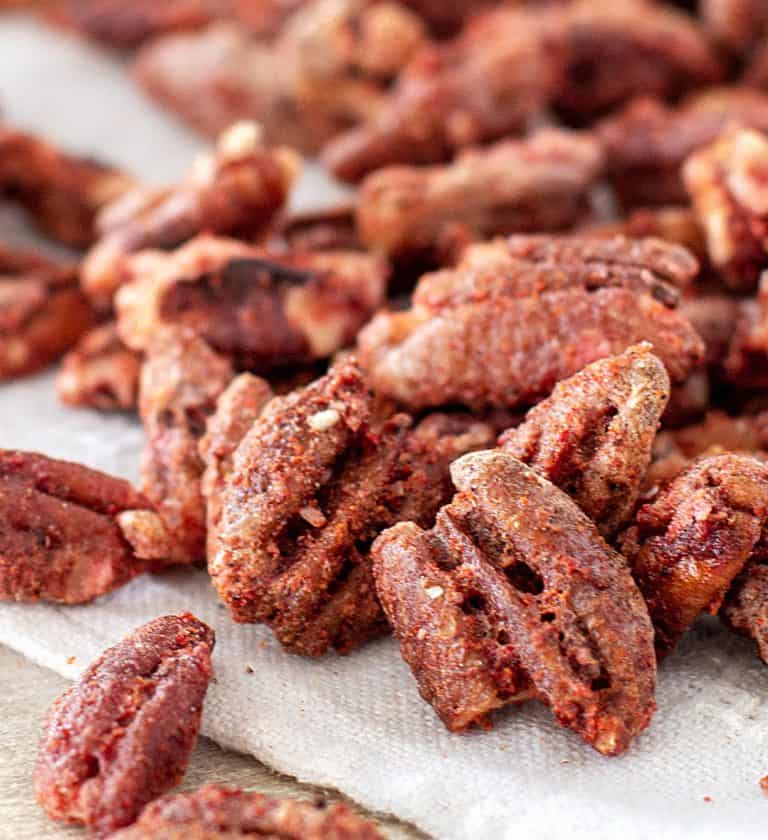 Sweet Spiced Cocktail Nuts (2 recipes!)
Two recipes for wonderful sweet spiced nuts! The recipes are for 1 egg white, so you can double, triple or multiply it at will.
Total Time:

55 minutes

Yield:

2 cups
For both:
1

egg white

¼

cup

sugar

¼ teaspoon

salt

1 tablespoon

smoked paprika

2

cups

nuts of choice
Recipe 1:
Dash to

¼ teaspoon

ground cayenne pepper

1 teaspoon

Worcestershire sauce
Recipe 2:
½ teaspoon

ground chili powder

¼ teaspoon

ground cinnamon
Instructions
Preheat oven to 350ºF /180ºC.
Line a baking sheet with aluminum paper. Reserve.
In a bowl lightly beat egg white with sugar and salt until thick and foamy, about 1 minute with a fork or whisk.
Add paprika and extra ingredients depending on what recipe you're making (recipe 1 or 2, above).
Add nuts and mix until well coated.
Spread on the prepared baking sheet and bake for 5 minutes.
Remove, stir the nuts with a spatula being careful not to tear the paper, and return to the oven 10-15 more minutes, stirring once more before they're done.
Remove from oven and immediately stir again so they don't stick while cooling down.
Let cool completely and store in airtight containers.
Author:

Paula Montenegro

Prep Time:

20 minutes

Cooling time:

20 minutes

Cook Time:

15 minutes

Category:

Appetizers

Method:

Baking

Cuisine:

International