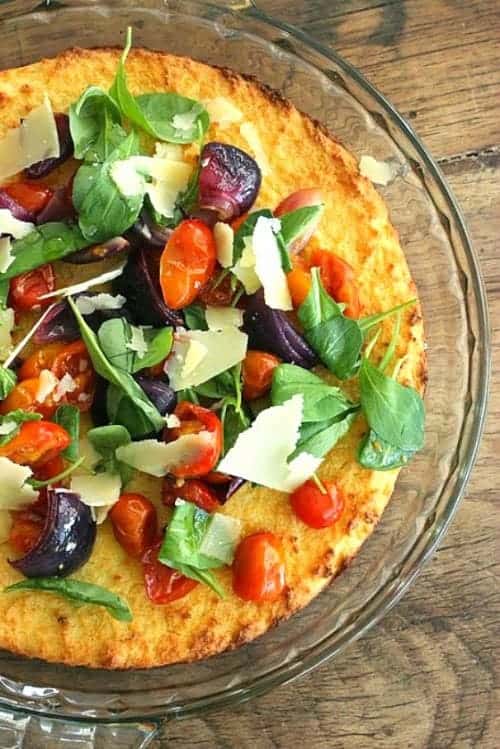 Baked ricotta with roasted tomatoes and onions. And arugula. And parmesan shavings. A few good olive oil swirls. More parmesan in the batter. Yes, baked ricotta rocks. So easy and so good.
This new situation in my life where I work full time – and then some – and try to blog whenever the hell I can, comes hand in hand with the fact that I try to reach for simple recipes, as in one-bowl situations where no trip to the grocery store is required. I haven't made proper bread in ages – remember the cinnamon sugar challah or the graham cracker dough almond raspberry rolls from scratch?.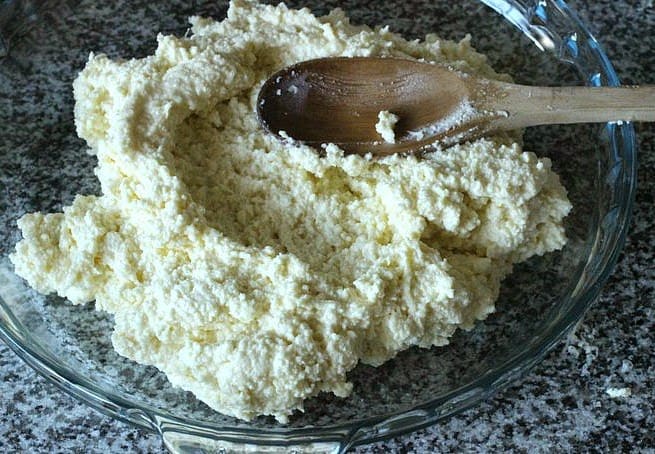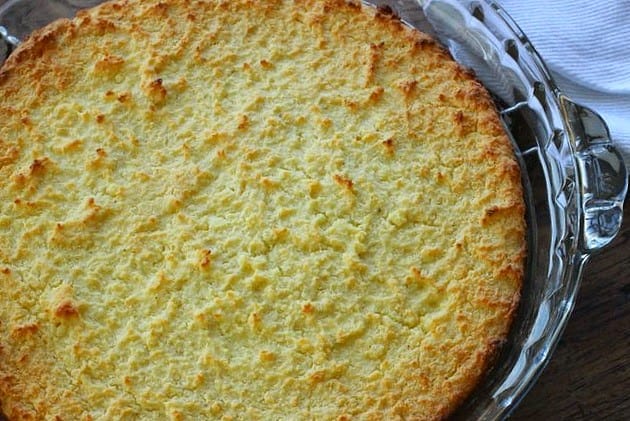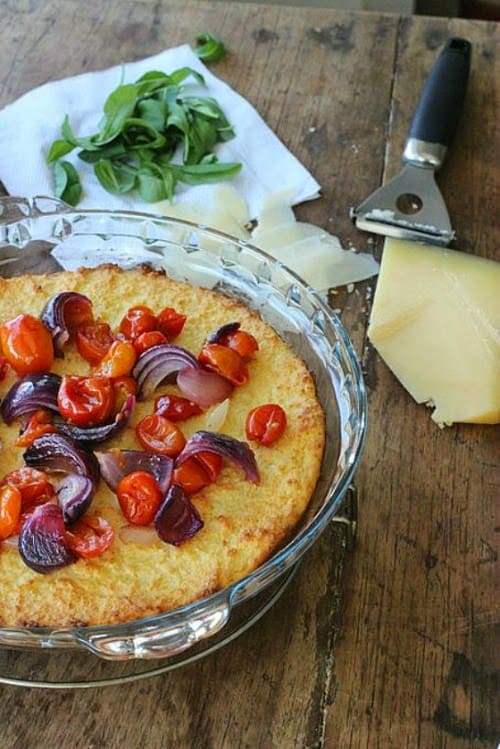 I made a sweet ricotta tart to take to the office a few weeks back (recipe coming soon), a type of pie loved by everyone here where Italian food is as common as dulce de leche, and, as it usually happens when you don't feed many, had ricotta left. A lot, two pounds. And the idea of using it for a dessert or cake again was not very appealing.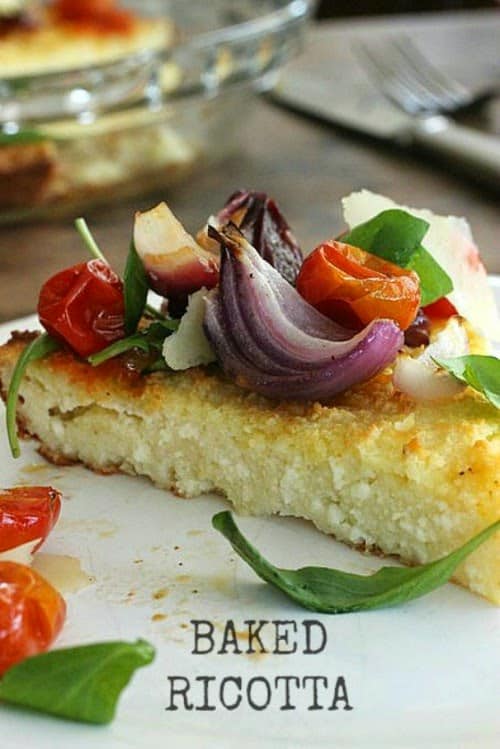 Then I remembered baked ricotta, a recipe from one of my baking idols, Nancy Silverton. Yes, I'm a complete groupie. And a Maida Heatter one too, when it comes to baking. Proud of it. I have so many of their books, it's embarrassing, or not really, they're worth every single penny.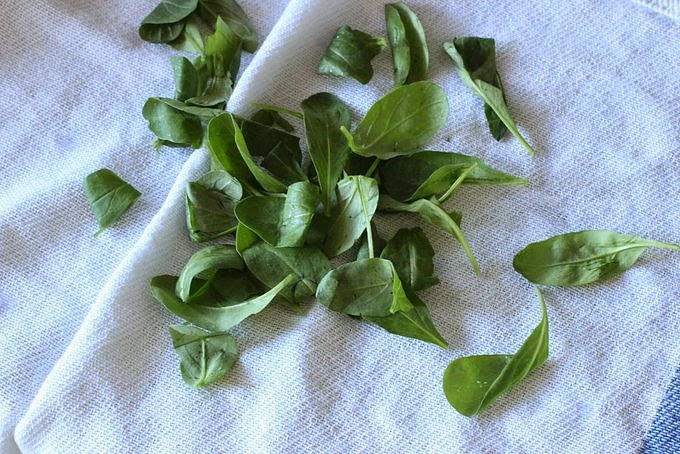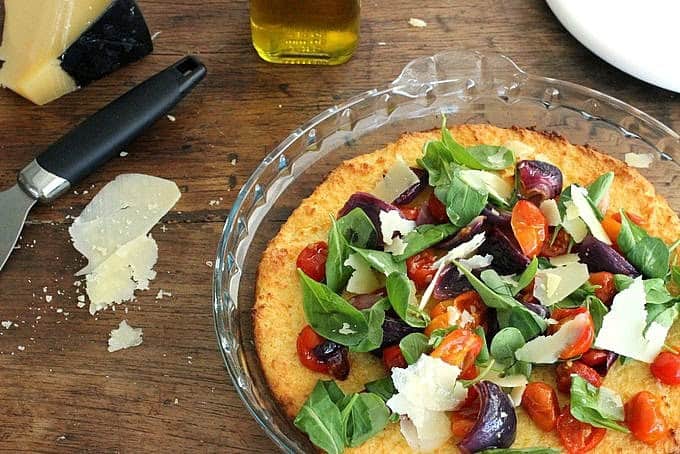 So the original recipe is in her sandwich book, but I had no bread in the house, and this was a no-trip-to-the-grocery situation, so this kind of ricotta 'pizza' happened. I was tempted to add it to the title, but well, it's not really pizza, just round and not too tall. But it's fast, tastes amazing, can be tailored to taste – you know, make it spicy, top it with whatever you want, add all the odds and ends of cheeses you have in the fridge, it all works – and is perfect for you guys enjoying your Indian summer up north, or for me having an early spring here in the south.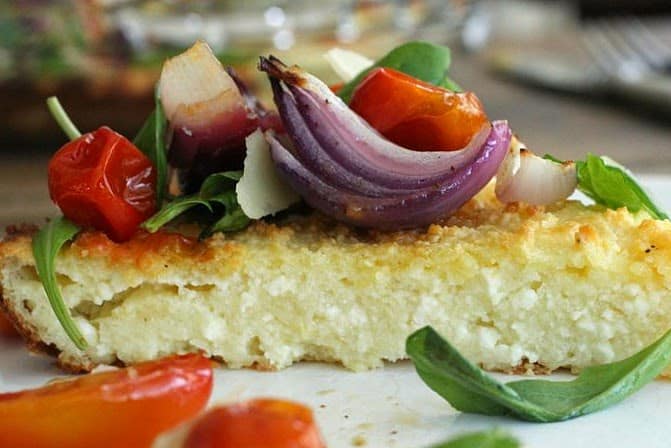 But I'm not done. It lasts at least four days, covered, in the fridge, reheats beautifully and is good at room tº too.
So, is this a great, easy, different recipe or what?
Print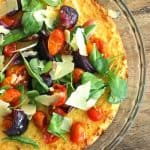 Baked Ricotta with Roasted Tomatoes and Onions
---
Scale
Ingredients
1 cup

cherry tomatoes (halved)

1

medium red onion (peeled, cut into

eight

pieces)
Olive oil
Salt and freshly ground black pepper

½ cup

flour (sifted)

2

generous cups fresh ricotta (1 pound +

2 ounce

s)

2

eggs

½ teaspoon

salt
Black pepper

1/3 cup

freshly grated parmesan cheese

2

Tbs unsalted butter (melted and cooled)
A few gratings fresh nutmeg

1 cup

arugula leaves (washed and dried)
Shaved parmesan
---
Instructions
Preheat oven to 375ºF.
Line a baking sheet with foil and place tomatoes and onions. Drizzle with a few swirls olive
oil, salt and pepper, and bake for about 30 minutes, until a bit charred and
soft. If you leave tomatoes whole, be sure to pierce them with a fork once or
twice before baking.
In a bowl, mix ricotta with eggs, salt, pepper and parmesan. Mix well with a hand beater
or wooden spoon.
Add flour and mix well again.
Add butter and nutmeg.
Transfer to a glass 9-inch round dish, spread evenly and bake for 45 minutes, until light brown
on top. Let cool on a wire rack.
Mound tomatoes and onions on top of the ricotta, then scatter arugula leaves and
parmesan shavings. Drizzle with olive oil, some salt and pepper, and serve cut
into wedges.
---
adapted from Nancy Silverton's Sandwich Book