I have always loved recipes with soft cheeses, but this 6-ingredient ricotta cheesecake simply blew me away!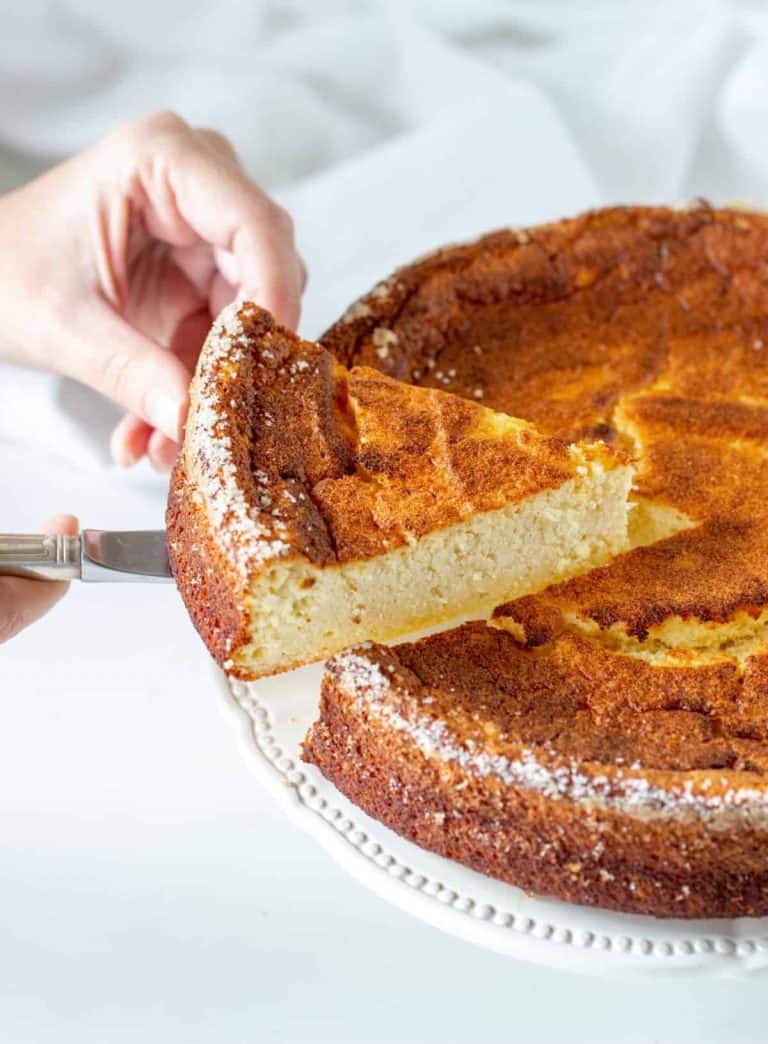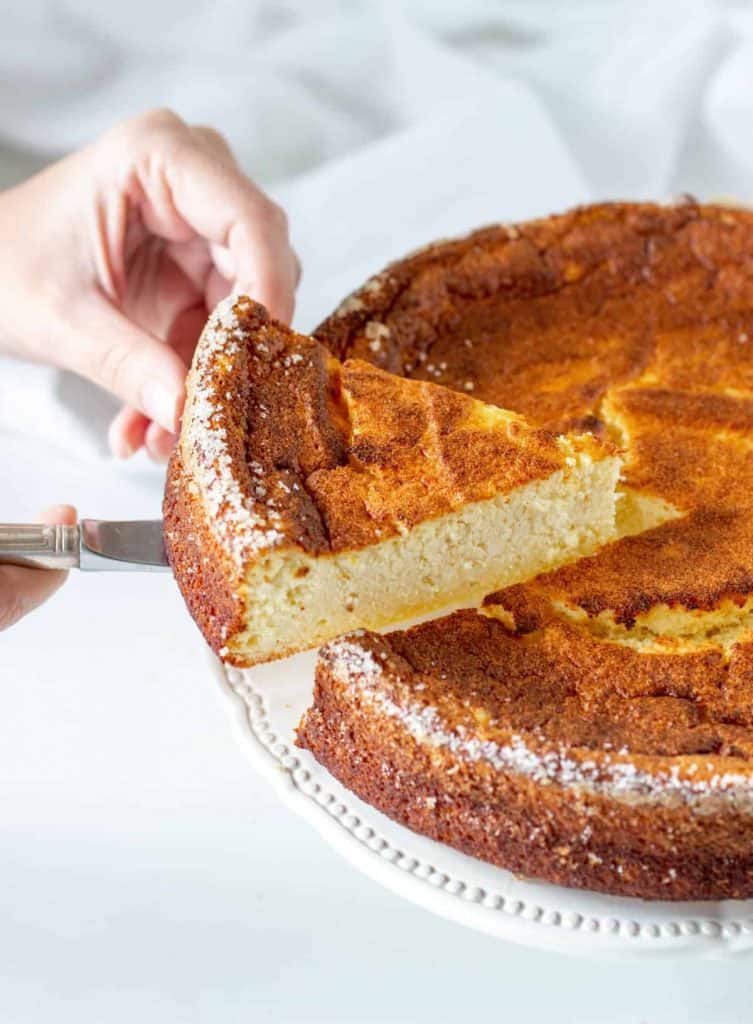 Traditional cheesecake we all know is made with cream cheese, that old favorite of ours. I am a huge fan of baking (and eating no doubt) cheesecakes. One of my favorites being the Brown Sugar Cheesecake, hands down.
But my strong Italian heritage and food culture made me start loving all things ricotta (lemon ricotta pie, baked ricotta, berry squares, you name it), especially this cheesecake recipe I'm sharing today. Some years ago I would've said that if it didn't have cream cheese it couldn't be called a cheesecake, period. Nowadays I'm more flexible and don't need to be such a purist.
Besides, if you look at how this gorgeous cake comes out of the oven, deeply golden, smelling amazing and with just the right firmness to it, you'll understand that it goes in the cheesecake category. Not a pie, not a cake, but a ricotta cheesecake. Probably the best one ever.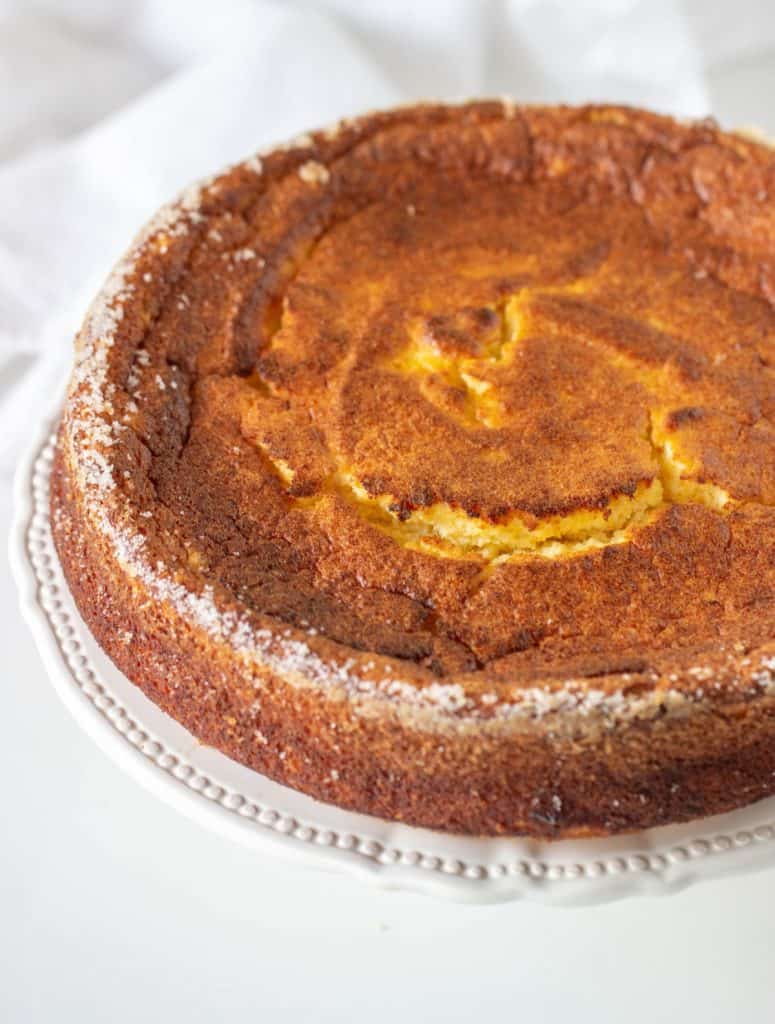 But, first of all, what is ricotta cheese?
Ricotta is a soft, grainy cheese made from cow's milk in this case (though it can also be made with goat, sheep or buffalo milk). The type I use for all of my recipes is the regular soft ricotta (image below) sold in supermarkets or specialty stores. It's creamy, moist and has an almost sweet taste.
Quality varies according to brands and you can find some with additives to make it thicker or whatever. I try to buy original ricotta sourced from good small producers. It tastes much better and I like the consistency more.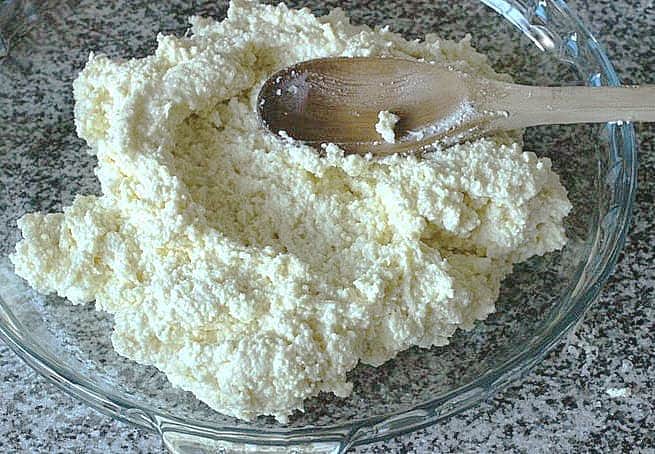 Ricotta cheese and cottage cheese.
Though they might look somewhat similar, ricotta and cottage cheese are different.
Ricotta is made from the whey that is left when the curds are separated in the milk or cream to make cheese, while cottage cheese is made from the curds.
How to substitute ricotta cheese.
Though for this recipe you should absolutely get the ricotta cheese (it is, after all, a ricotta cheesecake), you can use cottage cheese that has been processed with some cream cheese. If it has too much water you should let it drain a while on a strainer with cheesecloth or clean kitchen towel over a bowl.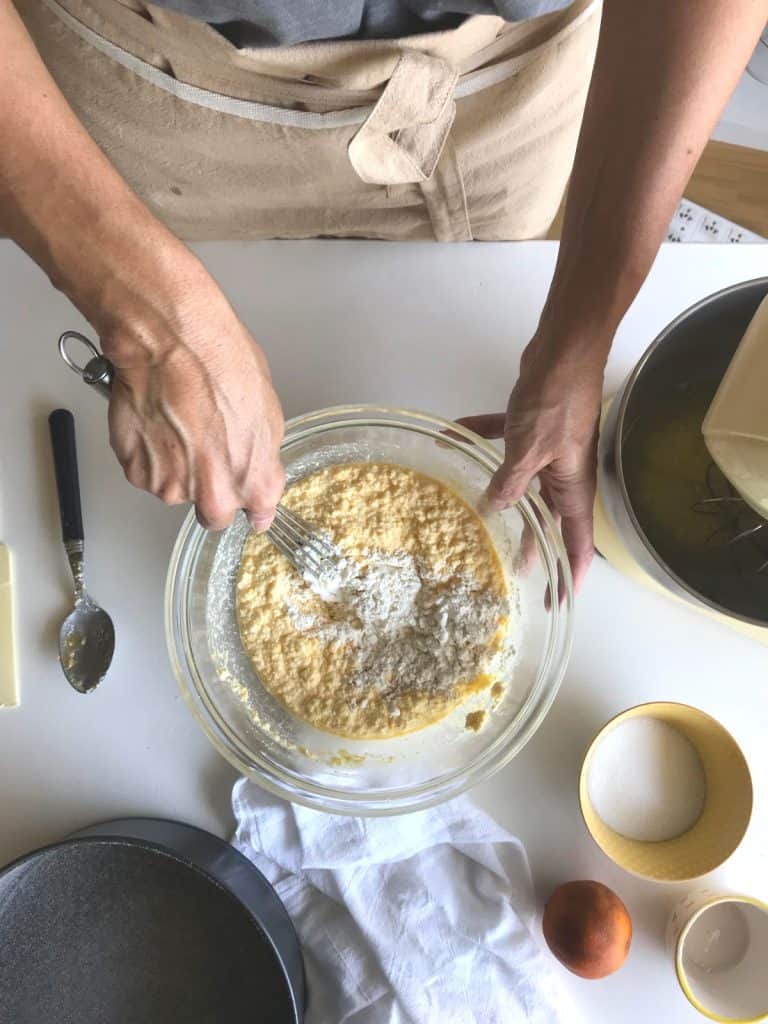 If you love cheesecakes as much as I do, this is a different recipe that you will love for its versatility and simplicity.
The versatile part is flavoring.
Citrus, use your favorite: lemon, lime, tangerine, a mix of all of them, you name it.
Ground spices, such as cinnamon, cardamom, maybe nutmeg, pumpkin spice mix. Whatever you love more.
Extracts (coffee, aniseed, almond, maple, there are so many to choose from)
Liquors like Cointreau or Grand Marnier (orange), Frangelico (hazelnut), Amaretto (almond), limoncello (lemon) or any other sweet or fruity one you like.
A combination of the above, maybe almond extract and spice, or cinnamon with orange zest.
Let your imagination flow. So many options, I know.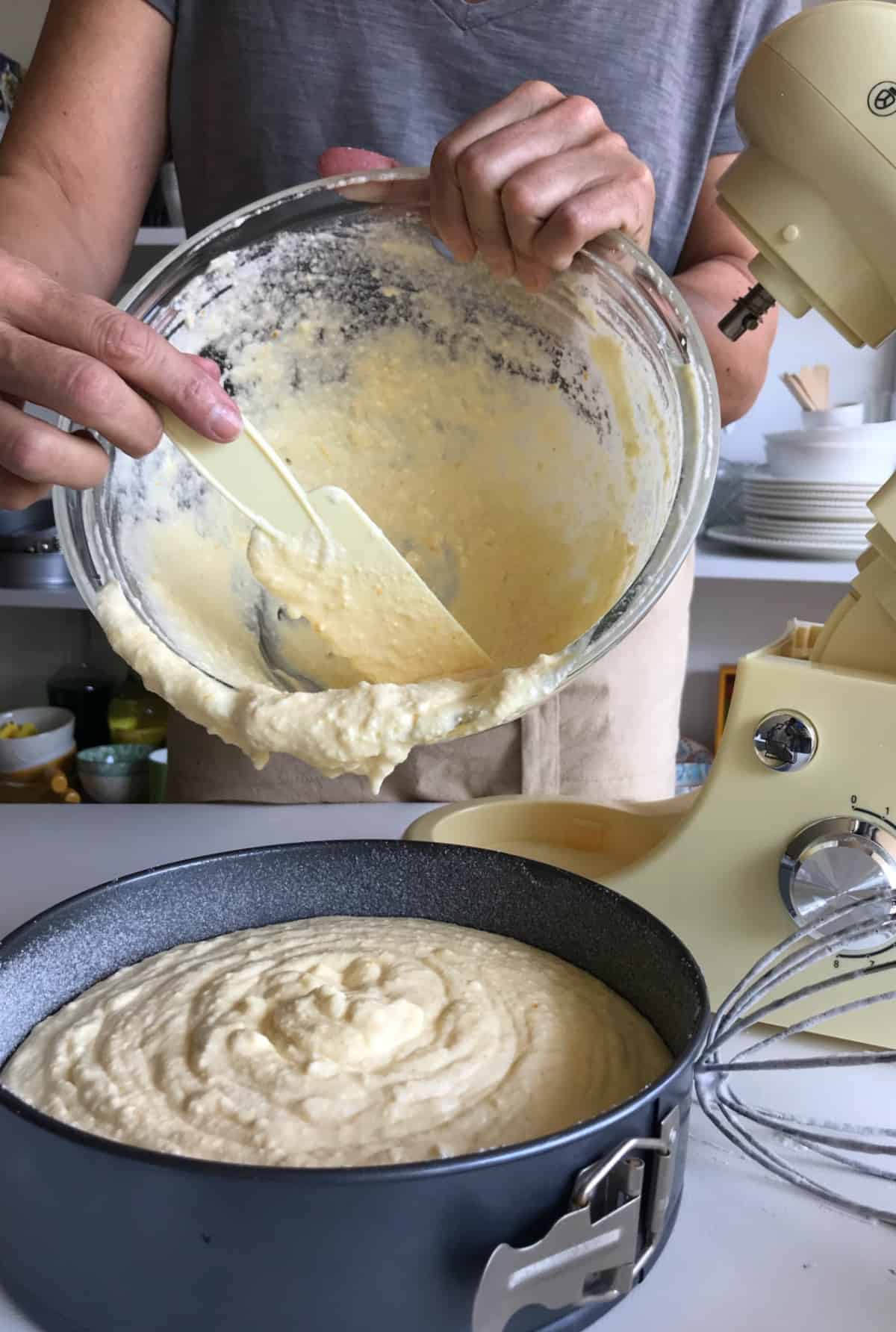 The simplicity part is that the ingredients are everyday staples and, apart from beating the egg whites separately,  you just mix everything together without much detail.
It cuts like a dream. You can see that in the pictures. The cake was almost room temperature and still hold its shape amazingly.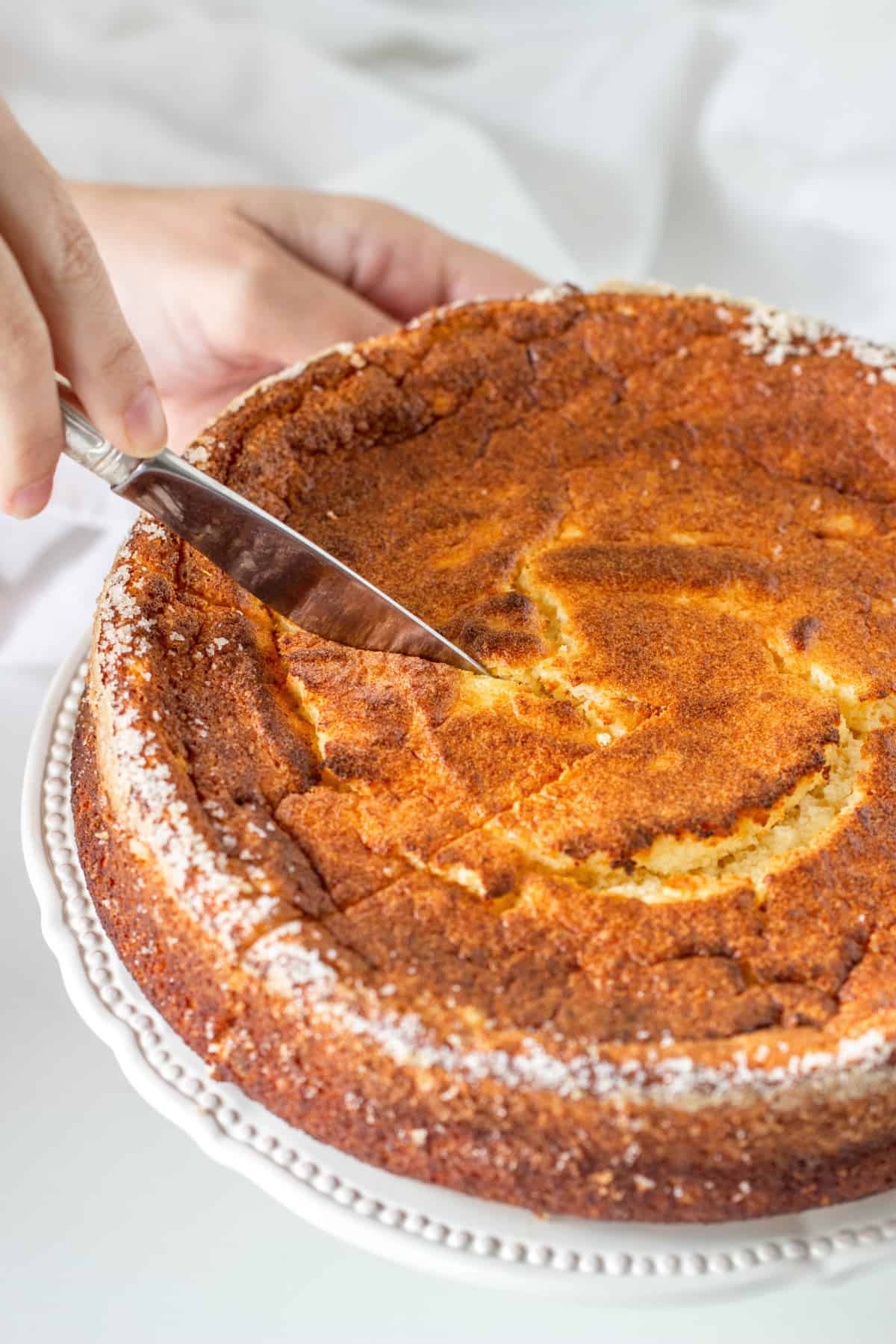 Beating egg whites.
The whites can be stiffer or not so stiff, and they are incorporated without the excessive care that other recipes sometimes need. Like the best flourless chocolate cake ever (the photos are old but the recipe is amazing!).
I like to beat the whites to medium soft peaks; that way the batter is more fluid and the cake is creamier.
And have them at room t°, that is the way to maximize the volume when they are beaten.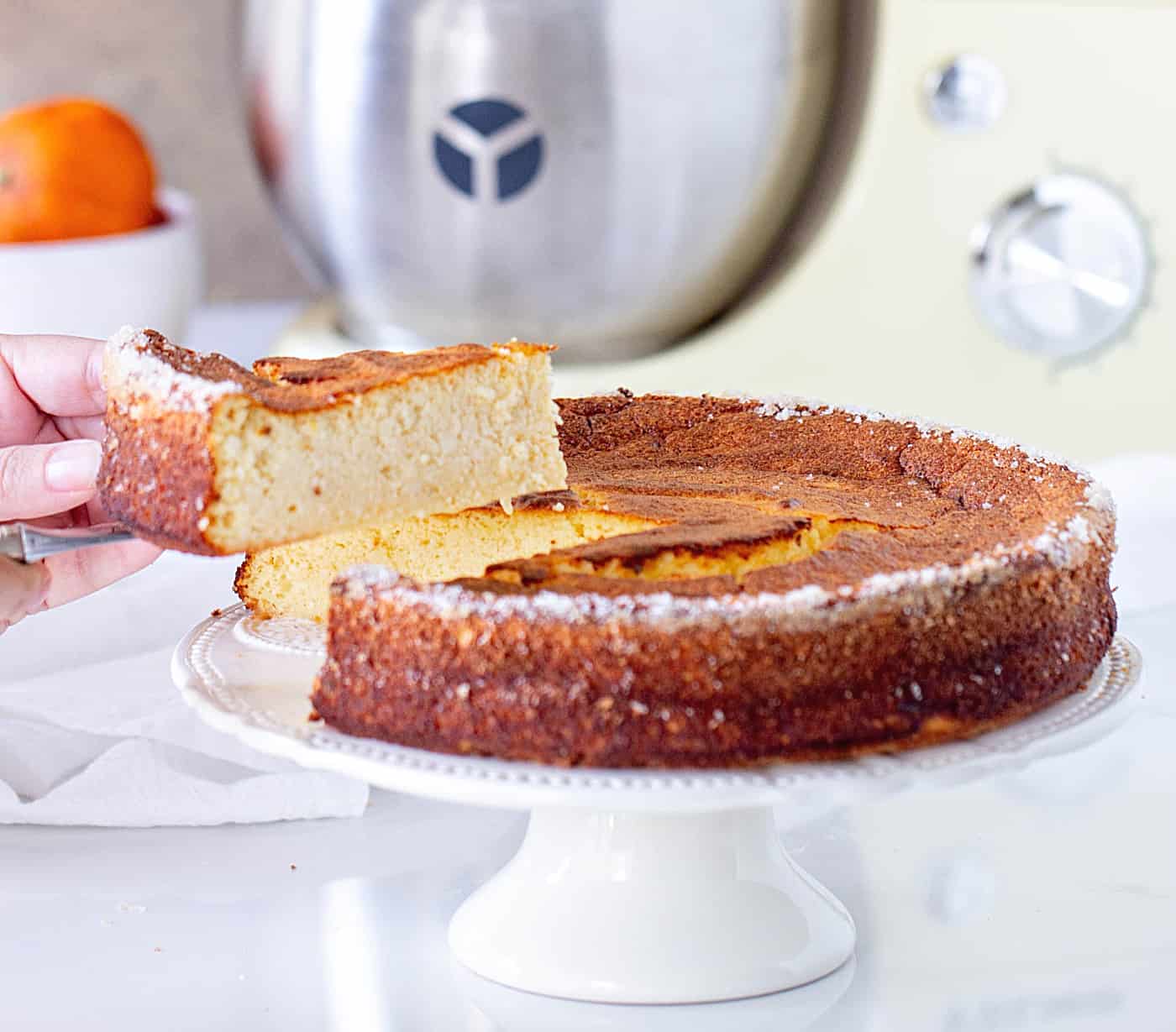 This ricotta cheesecake lasts for a few days in the fridge. I ate it after almost a week and I have to say it was delicious. The coldness of the refrigerator dries it up a bit every day, so my advice is no more than 3 days well wrapped in plastic.
All in all a wonderful, wonderful, wonderful recipe for a different cheesecake.
Other similar recipes you might like:
Homemade Pumpkin Ricotta Gnocchi
Blueberry Lemon Ricotta Polenta Cake
Bruschetta with ricotta, bacon, and tomatoes
Summer berry ricotta squares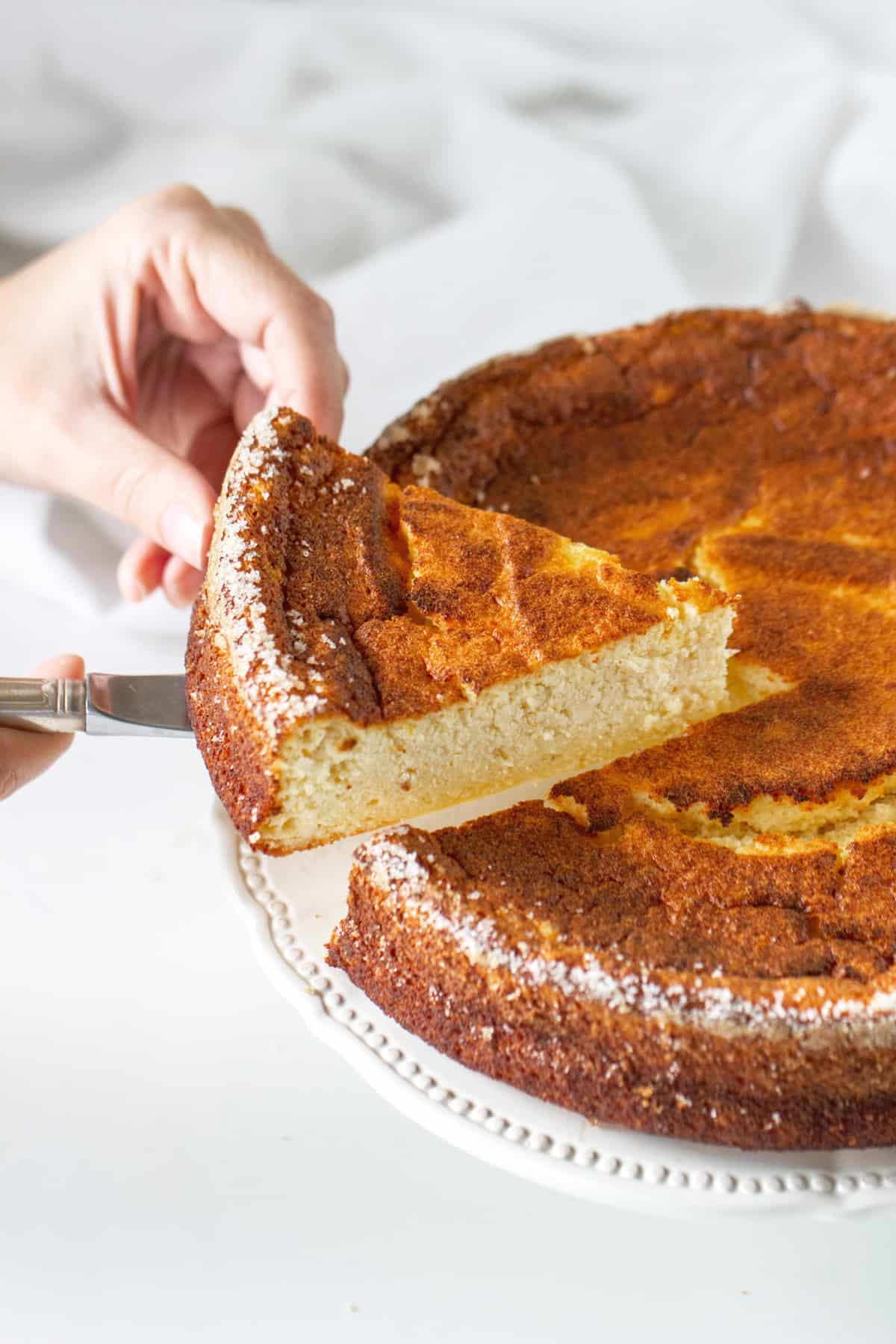 The recipe is adapted from Martha Stewart's Baking Handbook and is phenomenal. I urge you to try it!
Let me know if you make this recipe! I'd love to hear what you think about it.
Print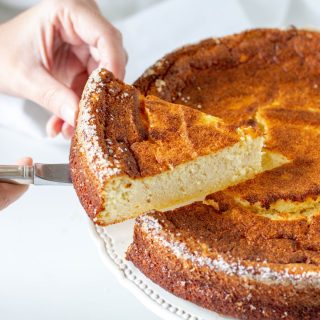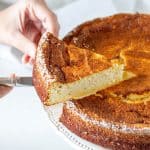 Orange Ricotta cheesecake
Author:

Paula Montenegro
Prep Time:

20

Cook Time:

55

Total Time:

1 hour 15 minutes

Yield:

8

servings

1

x
Category:

Cakes

Method:

Baking

Cuisine:

Italian
---
Description
A fabulous take on cheesecake, with ricotta cheese. Only 6 ingredients.
---
Scale
Ingredients
3/4 cup

(150g) sugar + more for the pan

1 1/2

pounds (750g) whole milk ricotta, at room tº

6

eggs, at room tº

1/4 cup

(30g) all-purpose flour
Zest of

2

oranges (any size)

1/4 teaspoon

salt
---
Instructions
Preheat oven to 350ºF /180ºC.
Butter a 9-inch round cake pan with removable bottom and dust with sugar, shaking off excess.
In a large bowl mix ricotta and orange zest. You can beat this for a minute or so if you want a smoother texture. I don't do it.
Separate eggs, one by one, putting the yolks in the ricotta bowl and the whites in a clean (very clean and dry, with no traces of oil or grease) bowl. I use the stand mixer so put it directly in the mixing bowl.
Try using an extra small bowl for cracking each egg so you don't run the risk of the tiniest bit of yolk getting into the whites since it will prevent them from beating as they should.
Beat whites for 30 seconds and gradually add HALF the amount of sugar while beating at medium speed.
Keep on beating at high speed until it foams and triples in volume, but soft peaks form when the beater is lifted.
With a spatula, add the beaten egg whites to the ricotta mixture in 3 parts. Add the next part after almost incorporating the last part.
After the third part is added make sure the mixture is combined. Don't over mix it so it rises well in the oven and the texture is airy.
Put in the prepared pan smoothing the surface and bake for 50-55 minutes, or until it's golden but the center of the cheesecake still wiggles when lightly shaken, similar to brownies.
Let cool 10 minutes and run a smooth knife all around the sides to make sure it is not stuck.
Let cool completely in the pan before transferring it to the serving plate. I like to wrap it in plastic and put it in the fridge for a few hours or until the next day.
---
---
Notes
You can use different flavorings (citrus, liquors, extracts), make sure to read the options in the post.
Have the egg whites at room t°, that is the way to maximize the volume when they are beaten.
If you must substitute ricotta, you can use cottage cheese that has been processed with some cream cheese.
---